Conductor Herbert Blomstedt
A Conversation with Bruce Duffie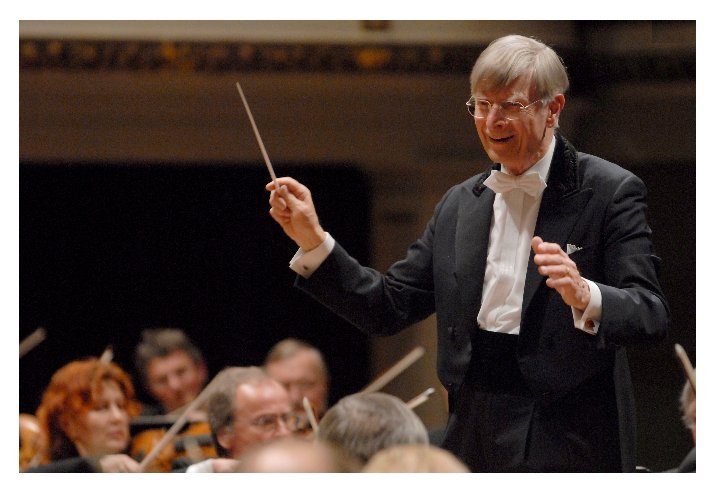 Herbert Blomstedt (Conductor)

Born: July 11, 1927 - Springfield, Massachusetts, USA

The prominent American-born Swedish conductor, Herbert (Thorson) Blomstedt, was born of Swedish parents, and moved with his family to Sweden in 1929. He took courses at the Stockholm Musikhögskolan and at the University of Uppsala. After conducting lessons with Igor Markevitch in Paris, he continued his training with Jean Morel at the Juilliard School of Music in New York and with Leonard Bernstein at the Berkshire Music Center in Tanglewood, where he won the Koussevitzky Prize in 1953. He also studied contemporary music in Darmstadt and renaissance and baroque music at the Schola Cantorum Basiliensis, and worked with Igor Markevitch in Salzburg.

In February 1954 Herbert Blomstedt made his professional conducting debut with the Royal Stockholm Philharmonic Orchestra, then was music director of the Norrköping Symphony Orchestra from 1954 to 1961. He subsequently held the post of first conductor of the Oslo Philharmonic Orchestra from 1962 to 1968 while being concurrently active as a conductor with the Danish Radio Symphony Orchestra in Copenhagen, where he served as chief conductor from 1967 to 1977. From 1975 to 1985 he was chief conductor of the Dresden Staatskapelle, with which he toured over twenty European countries, the USA (1979, 1983), and Japan. From 1977 to 1983 he was chief conductor of the Swedish Radio Symphony Orchestra in Stockholm.

Herbert Blomstedt also appeared as a guest conductor with principal orchestras of the world. As guest conductor, he has performed with orchestras such as the Berliner Philharmoniker, Münchner Philharmoniker, Concertgebouw Orchestra Amsterdam, Boston Symphony Orchestra, Chicago Symphony Orchestra, Cleveland Orchestra, New York Philharmonic Orchestra, Philadelphia Orchestra and Israel Philharmonic Orchestra as well as NHK Symphony, of which he is Honorary Conductor.

Herbert Blomstedt is Conductor Laureate of the San Francisco Symphony Orchestra where he served as Music Director from 1985 to 1995, leading it at its 75th-anniversary gala concert in 1986 and on a tour of Europe in 1987. Throughout his tenure he and the San Francisco Symphony Orchestra repeatedly appeared to critical acclaim at major European concert venues and festivals including Edinburgh, Salzburg, Munich and Lucerne. From 1996 to 1998, he was Music Director of the NDR Sinfonieorchester Hamburg. With the season 1998-1999 he succeeded Kurt Masur as Music Director of the Gewandhausorchester Leipzig, a post which he maintained until the end of the season 2004-2005. Having been appointed Honorary Conductor of this orchestra, he returns to Leipzig regularly. In 2006, he was awarded the title of Honorary Conductor by three more orchestras: the Danish Radio Symphony Orchestra and Swedish Radio Symphony Orchestra as well as the Bamberger Symphoniker, which he has been conducting since 1982. In addition, he continues guest conducting the world's most pre-eminent orchestras.

His extensive discography includes over 130 works with the Dresden Staatskapelle, amongst them all symphonies of L.v. Beethoven and Schubert. With the Danish Radio Symphony Orchestra Herbert Blomstedt recorded the complete works of Carl Nielsen. 1987 he and the San Francisco Symphony Orchestra signed up an exclusive contract with Decca and numerous of their recordings received major awards; his complete cycles of the symphonies of Jean Sibelius and Carl Nielsen enjoy reference standard.






In January of 1988, Herbert Blomstedt was in Chicago to conduct the Chicago Symphony Orchestra. As with many of these conversations where English is not the first language of my guest, he spoke very well and had no trouble with vocabulary. Grammatical turns that reflect other languages have been fixed, but his occasional use of a quaint word has been left in this text.

He graciously agreed to meet with me in his dressing room after a performance, so we dove right into the discussion . . . . .




Bruce Duffie

: Thank you for seeing me after a long concert. Let's start right there. After a concert such as this, are you so exhausted that you don't want to do anything, or are you so up that you want to go out and run around the streets for a while?



Herbert Blomstedt

: Not run around the streets, but I would like to do more music. [Both laugh] It's tiring, yes, but it's also very refreshing and inspiring. I could sit down and play string quartets for five hours after this. That would be a wonderful dessert.



BD

: That wouldn't be too much concentration on pure music?



HB

: I never get tired of music.



BD

: There's never a time when it gets to be too much?



HB

: It can be sometimes too much of one kind. If I have to concentrate very much on one piece for a long time, that can be very tiring. But when I'm exhausted of one piece, if I play another piece then it's refreshing again. It's not the music itself that's tiring, it's the concentration on one thing.



BD

: Do you take this into account when you are building programs — that your audience might get tired of one style or another — so you balance each individual program that you do?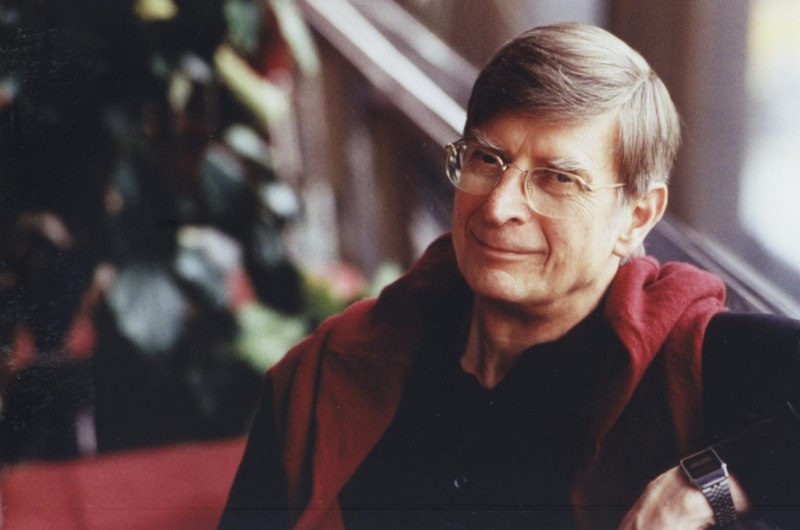 HB: No. The composers have mostly taken care of that problem themselves. A very long symphony, like one of the longer Bruckner symphonies or a Mahler symphony, is very carefully planned to be able to be digested in one mouthful, so to speak, in one evening. The diversion, the diversity, is built into the piece. There is enough change and difference of moods within the same style to keep everyone very alert.



BD

: Symphony concerts nowadays are almost two hours in length, and in the last century they were three or three and a half or even four hours. Is it better to have the concerts be just two hours now?



HB

: I think so definitely for our public today. It corresponds more to our level of concentration. I'm sure also we listen more intensely today.



BD

: Really???



HB

: Oh, yes. I'm sure. When the concerts were three or four hours long, there was much more talk and coffee drinking and so on, even during music. Between movements there was applause, as you know, which is considered a sacrilege by most of us today. But that was also a diversion. Concerts were not only musical occasions, but they were also social occasions in the eighteenth century and the beginning of the nineteenth century. There were lots of diversions in the concerts.



BD

: For you, where is the balance between the artistic achievement and the diversion-ability of each piece?



HB

: For us as performers, the achievement is our top concern, of course. We are one hundred percent concentrated on our task, which is such a challenge, and the challenge of every bar, every part of the bar, even, is changing. There are many, many things in every bar to be taken care of, so that keeps both needs well filled — the need for concentration on the one hand, and the need for diversity.



BD

: You have this huge amount of repertoire to choose from. How do you select which pieces you will do, which pieces you'll put off for a while, and which pieces you might never do?



HB

: Many things play a role in this. The ideal situation — that a musician sits down and plans an ideal repertoire for the coming ten or twenty years — doesn't exist. We are dependent on many other factors, not only what we want to do, what we like, what we like most, and what we also like but not so much. We are dependent on those orchestras we play with. They also play with other conductors who have other needs and other wishes. Also the public has their wishes, which are legitimate. The composers who live in our midst have their wishes, which are legitimate, and we also need to build up a repertoire for ourselves as musicians at a pace that makes sense, not playing all big pieces at once. Going from simply learning our repertoire and the richness of the music, we cannot take it in at once. That's the work of practically a lifetime before you feel that you are once through at least important part of the repertoire. Then you should repeat it, because only with repeated performances can you learn more. You learn by your own mistakes, and enrich new performances of old pieces with the experiences you have gained meanwhile.



BD

: Is there a chance that the vastness of the repertoire is simply too much to cope with?



HB

: It is not possible for any musician to play everything there is. That's just a fact. Even the classical repertoire — what we call the classical, romantic repertoire from 1700 to 1988 — is so vast so nobody can do it. Haydn wrote one hundred four numbered symphonies and some others which are not numbered. Mozart wrote forty-one symphonies and several that are not numbered. They are all interesting in their own way, and we simply cannot take all of it. There are, of course, examples of musicians who do complete recordings of even such things like Haydn symphonies and Mozart symphonies. They are few, and that also takes a price; then you have to refrain from doing some other things. The repertoire is enormous and also thinking of what is being written today at this very moment. Practically every college of some reputation in this country has its composer-teacher, and they are composing symphonies and concertos and chamber music all the time.



BD

: You are one who would include music up through the present day as the classical symphonic repertoire, which is in itself very rare. What do you look for in the new pieces to decide whether or not you should learn them or program them?



HB

: It depends very much, first of all of course, on workmanship or craftsmanship, whatever you call it. Is it a well-built piece? Is it a real professional composer that wrote it? That should be able to be recognized when you browse through the score. Then lots of scores go to the side once you have decided in what category it falls, but the pile of scores written by real professionals, serious composers, is so vast! So you have to look for more internal qualities of the work, and that takes time to discover. Then there's personal likes and dislikes. I think the composer has the best chance of a good performance if the musician that has chosen to perform the work feels in harmony with the style and the technical demands of the piece. In the end, that plays a great role. A conductor should have the most catholic tastes or decisions, since he has responsibility towards a large public and towards an orchestral association that is a great power in musical society.



BD

: Too much power?



HB

: Well, it's a great influence; perhaps that's a better word. Everyone that has an influence also has power, of course. We have to have quite catholic tastes. We cannot say, "I don't like the composer so I don't perform it." That's not valid, really. We have to be very, very broad and not exclude any style. That goes for the total planning of a symphony season. Any musician, be he conductor or violinist or oboe player or whatever, when he really chooses the repertoire that he wants to take to his heart to perform many times and deepen himself in again and again and again, then he should be very choosy.



BD

: Are we getting the new pieces coming along which are being added to this choice repertoire?



HB

: I think so.



BD

: Then you're optimistic about where music is going?



HB

: Oh, absolutely! There's lots of wonderful music being written today.



BD

: What advice do you have for composers who are writing either for the orchestra or a chamber group?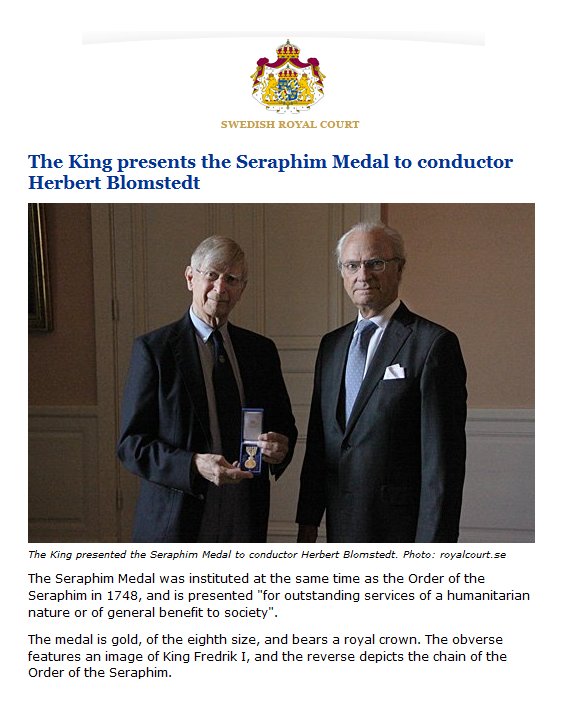 HB: One of the nicest things in America today is the composer-in-residence program, where a composer becomes attached to a symphony orchestra for a period of time — two years, three, four years, any time that is agreed upon — and during this time he lives with the orchestra practically. He listens to the concerts, gets impulses from the players, acts as advisor on the question of new music for the repertoire for the orchestra, and perhaps most important, writes pieces for the orchestra — at least one piece a year that is then performed by the orchestra. He knows that he has some secure performances, and even takes them on tour abroad. It's a large commitment that the orchestra makes that should stimulate the composer very much. Then the composer, on the other hand, influences the players and the conductor. He should be full of the concerns of the modern situation, the actual situation for composers today.



BD

: John Adams is the composer-in-residence in San Francisco?



HB

: He has been; he is not anymore. He was the first of that kind in San Francisco. Then Charles Wuorinen was composer-in-residence for a period of four years, and we are now looking for his successor. [See my Interview with Charles Wuorinen] It's a wonderful program, and I think some ten orchestras or so in this country subscribe to this program or benefit from this program.



BD

: John Corigliano fills that position here in Chicago. [See my Interviews with John Corigliano] Now, when Mr. Wuorinen gets through in San Francisco, should he look for a similar position with another orchestra, or should he go out and be on his own?



HB

: I don't think composers look for positions like that; institutions look for the composers.



BD

: What I'm asking is should these composers who are already doing this turn down offers for a similar kind of thing, and should the orchestral associations always try to find new talent, rather than have the same few composers just be shuffling from city to city?



HB

: It's open in all directions. It's up to the composer, of course, to say yes or no. He might not be interested in going to all orchestras for many reasons — because of location or the standards of the orchestra or the type of conductor they have or whatever. It's a little bit of a marriage situation. You have to really like each other in order to get the benefit maximum from such a collaboration. It's not compulsory; if we don't find one, we don't engage anybody. It's just a benefit we have. If we can find the right man, we are very happy to have him.



BD

: So there are not so many around that there is guarantee there will be someone for you?



HB

: No. We might not find anyone. That would be tragic, but I'm sure we'll find someone.



BD

: I can't imagine there being a situation where you would say, "There is no one of sufficient caliber or sufficient talent or sufficient emotional quality for that position."



HB

: There are so many composers in this country, and very qualified people of different categories! Some might be young, very promising, starting, interesting personalities, with perhaps not so much experience. They can benefit greatly from a program like this, and the orchestras make no bad deal if they put their graces on such a man, because they will be helping to form his future, and also put their imprint on the way he composes. Willingly or unwillingly, this will happen. How wonderful would that have been if the Chicago Symphony could have had Beethoven as their composer-in-residence when he was twenty years old! It would have helped to form Beethoven as a composer.



BD

: The other side of that argument, though, is that he was certainly able to form himself.



HB

: Yes, yes. It's a mutual benefit, and that makes the program so wonderful, but also, there might be an established composer that also would be happy for such a collaboration. It gives security for a time. I imagine for many composers such a situation is ideal, not only for practical reasons, since this is also regulated income, but they will feel that they are writing for somebody, not just writing out in the open air with the hope that somebody will like it sometime, perhaps long after they are dead. This way they are really working for somebody that they can look in the eyes and shake the hands of. That makes the composer have a definite role in society. We are rather repeating, more or less, a situation that has been in the time of Haydn. He was composer-in-residence for Prince Esterhazy.



BD

: Should all the orchestras have this, or just the major symphonies?



HB

: I think all symphonies could have it if they would like it. It's a matter of money also, of course. It costs money. Very close to San Francisco there is the San Jose Symphony, which is a very good symphony and a very ambitious symphony. There's lots of public around, and this could stimulate the interest of the public for new music.



* * * * *





BD

: Coming back to the art of conducting, do you do all of your work in rehearsal, or is there a little bit left for the inspiration of the moment during performance?



HB

: It's very much left. Rehearsals are absolutely necessary, of course. We cannot do without them, but the real thing happens only at the concerts. Rehearsals are played with great seriousness and it's hard work, but the real thing is the concerts, and the concert might be entirely different from the rehearsals. The rehearsals lay down the framework and serve for mutual understanding of the piece as the object of our love for the moment.



BD

: This allows for an understanding of where it can go?


HB: No, where it should go. It is the general frame of laying down tempos, balances, phrasings, articulations, and so on, and then at the concert, small but very important variations of this is taking place all the time. Not a single concert is the same. If you repeat the program four times, as we do regularly in Chicago, no two performances will be alike.



BD

: They'll be close?



HB

: Looked at from a distance, it will not differ very much for the general public. For us, who feel every small deviation either as a thorn in our flesh or as a source of immense joy, the differences are enormous.



BD

: Are there usually more joys than thorns?



HB

: I think both have to be there to be true to life. The Chicago Symphony is a great orchestra, and that guarantees that there would be lots of joys. But any musician is a human being and is, to a certain degree, subject to the frailty that is typically human, and anything can happen during a concert. That is really what makes concerts so exciting. They are not gramophone recordings that repeat themselves every time you plug in the switch. They are all the time different, and music is meant to be like that. Music is not like a painting or a lithograph; it's something that is constantly being recreated, and therefore is so immensely alive and makes everybody involved — listeners or players — so concerned.



BD

: For you, what is the ultimate purpose of music in society?



HB

: That's a big, big question. Taking it from the most serious aspect, music can be an enormous ethical force in society. (I'm speaking now of the kind of music we are dealing with.) Music can also be a curse — and I'm sure music is a curse in part of society — but the music that we are talking about can be an enormous ethical force. The performance of music should result, ideally, in everybody that listens or performs it to decide to make something different, to be different, to change something in his life. To be confronted with ultimate beauty is a challenge to what is actually happening in my own life. Beauty has so many aspects, and beauty is not just nice sounds. (I'm speaking of "beauty" in the broad sense.)

The Rite of Spring

of Stravinsky is a beautiful work. It has lots of very strange and even ugly sounds when superficially looked at, but it's a beautiful ugliness! It's an intended ugliness when it is ugly. It's really a wonderful beauty within, and the confrontation with such beauty, when it is well-performed, always touches the listener and makes him wish something that he perhaps might not be able to define at the moment — or even want to define at the moment. I'm not so naïve that I think that everybody goes out of the concert hall after a Bruckner symphony saying, "I won't do so many bad things tomorrow. I'll treat my wife nicer," but something in this direction, I think, is really true. To experience the order and beauty of great music brings the listener in contact with something that is greater than himself, something that is meant to be perfect and beautiful and positive, and this is one of the greatest blessings of great music. This, I think, is the most important. It also brings other things, of course. It brings people together with good intent. It brings lots of joy. It's also entertainment. It's a good way to perhaps get away from some frustrations in life, but those are all things on the fringe. I think the main

raison d'être

for serious music, and for our involvement in serious music — certainly for mine — is that it has a potential for changing lives, for helping lives to reach ultimate happiness or meaning.



BD

: Earlier you mentioned recordings. Do you conduct differently in the recording studio than you do in the concert hall?



HB

: Not really. The technique of working is a little bit different; perhaps it resembles more the rehearsal situation. We repeat things. Perhaps a five minute-long passage might be done three times or four times and it might be a little bit different every time.



BD

: A little better?



HB

: In some ways better, but certainly in all instances different! [Both laugh] It's a matter of what is "better" in music. It may be an obvious case where we have a sour note or somebody starts too early or doesn't play at all. That can happen, but it certainly will be different, and it's up to the conductor and the producer to choose what we really prefer. It has to be very intense, and it certainly is intense during a recording session. It must recreate the spirit of the actual performance in the concert hall. It should be unique and not just one choice of several possibilities. It should not be heard like that, and that, of course, is a contradiction because a recording is a choice of many versions.



BD

: Do you feel that a record which has eliminated all of the mistakes and had all the sections chosen for the best possibilities sets up an impossible standard that you can't duplicate in the concert hall?



HB

: A little bit, but I don't feel that's a great risk at all. A few mistakes in a concert — granted the performance in all other respects is very alive and concentrated and beautiful — really doesn't mar the experience of a listener. I don't think so. On the contrary, it might even make the listener realize for a while he was human after all. Many people went to a Heifetz concert just to hear him possibly make a mistake — which would happen once a year or something — and having been present at that concert when he played F sharp instead of an F would be very unique, something to boast about. But a mistake now and then by an artist that is so perfect as Heifetz, I think, even makes the public feel rather good. After all, he was human.



BD

: Do you ever feel that the concerts are like contests, where the audience is waiting for you to fall over?



HB

: I don't think so. I never experienced that. After all, in a symphony orchestra the fault factor is multiplied by a hundred. There are a hundred Heifetzes sitting in the orchestra, so faults will happen a hundred times more often. It does happen all the time.



BD

: Are the hundred players really on Heifetz's level?



HB

: Well, that's just an odd comparison since we were speaking of Heifetz. The orchestral musician today has a technical and musical level that is astonishing. I am pretty sure that orchestras a few generations back had no idea of how high the technical standards would develop, as they are today.



BD

: Are they still developing?



HB

: I think they are.



BD

: So twenty or thirty or forty years from now they will be even more astonishing?



HB

: I think so. That's one of the wonderful things with this marriage of technique and art that music is. There's really no limit because music is not just technique. If it's just the absence of mistakes that counts, then you can rather go into Olympics or computer science. But it's married to art and the way you shape things. There are a million ways of avoiding mistakes, and not all of them are very good. The sensitivity of players is constantly growing. The demands on them are growing. The competition is growing.



BD

: Their technical level keeps going up. Is their musical level also continuing to rise?



HB

: Not necessarily always; that goes in ups and downs. Speaking of orchestras, it is absolutely clear that the technical level has been rising, and even during my short lifetime there is an enormous difference. But we know that the technical advancement in music does not necessarily parallel musical advancement. Technical advancement can also happen at the cost of musical sense. Unfortunately, that's possible.



* * * * *





BD

: You've also been professor of conducting for many years. Is there any way to teach musical sense?



HB

: Oh, yes. If it was not possible, then we would be in for very sad times. But there are many ways of teaching it. You cannot, of course, teach musical sense in the same way as you teach a class in mathematics.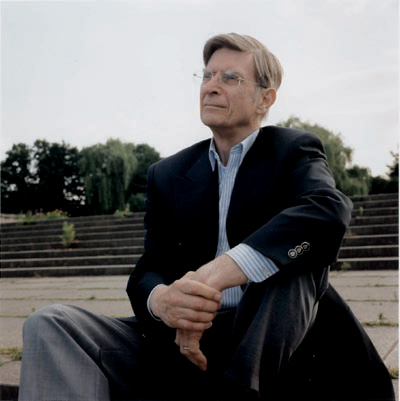 BD: I assume that the baton technique is the least of your worries.



HB

: It's very important for one specific reason, and that's that the conducting technique is such a relatively recent profession. We play the violin more or less the same as we did three hundred years ago, more or less.



BD

: But you don't have Lully beating the stick on the floor anymore. [Both laugh]



HB

: The way you lead the musical group has really been changing very much, and that parallels, of course, the way the compositions are written for orchestra. The demands on the orchestra are different, and they demand other qualities of the conductor. In order to parallel the enormous technical advancement of the orchestra, the conductor should parallel that; he should go with that. A conductor with a technique that is of the Stone Age cannot be of full service to an orchestra in the Jet Age, to put things very bluntly. So it is very important, and I think every orchestra musician would agree to that. Much too often the conductors they are exposed to don't have the technical facilities that they really need in order to help the orchestra do their job. But that's only one side of the conductor's work. More important is the musical abilities he has, the imagination he has, the sensitivity he has for musical sounds.



BD

: The vision he has?



HB

: The vision he has, the personal attitude he has towards the music, the loyalties he feels towards the composer, how he evaluates himself, where he puts himself in the triangle — the work, the public, the orchestra. Where does he fit? What is his job, really? Also very important is the way he can work with a group of people.



BD

: You keep saying 'he.' Are there some women conductors that you have had in your classes?



HB

: Yes. I have even had some very talented ones.



BD

: Is there any difference at all between the conducting abilities or talents or reactions from men to women?



HB

: I think so. It's difficult for me to imagine any of the women conductors that I have known to be in charge of a great orchestra.



BD

: [Genuinely surprised] Why???



HB

: I cannot imagine that those persons that I know could do it. It's not because of their sex, it's because of the persons.



BD

: Oh, I see. So there might be an equal number of men about whom you would say exactly the same thing?



HB

: Oh, yes!



BD

: You couldn't imagine them in charge.



HB

: Oh, no. It's such a special set-up of abilities, attitudes and character, apart from musical abilities that is needed to make a conductor. I cannot see any theoretical reason why a woman should not have those. There is no theoretical reason why she shouldn't. What I said were just the facts of those people I know. It's not because they are women, it is because they are the women they are. It's a very interesting question. Music makes so many different demands on a conductor. Speaking of the very limited experience I had with some women students, some of them have been doing wonderful things with pieces like

Firebird Suite

of Stravinsky. Colorful pieces require lots of flair and intuition apart from the technical abilities. On the other hand, I have never seen one of my women students who have been really successful in a Beethoven symphony, for instance. It requires, perhaps, more power, and I don't mean physical power. There is a mental force that must be behind the conductor in shaping some of Beethoven's music. But I see no reason why a woman that I don't happen to know yet should not be equipped with that. After all, there are lots of men who are also very feminine in their attitudes, and many women who are quite masculine in their attitudes.



BD

: So it's all completely individual, then?



HB

: Really. It's individual from case to case.



BD

: Is it the responsibility of every conductor to find something new in every score?



HB

: I wouldn't put it that way. If that was our responsibility we would start at the wrong end. I would vary your question a little bit. If you allow me to say that if the conductor — or whatever the musician is — does not find anything new in the score, then that person is not the right musician for the piece.



BD

: Is this what makes a great work, that there's always something new to be found, which separates it from a lesser work that can be plumbed very easily?



HB

: In a way, yes. The richer the work is in composition, in how it's put together, the richer it is in emotional values, the richer it is in vision and depth, the easier it is to always find new things in it. But to hunt for them would be to often take a very superficial view of the lake, so to speak. If you are going to the lake and just looking at the bottom for some clams that nobody has found before, you might miss the whole lake just staring for some details. But when you go through the lake — or whatever piece of nature you choose to take as a comparison — with open eyes and open senses, you are bound to discover new things all the time.



* * * * *





BD

: I want to be sure and ask you about working in Dresden. Is it special to be with this orchestra which has such a long continuous history?



HB

: The long history of the Dresden Staatskapelle is, of course, part of their character, part of the specifics of the orchestra, but it's not the dominating part of it. Dresden is a very special city. There are few cities in the world that have been so completely dominated by the arts as Dresden. Perhaps only a couple of other cities in the world have been like that — Munich, Vienna, Venice. Dresden was the capital of Saxonia and the Saxonian kings were very powerful and very vain, as most kings of that time. They wanted to show off their riches and their power with valuable objects of art, wonderful opera performances, the costliest trappings, and they spared no money and effort to get the best musicians for Dresden.



BD

: Were they looking for the right things for the wrong reasons?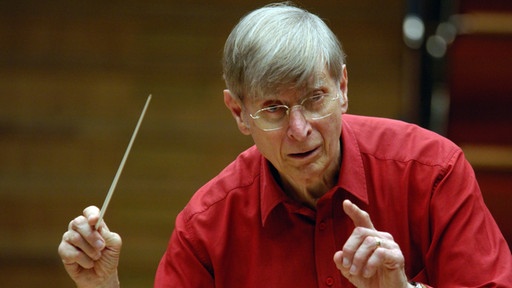 HB: Perhaps you could say that. But I think some of them got to love music as a result of this. What was the device of the Roman Emperors? "Give the people bread and circuses and they will not revolt." The Saxonian kings cared for their people, gave them jobs and bread and defended their borders, but they also gave them entertainment of a high order. Especially for their visitors who wanted to see their splendor, they put on the very best. It's like a parade of the greatest names when you look at the history of the orchestra. Their first music director was Johann Walter, who was the musical collaborator of Luther. The first German opera was written by Heinrich Schütz, who is mostly known as a composer for the church a hundred years before Bach. He was in charge of the various

Staatskapelle

for over fifty years. Of course, at that time the orchestra was not a symphony orchestra; it was a royal chapel of players and singers, at times very small. That was the time of the Thirty Years War. Sometimes the glorious opera orchestra would go down to just a few members, a few singers and players, but it was continuous, and that is why the Dresden Staatskapelle has a long history. It was continuous all the time.



BD

: Do you think that Schütz is looking down and is pleased with what he sees?



HB

: I'm sure he's not pleased with everything. Then there was Hasse, the great opera composer. "The Great Saxon" they called him in Italy. He was more famous than Mozart.



BD

: Now do you make a point of playing music of Johann Adolph Hasse?



HB

: Well, it's not so easy. There is a jubilee coming up right now for Hasse, and we have been making efforts to revive some of his operas. That has not been very successful, though. He used a very trendy way of composition that exposed the voice — very often of the castrati — as much as possible, and the richness of the composition was sacrificed to the admiration of a single vocal line. We look upon Hasse a little differently today than he was looked upon in his own day, but it is interesting to note that in his days, he was considered the great opera composer in Germany, not Mozart. Then Weber was the music director of the Dresden Orchestra, and he was the one that instigated the typical German opera.

Der Freischütz

is a typical Dresden piece. The inspiration for it is just outside of Dresden a few miles, where the cave can be seen which fostered his idea of molding this ammunition of the devil.



BD

: Do you ever go out there and call on Samiel to give you a little assistance?



HB

: Oh, yes, I've been there! [Both laugh] Wagner was music director of the Dresden Orchestra for several years until he was thrown out because he was too revolutionary in 1848. Dresden was the venue where Strauss premiered most of his operas at the beginning of this century. The orchestra has a tremendous history, and very great conductors and composers are attached to their histories. So of course that's a special challenge for every player in the orchestra, and for every conductor of the orchestra that is an immense stimulus. But that would be just floating free in the air if it was not built up by a continuous need for great music in the city of those who live there. They demand it! You don't have to educate them to go to concerts. The problem is not that; the problem is to get them the chance to hear enough music. In Dresden nobody can have a subscription for more than three concerts a year because the demand is so great. That way they can accommodate a little bit more people. If you are lucky, you can inherit the season ticket of three a year.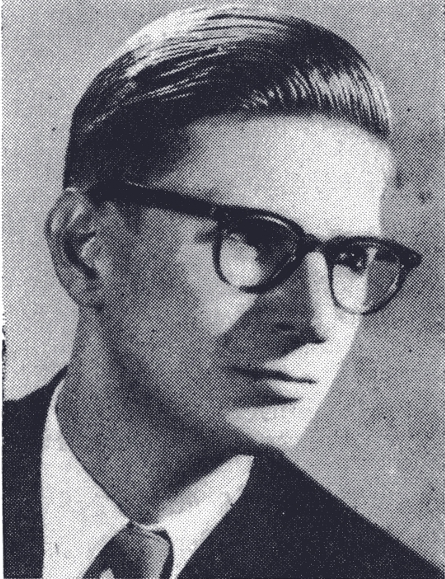 BD: Is the temptation great to give more and more concerts, and overwork the orchestra?



HB

: They work very hard, it's true, but they cannot work any more than they do.



BD

: [With a gentle nudge] Oh, but a man with a computer print-out might say, "Let's give one more performance of each concert, and we can accommodate another few hundred people."



HB

: [With a big smile] Well, it doesn't work like that, fortunately. They have very few computers — at least when I was there.



BD

: Is that one of the things that is ruining the American orchestras, the computers are used too much?



HB

: I don't think so. I think they are helping the American orchestra if they are well used. The Dresden Orchestra is an opera orchestra. They play opera every night, practically. They play three hundred opera performances a year! Before the old opera house was restored in '85, they played in two venues, a big house and a small house. The orchestra is a hundred forty-five members, so it can be split. They can play two operas on the same evening.



BD

: Or an opera and a concert?



HB

: When symphony concerts are on, there's nothing else. But there can be a recording session for the

St. Matthew Passion

and a concert at the same time. That's possible.



BD

: Have you done much opera?



HB

: In Dresden I did lots of opera.



BD

: Why no opera elsewhere?



HB

: Opera is not my first love. I never conducted an opera until I came to Dresden, and perhaps I wouldn't have done it if I hadn't gone to Dresden.



BD

: It didn't grab you?



HB

: It grabbed me, definitely, but only under certain conditions; only when the conditions are ideal, and they were ideal in Dresden sometimes, but very rarely. The orchestra was always good; they always concentrated. They were fabulously musical and as powerful in the opera pit as they were in any concert or recording session. The moment it was on, there was an enormous concentration, even if we performed without rehearsal. Premieres are always rehearsed very carefully, but then once a piece has premiered, it's repeated without rehearsal a week later, two weeks later, a month later.



BD

: Even with a different cast?



HB

: Even with a different cast. The conductor rehearses with the singers at the piano, but even if the orchestra plays night after night a different opera that they hadn't played in a week or a month or three months or four months or even a year, it's perfect. That was, of course, a joy. The standards of singing were not at all as high, as most of the singers were already in the west and there was no money to get them back, and the dominance of the producers was a constant itch or struggle.



BD

: The one opera recording you've made is

Leonora

. Why

Leonora

and not

Fidelio

?



HB

: Because there are so many

Fidelio

s around and no

Leonora

s. This was planned for the 1977 anniversary of Beethoven, two hundred fifty years after his death, and we thought we needed to take a new look at

Leonora

. We asked exactly the opposite question as you asked, "Why always

Fidelio

? Why not

Leonora

?"

Leonora

is the dramatically weaker version, but what I was not aware of was that it is the musically richer version. It's more symphonic, and in that way, perhaps, suited even better for recording than for the opera house.



BD

: You're pleased with that recording?



HB

: It was my first and my only opera recording. I haven't listened to it, I must say, but it was a joy to do it.



BD

: Are you pleased with all the symphonic recordings you've made?



HB

: Very little pleases me. Once something is done I tend to forget it, and at times when I go back and listen to an old recording of mine, I'm always very frustrated because it doesn't fit with what I want to do now. All artists are completely changing all the time. Ideals change; even if we are basically the same persons, our outlook is gradually shifting all the time. We pay more attention to certain things and less attention to others, and that makes us always wanting to do things differently — not for the sake of forcing something different on our public or on ourselves or our musicians, but because we have become different.



* * * * *





BD

: How does the Chicago Symphony stack up with Dresden or the Danish Orchestra or the San Francisco Orchestra?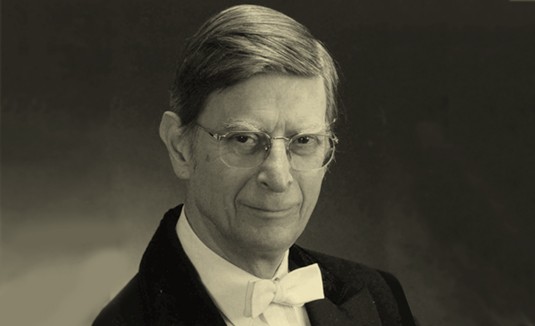 HB: [Laughs] Well, every orchestra is so different. Everybody knows that the Chicago Symphony is a great orchestra, and I love the orchestra, but it's not the Dresden Orchestra, neither is the Dresden Orchestra the Chicago Symphony. Also the San Francisco Symphony is a wonderful symphony, but it's not the Chicago Symphony.



BD

: So you can do different things in each one?



HB

: Oh sure. It's like they are like persons; they're all different. Each has a collective personality, which I mean in the good sense. I don't mean that they are faceless and anonymous at all, but they are really dominated by a few personalities. That's true. I noticed that often. In all the orchestras I've been associated with, the character of the orchestra is dominated by perhaps a dozen musicians who are not a kind of Mafia at all, but through their attitude and their personal best-dressed influence as individuals.



BD

: Do they tend to be the first desk players?



HB

: They tend to be the first desks, but not necessarily. Their attitudes are so strong — for good and for bad — that they dominate the orchestra. This is very interesting to notice, and I think it's true of all orchestras. In Dresden — and I mean this in a good way, not in a bad way that he was always talking or intriguing or something — one of the most dominating players was the assistant concertmaster. I mean musically dominating, simply through his musical strength. He never sat in the first chair. In earlier times I'm sure he sometimes did, and in fact I had him in the first chair sometimes in the opera, but he was not the typical solo player. He was mostly sitting in the second chair. He was a fabulous musician, small, tiny-sized, but with influence over his group. That was absolutely stunning! Just through a small movement of his head or his shoulder, he could change the sound of the whole group. He was not a man of great gestures and talks, and he never said anything during rehearsal. This was all just through his attitude. If he felt the group was playing too loud, he would just do this [hunches over a little bit]. The sound of the group changed immediately. That was a wonderful help for me to grow into this orchestra and to understand their traditions and their values. I did not come to Dresden to change that orchestra. It was a great orchestra. I think I contributed something very positive to them. I don't need to talk about that here, but I certainly wanted to learn the ways and tradition of this orchestra because I felt that I had lots of things to learn there. I was very happy for the association with the orchestra.



BD

: Are you doing the same thing in San Francisco now?



HB

: In another way, yes. I think if the conductor is not learning, he is dead. But the situation there is completely different, of course, than with Dresden. Getting back to your question, however, orchestras are like different persons and you cannot say that you value some more, you like somebody better or even worse, that this is better or this is not so good. If your question implied is the Chicago Symphony as good as the Dresden Orchestra, I would not try to answer such a question. Or is the San Francisco Symphony as good as the Chicago Symphony? I wouldn't even try to answer a question. [Both laugh]



BD

: I understand, and that is perfectly fine. But as you perceive them, what are the differences?



HB

: The San Francisco Symphony is, in a very special way, a young orchestra. Not only is the mean age of the player lower than some of the other great orchestras in the United States — which it is — but I'm thinking more of the spirit of the orchestra, which comes from the fact that they have been in this existing set-up for only eight years. Before that they were associated with the opera, and they played opera and concerts. Now since 1980, it's strictly a symphony orchestra that plays no opera. There's another orchestra which plays the opera.



BD

: Is it better for them, or is it going to mean they will miss something?



HB

: It's definitely better for them, and it has been better for the opera, too, to have an orchestra of its own that they don't have to share with a concert-giving orchestra. So it's been better for both institutions. Certainly the symphony orchestra has grown immensely through this split. It's the orchestra that is young in outlook and attitude and ambition. I think I can speak for them when I say the feeling is that they are better than their reputation, which is a much better starting point than the reverse. [Both laugh] This is an orchestra with a great name, but they have problems right now. That can happen to anybody, and is perhaps not so tragic when you find a way out of it. But the situation is wonderful when you have a great group of players who are still not recognized to their true greatness. This stimulates and excites the player very much, and this is what makes them so young in attitude. You feel that they are coming, coming, coming. Their greatness is still in their future, and they are growing extremely fast. It's a wonderful atmosphere in the orchestra. This is my first experience with the Chicago Symphony, and it has been wonderful for me to make music with them! The situation is completely different than in San Francisco. Chicago is an orchestra with a tremendous experience. They claim the great conductors. They have been carried on the hands of the world public for many years. That can be also dangerous for an orchestra to have such a history, but I have not found that this has been negative to the orchestra at all. They have the same love for music-making and the same appetite for great music as a young orchestra. Their humility versus the work of art that they are dealing with — the composition — is wonderful. There are true artists at every desk. This is one of the great joys of a conductor, to deal with an orchestra that has both the undisputed greatness, and at the same time the humility and the desire to make the best of every opportunity.



BD

: One last question. Is conducting fun?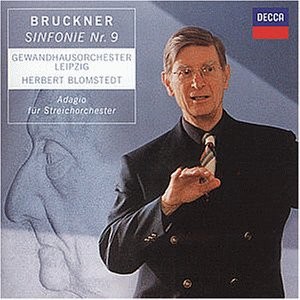 HB: If you want a yes or no, I cannot answer the question! [Both laugh] Conducting gives me immense joy for many reasons. First of all, I can deal with the greatest music. Some of the greatest music is written for the orchestra. A great deal of the greatest music is written for orchestra. There's lot of wonderful music written for string quartets, for the piano, as we all know, but some of the greatest composers have reserved their greatest efforts for the orchestra. I think that's undisputed. That's a great privilege. Then there is the joy of dealing with absolute masterworks and dealing with orchestras that are so refined and so wonderfully equipped with wonderful musicians — as for instance the Chicago Symphony. It puts its stamp on every musician that is associated with this kind of music and with this kind of musician. How can you devote your life to studying Beethoven symphonies or Bruckner symphonies without being a little bit colored by the object of your love? I'm not saying that we are perfect and that we are any way saints, but I cannot imagine what our life would be without it. It has put its stamp on our values, on our sense of beauty, and we are so much richer with it. For the conductor especially there is special satisfaction of being, in a very special way, in the midst of all this music-making. We get to look into the eyes of a hundred musicians who all love the same music we are doing with the same fervor, and have only one desire which is to make as a rich and fully experienced and perfect a performance as possible. These are musicians who are willing at any moment to sacrifice his or her own vanity — which we all have — for the sake of a neighbor who happens to have a solo right now, and to wait for your opportunity a couple of bars later when it's your turn, not only because the conductor demands it but because the music demands it. To see the musicians experience this and who are willing to subdue personal likes or dislikes for a moment for the common value, to see how this is done with absolute conviction and abandon is a wonderful experience! I feel always very attached to my musicians. Making music with them is like touching their most holy parts. How could it be otherwise? The emotional contact is so intense that it's unforgettable. That's why I cannot forget a musician that I have played with. It's like being married to this person when we have made music together, and that is a very special joy. But all this, of course, also has its hardships. It's enormous hard work. You have to sacrifice many other things, perhaps things that you also love to do, such as being able to devote more time for hobbies, or above all, for your family. You have to concentrate on one thing, then arrange a set of priorities in a way that is sometimes painful for yourself and also for your family and others. So it's not a dance on roses. You also have to cope with failure. After all, a hundred musicians can make a hundred more mistakes than one musician. The apparatus is so complicated! It takes lots of skill and some luck to make it work, and as time goes on we get more and more sensitive to the mishaps that happen. Our standards become very high. I don't mean that in a haughty way at all; we just simply notice more mistakes the more experience we get. We have to cope with that. It's really terrible to have the feeling after every concert that this was not so good, this was not so good, this was not so good, this could have been better. If that dominates our feeling, conducting is a nightmare.



BD

: I trust you don't find that dominates your feeling!



HB

: I don't. I don't find that at all. Sometimes I'm very unhappy, of course; every musician is. But most of the time the joys and the beauty far outweighs the weariness or the failures, which is one of the wonderful things with the music. It stimulates so much. It's a perfect blend of beauty and of truth, a sort of absolute, un-discussible truth that really speaks of some ultimate truth that is difficult to formulate, but I know that everyone is seeking.



BD

: Thank you for being a conductor, and thank you for spending the time with me this afternoon. It has been very enlightening.



HB

: Thank you.




As noted below, I presented special programs featuring Herbert Blomstedt three times on WNIB. 1992 marked his 65th birthday and it was celebrated with many of his recordings scattered throughout the month, as well as segments from the interview. It was all listed in the Program Guide, and I sent him a copy. A few weeks later I received the following reply . . . . . . . . . .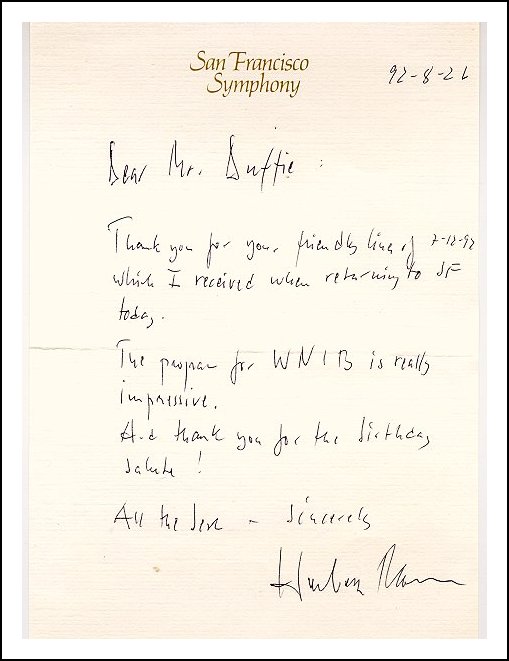 © 1988 Bruce Duffie


This interview was recorded backstage at Orchestra Hall in Chicago on January 8, 1988. Sections were used (along with recordings) on WNIB in 1990, 1992 and 1997. It was transcribed and posted on this website in 2012.


To see a full list (with links) of interviews which have been transcribed and posted on this website, click here.


Award - winning broadcaster Bruce Duffie was with WNIB, Classical 97 in Chicago from 1975 until its final moment as a classical station in February of 2001. His interviews have also appeared in various magazines and journals since 1980, and he now continues his broadcast series on WNUR-FM, as well as on Contemporary Classical Internet Radio.

You are invited to visit his website for more information about his work, including selected transcripts of other interviews, plus a full list of his guests. He would also like to call your attention to the photos and information about his grandfather, who was a pioneer in the automotive field more than a century ago. You may also send him E-Mail with comments, questions and suggestions.