Conversation Piece:
Conductor YAKOV KREIZBERG
By Bruce Duffie
Yakov Kreizberg was born in 1959 in St. Petersburg (then Leningrad), Russia, and started taking piano lessons at the age of five.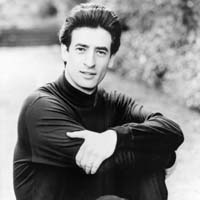 He studied conducting privately with Ilya A. Musin, (the renowned Professor of Conducting from the St. Petersburg Conservatory), before emigrating to the United States in 1976. There he was awarded conducting fellowships at Tanglewood with Leonard Bernstein, Seiji Ozawa and Erich Leinsdorf, and at the Los Angeles Philharmonic Institute, where he was invited back as assistant to Michael Tilson Thomas.
Rapidly establishing a strong reputation in the United States, Kreizberg won the Eugene Ormandy prize from the University of Michigan and in 1986 won first prize in the Leopold Stokowski Conducting Competition in New York. From 1985 to 1988 he was Music Director of Mannes College Orchestra in New York and from 1988 to 1994 he held a highly successful tenure as General Music Director of Krefeld - Mönchengladbach Opera House and the Niederrheinischer Sinfoniker. He then went to the Bournemouth Symphony Orchestra, becoming Principal Conductor and Artistic Advisor, a post he relinquished in 2000. He has also been General Music Director of the Komische Oper Berlin and Chief Conductor and Artistic Director of the Jeunesses Musicales (World Youth Orchestra).
His debut at the Glyndebourne Festival Opera, when he conducted Jenufa, received great critical acclaim. The Sunday Times called it, "One of the most sensational debuts here in living memory," and he was asked to return for the 1995 Festival to conduct Don Giovanni (which is available on video) and in 1998 to conduct Katya Kabanová.
In the 1995-96 season, Kreizberg came to Chicago to lead Lyric Opera's production of Don Giovanni. In between performances, I had the great pleasure of chatting with this fine musician, and here is much of what we talked about . . . . . . .

Bruce Duffie: I'd like to talk mostly about music and not much about politics.
Yakov Kreizberg: Lovely. However, politics sometimes have to be talked about as well. Politics as related to art and culture.
BD: OK, should politics invade the world of art and culture?
YK: (takes a deep breath) I'm afraid they do, don't they. Let's face it, we're dependent on them.
BD: Is there any way of getting away from them?
YK: If subsidies are cut all together. We are nearly to that point. Arts organizations in this country are suffering badly. When good-quality middle-budget companies or orchestras are on the verge of extinction or have gone under, it's a very dangerous situation, is it not? We're seeing it in this country, and now it's becoming a global problem. I'm very familiar with that because I've been living in Europe for nearly eight years, and until now it's been on a silver plate compared to the United States. But things are changing dramatically now.
BD: You're Music Director in a couple of places. Would your artistic decisions be very much different if you didn't have to worry about financial support?
YK: Yes.
BD: How so?
YK: (ponders a moment) I think we would all have a lot more courage to do projects which take courage to do, to perform works which take courage to perform because you know that audiences around the world are basically conservative. There are exceptions, but even in the very big cities and cultural centers, audiences tend to be quite conservative.
BD: Now are you talking about the music alone, or also the story content in operas?
YK: I'm talking about symphony and opera doing contemporary music, contemporary art. A perfect example of that would be the music of Janácek, and he is not even 'contemporary.' In the minds of many people around the world, he's probably someone who's still alive today because they don't know the name.
BD: So that's off-putting?
YK: So that means it's probably something horribly modern, and therefore we shouldn't risk it. It might be awful. Now remember, we're talking here about some of the most beautiful music ever written, and I think some of the most exciting opera in the entire literature. It's music that is completely original. It's like no other composed prior to that point. If we talk about people like Beethoven, we know where he comes from, we know where his roots are and where he learned. Even though he developed his own style, we also know who he learned from. He didn't just appear on the face of the Earth. Janácek just appeared on the face of the Earth, literally. His musical style and his treatment of the language to which he set his music is like no other in history. There is no precedent for that kind of writing. When you have that sort of example, it's terribly exciting and terribly interesting. He is so great and so innovative and so full of fantasy because he was not constrained by any kinds of set forms before him. He was literally searching for completely new ways. What we have is an extraordinary composer who was like nothing before him and like nothing after him. He is really in a school of his own, yet all over the world today, even with educated audiences, it is very very hard to get the audiences to come to hear his pieces. Perhaps Katya Kabanová and Jenufa, which are the best-known of his operas, have somewhat of a better time.
BD: And maybe Sinfonietta in the concert hall.
YK: Yes, because people have heard of it and it's been recorded a number of times by important orchestras.
BD: Then, because you have this respect for him, do you jump at the chance to do operas by Janácek?
YK: I do very much. I'm a great fan and have had marvelous experiences performing some of his operas under the best conditions in the world, namely at the Glyndebourne Festival in England. Working with marvelous directors and first-rate orchestras and the very best singers that there are for this repertoire and having lots and lots and lots of rehearsal time, I've been a bit spoiled. But it's been a great experience doing this sort of thing. Then I come to Chicago and you're doing Makropoulos Case, which is lesser-known! It's not easy to get the audiences to come, but once they do come and see, they're satisfied. But it's getting them to come.
BD: We have the advantage here because most of the seats are sold on subscription. People get a package of eight operas and that's one of them.
YK: You have the advantage. Nonetheless, the company is not as happy because it's not completely sold out, which is the case with Don Giovanni, which everybody knows and loves and there is no risk involved. You know exactly what you are going to see. When we talk about Janácek, we are not talking about anything that is in any way new. So what happens to the composers whom nobody knows or whom people have only heard of and don't know their music, their symphonies, chamber music, operas? They don't go. Only people who like to take a risk, people who like to be challenged by new things. People who are interested in modern art, paintings, sculpture, architecture.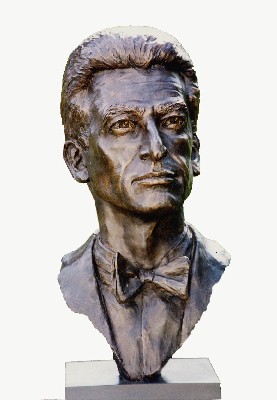 Bronze bust of Jakov Kreizberg by the British artist Sally Derrick.
Proceeds from the sale of this piece went to the
Bournemouth Symphony Orchestra Endowment Trust
BD: Is it right to ask the tired businessman who's been beating his brains out for 10 hours at the office to come to the opera house and be challenged? Or should he come to the opera house and relax?
YK: I think an opera experience or a concert experience is not just about relaxing. I think that people who really enjoy classical music - whether it's of the past or contemporary - don't go to a concert or the opera merely to relax. Of course, certain such outings are going to have that aspect attached to them, but that is not the reason why people are going. Our job is not to make them relaxed. Our job is to make the challenged. It's to make them interested. It's to make them excited about what they are seeing and hearing. It's to make them think about what they're seeing and hearing. It's not just to give them a beautiful voice on the stage. If they just want the beautiful voice, they'll buy a CD and listen to it in the privacy of their own living room at the time that they want to listen to it - not at 7:30 in the evening with thousands of other people. They can turn off the recording when they want to and do something else or have a snack. If they really just want to relax, they will go to bed or turn on the TV or whatever it is that makes them relaxed. People go to the theater for the whole package, which means all of those things - interesting staging, not just voices but drama and music that go together in the positive way. It all works together, not against itself, to form the theatrical and dramatic experience which is challenging. It will, therefore, be a much more satisfying experience than just feeling relaxed.
* * * * *
BD: You've been talking about your job in presenting these works. Let me go one step further - what is the purpose of music?
YK: A universal question, is it not? The purpose of music is so multi-faceted that it cannot be answered with a simple statement. A purpose is to do all those things. It is essentially to make a person a better human being, and a better human being doesn't mean just better than a neighbor, it means a more complete person. Music brings emotion in us. Music brings feelings which we otherwise don't get to experience in our life, or which are often shut off because of necessity. We have a job which we do from 9 to 5 or whatever the hours are. Music allows us to really find our inner self, to be free to search for those things that we normally don't have the opportunity or the time to search for. It opens up many, many doors within us. It opens the doors to our soul, to our feelings, to humanity as a whole. It can do many different things, but most importantly it uplifts.
BD: Is it at all a problem for you, as a musician, to have your 9 to 5 job be in this musical realm?
YK: Fortunately for those of us who are musicians, we don't have 9 to 5 jobs. For me, for example, as the Chief Conductor of an opera house, my job starts most days at approximately 8:15 in the morning, which is when I arrive at my office, and ends between 10:30 and 11 in the evening, when I finish a performance. In between those hours, there's going to be numerous rehearsals, very likely a performance, probably a number of meetings, perhaps interviews, many other things.....
BD: In the end, is it all worth it?
YK: Absolutely. If it weren't, would I be doing it? Let's face it, I was born in the former Soviet Union and I grew up there and I didn't leave the country until I was sixteen years old.
BD: So it was all your formative years.
YK: Yes. Particularly in that society, which puts music and culture on a pedestal, musicians and artists in general are very much respected. When people go to a concert, they listen with reverence. All musicians who have performed in Russia in the earlier days have always enjoyed it. They didn't earn any fees and it didn't help their careers, but they had the best audiences in the world because those audiences particularly were appreciative of going to performance because they had such a hard life, such a miserable existence. Going to a concert was their way to fulfill their dreams, their fantasies, to put that system out of their life for two hours and experience beautiful music. This was something which was very, very important to those people. They would not have traded that experience for anything else. For someone who grew up in that system, you knew that if you chose to be a musician, you did not choose it because it was going to give you fame or earn you astronomic amounts of money. In that society, it simply didn't. Most musicians were poor and they didn't have any fame. Except for the very few fortunate, privileged ones, you were not allowed to travel abroad. So, if you wanted to be a conductor, you would most likely end up in some very small provincial town, somewhere far away from where you family was or far away from where you grew up. It might be in Ukraine or Siberia or who knows where, because that was your assignment. That was where you were sent, and that was that. You didn't apply for another job. You didn't have choices.
BD: Is that why you left?
YK: Amongst many other things, but the point I'm trying to make is that I think most of us who chose this profession chose it for the right reasons. We chose it really for the love of music and for the conviction that it is something we wanted to do for the rest of our lives because we passionately believed that it is beautiful and that it is important.
BD: Have you returned to Russia since the breakup of the Soviet Union?
YK: Never. I have never been back, and it is now nearly twenty years. Frankly, I don't really have time to go as a visitor because my schedule is simply very, very difficult. I rarely am able to get away for anything at all.
BD: I was going to ask if you leave enough time in your schedule for rest for yourself, and for study of new scores.
YK: For rest for myself, much too little. It's really not a good situation, and it's probably true for a lot of people, particularly at the young age where I am. We all think we are invincible and we have all the energy in the world. We are not invincible and we don't have all the energy in the world, and it's a very dangerous situation because so many young people burn out and start losing passion for music and for the profession. They simply get tired. It is very, very important to take time off. The reason why it is hard for us to do is because there are always a lot of interesting and exciting offers and opportunities (if you're good and if you're liked), and if you are in a position as a Chief Conductor of a major European opera house, they function year-round. They're only closed for six weeks in the summer and they do nearly 300 performances a year. That means that if you want to really be a part of the organization and be effective and take care of things, you must be there at least five or six months a year. That's a lot these days. Most Chief Conductors are only there for so many weeks. Three months is considered a good amount of time. I spend five to six months in Berlin and I do it because I deeply believe it is necessary and it's very, very important. It's bringing real results. Also I do it because I love what I'm doing and I love the company. I'm very, very happy to be there and be in that city where culture is deeply appreciated, where audiences are so much younger.
BD: Since the wall has come down, have you noticed a different kind of melding of East and West cultures?
YK: Yes. Absolutely. It's a melding, and at the same time there is still a little bit of a wall left in the German mentality. There is still a kind of separation between the East and the West. The salaries have not yet been completely evened out. The level in the East is still about 25% lower on the average, and the unemployment is much, much greater because they've had to switch to the new system. That means a lot of factories have closed and a lot of jobs are gone, and a lot of people have not been able to find a job, or they have to be re-trained, and that takes time. The old East German companies were inefficient and were so heavily subsidized as to be ridiculous. Now they have to take care of themselves, and those that are not efficient go under. It's simply the way of the world. It's the free market. There's been a lot of hardship and there is also, in a way, a different mentality. East Germany and West Germany have been such for nearly 50 years, and the new generations grew up on different sides of the wall, learning different values, different mentality, different ways of doing things, different views of life. In a way, they're not related to each other any more. They are Germans, but they are two different cultures.
BD: They've lost this half-century.
YK: That's right.
* * * * *
BD: You're Music Director at the Komische Oper in Berlin, which is Walter Felsenstein's old house. Do you feel a great sense of history being there?
YK: Absolutely. This is why I'm so happy. It's a theater which is one-of-a-kind in all of the world. It's a theater with such a tremendous staging-tradition. Harry Kupfer, who is a disciple of Felsenstein, and who is now the Chief Stage Director for the last twelve or thirteen years, is my partner with whom I do all of my new productions. He is a real "Stage Director," not just somebody who gives singers an instruction to go left or to right. It's so much more than that. It's a complete experience. It's a complete Musical Theater. After doing that, it's so hard for me to do operas anywhere else because it's nearly always disappointing. It's no longer a complete package, and I'm spoiled because I like that complete package. For an audience member, this is what opera should be all about - not just the voice and not just staging, but both.
BD: You should endeavor to have yourself and Kupfer hired as a team to go around the world as guests in other houses.
YK: The problem with that is because I do so much opera there in Berlin, it leaves me so little time to guest-conduct altogether. So when I do guest-conduct, it's mostly concerts. When I do an opera somewhere, it normally takes two to three months of being in that other place. I just don't have that kind of time. Coming to Chicago and doing Don Giovanni is an exception for me. I'm happy about that restriction because I'd rather have my team and plenty of rehearsal time. The other exception for me is the Glyndebourne Festival because the working conditions are simply the best in the world. We have seven or eight weeks for staging and we have the London Philharmonic. The company really cares what goes on. You're in the middle of a beautiful countryside with no time to be interested in anything else and the only close place to go is London. So you're likely to spend all your time in Glyndebourne thinking about your work and doing it. It's a marvelous setting. Very beautiful. So I do like to go there, but other than that, I rarely allow myself to do opera anywhere else.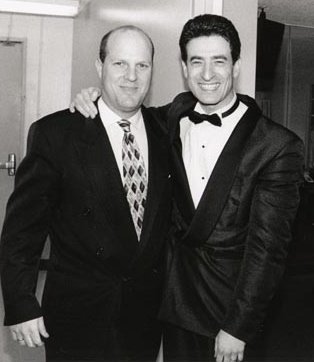 Kreizberg (right) with Evan Wilson,
principal violist of the Los Angeles Philharmonic
BD: Let me ask a dangerous question - is there such a thing as a perfect performance?
YK: Frankly I don't know what a 'perfect performance' would be. Is there such a thing as 'objectively perfect?' Perfect for me might be seen as imperfect to you. Perfection is something that can only be in your mind. You can determine what your goal is and you can strive to achieve that goal. If you have high expectations and if you work hard and want a lot, you will come closer to that goal, but you're not likely to completely fulfill it. In a way that might be a good thing. It's also very frustrating because I am nearly never satisfied. I'm very, very critical of myself in the first place, as well as orchestras or singers that I work with. I demand a lot and I want a lot, and many people call me a perfectionist, but that simply means that I will go as far as I can, and push people 150% of what I think they can do. In the end, it doesn't mean that the result is going to be perfect. It's only a question of how close you can get to your dream. The more you expect, the further away you'll be from that goal. It's going to be hard to reach such high goals.
BD: But you're always striving for them.
YK: Yes. It's a good thing because you're always motivated to do more and to be better. At the same time, it's also frustrating, particularly being a conductor. In a way you learn that the more you know, the less you know. It's maddening. Sometimes it takes a very, very long time to find an answer to a question that's been nagging you. It can be years, and the moment you have solved it, you discover two other problems to which you have absolutely no solution. You live and work in the knowledge that no matter how long you live - and conductors can live to be very old and not stop working - you have no chance to solve all those problems or answer all those questions.
BD: Is it good to know that you will solve some problems, even though you'll wind up with more, but different ones?
YK: Yeah. It's very, very satisfying when you finally learn something new and solve a particular problem. You feel you've accomplished something. There is nobody who can learn everything there is to know, no matter who you are. Not Karajan, not Bernstein, not whoever. And they knew it. They lived with the knowledge that they would never know everything.
BD: Yet, as the conductor, you're expected to know everything about this piece.
YK: You're expected to know more than the people you're working with. If you don't, you have no business being there.
BD: Do you usually know more than the cast you're working with?
YK: I certainly hope so. It's not really a question for me to answer, but rather for the people who are working with me - the orchestra or the director or the singers. I would certainly hope that that is the case. I study my works very, very hard. I know the scores backwards and forwards. The rest is all a question of knowledge and talent and ability. We all have it to various degrees.
* * * * *
BD: When you're putting a production together, do you get all of your work done in the rehearsals so that each performance is approximately the same, or do you leave something for the spark of the evening?
YK: Karajan was once asked, "Do you get nervous or worried before a performance?" And he said, "Why should I? We have done all the rehearsals and all the preparation. Everybody knows their job. What can possibly happen?" I think that answer is somewhat simplistic because a lot can still happen, and, in fact, a lot does happen and should happen. There are different things that can happen, both positive and negative. After all, a live performance is not a recording. Very often, when critics go to performance with the need to write something about it, they will listen to a recording and they'll arrive at the theater with a preconceived notion based on what they heard, and they'll compare the performance with the recording. The less familiar they are with the repertoire they're going to hear, the more they will be influenced by the record. The sad thing about that is that all performing is subjective. There is no such thing as an objective interpretation. There is no such thing as 'authentic' interpretation, either. We have entered an era where it is fashionable to think that certain performances, because they're conducted by certain conductors or sung by certain singers or played by certain orchestras, are 'authentic.' But to come back to your question, everything is done in rehearsal to a point. You have a musical and staging concept and hopefully they function harmoniously with each other. You know the end goal. You know the spirit you want to create, you know the tempo relationships and the pacing and such. All of that has to be taken care of in the rehearsals. But the performance is never going to be just a repetition of what you have prepared. Obviously, the better the preparation, the more secure and comfortable everyone is going to be because they understand their job better. And when they understand their job better, they are more free inside to make the kind of input and creativity which can only take place by first having exercised discipline in the preparation. Creativity cannot come out of chaos. All that comes out of chaos is chaos. Creativity that comes out of disciplined preparation can bring those dimensions that we are talking about. In each performance, there are going to be different ones. There are not going to be any two performances that are exactly the same, nor should there be. Each time you are recreating a work, which, until the singer sings his first note or the orchestra plays the opening phrase, is nothing more than instructions on a printed page. So yes, there should be creativity in every performance.
BD: How slavishly do you adhere to every mark on that page?
YK: That depends on how passionately I believe that the instruction given to me is in the best interest of the music. I have done a lot of contemporary music, including a number of first performances by living composers, such as Aribert Reimann, and Siegfried Matthus (who are two of Germany's leading composers), and Berhold Goldschmidt. I know that the piece of music will only live if it is recreated by a creative mind. There is no such thing as an authentic interpretation of any of those pieces. Having done them with the composers present and having often asked whether what I was doing was right or not, or getting criticism from them of what I was doing, I sometimes did things completely different from what was notated. I discussed with them why I was doing it and they often agreed, or suggested that my feelings were correct and it was better that way. This led me to believe that one mustn't simply follow blindly every single marking. The notes, yes. But tempo indications and dynamics and things like that are suggestions which the composer at the time passionately believes are in the best interest of the performance. But when preparing it, there can be other ideas and considerations.
BD: So these 'new' ideas are right for you in that production, but would not be right for another conductor in another place?
YK: Perhaps another conductor has a different temperament. These things all hang together and depend on your concept. A work only comes alive by being seen through somebody's eyes. When you and I look at a modern painting, I will see something different in it than you will. The greater the painting, the more you and I will see in it. The same goes for a piece of music. These composers will often say to me their compositions come alive when you do them, and each conductor should have his input. That's what makes them interesting. If everyone does them exactly the same way, our world becomes stagnant. People must see them in different light. I also know that from personal experience because I've done some composing myself. I don't claim to be talented in composition, and in fact gave up composing when I realized I didn't have enough talent for it. But I spent several years in my teens studying composition in Russia, and several of the works were performed.
BD: So that gives you more of an understanding of the composer.
YK: Absolutely. It was an invaluable experience because I understand how the work is put together.
BD: Is this some advice you have for young conductors - to do a little composing?
YK: I think it would not hurt anybody to learn how the creative process takes place, how the work comes into being on the paper, and then, if possible, seeing it performed, seeing it created, being there for the rehearsals. You learn more about your own composition, you learn that what you wrote down might not necessarily be the best suggestion. Perhaps the performer, who is creative, might find a better way of expressing your music than you yourself thought possible. You will learn a lot from it. I also have listened to other composers performing their works, whether as conductors or as instrumentalists. When you do that, you see how much they do differently from what they themselves put down. That's what the creative process is all about. Hearing the music in your head and writing it down is different from conducting an orchestra or playing that same piece on an instrument. It feels different. When I conduct a work, I'm more likely to conduct it in a different tempo than when I hear it in my head. In the case of performing the work, you have a physical connection to the music. You have a physical connection to the sound. For the same reason, when I play the piano, I will play certain compositions differently than when I hear them in my own head. There is a physical relation to the instrument and it changes things.
BD: I wonder if that will change in you as you get older and get more experienced. Perhaps you will have more of that physical feeling in your head when you are alone.
YK: It probably will, and probably has over the years. But I think there will always be a difference between when you are just thinking of it and when you are physically creating the sound. The physical factor is simply that important.
* * * * *
BD: Are you at the point in your career that you want to be right now?
YK: (ponders a bit) I have never thought of career-movements corresponding with a certain age. I have never had a sort of goal to be at a certain place by a certain age. I'm sure there are people who think about it that way. "When I am forty, I want to be Chief Conductor of So-and-So Symphony," or whatever. I was never really interested in that sort of thing. As I said earlier, I decided to become a musician, or rather it was decided for me when I was five years old. My parents took me to a teacher who said I must study music, and that was that.
BD: Did you ever regret that?
YK: Never! How can I regret it? It's the most beautiful thing I could ever do. (Laughing) It's probably the only thing I could ever do! But I've never thought in terms of 'career' or in terms of 'accomplishments.'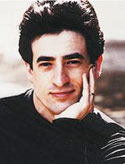 Obviously, I always wanted to grow and be better, because you always feel limited by your own knowledge. I was never very keen to make a quick splash. It would have been relatively easy because if you are young and if you are talented, it's really not all that difficult if you're in the right place at the right time. You can jump in for somebody who is ill, or go and conduct one or two repertoire performances in a European opera house, put them on your resume and progress that way. I didn't feel that was right for me. I felt that I was a slow learner, even though to most people I was an incredibly fast learner. You could put a score in front of me and I could play it for you on the piano. I learned that when I was a teenager. I could sight-read anything. I used to accompany singers. When I came to New York at age sixteen, I used to play in all the voice studios. I made my living that way and put myself through college.
BD: Did you learn from those voice teachers almost as much as the singers did?
YK: Absolutely. In a way, that's why opera was such a natural thing for me to do because I had a feeling for voice and a feeling for singers. I did chamber music, too, but the voice was more. Things were easy for me, but for what I wanted for my musical ambition, I felt that I was slow. I felt that I needed a lot of time, and I didn't want to make a quick 'career' jumping in for sick conductors and doing a few routine performances (with no rehearsal) in the opera where the orchestra wouldn't remember me at all the next day. I decided that the right way for me was the slow way, where I would learn how an opera house is put together, how it works - administrative things - learn the repertoire slowly, to do a lot of performances in the provinces, which is what nearly all the great conductors of the past had done.
BD: So now you're Chief Conductor and you're putting all this knowledge and experience to work.
YK: Yes, but before I was Chief Conductor in Berlin, I was Chief Conductor of Krefeld - Mönchengladbach, a middle-size provincial opera house, a very good "B" theater. Karajan had spent several years in Ulm, which was much smaller, where he conducted all the operas and operettas - the good ones as well as the trashiest ones because he felt that that was the most difficult thing a conductor could do. And he did that for the experience.
BD: So it's easier to make music out of Mozart than it is out of a piece of trash?
YK: Oh believe me it's hard enough to make music out of Mozart, but taking a third-rate operetta, which people don't take seriously anyway, which has horrible traditions and is usually sung very badly, taking that and being disciplined about it and making something out of it is incredibly hard, and you learn a lot doing it. He did that and then moved to a somewhat larger theater - Aachen - and I think he spent four or five years there, and that's still smaller than Krefeld - Mönchengladbach. Only then did he go to Berlin. He spent that time turning those theaters into better ones than when he first got there. This is what I wanted to do. So when I got an offer to move to Germany as a 28-year-old to be the youngest Chief Conductor of any German opera house, I jumped at the opportunity. I spent six long, hard years doing all of that there. After two or three years, I could have done things that were much more visible and people asked me why I stayed there, and I said that I hadn't completed my education. By the end of six years, I really had done everything I could at that level, and I felt ready to move to Berlin.




= = = = = = =
- - - - -
= = = = = = =
©Bruce Duffie
Published in The Opera Journal June, 2002
Be sure to visit Bruce Duffie's Personal Website [ http://www.bruceduffie.com ]
and send him E-Mail[ duffie@voyager.net ]