Kurt Masur - A Leader in Music and Politics


Jul 16, 2009

In celebrating the 20th anniversary of the peaceful revolution that brought down the Wall, we will profile over the course of 2009 important East Germans who have shaped beyond all physical borders the cultural, intellectual and political life of postwar Germany and Europe.

Kurt Masur is one of the most widely admired and respected conductors of his generation. Having played an influential role in East Germany when the Berlin Wall came down, he was even considered for the office of the president of the Republic of Germany.

Masur was born the son of an engineer on July 18, 1927, in the city of Brieg in Silesia, Germany (now Brzeg, Poland). He discovered his love for music in early childhood and taught himself piano and enjoyed singing alone or alongside his sister and friends. Music always made him feel at home. "I discovered that music-making not only helped me overcome loneliness and sadness but also brought me joy and happiness in the special moments of my life," he said.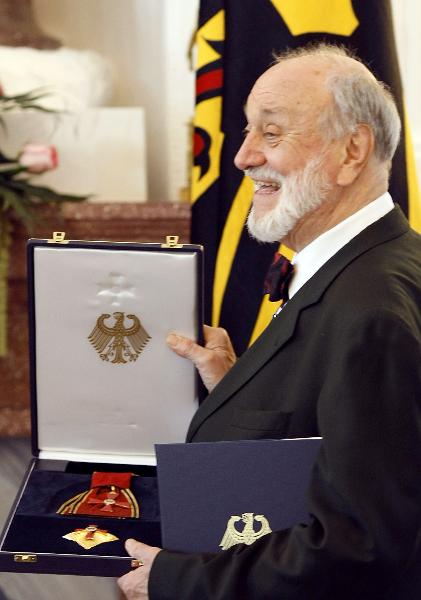 From 1946 to 1948, Masur studied piano, composition, and conducting at the Leipzig Conservatory, which was later renamed Leipzig Academy of Music and Theatre. Despite not having completed his college studies, he began his conducting career at the Halle County Theater in 1948. Masur then spent the ensuing years conducting in regional East German opera houses and the Dresden Philharmonic until his breakthrough in 1970, when he was appointed Gewandhaus Kapellmeister (music director) of the Leipzig Gewandhaus Orchestra in the German Democratic Republic (GDR). Masur still remains most closely associated with this musical ensemble. Under Kurt Masur's direction, the Gewandhaus Orchestra once again garnered international recognition. Upon his retirement in 1996, the Gewandhaus named him its first-ever "conductor laureate."




[Photo at right - Kurt Masur was awarded the Great Cross of the Legion of Honor with Star and Shoulder Ribbon for his musical accomplishments and his contributions to the reunification of Germany.

(© picture-alliance/dpa )]




In 1991, the New York Philharmonic invited Masur to serve as music director, an offer which he eagerly accepted. Maestro Masur soon revitalized the Philharmonic and transformed it into one of the world's most renowned orchestras, restoring it to its former glory. Moreover, he achieved this tremendous reformation without replacing the musicians. Instead, using simple motivational techniques, he improved the musicians' attitudes about themselves and their music. He once told a young participant: "Success is not what I'm looking for, I'm looking for the truth: your heart, your mind, your feelings." With inspiring and uplifting words, he changed the orchestra from a sullen group into an excellent musical organization. The orchestra was once again receiving rave reviews from the critics. One of the musicians once said, "Conductors would come to us to further their own careers or to be the chief. Masur came to play music with us."

Even though Masur was immensely popular, over the years, he unfortunately was overcome by office intrigues and ousted prematurely in 2002. Whatever problems Masur may have encountered toward the end of his tenure at the New York Philharmonic, today he looks back on that time as a high point of his career. The final years, in particular, he said, were "like a dream."

Maestro Masur went on to become principal conductor of the London Philharmonic, a position he held until 2007, and music director of the Orchestre National de France in Paris. During his tenure at those two orchestras, he also served as guest conductor for a number of major orchestras in the United States and Europe.

Throughout Masur's career, education has played an important role. Having witnessed the long and painful rebuilding of Germany's musical culture after World War II, he has remained devoted to strengthening musical traditions at every level of society and taken part in many educational projects. Maestro Masur has also taught as a professor at the Leipzig Academy of Music since 1975 and holds honorary degrees from the Juilliard School, Leipzig University, the Manhattan School of Music, and Yale University, among others.

Maestro Masur has received numerous honors for both his musical achievements and his personal courage. In 1997, he received the Commander of the Legion of Honor award from the French government and New York City Cultural Ambassador award from the City of New York. In September 2007, the president of the Federal Republic of Germany, Horst Köhler, bestowed on him the Great Cross of the Legion of Honor with Star and Shoulder Ribbon. Since the 2008/2009 season, Masur has held the title of Honorary Music Director for Life of the Orchestre National de France, ensuring his close and active involvement with that orchestra for many years to come. These are but a few of the many recognitions he has received.

Maestro Masur's contributions are unique in the history of music. Mild-mannered in his style, he conducts with intense expression and focus, minimal gesture, and subtle charisma. Despite plans to scale back his activities due to health reasons, the conductor, who celebrated his 82nd birthday on July 18, 2009, is not yet ready for his swan song; he continues to be one of the world's most sought-after and active conductors.

Maestro Masur is known to both orchestras and audiences as a distinguished conductor and a musical icon. Lesser known is the fact that he has also been an important political figure. One of his finest hours on the political stage took place in the GDR in 1989, amid growing anti-government protests in Leipzig, when thousands of East Germans went to the streets to demand more freedom, civil rights, and democracy. The people were rising up in protest against a state which had long suppressed its own citizens. For several weeks, they marched peacefully through Leipzig every Monday to demand their rights. On October 9, 1989, Kurt Masur read a public appeal for freedom of speech in the GDR and criticized riot police violence against the demonstrators. Many believe this helped avert a massacre. The public appeal is widely regarded as having helped convince the Leipzig police to disregard orders from Berlin and allow the "Monday protests" to continue. Masur, however, always downplays his role in the "peaceful revolution" of 1989. "I was only one among many people who overcame their fear," he says. Afterwards, many supporters wanted to nominate Masur for the office of the president. Masur, however, was finished with politics, preferring instead to return his attention to music.



© Germany.info