Nicholas McGegan (Conductor, Harpsichord, Flute)



Born: January 14, 1950 - Sawbridgeworth, Hertfordshire, England

The English keyboard player, flutist, and conductor, Nicholas McGegan, studied piano at London's Trinity College of Music in 1968. He also learned to play the flute, specializing in the Baroque flute. He pursued his education at Corpus Christi College, Cambridge, receiving B.A. in 1972, and at Maagdalen College, Oxford, receiving M.A. in 1976.

Nicholas McGegan was active as a flutist, harpsichordist, fortepianist, and pianist in London, where he was also professor of Baroque flute (1973-1979) and music history (1975-1979) and director of early music (1973-1980) at the Royal College of Music.

Nicholas McGegan has been well known for his work as conductor of major symphony orchestras and opera companies worldwide. Equally at home with modern- and period-instrument orchestras, his repertoire ranges from Georg Frideric Handel and Antonio Vivaldi through Mozart and the complete symphonies of Beethoven to Richard Strauss and Benjamin Britten.

Nicholas McGegan recently joined the artistic leadership of The Saint Paul Chamber Orchestra as Baroque Series Director to develop programs and engage artists for the ensemble's popular Baroque Series.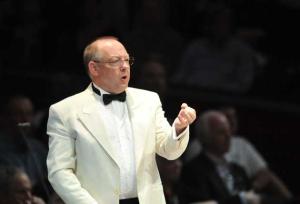 Since 1990, Nicholas McGegan has also been the Artistic Director of the Göttingen Händel Festival, the oldest festival for baroque music in the world. Under his directorship, the Festival has returned to presenting fully staged performances of Georg Frideric Handel operas such as those that marked its launch in 1920 and the revival of interest in that composer's work.McGegan's recording of the Göttingen Ariodante with Lorraine Hunt Lieberson received the Gramophone Award for 1996 in the category of Early Opera.

In the fall of 1997, Nicholas McGegan made his début with Britain's Royal Opera, conducting the world premiere of the Mark Morris production of Rameau's Platée in London. In 2000, he took part in the opening season at the renovated Royal Opera House, conducting Mozart's La Clemenza di Tito with Vesselina Kazarova among the cast. "The Mozart Experience," a recording of Mozart arias with him conducting the Royal Opera House Orchestra was released in 1998.

For sixteen years, Nicholas McGegan was Music Director of San Francisco's Philharmonia Baroque Orchestra (PBO) where he was recently named that orchestra's Music Director Laureate, a position that allows him to expand his international commitments while continuing to direct the orchestra in major projects and a number of programs. During his tenure as Music Director, he helped establish the PBO as the leading original instrument orchestra in the USA and led them in regularly sold-out subscription seasons. In 1999 the PBO joined him at the Göttingen Händel Festival for performances of G.F. Handel's opera Arianna and the ballet Terpsichore. Over the years, he and the PBO have collaborated on more than 30 recordings including a world premiere recording of G.F. Handel's Susanna which received a Gramophone Award. Most recently BMG/Deutsche Harmonia Mundi released their recording of Thomas Arne's Alfred and a recording of suites from Rameau's Platée and Dardanus in conjunction with the enormously successful American premiere of Platée with the Mark Morris Dance Group.

Nicholas McGegan is the founder-director of the chamber music group The Arcadian Academy, which specializes in music from the 17th and early 18th centuries, mostly by Italian composers. They tour regularly in the USA and Europe and have won several honors for their recordings. Their debut recording for Deutsche Harmonia Mundi - Scarlatti Cantatas with soprano Christine Brandes - was named "Recording of the Month" and "Editor's Choice" by Gramophone magazine. The second CD in the Scarlatti series, featuring counte-tenor David Daniels, was released in October 1998 in conjunction with a world tour to Berkeley, Ann Arbor, New York, Vienna, London and Frankfurt. The group has received two Diapasons d'Or for their recordings of Nicola Matteis' "Ayres for the Violin", volumes I and II. The third Scarlatti CD, featuring Brian Asawa, has been released. A CD of Scarlatti duet cantatas will appear next year.

As guest conductor, Nicholas McGegan regularly appears with major symphony orchestras worldwide. Among those in the United States are the Atlanta, Boston, Detroit, Houston, Minnesota, Montreal, National (D.C.), New World (Florida), San Francisco, and St. Louis Symphony Orchestras and the Aspen, Grant Park and Ojai Festivals (he was music director for Ojai in 1988). Outside the USA, he has led the City of Birmingham Symphony Orchestra, the Academy of St. Martin in the Fields, the Orchestra of the Age of Enlightenment, as well as the Jerusalem Symphony, L'Orchestre de la Suisse Romande, the Swedish Chamber Orchestra, and orchestras in Lithuania, Hungary, Austria and Italy. In Australia he has worked with the Sydney, Melbourne, and West Australian Symphonies and in 1999 he made his first visits to Asia, conducting the Malaysian Philharmonic. He has a strong commitment to promoting young musicians and is a regular mentor to the New World Symphony and was head of the Pre-Classical Program at the Pacific Music Festival.

Nicholas McGegan has conducted more than forty operas in Europe and the USA ranging from Monteverdi to Igor Stravinsky. These include the major Mozart operas, many by G.F. Handel, and also works by Haydn, Gluck, Rameau, Martin y Soler, Purcell, Landi, and Offenbach.

From 1992- 1998, Nicholas McGegan was Principal Guest Conductor at Scottish Opera, and he was Principal Conductor at Sweden's Drottningholm Theatre from 1993-1995, during which time he conducted his own edition of Philidor's Tom Jones in conjunction with radio and television broadcasts. He has also conducted at the English National Opera in London, Santa Fe Opera, and Washington Opera.

Nicholas McGegan has received an honorary degree from the Royal College of Music of London. He has been awarded the prestigious Händel prize from the Halle Händel Festival in Germany, and in 1996 was presented with the Drottningholmsteaterns Vänners Hederstecken, the honorary medal of the Friends of the Drottningholm Theatre.

Nicholas McGegan's recording contract with BMG/Deutsche Harmonia Mundi is adding a range of opera, orchestral and chamber music projects to a discography that already includes more than 70 recordings on BMG/Conifer, Classic FM, Decca, Erato, Harmonia Mundi USA, Hungaroton, Koch and Reference Recordings.

Nicholas McGegan is on the advisory boards of the Maryland Handel Festival and London's Handel House.