Although he wrote a substantial body of music for a number of media, Hugo Weisgall (1912-97) is probably best remembered as one of America's most important composers of opera and large-scale song cycles, reflecting his intense lifelong interest in both western and Judaic literature. "I am attracted by the verbal, I am sucked aside by words," he once said, "and I want to deal ideologically and musically with difficult problems." The literary merit of his compositions, their original vocal style, and their serious attention to musical and dramatic detail all mark a significant contribution to American music.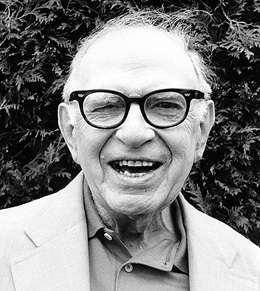 The scion of a highly cultured family that boasts several generations of cantors in the Bohemian-Austrian orbit (and the nephew of the illustrious Zionist leader and producer Meyer Weisgal), Weisgall lent his artistic gifts on many occasions to the expression of historical, literary, biblical, and liturgical Jewish themes and subjects. In a class by himself, he belongs among the highest ranks of the American musical establishment, but he also championed the perpetuation of authentic Jewish musical tradition and of the Central European cantorial legacy. Among serious American Jewish composers, his singularity extended even further to the practical realm. Not only was he fully conversant with the entire range of American and European synagogue choral repertoire, which he taught to cantorial students for more than forty years, but he knew the intricacies of the modal formulaic system of Ashkenazi liturgical rendition known as nusah hatfilla, and he functioned as an authoritative baal tfilla (lay cantor or precentor) well into his retirement.
Weisgall was born in Eibenschitz (Ivancice), a town in Moravia, then part of the Austro-Hungarian Empire (now the Czech Republic), where he claimed to have begun singing in a synagogue choir at the age of three or four. His father, Abba Yosef [Adolph Joseph] Weisgall (who added the second l to his name in America, though his brother Meyer did not), was both a cantor at the local synagogue and a classical lieder and light operatic singer. From childhood, Hugo Weisgall absorbed the Central European liturgical traditions and the western lieder and operatic canons from his father, whom he also accompanied on the piano. The family immigrated to America in 1920 and soon afterward settled in Baltimore, where Abba Yosef served for more than four decades at one of the city's oldest and most prestigious synagogues Chizuk Amuno Congregation. From his earliest years in Baltimore, Hugo Weisgall became intimately involved in the musical life of that congregation. For many years he conducted its choir; and he also organized and directed a mixed chorus, based there and known as the Chizuk Amuno Choral Society, which performed concert works as well and with the esteemed cantor Jacob Barkin issued one of the most artistic LP recordings of classic and contemporary cantorial-choral repertoire.
Apart from some consultations abroad (he went to Europe shortly before the Second World War hoping to study with Bartók, who was unwilling to take on further students), Weisgall received all of his formal education in America. He studied at the Peabody Conservatory in Baltimore, and then intermittently with Roger Sessions. At the Curtis Institute he studied with Fritz Reiner and Rosario Scalero and earned diplomas in conducting and composition, but his variegated interests led him to pursue a doctorate in other academic areas, and in 1940 Johns Hopkins University awarded him a Ph.D. for his dissertation on primitivism in 17th-century German poetry. After the war, Weisgall returned to the United States where he founded and directed the Chamber Society of Baltimore and the Hilltop Opera Company; directed the Baltimore Institute of Musical Arts; and taught at Johns Hopkins University from 1951 until 1957all the while continuing his work with synagogue choirs. But dearest to his heart was his forty-four-year involvement with the Jewish Theological Seminary. He established and stewarded the foremost curriculum in America for education and training in cantorial art. From its opening in 1952 until his own retirement in 1996, Weisgall was chairman of the faculty at the Cantors Institute and Seminary College of Jewish Music (now the H. L. Miller Cantorial School). In that capacity he functioned as a de facto co-director of the school, especially vis-a-vis its musical (as opposed to Judaica) parameters. He devoted a major portion of his energies to that role, bringing both his broad worldview of Jewish music and his exacting western musical standards to bear upon the Seminary's approach to cantorial studies. He also taught graduate level composition and was the doctoral dissertation advisor for such important American composers as Herman Berlinski and Miriam Gideon. His legacy at the Seminary is permanently etched.
In 1961 he simultaneously became a professor of music at Queens College in New York, retiring in 1983 as Distinguished Professor. And he taught for thirteen years at The Juilliard School.
Projects on Weisgall's desk at the time of his death included the beginnings of a second set of settings of Yiddish folk melodies; operatic versions of two plays by Jean Anouilh, several scenes of which were sketched out to libretti by Charles Kondek, the librettist for Esther; and a new opera based on John Hersey's novel
The Wall
, about the Warsaw Ghetto uprising (according to Kondek, they had almost finished a draft of the complete libretto), which was to have been produced by New York City Opera. He was also sketching out a group of liturgical settings for the typical format in Conservative synagogues. Weisgall's earlier style has been appraised as a fusion of non-tonal neoclassicism with certain influences of the Second Viennese School of composers, such as Alban Berg, colored by the general opulence of that period. But his later music more closely approaches that Second Viennese School, especially its most lyrical aspects. Even at its most rigorous-sounding moments, however, it is generally more a matter of strident, even severe chromaticism than actual atonality although Weisgall himself was never comfortable with such classifications.
In 1958 the eminent American composer George Rochberg described Weisgall's music as leaning towards free tonality; he is never quite atonal. But nearly twenty years later Weisgall assessed his own approach from another perspective: "Generally my music is considered complex, he said. It is texturally thick and multifarious; rhythmically disparate; and [it] has harmonic lines that move along on their own. It is what is commonly called atonal, but it is not non-melodic." Rochberg also astutely summarized Weisgall's basic artistic credo at that time: "Among American composers he is one of the few who remain heedless of the musical clichés which superficialize and debilitate American music. There is strength and hope in such an independent attitude. Weisgall remained steadfast to those principles for nearly forty years more. He never succumbed to popular tastes or the lure of wider acceptance; and he never strayed from his own artistic integrity."
Neil W. Levin and Bruce Saylor