Conversation Piece:
Conductor SARAH CALDWELL
By Bruce Duffie


While it seems she's been around forever, Sarah Caldwell celebrates her 70th birthday in March. A much-loved conductor and stage-director, she started out as a violinist and violist, and studied opera with the best, namely Boris Goldovsky.
After heading the opera workshop at Boston University for a number of years in the 1950s, she founded the Opera Company of Boston. Her stewardship has brought it fame and praise for the choices of repertoire and styles of production. She was also the first woman to conduct at the Metropolitan Opera in New York.
Besides opera in Boston and in Europe, Caldwell conducts symphony concerts, and it was during Chicago's Grant Park Festival in the summer of 1992 that I was able to chat with her between rehearsals. Understandably proud of her many accomplishments, she wanted first to talk about her recent triumphs in what was then the Soviet Union . . . . .

Bruce Duffie: You're most noted for opera, and we'll discuss that huge topic in a moment, but you're in Chicago to conduct concerts. How do you divide your time between operatic productions and orchestral concerts?
Sarah Caldwell: I enjoy doing both of them very much, concert work particularly, and the division varies from season to season. Last year I conducted a number of concerts in what was then the Soviet Union. They had a festival of American music, so we were in Moscow and Leningrad, and we went to Siberia and various other cities.
BD: You took American musicians there?
SC: Yes, a total of about 300 American musicians at various times for various parts of the festival. Many Soviet orchestras also participated. There were fine orchestras in three different cities in Siberia and we played all American music. I daresay that last year, more American music was played in certain cities in the Soviet Union than in certain cities here! There was an Elliott Carter festival; most of the serious works of Leonard Bernstein, which were very popular - pieces that one doesn't often hear in this country.
BD: Were the audiences, especially in the remote locations, ready for this kind of music?
SC: Absolutely. They were very excited and interested. One of the things we did that made it interesting was the collaboration. Soviet orchestras had American conductors and soloists, and we had the Soviet conductors, and the string quartet had two Americans and two Russians most of the time. We did an opera at the Bolshoi of a Boston composer named Robert di Dominica, with members of our (Boston) opera company and members of the Bolshoi.
BD: Is the Bolshoi theater any different from the other great theaters of the world?
SC: Not really different. It's a wonderful theater with wonderful acoustics. We enjoyed being there very much, but we found many beautiful theaters in the Soviet Union. It was very exciting to have the experience, and we called the festival "Making Music Together." But before we went there, a number of Russian musicians came to Boston and we had programs of contemporary Soviet composers.
BD: Was the Boston audience ready for contemporary Soviet music?
SC: I think so. They have composed pieces in a great variety of styles, and some audiences liked certain pieces and not others, which is normal. Some of the music we played in the Soviet Union was more popular than other music, but we gave as rounded a picture as we could. It was mostly new music with a little Copland and Piston thrown in. One of the really interesting things to me was the great success we had with electronic music, which we included in almost all of our concerts. The Russian-American Vladimir Ussachevsky helped to set up the festival, and we played one of his works that combines live orchestra with tape. Unfortunately he died before the tour. It took a lot of visits and planning and there was lots of red tape. One of the most distinguished parts of the festival was the Chicago Symphony, and Mr. Solti was particularly charming with the students, letting them attend rehearsals and performances in Moscow and Leningrad.
BD: Is this something that should be done regularly?
SC: Oh yes. We barely scratched the surface. I was aware of how many distinguished American composers we could not take. There is a wealth of creative activity going on in both of our countries which is to be shared. I started to feel like I belonged there, like I was at home and was comfortable, moreso than when I go to France, for instance. I finally realized that it's because we have the same kind of sense of humor or sense of the ridiculous.
BD: You run this festival, and you run your own opera company. How do you build programs from the ever-expanding repertoire?
SC: That is a very interesting question. Our theater in Boston was closed a few months ago to be repaired. It's a very beautiful, but very old theater, and everything possible is being done to refurbish it. So it's a not-too-welcome, but necessary break to reassess what works to do and what kind of company to have. Two or three things are very important. One is that we share with our friends the remarkable heritage of music that has been composed, much of which we don't know. Even when you think of great and distinguished and popular composers, there is a great deal that is never performed by Schubert and Schumann and Liszt and even of Beethoven. Schumann wrote a wonderful piece called Manfred. The Overture is played very often, but it's incidental music to Byron's poem, and was probably meant to be performed in the theater. There are some singing roles, but the title part is spoken, and as a theater evening it is so touching and beautiful that I defy anyone to perform it and not be in tears at the end. Schumann also wrote Scenes from Faust which is sometimes done in concert but rarely in the theater. His style of theater is different, but I think it could be done in a very special way. And don't forget his true opera, Genoveva. I'm not obsessed with Schumann, but these come to mine when thinking about repertoire not often performed.
BD We should present it all and let each work stand or fall on its own merits rather than just performing what we think is good?
SC: No, I don't think so. That might apply more to contemporary music. I'm not proposing we perform music that's not very good just because we haven't heard it. I want to perform music which is wonderful that for some odd reason we have not yet explored.
BD: So you'd be more suspect of, say, Lortzing or Marschner?
SC: Well, I've done The Vampire which is an interesting but not very exciting piece. In contemporary music, when a composer writes in a style that you're not very familiar with, it's far more difficult to decide the value of the work. We are all interested that the piece be relevant, or that it represent something which is important to us. In Amsterdam, I did the premiere of Schnittke's opera Life of the fool. It's an extraordinary piece which had great success there. It's a strange piece, based on a story of a Russian writer who is a friend of Schnittke. For his sins, the hero of the piece is condemned to take a fool into his house and live with him. So he goes to an asylum to select his own fool. The neighbors are agog, and the fool brings strange problems into the house. It obviously has a political message - we condemn ourselves to live with fools and suffer the consequences. It's a frightening piece.
BD: Is the political message just the dramatic text, or is it also in the music itself?
SC: Messages is a strange word. I think it's in the idea. Schnittke is a very great composer and I think he was very much wrapped up in his idea when he wrote it.
BD: Well, can music itself be political?
SC: Musicians have ideas about the world in which they live. Schoenberg wrote a piece called Ode to Napoleon, based on the Byron poem, which is a bitter attack on Adolf Hitler and the things that surrounded the world when Hitler was in power.
BD: I'm trying to find the distinction between the text and the purely musical sounds.
SC: You can make a distinction, but when words and music are put together, they inevitably have to be related. Every composer has tried to do this, has wanted to do this. Most every fine opera is based on an important humanistic idea. Perhaps the word "political" relates in here too, but music and the theater have always been at the heart of human problems. It wasn't for no reason at all that Mozart was very eager to get the rights to composer The Marriage of Figaro shortly after its playwright had been thrown in jail in Paris. Verdi was very much involved in the political problems of his time, both national and international.
BD: But he was very uncomfortable as a member of the elected government. He wanted to act on the problems in his own way, through music.
SC: That's right. We have an interesting example today in the person of Kurt Masur. Besides his new position as Music Director of the New York Philharmonic, he has been for many years the Music Director of the Leipzig Gewandhaus Orchestra, and played a very important role in the problems that best that city. When the revolutionary mob was ready to attack the establishment and the establishment was ready to turn with full force on this group, Masur managed to get in between them and get them into the Gewandhaus, and became a national hero.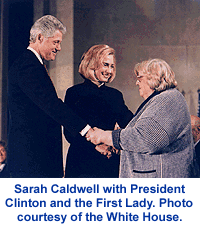 Sarah Caldwell receiving the 1996 National Medal of Arts
[Note: In 1960, Caldwell's production of Offenbach's uncompleted opera, Voyage to the Moon,
was presented at the White House to an audience which included President John F. Kennedy,
aviation pioneer Charles Lindbergh, and several American astronauts.]


* * * * *
BD: Let's turn to something perhaps a bit more mundane. When you're rehearsing in the concert hall or the opera house, do you do all of your work at rehearsal, or do you leave a little bit for the evening of performance?
SC: It depends a great deal on the situation. In any event, the act of performance is the creative act itself. You hope to Heaven that you've had enough time in rehearsal to communicate with the orchestra the important things you wish to say, so you can make things clear. The players need to know when they're coming in and what the character of the music is and how they fit into the overall pattern. It's relatively easy if it's a piece they know well, and becomes more complicated when it's something they don't know. In this country, we seem never to have enough rehearsal, but you've asked an interesting question about performance. One conductor trap is that you want very much to establish certain details that you feel are terribly important so that you can see the entire work. Yet when the performance comes, there is the line of performance act and you have to be careful to know where you are and what it is that you're doing. You can get so wrapped up in things that you wanted to rehearse that you didn't, that you're not performing, but doing something else. I'm not sure that's clear, but in the performance, you have to think in terms of what the piece is about and present it with the line and form intact. Performing is different from rehearsing.
BD: Is there a point when it stops being just pitch-and-duration, and becomes music?
SC: The very first moment you rehearse it becomes music. Or it should. That's what it is that you rehearse - the making of music, not the playing of notes as abstractions. Different orchestras respond differently depending on the way they are treated and trained. A few years ago, I had the experience of doing the same piece one week with the Cleveland Orchestra and the next week with the Philadelphia Orchestra. Both are great orchestras, but their approach to music was quite different. The Cleveland, which had been trained at the time by George Szell, was meticulous and thoughtful, got everything in place intellectually and then played. The Philadelphia began making music the second you started the rehearsal. Neither way is better than the other, but different methods of working.
BD: Did they arrive at the same point eventually?
SC: They arrived at different points and both were splendid. They were similar, of course, but it was a very interesting experience. I've just come from my first rehearsal at Grant Park and I was very impressed with the quality of this orchestra. These musicians are very bright and read very well, and are exceedingly cooperative. We covered a vast amount of music today, and after we finished I learned that most of them hadn't seen any of these particular pieces before.
* * * * *
BD: Now coming back to the opera house, once you've selected your repertoire, has there ever been a time when you wished you could change the work and do something else instead?
SC: Not really. If you choose to do a piece because you have a marvelous cast and for some reason they all disappear, then the chances for doing the piece well become noticeably less. In Boston, we're not able to do a full opera season.
BD: Should you be able to?
SC: Our problem is not enough money. Of course, you should be able to do it, and it ridiculous that we've not had the wit or ability to find a way to do it. Nevertheless, we've done three or four operas - sometimes as many as six operas - with a number of performances each per season. We've worked on one opera at a time, which is the way I like to work. There are so many wonderful things to do and there's never the time to be able to do them all.
BD: Is it safe to assume you'd prefer to do a work which is new to you rather than another standard work you've already done?
SC: Not really, no. I think a season needs variety. You want to present to yourself and to the artists, and to the subscription audience a varied experience. So we try to do things in a variety of styles. There are many different operatic menus and you want to keep things as interesting as possible. A subscriber who comes and has one kind of experience knows that the next opera will be very different. As far as what I enjoy doing, I get as much pleasure out of doing a Bohème if it s particularly beautiful as I do from a piece I've never done before. It depends on the circumstances.
BD: Do you spend more time learning the piece you've never done before, or do you start from scratch on the Bohème also?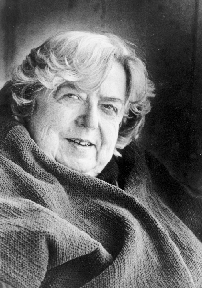 SC: In a sense, I start from scratch, but I know that piece very, very well and can conduct it by heart and have done so many times. It's dangerous, though. We try to approach things as if they were brand new, try to come to them and see what's in the score, and ask questions once again. There's always something new and interesting - particularly new casts. Music - opera particularly - is a process which is endurable or successful only if it is achieved by people who love to collaborate. Music is made by a lot of people performing together. Opera has acting/singers as well as orchestra, and each one of those people bring something to the performance. As the director of an opera, it is my responsibility to unify the style of the particular performance, but one can certainly approach the piece from different points of view. That's what makes it interesting and keeps it alive. If it's a great work, there's so much to explore in it that I don't think in a lifetime one exhausts the potential.
BD: Is that what makes a certain piece great - that you cannot plum its depths?
SC: That's certainly one of its attributes.
BD: Is that what you look for - something that is not shallow?
SC: It's something you look for, and fortunately it's something the great composers have given us. We're fortunate today that we have a number of very gifted composers that are seeking to write works about our concerns so that we will have something to give future generations.
BD: OK, where is opera going these days?
SC: Well, there's a lot to talk about. We've seen that "Opera is Dead" or "What will be the Future of Opera" but the truth of the matter is that as long as there has been music and theater there has always been an activity that combines theater and music. The music enhances and sharpens the emotional content of the theater, and it will always be so. The form it takes will depend on the composer and the playwright and the circumstance of the times. Composers will combine music and theater in the ways they find important. They explore and try to find things that will work for us today.
BD: Is there anything special that you must do to bring an old opera to the audience of the 1990s?
SC: No matter who the composer is, bringing a work to the audience of the 1990s means an education process, but you're sharing. It's a wonderful thing, I think, that we have the opportunity to share music and theater styles and experiences of so many different generations and countries. Today, we've become very interested in the sounds of orchestras of earlier times. We play on instruments that sound different when we play early music because we want to get ourselves into the atmosphere and sounds. At the same time, the theatrical techniques and methods of operation and styles are things that I predict in the next few years will become of equal interest. We've gone through a period that on one hand we were exploring old performance practices, and on some stages we've tried to combine them with our own perception of what a new theatrical style should be. Sometimes these things work well, sometimes it's a disaster, but what you can lose from doing something like that is the giving to the audience and tasting what nineteenth or eighteenth century composers and theater folk were doing together.
BD: Is the idea of going back to "original instruments" a search on our part or a sophistication and a demand on our part?
SC: Oh, it's all of those things. Sometimes these instruments make us thankful that instruments have improved. Ours can often make far more musical sounds than they could in those days.
BD: For our ears?
SC: I think we can safely say that in some cases also for the ears of the composers and people of that time. Another problem we face is that it's been difficult to persuade our finest performers to play on some of these instruments, so sometimes the people that play them with more love than skill have not brought out the best of their qualities. But it's all interesting and shows that as a profession, we have a fascination with what is happening and what has happened. I would hate to lose that fascination by neutralizing our interests.
* * * * *
BD: You've been a student of the voice and voices for a long time. Are the great voices of today on the level of those of yesterday and the day before?
SC: I think they surely are. Every age, every season brings particular performers whose artistry we are fortunate enough to experience. We become tremendously enamored by what certain performers can do, and when those performers are no longer with us, their artistry will pass away and it probably does. But other artists come along and we hear the same music an hear it interestingly and differently. I'm sure it depends on what demands are made on the performers and the conditions under which they perform.
BD: Are they being asked to do too much today because of the airplane?
SC: That is undoubtedly a factor. All performers are eager to perform as much as they can, particular the singing actor. It's such a complicated skill and takes such a long time to learn. There's lots of voice lessons and you need to act and put all these things together, so by the time you're a successful artist of the first rank, you're rarely a young person any more. Very often you realize it was hard to get there and you want to take advantage of where you are now as long as you can and make each year and each season as long as possible with many experiences. So people do too much, probably haunted by the fact that they are also aware that voices will not last all that long. I have the great advantage in my end of the profession that the older you get, the better you are, and nobody cares what happens to my voice.
BD: Are you both conductor and stage director every time?
SC: Most of the time. From time to time I've had great pleasure of conducting with a stage director whose work I thought was marvelous.
BD: Is it not good to have that extra input from someone else?
SC: Depends on the someone else. I feel that the work of the director and the work of the conductor are so intimately related and the music and the text work together so intimately that I think of them as so closely interwoven that as conductor, once I've staged a piece I think I'm able to conduct in the spirit of the staging and help the music to ignite the stage so that it works with the theatrical performance.
BD: Has there ever been a time when you, as the conductor wind up disliking something you did as director?
SC: I've often been dissatisfied with work I've done. That's why one likes to do pieces over again. I put new things I've found along the way into the next production.
BD: Are you satisfied with your recordings?
SC: What happens in performance is different from what happens on recordings. Often, in a record you get a perfect mechanical thing. Record companies, to save money, will often ask you to record things not in the order in which they come in performance. In the Don Pasquale, we did the recitatives separately. I understand the economical factors, but the advantage of recording from live performances is the fact that it is a live performance. More and more orchestras are doing recordings from live performances.
BD: What advice do you have for someone who wants to conduct opera? And would that advice be significantly different for one who wants to stage opera?
SC: Not really because I think that to conduct opera well you must belong to the theater and spend a lot of your life there. You must understand the relationship between music and the theater, and to be a good director you have to be very sensitive to the music and be trained in music. The good directors I know are all tremendously sensitive to music. It just has to be.
BD: What advice do you have for young singers coming along?
SC: I think that we expect a great deal of singers. It's an exciting life. It's also a very difficult life, but we expect our singers to be fine musicians, to act as well as the performers of the spoken stage, and to be able to combine music and theatrical skills. This is an incredibly high level of human achievement, and it has the advantage that it's a tremendously exciting thing to do. I don't think one could ever get bored doing it. It takes a great deal of hard work, and the difficult thing about being a singer is that you don't really hear yourself sing as others do. A pianist hears the playing like anyone else does, but because your voice is inside of you, you have a different perspective toward it. That is its own hazard.
BD: Is it different working with younger or less-known singers as opposed to the big super-star types?
SC: Not really. In my experience, the super-star types can be easier to work with. They're used to rehearsing, they understand how difficult it is, they know how much rehearsal is necessary, and they're easier to get along with because they've been through it. In general, the fine artists are great to work with, and so are young singers. I've not had problems of this kind.
BD: One last question - is conducting fun?
SC: Yeah. It's a lot of fun. I feel very fortunate that I've been able to spend most of my life in music and in theater. As a child, I loved the theater and I loved music, and as a student, when I first began to play in opera orchestras, I found a way to be a musician and live in the theater.
= = = = =
- - - - -
= = = = =
A moment, if I may, to say thanks to Robert Hansen, who recently stepped down as Editor of The Opera Journal. As with Leland Fox before him, it was a pleasure to work with "Dr. Bob," and I wish him lots of success in getting back to being just a real person.
= = = = =
- - - - -
= = = = =
After a wonderful season enjoying Lyric Opera of Chicago, Bruce Duffie now ponders the task of sorting through all the new interviews with the season's artists. Most will air at appropriate times on WNIB, and some will find their way into these pages. Next time, the poet and librettist Harvey Hess, who has worked closely for many years with the Hawaii-based composer Jerré Tanner.




= = = = =
- - - - -
= = = = =
©Bruce Duffie
First published in The Opera Journal March, 1994
Be sure to visit Bruce Duffie's Personal Website [ http://www.bruceduffie.com ] ,
and send him E-Mail [ duffie@voyager.net ] .