Presenting RENATA SCOTTO

By Bruce Duffie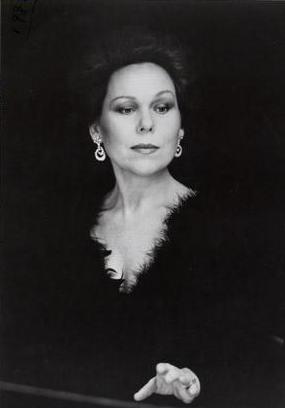 [Note: When this interview took place in 1988, I knew it would be published in The Massenet Newsletter, as well as have its usual airings on WNIB, Classical 97 in Chicago. This is why there is a particular emphasis on French opera in addition to the general questions about her career and her views on singing, etc. What follows is the material that was published July of 1991, with the addition of a few small sections which were cut in that presentation, and photographs which have been found on the internet.]

Even though her name evokes many of the great verismo Italian operas, Renata Scotto has done a number of French roles, including Manon as early as 1963, and more recently Charlotte.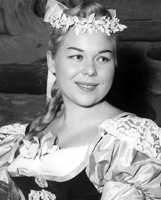 Born in 1934, Scotto studied in Milan and made her debut at the Teatro Nuovo when she was only 19. Immediately engaged by La Scala, she has appeared there and in many other opera houses around the world regularly ever since. It was in 1957 that she stepped in for Callas and made a name for herself by not disappointing those who had come to hear the reigning diva.

In this country, she has been heard at the Met many times since 1965, and has been seen on several "Live from the Met" telecasts including the very first one of the current series. But it was in Chicago that she made her American debut in 1960, and she has sung here several times since in various operas, including

Manon

with Alfredo Kraus.

Besides her opera and concert appearances, Scotto has made many recordings, two on the Hungaroton label (HCD 31037 and HCD 31116) being of special interest since they contain French repertoire. She has also recorded many of her roles complete on various labels over the years.

It was during a visit to Chicago in 1988 that I had the opportunity to meet with Miss Scotto at her apartment between performances of

Tosca

. She was kind and gracious, and delighted in showing me her current project – designing costumes for upcoming productions. Her English was quite good, though it occasionally frustrated her not to be able to speak as quickly and as easily as she was obviously thinking.

Here, then, is much of what was said that afternoon.....




Renata Scotto

: My dream and desire is to design costumes. In my

Butterfly

in Verona, I did design my own costumes. I have to improve my study, so I have books on fabrics and period styles all over.



Bruce Duffie

: Will you do set design also, or just costumes?



RS

: No, just costumes, and staging which I did already and liked very much.



BD

: I'm impressed that a singer with your experience would want to share some of that with others and bring it to life elsewhere.



RS

: I like it very much, but I have to study because it's a completely different perspective. You have to forget that you are a singer.



BD

: Have you done both at the same time?



RS

: The first time I was also in the production; later, I was the only director.



BD

: Which is better?



RS

: When you're directing, it's better not to also sing. It's very difficult to do both, and I like to direct and I like to sing. But it should be two separate people. In my directing debut at the Met, I also sang. In Verona, I also sang, but only the last two performances. The show was already running for 8 performances before I stepped onstage to sing in my staging.



BD

: Tell me about the secret of singing Puccini.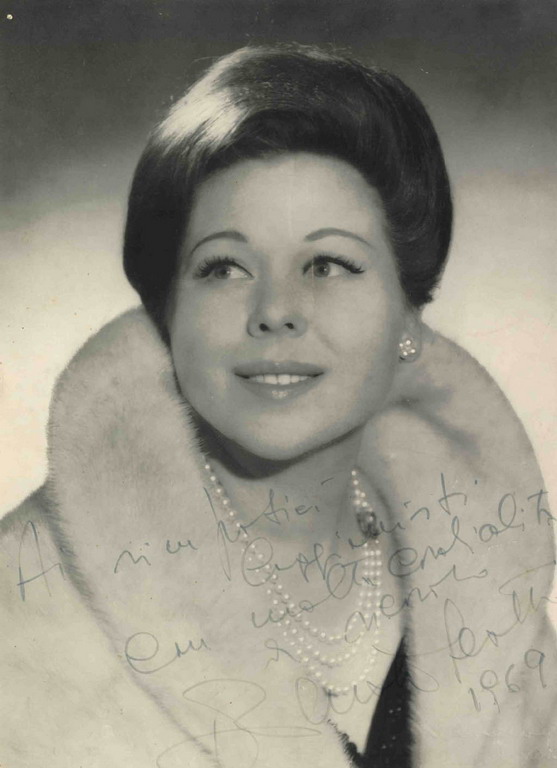 RS: Oh my god. There's no secret as long as you can sing what Puccini wrote. Often, I see young people who start their career with Puccini because they think it's easier than other composers like Verdi. If you take the score only (just the notes), of course it's easier. Verdi, and other composers of the romantic 19th century, need bel canto technique. So, when I see the young people sing Puccini, I know they're making a big mistake. In order to sing Puccini, you have to know how to sing first. You have to know the meaning of being a singer who knows how to act and make a character believable. That is the great secret of Puccini – theater, words in music, but in the verismo style. Many times "verismo" is misunderstood and they think "melodrama" is the same thing. Verismo is a style, like bel canto. Verdi is his own style, as is Wagner. Verismo includes many composers from the late 19th to early 20th centuries. From my experience and study, verismo is a very precise style where everything is concentrated, and there are only a few pages of music to express a situation either dramatic or comic. The structure is different – fewer recitatives or duets and trios. They are there, but they are concentrated.



BD

: Was Puccini the supreme example of the verismo style?



RS

: I would say that it didn't begin with Puccini. We could speak of Ponchielli, and then we're back in the 19th century. The verismo is drama in music. You do not have the long recitatives to explain the situation followed by an aria with a cadenza. The beginning of verismo is in the late Verdi, like

Otello

and

Falstaff

. Verdi for me is the greatest opera composer, the same as Wagner. I don't do Wagner so I don't know much of his music even though I love it. I'm crazy about it, but I need to sing it in order to know it, so I cannot. But the difference between the early Verdi of 1844-1848 and late Verdi toward the end of the century is immense. There is a line from the beginning to the end.



BD

: You sing both Verdi and Puccini. What are the differences in the vocal style?



RS

: For Verdi, you need a special technique because you have everything. He is very much a demanding composer from the point of view of the singer. He wrote for the voice, but asked everything from the voice.



BD

: Did he ever ask too much?



RS

: [In a matter-of-fact tone] No. No, not too much. Verdi is just perfect. He only demands a good singer, which is a lot! You have to study very much to sing Verdi. You have coloratura, you have legato and legatissimo, pianissimi, fortissimi, parole – words. Every character is different, and even if the music looks alike, the difference is great. I sang a lot of Verdi, and the difference between Gilda in

Rigoletto

and Violetta in

La Traviata

, which is already a dramatic character, or even Lady Macbeth or Elena in

I Vespri Siciliani

, is in the drama because the music looks almost the same. It has coloratura, dramatic moments, legati, high notes, low notes, everything is there. It depends on the character – the right expression, the right words. He requires more voice, more temperament. Gilda is a young and inexperienced woman and you have to keep this shape to the character.



BD

: Did Verdi put all of this into his music, or did he expect you to bring this understanding of each character?



RS

: He puts everything into the music, but it's up to you to understand. He wrote everything, but not everything that he wrote is understood. When a writer pens a book, sometimes you misunderatand what he is trying to say, or perhaps you don't see it.



BD

: Is that the beauty of Verdi – that you can keep discovering things for years?



RS

: For everything, not only for Verdi but especially his music. Violetta is one of the roles that I sang most in twenty years of my career and each time I found something not different but to undertand better. That is a very difficult role because musically it is very sophisticated, but not in the orchestra. He leaves everything to the singer to phrase the meaning of the words, to find what is underneath the character. When she meets Alfredo in the first act, she thinks he is just one of the many men she has met. But when she is alone and she thinks about him, something goes on in her mind. The way he was talking about her makes her think that maybe this was the man she was waiting for. In the first part of her aria, there are some words which are very sad. I thought about that a lot and had a feeling she wanted much, much more. She knows that it will change her life. She was very sad and knows she is sick, and is waiting for this big change. In the music you have everything so those words have different meanings if you think about it. It is not superficial. Nothing is superficial in Verdi, especially for Violetta in the first act. So there is always something special.



BD

: When you portray Violetta, does this woman, living in the remote past still speak to women (and men) at the end of the 20th century?



RS

: The romantic period had its own style, which is absolutely different than the style today. At that time, in order to meet a man and say, "I love you" would take much longer than it would take today in the modern way when everything is fast. One of the beauties of romanticism is its slow pace. If you want to talk about romanticism, Massenet, in some of his operas shows the real romantic period. To have them kiss each other in

Werther

you wait three hours, and to die takes 20 minutes! This is romantic. I'm a romantic and I like romanticism, but it doesn't go with our life, even though I feel the modern audiences love to see it on the stage. They cannot have it in their lives, so they go into the theater to identify with some character. For two hours, you go into another world.



BD

: Does it change their lives completely?



RS

: I think so. It changes mine when I'm onstage, and I believe I change the life of my audience – at least for two hours.



BD

: Well, where is the balance between an artistic achievement and an entertainment value?



RS

: From my side, the artistic achievement is to be able to take the audience away from their outside life. To understand the artistry of the composer and of the theater, and to be able to transfer this from me to the audience is the achievement I'm waiting for every time I step onstage. I know I'm there to entertain. Hopefully, I'm not only an entertainer.



* * * * *





BD

: Let's stay with Massenet for a bit. How are his operas written differently for the voice from Puccini or Verdi?



RS

: I believe that Massenet is the Puccini of the French. I say that because in the same way, he brings life onstage to the character and romanticism of verismo. He likes theater very much, but in a different way. Puccini brings the Italian temperament and Massenet brings the French temperament, which is more sophisticated. As a woman, I like fashion and design very much, and the French have a more soft taste in what concerns color and design, even perfume.



BD

: More delicate?



RS

: Not delicate, but more suave. Massenet is not always delicate. The St. Sulpice duet in

Manon

is not delicate. It is very forceful, very dramatic. The Puccini setting of the Manon story is temperamental and passionate. Massenet is also passionate, but different. It's French passion. On the other hand, the "Dream" is delicate but not superficial. Delicacy can be profound. All this, of course, is only my opinion…



BD

: But it's what you have discovered in singing the music.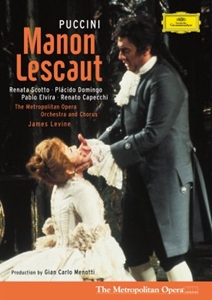 RS: I made a recording of French music – mostly Massenet – and included an aria from

Sappho

. It's a beautiful aria, and the story has nothing to do with the mythological character. It's a love story. The man discovers that she posed nude for a sculpture, and he's very jealous. It's a beautiful story. I put the aria in the record and it's fabulous. It's quite close to what Puccini would have liked to write about this passionate woman who asks him to give her back the love he once felt. She wants him back, and the aria is very much like Puccini, but in the French style. Massenet is fascinating, and I love it. I'm a Massenet fan. I discovered, when I sang

Werther

, how beautiful Charlotte is and how deep the character is. I have also another dream. It's impossible, but I would love to sing in one day both the Massenet and Puccini Manon! The two together make the Prévost. What happens in one doesn't happen in the other.



BD

: Tell me about Manon. Is she the original liberated woman?



RS

: Yes... Well, it depends on what you mean by "liberated." If you mean that she has to work for her money and pay for her own life, no. Manon wants the man to pay all the time. If you mean that she does what she wants all the time, then yes she is liberated. Today, liberation for women means that they have to work twice – the domestic chores in the home and a job outside! Manon is very selfish. She needs a man and needs everything, and she pays for it emotionally. I think there is a little bit of Manon in every woman. Many women won't say so, but I think it's true.



BD

: If Manon were around today, might she have stayed with Des Grieux but gone out and gotten a job to help support their lifestyle?



RS

: [Quietly giggling] I don't think so. She'd still change men and find a rich one!



BD

: Well, would Manon have been happier if she'd gone off with the rich man first without ever meeting Des Grieux?



RS

: Mmmm, no. Everything that she does is what comes at the moment. We see this young girl who has been sent away from home to the convent because she was a bad girl. She finds a way to avoid the convent.



BD

: So even before we meet her, she's already been in trouble.



RS

: Oh yes, of course. She was one of those girls. It's a very modern story but you cannot live that way. The girl always pays in the end. A girl like that today would finish like Manon. It's tragic. In life you have to think and do the best you can to make your life good for yourself first. I'm a mother and I'm very organized. When you have respect for yourself, you have respect for others. Respect is what your life is about.



BD

: So the opera is essentially a morality play.



RS

: Yes. It instructs you what can happen and how you can end up.



BD

: Then is Charlotte the complete opposite of Manon?



RS

: Yes. Charlotte is in charge of her life, and we can blame the society which makes you do things you don't want to do. Charlotte was not free to do what she wanted – not because of her, but because of her society. Manon didn't care a bit about society, but Charlotte was forced by her bourgeoisie family and her education and her small town, and her very strong religion. Society can change your life. You have to be in charge, and know what you want to do, and not be forced by others, like in the case of Charlotte, to marry whom they tell you.



BD

: If Werther hadn't come into her life, would Charlotte have been quietly happy with Albert?



RS

: Who knows? Maybe not.



BD

: If she hadn't been forced to marry Albert, might she have been happy with Werther?



RS

: It is my belief from what I've read that Werther would never be happy. He has to be unhappy in order to be happy. He's that kind of character.



* * * * *





BD

: Do you sing differently in the recording studio that you do in the theater?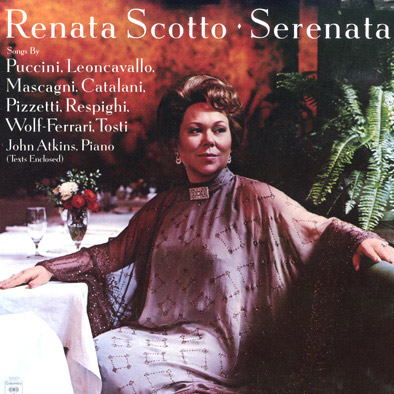 RS: No, I don't sing differently. The only thing is that when I do a recording, I have a much, much larger audience. A record is a document and it's forever. People, audiences, students can go to it to understand or to listen or to compare. So when I do a recording, I am very careful and do it knowing that I have an audience of millions and millions of people. I like to do, if I can, long takes. Each scene once, twice, maybe three times until I like it. But not piece by piece or note by note. That's fake. You lose the spontaneity and stage presence and the drama. So, when I'm in front of the microphone, I try to picture the audience, and often it works. I am often asked which are my favorites…



BD

: ...but I don't ask that question! However, let me ask a more general question: are you basically pleased with those recordings you have made?



RS

: Basically, yes.



BD

: Do you ever feel you're competing onstage with the recordings you have made of that role?



RS

: Oh yes, oh yes. When I make a record I think about the audience, so in performance I have to think about the record because I want to do the same performance.



BD

: The same – or better?



RS

: Same, better, worse, whatever. It's a performance.



BD

: When you're preparing these roles, do you dig as much as you can into the characters and the background of the work?



RS

: Absolutely. This is the first homework you have to do. For me, first I have to know why the composer thought about writing an opera about this character. If there is a play or book, I read it. Then I go to the composers' letters. I'm so glad that they used to write letters so we can read them. I'm not sure composers write so much any more. By reading them, you can understand what the composer was thinking before he even starts the first note. The choice of librettist was often forced upon the composer by the publisher. Sometimes the subject was a historical event that really happened, so you read about it. I like to do the homework before I start learning the music, so when I come to the music I know what I'm going to be dealing with, and I put myself into it.



BD

: When you're offered roles, how do you decide which ones you'll learn and which ones you'll turn aside?



RS

: When that happens, I look immediately at the music. I sing through it and sometimes I know immediately it's not for me. Other times, I have to do a bit of research. I also ask maestri for advice, but you must be careful. Sometimes they see the singers all the same. One soprano will be different from another soprano. All will be different. Once, a maestro told me not to do a certain role, but I did, and it became one of my greatest parts. I judge for myself, but I need advice.



BD

: What advice do you have for young singers coming along?


RS: That is always a very difficult question. Everyone must gain their own experience. You can tell youngsters many things, but until they experience things for themselves, they never learn. So I encourage them to start as soon as possible because they have a lot of time ahead to make mistakes. We have a saying in Italian that translates, "By making mistakes, you learn."



BD

: Is singing fun?



RS

: Ah, yes! Yes singing is fun! I always enjoy singing very much. The moment before you go onstage is the most terrible moment. A thousand things come into your mind. You need to be able to go out and please an audience. You need to do what you've been studying. You have so many questions in your mind before you go out, and then you start. As soon as I start, I enjoy it very much. It's like I have a second life. Every morning when I wake up, I thank God that he has given me this gift. It is something special and it's something that is not mine. It's for people who share with me, and for one or two or three hours we share the same joy that I've found in this gift. It makes me so happy and I hope that I can make others be happy, too.



BD

: Is there any role that you especially identify with?



RS

: In every role there is a moment that you identify with. I don't identify with Lady Macbeth… [laughter] But there is always a moment that I identify with – as a woman, as a lover, as a mother. There are many moments. When you go into a style like the Bel Canto style or the Romantic style, it's harder to find the identification. But even there, there is always one phrase that takes you back to yourself. Even with Manon! [laughter] As I said, every woman has a little bit of Manon in her!





=== === === === ===
--- --- ---
=== === === === ===





© 1988 Bruce Duffie

This interview was recorded in Chicago on January 21, 1988. Portions were used on WNIB (along with musical examples) in 1989, 1991, twice in 1994, and once again 1999. A short segment was given to Lyric Opera of Chicago and used on their website as part of their group of Jubilarians to celebrate the 50th anniversary season of the company in 2004. The transcription was made in 1991 and published in The Massenet Newsletter in July of that year; it was re-edited and posted on this website in November of 2008 with the addition of photographs.


Award-winning broadcaster Bruce Duffie was with WNIB, Classical 97 in Chicago from 1975 until its final moment as a classical station in February of 2001. His interviews have also appeared in various magazines and journals since 1980, and he now continues his broadcast series on WNUR-FM, as well as on Contemporary Classical Internet Radio.

You are invited to visit his website for more information about his work, including selected transcripts of other interviews, plus a full list of his guests. He would also like to call your attention to the photos and information about his grandfather, who was a pioneer in the automotive field more than a century ago. You may also send him E-Mail with comments, questions and suggestions.