Bruce Duf f ie on WNUR



Classical and Beyond
The current time slot is Saturday from 1 PM to 4 PM
[Previously, the program has been heard on Saturday from
7 AM to 9 AM, 6:30 PM to 8:30 PM, 5 PM to 7 PM, and 7 PM to 9 PM;
on Sunday from 11 AM to 1 PM, 12 Noon to 2 PM and 5 PM to 8 PM;
and for a few weeks in the shorter version from 12 Noon to 1:30 PM,
and 9 PM to 10:30 PM]
My segment was approximately 45-50 minutes during the second hour
on all programs through Dec 4, 2005. After that date,
it was approximately 25-30 minutes through June 11, 2006,
after which it returned to its original length.
Each segment features music and interview with a guest.
WNUR-FM provides live-streaming of its programming on the internet !
For details, go to WNUR



February 16, 2002 - Composer/Organist DAN LOCKLAIR
February 23 - Cellist TRULS MØRK

March 2 - DAN LOCKLAIR (repeat)
March 9 - Saxophonist GEORGE WOLFE
March 16 - (no program - technical problem at WNUR)
March 23 - Harpsichordist IGOR KIPNIS
March 30 - Composer JEFFREY MUMFORD

April 6 - (no program - technical problem at WNUR)
April 13 - Trumpeter CRISPIAN STEELE-PERKINS
April 20 - Composer ROBERT CARL
April 27 - Composer JAMES PRIMOSCH

May 4 - Conductor YAKOV KREIZBERG
May 11 - Composer DAVID RAKOWSKI
May 18 - Pianist DAVID HOLZMAN
May 25 - Composer JOSEPH SCHWANTNER

June 1 - Baritone GERALD FINLEY
June 8 - Composer MARILYN SHRUDE
June 15 - Composer FRANK TICHELI
June 22 - Pianist LAURENCE JEANNINGROS
June 29 - Composer ISABEL MUNDRY

July 6 - Conductor PAUL SALAMUNOVICH
July 13 - Guitarist ELIOT FISK
July 20 - Composer ANDERS NORDENTOFT
July 27 - (no program - technical problem at WNUR)

Aug 3 - Organist/Composer JEAN GUILLOU
Aug 10 - Composer RALPH SHAPEY (Memorial)
Aug 17 - Composer KENNETH GABURO
Aug 24 - Oboist ALEX KLEIN
Aug 31 - Conductor HUGH WOLFF

Sept 7 - Composer SCOTT LINDROTH
Sept 14 - Violinist VICTOR AITAY
Sept 21 - Composer ADA GENTILE
Sept 28 - Composer/Pianist RALF GOTHONI

Oct 5 - Baritone WILLIAM WARFIELD (Memorial)
Oct 12 - Double Bassist FRANÇOIS RABBATH
Oct 19 - Composer M. WILLIAM KARLINS
Oct 26 - Trombonist/Composer CHRIS BRUBECK

Nov 2 - Tubist GENE POKORNY
Nov 9 - Baritone JAKE GARDNER
Nov 16 - Composer GLORIA COATES
Nov 23 - Composer DANIEL ASIA
Nov 30 - Conductor SERGIU COMISSIONA

Dec 7 - Composer TERA DE MAREZ-OYENS
Dec 14 - Violist YIZHAK SCHOTTEN
Dec 21 - Composer MICHAEL TORKE
Dec 28 - Composer PHILIP SPARKE

Jan 4, 2003 - Violinist GIL SHAHAM
Jan 11 - Conductor STEVEN RICHMAN
Jan 18 - Pianist PIERRE-LAURENT AIMARD
Jan 25 - Conductor MARK ELDER

Feb 1 - Conductor BERNARD HAITINK
Feb 8 - (no program - technical problem at WNUR)
Feb 15 - Pianist JUSTIN KOLB
Feb 22 - Special WNUR Programming

Mar 1 - Composer COLERIDGE-TAYLOR PERKINSON
Mar 8 - Conductor DAVID ROBERTSON
Mar 15 - Tenor WILLIAM BROWN
Mar 22 - Composer/Conductor ESA-PEKKA SALONEN
Mar 29 - Composer GEORGE FLYNN (Part 1)

April 5 - Violist/Conductor YURI BASHMET
April 12 - Composer W. FRANCIS McBETH
April 19 - Pianist MAURIZIO POLLINI
April 26 - Composer/Pianist OLLI MUSTONEN

May 3 - Composer GEORGE FLYNN (Part 2)
May 10 - (no program - technical problem at WNUR)
May 17 - Composer MELINDA WAGNER
May 24 - Composer MARK-ANTHONY TURNAGE
May 31 - (no program - technical problem at WNUR)

June 7 - Pianist VALENTINA LISITSA
June 14 - Composer MARI TAKANO
June 21 - Conductor MARIN ALSOP
June 28 - Composer STEVEN GERBER

July 5 - Conductor LEONARD SLATKIN
July 12 - Pianist STEPHEN DRURY
July 19 - Lutenist HOPKINSON SMITH
July 26 - Electro-Acoustic Realization by ANDREW GERZSO
of music by PIERRE BOULEZ

August 2 - Violist KIM KASHKASHIAN
August 9 - Bass-Baritone WILLIAM POWERS
August 16 - Composer INGRAM MARSHALL
August 23 - Pianist LEIF OVE ANDSNES
August 30 - (Program pre-empted by NU Sports)

September 6 - Pianist JOHN NOVACEK
September 13 - Composer BERNARD RANDS
September 20 - Cellist FRANCES-MARIE UITTI
September 27 - Composer JUDITH LANG ZAIMONT

October 4 - Violinist MAXIM VENGEROV
October 11 - Harpist SARAH BULLEN
October 18 - Conductor JOHN MAUCERI
October 25 - Composer NED ROREM AT 80

November 1 - Composer SIMON HOLT
November 8 - Pianist YEFIM BRONFMAN
November 15 - Violinist VADIM REPIN
November 22 - Hornist DALE CLEVENGER
November 29 - (no program - technical problem at WNUR)

December 6 - Soprano CHRISTINE BRANDES
December 13 - Composer PAULINE OLIVEROS
December 20 - (no program - technical problem at WNUR)
December 27 - Composer AARON JAY KERNIS

January 3, 2004 - Contrabassoonist SUSAN NIGRO
January 11 - Soprano NEVA PILGRIM
January 18 - Composer MARTIN BRESNICK
January 25 - (Program pre-empted by NU Sports)

February 1 - Soprano JULIANNE BAIRD
February 8 - Composer PETER LIEBERSON
February 15 - Composer DANIEL S. GODFREY
February 22 - Composer NANCY VAN DE VATE - (WNUR Radiothon)
February 29 - Flutist MARY STOLPER

March 7 - Tenor PETER SCHREIER
March 14 - Composer AUGUSTA READ THOMAS
March 21 - Composer CHRISTIAN LAUBA
March 28 - Pianist PIOTR ANDERSZEWSKI

April 4 - (Program pre-empted by NU Sports)
April 11 - (Program pre-empted by NU Sports)
April 18 - Composer RODION SHCHEDRIN
April 25 - (Program pre-empted by NU Sports)

May 2 - (Program pre-empted by NU Sports)
May 9 - Conductor SIR CHARLES MACKERRAS
May 16 - Composer MARK ADAMO
May 23 - Composer YURI FALIK
May 30 - Pianist MARILYN NONKEN

June 6 - Soprano BRENDA ROBERTS
June 13 - Composer JAMES PRIMOSCH (repeat)
June 20 - Cellist JANOS STARKER
June 27 - Pianist EMANUEL AX

July 4 - Violinist NADIA SALERNO-SONNENBERG
July 11 - Pianist TZIMON BARTO
July 18 - Composer AMNON WOLMAN
July 25 - Composer JENNIFER HIGDON

August 1 - Composer ROBERT CARL (repeat)
August 8 - Cellist LYNN HARRELL
August 15 - Conductor CARLOS KALMAR
August 22 - Composer JOHN CORIGLIANO
August 29 - Composer/Tubist JOHN STEVENS

September 5 - Conductor HANS VONK (Memorial)
September 12 - Conductor CHRISTOPH ESCHENBACH
September 19 - Mezzo-Soprano SUSAN GRAHAM
September 25 - (Program pre-empted by NU Sports)

October 2 - (Program pre-empted by NU Sports)
October 9 - Composer LEONARDO BALADA
October 16 - Composer STEPHEN SYVERUD
October 23 - Violinist CHRISTIAN TETZLAFF
October 30 - Composer RONALD CALTABIANO

November 6 - Composer/Clarinettist EVAN ZIPORYN
November 13 - Conductor SIR ANDREW DAVIS
November 20 - Soprano PHYLLIS CURTIN
November 27 - (no program - technical problem at WNUR)

December 4 - (Program pre-empted by NU Sports)
December 11 - Composer PAUL CHIHARA
December 18 - Violinist JANET PACKER
December 25 - Flutist DONALD PECK

January 1, 2005 - Pianist LANG LANG
January 8 - Conductor DENNIS RUSSELL DAVIES
January 15 - Composer DAVID MACBRIDE
January 22 - Pianist MITSUKO UCHIDA
January 29 - Cellist STEVEN HONIGBERG

February 5 - (no program - technical problem at WNUR)
February 12 - (Program pre-empted by NU Sports)
February 19 - Composer SOFIA GUBAIDULINA (WNUR Phonathon)
February 26 - (Program pre-empted by NU Sports)

March 5 - Conductor CHARLES DUTOIT
March 12 - Harpsichordist ELAINE FUNARO
March 19 - Composer STEPHEN DEMBSKI
March 26 - Composer PIERRE BOULEZ

April 2 - Clarinettist LARRY COMBS
April 9 - Violinist TASMIN LITTLE
April 16 - Composer OLLY WILSON
April 23 - Conductor JOANN FALLETTA
April 30 - Conductor CHRISTOPH VON DOHNANYI

May 7 - Conductor SERGIU COMISSIONA (Memorial)
May 14 - Composer GEORGE BENJAMIN
May 21 - Conductor/Cellist MSTISLAV ROSTROPOVICH
May 28 - Violist CHARLES PICKLER

June 4 - Composer M. WILLIAM KARLINS (Memorial)
June 11 - Composer ANDRÉ PREVIN
June 19 - Soprano HEIDI GRANT MURPHY
June 26 - Violinist JENNIFER KOH

July 3 - Trombonist CHARLES VERNON
July 10 - Composer DAVID DIAMOND
July 17 - Composer MAGNUS LINDBERG
July 24 - Composer JUDITH SHATIN
July 31 - Composer MORTON SUBOTNIK

August 7 - Composer ANDERS HILLBORG
August 14 - Composer ANTHONY IANNACCONE
August 21 - Composer PETER SCHICKELE
August 28 - Composer WILLIAM SUSMAN

September 4 - Composer SAMUEL ADLER

----- For the next several weeks, we'll have -----
----- ENCORE PRESENTATIONS -----
----- of selected programs from this series -----

September 11 - Composer PHILIP SPARKE
September 18 - Composer MICHAEL TORKE
September 25 - Composer MELINDA WAGNER

October 2 - Composer/Organist JEAN GUILLOU
October 9 - Composer FRANK TICHELLI
October 16 - Composer JEFFREY MUMFORD
October 23 - Composer JOSEPH SCHWANTNER
October 30 - Composer INGRAM MARSHALL

November 6 - Double Bassist FRANÇOIS RABBATH
November 13 - Composer MARILYN SHRUDE

----- We now return to -----
----- NEW PROGRAMS -----

November 20 - Composer WILLIAM MAYER
November 27 - Composer IAN KROUSE

December 4 - Composer RICHARD RODNEY BENNETT
December 11 - Conductor ANDREW LITTON
December 18 - Composer MORTON GOULD
December 25 - Composer WILLIAM MATHIAS

January 1, 2006 - Composer JACK GALLAGHER
January 8 - Pianist GEOFFREY DOUGLAS MADGE
January 15 - Composer JAMES COHN
January 22 - Composer DAVID DZUBAY
January 29 - (Program pre-empted by NU Sports)

February 5 - Composer CHEN YI
February 12 - Composer PHILIPPE MANOURY (WNUR Phonathon)
February 19 - Composer COLIN MATTHEWS
February 26 - Guitarist SHARON ISBIN

March 5 - Composer STEPHEN JONES
March 12 - Cellist NATHANIEL ROSEN
March 19 - Composer JACOB AVSHALOMOV
March 26 - Composer STEVEN GERBER

April 2 - Composer HK GRUBER
April 9 - Guitarist DAVID RUSSELL
April 16 - Composer STEPHEN SCOTT
April 23 - Composer JOHN HARBISON
April 30 - Composer DONALD ERB

May 7 - Composer BEN JOHNSTON
May 14 - Composer HARVEY SOLLBERGER
May 21 - Percussionist EVELYN GLENNIE
May 28 - Composer LEO KRAFT

June 4 - Composer JACOB DRUCKMAN
June 11 - Composer EARLE BROWN
June 18 - Pianist CHARLES ROSEN
June 25 - Composer MARC-ANDRÉ DALBAVIE

July 2 - Conductor GARY GARNER
July 9 - Mezzo-Soprano JANICE FELTY
July 16 - Composer JOHN BAVICCHI
July 23 - Composer LUDOVICO EINAUDI
July 30 - Composer ALVIN LUCIER

August 6 - Composer ROBERT SUDERBERG
August 13 - Pianist JENNIE LIN
August 20 - Composer FRED LERDAHL
August 27 - Composer ROBERT LINN

September 3 - Composer SCOTT LINDROTH (Repeat)
September 10 - (Technical Problem... Lindroth program yet again)


----- MUSIC OF SHOSTAKOVICH -----

----- To Celebrate his 100th birthday, -----
----- two September programs will feature -----
----- his music plus the performer interviews -----

September 17 - Pianist TATIANA NIKOLAYEVA
September 23 - Conductor MAXIM SHOSTAKOVICH

----- ----- ----- -----

September 30 - (Program pre-empted by NU Sports)

October 7 - Composer IRWIN BAZELON
October 14 - Pianist JOSEPH KALICHSTEIN
October 21 - Composer RONALD PERERA
October 28 - Composer/Pianist ROBERT HELPS

November 4 - Conductor ANDREW SCHENCK
November 11 - (Program pre-empted by NU Sports)
November 18 - Composer/Pianist JOHN McCABE
November 25 - (No segment this week)

December 2 - Composer ROBERT SUDERBERG (Repeat)
December 9 - Violinist MAXIM VENGEROV
December 16 - Composer W. FRANCIS McBETH (Repeat)
December 23 - Pianist JUSTIN KOLB (Repeat)
December 30 - Composer DANIEL ASIA (Repeat)

January 6, 2007 - (Program pre-empted by NU Sports)
January 13 - (Program pre-empted by NU Sports)
January 20 - Composer/Conductor ESA-PEKKA SALONEN (Repeat)
January 27 - Composer TERA DE MAREZ-OYENS (Repeat)

February 3 - (Program pre-empted by NU Sports)
February 10 - (Program pre-empted by NU Sports)
February 17 - (No segment this week)
February 24 - Composer DAVID BAKER

March 3 - (Program pre-empted by NU Sports)
March 10 - (Program pre-empted by NU Sports)
March 17 - Mezzo-Soprano PATRICIA BARDON
March 24 - Composer PAUL MORAVEC
March 31 - (No segment this week)

April 7 - Composer PAUL COOPER
April 14 - Composer CHARLES JONES
April 21 - Composer MARILYN J. ZIFFRIN
April 28 - Pianist ALAN FEINBERG [Music of Charles Ives]

May 5 - Composer DAVID WARD-STEINMAN
May 12 - COT Preview, Conductor ALEXANDER PLATT
May 19 - Violist MARCUS THOMPSON
May 26 - Composer LEE HOIBY

June 2 - Composer/Conductor CARLOS SURINACH
June 9 - Composer GEORGE PERLE
June 16 - Composer TANIA LEÓN
June 23 - Composer WILLIAM SCHMIDT
June 30 - Composer LAWRENCE MOSS

July 7 - Clarinetist RICHARD STOLTZMAN
July 14 - Pianist JEAN-PHILIPPE COLLARD
July 21 - Composer LIBBY LARSEN
July 28 - Composer RICHARD WILSON

Aug 4 - Composer ROMEO CASCARINO
Aug 11 - Composer LUKAS FOSS
Aug 18 - Bassoonist VALERI POPOV
Aug 25 - Composer GEORGE ROCHBERG

Since many of our shows during these fall months are partially
or totally pre-empted for (live) NU sports programs, I won't list
any specific musicians until we resume our regular schedule.

November 24 - Conductor GERARD SCHWARZ

December 1 - Pianist ROBERT MUCZYNSKI
December 8 - Composer GENE GUTCHË
***NOTE: Today's program (12/8) will run from 4 PM to 7 PM***

December 15 - Composer MICHAEL COLGRASS
December 22 - Composer WILLIAM MATHIAS ("partial repeat")
[Original program was a 'shorter version'; this one has additional material]
December 29 - Conductor MICHAEL TILSON THOMAS

January 5, 2008 - (no program - technical problem at WNUR)
January 12 - Pianist PIOTR ANDERSZEWSKI (repeat)
January 19 - Violinist LEILA JOSEFOWICZ
January 26 - Composer/Conductor OLIVER KNUSSEN

February 2 - Baritone GERALD FINLEY [Rescheduled from January 5] (repeat)
February 9 - Composer JAMES COHN ("partial repeat" - see above)
February 16 - Pianist/Conductor MITSUKO UCHIDA (repeat)
February 23 - WNUR Phonathon

March 1 - (Program pre-empted by NU Sports)
March 8 - (Program pre-empted by NU Sports)
March 15 - Saxophonist GEORGE WOLFE (repeat)
March 22 - Conductor CHARLES DUTOIT (repeat)
March 29 - Guitarist ELIOT FISK (repeat)

April 5 - Composer SIMON HOLT (repeat)
April 12 - Composer AARON JAY KERNIS (repeat)
April 19 - No segment this week; live guests in studio
April 26 - (Program pre-empted by NU Sports)

May 3 - Composer JUDITH LANG ZAIMONT (repeat)
May 10 - Conductor YAKOV KREIZBERG (repeat)
May 17 - (Program pre-empted by NU Sports)
May 24 - Composer YURI FALIK (repeat)
May 31 - Composer RALPH SHAPEY (repeat)

June 7 - Electro-Acoustic Realization by ANDREW GERZSO
of music by PIERRE BOULEZ (repeat)
June 14 - Pianist DAVID RAKOWSKI (repeat)
June 21 - Composer ANDERS NORDENTOFT (repeat)
June 28 - Composer PAULINE OLIVEROS (repeat)

July 5 - Pianist ALAN FEINBERG [Music of Charles Ives] (repeat)
July 12 - Composer ISABEL MUNDRY (repeat)
July 19 - Composer GEORGE BENJAMIN (repeat)
July 26 - Cellist FRANCES-MARIE UITTI (repeat)

August 2 - Composer IAN KROUSE (repeat)

----- The Olympics in Beijing, China -----

----- To Celebrate the 2008 Summer Games, -----
----- three August programs will feature music -----
----- and interview with Chinese-born musicians -----

August 9 - Composer CHOU WEN-CHUNG
August 16 - Composer CHEN YI ("partial repeat" - see above)
August 23 - Pianist LANG LANG (repeat)

August 30 - (Program pre-empted by NU Sports)

September 6 - Composer PETER LIEBERSON (repeat)

Since many of our shows during these fall months are partially
or totally pre-empted for (live) NU sports programs, I will only
list ones that were actually aired.

September 27 - Composer EARLE BROWN (repeat of short version)

December 13 - Violinist JAIME LAREDO
December 20 - Composer WILLIAM MATHIAS (repeat of longer version)
December 27 - Pianist ANDRE LAPLANTE

January 3, 2009 - Bassoonist/Conductor ARTHUR WEISBERG
January 10 - Composer RODION SHCHEDRIN (repeat)
January 17 - Conductor ESA-PEKKA SALONEN (repeat)
January 24 - Composer ELLIOTT CARTER (Rescheduled from December 6)
January 31 - Composer JACOB DRUCKMAN ("partial repeat" - see above)

February 7 - Composer LEON KIRCHNER
February 14 - Composer RICHARD WERNICK
February 21 - Composer LEO KRAFT (repeat) [WNUR Phonathon]
February 28 - (Program pre-empted by NU Sports)

March 7 - Composer/Conductor LEIF SEGERSTAM
March 14 - Composer DETLEV GLANERT
March 21 - Composer LOWELL LIEBERMANN
March 28 - Cellist HEINRICH SCHIFF (Music of Cerha)

April 4 - Composer LUKAS FOSS (repeat - memorial)
April 11 - Composer GLORIA COATES (repeat)
April 18 - Conductor BERNARD HAITINK (repeat)
April 25 - (Program pre-empted by NU Sports)

May 2 - (Program pre-empted by NU Sports)
May 9 - Cellist STEVEN HONIGBERG (repeat)
May 16 - (Program pre-empted by NU Sports)
May 23 - Violinist FRANK-PETER ZIMMERMANN
May 30 - Composer AARON JAY KERNIS (repeat)

June 6 - Composer STEVEN STUCKY
June 13 - Conductor MARK ELDER (repeat)
June 20 - Composer KAREL HUSA
June 27 - Pianist LEON FLEISHER

July 4 - Composer DAVID DIAMOND (repeat)
July 11 - Composer JOHN STEVENS (repeat)
July 18 - Conductor CHRISTOPH ESCHENBACH (repeat)
July 25 - Composer DANIEL S. GODFREY (repeat)

August 1 - Conductor CARLOS KALMAR (repeat)
August 8 - Composer YEHUDI WYNER
August 15 - Composer KAMRAN INCE
August 22 - Composer GARDNER READ
August 29 - Composer CARTER PANN

Since many of our shows during these fall months are partially
or totally pre-empted for (live) NU sports programs, I won't list
any specific musicians until we resume our regular schedule.

November 28 - Violist YIZHAK SCHOTTEN (repeat)

December 5 - Composer FRED LERDAHL (repeat)
December 12 - Pianist GILBERT KALISH
December 19 - (Program pre-empted by NU Sports)
December 26 - Composer ANTHONY IANNACCONE (repeat)

January 2, 2010 - Composer SAMUEL ADLER (repeat)
January 9 - Composer MARC-ANDRÉ DALBAVIE (repeat)
January 16 - Composer/Pianist RICHARD RODNEY BENNETT (repeat)
January 23 - Composer YEHUDI WYNER (repeat)
January 30 - Composer KAMRAN INCE (repeat)

February 6 - Conductor MICHAEL TILSON THOMAS (repeat)
February 13 - Composer CARTER PANN (repeat)
February 20 - Composer JAY ALAN YIM (Short Program - WNUR Phonathon)
February 27 - Conductor SIR ANDREW DAVIS (repeat)

March 6 - Pianist GILBERT KALISH (repeat)
March 13 - Violinist ELMAR OLIVEIRA
March 20 - Composer/Conductor PIERRE BOULEZ (repeat)
March 27 - Pianist LEON FLEISHER (repeat)

April 3 - Composer GARDNER READ (repeat)
April 10 - Composer ROBERT WARD
April 17 - Violinist CHRISTIAN TETZLAFF (repeat)
April 24 - (Program pre-empted by NU Sports)

May 1 - Pianist TZIMON BARTO (repeat)
May 8 - (Program pre-empted by NU Sports)
May 15 - (Program pre-empted by NU Sports)
May 22 - Composer CHESTER BISCARDI
May 29 - Composer MORTON SUBOTNIK (repeat)

June 5 - Pianist PETER DONOHOE
June 12 - Composer ANDERS HILLBORG (repeat)
June 19 - Composer KRZYSTOF PENDERECKI
June 26 - Violist KIM KASHKASHIAN (repeat)

July 3 - Conductor LEONARD SLATKIN (repeat)
July 10 - Composer KATHERINE HOOVER
July 17 - Composer/Pianist OLLI MUSTONEN (repeat)
July 24 - Conductor DAVID ZINMAN
July 31 - Soprano LUCY SHELTON

August 7 - Conductor GEORGE MANAHAN
August 14 - Cellist LYNN HARRELL (repeat)
August 21 - Composer ROBERT WARD (repeat)
August 27 - Violinist ELMAR OLIVEIRA (repeat)

Since many of our shows during these fall months are partially
or totally pre-empted for (live) NU sports programs, I will only
list ones that were actually aired.

December 4 - Composer CHRISTOPHER ROUSE
December 11 - Composer URUSLA MAMLOK
December 18 - Pianist STEVEN DRURY [Music of Carter and Ivan Tcherepnin] (repeat)
December 25 - (no program - technical problem at WNUR)

January 1, 2011 - (Program pre-empted by NU Sports)
January 8 - Composer ROLV YTTREHUS
January 15 - Harpist NANCY ALLEN [Music of Starer and Rodrigo]
January 22 - Composer HELMUT LACHENMANN
January 29 - Conductor JOANN FALLETTA [Music of Lily Boulanger and John Luther Adams] (repeat)

February 5 - Composer JOHN LA MONTAINE
February 12 - Composer COLERIDGE-TAYLOR PERKINSON (repeat)
February 19 - Composer/Flutist HARVEY SOLLBERGER (repeat of short program during Phonathon)
February 26 - Conductor JORGE MESTER [Music of Persichetti] (re-scheduled from January 1)

March 5 - Composer LEO ORNSTEIN
March 12 - Composer KATHERINE HOOVER (repeat)
March 19 - Composer PAUL CHIHARA (repeat)
March 26 - Conductor LAWRENCE LEIGHTON SMITH [Music of Bolcom]

April 2 - Composer JOHN DOWNEY
April 9 - Trumpeter/Conductor STEPHEN BURNS
April 16 - Soprano LUCY SHELTON (repeat)
April 23 - Violinist TASMIN LITTLE (repeat)
April 30 - Composer MARK-ANTHONY TURNAGE (repeat)

May 7 - Pianist ANTHONY DeMARE [Music of Sellars & Rzewski]
May 14 - Composer ALVIN LUCIER (repeat)
May 21 - Flutist CAROL WINCENC [Music of Poulenc & Rouse]
May 28 - Conductor JAMES SEDARES [Music of Erb & Thomson]

June 4 - Composer CHRISTOPHER ROUSE (repeat)
June 11 - Composer URSULA MAMLOK (repeat)
June 18 - Composer ROLV YTTREHUS (repeat)
June 25 - Harpist NANCY ALLEN [Music of Starer and Rodrigo] (repeat)

July 2 - Conductor JORGE MESTER [Music of Persichetti] (repeat)
July 9 - Composer JOHN LA MONTAINE (repeat)
July 16 - Composer LEO ORNSTEIN (repeat)
July 23 - Conductor LAWRENCE LEIGHTON SMITH [Music of Bolcom] (repeat)
July 30 - Composer JOHN DOWNEY (repeat)

August 6 - Composer HELMUT LACHENMANN (repeat)
August 13 - Trumpeter/Conductor STEPHEN BURNS (repeat)
August 20 - Composer CHESTER BISCARDI (repeat)
August 27 - Pianist PETER DONOHOE [Music of Volans & Messiaen] (repeat)

Since many of our shows during these fall months are partially
or totally pre-empted for (live) NU sports programs, I won't list
any specific musicians until we resume our regular schedule.

December 3 - Composer SHULAMIT RAN
December 10 - Pianist JOHN BROWNING (Music of Barber)
December 17 - Soprano ELIZABETH SÖDERSTRÖM (Music of Nordheim and Blomdahl)
December 24 - Composer ROBERRT XAVIER RODRIGUEZ
December 31 - Pianist RAMON SALVATORE (Music of Copland and Ganz)

January 7, 2012 - JOHN McCABE (Program #1 - Composer)
January 14 - (Program pre-empted by NU Sports)
January 21 - Conductor ZDENEK MACAL (Music of Sierra and Ott)
January 28 - Composer GEORGE PERLE

February 4 - Composer OLLY WILSON
February 11 - Composer DONALD ERB (repeat of short program during Phonathon)
February 18 - JOHN McCABE (Program #2 - Pianist; Music of Bax and Lambert)
February 25 - Composer HALE SMITH

March 3 - Composer RICK SOWASH
March 10 - Conductor PAUL FREEMAN (Music of Serly & Sowerby)
March 17 - Composer JOHN ANTHONY LENNON
March 24 - Soprano PHYLLIS CURTIN (repeat)
March 31 - Composer CURTIS CURTIS-SMITH

April 7 - Composer WILLIAM SCHUMAN
April 14 - Violinist YEHUDI MENUHIN (Music of Ben-Haim & Panufnik)
April 21 - Composer ED BLAND
April 28 - Conductor GENNADY ROZHDESTVENSKY (Music of Honneger & Lindholm)

May 5 - Composer/Pianist MAX LIFCHITZ (Program #1, composer)
May 12 - Composer/Pianist MAX LIFCHITZ (Program #2, Pianist - Music of Bell, Levin, James)
May 19 - Composer AURELIO DE LA VEGA
May 25 - Composer DOUGLAS ALLANBROOK

June 2 - Conductor EDO DE WAART (Music of deLeeuw, Straesser)
June 9 - Pianist MENACHEM PRESSLER (Music of Ben-Haim, Rochberg)
June 16 - Composer/Pianist EASLEY BLACKWOOD (Program #1)
June 23 - Composer/Pianist EASLEY BLACKWOOD (Program #2)
June 30 - Composer OLLY WILSON (repeat)

July 7 - Composer GEORGE PERLE (repeat)
July 14 - Composer HALE SMITH (repeat)
July 21 - Pianist RAMON SALVATORE (Music of Copland, Ganz) (repeat)
July 28 - Conductor ZDENEK MACAL (Music of Sierra, Ott) (repeat)

August 4 - Composer SHULAMIT RAN (repeat)
August 11 - Composer RICK SOWASH (repeat)
August 18 - Conductor DAVID ZINMAN (Music of Torke, Honneger) (repeat)
August 25 - Composer JOHN ANTHONY LENNON (repeat)


Because of NU Sports broadcasts in September, October and November, Classical and Beyond will resume in December.

Until further notice, all of the programs will be repeats from previous years.

December 8 - Composer STEPHEN SYVERUD
December 15 - Tubist GENE POKORNY
December 22 - Flutist DONALD PECK
December 29 - Contrabassoonist SUSAN NIGRO

January 5, 2013 - Composer AUGUSTA READ THOMAS
January 12 - Violist CHARLES PICKLER
January 19 - Conductor JOHN MAUCERI
January 26 - Pianist JOSEPH KALICHSTEIN

February 2 - Composer RONALD PERERA
February 9 - WNUR Phonathon - no BD segment
February 16 - Conductor DENNIS RUSSELL DAVIES
February 23 - Composer MAGNUS LINDBERG

March 2 - Flutist MARY STOLPER
March 9 - Conductor/Cellist MSTISLAV ROSTROPOVICH
March 16 - (no program - technical problem at WNUR)
March 23 - Composer GENE GUTCHË
March 30 - Pianist TATIANA NIKOLAYEVA

April 6 - Composer RICHARD WILSON
April 13 - Composer JUDITH SHATIN
April 20 - Composer MICHAEL COLGRASS
April 27 - Pianist LEIF OVE ANDSNES

May 4 - Composer IRWIN BAZELON
May 11 - Soprano NEVA PILGRIM (Rescheduled from February 9)
May 18 - Composer KENNETH GABURO (Rescheduled from March 16)
May 25 - Composer STEVEN STUCKY

June 1 - Bassoonist VALERI POPOV
June 8 - Composer LAWRENCE MOSS
June 15 - Composer OLIVER KNUSSEN
June 22 - Violinist VADIM REPIN
June 29 - Composer GEORGE ROCHBERG

July 6 - Composer ROBERT LINN
July 13 - Pianist PIERRE-LAURENT AIMARD
July 20 - Composer JOHN CORIGLIANO
July 27 - Violist YURI BASHMET

August 3 - Composer JOHN BAVICCHI
August 10 - Pianist MAURIZIO POLLINI
August 17 - Composer TANIA LEÓN
August 24 - Violinist GIL SHAHAM
August 31 - Composer KAREL HUSA

Because of NU Sports broadcasts in September, October and November, Classical and Beyond will resume in December.

December 7 - Composer PAUL LANSKY
December 14 - Conductor PAUL SALAMUNOVICH
December 21 - Harpsichordist ELAINE FUNARO
December 28 - Violinist JENNIFER KOH

January 4, 2014 - Composer/Conductor ANDRÉ PREVIN
January 11 - Pianist VALENTINA LISITSA
January 18 - Composer WILLIAM SUSMAN
January 25 - Soprano CHRISTINE BRANDES

February 1 - Composer WILLIAM MAYER
February 8 - Conductor CHRISTOPH VON DOHNANYI
February 15 - Composer DAVID MACBRIDE
February 22 - Composer JACK GALLAGHER [Phonathon]

March 1 - Pianist JOHN NOVACEK
March 8 - Soprano JULIANNE BAIRD
March 15 - Composer GEORGE FLYNN (Part 1)
March 22 - Composer GEORGE FLYNN (Part 2)
March 29 - Clarinetist RICHARD STOLTZMAN

April 5 - Composer DAVID WARD-STEINMAN
April 12 - Violinist JAIME LAREDO
April 19 - Conductor DAVID ROBERTSON
April 26 - Composer RICHARD WERNICK

May 3 - Pianist YEFIM BRONFMAN
May 10 - Hornist DALE CLEVENGER
May 17 - Composer LEON KIRCHNER
May 24 - Violinist LEILA JOSEFOWICZ

June 7 - Conductor STEVEN RICHMAN
June 14 - Composer NED ROREM
June 21 - Pianist ANDRE LAPLANTE
June 28 - Harpist SARAH BULLEN

July 5 - Composer DAVID BAKER
July 12 - Composer/Pianist RALF GOTHONI
July 19 - Cellist TRULS MORK
July 26 - Composer RONALD CALTABIANO

August 2 - Bassoonist/Conductor ARTHUR WEISBERG
August 9 - Bass WILLIAM WARFIELD
August 16 - Composer MARILYN ZIFFRIN
August 23 - Violinist VICTOR AITAY

Because of NU Sports broadcasts in September, October and November, Classical and Beyond will resume in December.

December 6 - (No segment this week due to technical problem)
December 13 - Pianist JENNIE LIN
December 20 - Composer ROBERT XAVIER RODRIGUEZ
December 17 - Composer PETER SCHIEKELE

January 3, 2015 - Composer LIBBY LARSEN
January 10 - Oboist ALEX KLEIN
January 17 - Composer/Pianist EASLEY BLACKWOOD (Program #1)
January 24 - Composer/Pianist EASLEY BLACKWOOD (Program #2)
January 31 - Composer WILLIAM SCHMIDT

February 7 - Tenor WILLIAM BROWN
February 14 - Violist MARCUS THOMPSON
February 21 - Composer COLIN MATTHEWS [Phonathon]
February 28 - Composer ED BLAND

March 7 - Conductor HANS VONK
March 14 - Composer JOAN TRIMBLE
March 21 - Composer AMNON WOLMAN
March 28 - Composer LUDOVICO EINAUDI

April 4 - Conductor CHARLES MACKERRAS
April 11 - Pianist JOHN BROWNING
April 18 - Violinist YEHUDI MENUHIN
April 25 - Conductor GENNADY ROZHDESTVENSKY

May 2 - Composer AURELIO DE LA VEGA
May 9 - Composer DOUGLAS ALLANBROOK
May 16 - Conductor EDO DE WAART
May 23 - Cellist HEINRICH SCHIFF
May 30 - Composer LOWELL LIEBERMANN

June 6 - Conductor JAMES SEDARES
June 13 - Composer LEONARDO BALADA
June 20 - Violinist MENAHEM PRESSLER
June 27 - Composer LEE HOIBY

July 4 - Composer WILLIAM SCHUMAN
July 11 - Pianist LAURENCE JEANNINGROS
July 18 - Composer CURTIS CURTIS-SMITH
July 25 - Conductor PAUL FREEMAN

August 1 - Composer PAUL COOPER
August 8 - Cellist JANOS STARKER
August 15 - Clarinetist LARRY COMBS
August 22 - Conductor HUGH WOLFF
August 29 - Composer/Pianist ROBERT HELPS

Because of NU Sports broadcasts in September, October and November, Classical and Beyond will resume in December.

December 5 - Composer JUDITH LANG ZAIMONT
December 12 - Pianist MITSUKO UCHIDA
December 19 - Conductor YAKOV KREIZBERG
December 26 - Composer SIMON HOLT

January 2, 2016 - Guitarist ELIOT FISK
January 9 - Composer PAULINE OLIVEROS
January 16 - Cellist FRANCES-MARIE UITTI
January 23 - Pianist TZIMON BARTO
January 30 - Conductor LEONARD SLATKIN

February 6 - Composer COLERIDGE-TAYLOR PERKINSON
February 13 - Composer JEFFREY MUMFORD
February 20 - Composer HALE SMITH
February 27 - Composer OLLY WILSON

March 5 - Composer KAMRAN INCE
March 12 - Composer YEHUDI WYNER
March 19 - Composer CARTER PANN
March 26 - Pianist GILBERT KALISH

April 2 - Composer STEVEN GERBER
April 9 - Saxophonist GEORGE WOLFE
April 16 - Conductor GÜNTER WAND
April 23 - Composer JOHN STEVENS
April 30 - Composer GLORIA COATES

May 7 - Pianist LEON FLEISHER
May 14 - Conductor DAVID ZINMAN
May 21 - Composer GARDNER READ
May 28 - Composer LUKAS FOSS

June 4 - Composer ROBERT CARL
June 11 - Pianist YEFIM BRONFMAN
June 18 - Conductor SERGIU COMISSIONA
June 25 - Violinist ELMAR OLIVEIRA

July 2 - Composer RICK SOWASH
July 9 - Composer TERA DE MAREZ-OYENS
July 16 - Composer HELMUT LACHENMANN
July 23 - Conductor ANDREW DAVIS
July 30 - Composer ROBERT MUCZYNSKI

August 6 - Composer JACOB DRUCKMAN
August 13 - Composer RICHARD WERNICK
August 20 - Composer MARC-ANDRÉ DALBAVIE
August 27 - Composer PHILIP SPARKE

Because of NU Sports broadcasts in September, October and November, Classical and Beyond will resume in December.

December 3 - Composer CHARLES JONES
December 10 - Composer DETLEV GLANERT
December 17 - Trombonist CHARLES VERNON
December 24 - Tenor PETER SCHREIER
December 31 - Composer JAMES COHN

January 7, 2017 - Composer PETER LIEBERSON
January 14 - Composer ROMEO CASCARINO
January 21 - Pianist CHARLES ROSEN
January 28 - Composer MARI TAKANO

February 4 - Composer FRANK TICHELI
February 11 - Composer INGRAM MARSHALL
February 18 - Violinist MAXIM VENGEROV
February 25 - Composer MELINDA WAGNER

March 4 - Composer MICHAEL TORKE
March 11 - Conductor MAXIM SHOSTAKOVICH
March 18 - Composer MARILYN SHRUDE
March 25 - Electro-Acoustic Realization by ANDREW GERZSO

April 1 - Baritone GERALD FINLEY
April 8 - Composer CHOU WEN-CHUNG
April 15 - Composer GEORGE BENJAMIN
April 22 - Cellist STEVE HONIGBERG
April 29 - Composer ISABEL MUNDRY

May 6 - Harpsichordist IGOR KIPNIS
May 13 - Composer CARLOS SURINACH
May 20 - Conductor ANDREW SCHENCK
May 27 - Violinist FRANK PETER ZIMMERMANN

June 3 - Composer LEIF SEGERSTAM
June 10 - Composer FRED LERDAHL
June 24 - Composer RODION SHCHEDRIN

July 1 - Composer ANTHONY IANNACCONE
July 8 - Composer ROBERT SUDERBERG
July 15 - Organist/Composer JEAN GUILLOU
July 22 - Composer DANIEL ASIA
July 29 - Composer JOSEPH SCHWANTNER

August 5 - Composer SCOTT LINDROTH
August 12 - Composer MARTIN BRESNICK
August 19 - Baritone JAKE GARDNER
August 26 - Composer DAVID RAKOWSKI

Because of NU Sports broadcasts in September, October and November,
and a technical problem at the station, Classical and Beyond resumed in Mid-January.


January 13 - Soprano JANICE FELTY
January 20 - Composer DANIEL S. GODFREY
January 27 - Conductor SIR MARK ELDER

February 3 - Composer IAN KROUSE
February 10 - Composer DAVID DIAMOND
February 17 - Violinist CHRISTIAN TETZLAFF
February 24 - Composer BERNARD RANDS

March 3 - Composer JAY ALAN YIM [Radiothon]
March 10 - Composer ANDERS NORDENTOFT
March 17 - Pianist ALAN FEINBERG
March 21 - Composer CHEN YI
March 31 - Composer YURI FALIK

April 7 - Double Bassist FRANÇOIS RABBATH
April 14 - Composer SAMUEL ADLER
April 21 - Composer W. FRANCIS MCBETH
April 28 - Composer M. WILLIAM KARLINS

May 5 - Composer/Conductor PIERRE BOULEZ
May 12 - Violinist JANET PACKER
May 19 - Soprano HEIDI GRANT MURPHY
May 26 - Composer PAUL MORAVEC

June 2 - Conductor/Pianist CHRISTOPH ESCHENBACH
June 9 - Composer ELLIOTT CARTER
June 16 - Conductor MICHAEL TILSON THOMAS
June 23 - Composer AARON JAY KERNIS
June 30 - Cellist LYNN HARRELL

July 7 - Conductor GEORGE MANAHAN
July 14 - Composer RICHARD RODNEY BENNETT
July 21 - Composer/Conductor ESA-PEKKA SALONEN
July 28 - Composer MORTON SUBOTNIK

August 4 - Conductor CARLOS KALMAR
August 11 - Composer ANDERS HILBORG
August 18 - Composer KRZYSZTOF PENDERECKI
August 25 - Composer/Pianist OLLI MUSTONEN

Because of NU Sports broadcasts in September, October and November, Classical and Beyond will resume in December.

December 1 - Cellist TRULS MØRK
December 8 - Composer JAMES PRIMOSCH
December 15 - Conductor BERNARD HAITINK
December 22 - Composer WILLIAM MATHIAS
December 29 - Lutenist HOPKINSON SMITH

January 5, 2019 - Composer KATHERINE HOOVER
January 12 - Pianist MARILYN NONKEN
January 19 - Composer CHESTER BISCARDI
January 26 - Composer STEVEN DRURY

February 2 - Violinist TASMIN LITTLE
February 9 - Soprano LUCY SHELTON
February 16 - Composer ROLV YTTREHUS
February 23 - Harpist NANCY ALLEN

March 2 - Conductor JORGE MESTER
March 9 - Composer JOHN LA MONTAINE
March 16 - Composer LEO ORNSTEIN
March 23 - Conductor LAWRENCE LEIGHTON SMITH
March 30 - Composer JOHN DOWNEY

April 6 - Pianist PETER DONOHOE
April 13 - Soprano PHYLLIS CURTIN
April 20 - Composer STEPHEN SYVERUD
April 27 - Flutist DONALD PECK

May 4 - Conductor JOHN MAUCERI
May 11 - Pianist JOSEPH KALICHSTEIN
May 18 - Contrabassoonist SUSAN NIGRO
May 25 - Composer AUGUSTA READ THOMAS

June 1 - Conductor DENNIS RUSSELL DAVIES
June 8 - Composer MAGNUS LINDBERG
June 15 - Composer RONALD PERERA
June 22 - Cellist/Conductor MSTISLAV ROSTROPOVICH
June 29 - Composer GENE GUTCHË

July 6 - Tubist GENE POKORNY
July 13 - Pianist TATIANA NIKOLAYEVA
July 20 - Composer RICHARD WILSON
July 27 - Composer JUDITH SHATIN

August 3 - Flutist MARY STOLPER
August 10 - Composer MICHAEL COLGRASS
August 17 - Pianist LEIF OVE ANDSNES
August 24 - Composer IRWIN BAZELON

Because of NU Sports broadcasts in September, October and November, Classical and Beyond will resume in December.

December 7 -
Composer MARK-ANTHONY TURNAGE
December 14 -
Composer OLIVER KNUSSEN
December 21 -
Violinist VADIM REPIN
December 28 -
Composer GEORGE ROCHBERG

January 4, 2020 -
Composer ROBERT LINN
January 11 -
Pianist PIERRE-LAURENT AIMARD
January 18 -
Composer JOHN CORIGLIANO
January 25 - Violist CHARLES PICKLER

February 1 - Composer ALVIN LUCIER
February 8 - Composer CHRISTOPHER ROUSE
February 16 -
Conductor JOANN FALLETTA [Music of Lily Boulanger and John Luther Adams]
February 22 -
Composer DONALD ERB (repeat of short program during Phonathon)
February 29 (!) -
Composer BEN JOHNSTON

March 7 -
Composer PAUL CHIHARA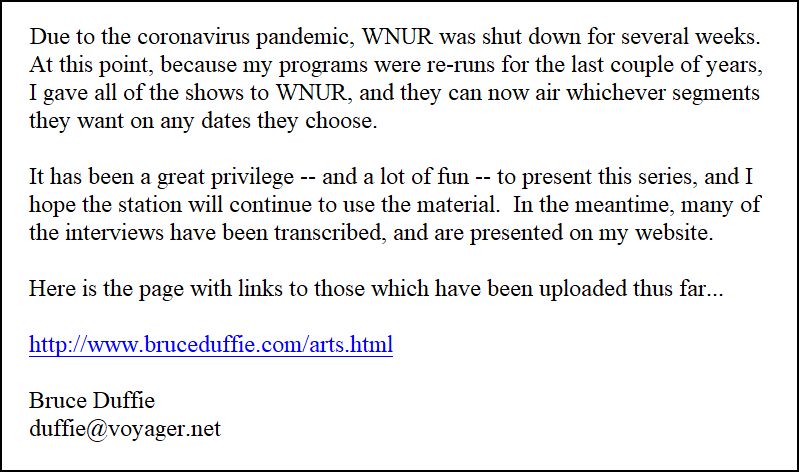 NOTE: Programs are subject to change.

This is the complete list of programs that have been presented
on WNUR which include material contributed by Bruce Duffie.




Back to BD's Website