Composer / Trombonist Vinko Globokar
A Conversation with Bruce Duffie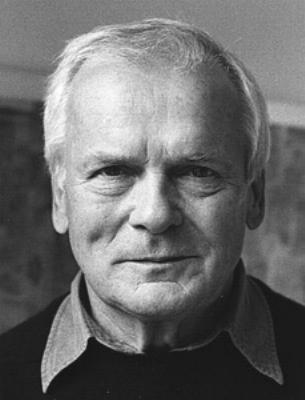 Vinko Globokar (7 July 1934, Anderny, France) is a Slovene composer and trombonist. He lived in France until 1947, when he moved to Ljubljana to study at the music school and conservatory, gaining his diploma in 1954. In 1955 he began studies at the Paris Conservatoire, where he won first prizes for trombone (1959) and chamber music. He studied composition and conducting with Leibowitz (1959–63) and composition with Berio in Berlin (1965).

He has performed the premières of a large number of works for trombone by Luciano Berio, Mauricio Kagel, Karlheinz Stockhausen, René Leibowitz, Louis Andriessen, Tōru Takemitsu, Jürg Wittenbach and others. [Links refer to my interviews elsewhere on this website. BD]

He has conducted his works with the orchestras of Westdeutscher Rundfunk, Radio France, Radio Helsinki, Radio Ljubljana, with the Philharmonic Orchestras of Warsaw and Jerusalem.

In 1966 Globokar joined a performing group for new music at SUNY (Buffalo), and in 1968 he was appointed to teach the trombone at the Staatliche Hochschule für Musik (Köln, Germany) and composition at the Köln courses for new music. He founded the Free Music Group in 1969 and a quartet, New phonic art, also in 1969, both of which perform contemporary music, including many of his own works. He also performed in Stockhausen's group, and from 1973 to 1979 was head of vocal-instrumental research at Ircam (Paris, France).

From 1983 to 1999 he was teaching and conducting the 20th-century repertoire with the Orchestra Giovanile Italiana based in Fiesole (Florence). In 2003 he was made a honorary member of the International Society for Contemporary Music (ISCM).

Vinko Globokar lives in Paris and Zuzemberk/Slovenia.





In November of 2000, Vinko Globokar was in Chicago and we arranged to meet for a conversation. Besides just music, we got into what are sometimes known as "heavy" topics. He was frank with his opinions and shared his ideas based on his personal experience and outlook.

His English was good, though it was laced with the expected mannerisms that are found in many European-language speakers. I have tidied things up just a bit, but have left intact many of his structures and choices of vocabulary.

Here is what was said that afternoon . . . . . . . . .




Bruce Duffie

: You are both a trombone player and a composer. How do you divide your time, or do you always combine those two?



Vinko Globokar

: For the trombone playing I need less time than for composing. It's clear that for trombone playing, certain gymnastics are necessary, so for me, at my age, one hour and a half to two hours in a day is enough. The rest of the time is thinking about the composition.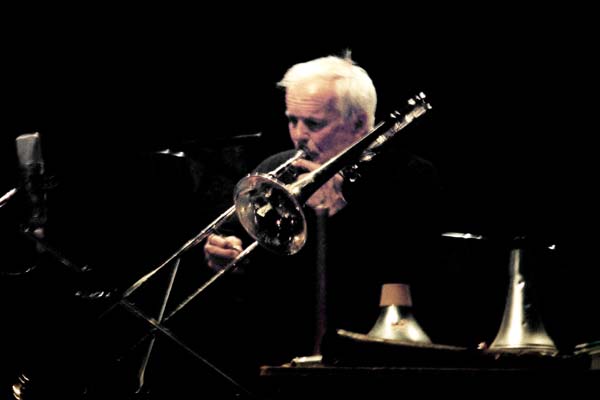 BD: This is technical gymnastics on a trombone?



VG

: Absolutely, especially the problem of stamina. If I want to do a recital from one hour and a half alone on the stage, completely alone, the main problem is the stamina.



BD

: It's technical gymnastics. Is it also musical gymnastics?



VG

: The musical gymnastics start in the moment that I understand the music through the eyes of the composer. So when I play music, I first analyze it and then I take the instrument to do it. I consider the instrumental technique should be a domain which is like really the kind of gymnastic. After that, you apply it to the making of the music.



BD

: When you write music, you write for yourself and you also write for others. Is it different in your mind if you are going to participate, or if you are not going to participate as performer?



VG

: I wrote very few pieces for where I participate myself. They are for trombone, or for any kind of brass instrument where I can do a version. There are perhaps six or seven pieces, but there are about a hundred pieces in the catalog of my work.



BD

: Why do you not write more for yourself?



VG

: Because of the fact that to know too much an instrument provokes the danger of clichés. I could do kilometers of music for the trombone, but without interest. Because I think that the variation of an instrument is very useful, and to variate the trombone, I know it too well. [Both laugh]



BD

: Are there people who want you to write for their own instrument?



VG

: I avoid this. If somebody asks me to write work for an instrument — for instance a clarinet — I never want him to show me what he can do. So I write an abstract work for a clarinet and then he has to find a solution to play it. I never wrote a piece for somebody specifically.



BD

: Just for the instrument or just for music?



VG

: Just for music.



BD

: Are there ever times that the player can't get around what you have written?



VG

: From time to time. But you always find somebody who is able to do it later.



BD

: You're challenging each player?



VG

: It's not a problem which I would say is important. I write what I think should be written, and then it's the problem of the performer to find solutions. History shows you that always, something which was thought as impossible, after a while is done.



BD

: Eventually, they will catch up to you? They will get good enough?



VG

: Yes. You have always performers who are challenging, and who are trying to get a result. I would say the composer should never take care of the practicality of the moment.



BD

: Does your idea about this change when you are the performer instead of the composer?



VG

: When I am a composer I compose what I want. When I am a performer and somebody would like to write for me, I do not show him what is possible on the instrument. I tell him, "Write what you want, and when you bring the score, if really it's impossible I will tell you what is from a physical or an acoustical reason not possible." But I don't like to show, as a catalogue, this is possible, this is possible, etcetera. That does not interest me.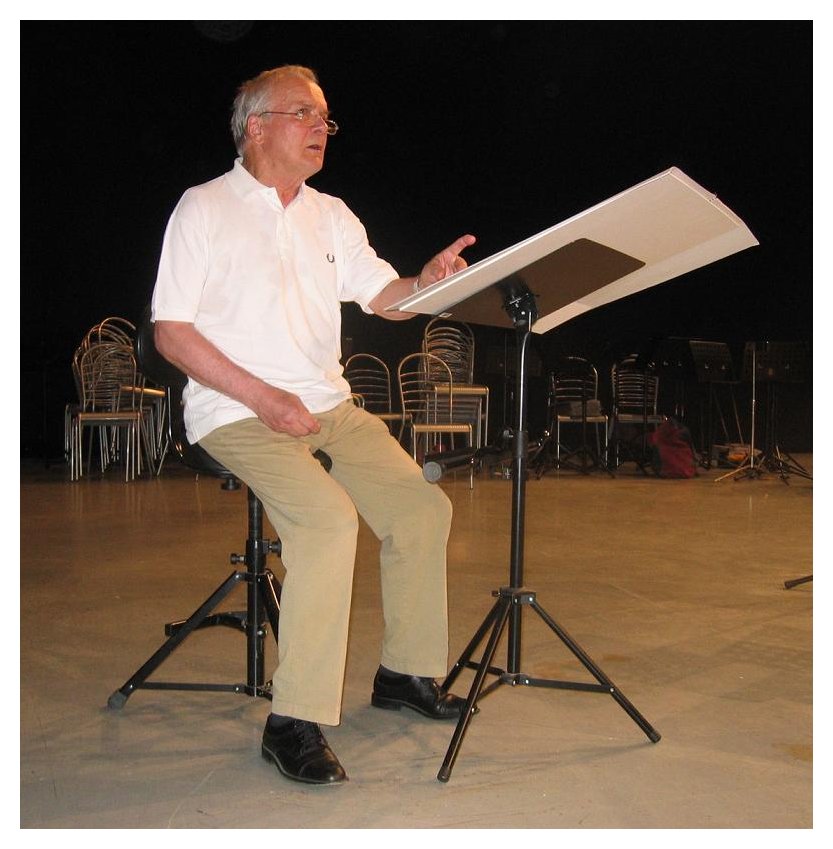 BD

: When you are performing, are you showing the audience what you can do, or are you showing what the composer has written?



VG

: It's clear what the composer has written.



BD

: You make it clear?



VG

: Absolutely clear! The role of interpreter is to be absolutely honest, and not to try to add something to make the piece more interesting, or to make himself more interesting. The role of the interpreter is to do exactly everything what is written. If he is able to do this, then it is the maximum done.



BD

: The interpreter doesn't put anything of himself into it?



VG

: After that. First of all he should do what is written, and then he can add his personality. But not put the horse behind the chariot.



BD

: Do you always make sure that you understand the composer's idea?



VG

: As interpreter?



BD

: Yes.



VG

: Well I try.



BD

: Do you find that your interpreters understand your idea when you are the composer?



VG

: Some yes, some no. But let's say that I am lucky that I know in Europe a lot of very good interpreters with whom I work.



* * * * *





BD

: Is the music that you write for everyone?



VG

: This is a very important question because it has a lot of ways to put this idea. What can I do as a composer? First of all, I would say, to take care of the audience is a very strange situation, because what is the audience? The audience is a big amount of different people. In an audience you don't have two persons who read the same book. You have not two persons who have the same cultural background. It means you have in the audience only individuals. This is clear, which I learned through years. I do not consider the whole as a kind of "audience." I see in them only individuals — somebody's a professor, the other is a worker, somebody cannot read, the other wrote a hundred books, etcetera.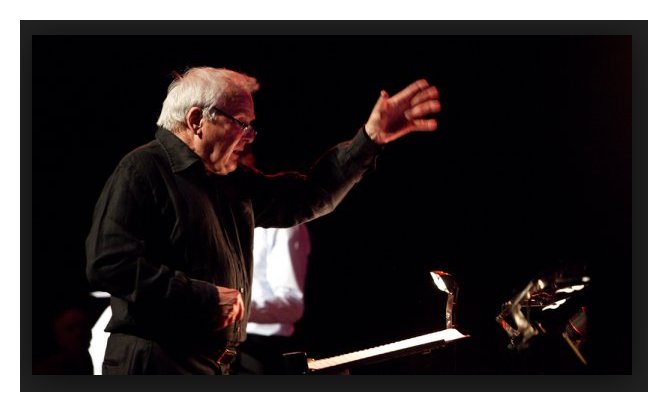 BD: So there's lots of audiences?



VG

: No, no, no, no. Lots of individuals. Now as a composer, how do you want me to take care of an audience? Because there are different people, my point of view is that I am sitting behind a table to compose a work, I am trying to be as serious as possible to the limits of what I can, without being in a hurry. So to give out things which you say, "Oh, I have no time, but I will correct them later" is not my way of thinking. When it is finished, there is the sheet of music paper. You like? It's okay. You don't like? It's okay. I cannot help it because I am already thinking to the next piece.



BD

: If you hand the paper to me and I don't like it, do you then hand it to somebody else?



VG

: In any case the music is edited by a publisher. So I am not knocking on the door trying to say to somebody, "Would you play? Would you play? Would you play?" No. The piece is done, and then whoever likes to perform, he should do it.



BD

: Does it please you to know that there are a lot of people who perform your works?



VG

: Yes, absolutely.



BD

: Does your work get performed enough?



VG

: What means enough? I can say that the interest is growing. It depends on whether you have to be on all of the programs of all of the halls of all of the world. No. That doesn't interest me. [Laughs]



BD

: [With a gentle nudge] Why not?



VG

: Because as a person, if you have an honest point of view, it means that — like in politics — you agree with some people and you don't agree with others. I would be very sad if all of the world would like my music.



BD

: [Genuinely surprised] You'd be sad???



VG

: Absolutely sad because the music which I am doing is bound to a certain message which the music should present. It should transport people, and you have an amount of people with whom I do not sympathize for political reasons. So I would not be interested that this type of people likes my music.



BD

: Do you want them

not

to like your music?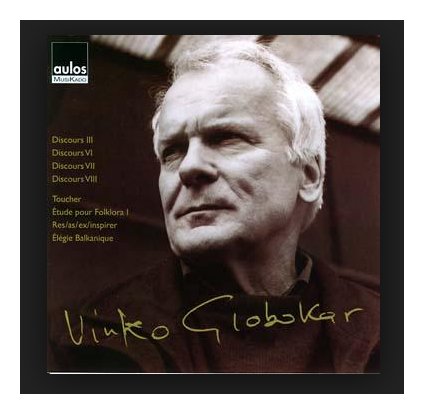 VG: No. The music is transport for some ideas which are bound with sociological problems and with political problems. You have, in the society, people who are fascists and you have people who are democrats and you have people who are humanists. If a fascist likes my music, I would not like this.



BD

: Would you not be pleased if a fascist liked your music, and then was no longer a fascist — he then became a humanist because of your music?



VG

: [Laughs] This I would like very much!



BD

: [Being eternally optimistic] So there is hope?



VG

: It's hopeless, I think. [Both laugh]



BD

: So you want the music to be for your political friends, but is music itself political?



VG

: Not for political friends, but let's say you have a kind of moral attitude, and this moral attitude can transport or transmit it in your work. So this music is not done to entertain everybody. Hegel started this kind of thinking — that music can have a critical role. I know that in America, the music is considered in general as a kind of entertainment, to try to please, to look for applause, etcetera. But you have a lot of movements in Europe — especially with the support of the Adorno philosophy — where the music has a critical role.



BD

: Are you a part of this?



VG

: I agree with this, let's say. In other words, it preoccupies me.



BD

: Do you write at all on commission?



VG

: It's again different. If you would like to write for an orchestra in Europe, then you can do it only on commission. When you bring to an orchestra a work that is already done, they are not interested. I mean the administrator, not the musicians. But normally the orchestras are dealing commissions, like big festivals in Europe and so. So when I write for orchestras, I write under commission, and then I am sure that it will be performed.



BD

: When you start to write the piece, do you know how long it will take to compose?



VG

: Yes, absolutely. There are not two composers who proceed in the same way. When I compose a work, the basis of the work is always something which has nothing to do with music. It's a kind of idea or a question which can be psychological provenance, political provenance, social provenance, literary provenance. It means something which stays outside of the music is the basis. I can tell you themes — the theme of resistance, which is the archetype, or the theme of immigration, or the theme of interrogation, etcetera. I can tell you titles and titles, and these themes dictate which kind of music I should write. It means these themes also provoke the invention of different techniques and provoke the selection of material. So that always is something which stays outside of the music, or is a stimulant to do a musical work.



BD

: Do you decide on that stimulant, or is that asked for?



VG

: No, no, it is never asked for. At least in Europe, where I am working, I can say that no one organizer of the music would dare to give a suggestion! [Laughs]



BD

: They wouldn't say, "Write a symphony about revolution"?



VG

: No. [Laughs]



BD

: So when you get the commission, you decide what basis you will use?



VG

: Absolutely. If you have a festival who gives you an offer to write a piece, then, of course, I reflect in my ideas which I have at my fingertips, let's say. I decide if I need an orchestra or if I don't need it for this work. If I have no ideas about themes which I would like to work on that need an orchestra, then I refuse it, I turn down the commission. But I have in my books, scripts, etcetera, always crazy ideas where an orchestra is necessary.



BD

: So then when the commission comes, you just use one of those?



VG

: Yes.



BD

: Are there ever times you just write a piece because you have to get it out of your system?



VG

: No. No more. I am 66 years old, and I went through the periods through which each composer went. At the beginning I went knocking on the doors saying, "Would you play my piece?" etcetera, etcetera. After a while, you go inside of a world of friends — administrators — which you know. It's a kind of world where it's a common trusting between us, and then you can choose what you would like to do, or not.



BD

: You are now at that point where you can choose?



VG

: Yes. I am in that, old.



BD

: [Laughs] You're not too old!



VG

: Not too old, but enough. [Laughs]



BD

: I assume you want to write up until the very end, whenever that comes?



VG

: I don't think of this.



* * * * *





BD

: When you sit down and start to think about the piece, how do you know when it is finished and ready to be given to the performers?



VG

: Normally when the piece is finished and that I can say okay, if it was one year work then it is sure that at least one third of the time — three or four months — is only based on noticing the intentions with words. Then I slowly do a kind of formal design of the work. Then time is spent selecting the harmonic material, rhythmical material, etcetera, etcetera — all of the parameters. So the starting of composing is after a long period. One third of the time is preparation, when no one note is written, then two thirds is the filling. So it means that when I start to write a piece, everything is already prepared. It's kind of like being an architect. He is doing the design, and then one starts to build the building.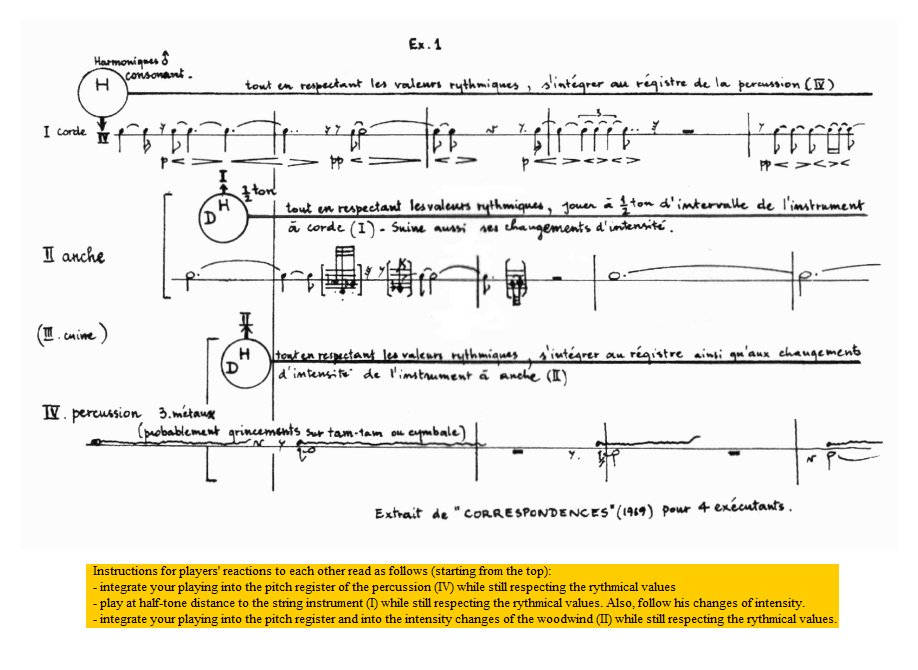 BD

: Are you then just transcribing what you have already sketched?



VG

: What I wrote with words and with graphical designs, etcetera.



BD

: Do you know when you begin the sketching how long the piece will be — what the performance time will be?



VG

: Absolutely, with variations of five percent of the time. From time to time I would say it happens that during the work there are deviations, and that something new came into my head, deciding "boff!" I will change the direction of something. But it is very seldom.



BD

: Once you have it all written out and you hear it, do you ever make changes or revisions?



VG

: Very few! In the rehearsals there are some changes from time to time, especially of the dynamical level where you have things which do not come out. So you try to ask that group to play louder. If it does not work, then you try to ask that the other group who is under play softer. But from time to time are things where you miscalculated, but these are very small changings. It's just a dynamical adjustment or something, but I never correct a harmony or a chord, never! Also, not a rhythmical figure. From time to time, the correction goes on the dynamical level and on the tempo level — more slowly or faster, accelerando or ritardando, etcetera.



BD

: Is there ever a time when the performer gets it all right?



VG

: No.



BD

: Could there be?



VG

: Never! [Both laugh]



BD

: That's a good thing?



VG

: It's absolutely a good thing!



BD

: Can I assume that you are pleased with most of your performances?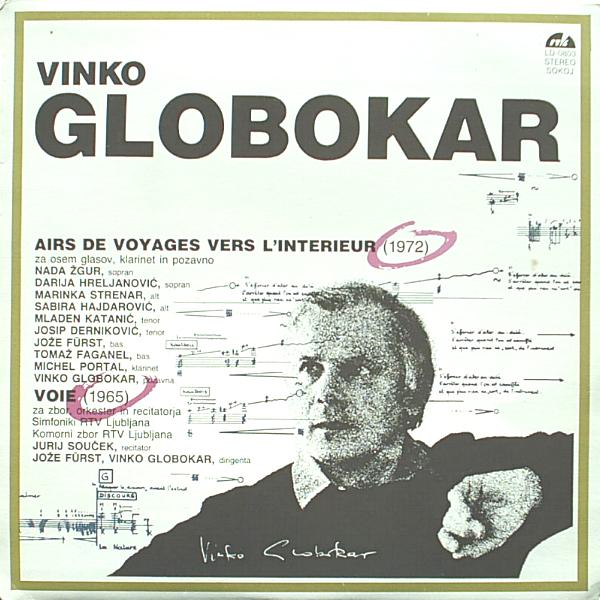 VG: Oh, no. When it's a performance done by people who I select, then yes because I trust them. I have some friends with whom I've worked a lot through years, so I know that they can do it. I know their character. Also, if they do something that is against my wishes, I know that they will do it because I know them. But I am very displeased when I come into a town with an orchestra or with a group of people who are beginners.



BD

: They need experience to play your music?



VG

: Yes, of course. Of course!



BD

: How do they gain experience playing your music if they don't play your music?



VG

: This is a problem. A school should provide this information. If somebody comes in an orchestra, he must know about the new techniques of playing. Let's take the clarinet. A clarinet is able to do different multi-phonic sounds, being able to play and sing at the same time. There are a lot of techniques which developed in the last years. If somebody is not able to do them when he is a professional, it is the fault of the conservatory where he studied. It is the fault of the professor who taught him. One should understand that the musical language by composers changed after Schoenberg started to change it. Especially in the '60s, there started to be a big interest in the morphology of the sound. This means on timbre and on articulation. And because you had the electronic music, which started to develop in the '60s, one started to develop on the orchestral instruments which were built two or three hundred years ago for tonal language. One started to develop new techniques of playing. These new techniques... it's not a luxury or it's not a joke; it's a necessity which the composer had to have for the new ways of expression. Now, if an instrumentalist does not know these things, it's the fault of the institution where he studied.



BD

: So he should seek out people like you and others who can teach him the new techniques?



VG

: Yes. Not only me, but you have a lot of people today who are aware of the responsibility of showing what is demanded by composers.



BD

: Do composers demand too much?



VG

: No. It's a hierarchy. In the musical world the composer is the person who invents music, and from this comes the chain of people who are discussing music. This is the second degree of the primary work. Without composers, all of the conservatories could close the door. All of the performers could close their instrument cases. So you have the composers who invent the music, and then all of the line of people who depend on you. Also there is you as a promoter of music. You are in this category! So in this moment, one should know that everything a composer is inventing he's right. He's the only person in the musical life who is right!



BD

: So we must defer to the composer?



VG

: Absolutely.



BD

: I hope, though, that you are eventually pleased with many of your performances that you hear.



VG

: It depends. If they are good performers or good conductors, I am pleased. If it is not a good conductor and not good performers, I am not pleased.



BD

: Are you pleased with the recordings?



VG

: It's the same. If it is a good performer, a good conductor, or at least a good performer, and if it is a good technician, then I am pleased. If it is bad, I am not pleased.



BD

: In the end, is it worth all the effort?



VG

: But it is not an effort. It's not an effort; it is my life! I am not, how you say, sweating. Not at all. No, I am doing my work, nothing else, as seriously as possible. Here I would make a small comment. There is a big difference between the States and Europe when new music happens. In Germany you have sixteen states, and each state has its own radio or its own conservatory. So, each state and each radio does not take care of what is doing at the other radio. Inside of Germany there is a kind of moral duty to support the new art, the today art, and also the today composer. So the orchestras are playing orchestral music done by young and old composers, but it's this kind of production. In the States the new music happens only on campuses where everything is allowed. You can experiment as you want, but the community is not present to hear and to transmit this. So it's a kind of small, incestual thing. The composer is writing for his colleague composers, or for the people who are on the campus. The music does not go outside of the campus.



BD

: What can we do to get it more outside?



VG

: I don't know.



BD

: Are you helping?



VG

: I don't know. I am only able to say what is the difference between the two things.



BD

: But are you helping by performing others' music on your trombone?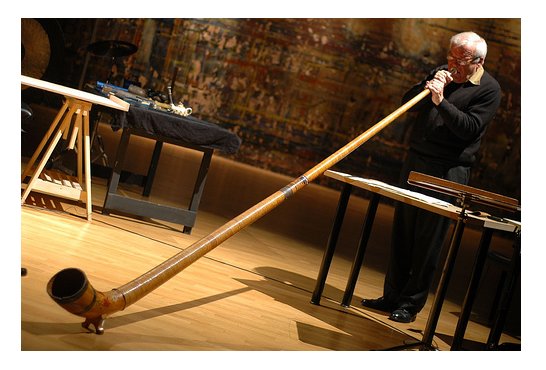 VG: No more, but I did hundreds of first performances in my life, going from the known — like Berio, Stockhausen, Kagel, Holliger, Wyttenbach, Takemitsu, etcetera, etcetera — to completely unknown people. But now I am older, and to play trombone when you are 80 is very difficult. [Laughs]



BD

: [Gently protesting] But you are not there yet! [Laughs]



VG

: [With a shrug] No. [Laughs]



BD

: What advice do you have for younger composers coming along?



VG

: To be patient. Not to be like a snake or a rabbit which adapts to any kind of situation. To have a kind of spine. Think. You don't have to be like me.



BD

: It takes guts.



VG

: What is guts?



BD

: Fortitude.



VG

: Absolutely. Art is not a joke.



BD

: What advice do you have for audiences?



VG

: Nothing. I speak about new art, new music. The audience is coming and is confronted by a product where he does not have the keys for understanding. They are coming, but they do not know. Okay, perhaps they read the program notes, but also this program does not help a lot. So they are confronted to something new, where they cannot have a way to compare this to something other. It's new. A certain amount of tolerance is necessary, a kind of amount of curiosity to be confronted with something they don't like. You cannot give advice to an audience because, as I said in the beginning of this interview, you have not two people in the whole who are similar. If you would do a kind of psychoanalysis of each person who comes out of the whole [laughs], you would not have two similar answers.



BD

: Exactly. That's what music does — it touches everyone differently.



VG

: Absolutely, because it is the most abstract art which exists. I would say it is a kind of challenge, at least for me. I am absolutely unhappy that the music cannot mean something precisely. I know that it is not possible, but all of my efforts are done toward things where I would express, with my music, something very precise. But I cannot.



BD

: Why would you rather not use words, which are precise?



VG

: Because I am a musician. I am not a photograph.



BD

: One last question—are you optimistic about the future of music?



VG

: Oh, absolutely. Absolutely! I am allergic, really allergic about this thinking, "where the music goes" because the history shows you that it goes on. Only the movements who were never something, these have problems.



BD

: Does it please you that you are part of this line of musicians?



VG

: I don't know if I am in a line of musicians. I don't know. I studied, I learned, and I am working farther. This is all what I know.



BD

: Thank you for all of the music you have given us, and for the conversation today.



VG

: It was my pleasure.





===== ===== ===== ===== =====
-- -- -- -- -- -- --
===== ===== ===== ===== =====






© 2000 Bruce Duffie


This interview was recorded in Chicago on November 20, 2000. Segments were used (with recordings) on WNIB one month later. The transcription was made and posted on this website in 2013.


To see a full list (with links) of interviews which have been transcribed and posted on this website, click here.

Award - winning broadcaster Bruce Duffie was with WNIB, Classical 97 in Chicago from 1975 until its final moment as a classical station in February of 2001. His interviews have also appeared in various magazines and journals since 1980, and he now continues his broadcast series on WNUR-FM, as well as on Contemporary Classical Internet Radio.

You are invited to visit his website for more information about his work, including selected transcripts of other interviews, plus a full list of his guests. He would also like to call your attention to the photos and information about his grandfather, who was a pioneer in the automotive field more than a century ago. You may also send him E-Mail with comments, questions and suggestions.