Note: Three bios in three languages with three different birth years!


Elen Dosia (1915 - May 15, 2002), born Hélène Odette Zygomala, sometimes known as Ellen Dosia, was a French opera singer of Greek origin.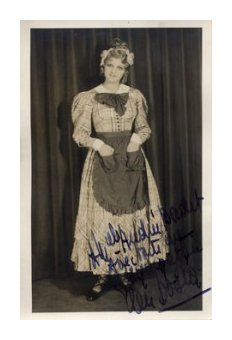 Dosia was born in Constantinople. She became a soprano singer, and enjoyed her first major success at age 20 with the title part in

Tosca

. She quickly became one of the most popular singers at Opéra Garnier and Opéra-Comique, where she performed from 1935 through 1952. Before World War II she was described as "the most popular singer in the world". She appeared often in Massenet operas, performing in

Manon

and

Thaïs

, and appearing at the June 1942 Massenet Gala singing the title role in a tableaux of

Esclarmonde

.

In 1951 she appeared in

Of Men and Music

, a Fox film production, singing excerpts from Salome's part in

Hérodiade

.

On November 15, 1947 Dosia debuted at the Metropolitan Opera as Tosca to Jan Peerce's Cavaradossi and Frank Valentino's Scarpia with Giuseppe Antonicelli conducting. Her performance was relatively poorly received; reviews were critical, and after only five performances (in both

Tosca

and

Manon

, and as Mélisande in

Pelléas et Mélisande

the following season), she retired from the stage in 1952. Thereafter Dosia concentrated on her family life.



* * * * *



13.10. Elen DOSIA: 100. Geburtstag (2013) [October 13, 1913]

Sie kam als Kind nach Frankreich und wurde in Paris und Neuilly erzogen; sie erhielt frühzeitig Tanzunterricht bei Loie Fuller. Mit 16 Jahren begann sie das Gesangstudium, mit 18 kam sie auf das Conservatoire National de Paris. 1936 debütierte sie an der Opéra-Comique Paris als Tosca. Hier hatte sie große Erfolge, vor allem als Mélisande in »Pelléas et Mélisande«, als Mimi in »La Bohème« und als Titelheldin in Massenets »Manon«. An der Pariser Grand Opéra feierte man sie als Thaïs in der gleichnamigen Oper von Massenet, als Juliette in »Roméo et Juliette« und als Marguerite im »Faust« von Gounod. Sie heiratete den Tenor André Burdino (1891-1987) und war mit ihm zusammen 1937-40 an der Oper von Chicago engagiert. In Chicago sang sie sehr erfolgreich Partien wie die Manon, die Juliette, die Giulietta und die Antonia in »Hoffmanns Erzählungen« und gab zusammen mit André Burdino Konzerte. Sie gastierte in Brüssel, Prag, Zürich, Belgrad, Athen und Istanbul. 1939 sang sie in Scheveningen die Mélisande. Während des Zweiten Weltkrieges trat sie an den beiden großen Opernhäusern von Paris auf. 1947-49 gastierte sie sehr erfolgreich in insgesamt fünf Vorstellungen an der Metropolitan Oper New York: als Tosca (ihre Antrittspartie), als Manon und als Mélisande. 1948 trat sie an der Oper von Monte Carlo als Thaïs auf. 1952 nahm sie von der Bühne Abschied. Ihre große Bühnenkarriere verdankte sie nicht zuletzt auch der aparten Schönheit ihrer Erscheinung und ihrer eminenten Darstellungskunst. Sie starb 2002 in Boulogne-sur-Seine. Ihre schöne lyrische Sopranstimme ist lediglich durch zwei Schallplatten der Marke HMV überliefert.




* * * * *



Il y a tout juste un demi-siècle la cantatrice Elen DOSIA se retirait de la scène en plein succès après une dernière interprétation de la Tosca à la Salle Favart. Cette artiste brillante avait été acclamée dans les principaux théâtres du monde entier et ses interprétations restèrent longtemps gravées dans les mémoires des amateurs d'opéras : Thaïs, Grisélidis, Pelléas et Mélisande, Roméo et Juliette, Othello... Cinquante ans ont passé depuis, et le 10 mai 2002, à Boulogne-sur-Seine où elle vivait depuis de nombreuses années, cette gloire des années quarante s'en est allée rejoindre ses pairs au paradis des musiciens. Seul nous reste à présent, pour nous souvenir de sa voix limpide, parfaitement maîtrisée, l'enregistrement mémorable en juin 1944 de Thaïs de Massenet, avec Paul Cabanel, Georges Noré, Huguette Saint-Arnaud et Madeleine Drouot, sous la direction de Jules Gressier (Malibran Music, CDRG 132).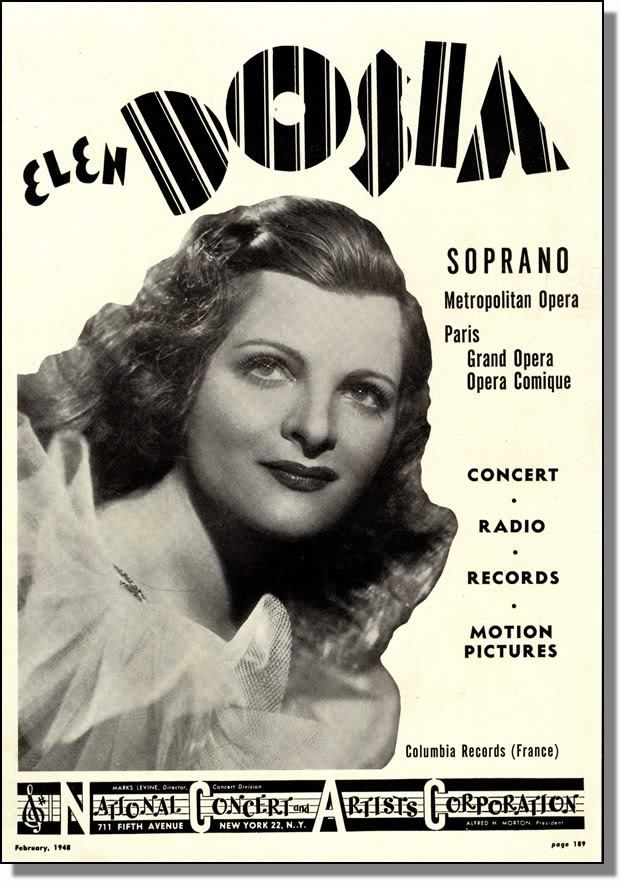 Née à Constantinople le 13 octobre 1918, Odette Hélène Zygomala s'installait plus tard avec sa famille à Paris. Sans doute descendait-elle de cette très ancienne famille grecque originaire d'Argos, puis de Nauplie, établie à Constantinople au XVIe siècle ? C'est par la danse qu'elle débutait l'étude des arts. La célèbre danseuse Loïe Fuller (1862-1928), artiste de music-hall américaine émigrée à Paris, qui inventa " la danse serpentine " (utilisation de longs voiles transparents éclairés de tous côtés), lui enseigna l'art du mouvement et de la comédie. Elle entrait ensuite en 1934, à l'âge de 16 ans, au Conservatoire de musique et de déclamation et deux années plus tard en ressortait, trois premiers prix en poche : chant, opéra, opéra-comique. Cette même année 1936, en octobre elle épousait le ténor André Burdino (1891-1987) qui triomphait notamment dans Mignon. Le couple devra se séparer en 1943, mais entre temps la gloire sourit à Odette Zygomala, devenue Elen Dosia pour la scène. Un mois après son mariage, elle débutait à l'Opéra-Comique avec le ténor italien Giuseppe Lugo dans La Tosca de Puccini, qu'elle chantait encore en 1941 avec Rouquetty et Cabanel. Ce 28 novembre 1936 fut le véritable point de départ d'un immense succès qui se confirmera au fil de ses apparitions sur scènes et qui lui valurent un engagement pour l'Opéra de Paris le 29 avril 1939. Elle se produisait pour la première fois sur la scène du Palais Garnier dans le rôle de Gina de La Chartreuse de Parme (opéra en 4 actes et 11 tableaux, livret d'Armand Lunel d'après Stendhal, musique de Henri Sauguet). Entre 1936 et 1951, Elen Dosia, vedette des Théâtres Lyriques Nationaux (Opéra et Opéra-Comique), joua tous les plus grands rôles de l'opéra. Parmi ceux-ci notons les ouvrages italiens de Verdi : la Traviata et Othello... et de Puccini : la Bohème (Opéra-Comique, 22 novembre 1941, direction : Eugène Bozza) et la Tosca..., ceux de Massenet : Grisélidis (Opéra, 30 octobre 1942), Thaïs, Esclarmonde, Hérodiade, Manon (Opéra-Comique, 13 juillet 1941, direction : Gustave Cloez) et bien d'autres encore : Marouf (Henri Rabaud), Les Contes d'Hoffmann (Offenbach), L'Heure espagnole (Ravel), Roméo et Juliette et Faust (Gounod)... Elle participa également à plusieurs créations, parmi lesquelles Le bon roi Dagobert, comédie musicale en 4 actes de Marcel Samuel-Rousseau (poème d'André Rivoire), en 1938 à la Salle Favart, qui fera dire au musicologue Louis Laloy : " Mlles Vina Bovy et Elen Dosia, l'une plus vive et l'autre plus tendre, ont toutes deux des voix charmantes, et sont aussi fort agréables à voir, dans les rôles de la fiancée princière et de son humble, mais victorieuse rivale. ", et en janvier 1944 dans ce même théâtre, l'opéra-comique Amphytrion 38 de Marcel Bertrand (compositeur méconnu, auteur également d'un drame lyrique en 3 actes Sainte-Odile, donné à l'Opéra-Comique en 1923), d'après l'œuvre de Jean Giraudoux. A l'étranger on la réclamait aussi ! Entre 1937 et mars 1940, avec son mari André Burdino, elle se produisait dans les opéras de Chicago, San Francisco et Los Angeles, et plus tard effectuait des tournées en Grèce, son pays d'origine, ainsi qu'en Yougoslavie, en Tchécoslovaquie, en Suisse, en Tunisie, au Maroc et au Canada. En novembre 1949 elle débutait au Met de New-York dans Thaïs, puis fut engagée dans la Tosca aux côtés d'Ezio Pinza, Raoul Jobin et Martial Singher, et assura trois saisons successives. Au cours de sa carrière Elen Dosia s'est produite avec les plus grands chanteurs de l'époque, notamment le ténor français Louis Arnoult, l'acteur et chanteur d'origine polonaise Jan Kiepura, le ténor italien de la Scala de Milan Giacomo Lauri Volpi, le ténor dramatique corse José Luccioni, le baryton français Jacques Jansen, célèbre pour son interprétation de Pelléas, le ténor américain du Metropolitan Opéra Jan Peerce, le baryton américain Lawrence Tibbett, interprète légendaire de Falstaff... Elen Dosia s'essaya aussi quelque temps dans le cinéma, entre autres dans L'Ange gardien du réalisateur français Jacques de Casembroot (1942), auquel on doit également L'Assassin est parmi nous (1934) et un film hollywoodien d'Irving Reis, Of men and music, " Enchantement musical " tourné en 1950, genre très en vogue à l'époque, auquel participaient également Dimitri Mitropoulos, Jascha Haïfetz et Arthur Rubinstein.

En 1952, après son remariage avec un compatriote grec, M. Jean Georgiadès, elle mettait volontairement fin à sa carrière de cantatrice internationale, notamment afin d'élever son fils Philippe. Totalement retirée du monde musical, Elen Dosia avait cependant tenu à garder un mince fil d'Ariane : elle fit longtemps partie du Comité d'honneur de l'Union des Femmes Artistes Musiciennes, au sein de laquelle elle siégeait dans les jurys des concours de chant.

Pour clore ce bref portrait d'une grande artiste, ajoutons que le spécialiste de l'opéra qu'est Jean Gourret, dans son " Dictionnaire des cantatrices de l'Opéra de Paris " (Albatros, 1987) précise en outre qu'Elen Dosia était une " musicienne raffinée, excellente comédienne, [et une ] femme ravissante. "