Henry G. Weber
, a Chicago born German, triumphant as a musician, a man of great accomplishments although only twenty-eight years old, will make his debut as orchestra leader of the Chicago Civic Opera Company and appear at the Auditorium during the coming season.
When Herbert M. Johnson, business manager of the Opera company, was in Europe scouting for prominent musicians, he heard about the talented Mr. Weber, grandson of Henry Weber, founder of the Henry Weber Wagon Works, who settled in Chicago in 1836. Mr. Johnson notified President Samuel Insull, and thereupon the latter made the young man assistant conductor. In the course of time, Mr. Weber will lead the large orchestra of the opera company and thereby one of his innermost wishes comes to fruition.
Although a native Chicagoan, Mr. Weber is not known as an orchestra leader in the United States, but in Germany and Austria he acquired fame, especially in Bremen and Vienna, where he lived and studied for several years.
His father, George A. Weber, had retired from business, sold his wagon factory to the International Harvester Company, and lived at Prairie Avenue and Forty-seventh street, where Henry G. Weber was born. During his early years, his parents went to Vienna. There young Mr. Weber studied in the public schools, and later at the Gymnasium. [Gymnasium in German, represents a high school, which ranks between our high schools and universities. Particular stress is laid on languages, notably Latin and Greek. The Gymnasium is a government school, but tuition is not free. Students passing the upper grades need only serve one year in the army instead of three. (Translator)]. As a youngster he showed exceptional musical qualifications; being an excellent pianist. He gave his first concert when barely nine years old.
He was a gymnasium student when War was declared. This represented a difficult period for him and the family. "We were interned," said Mr. Weber, "and could not leave Austria." "Eventually, we experienced financial difficulties, and had to sell our possessions. Every week, a painting, rug, or vase, was brought to a pawnshop. Even my piano had to be sold. I gave music lessons, and it was then that I resolved to become an opera conductor."
The family succeeded finally in 1919 in obtaining money from the Red Cross in Switzerland to pay for the return journey to America. Here, Henry visited the Chicago University, and also continued his musical studies. In 1921, he returned to Vienna, studying at the Music director's class of the Academy of music. It so happened that dissention ensued involving the principal of the institution and the orchestra leader, and the "Masquerade" [an opera,] was scheduled for the next day. Mr. Weber now had an opportunity. He gave such an exemplary performance that he was forthwith retained as conductor.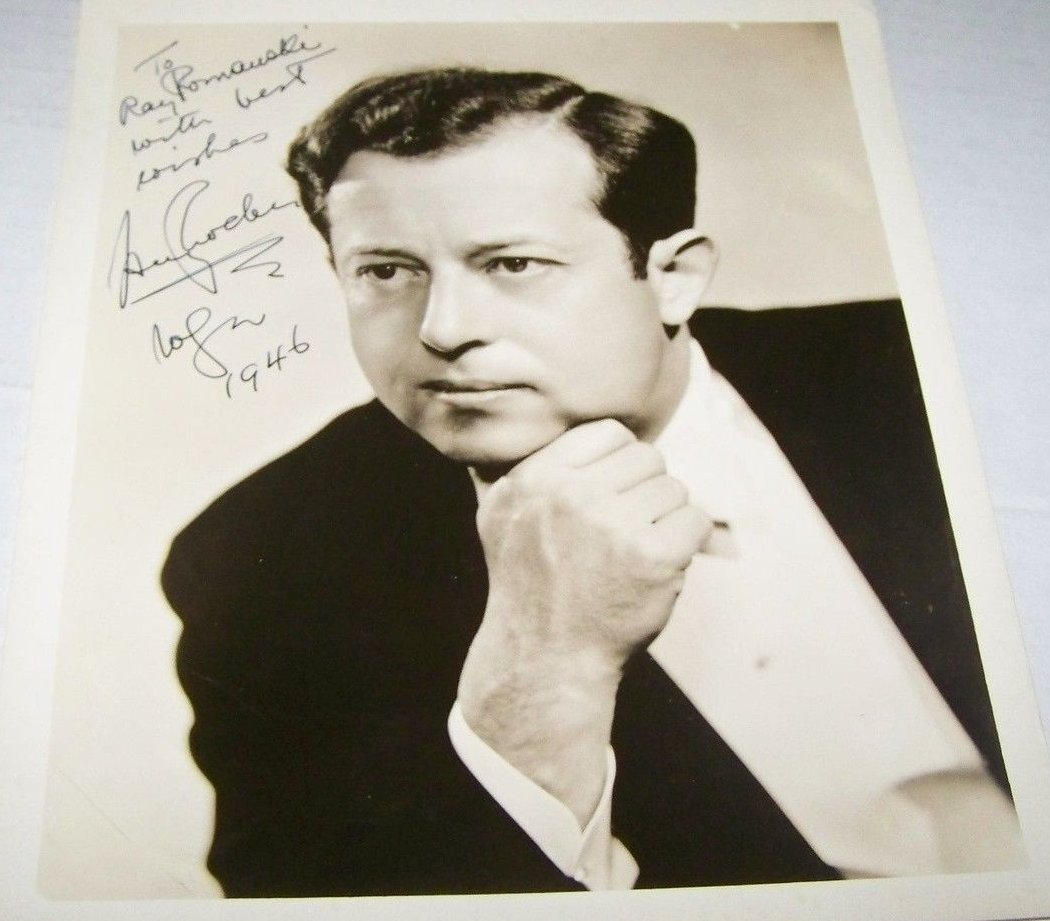 Soon after, Mr. Schillings, manager of the largest opera company in Berlin, invited him to conduct the opera, "Freischuetz." Mr. Schillings made him an offer to become assistant director, but Mr. Weber declined, going to Bremen instead, where he functioned as orchestra conductor at the City opera house. During the last week of his activities there, he conducted six operas in five days.
Mr. Weber, who lives at the Windermere hotel at present, said: "It was always my greatest desire to be a music director in the United States, and I am highly elated to appear with such a large assembly as the Chicago Civic Opera Company in my native city."
* * * * *

Pianist, Conductor Henry Weber, 90
January 17, 1991 By Kenan Heise,
Chicago Tribune
A child musical prodigy, he received his training in Vienna under such notable teachers as composer Richard Strauss. He graduated from the Imperial Academy of Music there and was the guest conductor in Bremen, Germany of ``Mignon.`` At 23, he was hired to conduct the Chicago Civic Opera Orchestra, the youngest conductor of a major opera company in the world.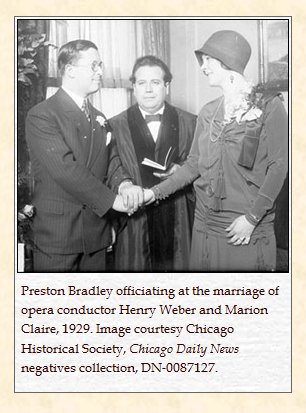 In 1929, he left Chicago to conduct at the Opera House in Florence, Italy, where he became the first American to conduct opera in Italy.
He was a staff producer and conductor from 1933 to 1934 for NBC. In the summer of 1934, he was the guest conductor for the Chicago Symphony Orchestra at a time when their concerts were broadcast on WGN.
He joined the station in the fall of that year and became the commentator for the popular CSO concerts.
One of his responsibilities at WGN was producing the Chicago Theater of the Air, a program of light opera and musical classics. This required him to condense operatic and other productions into the program`s hourlong format. He conducted the orchestra for the program and also was the conductor at the Chicagoland Music Festival sponsored by the
Tribune
and held annually in late August in Soldier Field.
Mr. Weber, in addition to his talent at the keyboard and as a musical director, also played the cello, clarinet and pipe organ.
He was married for 58 years to the late Marion Claire, a Chicago opera star who performed for many years on the Chicago Theater of the Air. She died in 1988.
In March of last year, he married Marion Schroeder Levitt, a noted soprano on the WGN staff from 1938 to 1955.
Survivors, in addition to his wife, include a son, Heinzl; and three grandsons. Plans for services in Ft. Lauderdale are pending.
* * * * *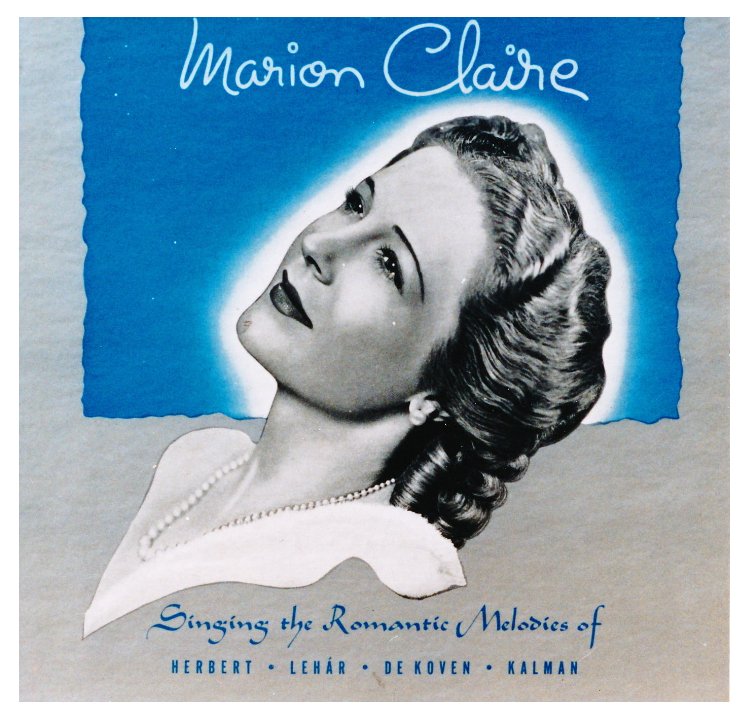 Marion Weber, Singer And Ex-radio Executive
February 25, 1988 By Jerry Crimmins,
Chicago Tribune

Marion Claire
Weber, an operatic soprano renowned in Europe and the United States during the 1920s and 1930s who later became a radio star on Chicago`s WGN and a radio executive, died Wednesday in Ft. Lauderdale, Fla. She was 85.
Mrs. Weber was known to many by her stage name, Marion Claire. From 1926 until 1947, when she retired from the stage in Chicago, she won countless rave reviews from critics in Europe and America for her singing and for her breathtaking beauty. She sang for several seasons with the Chicago Civic Opera Company.
For seven years during the 1940s, she starred on ``The Chicago Theater of the Air`` on the WGN Mutual Broadcasting System. She also helped her husband, conductor Henry Weber, direct ``The Chicago Theater of the Air`` in those years.
Mrs. Weber was born in Lake Bluff Feb. 25, 1902. Her mother, Grace Minkler Cook, was an accomplished pianist and organist, and her father, Horace Wright Cook, was a successful lawyer.
At the age of 6, she played the violin at the Ravinia children`s concert, and she remained a concert violinist until she was 21, but she also studied singing.
When she was 24, she made her grand opera debut in Italy signing the role of Mimì in Puccini`s ``La Bohème.`` For seven years, she sang with opera companies in Italy, France and Germany.
One American critic wrote that she had ``bells on her tongue.`` Writers often commented on her ``comeliness of figure.``
Tribune
critic Claudia Cassidy once wrote:
``Tino Pattiera, a brawny Otello, was so exhilarated with a featherweight Desdemona (Miss Claire) he lifted her exuberantly, broke one of her ribs, and caused Italians to marvel at the fervor with which she protested that she was being killed unjustly.``
In 1929, she married Henry Weber of the Chicago Civic Opera company. At the time, her husband was known as the youngest operatic conductor in America. Weber first met her when he was scouting singers in Europe for the Chicago Civic Opera.
In America, Mrs. Weber made concert tours, appeared on stage in operas and operettas and also sang ``Music in My Heart`` in the Hollywood film ``Make a Wish.``
In 1947, she became director of WGNB-FM, WGN`s FM station, and remained in that post until the station was discontinued in 1953. She also continued as production supervisor of ``The Chicago Theater of the Air`` until it made its final appearance on May 2, 1955.
Mrs. Weber is survived by her husband; a son, Henry G. Jr., and three grandchildren.
Services will be held Monday in Ft. Lauderdale.
* * * * *

Henry G. Weber Sr., Conductor
OBITUARIES
January 18, 1991|By VICKI McCASH, Staff Writer
Sun-Times
Services will be Saturday for Henry George Weber Sr., a renowned Chicago opera conductor and longtime member of the Fort Lauderdale Yacht Club
Mr. Weber died on Monday at Broward General Medical Center. He was 90.
Mr. Weber was musical director of Chicago radio station WGN and the Chicagoland Music Festival until 1958, when he retired and began traveling.
He and his wife, Marion Claire Weber, who died in 1988, moved to Fort Lauderdale in the early 1960s.
``Initially, he was active in providing musical direction to the Fort Lauderdale Symphony, but his main interest was always boating and yachting,`` said his son, Henry Weber Jr.
Weber said his father led Fort Lauderdale Yacht Club members on several tours of the Bahamas and the Caribbean.
His death came barely a month past his 90th birthday. His friends from the yacht club and the Fort Lauderdale Symphony Society had gathered to wish him well on Dec. 9, when he turned 90.
Mr. Weber was best known in Chicago for his Chicago Theater of the Air productions on WGN radio. He and his first wife, Marion Claire Weber, a lyric soprano with a long career in the opera, performed condensed versions of major operas for radio listeners.
He was the conductor, and she sang the lead roles.
Mr. Weber was born in 1900 in Berlin to American parents. A talented pianist who also played the cello and clarinet, Mr. Weber studied music in Vienna as a child, where he trained under composer Richard Strauss, and graduated from the Imperial Academy of Music in Vienna.
In 1923, he was hired to conduct the Chicago Civic Opera Orchestra and became the youngest conductor of a major opera company in the world. Six years later, he became the first American to conduct opera in Italy, performing at the Opera House in Florence until 1933.
He returned to the United States as a staff producer and conductor for NBC.
In 1934, a stint as guest conductor for the Chicago Symphony Orchestra landed him a job at WGN as commentator for the popular Chicago Symphony Orchestra concert series.
He produced Theater of the Air for 20 years, and was conductor at the annual Chicagoland Music Festival at Soldier Field for 15 years.
He is survived by his second wife, Marion Schroeder Levitt Weber; his son, Henry, and daughter-in-law Yolanda, of Boca Raton; and three grandsons, Henry George III of Boca Raton, and Mark and Ronald, both of Colorado.
A memorial service will be held at 2 p.m. on Saturday at the Church By the Sea, 2700 Mayan Drive, Fort Lauderdale.