David Poleri was born on January 10, 1921, in Chestnut Hill, Pennsylvania and made his debut in Chicago with the San Carlo Opera Company in 1950, singing Faust and the Duke of Mantua. He also sang Alvaro in "Forza" in 1951 and 1955 Edinburgh Festivals and Riccardo in "Ballo in Maschera" at Covent Garden in 1956. In addition to Michele, a role he created in "the Saint of Bleeker Street" on Broadway, he also sang it at LaScala and also appeared there in Walton's Troilus and Cressida." In 1954 he sang Gherman in "Pique Dame" for Florence and also was seen in Tchaikovsky's "The Maid of Orleans." He sang Alfredo for Houston Grand Opera in 1957 and later appeared with the American Opera Society in a performance of Gluck's "Paride ed Elena" at Town Hall.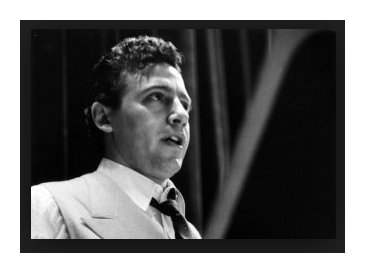 The tenor appeared on the Ed Sulllivan Show in 1948, and as the Voice of Caruso in the Warner Brothers film "Pay or Die" starring Ernest Borgnine, with music by David Raksin. Poleri appeared in four of the productions of the NBC Opera Theater: "Carmen" in December, 1950; "Pique Dame" in January, 1952; "Tosca" (with Leontyne Price, and Thomas Stewart as Angelotti!) in January, 1955; and "Cavalleria Rusticana" in January, 1960.

During a performance of "Carmen" in Chicago In November of 1953, Poleri had such a disagreement with the conductor, Joseph Rosenstock, that he walked off the stage, saying, "Finish the opera yourself!"

Besides the NYC Opera, in Philadelphia he sang with both the Grand and the Lyric Opera Company, the New Orleans Opera House company and at the Pittsburgh opera. In 1961, when illness forced Carlo Bergonzi to cancel his Don Alvaro in "Forza" for Chicago, David "saved" the performance when summoned to Chicago on short notice. In later years, he was seen less in opera and more in recitals.

His recordings included two works with the Boston Symphony conducted by Charles Munch: Beethoven "Symphony #9" (with Leontyne Price, Maureen Forrester, and Giorgio Tozzi), and "Damnation of Faust" (with Suzanne Danco, Martial Singher, and Donald Gramm); and "The Saint of Bleeker Street" by Menotti.

On December 13, 1967, Poleri and his wife were in Lihue, Hawaii They chartered a helicopter which took them for a private view of a nearby active volcano. Unfortunately, the pilot made an error, and the tenor with the volcanic temperament met his end when the helicopter crashed into the side of the volcano.



-- Note: Names which are links refer to my interviews elsewhere on this website.
-- Some of the details and adjectives above are from a blog by Dan Kessler.