Baritone Nikolai Putilin
A Conversation with Bruce Duffie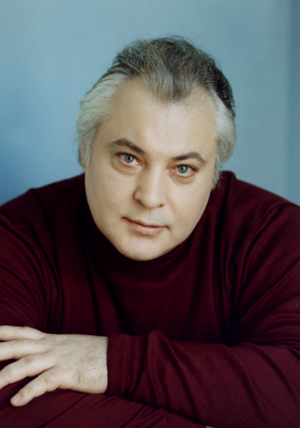 Baritone



• People's Artist of Russia
• People's Artist of Tatarstan
• Recipient of the State Prize of Russia
• Prize-winner at the I International Fyodor Chaliapin Vocalists' Competition (2nd prize, 1989)
• Prize-winner at the International Vocalists' Competition in Sofia (1988)

Nikolai Putilin was born in the Saratov Region. He graduated from the Krasnoyarsk Institute of Arts in 1983 (class of Professor Ioffel). Soloist with the Syktyvkar Musical Theatre (Komi Republic) from 1983–1985. Soloist with the Musa Dzhalil Academic Theatre of Opera and Ballet (Kazan) from 1985–1992.
Mariinsky Theatre soloist since 1992.


His repertoire includes:

Boris Godunov, Shchelkalov, Rangoni (Boris Godunov)
Shaklovity (Khovanshchina)
Prince Igor (Prince Igor)
Demon (The Demon)
Eugene Onegin (Eugene Onegin)
Mazepa (Mazepa) [

Note: The Russians transliterate the name with just one p, so I have used that format throughout. BD

]
Robert, Ebn-Hakia (Iolanta)
Tomsky, Zlatogor (The Queen of Spades)
Mizgir (The Snow Maiden)
Venetian Merchant (Sadko)
Grigory Gryaznoi (The Tsar's Bride)
Fyodor Poyarok (The Legend of the Invisible City of Kitezh and the Maiden Fevronia)
the Emperor of China (Le Rossignol)
Ruprecht (The Fiery Angel)
Tonio (I pagliacci)
Nabucco (Nabucco)
Amonasro (Aida)
Rigoletto (Rigoletto)
Giorgio Germont (La traviata)
Don Carlo (La forza del destino)
Marquis di Posa (Don Carlo)
Iago (Otello)
Baron Scarpia (Tosca)
Valentin (Faust)
Escamillo (Carmen)
Figaro (Le nozze di Figaro)
the Dutchman (Der Fliegende Holländer)
Alberich (Das Rheingold, Siegfried, Götterdämmerung)
Klingsor (Parsifal)
Jokanaan (Salome)
the Messenger of the Spirits (Die Frau ohne Schatten)

Nikolai Putilin has toured with the Mariinsky Opera Company and independently to Germany, France, Spain, Italy, the Netherlands, Belgium, Finland, Great Britain, Japan, the USA, Hungary, the Czech Republic, Bulgaria, Korea, Israel and Luxemburg. He has performed at renowned opera houses such as the Metropolitan Opera and the Chicago Lyric Opera (USA), the Royal Opera House, Covent Garden (Great Britain), La Scala (Italy) and the Accademia Santa Cecilia in Rome as well as appearing at the Salzburg Festival.

The singer's recordings include The Queen of Spades, Sadko, Iolanta, La forza del destino, Mazepa, Prince Igor and Boris Godunov (Mariinsky Opera Company, Philips Classics and NHK).



-- From the website of the Mariinsky Theater






When one does something long enough, even details that seem unique at the time can come around again. Such is the case with the circumstance presented here.

When interviewing an artist who does not speak English, as sometimes happens at an international opera house such as Lyric Opera of Chicago, I would arrange for a translator. For the Italians, I always asked Marina Vecci, who was in charge of production backstage. She was lovely in every way, and her work has been featured in quite a number of my conversations both on the air and in print. There were fewer Germans who needed translation, mainly because they were taught English in school. The ones who did not know the language were usually from the Eastern Bloc, and had learned Russian instead! My friend for both French and Spanish was the head of the Lyric Education Department, who also took care of the various Opera Guilds around town and saw to it that a lecturer was provided for each night at various restaurants to give background on the upcoming performance. It was my special pleasure to do those talks several times each season for many years.

But back to the second coming of the unique situation. In the early 1980s, Lyric started their Opera School, and one of their most talented students was a tenor named David Gordon. He was my guest for a chat, and we remained friends for many years. He also sang contemporary music, and put me in touch with a composer-friend of his. That interview with Stephen Albert, who won the Pulitzer Prize in 1985, can be read here. In the fall of 1984, when I wanted to speak with bass Kurt Moll, I asked David to translate. Those two were buddies since the production of

Abduction from the Seraglio

featured Moll as Osmin and Gordon as Pedrillo. The three of us had a wonderful time, and that interview can be read here. The second tenor translated for the principal bass, a unique situation... until the fall of 1998!

Two years before Y2K, the Lyric season opened with

La Gioconda

. Making his debut as Barnaba was the Russian baritone Nikolai Putilin. In asking about a translator, I was told that Moscow-born Misha Royzen of the Opera School (then called the Ryan Center), who was singing the role of Isèpo, was willing to do the task. Remember, Isèpo is the scribe that writes the letter of denunciation dictated by Barnaba, which is then put into the lion's mouth! Thus the baritone and the second tenor have a bit of onstage interaction. So the three of us met between performances and that unique situation of fourteen years previous was duplicated!

Putilin was a principal singer for many years with the Kirov Opera at the Mariinsky Theatre of St. Petersburg run by Valery Gergiev. The biography (above) and the photos (throughout) are from their website. The baritone would return to Chicago in 2000 for Tomsky in

The Queen of Spades

(which again opened the season), and in 2004 for Amonasro in

Aïda

.

Here is that conversation . . . . . . . .




Bruce Duffie

: What are the big differences between singing the Italian style and the Russian style?



Nikolai Putilin

: First is the phonetics. The phonetics create a different style of singing. Italian phonetics is closer to correct singing than Russian phonetics. It's much more natural to the human voice.



BD

: Because of the open vowels?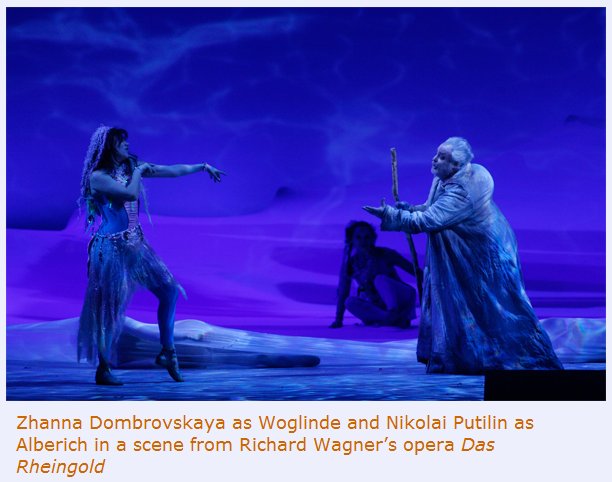 NP: Because of the open vowels and the sharpness of the sounds. Russian has a very active articulation and Italian comes more from nature. Now that I have also sung German repertory, it took me a long time to get used to it. I sang Jokanaan in

Salome

, but when I started doing

Flying Dutchman

, that was when I started feeling comfortable with the German style. It really helps, and I was able to bring that back to the Italian and Russian repertory. Wagner is a very interesting composer.



BD

: Did he write well for the voice?



NP

: Yes.



BD

: Are you now looking forward to singing more Wagner?



NP

: I sing some Wagner. I sing a lot of roles, but I really like Verdi.



BD

: How do you decide which roles you will and will not sing?



NP

: I sing everything. When Maestro Gergiev invited me to his theater in 1992, he gave me a lot of work. I had ten to twelve premieres a year. I would have anywhere from twenty to forty days to learn a new role. Whatever he would offer me, I would take. These were both big and small roles. That was a great training for me to have a big basis in which I could grow.



BD

: Did you find that some of these roles you would keep and some you would discard?



NP

: I don't think so. All the roles are great. Some I like more, some I like less. The music is so different and so beautiful. Even the smaller roles carry a lot in them. The big roles carry a lot in them put there by the composer, whereas the small role doesn't have all of that, so you really have to bring something into it yourself which is not there to make it interesting. You have to bring in the character of the person. The small roles are very difficult to sing.



BD

: Are they satisfying?



NP

: Yes, but not as much as the bigger roles. [Laughter all around] But the work is very interesting because the small roles are what we call the character roles. For example, the Simpleton in

Boris

. He comes out only twice in the opera, but he's a very acute character. Even though he is a tenor, the reason I bring up

Boris

is that I have sung three roles in that opera. I did Shchelkalov, which I learned for the Kirov's tour premiere at the Metropolitan opera in New York. Later I sang Rangoni with Olga Borodina, and then a year and a half ago I sang Boris, which was recorded for Philips. It's the edition with no Polish act. That's the real thing!



BD

: Your voice range dictates which roles you will be able to sing. Do you like the characters that are imposed on you?



NP

: Of course not! [Laughter] Of course I would like to sing the romantic lead, but the dramatic baritone is either a jealous husband or jealous lover, or a villian like Barnaba, or a sex maniac like Scarpia in

Tosca

.



BD

: Then where do you find it in yourself to be evil or maniacal?



NP

: [Laughs] Mostly from the music and the words of the character. I try to understand how the composer thought when he wrote the opera and the character. If I bring to life every direction of the composer plus the indications of the conductor as well as having a good director, I have nothing to do. Everything is there!



BD

: Are these characters real people?



NP

: Yes. I see a lot of them in life. Even in the street, I can see it in their faces a lot.



BD

: Do you take ideas from them to use on the stage?



NP

: Yes, very much so. I look and I notice.



BD

: Are there any redeeming qualities in these evil characters?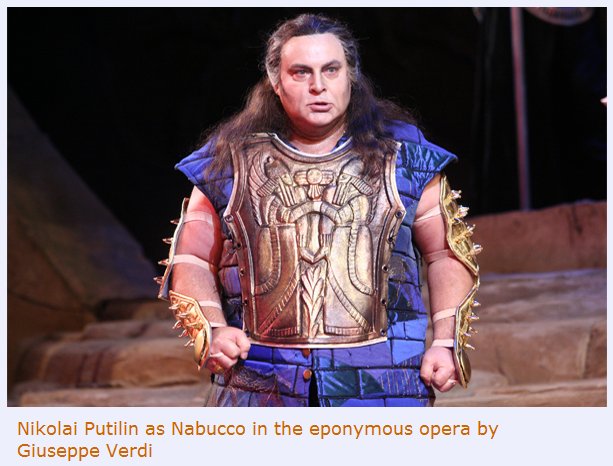 NP: I will go from the Bible. The redemption comes from repentance. When you repent, you cleanse. Then you redeem yourself. Every person, no matter where they stand, high or low, must repent.



BD

: But we practically never see this on the stage. What about Iago in the fifth act?



NP

: Iago no, but Barnaba yes. He has one sigh that finishes the opera. "What have I done?"



BD

: He's repenting? I thought he was frustrated.



NP

: One person in the audience thinks he's repenting and another person thinks he's frustrated.



BD

: Which do you think?



NP

: I am repenting.



BD

: Does the audience in general know he's repenting?



NP

: It doesn't matter, but they should feel it.



BD

: What about Iago. There seems to be nothing redemptive about him.



NP

: Iago is a classical villain. [Laughter] There is nothing you can do with Shakespeare. That is why Tolstoy could not understand Shakespeare. He did not acknowledge Shakespeare because in Shakespeare everything is black and white.



BD

: What do we in the West need to learn about Tolstoy?



NP

: Tolstoy and Dostoyevsky are things you keep getting to know. It would be difficult to explain. When you read it at thirty you get one thing. When you read it again at forty-five you see completely different things. So it's probably like most of the classic writers. When you re-read them, you see different things in it.



BD

: Pushkin also?



NP

: Yes. I am amazed by how Pushkin worked. He has written how he was visited by inspiration, by the muse. It's very difficult to understand the geniuses, and they are geniuses.



BD

: Is it better to sing works by musical geniuses?



NP

: I think so.



BD

: Do you mostly sing works by musical geniuses?



NP

: Mostly, yes.



BD

: Is there anything you can do to help the lesser-lights?



NP

: I had the chance to do that, but now I sing very few modern composers. In the Soviet Union, we had series with modern composers, and we were supposed to sing the music of the person who had good connections.



BD

: But even the lesser-lights of the last century.



NP

: I don't know the second or third ranks of the last century. What has stayed for a hundred or a hundred and fifty years has gone through the period of human consciousness and has stayed. It's not a second or third rank. We're not going to talk about how more or less genius they are; they are still genius.



BD

: So you find the genius in each composer?



NP

: Absolutely, their gut spark.



* * * * *





BD

: How are the audiences different from Russia to Europe to America?



NP

: The American audience is pretty much the same as the Russian. They are just as passionate and react very quickly and sharply to what they see. I like the American public very much in New York and in Chicago and in Los Angeles. The Russian public also reacts well. What you give to them they give back.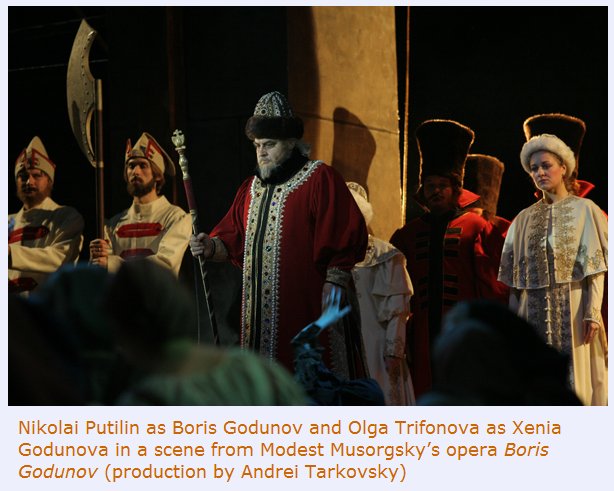 BD: Are you conscious of the public all the time?



NP

: Absolutely.



BD

: When you are singing, are you portraying the character or do you become that character?



NP

: There are different situations. When you know that everything is going to go well with the orchestra and everything will go well with your partners and when you don't have a cold, you can live in the role. When you have some kind of doubt or you feel something is not going to happen with the maestro or with the partners, then you semi-live and semi-portray the character. That's when your professionalism kicks in. There are certain shows which the God's spark goes into you and you just live through... but not to the extent that Canio does in

Pagliacci

!



BD

: So you never cross that line?



NP

: I try not to.



BD

: Do you go right up to that line?



NP

: I try to.



BD

: I would assume that most times you feel you succeed.



NP

: No, not always. I can't say that I'm always pleased with the performance. Sometimes you feel some satisfaction, but most of the time you feel some kind of dis-satisfaction with your work.



BD

: Without being specific, are there ever times when it all goes right?



NP

: For me, no. Almost never. There are times when it is more or less; more times it is more, but never perfect!



BD

: Could it be perfect?



NP

: The way I see it, I don't think so.



BD

: But you always strive for it?



NP

: Yes, but I never can achieve it. As soon as I achieve that, I should retire! I would think that I am done as a singer, as an artist.



BD

: [With a gentle nudge] So some night if you get to the last page and everything has gone right, you'll purposely make a mistake???



NP

: [Smiles] We're not talking about technical perfection. We're talking about the feeling that you get inside.



BD

: Do you sing differently in different size houses?



NP

: I am trying to find a different color for every role, to find the key to it, so from that the way I send the sound is slightly different. The size of the house doesn't matter. It's the role. I don't work to the house. My voice knows by intuition how it should sound in each house.



BD

: So it feels right?



NP

: Yes.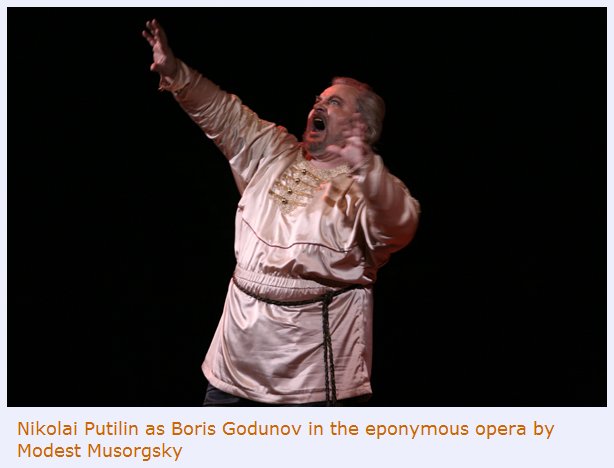 BD: Are there times when you rely only on feel and not by sound?



NP

: I mostly sing only by feel. If you sing by ear, by what you get back, it will be different in each house. A lot of singers look for an echo and it's comfortable for them to sing, but I sing mostly with my professional feeling, with my breathing and how I feel the breath. Here I feel great. It is always a pleasure to work in a responsive house. I really like singing at the Met and also here in Chicago. This house is very good.



BD

: The recordings you have made, are these in studio or live performance?



NP

: Most are from the stage of the Mariinsky, but

Boris

was in studio. They are not from performances, but were recorded in the house. The videos are from live performances. The

Mazepa

is from three live performances both on video and audio.



BD

: Do you sing differently for the microphone than you do for the public?



NP

: Yes, especially lately. When Philips records me, a lot of resonance is cut out of my voice on the record. So now for me it's two completely different things, to sing live for the public and to record. The manner of singing is very different because the microphone is very close to you, whereas the public is behind the orchestra. You have to sing over the one hundred twenty people in the orchestra to reach the first row. If there are two thousand people in the house, you have to make sure four thousand ears hear every word. But you have a barrier of the orchestra which you have to cross.



BD

: Do you ever feel the orchestra is out to "getcha"?



NP

: [Smiles] That's a difficult question.



BD

: Do you then rely on the conductor to make sure the balance is correct?



NP

: Yes. I love the orchestra, I love my orchestra, I love the Met orchestra, La Scala has a very good orchestra, and Salzburg has a very good orchestra because the Vienna Orchestra plays at that festival. The musicians are brought up in a way that they can never decline. When they are asked to play very lightly, they are great professionals.



BD

: It's nice to have an orchestra that loves the human voice.



NP

: Yes. It's very important. I really love the orchestra here in Chicago and I love Maestro Bartoletti. He's a legendary person. He understands the voice. There are very few people right now who can do that; people of the old school.



BD

: Is Gergiev of the old school?



NP

: Not really, but he has such a great intuition and is such a genius that he grabbed both the old and new schools. He has a phenomenal intuition.



* * * * *





BD

: How do you balance your career between opera and concert?



NP

: I have very few concerts. I used to have more, but now I am very busy with the opera. Actually, concerts are more difficult to sing than opera.



BD

: Why?



NP

: Because you are doing a program that has twenty characters. The songs or arias are always different. Even in the big song-cycles, the hero is changing and his character changes.



BD

: One character per night is enough?



NP

: One character per night is Barnaba.



BD

: Are any of these characters multi-faceted?


NP: Most characters are more-faceted. They go and progress. Not the big villians like Barnaba, Iago, Scarpia. They don't change. They mostly just carry a certain weight.



BD

: You also sing characters like Rigoletto.



NP

: I have sung him about a hundred times.



BD

: Do you use a left-hunch or a right-hunch?



NP

: On the left.



BD

: If the next costume changed sides, would that change the character for you?



NP

: I don't think so. My first

Rigoletto

was at the age of thirty-two. That's normal.



BD

: Are you doing the roles that you want to at the right time in your career?



NP

: That's a very difficult question. If you've built the career they way you wanted, then you should go from the other side. But I rarely get to choose. Tomorrow I will sing Barnaba, but I might rather sing Rigoletto. That's professionalism.



BD

: Do you sing any comic characters at all?



NP

: Figaro is not a comic character; maybe semi-comic. I started my career in operetta. I graduated from the conservatory and went into the operetta theater and my first role was Barinkay in

Gypsy Baron

. Then I did Count Danilo in

The Merry Widow

, and the last show that I did was thrown together very quickly when I was asked to fill in as Eisenstein in

Die Fledermaus

. I was still slim at that time... [Laughter] They taught me how to move onstage, they taught me how to project when I speak, and they taught me how to dance.



BD

: Did that all help you in opera?



NP

: That's why when I came to the opera I was bored. The school of operetta really gave me a lot as an actor. That made it much easier for me to work with the directors in the opera because I knew what they wanted and I would do it.



BD

: Are you always able to accomplish what they ask?



NP

: Absolutely. That's why I never have a problem. I never have to tell them something is uncomfortable for me. If he thinks I should do something in a certain way, there's probably something in it. It usually turns out that this is the way it should be. You are one stroke of a big picture. If you are doing that stroke, the picture comes out. If you go the wrong way, it's a different stroke and the picture tends to fall apart.



BD

: Directors must love you!



NP

: I hope so! [Much laughter]



BD

: It's a rare singer who is willing to be a stroke rather than the entire picture.



NP

: You can't fill the space if you are not the space. The space is too big, so you cannot occupy it by yourself.



BD

: Are you at the point in your career you want to be at this time?



NP

: I always think I could have done more. It could turn out that I would have done less. If I wouldn't have lived in the situation I did... I did not live in the city. I grew up in a very small village. I would walk five km through a forest to school. It was in the north part of Russia. It is understood that you should learn three languages, but we didn't have that. The first time I saw a sheet of music I was about seventeen. So in view of the kind of education that I received, maybe I have achieved a lot. I have to expend four times the amount of time and energy than the person who got a very good education from the beginning. So I have to thank God that he gave me this chance. That's all I can say.



BD

: One last question. Is singing fun?



NP

: I think it's life.



BD

: Thank you so much.



NP

: Thank you.




======= ======= ======= ======= =======
-- -- -- -- -- -- -- -- -- --
======= ======= ======= ======= =======





© 1998 Bruce Duffie


This interview was recorded in a dressing room backstage at Lyric Opera of Chicago on October 15, 1998. My thanks to Misha Royzan for providing the translation during the conversation. Portions (along with recordings) were used on WNIB five weeks later. The transcription was made and posted on this website in 2013.


To see a full list (with links) of interviews which have been transcribed and posted on this website, click here.

Award - winning broadcaster Bruce Duffie was with WNIB, Classical 97 in Chicago from 1975 until its final moment as a classical station in February of 2001. His interviews have also appeared in various magazines and journals since 1980, and he now continues his broadcast series on WNUR-FM, as well as on Contemporary Classical Internet Radio.

You are invited to visit his website for more information about his work, including selected transcripts of other interviews, plus a full list of his guests. He would also like to call your attention to the photos and information about his grandfather, who was a pioneer in the automotive field more than a century ago. You may also send him E-Mail with comments, questions and suggestions.