Cellist Anner Bylsma
A Conversation with Bruce Duffie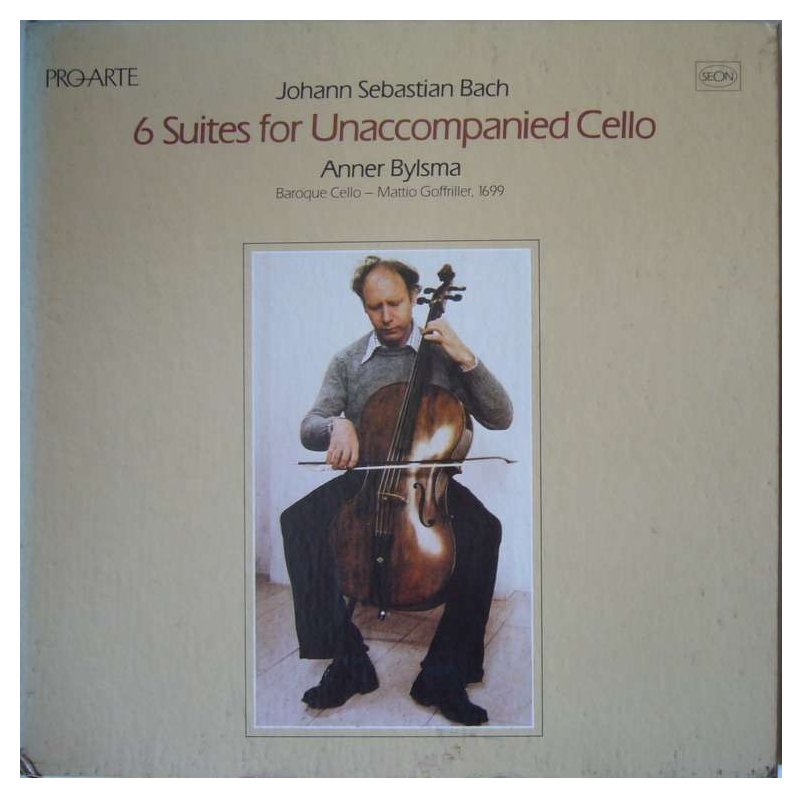 Anner Bylsma (Cello)



Born: February 17, 1934 - The Hague, the Netherlands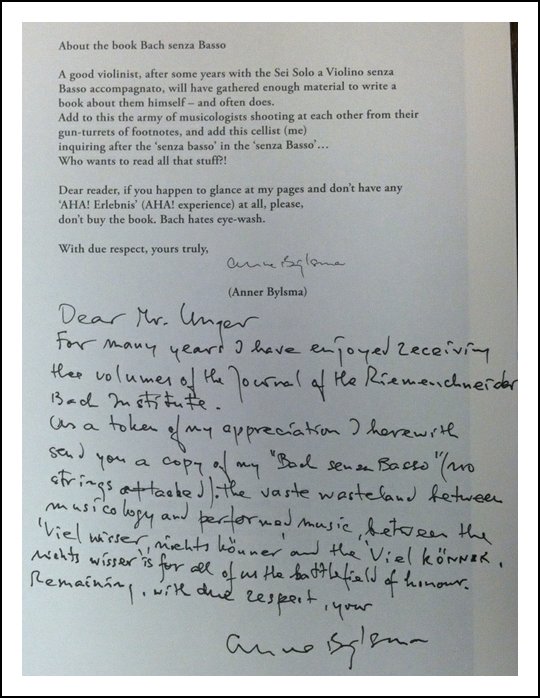 The Dutch cellist, Anner Bylsma [Bijlsma], received his first lessons from his father, also a multi-talented musician. At the age of 16, he enrolled at the Royal Conservatory, The Hague, to study with Carel van Leeuwen Boomkamp, principal cellist with the Concertgebouw Orchestra Amsterdam. It was Boomkamp who introduced Bylsma to the Baroque cello. Bylsma won the school's Prix d'excellence in 1957, and after becoming the Netherlands Opera Orchestra's principal cellist, he won first prize in the Casals Competition in Mexico in 1959.

Playing with impeccable technique and a beautiful, unadulterated tone, Bylsma is acknowledged as a master cellist, comfortable in a wide range of music on both both modern cello and period instrument cello in an historically informed Baroque style. As his father, he himself was principal cellist of the Concertgebouw Orchestra Amsterdam for six years (from 1962 to 1968). He left the orchestra to devote his performing career to solo and chamber ensemble touring. He is one of the pioneers of the 'Dutch Baroque School', and rose to fame as a partner of period flutist Frans Brüggen (1934-2014) and harpsichordist Gustav Leonhardt (1928-2012), who toured extensively together and made many recordings. In the 1990's-2000's he was joined by keyboardists Malcolm Bilson and Jos van Immerseel. He continues to be a towering figure in the Baroque cello movement. Bylsma was also a co-founder of the string chamber ensemble L'Archibudelli. As a solo performer he plays regularly with such orchestras as the Orpheus Chamber Orchestra, Tafelmusik, Australian Chamber Orchestra, Orchestra of the Age of Enlightenment, the Freiburger Barockorchester, and the 20th century music ensemble Rondom Kwartet. His chamber music partners include violinists Lucy van Dael and Catherine Manson, and harpsichordist Bob van Asperen.

Bylsma became an Erasmus Scholar at Harvard University in 1982. He is also a noted scholar and teacher and author of

Bach - The Fencing Master

, a stylistic and aesthetic analysis of the first three of J.S. Bach's Cello Suites. His playing is always based on what he finds in the composers' manuscripts. However, he quickly admits that his interpretation of a work is not and should not be the only one, an idea which he also impresses on his students. Although he doesn't like to use the term 'authentic', it is in keeping with period performance that he avoids the use of steel strings. This is a major element of his tone. Both his 1695 Gofriller cello and his 1865 Pressenda are strung with gut or silver-wrapped gut. He also has a five-string 'violoncello piccolo' that he has used to record J.S. Bach's solo works.

His recordings can be found on several labels, covering a variety of works, from Antonio Vivaldi to Paul Hindemith. In 1979 Bijlsma recorded the Six Suites for unaccompanied cello (BWV 1007-1012) by J.S. Bach, the first of its kind on a period instrument. He also made a second recording of the same music in 1992 on the large Servais Stradivarius and on a five-string violoncello piccolo. Many of his recordings on Sony, both as a soloist and with L'Archibudelli, have won the Edison prize, the Diapason d'or, the Liszt prize, and the Vivaldi prize.

Anner Bylsma is married to Dutch violinist Vera Beths.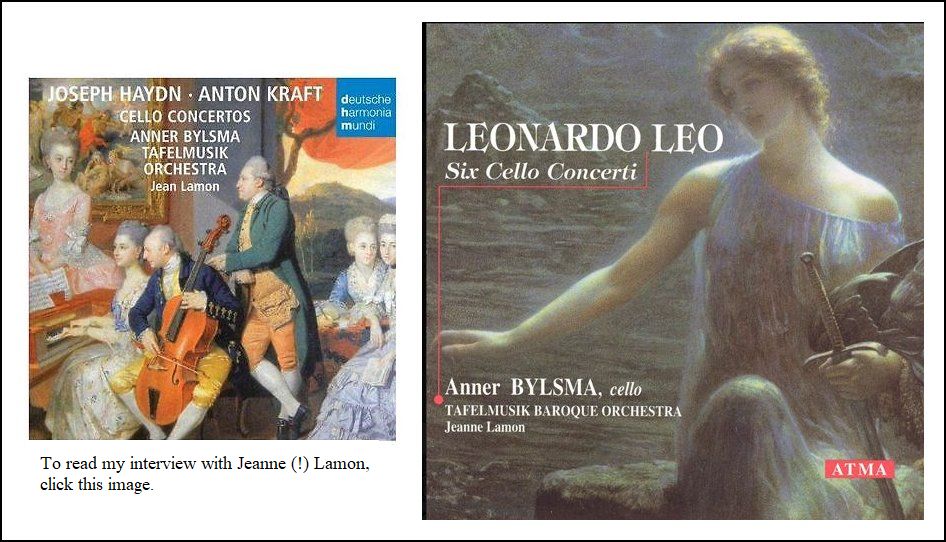 In April of 1989, Bylsma, along with Leonhardt and Brüggen, performed at Northwestern University in Evanston, IL. Despite his busy schedule, Bylsma met with me for about half an hour, and what follows is our conversation . . . . . . . . .




Bruce Duffie

: Is your life all centered around this chamber ensemble, or do you still do solo and orchestral work?



Anner Bylsma

: No, nowadays it's more or less for old times' sake. I was a cellist in my own right when we started, the three of us. I must have been about 25, and I had just won first prize in an international contest — the Casals Contest — and I was first cellist of the conservatory orchestra. It happens when you're 25, often you fall out with your profession, and that's what happened to me. I had been a cellist all my life. My father was a musician. I never made a decision to become a musician. I have a friend who is Chinese from Indonesia, and his father is a pharmacist. They heard the trio play, and he was so taken in by it that he became a violinist. Well, that was a decision and I'm not sure his father liked it very much. But anyway, my father was a musician, so I have been a musician all my life, but when I was twenty-five I fell out with music. For me it was an awful idea that I had to play music all my life. I was looking for a decent profession — maybe a medical doctor, but then I would have to go to the university for so many years. I was sitting at home very depressed, and then Frans Brüggen rang me up. He had actually just started at that time, and nobody knew him. People knew me, actually, and I thought, well what the hell? Let's do that, then. Let's try. I was so inspired by his ideas and his playing, and a couple of months later it was the same with the personality and the playing and the ideas of Gustav Leonhardt. So when I say it's for old times' sake, it plays a part because we're dear old friends, and we have been playing now for so many years. But we don't play all the time. Not at all. To answer your question now, my professional life is playing with orchestras, playing with myself, playing this piece of Bach, and playing modern things. I have two cellos. Still, when I found back my love for music, I found back my love for all music. There's only one music. Music touches you always the same way, whether you play jazz or sounds from the eleventh century. What it does to you is the same thing. The emotions are always the same even if the styles are different.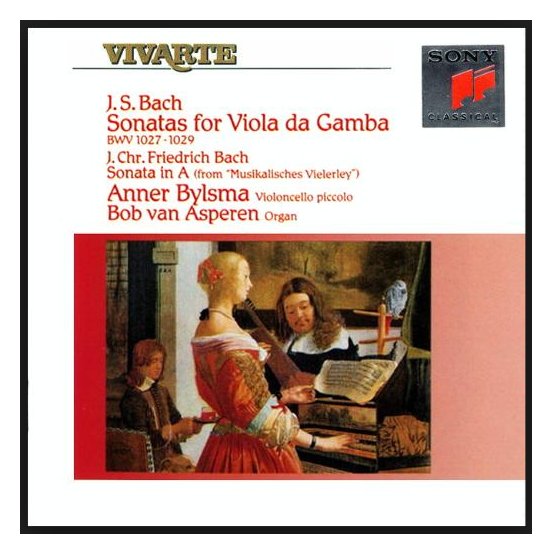 BD: When you're playing with the group, do you play gamba?



AB

: Oh, no, no. I play baroque cello.



BD

: Why not gamba? Is that too early for these pieces?



AB

: The gamba is not so much an accompanying instrument. A gamba is a solo instrument, and the cello is much more fitted out to play accompaniment because your dynamic range is bigger, especially when I play with a recorder and a cembalo that have almost no dynamics. It's very fine when someone can express it. Also, a gamba has these frets on it, like a guitar, and frets make sure that your in-tune playing is quite restricted to what the frets give you. You can slide your finger back and forth, but that doesn't make any difference. On a cello and the violin you can do all things, so you can play middle tone tuning. You can play everything. Most important is when the flute is a little too high or a little too low, you can pull it and make it a straight octave.



BD

: Is it always the responsibility of the string players to adjust to the intonation of the wind players?



AB

: It is the accompanist who plays to the needs of the solo part. It's the top part, and mostly if he starts something, I am the one that imitates. So he calls the shots when we play, the three of us.



BD

: Do you try to sound like a recorder, or do you try to sound like a baroque cello imitating?



AB

: There is such a thing as trying to fit in, to make an ensemble, like you say with the French word. Of course you should not try to play like a recorder, but when he plays a tune with a short note and a long note, you should do that, too, because that's the diction. That's a way of speaking.



BD

: So it becomes the phrasing?



AB

: Yes, the phrasing. His phrasing and my phrasing don't have to be the same thing, but at least it should have to say something, it should have something to do with it.



BD

: So he's phrasing with the breath and you're phrasing with the bow.



AB

: Yes, sure. With the bow, yes. Another thing we gloss over is the baroque cello. [Rhetorically asking his own question] What the hell is a baroque cello???



BD

: [Laughs] How is it different from the modern cello that you would play in the Concertgebouw Orchestra?



AB

: When we started I played my modern cello, and I still play that cello. It's a lovely cello. But then I found that I had to play so softly that I couldn't make any dynamic differences. It was

ppp

and

pp

, and never

mezzo forte

or

forte

. It was walk on my toes all the time, and it was very unnatural.



BD

: [Naïvely] Couldn't you just use the mute?



AB

: That would change the color of the sound so much in the first place. So it was wonderful to do and very hard, also, because when these recorders are well played they are very distinct. When they play a run, you hear every note very, very precisely! We string plays tend to slur them together, or to make them a little louder or a little softer, and do all kinds of different things to them. To play so precisely and so clearly, I really had to go back to bowing exercises to do it. But at the same time, I still did not like it because it was so unnatural. It's like speaking to you in a super soft voice all the time because you do that, too. That could not be authentic. That could not be the case. That could not be like every day normal flesh-and-blood people. The other players could never have played that softly, so gradually music has ended, more or less, the need for the baroque cello, and what you should change is your cello. Every old cello is, of course, a baroque cello. When you play a Stradivarius cello, it's an old cello, it' a baroque cello but has been changed. What's also very important is the bow.



BD

: Now the size and the shape of the cello is roughly the same?



AB

: Yes.



BD

: What is it that makes it not be able to project the sound?



AB

: It is not the projection, it's the loudness of the sound, actually. I can best answer this question for all baroque instruments and modern instruments at the same time. The instruments like they are now are either modern or they are old instruments outfitted like modern instruments. The modern instruments are made for singing. Now singing, like when you a sing an opera nowadays, is the big line, and every note is about the same loudness. The old instruments are much more made for speaking. If you analyze our voices when we speak, every syllable is different in loudness. Every syllable... imagine! So every tenth of a second we have different range, different

forte-piano

, they call it. When you have a modern orchestra, the conductor's pride is to make them play softly. It's very hard to make people play softly because all the instruments are made for making big sound. It's very hard for strings to play softly, and it takes all your attention. You have to lift your arms off the bow and off the string. It's hard! It's very difficult, and it's not very well liked because you can't control yourself very well when you play so softly. The olden instruments are made for playing softly, and if you want to stress your point you go a little louder. You have to do that to make it louder. So you come from a totally different direction. A modern instrument is, in principle, loud, and it's very hard to play soft. It's a bit like the difference between an etching and a drawing. Each is the other way around, and it's very interesting. When you speak and you want to make somebody aware of something you also have to go louder. So the basic thing is the soft, and if you want to give some expression to something you make it louder. So now, for instance, in a string quartet when they play softly it's incredibly expressive. If you want to be expressive you have to be softer. It's a very interesting, a very psychologically interesting question.



* * * * *





BD

: You've stressed the authentic instruments, and you've striven to bring the authentic sound. Is it right to have the authentic sound on modern ears?



AB

: Yes. This is a very interesting question. It's not at all so hard to give a satisfactory answer, and you will agree with me, too! In the Middle Ages, major thirds — a piece in major or minor — didn't exist. It was all in fifths and octaves, and it was very empty. But one given day, somebody starts for the first time to do a major third. Now, if you put on your radio, you hear a major third immediately because you have them all the time. If you would play a piece and don't know about that piece, there must pieces that are very early, where they just start to do that. You may be sure that there is somebody there with you who doesn't know anything about music but loves music, and you play it for them and then the fellow will say, "Hey, that chord at the end is a very special chord. What happens there?" So you say, "It's a major third, my dear. It is nothing special." [Laughs] But in that context, all of a sudden it sticks out because music is a language. If you do this authentic thing well, nobody hears anything special. They like it. You hear the Beethoven symphonies all the time, but when you hear them played by Frans Brüggen and his orchestra, it is not that you say, "Oh, my god! I don't like it because it's authentic." No, it just strikes you as something new and lively and fresh, and nothing else. Of course, if you go at it in a kind of scientific way, and you do everything just exactly like the old fellows did, without listening what the effect of it is, in that case it might be boring. It might sound authentic, but authentic style is never boring because that could not be. Bach was such a great composer, so would he have been such a bad musician? [Both laugh]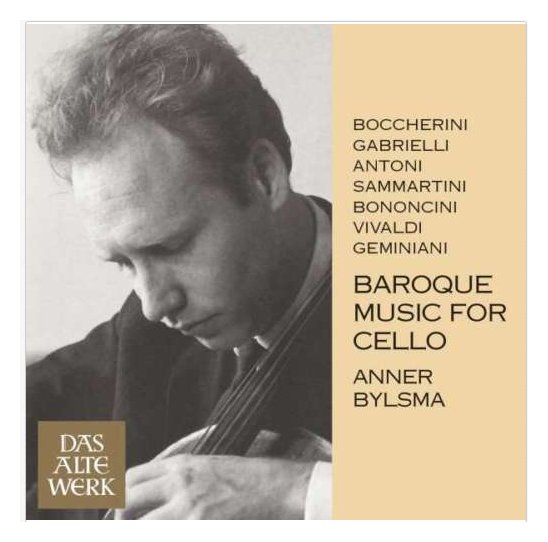 BD: I don't think anyone would think that the authentic sound is boring...



AB

: ...but sometimes it is. I've heard lots of boring music also played in a modern way!



BD

: Well, the music, of course, could be boring but not the talent.



AB

: No, the musician could be extremely boring. There are quite a few of them here. I try not to be, but you know how it is.



BD

: I hope that is not the case very often!



AB

: I hope not, no.



BD

: But I'm trying to get to the idea of the ears. Now, if we play music on instruments which are 200 years old, or reproductions of 200- to 300-year old instruments, we're still listening with ears that have gone through a couple of World Wars and Depressions, and all of the excess noise of the 1970s and eighties, and heading into the nineties.



AB

: Yes.



BD

: Can we be expected to really understand the old authentic sound as well as they did?



AB

: Yes. Our old authentic sound is of course just us trying to do it. We are not sure, and I'm happy we are not; we don't know how to do it. But if you come from the other side, if you imagine it would be possible to play a piece exactly like Bach would like it, then the music would be dead because from that time on, everybody would play it that way. Authentic for 1980 is quite a different thing from authentic in 1970. It is the authentic feeling, the feeling of this is the right way to do it as it strikes me. Of course we try, and we read books, but we always start by doing something that we like. When I play this note, and then when I do this a little louder, every musician does that to experiment. For authentic old music and modern music, we are always working that way. All of a sudden you come to a point where you say, "Hey, this is the way to do it." Then you start reading books, and you may be sure that you find somewhere in the books that they had done it this way. It is the same when people read the Bible. What they want to read there, they will find it there.



BD

: Let's stick with Bach for a minute. You've played the suites on baroque cello and also on modern cello.



AB

: Yes.



BD

: What are the differences between those two?



AB

: I don't play them any more on modern cello. I haven't done that for about ten years, but I teach on the modern cello.



BD

: Is it a mistake to play the Bach on a modern cello?



AB

: No, of course not. It's never a mistake, no, no. It is a mistake to play something in a way that you don't like. It's also a mistake to play a piece of music in the way your teacher told you to! If somebody loves to do the Bach suites on the saxophone, it is his thing to do it. And if he does it in a way that I love to listen to it, I will listen to it. People always like to spoil somebody else's fun, and that is not what the authentic way of playing should be. It should add to it.



BD

: [With a gentle nudge] Should music always be fun?



AB

: Yes, in a way. Fun with a capital F or a small F — it depends on the music. Yes, I think music should be fun. It should be a pleasure.



BD

: Is the music that you play — the so-called concert music — for everyone?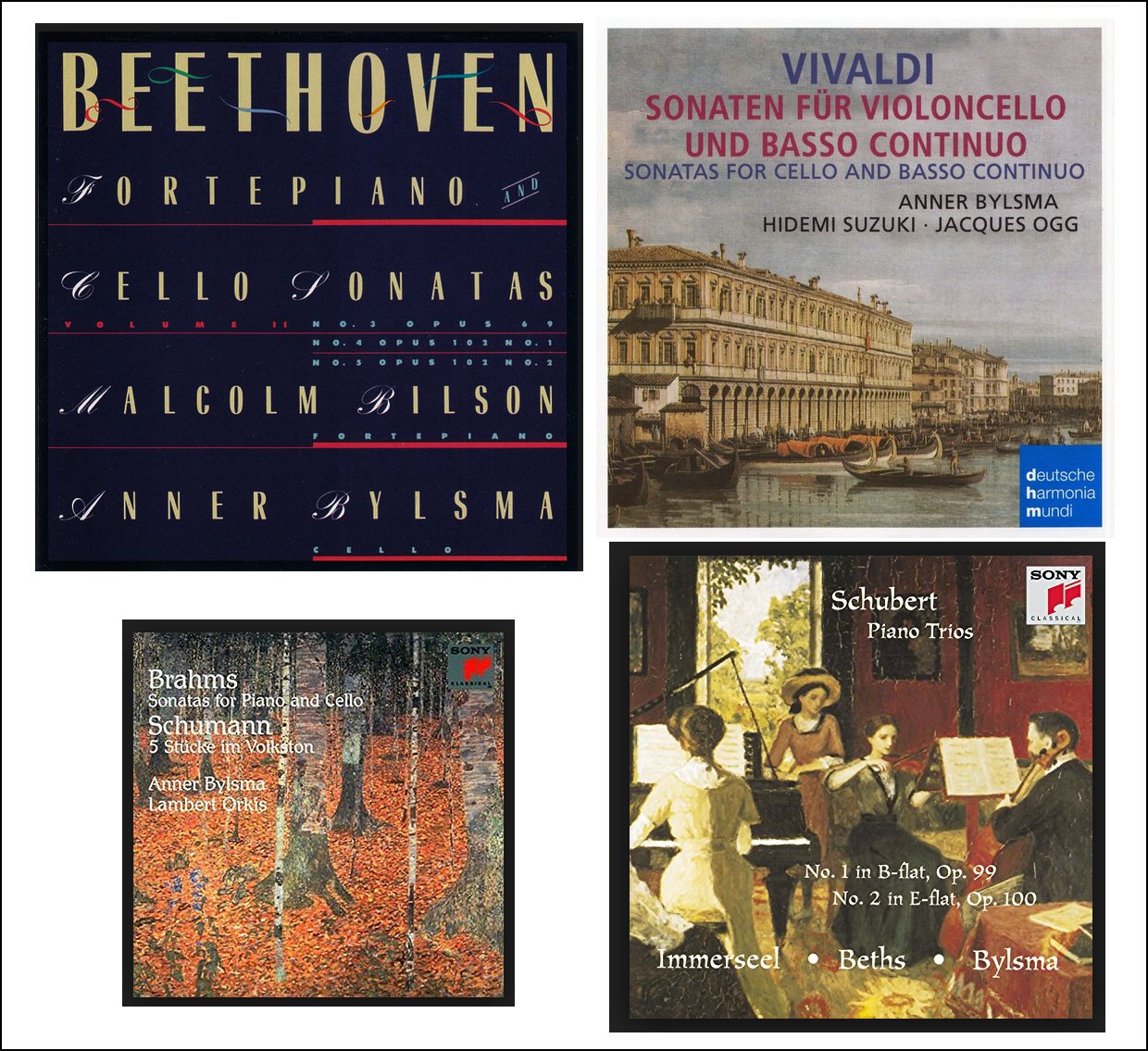 AB

: There are many people now that want to make people love everything. We make a lot of advertisements and propaganda for everything, but if you come to it — and I am sure you will agree with me — not every art is equally important for everybody, even if you are an artist. I love to read books, but it is very rare that I read poetry. I like to do it, but very rarely do I go to ballet. I worked with a ballet and I love it. I like theater and I like film, but music is my thing. I like painting very much, and I could live without painting, but I could not live without music. So I think everybody has one art form that's his thing. Maybe you don't know it, but someday you will find it out. So there will be many people that don't think music is a big thing to them. Maybe authentic music is not at all a big thing for them. Maybe they like Dixieland jazz. I hate Dixieland, the loose-lipped kind of counterpoint, but that may be the thing for somebody else.



BD

: So there should be room for all kinds of things?



AB

: There should be room, and you should never give anybody a feeling of lacking something when he doesn't like something. It's not his thing. In Europe we have this very much. You have to learn at school, and you have to behave, and do as if you think all these things are great. It just makes for dishonesty.



* * * * *





BD

: You've made a lot of recordings. Do you play differently in the recording studio than you do in the concert hall?



AB

: Yes, you do. When you play a recording or when you play for a microphone, all together you play for one person. You play for one friend or maybe an image of yourself. I will play like we sit here and I play for you. When I play in a concert hall I play for the last rows. I might ask them, "Can you hear me there? No? Oh, I'll play a little slower then." Of course it is impossible to do the two at the same time, but often you give a concert which is broadcast, and somehow it works. Then I don't play for the microphone. I forget the microphone. I don't trust a man that hangs it, that he will make it come right.



BD

: Do they usually capture what you think you are putting on the tape?



AB

: In Gramophone recordings?



BD

: Yes.



AB

: You put a word in, but also it's very much a matter of trust. It's like being on television. You must be many times on television, so do you pull your face on television? No. Do you think that when I look at the left they will like my face better than when I look at the right? No. You trust the fellow with the camera. You just think what you want to say and what it is about, and you do it as good as you can. You trust the fellow that he will make it look appetizing, and if he can't do it, you don't come back there. [Laughs]



BD

: Do you feel that many of the recordings you've made have captured your best efforts?



AB

: Yes, but a live concert and playing it live is better than recordings. You always hear your own recordings years later. When it's about Christmas time, people like to buy classical music, so then the record comes out and you get a copy. But by that time you have played the piece many times again, or have changed your ideas about it. So it's not always fun to hear your own records. Then after a couple years more, you have forgotten what you thought about it, and then you like them better. I made quite a few records last year that have not come out yet, and I must say I'm really curious.



BD

: Are these with the trio, or solo or concerto?



AB

: Not with the trio, no, no. I am not anymore in this group. I left it twenty years ago. I made my first cello record of music from the seventeenth century. I also made a record on a children's instrument, a small cello, because the children's instrument was made along the lines of an adult instrument. It was called cello piccolo.



BD

: A three-quarter sized instrument?



AB

: This is more like a half size and a fifth higher, so it has the same tuning as a violin. It sounds fantastic. I couldn't keep myself from doing the

A Minor Sonata for Violin Solo

and the E Major Partita.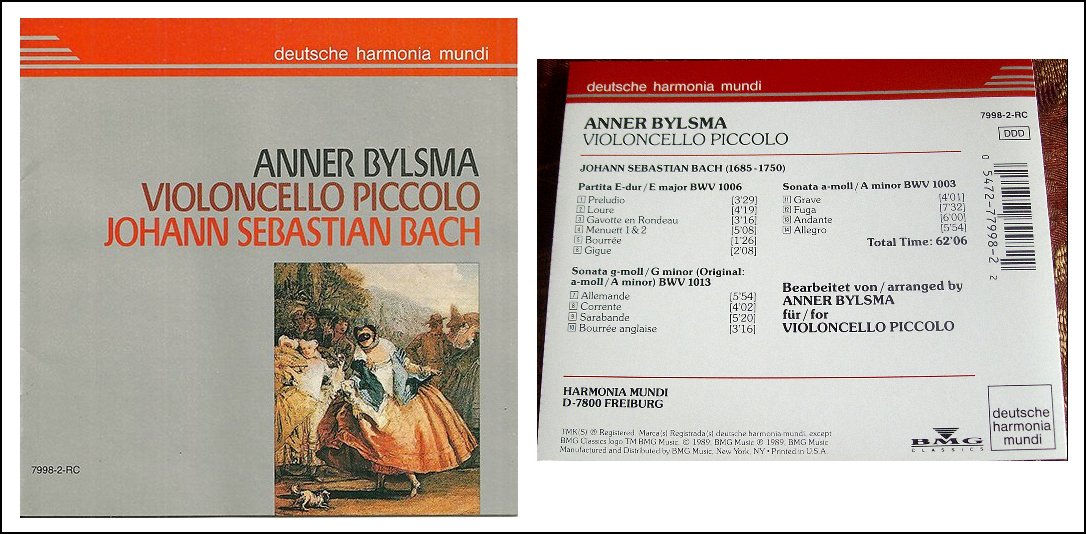 BD

: You were able to squash your fingers together enough?



AB

: Oh, yes. It is still much wider than the violin, and it sounds so good because the cello has that tone which keeps going, keeps ringing a little bit longer than the violin. That brings the counterpoint out wonderfully. I wonder what will happen, and I must giggle by the idea that in a couple years, when kids in the concert area are asked what are the instruments in the violin family, they will say, "Violin, viola, cello piccolo, cello, double bass." [Both laugh] Then I will have made my point. I also made a wonderful record on the Stradivari in the Smithsonian, a big instrument which has been in the hands of the famous cellist in the nineteenth century whose name was François Servais (1807-1866).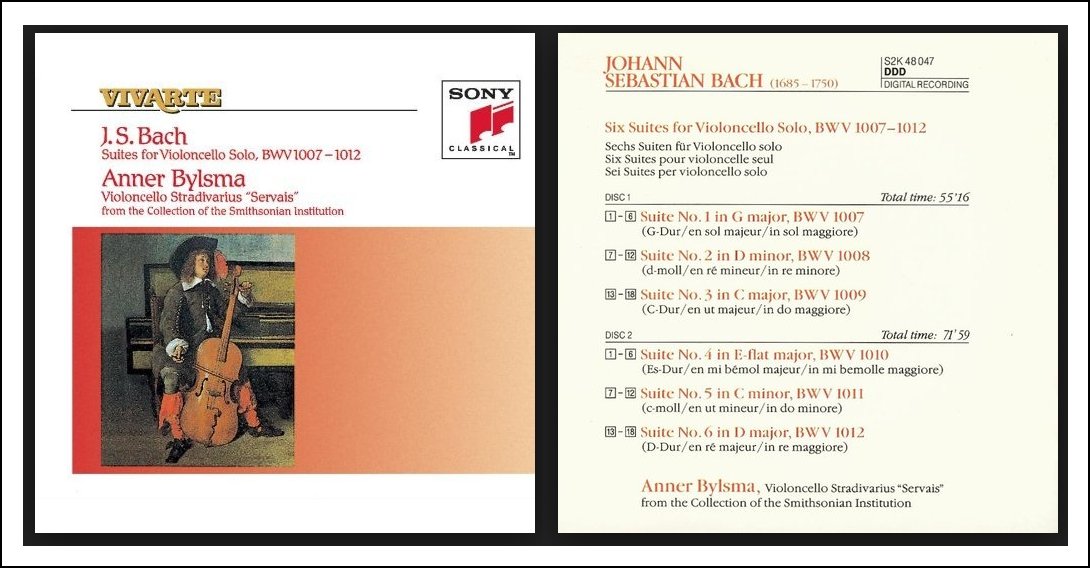 That's such a great instrument, and the music is so nice. It's always wonderful when you pick a couple of music books out of the cupboard which haven't been touched for a long, long time, and then you play them, and it shows that they're still alive. They comes alive. Not everything comes alive, but sometimes it happens. It happened here very much, yes.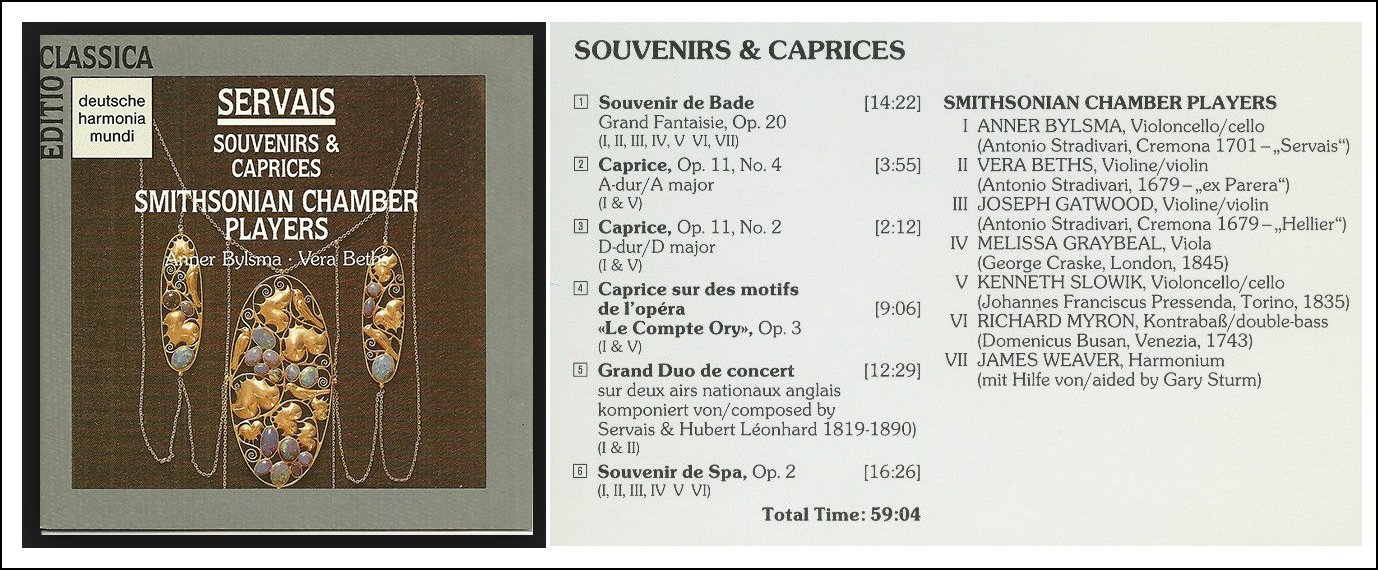 BD

: What advice do you have for young cellists who are coming along? Should they study old instruments as well as new instruments? Should they try for a concert career or a solo career?



AB

: They should not try for a career because a career does not exist. Everybody else's career exists, but never your own career! You are always busy with the next date... [Mumbling to himself] "Oh dear, next Thursday I have a concert with a concerto of Haydn, and I haven't played it for a year, and I better do it slowly. I wonder what will come out? And then on Sunday, I have to play these Beethovens." That's yourself. But then in the paper you read about somebody else, and it's somebody you know, and say, "Well, Mary makes quite a career. She played last week the Haydn concerto, and now she plays the Beethoven." So a career is one of those things that does not exist for yourself. You are just working and worrying about your next engagement. But you see the names of other people often, or not so often, and when you see them often they make a career. But for them it's also chores. But young cellists, what should they do? They should in the first place never do what a teacher tells them to do.



BD

: [Laughing] That's going to put a lot of men and women out of business, I'm afraid.



AB

: Oh, no, no, no, because the way you get a much better understanding is with your teacher. In the main, people nowadays are much too docile. They do exactly what their teacher tells them and nothing else. But if you work it out for yourself, totally forgetting what your teacher tells you, then you will meet him in a much better way. There are some times you will have found out how to do it a special way, the best way to make it sound. Then you think, "Hey, that old bloke said the same thing last week!" Then you have such a wonderful understanding with your teacher, and you learn so much more. All instruments and all these things have always been done while people were living in the country and they didn't have a teacher at all. So they were all inventing it themselves. Nowadays we have these great big music schools and these great big teachers, and I don't like them. I just gave up my teaching position. I was a teacher and professor in The Hague in Amsterdam, but nowadays there are so many teachers that have a blue pencil. They know everything. They tell you exactly what fingering to use, and what bowing, and how loud, and where to take your breaths, and where to start vibrating — mostly too much! — and everybody sounds the same. That's not the way to make a career.



BD

: So each individual musician must arrive at the truth for themselves?



AB

: Yes, their own one way, and if you don't, then you should find yourself another profession.



BD

: Go and sell insurance or something?



AB

: Well, do something you have a talent for.



* * * * *





BD

: What advice do you have for people who want to write music?



AB

: That is a very wonderful question. What can they do but write? Maybe in all art, but music is what I know, the best starting point for a musician or a composer or a painter, also, is to have a father that says, (if you are a cellist) "If I catch you another time with that instrument between your legs, I'll break both your legs!" If you then still do it, that is the best starting point. You know exactly that you want to do it. But parents that say, "Oh, you're wonderful! Oh, you will be a great artist," that's dangerous. When my kids do something well, my heart beats and my chest swells, but only up to a point.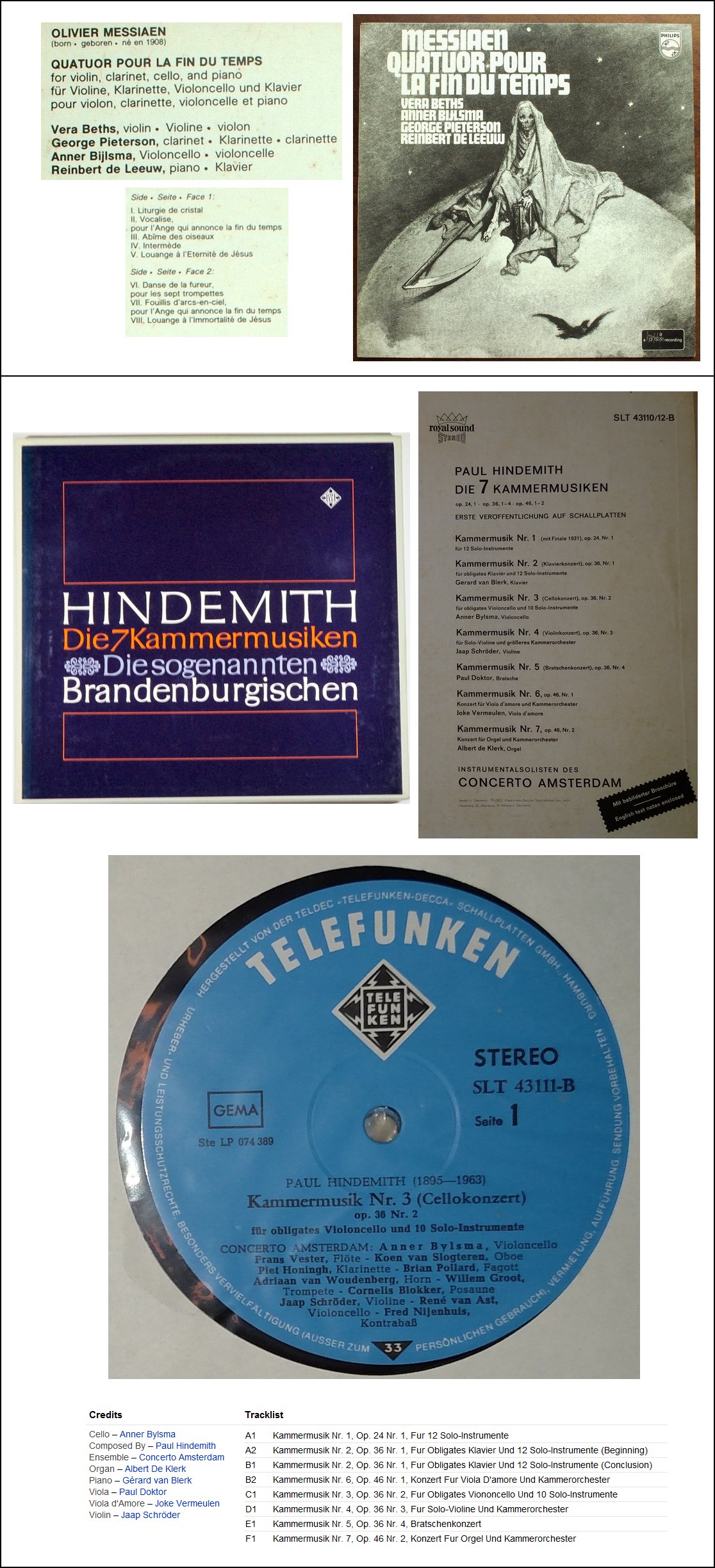 BD

: Do you play much modern music?



AB

: Oh, yes, yes.



BD

: Do you like the directions that music is going these days?



AB

: There are many directions. It's surprising that some types of music that were the most modern things ten years ago are already old fashioned. It is the extremely serial music where there's nothing else that is this empty kind of music. There's some kinds of music I don't like. I don't like minimal music...



BD

: You don't like to go round and round and round?



AB

: No. The best piece of minimal music has been written a long time ago in the

Sixth Symphony

of Beethoven. [Both sing melody and laugh a bit]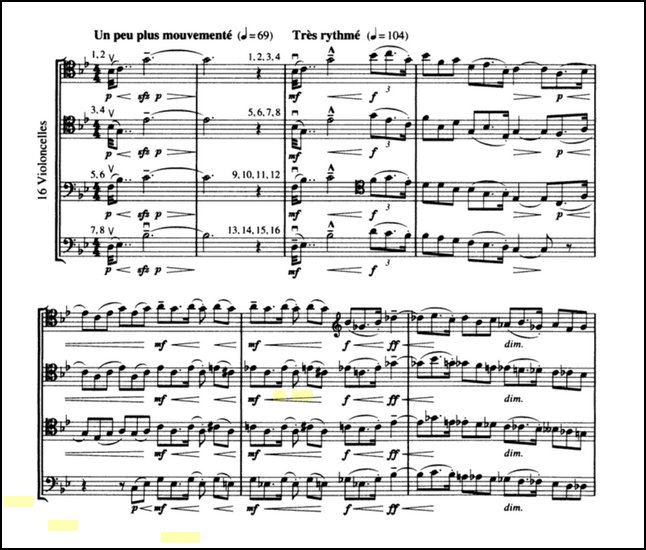 BD

: I often think that some of the Bruckner symphonies are like early minimalism.



AB

: A little bit, yes.



BD

: [Sings a tune and laughs] It comes around, but then it just stops, and being an organist, he changes registration.



AB

: Yes, yes. Oh I love Bruckner symphonies. I was in the Concertgebouw, which was a great orchestra for Bruckner.



BD

: How long did you play there?



AB

: Six years.



BD

: Six years. You were solo cello?



AB

: Yes!



BD

: Did you play

Don Quixote

?



AB

: Oh, I never played

Don Quixote

because there was another soloist, yes, and he played it very, very well. But I played the

Rococo Variations

of Tchaikovsky, and it was a pleasure. We had a very good group. The cello group of the conservatory orchestra is a wonderful group. It always has been. It was a very good group when my teacher was first cellist, and it is a very good group now, because if you have a good group and you need a new fellow, you try to get the best one, and it's a self-propelling thing. In

La Mer

of Debussy, there is that wonderful part where the cello section is divided in four groups. [

Portion of this score is shown at right

.] It is fantastic! Or for that matter, there are wonderful tunes in the Brahms symphonies. Great, great, great, yes.



BD

: Have you had any thought of conducting?



AB

: No, I don't want to do that.



BD

: Why not? It seems like everybody wants to conduct.



AB

: Yes. No, I don't want to do it, no. I don't want to tell anybody else what to do. When you play chamber music, as I do, I have a big mouth. I always tell them how I want it, and they tell me how they want it, and we come to some conclusion. But a big orchestra where everybody is the same, every day the same 100 people with some that are not so good, and you are not so good, either. I don't like it. Imagine when you say to your second clarinet, "Sir, haven't you heard the F sharp is too low three times now?" He may have great difficulties, because at home he may have difficulties with his wife or children, and there you are, just teaching a grown up man what to do. He might have heard it himself. No, I don't want to be in that position. Except for the excellent ones, conductors are an overrated crowd. [

At this point I followed up by asking about some of those he had worked with, and he mentioned a few who were good and a few who were not good. Those comments have been omitted here.

]



* * * * *





BD

: You've played all over the world. How are audiences different from country to country, or city to city?



AB

: They are very different, yes. In general, we say that when you go south, the applause becomes longer. You may be in Chicago, for instance, which I call up north, more or less, and people will applaud you and give you one little bit of applause. You might think they don't like it, and they love it! If you would have that applause in Italy, for instance, oh, that would not be very good, and in Austria you can have enormous applause, and they still don't like it. [Laughs]





BD

: [Amazed] Are they just being polite?



AB

: No, they like the idea of being in a concert themselves.



BD

: Music as a participatory art?



AB

: Sure, sure. Yes, yes. Generalizations are hard to make, but there is quite a difference between the length of applause. In Holland they rise; people stand up after you play, but it doesn't mean a thing. They want to get back home or something.



BD

: Is it somewhat indiscriminate now, with all the standing ovations for even a mediocre concert?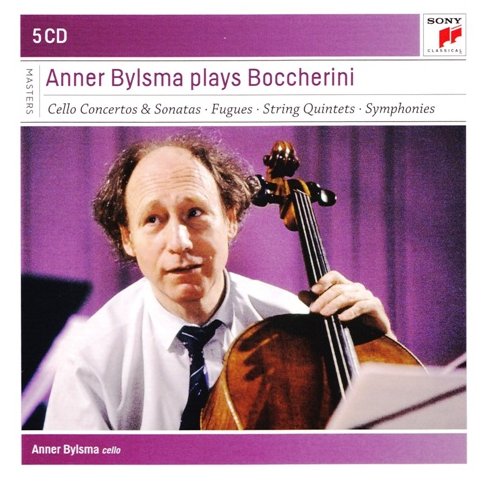 AB: Sometimes it is, yes. Sometimes it's also that it becomes a tradition. And it's also nice to stretch your legs after you've sat through a symphony of Mahler. [Laughs] Sometimes it is hard for us to tell because acoustics plays such a part. When a hall is very dry, also the applause sounds very dry and short. That plays also very much a part. When I play suites of Bach, which I've done many, many times, it's hard to see how it sounds there because we are only half of it. I play, and you have your imagination. When I play like a demigod and you have no imagination, you still have a nice evening. When I play very mediocrely and you have a lot of imagination, you still can hear a wonderful work by Bach, or a nice cello, or whatever instrument where the fellow doesn't play well but you still have a wonderful evening. Mostly we meet somewhere half way — the audience not having so much imagination and me not playing so well. But still, it's hard to know. Also, some halls sound wonderfully well on stage, but are very dry in the hall. And the opposite can happen — they sound very dry on the stage, and people say, "Don't worry! It sounds very good here." It is hard working there because you don't know exactly how to cope with that.



BD

: Do you adjust, then?



AB

: Yes. Now I'll tell you a little secret which I have never done before. When I play a suite of Bach, mostly the attention is very intense because these works by Bach are so abstract. He's taken out everything that he could get rid of, but in such a way that the imagination of the listener makes up the whole picture. It's the suite of dance forms. I play a couple notes, but they're made in such a genius way that you can exactly hear what I do not play and fill it out without actually realizing it. Now when I play a suite of Bach, it's very silent. They may be asleep, but then all of a sudden I hear a program slide on the floor! That means the fellow sitting there was so taken with the music and didn't watch his knees. The sound is like, [makes the sound like a booklet sliding off and falling on the floor] zupp! It's rather noiseful, because it disturbs everybody, but I know that I'm on the right track, so I just keep going. [Laughs]



BD

: I hope you don't specifically listen for those things now!



AB

: [Laughs] No, no, no, no. I don't listen for them, but it happens.



BD

: So you know they're concentrating.



AB

: Yes!



BD

: One last question. Is playing cello fun?



AB

: For me, for a time it wasn't. When you're in high school, and your friends become medical doctors and lawyers and professors and all kinds of things later on, they ask, "What are you doing?" and you reply, "Well, I'm a cellist." I didn't like to say it. I hated it. As I said earlier, I had this thing when I was 25 that I didn't want to play at all. The only one way that's being rebellious is when you don't do what everybody tells you to do. Do something else. So I have been concentrating on strange repertories — things I loved but nobody wanted to hear. I couldn't play them often, but that way you are not doing what your teacher tells you. I played funny jobs. One of the nicest things I did was play with a ballet the

Sixth Suite

of Bach. I was sitting on stage with eight dancers around me — four girls, four boys — and I learned so much. It's very interesting and very hard to put your finger on the relationship between gestures and music. A conductor couldn't live without that, but to make it fit was not the best way to play a Bach suite, of course, because they are good enough by themselves. But I learned so much from that. It was great. That was a great pleasure to do. Nowadays I do only the things I love, and I'm too busy anyway. [Laughs]



BD

: I'm glad you can select and do just what you want. Thank you for coming and bringing your music. It was nice to talk to you. I'm glad we had this opportunity.



AB

: Same here. Same here. Yes.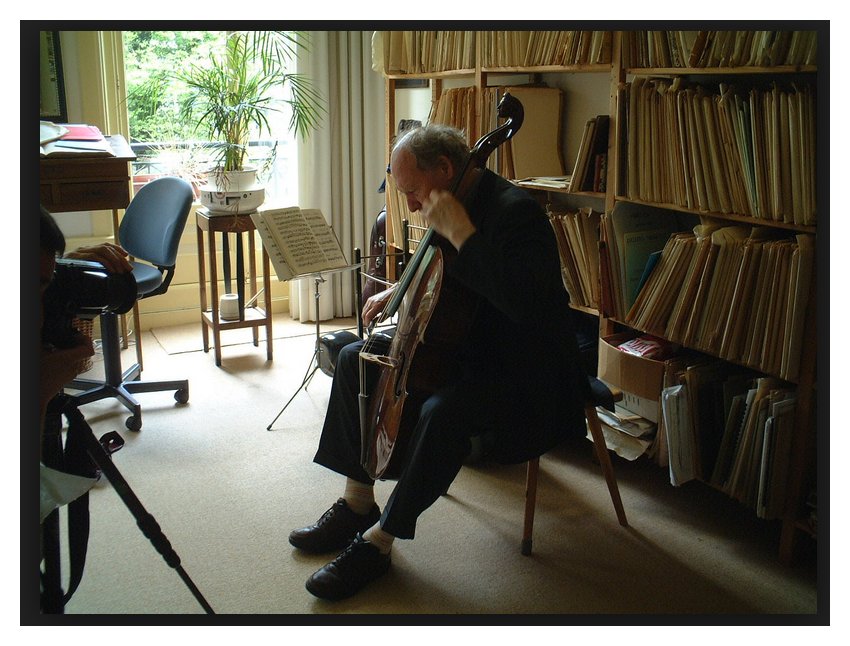 © 1989 Bruce Duffie

This conversation was recorded in Evanston, IL, on April 18, 1989. Portions were broadcast on WNIB the following year, and again in 1994 and 1999. This transcription was made in 2016, and posted on this website at that time.


To see a full list (with links) of interviews which have been transcribed and posted on this website, click here.

Award - winning broadcaster Bruce Duffie was with WNIB, Classical 97 in Chicago from 1975 until its final moment as a classical station in February of 2001. His interviews have also appeared in various magazines and journals since 1980, and he now continues his broadcast series on WNUR-FM, as well as on Contemporary Classical Internet Radio.

You are invited to visit his website for more information about his work, including selected transcripts of other interviews, plus a full list of his guests. He would also like to call your attention to the photos and information about his grandfather, who was a pioneer in the automotive field more than a century ago. You may also send him E-Mail with comments, questions and suggestions.