Born: October 6, 1927 - Vienna, Austria

The eminent Austrian pianist, music editor and pedagogue, Paul Badura-Skoda (real name: Badura), was brought up by his stepfather, Skoda, whose name he adopted professionally. He studied science, as well as music. In 1945, he entered the Vienna Conservatory, and two years later won first prize in the Austrian Music Competition and a scholarship, which allowed him to study with Edwin Fischer. These years laid the foundation for Badura-Skoda's artistic future. In 1949, Wilhelm Furtwängler and Herbert von Karajan became aware of Badura-Skoda's outstanding talent, and invited him to play concerts. Practically overnight the young Viennese became a world-famous artist.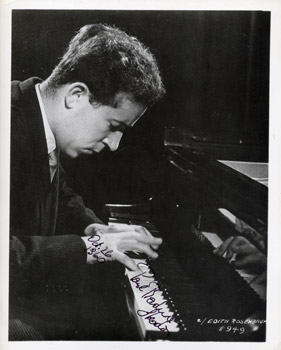 Since then, Paul Badura-Skoda has been a regular and celebrated guest at the most important music festivals, and a soloist with the world's most prestigious orchestras. He made his New York debut in January 1953. From 1966 until 1971 he was artist-in-residence at the University of Wisconsin. In addition to Wilhelm Furtwängler and von Karajan, he has collaborated with such renowned conductors as George Szell, Karl Böhm, Lorin Maazel, Zubin Mehta, Sir Charles Mackerras, Sir Georg Solti, Kent Nagano and John Eliot Gardiner.

Paul Badura-Skoda has recorded a vast repertoire - more than 200 LP's and dozens of compact discs including the complete cycles of the piano sonatas of Mozart, Beethoven and Schubert.

Paul Badura-Skoda performs with equal authority on both period and modern instruments. He was a pioneer in proposing the use of period pianos in performance. His profound knowledge of instruments from Batch's and Mozart time up to the present has given him the capacity to extract from modern instruments a quality of sound which never fails to amaze audiences and critics alike.

After a celebrated eleven-city tour in Spring 2003 marking the 50th Anniversary of his American debut, Paul Badura-Skoda dazzled audiences and critics with his consummate performances. Reviews across the U.S. consistently lauded the legend's mastery with headlines such as "Pianist weaves magic," "A stunning surprise," "Badura-Skoda warm and witty," "Pianist's insightful performances superb" and "Badura-Skoda gives peak performance." The tour began in February 2003 with an appearance with the Boston Symphony Chamber Players and a solo recital at Carnegie Hall, and culminated in a performance of Mozart's Piano Concerto No. 22 with the Dallas Symphony. He returned to the USA July 2003 as concert soloist and conductor at the Grand Teton Festival in Wyoming. He continues to tour the world over, including concerts in Japan and at Singapore's Esplanade Center, a concert in the Esterhazy Palace on an original instrument from Haydn's time, a concert in memory of Frank Martin in Zurich and other recitals in important venues in Paris, Milan, Florence and Seoul and Shanghai in 2005 and 2006.

In September 1951, Paul Badura-Skoda married Eva Halfar, who collaborated with him on his various editions. [NOTE: Many biographies of Paul list the date of his marriage as 1941, which seems unlikely. However an encyclopedic entry for Eva lists the year as 1951, which is much more plausible.] He published:

Mozart-Interpretation

(with his wife; Vienna, 1957; English, 1962, as

Interpreting Mozart on the Keyboard)

;

Die Klavier Sonaten von Ludwig van Beethoven

(with Jörg Demus, Wiesbaden, 1970);

Bach-Interpretation: Die Klavierwerke Johann Sebastian Bachs

(Laaber, 1990; English translation, 1992, as

Interpreting Bach at the Keyboard

); also contributed valuable articles on Chopin, Schubert, and others to German musical journals.

Paul Badura-Skoda is one of the most important pianists of our time. A legendary artist who has been heard in all the world's greatest concert halls, and for years was the pianist who had the largest number of records available in the market. His musical personality is characterised by complete immersion in music, a passionate search for the essential, and a sense of artistic responsibility. It soon becomes evident to any listener that he loves music with every part of his being.