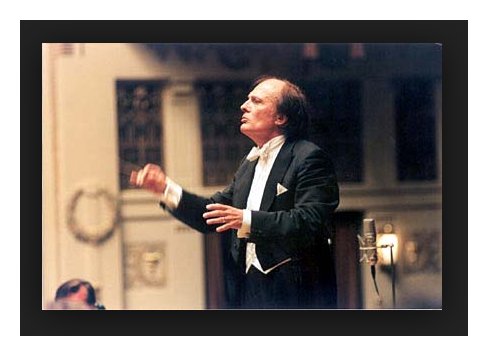 Born in Brno, Czechoslovakia, Zdenek Macal is now an American citizen. At the age of four he began violin studies with his father. He went on to study conducting at the Brno Conservatory and then at the Janácek Academy of Music, where he graduated with highest honors in 1960. Zdenek Macal's previous positions include Music Directorships of the Czech Philharmonic (2003-2007), the New Jersey Symphony (1993-2002), the Milwaukee Symphony Orchestra (1986-1993), the Cologne Radio Symphony and the Radio Orchestra of Hannover. He has also served as Chief Conductor of the Sydney Symphony Orchestra, Principal Conductor of Chicago's Grant Park Summer Festival and Principal Conductor of the Prague Symphony Orchestra, where he conducted both symphonic concerts and operatic performances. He first received international attention by winning two prestigious contests, the 1965 International Conducting Competition in Besançon, France, and the 1966 Dmitri Mitropoulos Competition in New York, chaired by Leonard Bernstein. In May, 1998, the Westminster Choir College honored Maestro Macal with an honorary doctorate.

A respected musical force, conductor Zdenek Macal is renowned in the world of classical music for his masterful interpretations and graceful conducting style. He has guest conducted over 160 orchestras worldwide, including the Berlin Philharmonic, the Royal Philharmonic, the London Symphony Orchestra, the London Philharmonic, the Orchestre de Paris, the Orchestre National de France, the Orchestre de la Suisse Romande, the Czech Philharmonic, the Vienna Symphony, the Orchestra della Scala, the Stockholm Philharmonic, the Hamburg Philharmonic, the Munich Philharmonic and the NHK Symphony Orchestra in Tokyo.

Mr. Macal has also conducted at the Prague National Theater, the Smetana Theater, the Brno Opera, and the opera houses of Cologne, Geneva, Turin and Bologna. He has taken part in major international festivals including those of Vienna, Lucerne, Edinburgh, Prague, Zurich, Besançon, Athens, Montreux and Holland; as well as the Casals Festival in Puerto Rico and the Ravinia, Tanglewood and Wolf Trap festivals in the United States.

Since his American debut with the Chicago Symphony Orchestra in 1972, he has conducted widely throughout North America, regularly leading the New York Philharmonic, the Philadelphia Orchestra, the National Symphony, the St. Louis Symphony, the Pittsburgh Symphony, the Minnesota Orchestra, the Houston Symphony, the New World Symphony and the symphony orchestras of Montreal and Toronto.