Anne-Sophie Mutter - Biography from the Deutsche Grammophon website, May, 2015. (Text only - photos from other sources.)



Anne-Sophie Mutter is universally considered to be one of the greatest violinists of modern times. Her artistry embraces everything from tonal richness and consummate technical virtuosity to transcendent expression and profound musicianship. Born in the German border town of Rheinfelden, she showed signs of exceptional talent at an early age. Anne-Sophie began to study piano at the age of five; soon after, she received her first violin lessons from Erna Honigberger, a pupil of Carl Flesch. At the age of nine she commenced studies with Aïda Stucki, one of Switzerland's finest musicians and an inspirational teacher.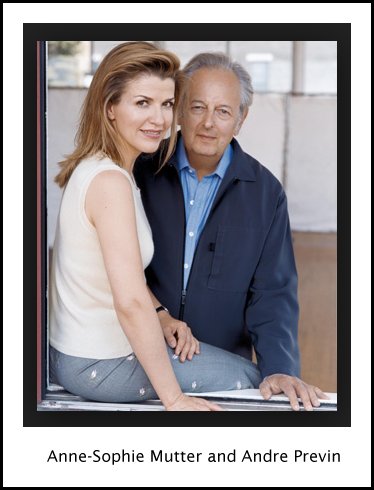 In 1976 Herbert von Karajan heard the 13-year-old Mutter in recital at the Lucerne Festival. The legendary conductor subsequently invited the young violinist to make her concerto debut with the Berlin Philharmonic at the 1977 Salzburg Whitsun Festival. Their partnership continued in 1978 when Mutter made her first recording for Deutsche Grammophon, an album of Mozart's

Violin Concertos Nos. 3 and 5

. Mutter collaborated regularly with Karajan and the Berlin Philharmonic to create a landmark series of recordings of violin concertos by Beethoven, Brahms, Bruch and Mendelssohn for the Yellow Label. Meanwhile her debuts in Berlin (1978), Washington and New York (1980), Tokyo (1981) and Moscow (1985) garnered critical acclaim and helped establish her regular presence at the world's major concert halls.

In 1986 Mutter was appointed International Chair in Violin Studies at the Royal Academy of Music in London. The following year she founded the Rudolf Eberle Trust to support the development of outstandingly gifted young string players throughout Europe. The initiative's reach extended worldwide in 1997 after it was incorporated into the Friends of the Anne-Sophie Mutter Foundation. Mutter's commitment to the promotion of young musicians has helped launch the careers of many fine artists, Daniel Müller-Schott, Sergey Khachatryan and Roman Patkoló among them. The Anne-Sophie Mutter Foundation also supports the Mutter Virtuosi, an ensemble comprising fourteen of the organisation's former and current scholarship holders. Her Foundation has commissioned André Previn's Concerto for Violin and Double-bass, Krzysztof Penderecki's Duo concertante and Wolfgang Rihm's Dyade. In 2013 she gave the world premiere of Sebastian Currier's

Ringtone Variations

, commissioned by the Anne-Sophie Mutter Foundation for the Mutter Virtuosi's Asian tour.

Anne-Sophie Mutter's commitment to the future of string playing extends to her wholehearted championship of contemporary music. In 1986 she gave the first performance of

Chain II

, written for her and the Paul Sacher Foundation by Witold Lutosławski, and recorded the work for Deutsche Grammophon. Her tally of world premiere performances includes Rihm's

Gesungene Zeit and Lichtes Spiel

, Penderecki's

Second Violin Concerto Metamorphosen

and

La Follia

for solo violin, Dutilleux's

Sur le même accord

, Gubaidulina's

Violin Concerto In tempus praesens

, Previn's

Violin Concerto "Anne-Sophie"

and

Second Violin Sonata

, and Currier's

Aftersong and Time Machines

. She has recorded these and many other new works for the Yellow Label, together with such monuments of the 20th-century repertoire as Berg's and Stravinsky's

Violin Concerto

s and Bartók's

Second Violin Concerto

. Mutter won the Grammy® Award for "Best Instrumental Soloist(s) Performance (with orchestra)" three times, respectively for her recordings of Berg's

Violin Concerto

and Rihm's

Gesungene Zeit

(1994), Penderecki's

Metamorphosen

(1999), and Previn's

Violin Concerto

and Bernstein's

Serenade

(2005).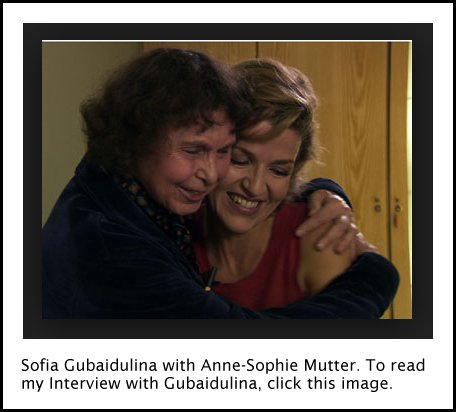 In the closing years of the 1990s, Mutter recorded Vivaldi's

The Four Seasons

with the Trondheim Soloists and Beethoven's

Violin Sonatas

with her regular duo partner Lambert Orkis. The latter went on to win Grammy® and Echo Awards, while her Vivaldi album attracted critical acclaim and sold over 370,000 copies worldwide. She began the new millennium with a series of touring and recording projects, including

Back to the Future

, a retrospective look at major works from the 20th-century violin repertoire, and

Recital 2000

, an album of chamber works by Crumb, Prokofiev, Respighi and Webern. In 2001 Mutter performed Mozart's complete violin concertos in two evenings as artist-in-residence at Carnegie Hall and with the Vienna Philharmonic in Vienna and on tour in Germany. Previn's

Tango Song and Dance

, dedicated to and premiered by Mutter, formed the core of an eponymous recital album and her touring programme in 2003. Her recordings with Previn as conductor include award-winning accounts of his

Violin Concerto "Anne-Sophie"

and a pairing of the violin concertos by Korngold and Tchaikovsky (Echo Award 2005 for "Instrumentalist of the Year"). Mutter celebrated the 250th anniversary of Mozart's birth in 2006 with international tours and complete recordings of his sonatas and concertos for violin.

Highlights of recent seasons include performances and a complete recording of Brahms's

Violin Sonatas

with Lambert Orkis; artist-in-residence concerts and chamber music recitals with the New York Philharmonic; an album of first recordings of works by Rihm, Currier and Penderecki (2011), and the release of

ASM35

, a 40-disc box set of Mutter's complete recordings for Deutsche Grammophon (2011) issued to mark the 35th anniversary of her professional debut. She was named Musician of the Year 2011 by Musical America, the highest accolade bestowed by one of North America's most influential and respected arts magazines. In June 2013, Mutter and the Berlin Philharmonic came together at the Berlin Philharmonie, to make their first studio album in 30 years: the resulting recording of Dvořák's

Violin Concerto

, Mutter's first, was released to critical acclaim in October 2013. Two months later she and Lambert Orkis gave a concert at Carnegie Hall to celebrate the silver jubilee of both their artistic partnership and of their recital debut at the venue with a programme that included the world premieres of Penderecki's

La Follia

and Previn's

Second Violin Sonata

. Deutsche Grammophon also celebrated their milestone anniversary with the release of a two-disc set,

The Silver Album

(2014).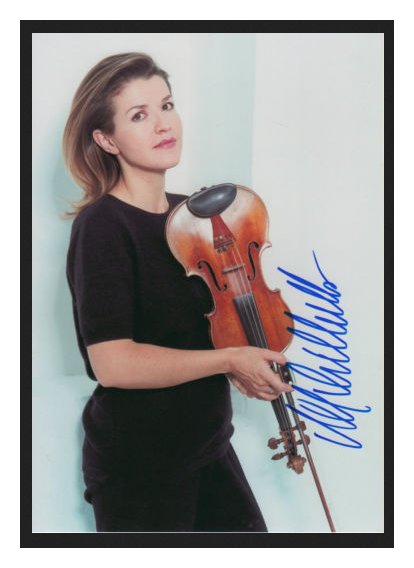 Mutter returned to Carnegie Hall to launch its 2014/15 season in company with the Berliner Philharmoniker and Sir Simon Rattle in October 2014. The opening night gala also marked the beginning of her six-concert term as featured artist in the famous New York venue's Perspectives series. Perspectives continued the following month with a solo recital of works by Currier, Previn, Franck and Beethoven, and a concert with the Mutter Virtuosi, which included the US premiere of Previn's

Violin Concerto No.2

. In February 2015 she celebrated the sesquicentenary of Sibelius' birth, performing the composer's

Violin Concerto

with the Danish National Symphony Orchestra at Carnegie Hall. Her Perspectives series closed in April with a recital of piano trios given by the Mutter-Bronfman-Harrell Trio and performances of Berg's

Violin Concerto

and Moret's

En rêve

with the New World Symphony and Michael Tilson Thomas.

Anne-Sophie Mutter is set to join the London Symphony Orchestra and André Previn at the Barbican Centre in June 2015 for a special performance of the composer-conductor's

Violin Concerto

in honour of his 85th birthday. Future engagements include a 12-concert tour with Lambert Orkis; Tchaikovsky's

Violin Concerto

with the Wiener Philharmoniker and Riccardo Muti at the 2015 Salzburg International Festival, and Dvořák's

Violin Concerto

with the Sydney Symphony Orchestra at the Sydney Opera House. She is also set to undertake an extensive European tour with the Mutter Virtuosi at the start of the 2015/16 season. Their journey begins at the Edinburgh International Festival in August with the world premiere of André Previn's

Nonet

for two string quartets and double-bass, a work commissioned by Anne-Sophie Mutter for the Mutter Virtuosi and dedicated to her.

Anne-Sophie Mutter made her debut in Deutsche Grammophon's Yellow Lounge at Berlin's Asphalt club on a sweltering night in September 2013, where her 300-strong audience included many young clubbers. She repeated the experience in May 2015 with two dates at Berlin's Neue Heimat venue, a converted railway station in the city's bohemian Friedrichshain district. Her performances were recorded live for Deutsche Grammophon's first

Yellow Lounge

album, scheduled for release in August 2015. The event was also filmed by ZDF for subsequent television broadcast and as the subject of a future documentary film.

Anne-Sophie Mutter has for long used her public profile to support and promote charitable causes, notably those associated with the alleviation of medical and social problems. Her benefit concerts have raised funds for, among other organisations, Save the Children Japan, the Swiss Multiple Sclerosis Society, victims of the 2011 Japanese tsunami and nuclear energy disasters, and the Association des amis de la maison de Solenn in Paris. Other recent benefit projects have included fundraising concerts for the Hanna and Paul Gräb Foundation's Haus der Diakonie in Wehr-Öflingen, Artists against Aids in the United States, the Bruno Bloch Foundation, and the UK-based Beethoven Fund for Deaf Children.

Mutter's many awards and honours reflect the nature of her humanitarian work as well as the excellence of her artistry. She received the prestigious Ernst von Siemens Music Prize in 2008, the Légion d'honneur in 2009 for services to contemporary French music and the 2011 Erich-Fromm-Preis for the advancement of Humanism through social engagement. Other honours include the Merit Cross 1st Class of the Federal Republic of Germany, the Mendelssohn and Brahms prizes, the Herbert von Karajan Music Prize and the Bavarian Order of Merit. In 2013 Anne-Sophie Mutter became an Honorary Foreign Member of the American Academy of Arts & Sciences, and in 2015 she was appointed an Honorary Fellow at Keble College, Oxford.