Composer Ron Nelson
A Conversation with Bruce Duffie
A native of Joliet, Illinois, Ron Nelson* was born December 14, 1929. He received his bachelor of music degree in 1952, the master's degree in 1953, and the doctor of musical arts degree in 1957, all from the Eastman School of Music at the University of Rochester. He studied in France at the Ecole Normale de Musique and at the Paris Conservatory under a Fulbright Grant in 1955. Dr. Nelson joined the Brown University faculty the following year, and taught there until his retirement in 1993.

In 1991, Dr. Nelson was awarded the Acuff Chair of Excellence in the Creative Arts, the first musician to hold the chair. In 1993, his Passacaglia (Homage on B-A-C-H) made history by winning all three major wind band compositions – the National Association Prize, the American Bandmasters Association Ostwald Prize, and the Sudler International Prize. He was awarded the Medal of Honor of the John Philip Sousa Foundation in Washington, DC in 1994. In 2006, he was awarded an honorary doctorate from Oklahoma City University [

photo at lectern farther down this page

].

Dr. Nelson has received numerous commissions, including those from the National Symphony Orchestra, Rochester Philharmonic, the USAF Band and Chorus, Rhode Island Philharmonic, Aspen Music Festival, Brevard Music Center, Musashino Wind Ensemble, and countless colleges and universities. He has also received grants and awards from The Rockefeller Foundation, the Howard Foundation, ASCAP, and several from the National Endowment for the Arts.

Dr. Nelson has appeared as guest composer/conductor at a large number of colleges and universities, including Illinois, Yale, North Texas State, Western Michigan, Sam Houston, Lawrence, Dartmouth, Southern Maine, CalTech, MIT, and Princeton.

Ron Nelson currently resides with his wife Michele [

pictured together below

in 2005] in Scottsdale, Arizona.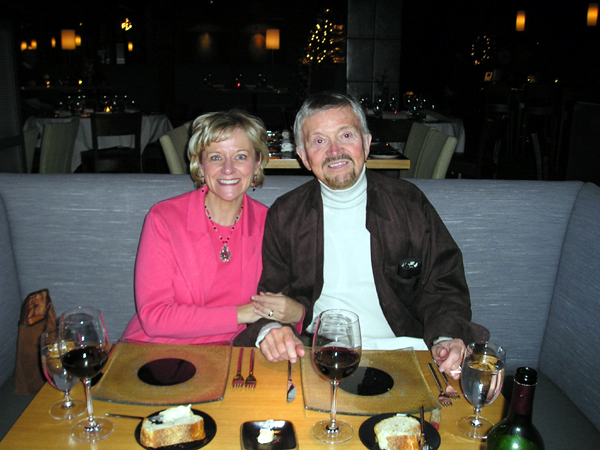 *He should not be confused with Ronald A. Nelson, an arranger/composer of choral music.

-- Biography and photographs from the composer's official website





Ron Nelson was in Chicago again in 1997 for the Midwest Band and Orchestra Clinic, held in December of each year. I had contacted him beforehand and arranged to meet with him at his hotel. Here is that conversation . . . . . . . . .




Bruce Duffie

: You're originally from this area?



Ron Nelson

: Yes. I was born in Joliet.



BD

: When did you leave and why?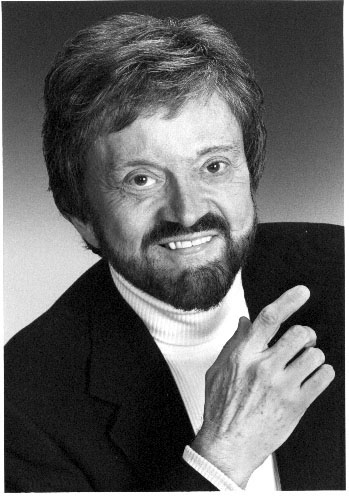 RN: I left because I had to get out of there and see the rest of the world. I came from a family where everyone stayed in Joliet, and I just felt that I had to get out. So I went to California when I was sixteen and said, "That's for me." Then I graduated in '47 and went to the Eastman School of Music.



BD

: Does it please you now to come back here on a fairly regular basis?



RN

: Yes. I seldom go to Joliet, though. I just have two or three friends left there.



BD

: You write in all kinds of styles and for all media but you seem to have gravitated a lot toward the band. Is this by design or just by happenstance?



RN

: Is it time for confession?



BD

: They say it's good for the soul. [Both laugh]



RN

: I will confess to your listeners that I'm a closet orchestral composer. The orchestra is my true love, but the world I found was not waiting for another Nelson piece. I was not getting commissions for orchestral pieces. On the other hand, the band world, having such a small history of literature, really is looking for new music. They're accustomed to new things, whereas the orchestral people are not. Orchestral audiences, as you well know, are quite happy to hear the same thing over and over and over.



BD

: Right.



RN

: But in the band field, they're hungry for new works. I would have conductors call me up and ask, "Do you have anything for us this year?" You have no idea what that does to a composer, to be wanted.



BD

: It must really get the juices going...



RN

: ...absolutely, and to have an outlet for your ideas. So I devoted a lot of my energies to the band, and I think I brought with that energy toward the band my love for the orchestra. So if my compositions for band sound, shall we say 'unique' or 'different' or 'special,' it's because they're composed with the orchestral bias for transparency. I should also confess that I don't like the sound of the band — that is, of the typical band.



BD

: Should that anger all the players who have played your music for thirty years?



RN

: No. No, but it'll probably raise some eyebrows. [Both laugh] I don't like it because I don't like that sound of a sea of clarinets pretending that it's a string section. When I grew up in Joliet, the band literature was mostly made up of transcriptions. We'd do the finales of the Tchaikovsky

Fourth Symphony

and

Fifth Symphony

, and always you would wait for the sound of those beautiful strings to come... and they never came. It was always that huge sea of clarinets. When I went to Eastman, I heard the Eastman Wind Ensemble — which, as you know, is a pared down band — so there are only a few clarinets on a part, a few flutes on a part and so on. I love that visceral sound of that medium, and it kind of opened my eyes. Then I found the percussion section, and through the percussion and the keyboard section I started to do things with band colors that other people happened not to be doing. So there I arrived. [To see a photo of Ron Nelson with Frederick Fennell, the long-time conductor of the Eastman Wind Ensemble, see my Interview with Frederick Fennell.]



BD

: Are you more pleased now with the colors that you're able to use?



RN

: Oh, yes. And now it's gotten even a little bit better because in my recent pieces I use synthesizer. Quite often I'll ask the synthesizer to use the string choir sound as background — certainly not featured in melodic ways, but so there's an aura of string-like sound diffusing that band sound that I don't like. [

Note: As cited at the beginning of this presentation, our conversation took place in 1997. Fifteen years later I contacted Nelson just before placing this transcript on my website, and he was very pleased. He said, "It was a pleasure to read after all these years, a high water mark in my experience." He then went on to say, "

The use of a synthesizer turned out to be, in practice, a pretty bad idea. Every time I've conducted one of my pieces which included a synthesizer, I've had to ask that it be omitted. They can be effective in professional studios, in films, with rock groups, etc., where the sound is properly engineered, but I've not run into that kind of expertise in schools or colleges. My best experience was conducting my

Passacaglia

with the Marine Band. They used a synthesizer with "organ pedal voice" which doubled the basso ostinato.

]



BD

: You don't want to write in the clarinet parts

à la violino

?



RN

: No. [Both laugh] It's difficult enough to have them play cantabile the way strings can.



BD

: If you had been writing all these years for the orchestra, would your music have sounded a great deal different that it does — not just color-wise but the ideas and the forms?



RN

: Oh, yes. But since it hasn't happened, it's impossible for me to say. The only recent commission that I've had for orchestra was from the National Symphony for Leonard Slatkin's first season, and that was done a year ago. [See my Interviews with Leonard Slatkin.] I had to rethink some of my former ideas about the orchestra.



BD

: It didn't come out sounding like a band piece, did it???



RN

: Yes! Yes and that's what surprised me, because it has a certain element of band-like sound to it. Now people think that I've brought to the orchestra a new sound. [Both laugh] So it's like a tide that went the other way. I just wish that I would have had more opportunities to write for orchestra because the orchestra really is the beautiful instrument.



BD

: Now that you're a considerable success as a composer of all things, can't you seek out more orchestral commissions?



RN

: Maybe. I don't know. I've never done the seeking out process. I know some of my colleagues do even to the point of having agents run out and try to drum them up. I've just never done it.



BD

: In working with the band, did you like being able to use more different clarinets than you would have available in the orchestra, and saxophones and all the other instruments?



RN

: Yes. The saxophone is another instrument I have to be very careful with because most sax players don't use what we call the concert tone, which is a very smooth and lovely sound. The kids quite often have the jazz sound, and I have to keep that down especially if I'm conducting a work. I may have to just work with them to keep it low. In some of the pieces I've written for twelve clarinets and it's great to have the choir of clarinets to come out with this twelve-voice sonority.



BD

: You'd miss that, of course, in the string sound.



RN

: No, I'd just give it to the whole string section,

divisi

. It's not that I'm trying to suggest that the sound of twelve clarinets is similar, but if I wanted that texture I'd divide the strings up.



BD

: Early on we played transcriptions for band of orchestral pieces. Should we now perhaps, transcribe some of your band pieces for orchestra?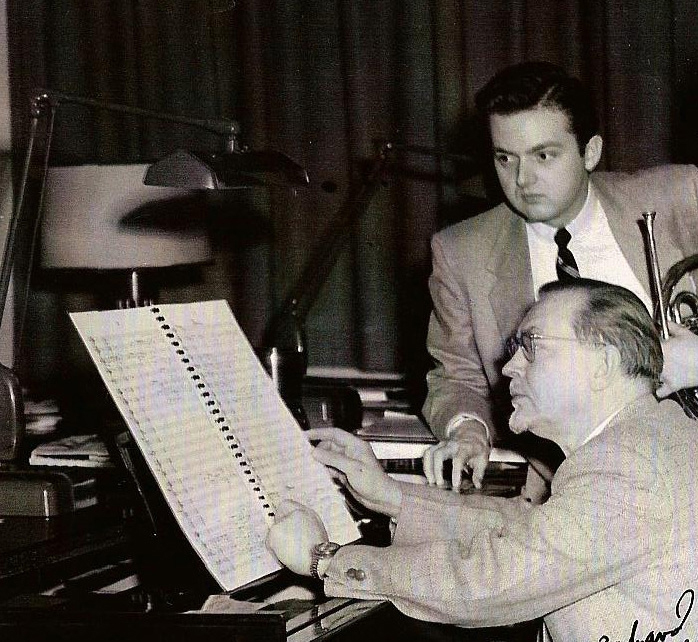 RN

: That, in fact, may happen! There's a piece that I wrote when I was a senior at Eastman called

Savannah River Holiday

. Howard Hanson recorded it back in the days when there were Mercury Living Presence records. [

Photo at right

shows Ron Nelson and Howard Hanson in 1953

.] The piece had many reincarnations and releases, and then it came out on CD. It was picked up by Leonard Slatkin and then by Keith Lockhart of the Boston Pops. Keith included it in the new Boston Pops recording called

American Visions

. So that piece, an orchestra piece, had been transcribed for band and had its own life that way. It's always existed as its original for orchestra, but that's becoming popular now — after all these years, my golden oldie! Now Keith is thinking of doing more of my works. He knows of a piece that I call

Sonoran Desert Holiday

, which I did do for band, which cries to be done by the orchestra. I think he will have me do that for the Boston Pops. So it will start to run the other way now.



BD

: I assume, though, that it does give you a certain amount of satisfaction to know that your music has been played over the years. There are so many composers whose music just simply sits in the drawer.



RN

: That's true. The thing the composer dreads most is to have the first-and-last performance. Sometimes they don't even get the first performance, so I've been fortunate. But I've waited. Here I'm sixty-eight now, and I've waited quite a while for this pendulum to swing. So many years were spent where the serial composers held forth, and we tonal people were considered just passé, if anything at all. Now you hear Howard Hanson's music being done or Roy Harris' music or things by William Schuman. [See my Interview with William Schuman.] Audiences want melody and harmony, so there's a resurgence.



BD

: And you have a whole catalogue of it!



RN

: I'm happy to be drawn along with this.



BD

: How difficult was it in the sixties and seventies to stick to your tonality?



RN

: It was very natural. I did some twelve-tone pieces and I wasn't challenged by them. I didn't feel I could make very expressive music out of them. The difficulty in my particular case was that I was at one of the better universities — Brown University in Rhode Island, one of the Ivy League schools. Here I was holding up the compositional banner, so to speak, for that school, while at Princeton there was Milton Babbitt and Roger Sessions and all these other people. I was considered quite out of the loop, but I was content to go on my way. You do what you have to do.



BD

: Is this one of the bits of advice you have for composers — to stick to your guns, whatever they may be?



RN

: Be true to your voice. I remember one seventeen year-old student came in. He had just graduated from high school and announced to me that he was a twelve-tone composer, a serial composer. I said, "Really?" So he pulled out a piece and put it on the piano. I played it for him and said, "Is that about it?" He said, "Yeah." I said, "Well I didn't play what you wrote." It showed that he had the technique down to make these twelve-tone parameters work, but didn't really understand the sounds that he'd put down. It's bad when that happens.



BD

: What about his piece did you change?



RN

: I just purposely put in wrong notes. He didn't realize that Arnold Schoenberg spent his life knowing the classics. He knew Mozart, he knew Beethoven, he knew Brahms, and that's why he could make masterworks out of that technique. But for a young student fresh out of high school to unfurl the banner of serial technique without that background, the results are just meaningless.



BD

: Every composer should be a result of all of the previous generations?



RN

: At least some of it. I don't say you have to go through the whole history of music to learn it, but there should be an understanding of the great masterworks, and a knowledge and a kind of a feeling for what makes them work.



BD

: Should the composers today study the music of Ron Nelson?



RN

: No.



BD

: Why not???



RN

: Because there are too many other [laughs] much more worthwhile things to study.



* * * * *





BD

: Are you pleased with some of the things you see on the pages of your students?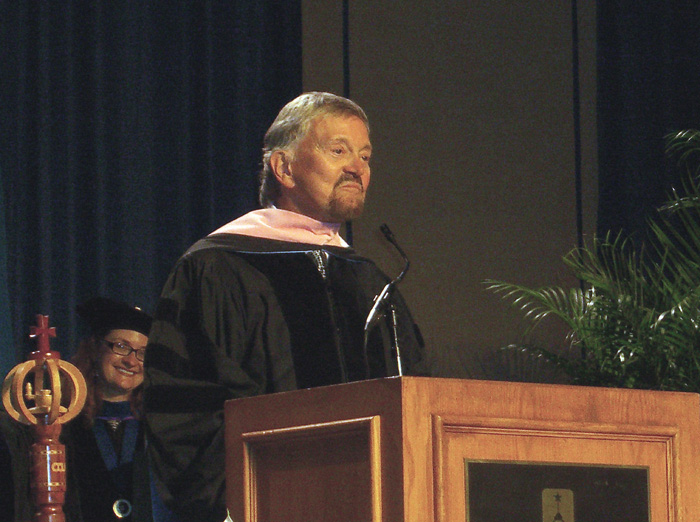 RN: Oh, yes. But remember, I taught at Brown University, and Brown is a liberal arts school. What typically happens to students who go to a liberal arts school is they go for everything else that you do get there, and they become turned on to music. Quite often they would come into the office and say, "What should I do with the rest of my life? What's the meaning of life? Where is God? Should I go to graduate school?"



BD

: And then they would want an immediate answer!



RN

: Yes. Gradually I came to the conclusion that the only answer is if you have to ask, don't, because the people who make it in graduate school — in music in particular — are those people who are driven. They almost cannot do anything else. They don't think of the competition because they're too busy driving forward. That's one of the things I've noticed about having spent all my life in a liberal arts background, as opposed to teaching at Juilliard or Eastman.



BD

: I assume, though, that you feel there is a place for the twelve-tone composers... or should we just throw them out in the trash?



RN

: No. Let history decide, as it does for any style, whether there's validity to it. The music that lasts is music that has something to say, and that's the bottom line of what I feel about music. You've got to say something. If you've nothing to say, shut up. Just don't bother people. Don't take up their time. If someone paints a lousy picture, you can look at the picture and walk by quickly. But if it's a thirty or forty minute piece that you have to ponder, then I think it's arrogant if you have nothing to say, so let's let the listeners decide whether they want to hear it or not.



BD

: Gaze for a moment into your crystal ball. Do you think that history will be kind to it?



RN

: No, but then I thought Communism would fall sooner than it did. [Both laugh] I've been wrong about so many things. I thought the future of opera was TV.



BD

: It still may be.



RN

: A little parenthetical aside here... I swore there were two things I would never do. One, I would never get a doctorate degree because of all the hoops you had to jump through. Two, I would never write an opera.



BD

: But you did both.



RN

: Opera was my doctoral dissertation! [Both give a huge laugh] So 'never say never,' as they say in the Bond movies.



BD

: Then let me ask this — are you optimistic about the future of music?



RN

: Yes. Well, sometimes I'm not. Sometimes I worry about the fact that the classical music audience is only about three to five percent. You can tell me the figures, but it's way down there. That's not a massive thrust of culture.



BD

: We have a groundswell of indifference, I'm afraid.



RN

: [Laughs] That's a lovely phrase. Sometimes, when I think of that, I get kind of depressed and think that when you come down to it, there's probably enough music right at this moment that has been written to last eternity. You couldn't go through it all, so then why write more music? The answer is I have to. Other composers, the ones that I'm visiting here at this convention, they have to write it. And so they do. Some people pick it up and some people ignore it. Of course when you see the amount of energy from these young kids playing in bands and orchestras in this convention, then you start to feel good because there they are, and there's that quality rising every year. There were years that I used to come to this convention and I'd have this name tag on, and a conductor of a high school would say, "Oh, you're Ron Nelson. You wrote

Rocky Point Holiday

. We have that every year. We put it out on the stand, we look at it, we close it. Some day we'll be able to play it." [Both laugh] Over the years, more high schools are tackling that piece, which happens to be a hard piece. So the quality is rising, and that's encouraging.



BD

: That's the technical quality of just getting around the notes?



RN

: Yes.



BD

: Is the musical quality of the students also rising?



RN

: That's doing both — it's going up and down at the same time. There's a movement afoot — for certain composers, let's say — to churn out grade I, II and III music. These are for beginning groups, and they have a kind of formula that they employ to write pieces that are easy to play. Unfortunately, here again they have nothing to say. I am inspired by

Mikrokosmos

, the Bartók piano pieces which are masterpieces of simplicity. I believe that one can write good, easy music, and personally I want to devote some time to doing that. But what we're hearing at some of the convention sessions here are these churned-out pieces, these mechanical-formula pieces that certain students in certain areas of the country are being exposed to, and I'm sad to hear that because they don't know what expressive quality can be.



BD

: Do they notice the difference when they have a Nelson piece on their stands?



RN

: [Laughs] If a Nelson piece is ever there. I only have one piece that is easy. It's a Grade IV piece, so it's not a matter of easy fingering.



BD

: But when they come to a convention like this, they will hear a lot of these ordinary-type pieces. They will also hear a piece by you, and perhaps another piece or two that really have an innate sense of real form and style. Do they tell the difference? Do they understand that?



RN

: I think so. They're not just running up to me, but they're running up to other composers that are here, too, wanting to talk or get an autograph. So yes, they're being inspired. I'm more worried about the ones who don't get a chance to come here, and that's most of them. The ones who arrive here are the privileged ones because they get a real education. It's a wonderful experience.



BD

: We're kind of dancing around it, so let me ask the real easy question. What's the purpose of music?



RN

: Hmmm. I don't know. I can't give you a nice answer. Entertainment pops into mind, because historically music was an entertainment. Benjamin Britten said it's music for an occasion. Why not write music for an occasion? Bach would have agreed. He happened to be in the service of God. So there are many answers to it. I'm not going to say it is something that it enriches the soul or these other bromides. I just can't give you a nice answer to that.



* * * * *





BD

: When you're sitting at your desk and you have a piece of paper that you're starting to fill with notes, are you always controlling where those notes go, or does the pencil sometimes lead your hand across the page?


RN: Sometimes the pencil leads it. I try not to let it get too vigorous because then you start to lose control of the piece. I can't speak for all composers, but I live for the 'ah-ha's?' I love the ah-ha's. They don't happen all that often, but when they happen, it's wonderful. The ah-ha generally has something to do with a turn in the piece that I hadn't been anticipating and I will think, "Oh, ah-ha! Wait'll they hear this." It's that kind of enthusiasm. One of the hardest things, though, that maybe people don't always realize or understand is that it takes so long to write a piece of music. If it's a fast, energetic show piece, full of drive and everything, you don't feel that way every morning — at least I don't — when you get up and continue the piece. So a composer has to be something akin to an actor. An actor may not feel this way or that way about the part for the matinee or the evening performance, nevertheless he or she's got to go in and do it. A composer has to throw him/herself into that mood of the piece, no matter how he or she feels. More than that, you have to crank it back to the beginning so that you have the sense of form of beginning, middle, and end. I've often thought how different that is for the painter. I used to go into the studios of my painter friends back at Brown, and they'd have Bach on the radio. I can't listen to anything. I can't even listen to the morning news lest I hear a commercial and it throws me off. But there they are, working with some music in the background often times, and the painting is there. When they go home that day and come back, the painting is there in its totality, and they can proceed with it. It isn't a matter of starting way back with the first brush stroke. Whereas in music, you've got to go back to that first stroke of sound and continue with its mood to let it unfold or whatever it happens to do.



BD

: Are you conscious when you're writing that it's going to take time?



RN

: Yes. That's what separates it from sculpture and painting, and makes it akin to drama, by the way.



BD

: I assume that there's some innate, dramatic quality to most of your works.



RN

: Yes.



BD

: Do you know when you start out how long a piece will take to perform?



RN

: Yes, pretty much so, within thirty or forty seconds.



BD

: Is that something you decide, or is that something you feel evolving?



RN

: I think I have an idea of how long this piece should be. Sometimes, as you implied, the pen starts to take over and it gets too long, and then you have to be severe with it. Just like the editor of a film, some of the parts have to end up on the floor and it has to be tightened up. That's what I hear in pieces that are done here, for example, and I heard several at this convention. The composer needed an editor, or needed to be his own editor. The piece got out of control, and it's always kind of sad when you can hear that. It's just like a film that you sometimes see gets out of control of the producer or the director.



BD

: Is this just a case of leaving out a chunk, or should they rework it so that it is tighter?



RN

: Tighter. Tighter's the word. It needs to be tightened up. Everything has got to seem inevitable, and if it doesn't seem inevitable, then it should be cut.



BD

: When you look at your pieces, do you make them as tight as possible?



RN

: Yes, and I'm successful to varying degrees. [Both laugh] I'm not the type of composer who continually fools around with his piece and goes back. I do have one piece out that got too long. I wasn't severe; I cut it, but I didn't cut it enough. But it's out there and I can't go back and fix it.



BD

: You should leave a note on the front page for the conductor that it should be cut a little bit.



RN

: It happens to be a case where you can't just leave out the bars. I have to go around sometimes and conduct these pieces, and I would like to say, "Well, okay, let's take these seventeen bars out." I can't do it in a way that makes them connect. It should have been reworked. If a student had brought the piece in, I would have caught it. Why I didn't catch it I don't know, but it got through.



BD

: Are you too close to your own music?



RN

: One is always very close to it, but you have to develop the technique to stand back and be the observer.



BD

: Are you the ideal conductor of your works?



RN

: Sometimes; sometimes not. I've heard conductors make my music better than I thought it was and that's, of course, a thrill. John Paynter, who is so deeply connected with this, had that knack. Son of a gun, you know, he did a couple of performances of my pieces! I couldn't believe that I wrote it the way he pulled them off! It's a kind of genius. And then I have heard conductors ruin my pieces. I once heard Dimitri Mitropoulos give a lecture. He said, "A conductor cannot ruin a masterpiece," and I thought to myself, "Gee, I've heard you do it." [Both laugh] Not that my pieces are masterpieces, but you can do it the right or the wrong way, and miss certain spots.



BD

: I assume, though, that there are several right ways?



RN

: Yes. I don't believe there's a definitive performance, but this is a matter of degree, how far you miss the drama. So many conductors seem to make things rigid, and my music really shouldn't be rigid. It should breathe and move and have a life.



BD

: Put a note in the score for the conductor to relax. [Both laugh]



RN

: Yes. I've sometimes put in

rubato

for the tempo, but then that's a license for all sorts of things. So you have to be careful not to go too far on it. You just hope that the conductor is sensitive and feels — senses — what you are up to.



BD

: So you really put a lot of trust in your interpreters?



RN

: Well, no. You have to realize that there's a complicity in this whole business. Those little notes that I spend months and months putting down are nothing until a conductor and the performers make it live. So we're in this thing together.



BD

: How much do you expect the conductor and the interpreter to put in?



RN

: I don't expect them to put anything in. You can't put things in unless you start distorting tempi. The notes are there. It's just being sensitive to the meaning of the music, whatever that happens to be. It's like missing the point of a story or missing the point of a joke. Some sensitivity is lacking in certain conductors, but, as I say, there's the sense of complicity because we're in this together. It isn't like an artist who can do the painting and it's done for good. The only thing you can do with it is light it poorly.



BD

: Or hang it off-center.



RN

: Yes. Music is a re-creative art, just as drama is. But there's not the license in music that there is in drama, where an actor really can take it apart and make it something quite different, something quite special.



BD

: Do you ever wish that your music were like a painting that could just be hung and lit well?



RN

: This was another one of my terrible predictions. I predicted that electronic music would be a very strong force in contemporary music, that it would be combined with surround sound and it's most wonderful venue would be the home. I predicted that you could have sounds sculpting in your home, so that the sound traveled across the room and so on.



BD

: Would it all be done in the package, or would each listener have a hand in it?



RN

: Either way. Because it's on tape, it would more or less be fixed; frozen. [Laughs] I was dead wrong.



BD

: I think it's something that has not yet really come to fore. The possibilities are still there.



RN

: They are, I guess. I thought that Karlheinz Stockhausen would do it. If anyone could do it, he would be the one, but it didn't happen. Mort Subotnick is another one who did a lot of interesting things. It's just the public didn't want it. It got taken over by the movies, just as films took over that whole style of Rachmaninoff and the Romantic. For a long time it was the domain of the film industry.



* * * * *





BD

: You get a lot of commissions. How do you decide yes or no?



RN

: Some people say I should learn to say no. [Both laugh] I came here with the resolve to give myself a sabbatical from commissions, to stand back and write what I want when I want it. But one of the conductors came up to me this afternoon and said that one of the children in her band was playing on a swing, and the swing caught him around the neck and strangled him. This thirteen year-old boy died. He was a horn player in this band, and they want to memorialize this young person. Would I write the piece? I couldn't say no, so that's what I'm going to start when I get home.



BD

: Does that tug at you too much, to write a piece that is memorializing someone rather than glorifying the human spirit, or is that really wrapped into one?



RN

: No, I can relate to loss. I lost my wife, you know. Everybody suffers tragedies in their lives, and I feel an empathy. Anyway, it struck a resonant chord. I want to do it, and I will do it.



BD

: What if someone comes up to you and says, "I want a string quartet"?



RN

: I would say, "There are a million ways in the world to waste time, and you've given me one million one."



BD

: [Laughs] Don't like the string quartet, huh?



RN

: No.



BD

: I thought with your desire to work with the orchestra, you could at least get the string section out of it.



RN

: I don't have a knack for that. I admire people who do. Those Bartók quartets, oh my! They are something else! I don't know how I'd come anywhere near that expression. There's an Australian composer named Peter Sculthorpe. He wrote a quartet for the Kronos that is brilliant. Marvelous piece! [See my Interview with Peter Sculthorpe.] If I don't have better ideas than that, I'm going to shut up! [Both laugh] As I said, if you don't have anything to say, be quiet.



BD

: Does it always have to be a better idea, or just a great idea?



RN

: It has to have something. Better? Let's put it this way — it would be a shadow on my shoulder if I couldn't do something that was at least in that league, to have something to say in that medium. My background was for large-scale, coloristic expressions. This was right from the beginning. I just was not good at chamber music.



BD

: What advice do you have for conductors of bands, or perhaps orchestras, these days?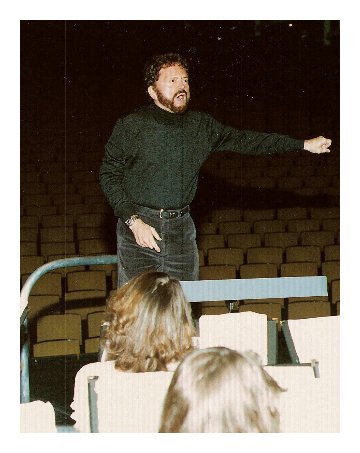 RN: Oh, I'm not one to give advice to conductors. I don't hang my shingle out as a conductor, though I do a lot of it. I love it.



BD

: As the composer, don't you want to either shake them by the lapels or pat them on the back?



RN

: You get a little bit of both. But as I say, we're back to the complicity thing. You can't pick and choose your conductors and say, "Oh no, you're an insensitive one. You can't play my music." That's not the way it works. The only requirement is to read the score! Think what I was after and relay that to your students. In this field we're always teaching, and the greatest compliment a conductor can give to me is to say, "That's a good teaching piece." Hearing that, I'll say, "Oh boy! You're my friend for life," because that's what I want. I want to be able to help those students through my music, through what I say, to take them to another level — hopefully a higher one.



BD

: What about the audiences? Are you trying to teach the audience also?



RN

: Mmmm. I don't know. I don't have much control on that. There are so many different types of audiences. In my field, I run into many. A lot of the service bands do my work, and they're under certain restrictions because they're controlled by the government. It's our tax money at work. They get a lot of mom-and-pop audiences, and they have to please those audiences. So they're very conservative in their programming, and there's not much I can do about that.



BD

: But you're a tonalist. I would think they would welcome that.



RN

: I've written some pretty far-out pieces. In

Holidays and Epiphanies

, the last one kind of strains the ear. But there's a sense of resolution to it which is maybe another facet I might mention. I'm not averse to using dissonance, but I think I owe it to the audience, really literally, to give resolution to what I present. It's just not enough for me just to be relentlessly dissonant. I once heard a critique — I think it was Xenakis who had written a string quartet — and at the critique after the concert somebody said, "Well, sir, why did you end the piece there?" He said, "It was as good a place as any." [Both laugh] [See my Interview with Iannis Xenakis.] It just was dissonant and he quit. There was no sense of resolution, or reason why this dissonance wasn't leading to some sort of resolution. I think audiences will forgive you anything if you'll take them into your heart and your soul, and give resolution to whatever your conflict might be. I may be wrong, but that's my personal opinion.



BD

: That is how you write your music, so that's fine.



RN

: Yes.



BD

: Perhaps a dangerous question — are you pleased with where you are at this point in your career?



RN

: No complaints. It can always be better. It could be a lot worse! No, I have no complaints. In fact, I'm rather pleased with this pendulum we talked about earlier, swinging toward tonality and that whole era of composers who were outside the ring for so long. It's a good time to write, and it's a good time for young persons to write, too, because there is no orthodoxy. That's the trick. Twelve-tone isn't the way to go, and aleatoric music is not the way to go. All styles are open and that's a nice. That's a nice condition.



BD

: That's the real definition of being a Liberal Art.



RN

: Yes, yes.



BD

: Thank you for coming back to Chicago...



RN

: My pleasure.



BD

: ...and thank you for all the music!



RN

: You honor me. Thank you.




===== ===== ===== ===== =====
-- -- -- -- -- -- --
===== ===== ===== ===== =====





© 1997 Bruce Duffie


This interview was recorded at the Hilton Hotel in Chicago on December 19, 1997. It was used (along with recordings) on WNIB later that month, and again in 1999. It was transcribed and posted on this website in 2012.


To see a full list (with links) of interviews which have been transcribed and posted on this website, click here.


Award - winning broadcaster Bruce Duffie was with WNIB, Classical 97 in Chicago from 1975 until its final moment as a classical station in February of 2001. His interviews have also appeared in various magazines and journals since 1980, and he now continues his broadcast series on WNUR-FM, as well as on Contemporary Classical Internet Radio.

You are invited to visit his website for more information about his work, including selected transcripts of other interviews, plus a full list of his guests. He would also like to call your attention to the photos and information about his grandfather, who was a pioneer in the automotive field more than a century ago. You may also send him E-Mail with comments, questions and suggestions.