Helge Antoni
was born in Malmö (Sweden), on April 25, 1956. He studied at the Malmö Academy
of Music with Stanislav Knor, and made his professional debut playing Franz
Berwald's Piano Concerto. In 1979 he was the first Swedish musician to be awarded
a British Council Fellowship, and continued his studies with Peter Feuchtwanger in
London for 4 years.


A successful debut at the Mai Musical in Bordeaux led to a much acclaimed debut in
Paris at the Salle Gaveau in 1982. The following year he also won the coveted
Menuhin Prize.


Antoni's creative programming and his personal approach to audiences have
made him a much sought-after pianist worldwide both in solo recitals and in
concertos with orchestra, including London's Wigmore Hall and St. John's Smith Square;
in The Hague, Philipszaal; in Paris, Salle Gaveau; in Bonn, Beethoven Saal; in
Zurich, Tonhalle; in Stockholm, Berwald Hall; in Poland, Chopin's birthplace,
Zelazowa Wola (recorded for Polish Television), Chopin Festival in Duszniki, Chopin
Institute and Chopin Monument in Warsaw; in Norway, Grieg's house, Troldhaugen
(recorded for French Television). In Italy he was the first pianist to have been invited
to give an "Hommage to Wilhelm Kemp
ff
" recital in the late master's Casa Orfeo
Foundation in Positano; in North America, Kennedy Center Washington D. C.,
Chicago, Orchestra Hall, and San Francisco, Masonic Hall; in South America, Sociedad
Filarmonica, Lima (Peru), and Sala Dorada in Buenos Aires, Argentina.


Antoni also enjoys playing chamber music, and has worked with the distin
guished sopranos Elisabeth Söderström and Janet Perry, the leading trumpeter
Håkan Hardenberger, and the Lysell String Quartet.
Antoni has performed extensively on television and radio as a guest artist, as
well as presenting his own series. His Classic Video-Clip, one of the first of its
kind, has reached a wide audience.

He has made several highly acclaimed
records for the Etcetera label, including the piano works of Christian Sinding,
featuring the famous Rustle of Spring, and the world premiere recording of his
masterpiece, Variations Op. 94: Fatum. He has also recorded works by Edvard
Grieg, and Rossini's piano works (including several world premiere recordings).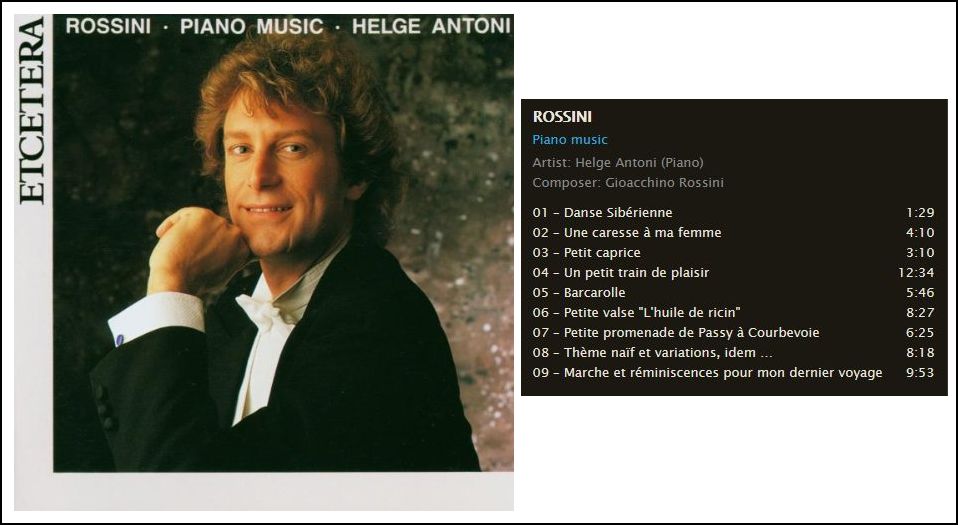 His CD, Chopin/Field highlights influences and parallels between the two
composers. His album "The Piano Experience", on the Swedish label dB Productions,
is a recital tracking 300 Years of keyboard music from Couperin to Pärt, with world
premiere recordings, and featuring works written for and dedicated to him.
The Gramophone magazine said, "ravishingly beautiful ... superbly played with a
beautiful singing tone and the most poetic phrasing". The American Record Guide
said, "Antoni's technique is ample, his tone richly colored, and his understanding of the
composer's special sound world absolute."


Antoni has been the Artistic Director of the Late Summer Nights Music Festival
in Norway, and the Mozart Festival, as well as the "Concerti al Tramonto" Festival at
the San Michele Foundation on Capri. Since 2002 he is Artist-in-residence at the
German University Witten/Herdecke
. From 2004 until 2008 he spent large periods every year in Lima (Peru), where he created a
Foundation to help young musicians.


Antoni lives in Paris
, and is an Exclusive Steinway Artist.
== Names which are links in this box and below refer to my interviews elsewhere on my website. BD