One of Sweden's leading composers, Anders Hillborg is that rare artist whose music strikes a chord across many different countries and cultures. Born in Sweden May 31, 1954, an early interest in electronic music developed from a beginning as a keyboard improviser in a pop band, but contact with Ferneyhough, and the music of Ligeti quickly led to a fascination with counterpoint and orchestral writing. Since then, Hillborg's love of pure sound and the energy that he gives it, has appealed to many major conductors including Alan Gilbert, Sakari Oramo, Kent Nagano, and Gustavo Dudamel.
Peacock Tales, Hillborg's theatrical clarinet concerto for Martin Fröst, displays another strand of his large and varied output: a sense of humour and the absurd. The piece has been taken up with enthusiasm in several different versions and has received a staggering number of performances. Mouyayoum for 16-voice a cappella choir is one of his most popular works, riffing on a rhythmically complex overtone series unadorned with words. Here, as always Hillborg's ear for the subtleties of the voice and his natural lyricism are unmistakable. Above all, his music is borne out of a refreshing stylistic freedom matched by an innate communicative ability.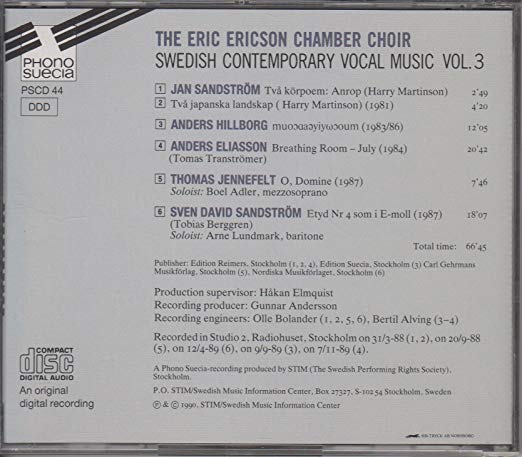 Hillborg's sphere of activity extends well beyond the concert hall to embrace a wide range of Pop and Film music. In 1996 Hillborg won a Swedish Grammy for his work on "Jag vill se min älskade komma från det vilda" ("I want to see my beloved coming from the wild").
2011 saw the premiere of Cold Heat by the Berlin Philharmonic under David Zinman, and Sirens – Hillborg's largest work to date – by the LA Philharmonic and Esa-Pekka Salonen. The advocacy of Esa-Pekka Salonen [shown below (left) with the composer] has resulted in numerous works, including Dreaming River (premiered by the Royal Stockholm Philharmonic Orchestra in 1999), Eleven Gates (2005–06) premiered and commissioned by the Los Angeles Philharmonic and most recently Sirens, a joint commission from the LA Philharmonic and Chicago Symphony Orchestra.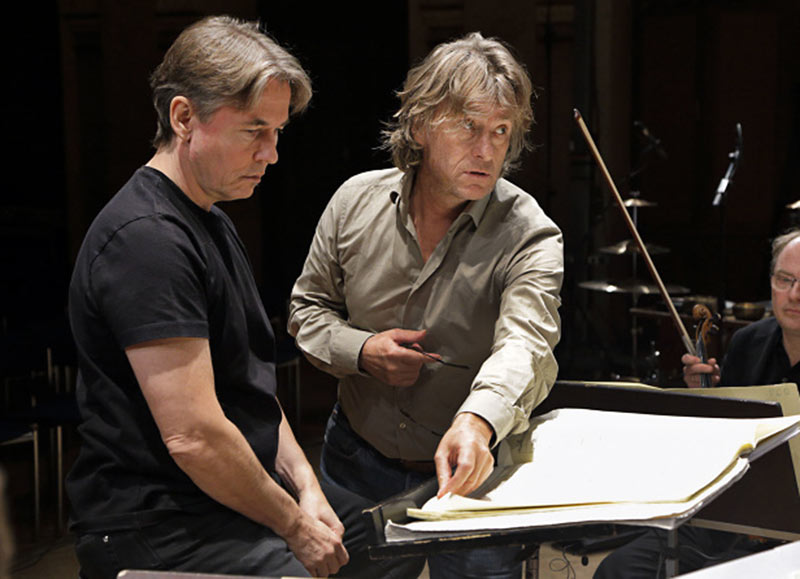 With each passing year, Hillborg's international reputation grows apace. His music has twice been the subject of a Royal Stockholm Philharmonic's Composer Festival (1999, 2014) and he has also enjoyed residencies at Soundstreams, Toronto (2003), Avanti! (1995, 2005), Aspen (2008) and most recently in Hamburg (where he is Composer in Residence with the NDR). An extensive discography (at least 24 recordings) includes four portrait discs on BIS.
== Names which are links in this box and below refer to my interviews elsewhere on my website. BD