New Haven Symphony Orchestra fetes noted composer and sax professor
Donna Doherty



NEW HAVEN >> The New Haven Symphony Orchestra will be shaking off the winter doldrums Thursday with Wind on the Water, a concert at 7:30 p.m. in Woolsey Hall that might as well be called Celebration.

The symphony will honor its 2009-2011 Composer-in-Residence Augusta Read Thomas with a program of her works on the occasion of her 50th birthday, which is April 24.

And it will perform the world premiere of Thomas' "Prisms of Light," a 20-minute concerto for saxophone and orchestra commissioned by the past and present students of renowned saxophone professor Frederick L. Hemke to celebrate his retirement last May from Northwestern University.

Many of them are expected to be in New Haven to hear the Louis and Elsie Snydacker Eckstein Professor Emeritus of Music perform as guest soloist with the orchestra in the work, for which the Hemke Legacy Committee, working mainly through a letter campaign to alums, raised more than $25,000 to cover the commission fee and expenses.


"Instead of giving him a silver bowl, they wanted to give him something that would last, something that would honor him," says Thomas.

Hemke's lengthy list of former students includes many successful musicians and music educators, notably David Sanborn, "Saturday Night Live" saxman Ron Blake and players in most of the U.S. service academy bands.

Thomas says the birthday concert idea "was incredibly moving and touching, and I feel incredibly honored and privileged," but the rest is the proverbial icing on the cake.

Shortly after the concert was planned more than a year ago, Thomas was contacted for the commission, which took about eight months to complete. It will be recorded at the concert for May release on the Nimbus label.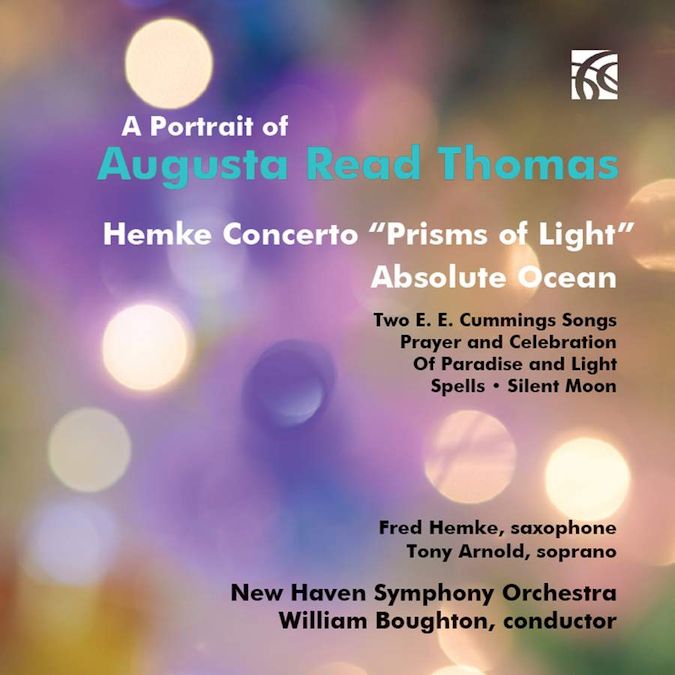 The marriage of the two occasions happened when symphony member flutist Marjorie Shansky, a former Hemke student, told NHSO Music Director William Boughton about the commission.
Boughton jumped on the opportunity, saying, "First of all, it was my love of Gusty's music and admiration for her as a composer that made me want to do it. ... It's an extraordinary gift. I'm delighted that the NHSO is part of the honoring of this extraordinary career ..."
Also on the program are Thomas' other works, spawned from her love of poetry: two e.e. cummings poems, based on his delightful "sky candy spouting violets" and ("kiss me"), featuring the Elm City Girls' Choir and soprano Tony Arnold for Thomas' soulful 2007 work "Absolute Ocean," based on three cummings poems, and finally, Maurice Ravel's "Mother Goose."
It's easy to see why Thomas loves cummings. The word images he paints are so musical and colorful, pure honey for a composer like Thomas.
Describing her composing sensibility, she says they have "bright, capricious surfaces like sparklers ... very colorful. It's not a dark brown, muddy puddle of music at all. You feel bright blues, warm purples and sunshine — definitely a lot of color in my orchestrations, and in every way I would say all optimistic — positive caprice, some whim, some sense of humor, some joy, not dark, contemplating or harrowing."
Thomas felt the pressure of the commission, "knowing it was a legacy" and heeded the professor's own advice by approaching "Prisms" as if it were a violin concerto to really showcase the instrument.
"Prisms of Light" is imbued with a jazzy feel she conveys over the phone by tinkling on a piano and vocally vocalizing some examples that sound like scat singing.
Light imagery resonates in all four movements, which incorporate a fast, slow, fast tempo mix of languorous, delicate ballad moments to a staccato back and forth between saxophone and orchestra, and a unique use of percussion with marimba, drums, xylophone and vibraphone — adding colors to the prism "to remain fresh," she says.
It wasn't a surprise that Hemke's students gifted him with a new work, because when they asked him what he'd like as a gift, he said "a new concerto for saxophone and orchestra." But, he says, "What was a complete surprise was the amount of money they were able to raise to get a major composer like Gusty doing a major work like this. It's amazing."
Hemke, who was acting dean when Thomas was on the Northwestern faculty, was quite familiar with Thomas' talent.
"I knew the kind of writing that she did. It was very special to me that she would accept the commission. To tell the truth, I was interested in having a new work written for the instrument, but I didn't intend to perform it.
But he was so touched that Thomas accepted the commission, that "I thought I'd take the horn out of the case and perform it," noting that its range and speed are challenging.
"It's going to be interesting for me, because Gusty writes in a very unique way. The concerto is really different than anything I've ever played before ... It has a hint of jazz, at least rhythmically."
Says Thomas, "It's been incredibly meaningful to me to work with this orchestra over the years ... You can't imagine what it's like as a composer when someone believes in you and has played your work over so many years. To say this is so moving is almost an understatement."
Donna Doherty is the former arts editor of the New Haven Register.