Soprano Dame Eva Turner
A Conversation with Bruce Duffie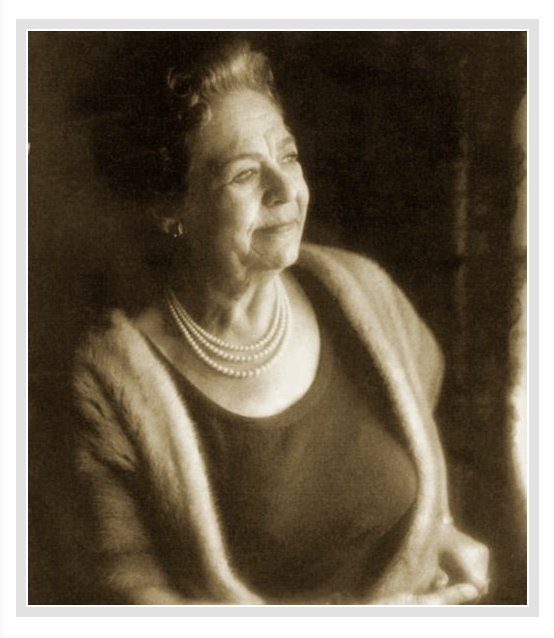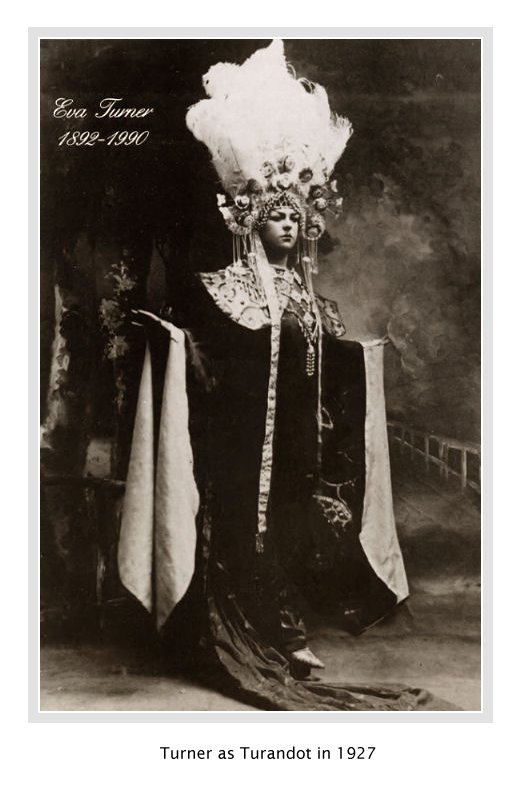 A dramatic soprano with a voice of mammoth proportions, Eva Turner, though scarcely neglected in her native country, enjoyed many of her greatest successes abroad. Most closely identified with the title role in

Turandot

(which she first sang in Brescia only a month after its premiere), she brought to all of her roles a voice of both enormous size and great cutting power, topped with an unflagging ease in the highest register. While not always an illuminating actress, she approached all of her work with seriousness of purpose, thorough integrity and no small measure of excitement.

Having studied with Dan Rootham (teacher of the legendary contralto Dame Clara Butt) at London's Royal Academy of Music and, subsequently, with Albert Richards Broad (under whose tutelage her voice grew considerably in size), Turner made her debut in 1916 with the Carl Rosa Company as the Shepherd in

Tannhäuser

. She remained with the company until 1924, quickly graduating to the spinto and dramatic soprano repertory, and winning positive reviews as Brünnhilde, Fidelio, Aïda and Tosca. In 1924, her Butterfly and Leonore were heard by conductor Ettore Panizza, who urged her to travel to Italy to audition for Toscanini at La Scala.

Having sung only in English up to that point, Turner knew only one aria in Italian. Nonetheless, she gave a strong audition. Given a contract for the following season, Turner spent four months coaching the roles -- Freia to be sung under Vittorio Gui (who soon became a close friend) and Sieglinde with Panizza himself. The signal successes she enjoyed in both roles led almost immediately to numerous offers from other Italian houses and many in Germany (there, ironically, for roles in the Italian repertory). After her first Turandot in 1926, Franco Alfano's comment that he considered her ideal for the title role only accelerated the speed with which offers materialized. Later, Turner sang both Sieglinde and Leonore at the Maggio Musicale Fiorentino.

An engagement in Buenos Aires precluded Turner's accepting the London premiere of

Turandot

in 1927, but the company of singers with which she sailed to Argentina afforded her several long-lasting friendships, Claudia Muzio becoming as especially close colleague. Minnie in

Fanciulla del west

proved another congenial part, added to Turner's repertory in Lisbon. When she was able to offer London her Turandot in 1928, she also sang as Santuzza and Aïda. Her June 5 Covent Garden debut as Turandot brought superlatives (as did Santuzza in which she was deemed "equal to the best Italians"). In 1928, she recorded her astonishing "In Questa Reggia," still the standard by which all other Turandots are judged. Turner's Sieglinde in 1930 won high praise despite a sound considered too grand for such a put-upon character.

Turner made an auspicious American debut as Aïda with the Chicago Opera in 1928. Amelia and Sieglinde were other roles during that first Chicago season, the latter part in a cast including Frida Leider, Maria Olszewska, and Alexander Kipnis (as Wotan). The following year, she sang Elisabeth to Leider's Venus. In 1938, she gave Chicago a triumphant Turandot.

The onset of WWII prevented Turner from singing more than a very few Isoldes, a role she loved deeply. Upon retirement, she taught voice, first in America, later in at the Royal Academy in London. She was made a Dame of the British Empire in 1962.



-- Biogrphy (text only) by Erik Eriksson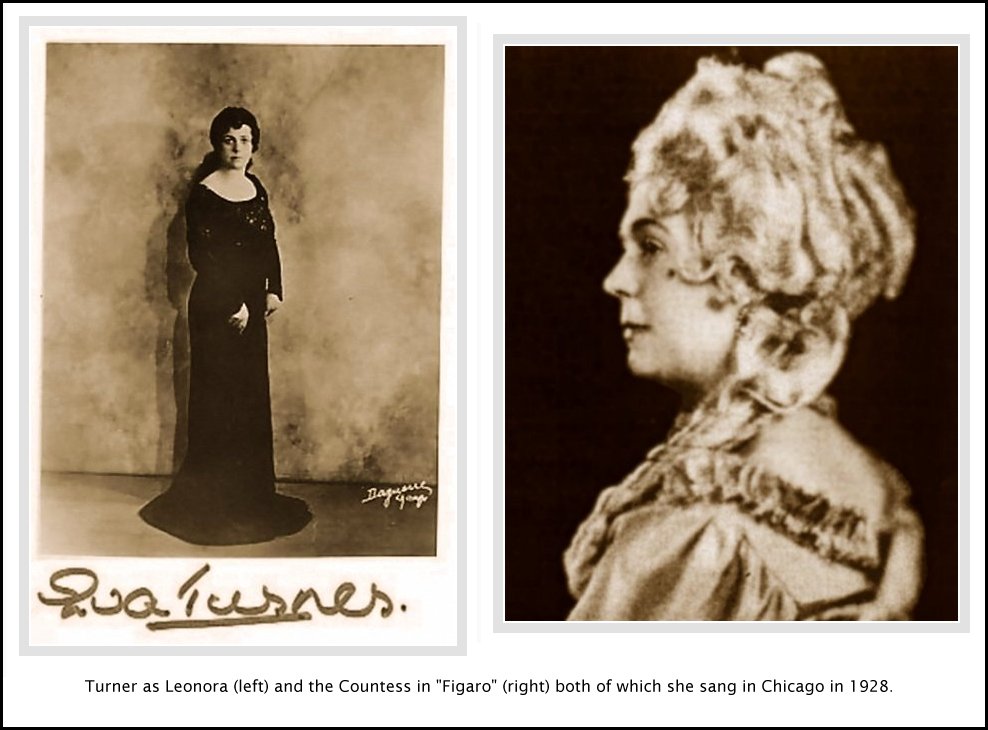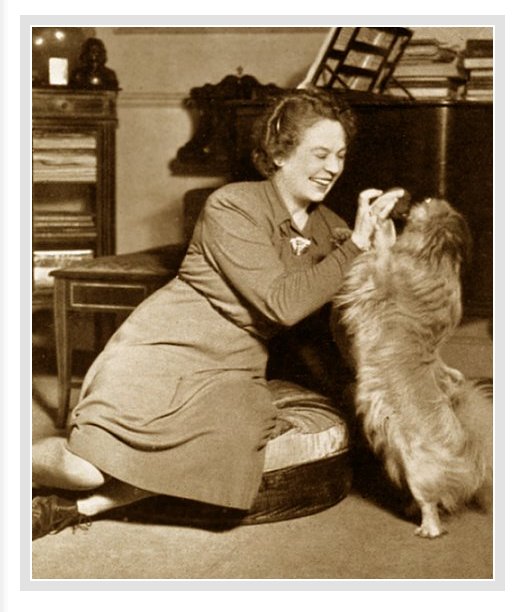 Those who know of my many interviews are sometimes aware that a few of my guests were born in the Nineteenth Century! When I am asked who was my oldest, I have to clarify the question. The person whose birthdate is the earliest was not the oldest at the time of the conversation.

An American composer named John Charles Robb was the oldest at the time I spoke to him — his age was 95 years, 10 months and 4 days. Though nearly two years younger at the time of our appointment, however, Dame Eva Turner holds the distinction of being born first on my list — March 10, 1892 to be exact.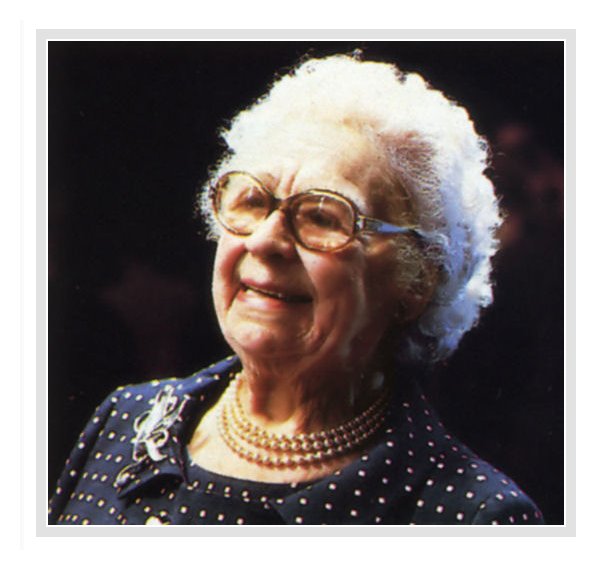 In April of 1986, about a month and a half after her 94th birthday, she agreed to allow me to call her on the telephone. [

Two of her wonderful letters are reproduced at the bottom of this webpage.

] I was in Chicago and she was at home in London. I was never awe-struck by any of the musicians I met, but Dame Eva immediately put me at my ease with her cheery demeanor. Being of English, Irish and Scottish extraction myself, I reveled in her accent and manner, especially the way she rolled the letter r.

Needless to say, it was a delight to speak with her, and my only regret was that we had but twenty minutes together. It was a pleasure, and provided extra joy when I presented a 95th birthday program on WNIB the following year.

Here is that lovely conversation . . . . . . .




Bruce Duffie

: Thank you so very much for allowing me to call you today. How should I address you — Madam Turner or Dame Eva?



Dame Eva Turner

: Dame Eva. That is the mode of address, the form of address.



BD

: Thank you. I would like to start out by asking about singing here in Chicago. You were her for three seasons...



Dame Eva

: [Interrupting] Yes, in 1928, '29, and '38.



BD

: I was wondering how our company stood up against the competition of all the rest of the world?



Dame Eva

: As a matter of fact, I think I'm right in saying that in 1928, Claudia Muzio was not there, and Rosa Raisa came late in the season. [Muzio returned to Chicago the following year.] I can't clearly remember, but I think that was the state of affairs. It was said that the Chicago Civic Opera superceded the Metropolitan at that time! We had the bass, Alexander Kipnis, who was very fine, and also Mary Garden and the ones who did the French opera with her. [See my article "Massenet, Mary Garden, and the Chicago Opera 1910-1932".] Some very fine artists we had!



BD

: So you were proud to sing here in Chicago?



Dame Eva

: Oh, I was delighted! I loved it, and I had the honor of being included at the special dinner that was given for the architect who did the new opera house on North Wacker Drive. This was a party held at their home. He was a relative of Anna Fitziu.



BD

: The man behind it all was Samuel Insull.



Dame Eva

: Oh that I know. I think I was invited because he was originally born in England and I was English. I remember when we gave those performances on Sunday nights that were closed to the general public, but were done for the utilities workers. I did a performance of

Aïda

, and after the Triumphant Scene, Samuel Insull himself came and took me onto the stage to acknowledge the applause.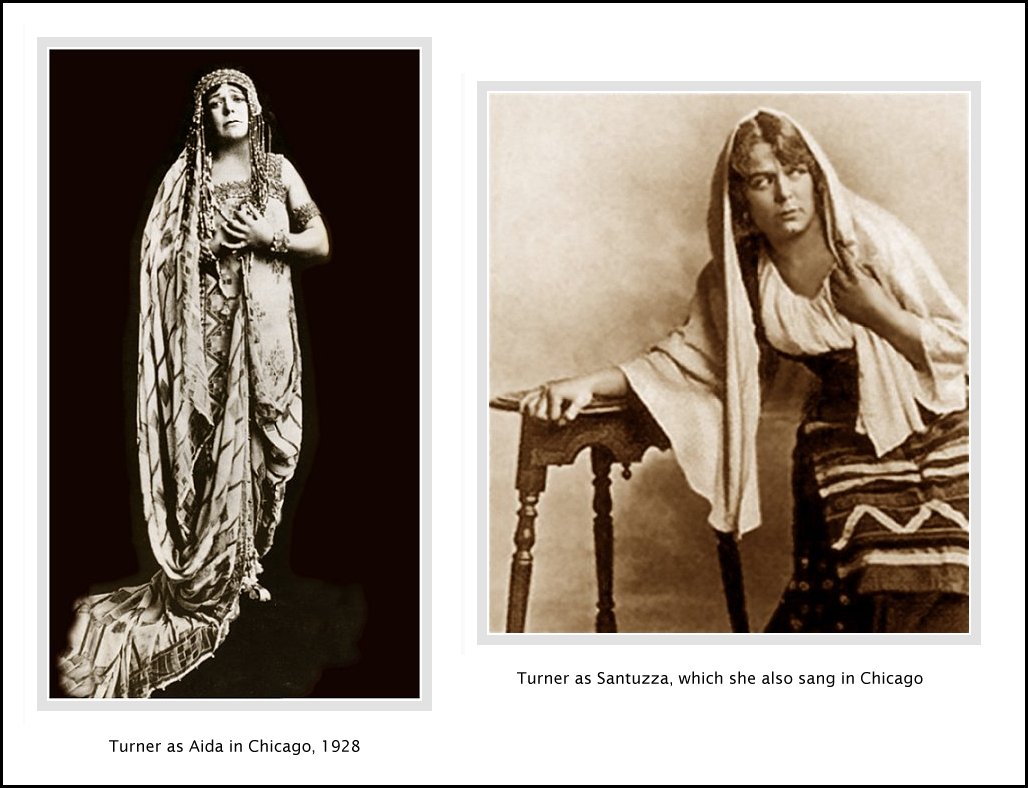 BD

: You have been involved in opera for seventy years. How has opera changed over that time?



Dame Eva

: It has changed because in the course of time conductors have become very important, and now productions.



BD

: Have they become too important?



Dame Eva

: This is difficult to say. I always go to opera because I love the

Bel Canto

.



BD

: Do you feel the singers today are better or worse or just different from thirty, forty, fifty, sixty years ago?



Dame Eva

: They're certainly not quite as they were those many years ago. A very strange thing... in last Saturday's

Daily Telegraph

, our local critic, Alan Blyth, wrote an article on the voice, and about singers of today. It is intensely interesting, and it's says, "Decline of the Heavy Singer".



BD

: Do you feel the article is accurate?



Dame Eva

: I certainly think he has a good point there. For instance, there were singers like Frida Leider, with whom we did

Die Walküre

when I was in Chicago. I was the Sieglinde, Leider was the Brünnhilde and Maria Olczewska was the Fricka, and I think Kipnis was the Wotan. I don't think we have voices a luscious as those. We also had Ebe Stignani, with whom I sang

Aï

da

so often.



BD

: Well, if we don't have voices which compare, are you optimistic about the future of opera?



Dame Eva

: I'm not saying they don't compare. I don't think they bring about the coordination of the quality and the brilliance for the projection; not in the same way. I don't think the young singers spend enough time to bring about a basic vocal technique. I must tell you, the singer, he or she, is in a different category amongst applied music because their instrument is not visual. They have to bring it from the subconscious forces and bring about what we call

l'impostazione d'avanti

, which is a forward placement of the voice. Then they have to match the tones throughout the entire range. They need much ascendency of control of their person to bring this about. I feel sometimes they sing far too early, without having brought about the basic vocal foundation.



BD

: Is this the operatic tradition which you are trying to bring to the younger singers?



Dame Eva

: It's the school. Lamperti said you should study it for seven years. Well, people often don't spend that amount of time to bring about the supremacy of control. Those are my findings.



* * * * *





BD

: Are you pleased with the recordings of your voice?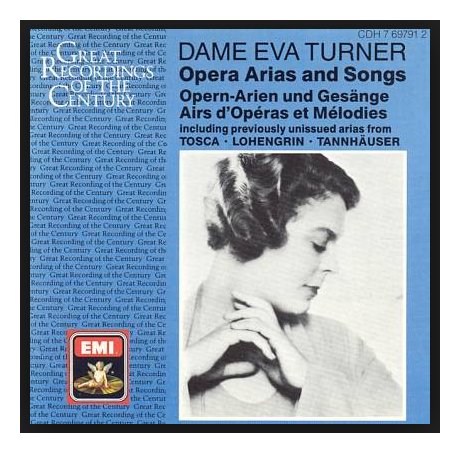 Dame Eva: Oh no! One always feels one could do better. [Laughs] One wishes to do it again. Actually, I wish I had done many more, but I was always rather busy.



BD

: Do you feel the over-abundance of opera recordings is either helping or hurting the public or the young artists?



Dame Eva

: There certainly are very many. I don't know how to answer that.



BD

: Do you think that opera works well on the television?



Dame Eva

: I must say they have improved along the way, somewhat. There still is the possibility of better results.



BD

: What is your feeling about opera in translation?



Dame Eva

: I will give you a case in point. I was singing

Der Freischütz

with Sir Thomas Beecham at the Royal Opera House, Covent Garden, and he wanted to do it in English. I asked him if I could make the translation of Agathe's aria

Leise, leise

. This was so I could put the noun on the main accent of the bar as it was in German. But it was really difficult because the grammar has the declension of the article in German —

der

,

des

,

dem

,

die

, and so on. It indicates number, case, and gender, whereas in English it is all the same —

the

man,

the

woman,

the

child and so forth. I found it a tremendous task, a tremendous amount of work. Alas, that translation was lost in the Second World War when our house was destroyed by a flying bomb. I stayed up many nights trying to bring about a translation, and I don't think I would easily take it on again! It consumes an awful time. [Both laugh]



BD

: Tell me about singing Wagner. How is it different from the heavy Italian roles?



Dame Eva

: I don't think it's that much different. Naturally, the recitatives need the employment of the organs of speech very much to make them have sense and meaning, and to bring them about to impinge on the ear of the public. I think it is very good to do Wagner after one has done the Italian school. In selecting Wagner roles, it depends on the voice and what the voice is suitable for.



BD

: You did Sieglinde quite often. What kind of a woman is she?



Dame Eva

: She was the most wonderful person. It's far too lengthy to go into on the phone.



BD

: Does the same go for Isolde?



Dame Eva

: Yes, but she was also wonderful. I did that with Sir Thomas and also with Sir John Barbirolli. My first performances of that opera were in Edinburgh.



BD

: Did you feel your voice was particularly well-suited for Wagner?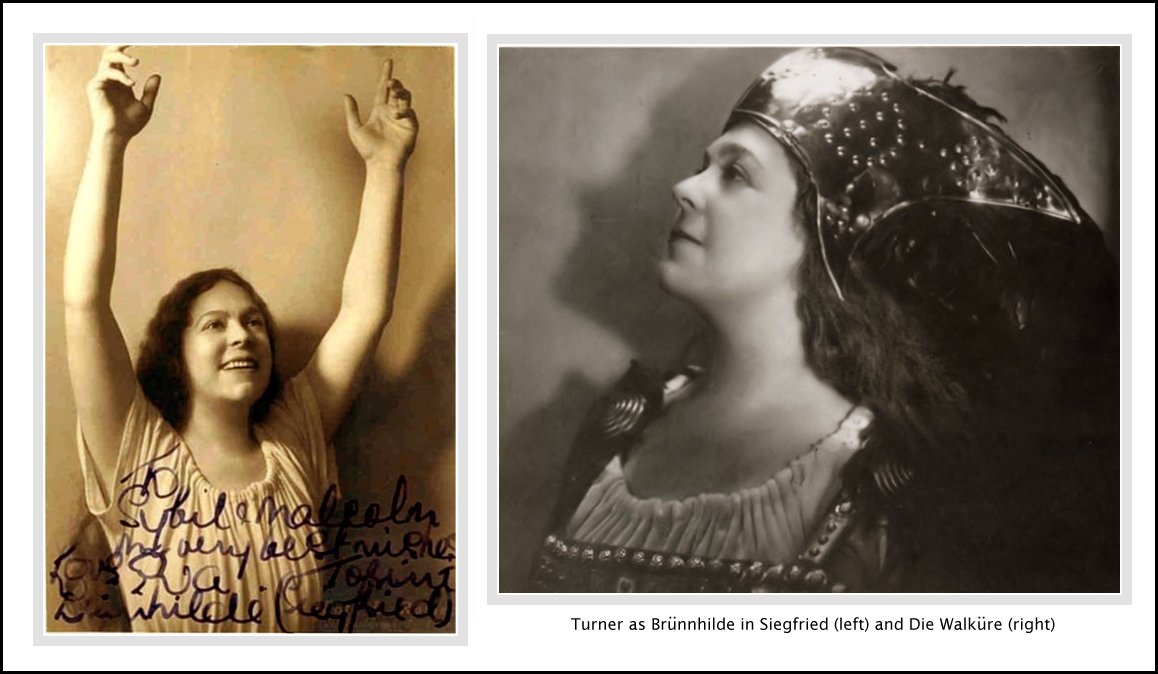 Dame Eva

: I remember in a Chicago paper they spelled my name 'Thurner' because they thought I was German! They asked where this young German singer had come from!



BD

: When you're on stage, do you portray the character or do you become that character?



Dame Eva

: One must try to assume the character from the moment you step on the stage; to become enveloped in that.



BD

: Were any of your operatic characters perilously close to the real Eva Turner?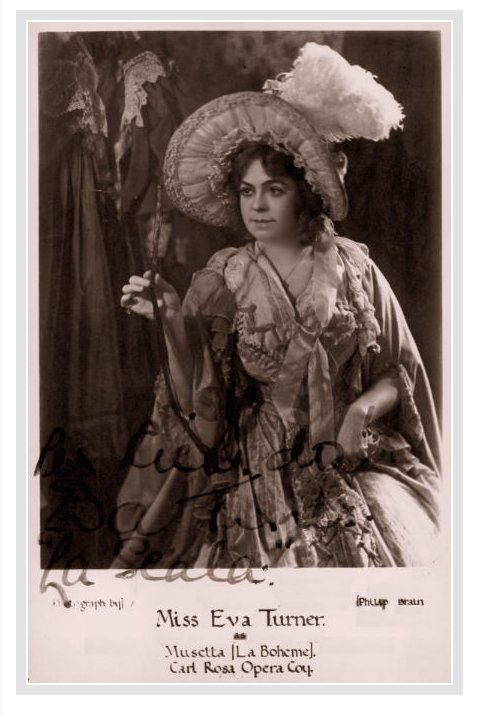 Dame Eva: [Laughs] Oh, I don't know. That would require really a lot of thought. But I always tried to do them to the best of my ability.



BD

: One of the comments written about you was that you had 'a fine sense of singing style'. Was this something you worked on and developed throughout your career?



Dame Eva

: I don't know because when I was very young, a teacher who taught Dame Clara Butt gave me the aria

Ocean, thou Mighty Monster

. He thought I should be singing that very soon. I joined the Royal Carl Rosa Opera Company in 1915 as a member of the chorus for one year. Walter van Noorden, the manager at that time said I hadn't walked the stage. My first part was the First Lady in

The Magic Flute

, for which I was paid five shillings! That was apart from my chorus money, of course! Then I became the

Prima Donna

of the company, and was with them until 1924.



BD

: But then you sang the heavy roles very, very early!



Dame Eva

: Oh yes. I sang Brünnhilde and Fidelio... many heavy roles, and also the

lirico-spinto

of the Italian School.



BD

: Did you get enough rehearsal time back then in the '20s?



Dame Eva

: Not always, but one put in the work in one's digs, one's lodgings — if they allowed you to practice, that was! [Both laugh] Sometimes they wouldn't let you practice there. One had to go to the theater.



* * * * *





BD

: Let me ask you about Pietro Mascagni.



Dame Eva

: I sang with him at the Royal Opera in Rome about 1932 or '33. It was

Isabeau

, which I had sung previously [1929] in the Arena di Verona with a famous Spanish tenor named Hipólito Lázaro. He was a very fine tenor who was supposed to have a wonderful top — which he much needed for that opera. He died not too long ago. He sent a message with some people whom he met, asking if I was still alive!



BD

: Fortunately for all of us, you are!



Dame Eva

: Oh, thank you. By the Grace of God. I was 94 last month!



BD

: How does it feel to be 94?



Dame Eva

: I thank God for my Blessings. I'm managing.



BD

: You sang in a great many opera houses. Did you ever adjust your style or projection?



Dame Eva

: Oh no! To sing in the different opera houses, you don't change.



BD

: For the last few years you've done quite a bit of teaching of young singers. Are you pleased with the students you have had?



Dame Eva

: Oh yes, yes. I've had some very good students. I taught for ten years at the University of Oklahoma. I went for nine months and was there for ten years, and I'm happy to tell you that we won in Texas for six years running. Then I had a student who won the Metropolitan Opera Auditions, and was in New York at the Met for training. And I'm happy to tell you that quite a few of them are now heads of the music faculties in other universities. I get lovely letters from them. They are quite touching. They formed a scholarship in my name at the University of Oklahoma. I was there at the same time as Carlos Moseley, before he went to New York and became associated with the New York Philharmoic. He was the Managing Director, and has recently retired. He is a very wonderful man.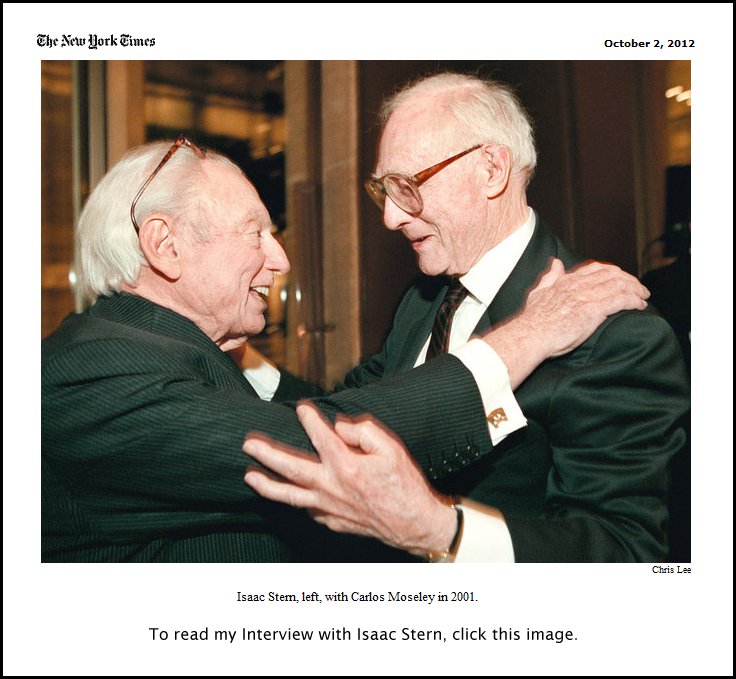 From the New York Philharmonic comes word of the death of Carlos Moseley, whose remarkable career with the orchestra lasted from 1955 to 1985. He was 98 years old.

Carlos DuPré Moseley was born on Sept. 21, 1914, in Laurens, S.C., to Carlos Roland and Helen Allston DuPré Moseley. He majored in English at Duke University, graduating with honors in 1935. An accomplished pianist, he had been playing in jazz groups and giving recitals when, in 1941, he began studying in New York and Philadelphia under Olga Samaroff, the ex-wife of Leopold Stokowski.

During World War II, Mr. Moseley worked for the Office of War Information in New York, then promoted American music abroad for the State Department from 1946 to 1948. He was arts administrator of the occupation government in Bavaria in 1949. From 1950 to 1955 he directed the University of Oklahoma's music school.

"Beginning as Director of Press and Public Relations," the announcement says, "he rose to become Managing Director (a post now referred to as Executive Director), President, and Chairman of the Board." Moseley presided over the Bernstein-Boulez era at the Philharmonic, during which the orchestra cut an uncommonly bold and unpredictable profile. He was an elegant, courtly man, whose South Carolina accent probably fooled more than a few Easterners into underestimating his intelligence and savoir faire. He was, above all, deeply musical, a pianist of considerable skill; while studying at the Berkshire Music Center (now Tanglewood), he played Brahms's fiendishly difficult Second Piano Concerto, under the direction of the young Bernstein.



-- Alex Ross (from his blog) and Robert D. McFadden (in

The New York Times

)





BD

: Let me ask you about one last person — Sir Thomas Beecham.



Dame Eva

: Oh, he was a wonderful man; wonderful to me. Absolutely wonderful. I remember in 1935, when we were to do the performance of

Freischütz

, my father came, and as the lights went down he died in the stalls. This was the first performance. Another thing that happened, when I went to La Scala in 1924, after I got there they had the news that my mother had died. These things happen.



BD

: Despite these sad events, did you like the life of a wandering minstrel?



Dame Eva

: Oh I had great joy in singing. I couldn't wait until the next performance to try to sing it better. I loved it.



BD

: Thank you for being such a wonderful singer, and thank you for allowing me to spend these few minutes with you today.



Dame Eva

: Thank you very much.

In bocca a lupo

, which is All Blessings.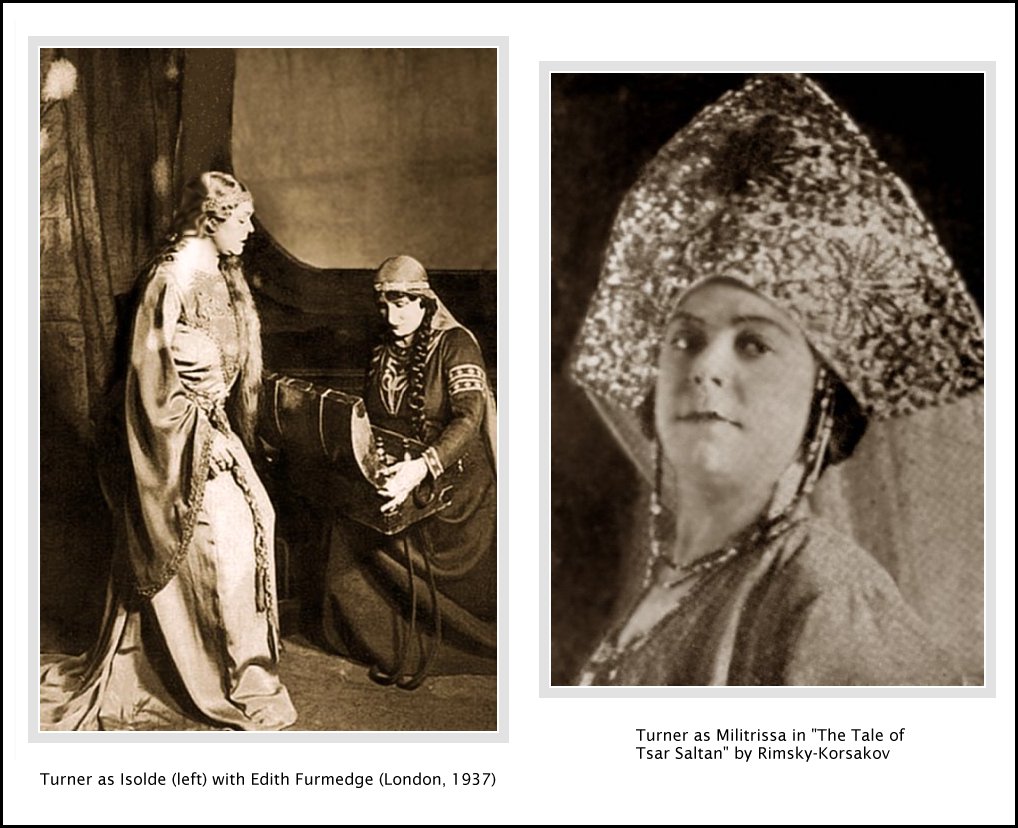 As noted at the top of this webpage, here are two of the letters she sent me when arranging the interview.
The first is an "Aerogramme", a single page which folds up with the message on the inside.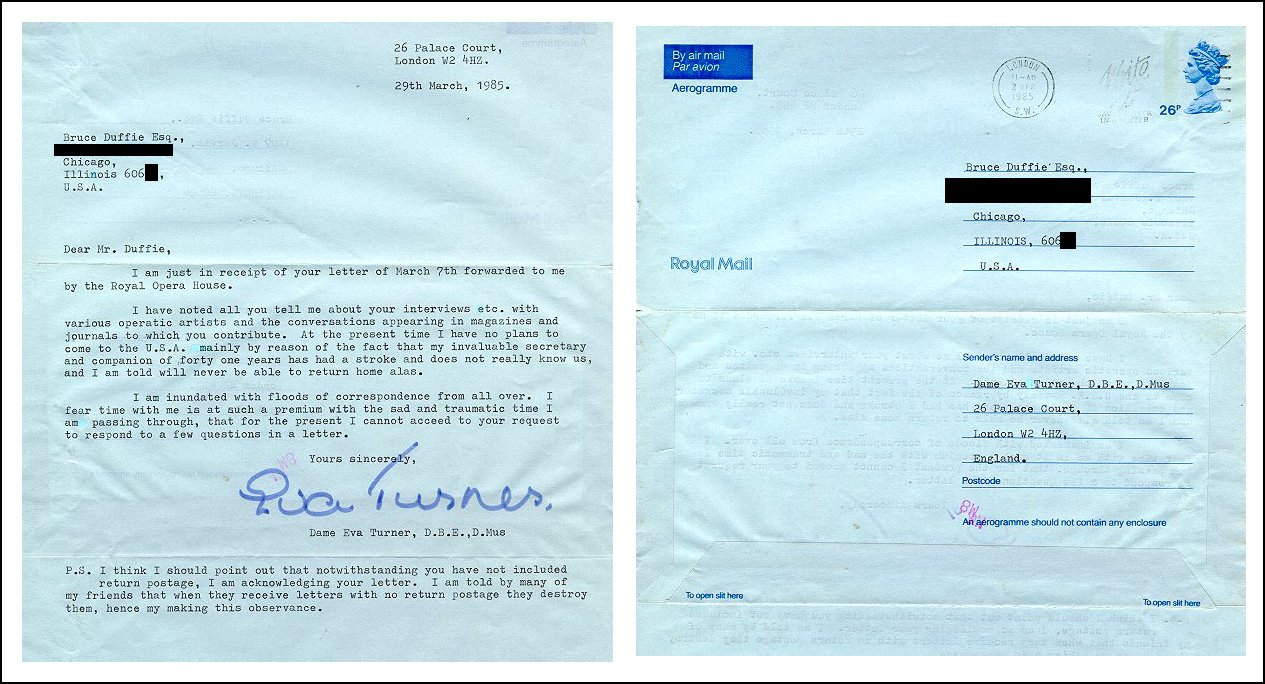 Having been chastised about the postage, my reply included several British stamps!
Her next response was a letter in an envelope.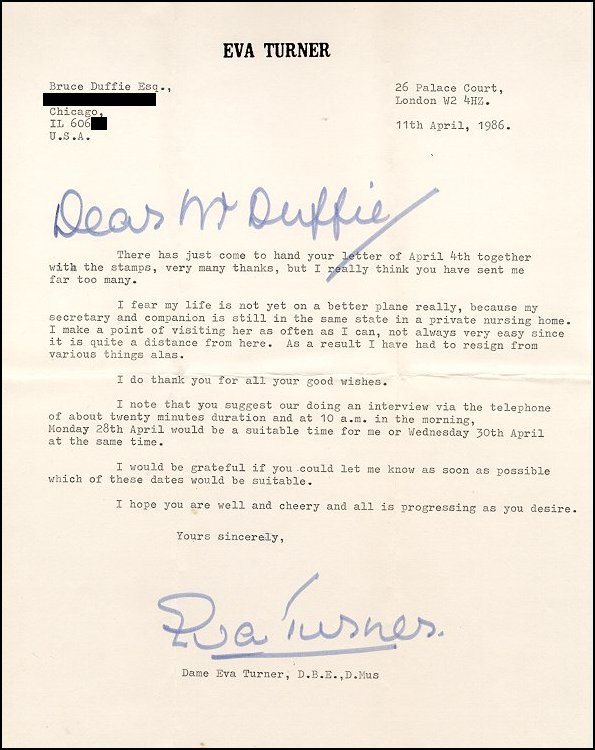 © 1986 Bruce Duffie

This conversation was recorded on the telephone on April 30, 1986. Portions were broadcast on WNIB the following year, and again in 1990, 1992 and 1997. This transcription was made in 2014, and posted on this website at that time.


To see a full list (with links) of interviews which have been transcribed and posted on this website, click here.

Award - winning broadcaster Bruce Duffie was with WNIB, Classical 97 in Chicago from 1975 until its final moment as a classical station in February of 2001. His interviews have also appeared in various magazines and journals since 1980, and he now continues his broadcast series on WNUR-FM, as well as on Contemporary Classical Internet Radio.

You are invited to visit his website for more information about his work, including selected transcripts of other interviews, plus a full list of his guests. He would also like to call your attention to the photos and information about his grandfather, who was a pioneer in the automotive field more than a century ago. You may also send him E-Mail with comments, questions and suggestions.