John Donald Robb (June 12, 1892 – January 6, 1989), professor emeritus of music and dean emeritus of the College of Fine Arts at the University of New Mexico, was responsible for the growth of fine arts at UNM in the l940s and l950s and, in turn, for the impact that UNM had in the fine arts throughout the state. Robb, a composer of stage, classical, and electronic music, is also known as a collector of folk music. He was born in Minneapolis, Minnesota and died in Albuquerque, New Mexico.
Robb had a first career as a lawyer. Educated in eastern schools, Robb graduated from Yale University in l9l5. He taught in China for one year and served in the armed forces for two years during World War I (l9l7-l9l9). After completing his legal training at Harvard Law School, Robb practiced law in New York City and in Europe from l922 to l94l. Musical activities and studies, particularly the art of composition, were, however, Robb's constant avocation.
In l941 Robb began his second career as professor of music and head of the Department of Music at the University of New Mexico. He became acting dean of the College of Fine Arts in l942, and was appointed dean in l946. He retired from this position in l957. While at UNM, Robb was instrumental in the ultimate building of the Fine Arts Center and the establishment of a folk music archive. He was also active as a composer, while continuing to build support for contemporary music throughout the state.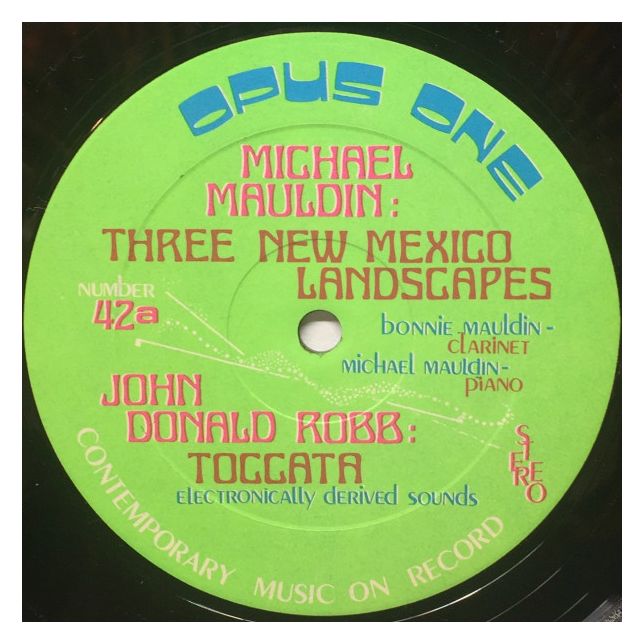 During his retirement years, Robb was active primarily as a composer and lecturer, although Robb's long-time interest in law and politics prompted him to run for Congress in l960. During l962 and l963, he taught composition as a visiting professor at the National Conservatory of San Salvador under a grant from the Secretary of State, and he also made a music tour of Central America, conducting the national orchestras of Venezuela, Guatemala, and El Salvador. In later years, Robb appeared as guest conductor of various American symphony orchestras, and made several record albums featuring folk and electronic music.
Robb had been intensely interested in music since his teenage years. During his years as a lawyer, he composed music and played the cello, meeting informally with friends every week to play string quartets. He began the study of composition with Nadia Boulanger in l936 and he participated throughout his life in master classes with such leading American and European composers and teachers as Roy Harris, Paul Hindemith, Darius Milhaud, and Horatio Parker. His more than 200 compositions range from solo instrumental and vocal music to music for small and large ensembles, operas, musical plays and dances. He was also a pioneer composer of electronic music, beginning in the l950s.
Always fascinated by folk music, Robb made recordings in the field and transcribed over 3, 000 songs and dances from areas as diverse as Nepal, South America, and the American southwest. This collection forms the nucleus of the more than 25, 000 items that comprise the John Donald Robb Archive of Southwestern Music. One of the most extensive collections of southwestern music and oral histories, the Robb Archive is housed in the University of New Mexico's Center for Southwest Research.
Robb published numerous articles on both legal and music subjects in national and regional journals and newspapers. The first of his two books, Hispanic Folk Songs of New Mexico, was published by the University of New Mexico Press in l954. In l970 he received a grant from the Rockefeller Foundation for the preparation of a book of Hispanic folk music of the Southwest. This work resulted in the publication in l980 by the University of Oklahoma Press of Hispanic Folk Music of New Mexico and the Southwest -- a Self Portrait of a People.
Robb received numerous honors in his lifetime. Among them was the Award for Achievement and Excellence in Music bestowed in l975 by the New Mexico Arts Commission. In l980, the UNM Alumni Association, recognizing Robb's legacy, honored him with the Bernard D. Rodey Award. In l986 the University of New Mexico granted him an honorary doctorate degree. The l989 UNM Composers' Symposium was dedicated to the memory of Robb, whose leadership and sponsorship had been in part responsible for the international scope and success of the annual symposium.
John Robb and his wife Harriet Block Robb were married in l92l. Nearly seventy years later, and within ten days of each other, John and Harriet Robb died in January l989. They were survived by three children: Priscilla McDonnell, John Robb, Jr., and Nancy Briggs, and their families.