Kim Kashkashian was born in Detroit, Michigan to Armenian parents. Her studies were at the Peabody Conservatory in Baltimore with Walter Trampler and Karen Tuttle, and at the Marlboro Music Festival where she worked intensively with Felix Galimir.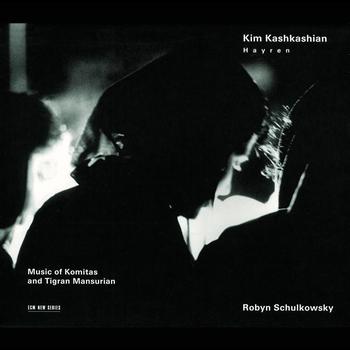 After experiencing unanticipated successes at the Tertis and Munich competitions, Kim Kashkashian appeared as soloist with the major orchestras of Chicago, Cleveland, Berlin, Milan, London, Tokyo and Vienna, working with conductors including Nikolaus Harnoncourt, Zubin Mehta, Riccardo Muti, Christoph Eschenbach, Dennis Russell Davies and Franz Welser-Möst. She has performed in recital in New York, San Francisco, Cleveland, Philadelphia, Vienna, Berlin, Paris, London and Amsterdam, as well as in the chamber music centers of Salzburg, Verbier and Ravinia.

Kim Kashkashian's quest for new directions and forms of music making is an active element of her musical life. Her work with György Kurtág, Tigran Mansurian, Betty Olivero, Giya Kancheli, Krzysztof Penderecki, Ken Ueno and Peter Eötvös has extensively enriched the repertoire for viola.

Ms. Kashkashian has collaborated with the Tokyo, Guarneri and Orion quartets and toured with a unique quartet which included Daniel Phillips, Gidon Kremer and Yo Yo Ma. Current partnerships include duos with Robert Levin and with percussionist Robyn Schulkowsky.

After early recordings of Mozart's Sinfonia Concertante and Divertimento with DGG and Sony, a long term relationship with ECM Records has created an extensive discography which includes the award winning Brahms sonatas, the complete Hindemith sonatas, the concertos of Bartók, Eötvös, Kurtág, Berio, Kancheli, Olivero and Mansurian, the Bach Sonatas for viola da gamba (with Keith Jarrett), Hayren (music of Tigran Mansurian and Komitas) and Asturiana, songs from Spain and Argentina.

Kim Kashkashian has always included teaching into her musical activities, and has been associated with the Bloomington School of Music, the Hochschule of both Berlin and Freiburg, Germany and is presently teaching chamber music and viola at the New England Conservatory of Music in Boston where she has made her home. She plays a viola by Peter Greiner.