Violinist / Violist Irving Ilmer

A Conversation with Bruce Duffie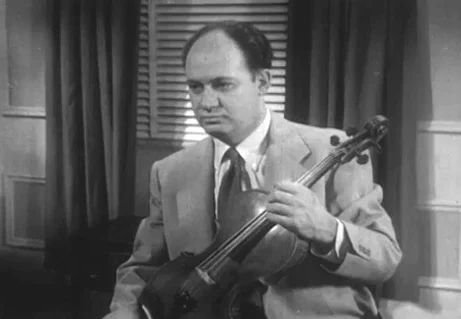 Irving Ilmer, 78, a violinist, violist and teacher who played with many prominent ensembles in North America, died Friday at home in Evanston.

Born September 13, 1919 in Vienna, Mr. Ilmer moved to Chicago's South Side when he was in his teens. He made an early debut at the Civic Opera House as an assistant artist with Metropolitan Opera star, Grace Moore. He was a trombonist in the Army Air Corps band during World War II. Upon returning to Chicago, Mr. Ilmer played violin with the Chicago Symphony Orchestra for six years. He subsequently performed with many ensembles, including the Fine Arts Quartet, the Contemporary Chamber Players at the University of Chicago, and the resident quartet of the Aspen Music Festival in Colorado.

While still living in the Chicago area, he taught at the University of Wisconsin at Milwaukee, Northwestern University, and the Cleveland Institute of Music. Between 1964 and 1976, Mr. Ilmer was a faculty member at Indiana University School of Music and the University of Kentucky. He then spent 11 years as concertmaster of the Kitchener-Waterloo Symphony Orchestra in Ontario.

Mr. Ilmer moved back to Evanston in 1987 and performed with the Governors State University string quartet and the Chicago String Ensemble.

Survivors include his wife, Janet K. Schenk; two sons, Steven and Paul; and three grandchildren. A memorial service will be held at 2 p.m. Jan. 17 in the Second Unitarian Church, 656 W. Barry Ave., Chicago.


== Chicago Tribune, December 20, 1997 (slightly edited)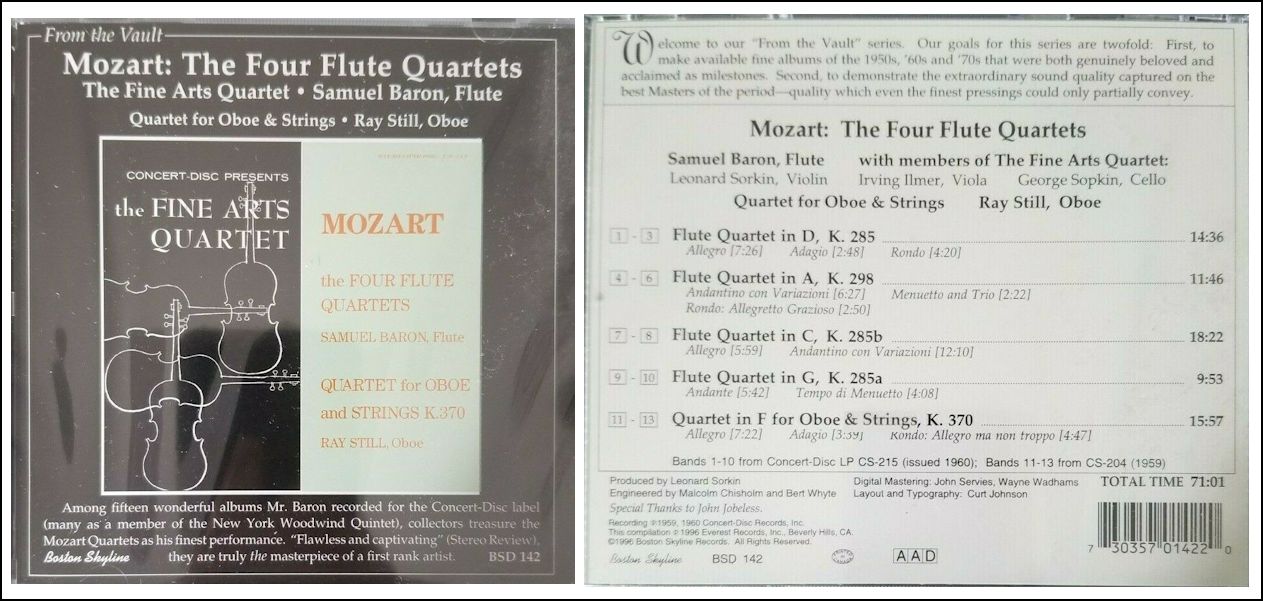 See my interviews with

Samuel Baron

, and

Ray Still




Like Richard Young of the Vermeer Quartet, Irving Ilmer was a violinist who came to the viola as a member of a significant string quartet. Both musicians kept the violin handy, and also played the smaller instrument in other quartets.

Full disclosure... I knew Irving just a bit from my childhood. For several years, he lived in the house next to mine in Evanston, Illinois (the first suburb north of Chicago). Though not close, I did play games and ride bicycles with his younger son, Paul, whose mother, Jacobeth, was an elementary school music teacher. It wasn't until many years later that I discovered the full extent of Irving's career.

Late in his life, Irving returned to Evanston, and in early April of 1989 we arranged to have an interview at his apartment. After using portions of the chat on WNIB, Classical 97 a quartet of times, I am now pleased to share the entire conversation on this webpage . . . . .


Bruce Duffie: You've been involved with music for nearly fifty years.

Irving Ilmer: [With a wistful smile] Yes, that's hard to believe, really. I don't know where the time goes. All of a sudden, you look around and there is it, fifty years. It's like an abstract figure. Only when you start thinking about the various parts of your life, and the various experiences, and the different places you've lived that you realize it does take time. It's almost like another life.

BD: How has the music scene changed over fifty years?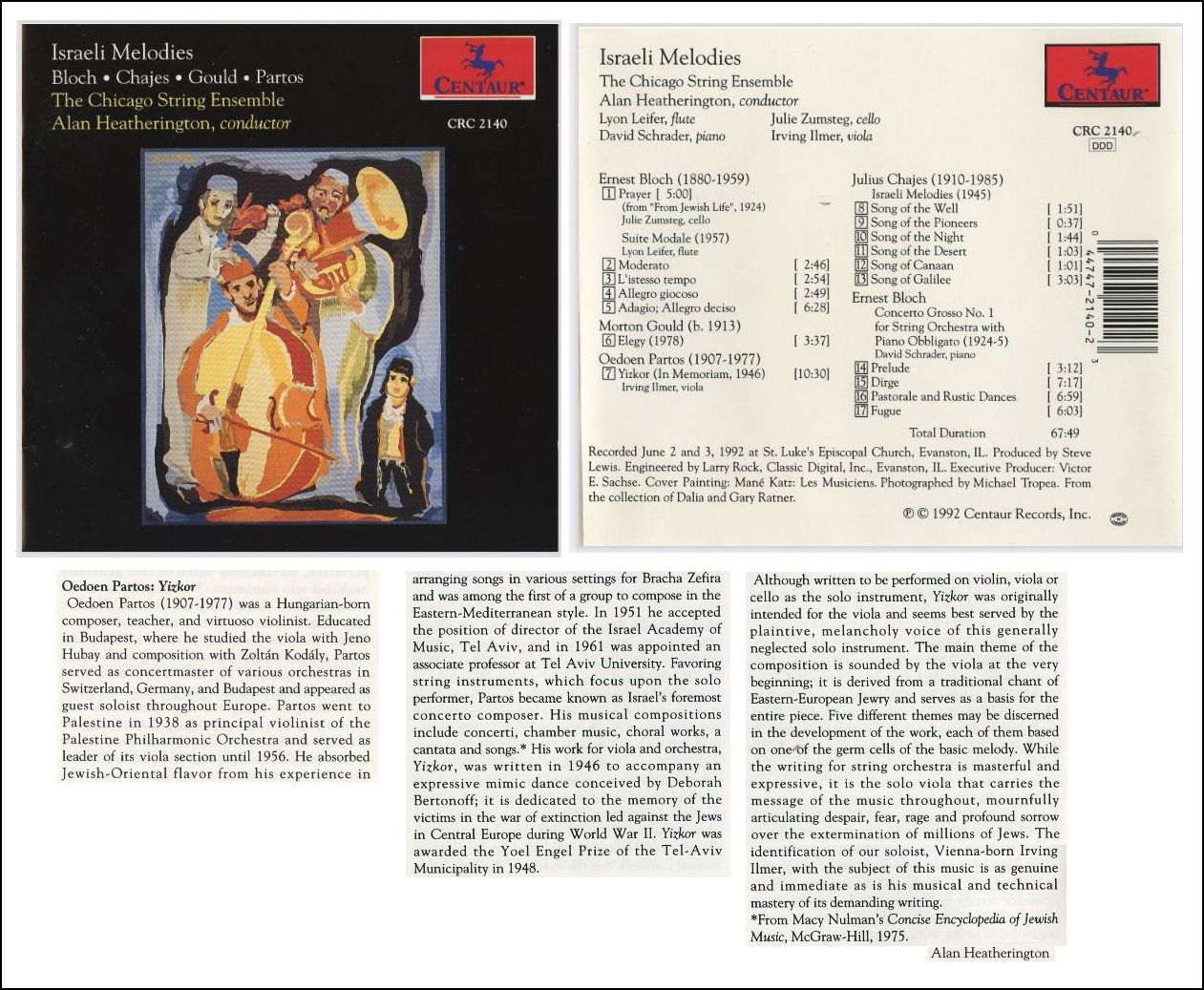 See my interviews with

Morton Gould

, and

David Schrader



Ilmer: When I was a youngster and got my first jobs in orchestras, the talk was that strings were relatively scarce. It was much easier to get a job in a major orchestra compared to now. There's no comparison. Now you have kids coming out of the professional schools, and you have literally hundreds of applications for one position in a major orchestra. It's a very different situation.

BD: Did that situation in any way influence your decision to take up violin instead of clarinet or trumpet?

Ilmer: No, no, no. The violin was pushed at me from my father, who was a singer and a frustrated violinist. I took to it quickly like a fish takes to water, and I had the coordination for it.

BD: Did you originally want to be a solo concert artist, or did you want to get into an orchestra?

Ilmer: I suppose some people do think about an orchestra, and maybe they're being realistic. But in most families, when the little kid is talented and takes up an instrument, they think immediately of the glamor of the concert career. I had a chance... When I was fifteen, I auditioned for the Curtis Institute in Philadelphia, and they said they were filled up on violin, but they'd take me on viola. At fifteen I was not in any way interested in the viola. I didn't know much about it, so I turned it down, which was not very wise, but I didn't know. It's hard to say.

BD: Obviously, it all worked out all right.

Ilmer: [Laughs] Yes, it did.

BD: So, what did you wind up doing? Where did you get your education?

Ilmer: That was when we moved to Chicago from Denver. I stayed in Chicago, and went to DePaul Music School, which has a very different situation then from what it is now. The arts and some of the other schools were in a high-rise building on Lake Street, between Wabash and Michigan Avenue. The music and drama schools were on the third and fourth floors, and I studied there with Richard Czerwonky (1886-1949) who was a Joachim student from Germany.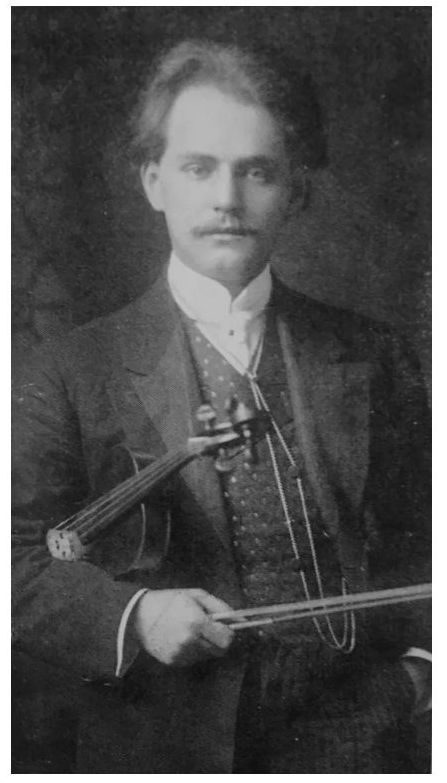 Richard Rudolph Czerwonky (1886-1949) was a distinguished violinist, composer and conductor of Polish-American ancestry. The majority of his career was spent in Chicago where he became an influential figure in the city's classical music education and orchestra scene during the first half of the twentieth century, especially during the 1930s and 1940s.

Born in Birnbaum, Germany (present-day Międzychód, Poland) he was an accomplished violinist from an early age, having studied with the great Austro-Hungarian violinist, conductor and composer Joseph Joachim in his youth. After winning the Mendelssohn prize at age 18 and completing an extensive European tour, he was debuted with the Berlin Philharmonic Orchestra in 1906. He moved to the United States to become assistant concertmaster of the Boston Symphony Orchestra later that year– a remarkable accomplishment at not yet 20 years of age. In 1909, Czerwonky left Boston to become concertmaster, assistant conductor and soloist with the Minneapolis Symphony Orchestra– a position he held for nine years when he moved to Chicago in 1918 to head the violin department and conduct the orchestra of the new Bush Conservatory of Music.

He remained based in the Chicago area for the rest of his career, eventually joining the faculty of DePaul University's School of Music and became head of the violin program in and conductor of the DePaul Symphony Orchestra. In 1927 he reorganized the Chicago Philharmonic Orchestra and conducted the ensemble for over twenty years– shepherding the organization through the Great Depression. While heading the Chicago Philharmonic, he developed their live WGN Chicago radio broadcasts and led a series of popular concerts in Grant Park. The Chicago Philharmonic was also featured in broadcasts airing on WMAQ and NBC, CBS, MBS and ABC stations during his tenure. He also conducted the Kenosha (Wisconsin) Symphony.

Czerwonky was a promoter of women in classical music evidenced by several actions during his time in Chicago. He assisted in the founding of the Women's Symphony Orchestra of Chicago in 1925 and served as conductor for their first season (1925-1926) before resigning once the orchestra was able to name Ethel Leginska (1886-1970) as the organization's first female conductor.

During Czerwonky's tenure with the Chicago Philharmonic Orchestra, the organization claimed to be the first professional orchestra in Chicago to include both men and women in its ranks. Czerwonky was also known to feature the works of women in his concert programming as well as the works of local Chicago composers.

In addition to his teaching and conducting, he continued to perform as a soloist and composed extensively for violin, piano and orchestra. He performed as a soloist on his own works or other compositions with many of the major orchestras in the United States and Germany in addition to his own Chicago Philharmonic and the Richard Czerwonky String Quartet. He was also frequently featured in performances broadcast on American and German radio. He was a member of ASCAP and had numerous works published by Carl Fischer and Oliver Ditson. Most of these published works are unfortunately now out-of-print and many are rare.




After the four years I was ready to look around and see what I could do on my own. At that time, an opportunity opened up for an assistant artist for a Grace Moore program, which was a benefit at the Civic Opera House. Through some personal connections. I had gotten to know Harry Zelzer, and he obviously thought I was adequate to it. So, that was more or less my professional public debut after my student years. I was still a teenager, and it was a very glamorous affair for me. [Laughs] I had borrowed the Leopold Auer Stradivarius, which was on sale at the time at Lyon & Healy. They had a store in the Loop [downtown Chicago] at that time with a big violin collection.



'ex-Leopold Auer' Stradivari, Cremona, 1690
The stunning 'flame' patterns that we see on the back of fine instruments are an optical effect produced when the grain of maple grows in undulating patterns. When planed, scraped or burnished and particularly under certain types of varnish, the flame reflects light and appears to have an almost holographic effect. When one holds a heavily-flamed violin in strong sunlight, the figure can seem as if it's alive and moving.
The way in which maple is cut and prepared determines the flame's appearance. The typical 'tiger stripe' flame pattern results when the tree is cut "on the quarter" which means a triangular wedge is cut with its apex at the center of the tree and its two long sides equal radii of the trunk. Alternatively, wood for a violin can be cut "on the slab" which means a section of the trunk is cut that is not a radius of the circle and doesn't pass through the centre of the tree.
The 1690 'ex-Leopold Auer' Stradivari shows an excellent example of maple cut on the slab. The figure is iridescent and lively but slightly less pronounced and more mottled and irregular. Stradivari used slab-cut maple extensively in the 1680s and 90s as had the Amatis, Guarneris and Rugeris before him, but his instruments from the 18th century more typically use maple cut on the quarter.
Commentary by Jason Price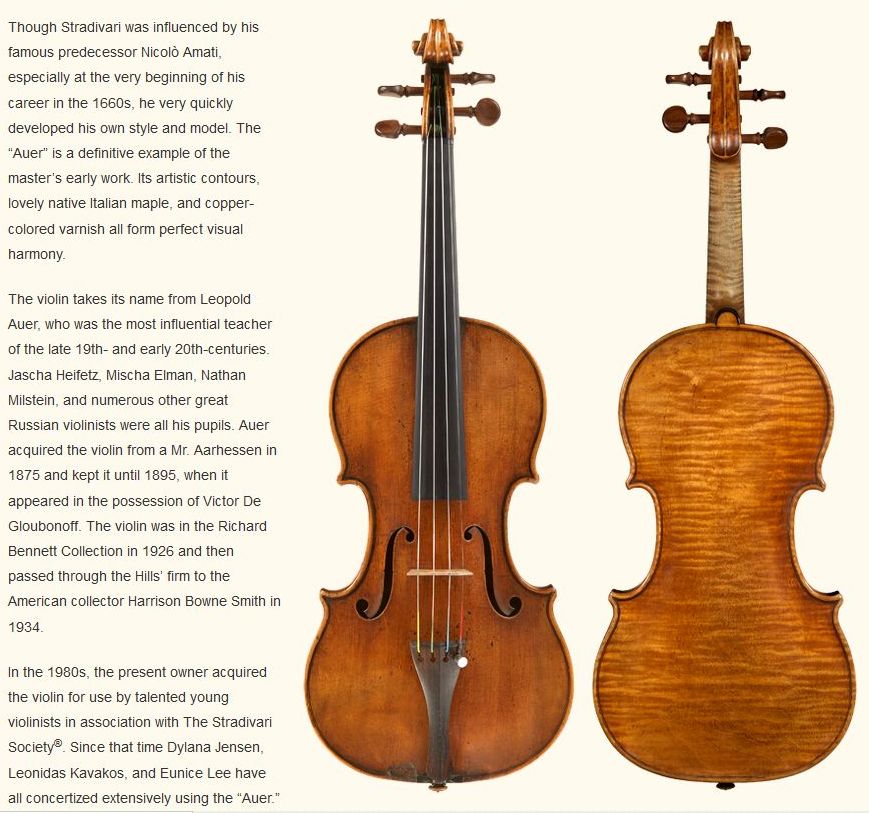 BD: Talking about this concert with Grace Moore, did you feel that you were completely prepared, or were you being thrown out into the arena?

Ilmer: No, no, I didn't have the feeling like I was thrown out into the arena. I really felt prepared. A youngster feels confident and adequate, and I would have been ten times more nervous now! [Both laugh] When you're inexperienced, you don't feel the pressure. Now, it's harder.

BD: The concert came off all right?

Ilmer: Yes, I did very well, and felt pretty good about it. I got some very good press notices [one of which is shown in the box below].




Beautifully gowned, Grace Moore looked a picture as she appeared upon the Civic Opera House stage in her lone recital under the management of Harry Zelzer and charmed the vast auditory with her graciousness and vivacity, which, added to her lovely voice, made her song doubly enjoyable. Irving Ilmer performed several violin soli with authority and a luscious and crystalline tone. An artist student of Richard Czerwonky, Ilmer is forging ahead both technically and interpretatively.



BD: Was Zelzer pleased?

Ilmer: Yes, he was very pleased.

BD: Was Grace pleased?

Ilmer: She didn't pay too much attention to me. I was just an upstart! [Both laugh] I didn't see much of her back stage. But after that, I launched into various orchestra positions, starting with the Civic Orchestra here in Chicago, and Indianapolis Symphony which, after three seasons, I went into the Service. After the War, I played in the Grant Park Orchestra. I was assistant concertmaster sitting with Fritz Siegal, who just passed away recently.




Fritz Siegal was born in Vienna in 1917 to parents of Russian and Czechoslovakian background. They immigrated to the United States in 1922 and settled in Chicago. He attended Lane Technical High School. Later, he served as concertmaster of Lyric Opera of Chicago from the mid-1950s until 1966, Grant Park from 1945-1969, the Boston Pops, and retired from the Pittsburgh Symphony at age seventy to teach violin, having been concertmaster for 22 years beginning in 1967. Besides leading the first violin section, he often served as assistant to the conductor.

Partly his ability to serve in more than one orchestra was because Grant Park played only in the summer, and the Lyric and Pittsburgh seasons were at other times of the year.

His first professional job was with the Illinois Symphony, and the Stevens College Symphony. He played with the Chicago Symphony on the Carnation Milk Radio Program, Percy Faith conducting, and became concertmaster for the Seattle Symphony in 1939. After the birth of two children he returned to Chicago to play for NBC Television Orchestra, and later with the Indianapolis Symphony, CBS Orchestra and Baltimore Symphony from 1943 to 1954.

He died in February of 1989 of liver cancer.




Then I went to San Antonio as concertmaster for a couple of seasons. I was interested in orchestral playing, in as much as I could get concertmaster-type positions where you had more of a chance to play some solos, and concertos, and chamber music, which I did there for a couple of seasons. Then I decided to come back home and raise a family. The most logical thing seemed to be to join the Chicago Symphony, which in those days was much easier to get into. Those were the days of Désiré Defauw and then Raphael Kubelik. Before all of that I went on a South American tour under Leopold Stokowski with an all-American youth orchestra. That was a really great experience.

BD: How long did you stay with the Chicago Symphony?

Ilmer: Six years [1946-52]. I left to join the Fine Arts Quartet, and at that time I changed instruments to the viola. So, after all those years I wound up on the viola anyway! I played the viola for eleven years with them, and I hardly ever touched the violin until about the tenth year. That was when I suddenly realized with a shock how much I missed it.

BD: I would think that a quartet would want an experienced violist, rather than an experienced violinist who was then moving to the larger instrument.

Ilmer: They knew that I had had much experience in chamber music. Chamber music was my very basic interest, and the orchestra positions were really for the bucks. That was the bread and butter, and I had organized various groups. We knew each other, and they knew my experience. They must have felt that it would work out well, which it did.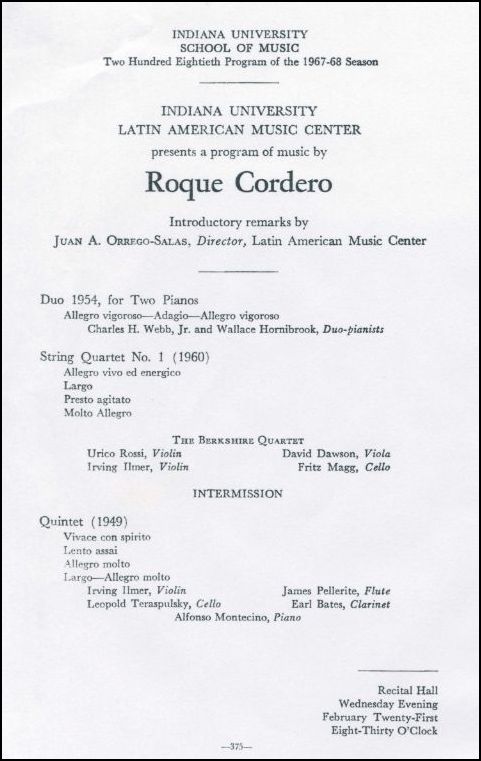 BD: Did it take long to get familiar with the larger position in the left hand?

Ilmer: That's not much of a problem, really. I don't know the exact time, but the idea of switching now is becoming quite commonplace. On programs that I'm on I've tried to feature both instruments. I have this Solo Partita for Violin and Viola which George Perle wrote for me. I asked him to write something where I would switch back and forth, so he wrote me an unaccompanied solo partita in five movements, in which I had to switch between each of the movements back and forth. I have played it, but on its first performance in New York or Boston, it was done by two people who stood on the stage and alternated movements! [Knowing the paucity of players who could perform well on both instruments, Perle did specify that it was for one or two players.]



* * * * *



BD: When did you start teaching?

Ilmer: We did some coaching for three seasons when I was in the Fine Arts Quartet. We were at Northwestern University as artists-in-residence on a part-time basis. There was a little bit of private teaching, but mostly it was chamber music coaching. After I left the Fine Arts, I got the position at Indiana University, which was mostly teaching with some chamber music coaching. Also part of the time I joined the resident quartet, the Berkshire String Quartet.

BD: Why did you leave the Fine Arts Quartet? [Vis-à-vis the program shown at left, see my interviews with Roque Cordero, and Juan A. Orrego-Salas.]

Ilmer: One of the main reasons was that I just missed the violin so much. I really did. It's hard to explain those things logically. I took the position of second violinist in the Berkshire Quartet, which was an interesting challenge, because after all those years as playing viola in a quartet, even though it wasn't the first violin part, the second violin was interesting to me. Actually, I played the inner voices in quartets between the viola and the second violin for about seventeen years.

BD: Is it gratifying knowing that you're the support inside, even though you don't get the glory of the main line all the time?

Ilmer: It is. It has its own special pleasures, but now I'm trying to concentrate on playing first violin when I can. Ironically, last season I played with the string quartet of Governors State University [in University Park, Illinois, thirty miles south of Chicago], and I was back on the viola again. [Much laughter] I really liked the group, and they were very committed as a group. I enjoyed it very much, even though I was on viola. I just felt though that after one season, at this stage in my life there were too many personal things I wanted to get done, and there wasn't enough time for everything. I was very sorry to leave.

BD: What advice do you have for younger chamber music groups that want to get started?

Ilmer: There's such a proliferation of quartets these days, and many are good quartets, just like there are many good string players. I would just say that as early as they can they should get to know the literature as quickly as possible, and get to play as much as possible. It would be much more gratifying to have a position of teaching in combination with a chamber group, as compared to being in an orchestra. In many major orchestras, there's quite an active chamber music program, which there was not when I was there. When I was in the Chicago Symphony, I made my own experience in chamber music by forming a quartet, partly of Symphony members and partly of outside people, and we put on our own shows. But it was certainly not with any co-operation or help from the Symphony. It's quite a different situation now.

BD: So, you were really more of a ground-breaker by getting some of these chamber groups started within the Symphony.

Ilmer: Yes, I was I suppose, if you look at it that way. It's interesting that when I was a teenager, I began to break away from the idea of being a solo artist. Even if one has good qualifications, I saw the difficulties and the slim chance one has of being a really active solo artist. Actually, I was more interested in the communication aspects of chamber music than I was in what I considered the more egotistical expression of the concerto, and a solo career. Even though I met with some cynical responses from some people who were very active in practicing chamber groups, I didn't get discouraged. But I could have gotten so because they really were not very encouraging. At that time, of course, in the 1940s it was much, much more difficult. It's true there was hardly any competition as compared to now. There were hardly any opportunities. You had two or three big quartets. This is long before LP records.

BD: I'm glad you brought this up. Do you feel that the advent of the long playing record has made more opportunities and more interest for both the performers and the concert-going public?

Ilmer: Oh, there's no question about it. The opportunity now to get acquainted with all aspects of any composer's output is just mind-blowing when you compare it with what it was in the old days.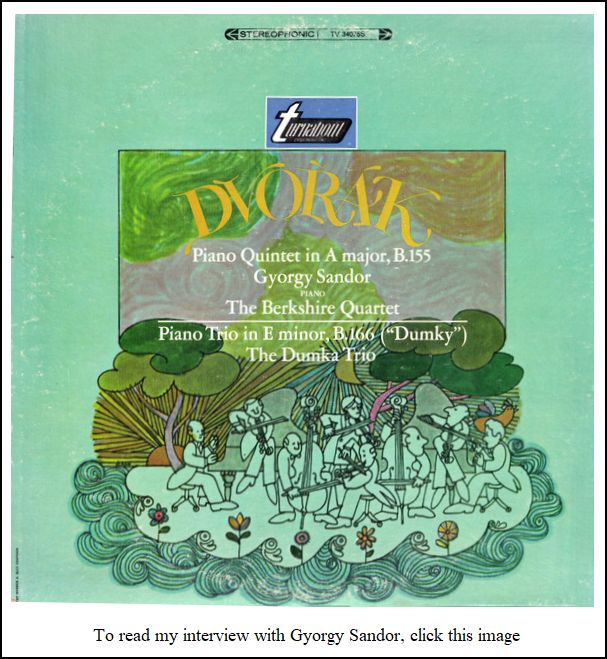 BD: Is there any chance that the avalanche of recorded material is getting to be too much?

Ilmer: [Laughs] We're all 'avalanched' not only with classical music, but with everything that's available on the electronic media. It sometimes blows my mind to think of the choices I have to make between TV and FM radio, and records and tapes. One has to make countless choices that didn't exist when I was a youngster. It just is a completely different situation.

BD: Is there any hope?

Ilmer: Oh yes, I'm sure! It's a very healthy thing. It's much healthier to have more available, and to have people learn to develop tastes and to know what they want. It's wonderful to have so much available. I'm still getting used to the idea! [Both laugh] It's just tremendous.

BD: Is there any chance that we're turning out too many young performers?

Ilmer: I sometimes think that there's a real problem. When I see the amount of really talented youngsters they turn out at Indiana, and some other schools, there can't be enough jobs that are available where they could make a fairly decent living. I really have my doubts as to the healthiness of the situation. It would be interesting to know the percentage of graduates of one of the big schools, like Indiana, who wind up with fairly good positions in music. What is much more available is the public-school music, which has much more opportunity, so it's a large group. I'm thinking of the large number of those who graduated with a so-called 'performing certificate', which really doesn't mean much, but at that level more of them are very talented.

BD: What about competitions? Are those the way to go for young performers to go?

Ilmer: I have very negative idea about competitions. It's a bad way for a youngster to get any kind of recognition. Maybe it's inevitable because there is so much competition that they have to be weeded out some way, but I see it as a cruel process. I wish there was some alternative, because at the outset you start to make comparisons. I have judged enough competitions to see how frustrating it can be, unless there's one person who is just so obviously head and shoulders above the others.

BD: When you're judging a competition, what is it that you look for, or listen for?

Ilmer: There are a number of main things that one looks and listens for. It's a little hard to say abstractly, but frankly I don't welcome the opportunity too much to be a judge.



* * * * *



BD: In concert music, there must be an artistic side and an entertainment side. Where's the balance?

Ilmer: That's an interesting question, and it's something I wanted to get to. As I've grown older, I've become more interested in the religious or the spiritual side of communicating in the arts, which in my case is classical music. Though, not only classical music, but some good folk music and some jazz. I feel that the communication is something which is vital, and yet I find myself more and more impatient with the idea of arts as just entertainment. What the arts have to give is basically communication about the human situation, and the human situation is one which goes so much deeper than just being entertained. I'm finding that I'm becoming more spiritually attuned to certain composers, for instance, Beethoven. Even as a youngster, I always have been attuned to the values and the music which really shows the composers on a spiritual development which teach us, and are really learning experiences. It interesting that I'm becoming involved in a program in the Unitarian Church, in which my wife and I are members. We're planning a program on the spiritual development of Beethoven. I've been through this some years ago where I traced it through the music, and the development of the music, and his spiritual expression throughout his change of styles. I'm not experienced in giving talks on this sort of thing. I'm not a musicologist, but I find this a real challenge because it's not just a matter of musicality. To me, it's a matter of some very significant human values, and I find Beethoven, especially, the complete inspiration in terms of overcoming universal human problems, which so many of us have in the course of our lives. We all know that the worst thing that could happen to a composer was that he would become deaf, and maybe because of that we learn how he surmounted this, and really wrote. Ironically, he wrote his greatest and most profound music as a result of resolving the conflict and the frustration of 'why me'. It's difficult to talk about all this because it's an experiential thing which has to be learned through the music. I find it a real challenge to try to tackle this, so it's going to be interesting.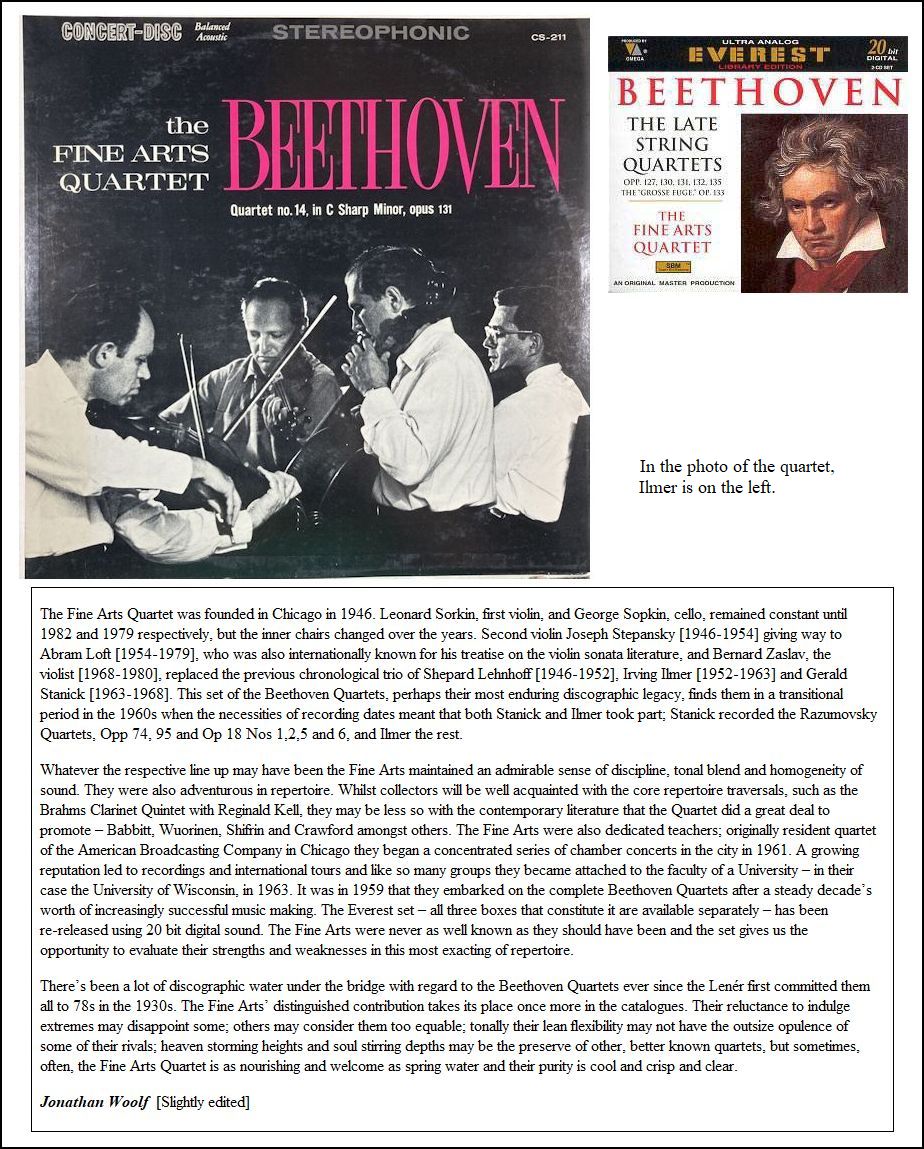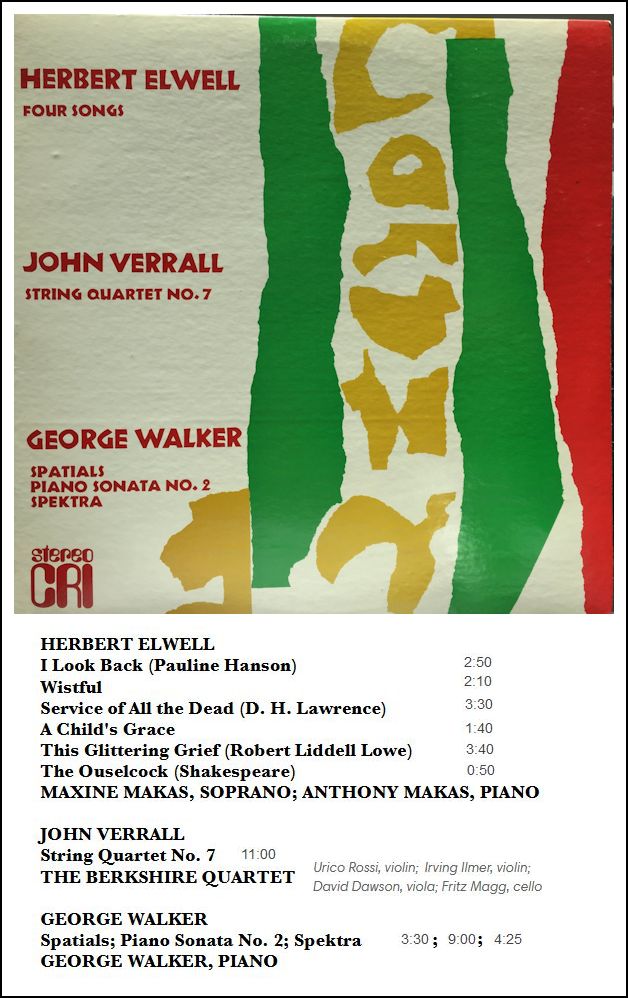 BD: [Knowing that he had participated in the performance and recording of many of the Beethoven String Quartets] You've made a number of records. Do you play differently in the recording studio than you do on the concert platform?

Ilmer: No, not too much differently. On the concert platform you're really more concerned with the balance as perceived by different parts of the hall, and if the hall is good acoustically or not. Whereas when you're recording, you test things carefully and you know that you can play comfortably. You don't have to worry about the balance because you're positioned with mikes, and you do everything under control boards so that it works for you. Sometimes the acoustics of a hall can work against you in some way, especially when you're the inner voice.

BD: On a recording are you more free to concentrate strictly on the musical values?

Ilmer: Hopefully you should be, yes.

BD: Do these come through the plastic? [Vis-a-vis the recording shown at left, see my interviews with John Verrall, and George Walker.]

Ilmer: You hope so. [Both laugh] I can see Glenn Gould's point about giving up concert playing, and just recording. The audience gives their reaction to the performer, so the mutual relationship is lacking. Objectively, though, there's a relationship between the audience out there, which is represented by the tape-recorder, which, after all, is people. There's a time-lag, but you know that everyone's going to hear it exactly the same way, in the same acoustic conditions, and with the same perspective. You have much more control, much better control of the situation.

BD: Is there ever a chance that the cut-and-splice makes it too perfect?

Ilmer: Maybe it can be more perfect in the sense of a specific time-relationship in front of an audience. It is true that you feel that when you have a little flaw it does get magnified because it's going to be played over and over again. It's more obvious, and that is a problem with recording. But at least if you record with as little pressure as possible, you can fix those things. It's more important that those things be fixed because they are going to preserved, whereas in a one-time performance, everybody, including the performer, actually forgets what happened when it comes to flaws.

BD: When you listen to a broadcast tape of that performance ten or twenty years later, is the experience different from what you felt at the performance?

Ilmer: I'm sure it is. It's got to be. After a long period of time I've heard some of my tapes repeatedly, and I listen to them freshly. I don't remember too much about certain things of the performance. Maybe that isn't good...

BD: Throughout the years, you've been quite a champion of new music. Are there great compositions being written today for string instruments in general and violins specifically?

Ilmer: If you're talking about twentieth century pieces, I personally think that Bartók's are. Some people think that Shostakovich's are, but I don't quite agree. As wonderful as they are, and as much as I like Shostakovich, I don't quite agree that they're on the same par. But they are wonderful! As far as a lot of the experimental and way-out stuff that's being written, as you get older you get more conservative, and I haven't been in touch with some of the more contemporary styles and ways of going. Some of them I find very intriguing when I listen to some of them, and some of them I get quite impatient with. The minimalists I find rather hard to take, and some people either like it or hate it. But in terms of what's being written for solo violin or viola, there are a lot of different styles. There are certainly opportunities to play them a lot more than there were in the old days. When I was a youngster in Chicago, we organized a little contemporary group called the Chicago New Music Group. This was way before the days of Ralph Shapey and the Contemporary Chamber Players — which I was with for two seasons, by the way. Principally there were George Perle and Ben Weber, and we did quite a bit of their music. We also pushed hard for doing local composers. At that time we were going in the direction of the Viennese twelve-tone school of Schoenberg, and we played other composers of twelve-tone music, even from South America and other places because we were basically interested in that direction. We did some Bartók, which was new in those days. We were pioneering the First Quartet of Schoenberg, which was very difficult because there was no recording easily available. It was difficult to have a concept of it. We were relatively inexperienced and young, so that was quite a challenge. It was quite difficult, but we plowed our way through it.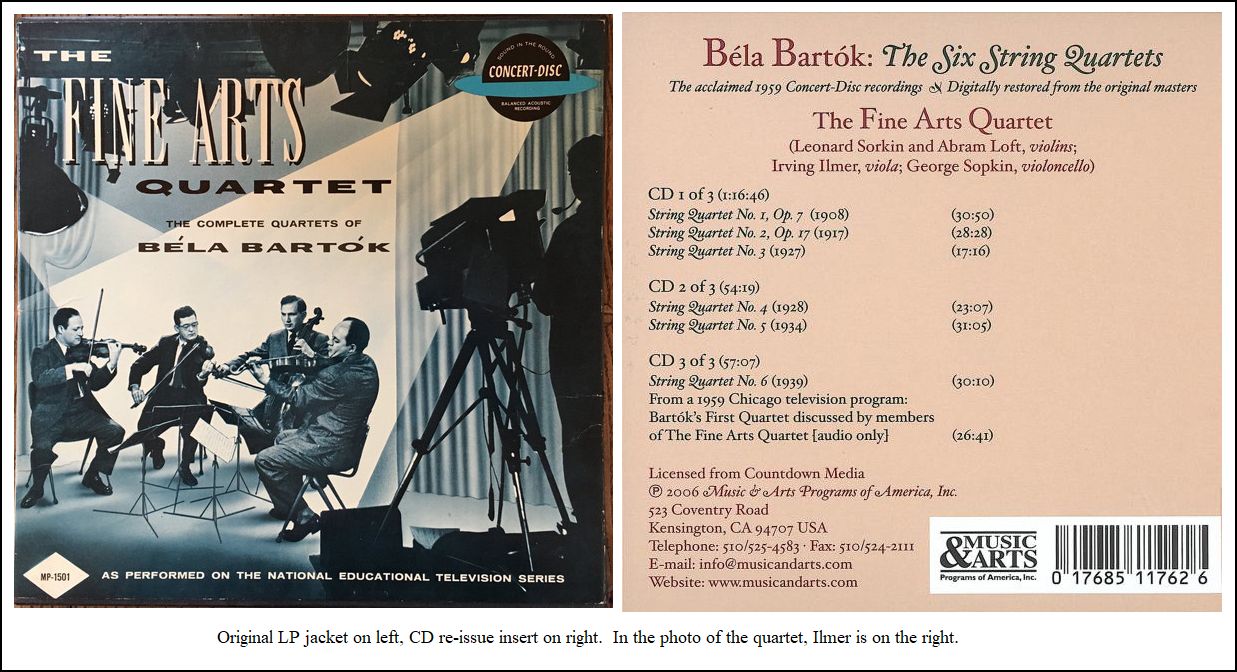 BD: Let me ask you a philosophical question. What's the purpose of music?

Ilmer: The arts in general, and music in particular express attitudes and feelings in the non-verbal area, just like color and shape and texture do in the visual arts. Music gives an intensity and mental state that can be expressed through sound. This all has to do with the right side of the brain. It's a tremendously significant human attribute to express and communicate these things on that level. The purpose is to communicate humanity's condition — that we're all in this together, and we have the same strengths and the same weaknesses and the same feelings. There's always comfort in knowing you're not alone. Many other people are in your situation. Knowing that you're not so unique, you don't feel so alone, and that's already a great help. It's good to know that there are universal truths that can be expressed and communicated. This is essential to keep our sanity as human beings.

BD: Very well put. Music is a great comfort to us all. Thank you for all the music, and for this conversation. It was great to see you again after all these years.

Ilmer: Thank you. I'm glad you have had success with your career.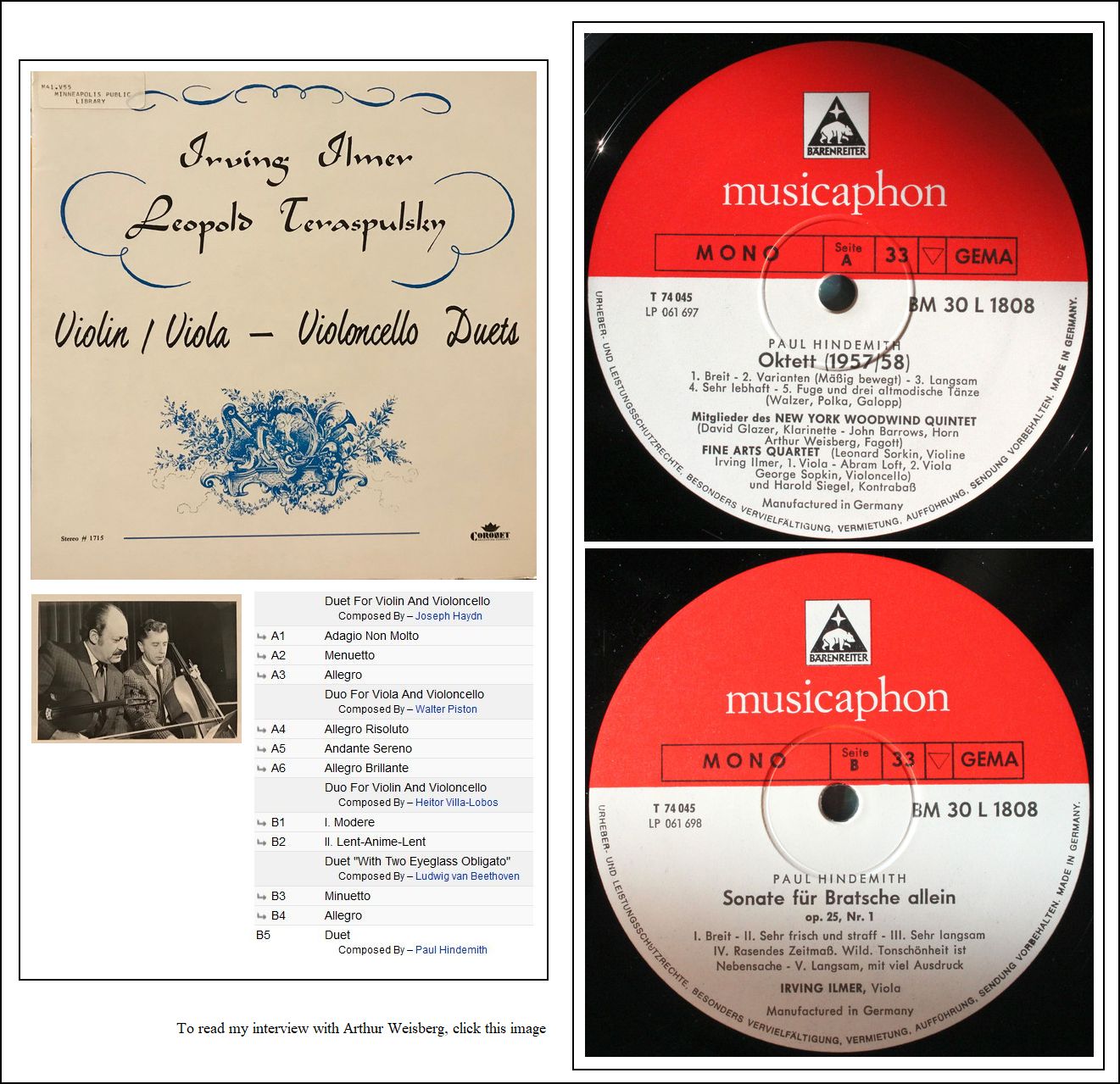 © 1989 Bruce Duffie

This conversation was recorded at Ilmers home in Evanston, Illinois, on April 4, 1989. Portions were broadcast on WNIB two weeks later, and again in September of that year, as well as 1994 and 1999. This transcription was made in 2022, and posted on this website at that time. My thanks to British soprano Una Barry for her help in preparing this website presentation.

To see a full list (with links) of interviews which have been transcribed and posted on this website, click here. To read my thoughts on editing these interviews for print, as well as a few other interesting observations, click here.

Award - winning broadcaster Bruce Duffie was with WNIB, Classical 97 in Chicago from 1975 until its final moment as a classical station in February of 2001. His interviews have also appeared in various magazines and journals since 1980, and he now continues his broadcast series on WNUR-FM, as well as on Contemporary Classical Internet Radio.

You are invited to visit his website for more information about his work, including selected transcripts of other interviews, plus a full list of his guests. He would also like to call your attention to the photos and information about his grandfather, who was a pioneer in the automotive field more than a century ago. You may also send him E-Mail with comments, questions and suggestions.