The stunning career of Lithuanian pianist MŪZA RUBACKYTĖ started when she made her debut at the age of 7 performing Haydn's D Major Concerto. At 13, she won Lithuania's National Young Artists competition allowing the promising artist admission to the Lithuanian Conservatory (now – Lithuanian Academy of Music and Theatre), and later also to the Moscow State Tchaikovsky Conservatory.
Upon graduation, she entered and won the Soviet Union's "All-Union" competition and became known as one of the best pianists of the USSR. She was invited to perform with various orchestras under the baton of noted maestri such as Aram Khachaturian, Neeme Järvi, Valery Gergiev, Vakhtang Jordania and Eri Klas. The "ordered" recital tours in Uzbekistan, Kyrgyzstan, Kazakhstan, Turkmenistan, Azerbaijan, Armenia, Georgia, Altai region, Moldova and elsewhere were held in a variety of concert spaces, such as halls of steel mills, poultry farms or dairy factories, small villages and major centers of culture and philharmonics. During those years of political restrictions, when performers were authoritatively told what, where, and when to play, she managed to build an impressive repertoire of 30 different solo programs and 40 piano concertos. In 1981 Rubackytė was granted permission to cross the Iron Curtain and participate in the prestigious Liszt-Bartók International Piano Competition in Budapest. There she became the winner of the competition to wide acclaim, but for another seven years the virtuoso's artistic activities were restricted, and she could not accept offers of impressive contracts. With the beginning of "perestroika", the pianist was able to go to Paris, where she became a winner of Paris international competition Les Grand Maître Français (Grand Master of France).
Now, a resident of Vilnius, Paris and Geneva, Rubackytė regularly performs throughout Europe, North and South America and Asia. On the list of her most important tours are such countries as Japan, Argentina, Colombia, Peru, and Mexico. Her piano recitals are held in famous concert halls, among them are London Wigmore Hall, Bonn Beethoven Haus, Paris Salle Gaveau and the Opéra Bastille, Tivoli Villa d'Este, Buenos Aires Teatro Colón, Santiago Teatro Municipal, the Egyptian Opera and others. Rubackytė performs with the U.S. orchestras of Newport, Portland, Houston, North Carolina, Nashville, Canton, Austin, Virginia, Detroit, Washington, Texas, Buffalo, Champaign-Urbana, Oregon, and others, conducted by Uri Segal, Leonard Slatkin, John Nelson, Pavel Kogan, Stefan Lano, Peter Bay, JoAnn Falletta and others. She has played with symphony orchestras of Santiago Teatro Municipal, the Egyptian Opera, Buenos Aires Teatro Colón, Mendoza, Singapore, Malaysia, Flanders, Maribor Opera (Slovenia), Lausanne, with various ensembles in France (Paris, Toulouse, Brittany, Auvergne, Douai, La Garde Républicaine, etc.).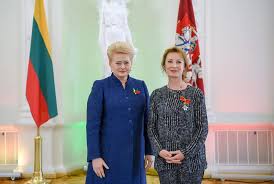 Rubackytė has been awarded the Honorary medal "For Merits to Lithuanian culture", the 3rd Class Order of the Lithuanian Grand Duke Gediminas, she was also awarded the Project "LT Identity" prize for making Lithuania famous worldwide, and the Lithuanian Government Prize for merits to Lithuanian culture and active concert activities; as Lithuania's cultural ambassador in the world she has received the Lithuanian National Culture and Arts Prize (comparable to the Kennedy Center Honors in the USA).

In 2015 in addition to performing two compleete F. Liszt Years of Piligrimage at Bayreuth (where Liszt died) and for opening concert of 10th F. Liszt Festival in Raiding (where Liszt was born) she was invited for the "Everest of the Pianists" at 30th festival of Radio France Montpelier and performed in one day two concerts 24 Preludes and Fugues of D. Shostakovitch.
Rubackytė is a Board member of International Liszt Association and President of the Liszt Society in Lithuania, jury member of Ciurlionis, Minsk, Pretoria, International Franz Liszt Piano Competition in Utrecht and others, artistic director of Vilnius Piano Music Festival. Commissioned by the Arte TV network, she played in "Play Liszt – Un virtuose visionnaire", a French film by Judit Kele; she also took part in "Liszt's Dance with the Devil", a film by Ophra Yerushalmi. In 2011, Rubackytė participated in an international tour "Liszt's World Pilgrimage", gave more than fifty recitals and appearances with symphony orchestras at events dedicated to F. Liszt in concert halls of various countries, among them – the Paris Salle Gaveau and Opéra Bastille, Amsterdam Concertgebouw, Buenos Aires Teatro Colón, Opera of Santiago de Chile, London Wigmore Hall, Beethoven Haus in Bonn, prestigious stages in Japan, Iceland, South and North America, Malaysia, Singapore, New Zealand, China, South Corea. Etc.

-- From the website of BSArtist Management
-- Names which are links on this webpage refer to my interviews elsewhere on my website. BD