Pianist Maria João Pires

A Conversation with Bruce Duffie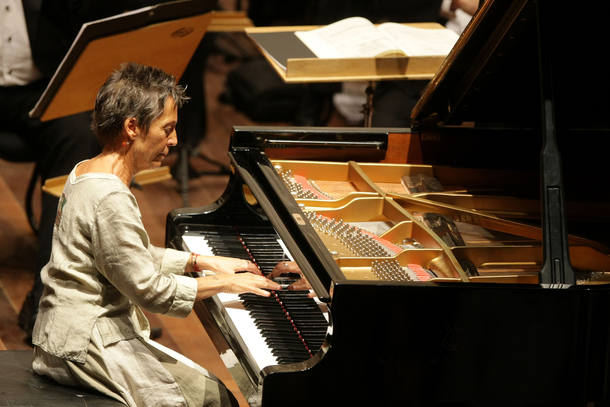 Born on 23 July 1944 in Lisbon, Maria João Pires gave her first public performance at the age of 4 and began her studies of music and piano with Campos Coelho and Francine Benoît, continuing later in Germany, with Rosl Schmid and Karl Engel. In addition to her concerts, she has made recordings for Erato for fifteen years and Deutsche Grammophon for twenty years. Since the 1970s, she has devoted herself to reflecting on the influence of art on life, community and education, trying to discover new ways of establishing this way of thinking in society. She has searched for new ways which, respecting the development of individuals and of cultures, encourage the sharing of ideas. In 1999, she created the Centre for the Study of the Arts of Belgais in Portugal. She broadened the reach of this philosophy to Salamanca and Bahia in Brazil. In 2012, in Belgium, she initiated two complementary projects; the Equinox project which creates and develops choirs for children from disadvantaged backgrounds, and the Partitura project, the aim of which is to create an altruistic dynamic between artists of different generations by proposing an alternative in a world too often focused on competitiveness.



-- Askanas Holt (agent)






In March of 1991, Maria João Pires was in Chicago for four performances of the Chopin Piano Concerto No. 1 with the Chicago Symphony conducted by Christopher Keene. Also on the program was the Symphony for Classical Orchestra by Harold Shapero, a neo-romantic work. [Names which are links refer to my interviews elsewhere on my website.]

While she was here, Ms. Pires graciously took time to speak with me. Portions of the interview were aired a couple of times on WNIB, Classical 97, and now the entire conversation has been transcribed and is presented here.


Bruce Duffie: You're here in Chicago playing Chopin, but you've made a special mark with Mozart. Tell me the secret of performing Mozart.

Maria João Pires: I don't think I have any secret. I started playing Mozart very soon when I was a little girl. My first concerto with orchestra was a Mozart concerto when I was eight years old. I hadn't many reasons to go on playing Mozart. My repertoire for solo pieces was probably quite big, but for orchestra it's quite limited because I have small hands and not much weight. [Laughs] So I played all the Mozart concertos...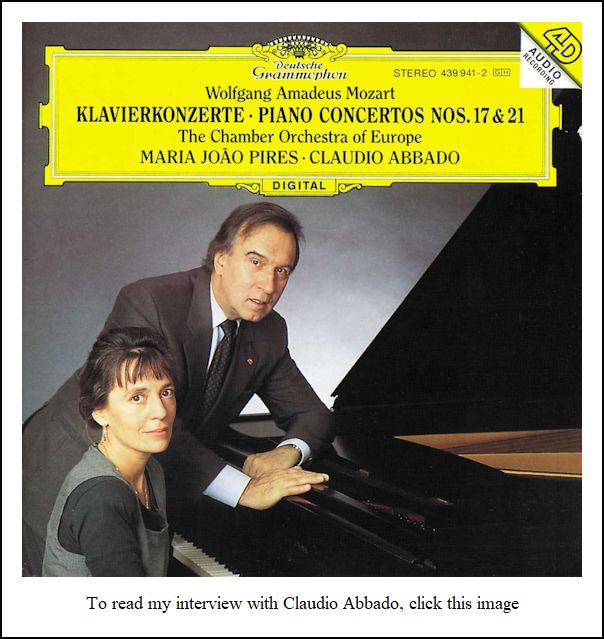 BD: You played all twenty-seven?

MJP: No, about twenty, and I played all the Mozart sonatas that I recorded. That's the composer I play a lot, but I can't say that I prefer to play Mozart than other things. I can't say that at all, but that's the music I studied very much, and in quite a deep way, so I had an approach that is very special.

BD: Do you get a special joy when you play Mozart?

MJP: Not more than other composers, probably because of those very stupid reasons with my hands. I had probably a stronger approach to the music since I have studied more and know, perhaps, more about it. We never know much, but I did quite good work on Mozart's music.

BD: Have you ever considered using a smaller instrument, such as a harpsichord or a fortepiano, where the keys are slightly less wide?

MJP: No, because I started to play the piano when I was three years old, and when I play the harpsichord I feel it's too small. I'm used to the piano, and I prefer to choose my repertoire and try to play pieces that are not impossible for me. I love pieces by Brahms and Liszt very much, but these are the kinds of things I can't play.

BD: You do have quite a wide range, including Chopin and Beethoven.

MJP: Yes, Chopin is not very hard for small hands. As music, Chopin is so well-written for the piano. This means that he was a man who knew the instrument so well and so deeply, that if you have small hands or big hands you can always manage. Of course, there are some pieces — like perhaps one or two Polonaises, or two or three Études — that are a little hard for me to play, but normally Chopin is not a big problem.

BD: With this wide range of possibilities, how do you decide which pieces you will concentrate on?

MJP: I have lots of concerts — too many, more than I wish I would have — and I have to take a little time each year for making new programs, to practice, to study new music. Normally I learn two or three new pieces each year, or one concerto. Sometimes I'm looking to learn something for two or three years, and I have no time to do it. Then suddenly I have one month free and I can do it. But it's difficult to say how I choose. I think it's very natural. You feel you're ready to do something, or you feel you are not ready to do something. There's a time for everything, and sometimes I love a piece very much and wish I could play it, but I don't feel ready to do it. I take the score and read it, and then I just leave it for some five years more. Then, suddenly something happens, and you feel like it's going to be possible.

BD: Do you then have a greater understanding of it?

MJP: Yes, and it also depends on your age. There are things you play when you're twenty, and you feel you can't understand them. You play them, but you think one day it's going to be different, and it is. I don't like to force myself. I also don't like to force myself to choose repertoire that I don't love very much. I don't do that very much. It's a need for me that I have to have a big passion for the piece that I want to play. I can't play a piece because somebody says I should play it, or because it's fashionable to play that kind of thing. That's something I can never do. I always have to feel a big and a very strong relationship to the piece, and it must be the right moment to do it. This is not a secret, but something probably everybody does. It is something that you can't explain. It must just come naturally.

BD: I assume, though, that there are many, many pieces you are looking forward to tackling?

MJP: Of course, yes.

BD: So one by one, little by little, you'll work on them?

MJP: Of course. The piano has such a big repertoire that you never have the time in your life to do everything you would like to do. I'm just trying. [Laughs]



* * * * *



BD: How do you divide your career between concertos and solo recitals?

MJP: I can say normally it's about half and half. There are some years when I play more with orchestra, but then comes two or three months where I do many recitals. So, it depends, but it's about half and half. It's not me that decides that kind of things. Normally it's the agent that makes the schedule, and sees what I can do here and there. I don't choose these. I just agree or not to play at different places.

BD: Is it exciting to come to a new city to meet a new orchestra?

MJP: Yes, of course. I enjoy very much being in Chicago. It is the first time. It was planned that I would come some four years ago to do a recital, but I canceled because I had flu. I was not doing well, so I went home and canceled this recital. So this is my first time in Chicago, and I felt people were very kind. I was somewhat surprised about Chicago, about how it looks.

BD: It was different than you expected?

MJP: Yes, very different. Europeans have an idea about Chicago that it is a crazy city, very much polluted in all senses, and very much noisy and very much dirty, and so on. I felt exactly the opposite. I felt it was quite open and nice, and beautiful, with the beautiful lake, and very nice people. It is very quiet and nice. I enjoy it more than New York.

BD: Hurray for us! [Both laugh] Do you find that the audiences are very different from city to city and country to country?

MJP: In Europe the differences are enormous from country to country, even in the same country from one city to the other. In the States it's very much uniform. you don't feel the differences so much.

BD: What are the big differences in Europe then from city to city?

MJP: There are cities where people love music and know music because of their tradition, like Germany and other Northern countries like Switzerland. People learn music at school, so everybody knows something, and many love music. But they are quite cold about showing their love for it. The audience is quite formal. You don't feel so much warmth. Then there are countries were people are not used to going to concerts so much, like in the South. Sometimes you think they don't have the same tradition, but the audience is very warm, and the contact is more easy.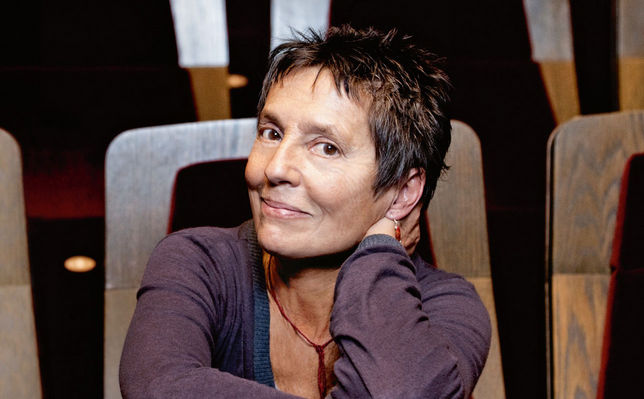 BD: There is more enthusiasm?

MJP: More enthusiasm, much more. But this does not mean that it is better or worse. It's just different. In the United States, I felt no difference between Chicago and Dallas, or between New York and Los Angeles.

BD: There is the same kind of warmth?

MJP: Yes, the same kind of communication.

BD: Are we warmer or colder than Europe?

MJP: It's probably a little colder here... not really colder, it's a little more distant. It's difficult to explain.

BD: Is it, perhaps, that we don't have the lengthy tradition that they have in Europe?

MJP: Yes, but in Europe you have different kinds of cultures. There are some countries where you have no tradition, or very little, but people react. They have a reaction that is very spontaneous.

BD: Do you feel that the recording industry is partly to blame for this, because a recording will be heard and appreciated everywhere? Does this help to make our reactions all the same?

MJP: I don't know. It's the American way of life, which is very different from ours. The way how people behave is very different, and probably there are differences between cities in America, but I don't feel them so much because I don't know them.

BD: You spend most of your time in Europe?

MJP: Oh, yes. I just came here four or five times to play, and I've never lived here.

BD: Are you still living in Portugal?

MJP: No, we live in France, in the country, but quite near Paris.

BD: Are you assimilating Parisian taste and style?

MJP: Not at all! I'm very far from that! [Laughs] I have many good friends in Paris, and in France, and I have probably more relationship to France and to French people than to Germany and the north countries because I'm from Portugal. But I live near Paris. I would not like to live in Paris, and I would not like to live in any big city. I'm very much somebody that needs the nature and needs to be outside.

BD: You want to be more rural?

MJP: Yes, yes, very much. I never had the chance to live a long time on a farm. I have a farm which we bought some years ago in Portugal. We keep this farm going, and we built a house there. I'm trying to make some things very nice so that we can go there and practice for two or three months, but it's still not ready.

BD: Do you do anything for Portuguese composers? Are there any noteworthy composers?

MJP: No, not really fantastic Portuguese composers. Portugal has a very special and big tradition for literature, so books are something that are very important in Portugal, as well as its writers and poets. But music is something that was never the strongest talent from Portuguese people. It's much more in Spain than in Portugal. We have some composers that are not much different from others from their time, and when I was a student I played some modern and some old Portuguese composers. I'm not still not playing them all the times when people ask me to do it, but it's nothing that is really interesting.

BD: I just wondered if maybe you'd put one or two little pieces on a recital program.

MJP: We have some very new composers who are very good. Contemporary music is something that I appreciate, but I don't play myself. I wanted to try many times, and I played modern music from our century, but the very contemporary music I never studied. One reason is that I never felt the patience to do it. I never had the feeling that I have to do it, and that is something I need very much. So, I'm waiting for that. [Laughs] The other reason is that there are so many pieces from other times that I wanted to play, and I have such a short time each year to practice, that normally I give the preference to other things. If I would have three or four or five free months a year, I would probably try to play some new things.

BD: If someone were to come to you and say, "I would like to write a piece for you to play," what advice would you have for the composer?

MJP: I would say first to take care of my hands, which are not big. Don't write very big things.

BD: No tenths!

MJP: Yes! [Both laugh]



* * * * *



BD: This week in Chicago you're playing the Chopin concerto four times. How do you keep it fresh for the third and fourth performance?

MJP: If I had to play it twenty times, I would probably have the problem once. But four times is not too much, because I love this piece very much, and you're never happy with what you do. Normally you do it and you're very unhappy about it, and the second time you think it's going to be a little better there and there. You think of this part and this thing you couldn't do, and then the second time it's even worse than the first! [Laughs] Then you try again. This is one reason, and the other reason is that each time somebody plays the piece, it's like always the first time. It's like something that you don't have a memory about doing. The moment is so important. You have to be so much inside the piece, with so much concentration about giving from yourself everything you can. That's not something you get used to. You don't get used to playing, at least I don't. It happens that I do many, many concerts during the year, and I never get used to the stage. I never say, "Today is the second time, or the third time, or the hundredth time."

BD: Nothing is routine?

MJP: No.

BD: Do you feel each time you're out on the concert stage that you're creating something new?

MJP: Yes, I have to. It's not an effort, but if it wouldn't be so, I think I'd have to stop playing. I could never make it a routine doing something like that.

BD: Do you play in the same recording studio that you do in the concert hall?

MJP: Normally, yes, I think so. You know, I'm not sure. Probably there's one difference... when I'm doing a record, I'm less nervous because I don't have the audience, which makes me feel a little more relaxed. That's why I like so much to make records. It doesn't mean that I'm the kind of person who is scared to play onstage. I know other pianists and other musicians who are more nervous than I am to play on stage, but I am, like everybody, a little nervous, a little scared about playing badly, about making people disappointed about what you're doing. People come expecting something, and they have to go home even if they're disappointed. That's not a good feeling. So, you are always a little scared about that, but when I make records, that's another feeling. You are relaxed, but you have the feeling at the same time that you play for the people, for the audience. That's a very nice feeling. The difference should be that you in playing in a different way. If you are really relaxed or if you are a little scared, but I prefer to be relaxed.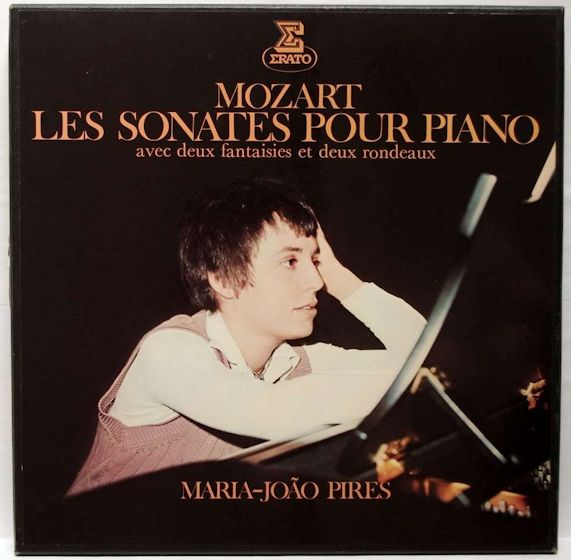 BD: I assume that you make long takes?

MJP: Always. I have to make cuttings, but I always do the whole movement again. It's important.

BD: Are you pleased with the recordings that you've made over the years?

MJP: I have to tell you I'm very special about that. I can't listen to my records. It would be irresponsible if I wouldn't listen one time. I have to listen that one time and say it is okay. I must approve them. But this is a terrible moment for me because normally I don't listen really well. Maybe it would be better if someday I don't listen and just say that I approve! [Much laughter] I listen, but in a way that I'm so scared about what I did. You just finish doing something, and you think you could do it better. On the other hand, nobody's perfect. But I think that other people can play much better than I can. But if I start to have so many questions about what I need, and how I could do it, I wouldn't ever do it! [More laughter]

BD: You have to have enough courage just to play your best?

MJP: Yes, that's what I do. Normally I close my eyes and do my best, and then it's okay.

BD: You recorded the complete cycle of Mozart sonatas many years ago [shown at left], and now you're coming back and recording it again [shown below right]. How will they compare one to the other?

MJP: I did it; it's finished. They'll be out in June. As to a comparison, you should tell me, not ask me! [Both laugh] It's up to you to say, or to make your judgment. I think there is a big difference, as much as some human being can change in life. The changes are probably small, but there are changes.

BD: I assume you don't want to disown the earlier set, or suppress it?

MJP: Oh, no! I don't have any reason for that, no. It's probably interesting for other people to compare, but I'm sure myself that it's quite different. It's twenty years ago. That's a long time.

BD: You've grown as an artist?

MJP: Yes. I'm getting older, and twenty years more is quite a lot to think about, and to see my approach to the music in another way. Your feelings change, your way to read behind the score, to understand the analysis of the music is different, and just the approach is very different. It's changed a lot.

BD: Let me ask the big philosophical question. What is the purpose of music?

MJP: Why music exists?

BD: Yes.

MJP: Music is probably the art that gives more of an answer from the universe. This is my feeling from the whole thing. The balance, the mathematics, the whole thing from the universe is very, very much a secret. It's also something you don't need any language any time. It's not really dependent, like other arts are dependent on time of style. Of course, it exists in the time, in the style, in all these things, but it's another idea which is way behind that music which is something essential, something that translates the universe for me. All my life I was interested in astronomy and physics and stars, so that's probably the reason why I have this image.

BD: Is music natural or supernatural?

MJP: I think both. That's really the connection between the natural, the supernatural, the human and non-human, and the material and the non-material. It's all things, the best connection between what is real and the opposite from reality, and between the logic and the non-logic. The best connection in music shows that all these things which can seem very opposite are probably not so opposite.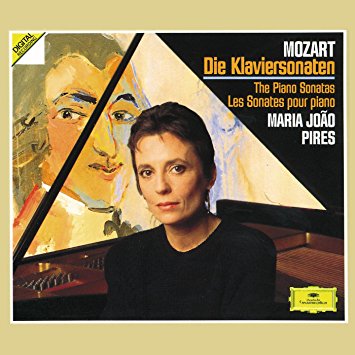 BD: Music brings them together?

MJP: Yes, very much so!

BD: Will you be back in Chicago?

MJP: I think so, yes.

BD: For a recital or a concerto?

MJP: Probably, for the orchestra. They asked me to come, so probably I'll come again with orchestra. [She would return in March of 1994 for the Mozart Concerto #9, conducted by Riccardo Chailly.] It doesn't mean that I would not like to do a recital here...

BD: When you go from city to city, how long does it take you to acclimate to the new piano?

MJP: Normally it's not very difficult. We're so used to playing each day on a different piano, so we're used to doing it. Every pianist is used to that, though there are some cities, of course, where you have really bad pianos. They are sometimes new, but hard and not nice. Then you suffer a lot, but you're used to doing that. It belongs to life and to your problems and your work, as everybody has.

BD: You just do it?

MJP: You just do it!

BD: Here you had two or three to choose from?

MJP: No, this time I have a Yamaha piano that came from them.

BD: They sent it in specifically?

MJP: They sent it because we were going to make a record, but that fell through when the scheduled conductor [André Previn, with whom she had recorded the Concerto #2] became ill and canceled his appearance here. [Pires would later record the work (again, for the second time) with a different conductor.] I play many times on Yamaha because they have very good instruments and very special technicians. The Japanese are very good for that, and they also have fantastic assistants. They sometimes put me where there are no good pianos, and they help me a lot by sending a very good tuner. This can help.

BD: So you're a Yamaha artist?

MJP: I have absolutely no contract with Yamaha. I'm just trying to play as much as possible when there are good pianos, because it helps me. They help me a lot, so it's just an agreement without any other commitments. [This has changed, as shown in the recent photos below.]

BD: Thank you for coming to Chicago, and for speaking with me today.

MJP: It was a big pleasure. Thank you.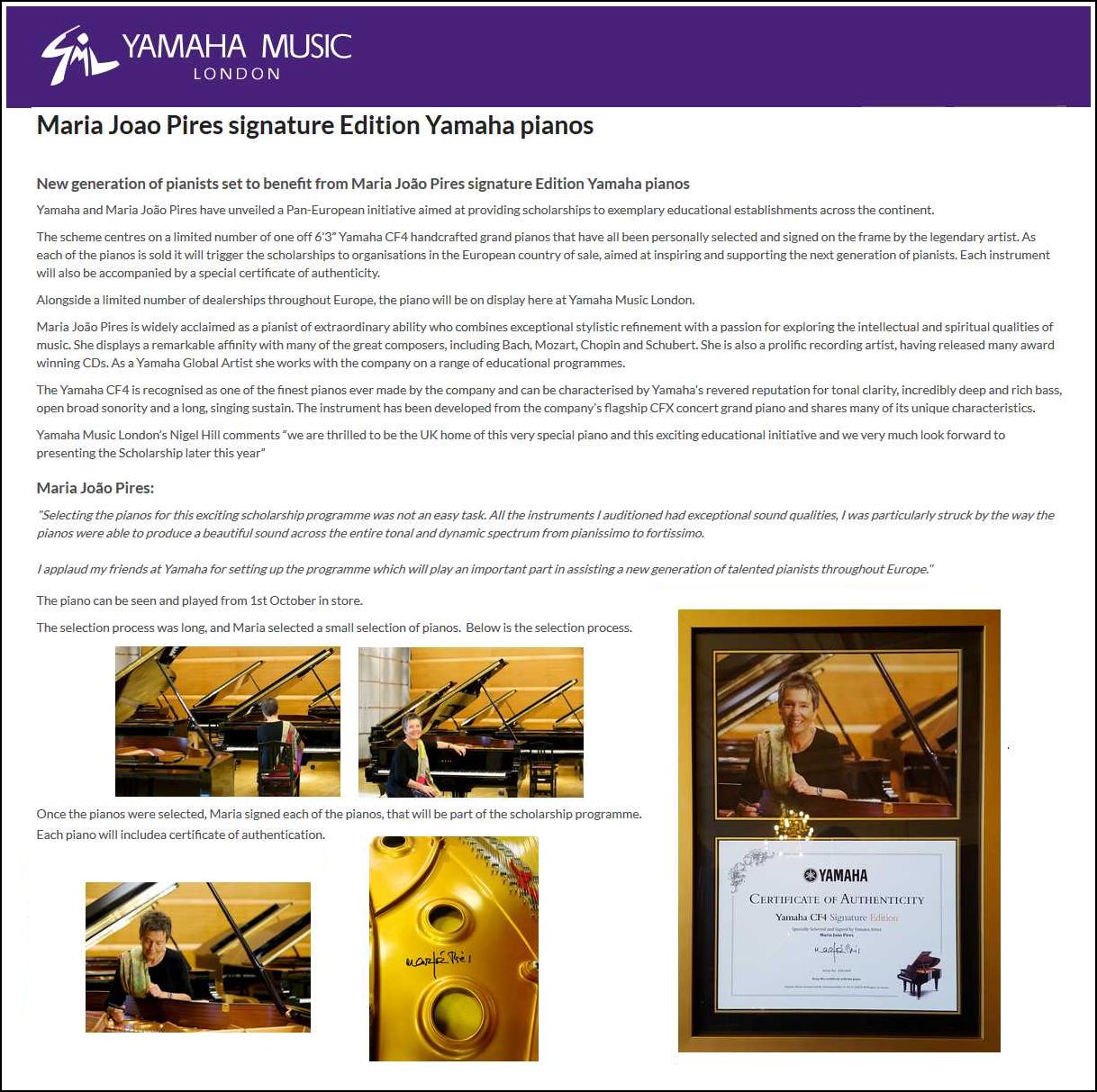 © 1991 Bruce Duffie

This conversation was recorded in Chicago on March 25, 1991. Portions were broadcast on WNIB in 1994 and 1999. This transcription was made in 2018, and posted on this website at that time. My thanks to British soprano Una Barry for her help in preparing this website presentation.

To see a full list (with links) of interviews which have been transcribed and posted on this website, click here.

Award - winning broadcaster Bruce Duffie was with WNIB, Classical 97 in Chicago from 1975 until its final moment as a classical station in February of 2001. His interviews have also appeared in various magazines and journals since 1980, and he now continues his broadcast series on WNUR-FM.

You are invited to visit his website for more information about his work, including selected transcripts of other interviews, plus a full list of his guests. He would also like to call your attention to the photos and information about his grandfather, who was a pioneer in the automotive field more than a century ago. You may also send him E-Mail with comments, questions and suggestions.