Harold Shapero, American Neo-Classical Composer, Dies at 93



By ANTHONY TOMMASINI
Published:

The New York Times

, May 21, 2013 [Text only]


Harold Shapero, a composer who was a central figure of American Neo-Classicism, a school of composition that thrived in the 1940s and '50s, died on May 17 in Cambridge, Mass. He was 93.

His death, at a nursing home, was announced by his family through a post on the Web site of Brandeis University, where Mr. Shapero, a professor emeritus, taught for 37 years.

Born in Lynn, Mass., on April 29, 1920, Harold Samuel Shapero had a diverse musical youth. He became a skilled pianist, played jazz for fun and profit, and as a teenager studied composition with the Austrian-born composer Ernst Krenek, who tutored him in the 12-tone technique.

But Mr. Shapero was drawn to Neo-Classical idioms, especially at Harvard, where he was a student of the American composer Walter Piston, and at the Berkshire Music Center in Lenox, Mass., where he worked with Paul Hindemith and became a close associate of Aaron Copland, who was 20 years older.

The early 1940s was a period when many American composers were exploring complex methods and procedures, especially 12-tone technique. Neo-Classicists like Piston wrote works that essentially hewed to tonal harmony, put a premium on textural clarity and used traditional forms. Mr. Shapero, though, was particularly engaged by Stravinsky's harmonically spikier and rhythmically vibrant Neo-Classical works.

During the 1940s he wrote prolifically, including three witty and inventive piano sonatas, an exuberant

Sonata for Violin and Piano

, and diverse chamber works and songs. His major achievement during this period was his

Symphony for Classical Orchestra

, a 45-minute work in four movements, completed in 1947.

When he began writing the symphony, Mr. Shapero thought he had undertaken a divertimento that would last at most 20 minutes, as he recalled in a 1999 interview with

The New York Times

.

"But I had wildly miscalculated my materials," he said. "When I measured out the slow movement, I was shocked. It was 15 minutes. I stopped working for a month. Then I tried to cut the thing. But it fought me and won. Slowly I became aware, with horror, of what I was writing: a long and difficult symphony. I thought I'd never get it performed."

But Leonard Bernstein, then 29, who had known Mr. Shapero at Harvard, found he had "fallen in love" with the piece, as Bernstein explained in a note to Serge Koussevitzky, the conductor of the Boston Symphony Orchestra. [

A portion of that note is reproduced below

.] Bernstein conducted the symphony's premiere in a guest appearance with the Boston Symphony in January 1948.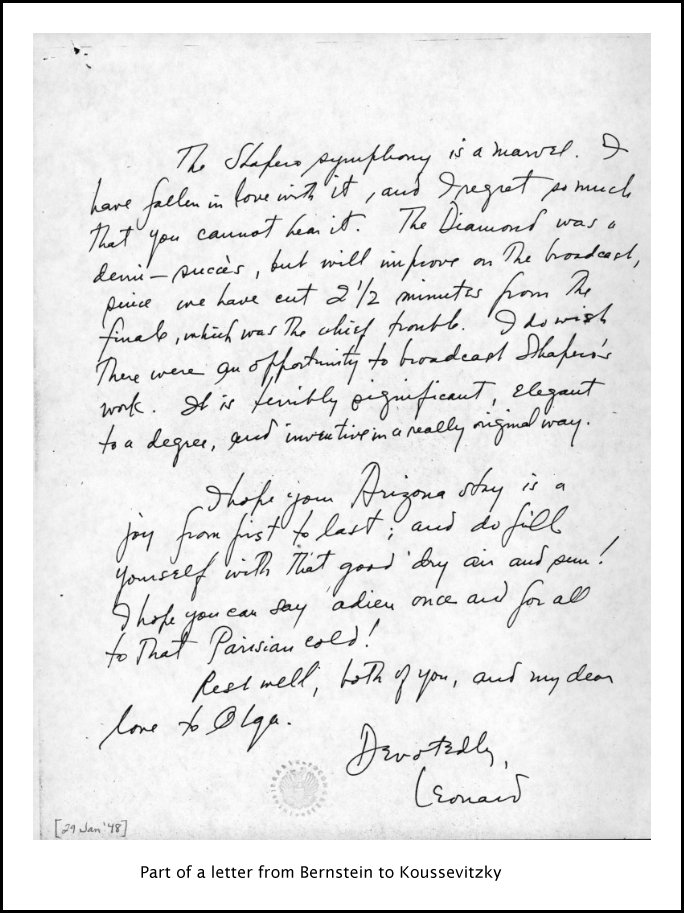 Two months later, Georg Szell performed it with the Cleveland Orchestra, though Szell had to be talked into doing so at a time when the orchestra was under pressure to play some American works. Szell had expressed doubts about the symphony during his first meeting with Mr. Shapero.

"Szell was a fabulous musician who hated modern music," Mr. Shapero recalled. "He summoned me, asked me to play the piece on the piano, then told me I didn't know how to modulate and should study Richard Strauss." The reviews were equivocal.

The symphony, though long and difficult, is ingenious and engrossing. A shimmering opening

Adagio

segues into a bustling, contrapuntally complex

Allegro

, followed by a wistful

Adagio

, a misbehaving

Scherzo

and a hurtling, imposing finale. This audacious piece is like a brash, American contemporary counterpart to Beethoven's

Seventh Symphony

.

On a single hectic day in 1953, Bernstein, though suffering from a fever, recorded the Shapero symphony with the Columbia Symphony Orchestra, a studio ensemble of top freelance New York musicians. But even that recording did not prevent the piece from slipping into oblivion, until 1986, when André Previn performed it, to acclaim, in Los Angeles with the Los Angeles Philharmonic.

Martin Bernheimer, then a critic for the

Los Angeles Times

, wrote that "Shapero reveals himself here as a superb craftsman, an artist totally in control of the grandiose variables at hand." The writing, he added, "is clever, subtle, elegant." Ultimately, he wrote, the symphony "isn't affecting in spite of the inherent anachronisms, but because of them."

Still, these Neo-Classical "anachronisms" found disfavor with the advocates of modernist techniques, who often held sway in the music departments of American universities.

By the 1960s, stung by this criticism, Mr. Shapero wrote less and less. He explained his withdrawal to the

Los Angeles Times

critic Mark Swed in a 1986 interview.

"Comfortable university life is a disaster, especially if you have a university that doesn't pressure you to produce or perish," he said. "And I had a young child. I like home handicrafts and hobbies. I like gardening. I like photography. So it was only too easy to put off some of those hard operations like writing music."

That child, Hannah Shapero, a commercial artist and electronic musician, survives him, along with his wife, Esther Geller, a visual artist. At Brandeis, Mr. Shapero mentored generations of composers and musicians and helped develop the university's electronic music studio.

After Mr. Previn introduced the

Symphony for Classical Orchestra

to the Los Angeles audience, he recorded it on the New World label and performed it during guest appearances with Mr. Shapero's hometown Boston Symphony and other orchestras.

This flurry of success motivated Mr. Shapero to compose again, including

Three Hebrew Songs for Tenor, Piano and Strings Orchestra

(1989) and, recently,

24 Bagatelles for Piano

. Even at his nursing home, in his last months, Mr. Shapero requested and was brought manuscript paper.

-----

This article has been revised to reflect the following correction:

Correction: May 24, 2013

An earlier version of this obituary referred incorrectly to the orchestra that André Previn conducted in 1986, when it performed Mr. Shapero's

Symphony for Classical Orchestra

. It was the the Los Angeles Philharmonic, not the Los Angeles Symphony.