Simon Preston (Conductor, Organ, Harpsichord)
Born: August 4, 1938 - Bournemouth, England
During a singularly distinguished career, Simon Preston has established himself, not only as one of the great organists of the 20th century, but also as one of the most illustrious musicians in the history of English Cathedral Music. As a soloist and choral director, he has appeared with many of the world's leading orchestras, and his recordings have won universal acclaim. His work with the choirs of Christ Church Oxford and Westminister Abbey set standards of excellence which are regarded as points of reference.

Simon (John) Preston's early childhood in Bournemouth was followed by three years as a chorister at King's College, Cambridge, during which time he studied organ with Hugh McClean; later study was with C. H. Trevor at the Royal Academy of Music. When an unexpected organ scholarship became available at King's College, he applied and was successful, spending the best part of five years there, continuing his studies with Trevor for a while and also working with the Organist and Director of Music, Sir David Willcocks.

At this time Simon Preston's recording career began with the release of a record of music by Orlando Gibbons. His first solo record, L'Ascension, was made with only a week's notice. Preston is renowned for his masterly performances of Messiaen's works and has made highly acclaimed recordings at the Abbey Churches of Westminister and St. Albans of La Nativite and Les Corps Glorieux. His recording career continued when he moved to Westminister Abbey as sub-organist in 1962, a post he held until 1967. Among the recordings he made there were the Max Reger's Chorale Fantasia on "Straf mich nicht" and Reubke's Sonata on the 94th Psalm. Also in 1982 he made an outstanding debut at the Royal Festival Hall in Janacek's Glagolitic Mass.

After leaving the Abbey, Simon Preston gave recitals throughout Europe and North America and in 1970 became Organist and Tutor in Music at Christ Church Oxford where his work with the choir won great praise. The Choir of Christ Church Oxford made numerous recordings under Preston including music by Lassus, Byrd, George Frideric Handel, Antonio Vivaldi and Haydn Masses with the Academy of Ancient Music, as well as an acclaimed recording of music by William Walton.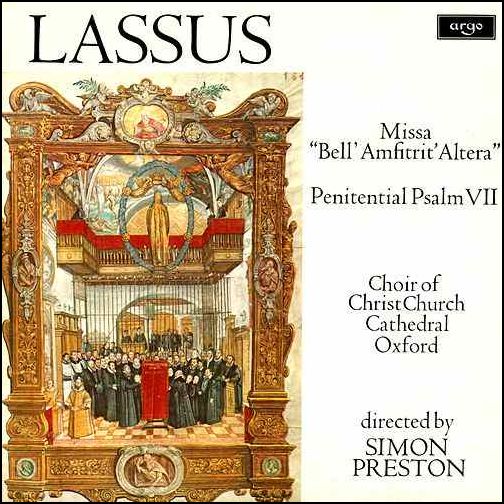 Simon Preston was appointed Organist and Master of the Choristers at Westminister Abbey in 1981, where again his work with the choir received great praise. The Westminister Abbey Choir under his direction made several distinguished recordings for Deutsche Grammophon of music by G.F. Handel, Giovanni Pierluigi da Palestrina and Allegri among others. In addition, he directed the music at the Royal Wedding in 1986 and was also responsible for composing much of "Salieri's music" in the film Amadeus.

Since 1987, when he resigned his post at Westminister Abbey, Simon Preston has continued to pursue an active career as an organist and conductor. During the past nine years he has had numerous tours of North America, the Far East, Australia and South Africa. His recordings for DG during this time have included the complete organ works of Bach, the Camille Saint-Saëns' Organ Symphony with the Berlin Philharmonic Orchestra, the Francis Poulenc Concerto with the Boston Symphony Orchestra and the Copland Organ Symphony with the Saint Louis Symphony Orchestra. He conducted G.F. Handel's Belshazzar at the Three Choirs Festival in England, followed by Walton's Belshazzar's Feast in St. Paul, Minnesota and G.F. Handel's Alexander's Feast in Leipzig. There are currently more than 40 CD's of his work available, including two versions of the G.F. Handel Organ Concertos with both Sir Yehudi Menuhin and Trevor Pinnock as well as J.S. Bach's Brandenburg Concerto as harpsichord soloist. In addition, Simon Preston is Artistic Director for the Calgary International Organ Festival.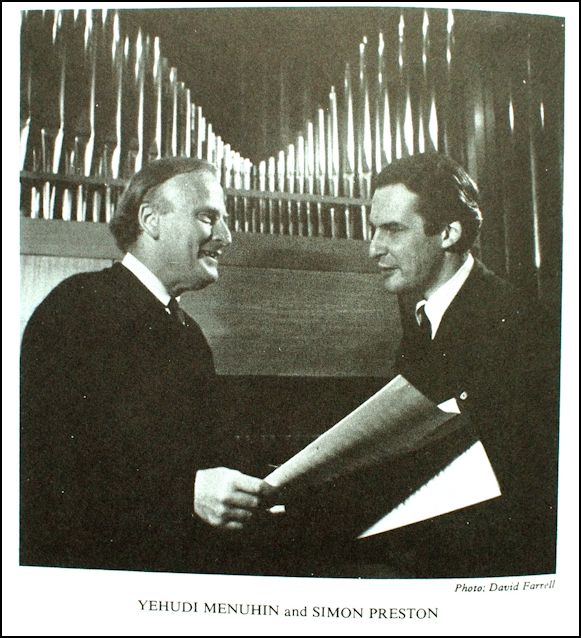 -- From the Bach Cantatas website (with links and photos added).
-- Throughut this webpage, names which are links refer to my interviews elsewhere on my website. BD

* * * * *
Simon Preston made his debut at the Royal Festival Hall, London in March 1962, performing the organ solos in Janacek's Glagolitic Mass. However, prior to that, devotees of the annual Christmas Eve broadcast from King's College, Cambridge of the Festival of Nine Lessons and Carols had heard Simon Preston accompanying the Choir from the Chapel, where he had been a chorister as a boy, and where he returned later as Organ Scholar. Shortly after his London debut Mr. Preston was appointed Sub-Organist of Westminster Abbey, and later that same year appeared for the first time at the Henry Wood Promenade Concerts at the Royal Albert Hall. During that period he worked under many famous conductors, including Leopold Stokowski, Pierre Monteux, Leonard Bernstein and Benjamin Britten. In 1965 he made his first tour to the United States and Canada, and by the time he left Westminster Abbey in 1967 Mr. Preston was already an internationally acclaimed artist. In 1970 he became Organist of the Cathedral and Tutor in Music at Christ Church Oxford where his work with the choir won high praise.
Fourteen years later in 1981, he was appointed Organist and Master of the Choristers at Westminster Abbey, where his work with the choir received great acclaim. He directed the music at the Royal Wedding of Sarah Ferguson and Prince Andrew in 1986, and was responsible for writing much of the "Salieri" music in the movie Amadeus.
Since leaving Westminster Abbey in 1987 he has continued to pursue an active career as a highly sought-after concert organist. He recorded the Saint-Saëns "Organ" Symphony with the Berlin Philharmonic and James Levine, the Poulenc Concerto for Organ, Strings and Timpani with the Boston Symphony and Seiji Ozawa, and the Copland Symphony for Organ and Orchestra with the St. Louis Symphony Orchestra and Leonard Slatkin. Since his first tour in 1965, Simon Preston has been a regular visitor to the United States, often appearing as a guest artist at conventions of the American Guild of Organists as well as tours that have included most of the states in America.
The description in a Vienna newspaper of Simon Preston as "a living legend" serves as a reminder that his recording career began nearly fifty-five years ago with the performance of a Gibbons Fantasia on a King's College, Cambridge disc. There are currently nearly fifty of his CDs still available, including versions of the Handel Organ Concertos with both Yehudi Menuhin and Trevor Pinnock, and Bach's 5th Brandenburg Concerto as harpsichord soloist, as well as many recordings with the choirs of both Westminster Abbey and Christ Church, Oxford. In 1971 Mr. Preston was awarded an "Edison Classique" for his recordings of Messiaen's Les Corps Glorieux and Hindemith's Organ Sonatas. The recording of Handel's Coronation Anthems with the Westminster Abbey Choir conducted by Simon Preston was awarded a "Grand Prix du Disque" in 1983. In October of 2000 Deutsche Grammophon launched his complete recording of Bach's organ works.
For Simon Preston honors and accolades abound. The New York City Chapter of the AGO named him International Performer of the Year for 1987. Classic CD recently named Mr. Preston in its list, "The Greatest Players of the Century," which included the entire classical music world. In 2009 Simon Preston was made a C.B.E (Commander of the British Empire) in the New Year's Honours List, in 2011 he was made an honorary Student at Christ Church, Oxford University, and in November, 2011 he will be awarded an honorary doctorate by Mount Royal University, Calgary, Canada.
-- From the program of a concert given at the Yale University Institute of Sacred Music, 2011