William Elden Bolcom (born in Seattle, Washington, May 26, 1938) is an American composer and pianist. He has received the Pulitzer Prize, the National Medal of Arts, a Grammy Award, the Detroit Music Award and was named 2007 Composer of the Year by Musical America. Bolcom taught composition at the University of Michigan from 1973–2008. He is married to mezzo-soprano Joan Morris.
At the age of 11, he entered the University of Washington to study composition privately with George Frederick McKay and John Verrall and piano with Madame Berthe Poncy Jacobson. He later studied with Darius Milhaud at Mills College while working on his Master of Arts degree, with Leland Smith at Stanford University while working on his D.M.A., and with Olivier Messiaen at the Paris Conservatoire, where he received the 2ème Prix de Composition.
Bolcom won the Pulitzer Prize for music in 1988 for 12 New Etudes for Piano. In the fall of 1994, he was named the Ross Lee Finney Distinguished University Professor of Composition at the University of Michigan. In 2006, he was awarded the National Medal of Arts.
As a pianist, Bolcom has performed and recorded frequently in collaboration with Joan Morris (born in Portland, Oregon, February 10, 1943), whom he married in 1975. Bolcom and Morris have recorded more than two dozen albums together, beginning with the Grammy nominated After the Ball, a collection of popular songs from around the turn of the 20th century. Their primary specialties in both concerts and recordings are showtunes, parlor, and popular songs from the late 19th and early 20th century, by Henry Russell, Henry Clay Work, and others, and cabaret songs. As a soloist, Bolcom has recorded his own compositions, as well as music by Gershwin, Milhaud, and several of the classic Ragtime composers.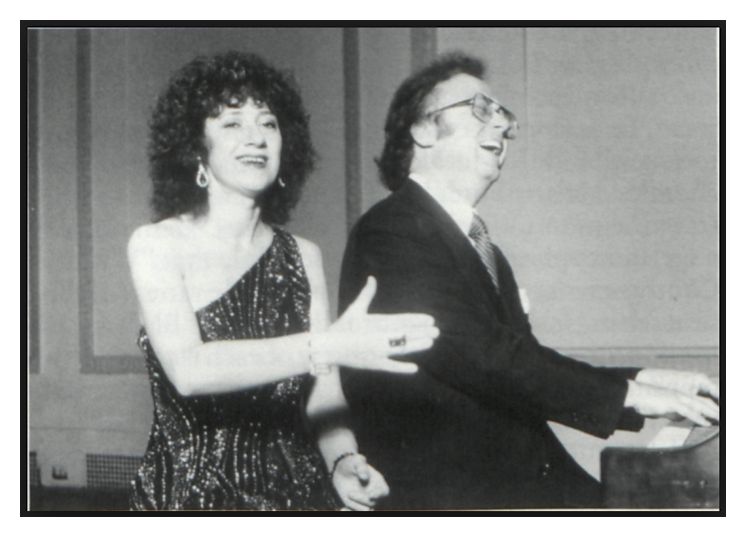 Bolcom's compositions date from his eleventh year. Early influences include Roy Harris and Béla Bartók. His compositions from around 1960 employed a modified serial technique, under the influence of Pierre Boulez, Karlheinz Stockhausen, and Luciano Berio, whose music he particularly admired. In the 1960s he gradually began to embrace an eclectic use of a wider variety of musical styles. His goal has been to erase boundaries between popular and art music.
He has composed four major operas, the first three commissioned and premiered by Lyric Opera o Chicago, and conducted by Dennis Russell Davies: McTeague, based on the 1899 novel by Frank Norris, with libretto by Weinstein, was premiered on October 31, 1992; A View from the Bridge, with libretto by Weinstein and Arthur Miller, was premiered October 9, 1999; and A Wedding based on the 1978 motion picture by Robert Altman and John Considine, with libretto by Weinstein and Altman, was premiered on December 11, 2004. Dinner at 8 was composed with librettist Mark Campbell, based on the George S. Kaufman and Edna Ferber play of the same name, was premiered March 11, 2017, by the commissioning organization, Minnesota Opera.
He has also composed Lyric Concerto for Flute and Orchestra for James Galway, the Concerto in D for Violin and Orchestra for Sergiu Luca, the Concerto for Clarinet and Orchestra for Stanley Drucker, and Concert Suite for Alto Saxophone and Band, composed for University of Michigan professor Donald Sinta in 1998. He composed his Concerto Gaea for Two Pianos (left hand) and Orchestra for Gary Graffman and Leon Fleisher, both of whom have suffered from debilitating problems with their right hands. It received its first performance on April 11, 1996 by the Baltimore Symphony conducted by David Zinman. The concerto is constructed so that it can be performed in one of three ways: with either piano part alone with reduced orchestra, or with both piano parts and the two reduced orchestras combined into a full orchestra. This structure mimics that of a similar three-in-one work by his teacher, Darius Milhaud.
Bolcom's other works include nine symphonies, twelve string quartets, four violin sonatas, a number of piano rags (one written in collaboration with William Albright), four volumes of Gospel Preludes for organ, four volumes of cabaret songs, three musical theater works [which in the interview below he calls 'operas for actors'] (Casino Paradise, Dynamite Tonite, and Greatshot; all with Weinstein), and a one-act chamber opera, Lucrezia, with librettist Mark Campbell. William Bolcom was also commissioned to write Recuerdos for two pianos by The Dranoff International Two Piano Foundation.
-- Throughout this page, names which are links refer to my Interviews elsewhere on my website. BD