[This interview was recorded in April, 1985. Much of it was published in

The Massenet Newsletter

the following January, hence the emphasis on this repertoire. For this website presentation, the transcript has been completed, and pictures and links have been added.]





The Incomparable

Bidú Sayão

By Bruce Duffie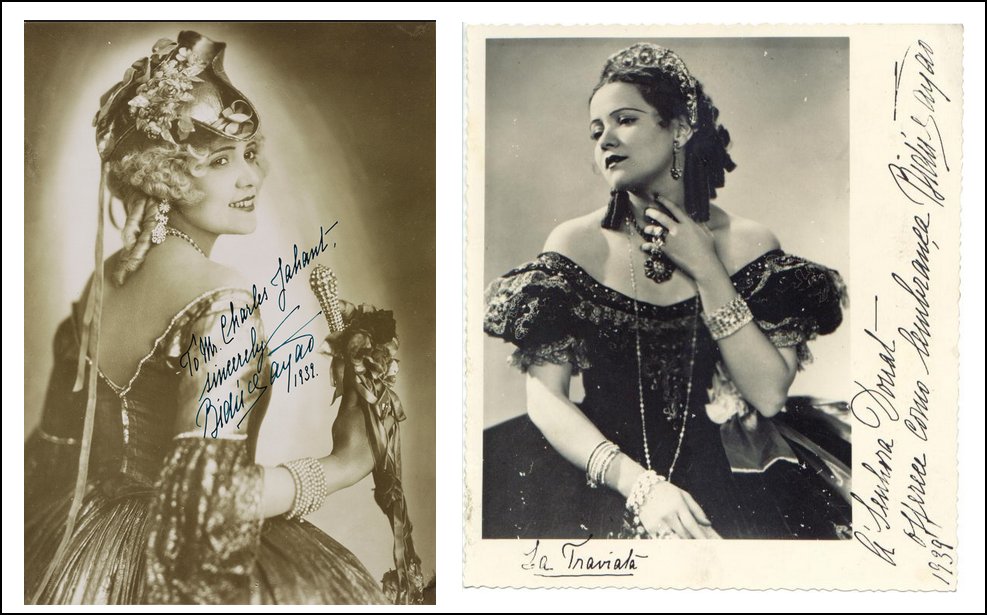 "The concert of Bidú Sayão revealed that the art of Bel Canto has not entirely vanished. She has a very fine light soprano voice, remarkably supple, which by careful training is capable of rendering the most difficult selections of the old repertory with ease and charm. What makes her talent all the more remarkable is that the audience never has the impression of effort. She articulates distinctly, and this is very noticeable when she is singing in French. Clearness of diction in the French school is a powerful means of expression, and it was not lacking in her appearance." So wrote Louis Schneider of the

New York Herald

in 1924 under the headline "Music in Paris." That review, perhaps more than anything else, sums up the special qualities of Bidú Sayão.

She had a great career, and a long one because she knew what she could and should do — and more importantly what she could and should not do. But throughout, she had a series of positive peaks. Appearances in both opera and concert all over the world brought her artistry to many people. The 1954 edition of

The Grove Dictionary

notes that in 1945, Sayão was second in a contest to find the most popular singer in the U.S.A. Now, her legend lives on in studio recordings and broadcasts. Her version of the

Bachianas Brasileiras #5

has been voted into the Recording Hall of Fame, and the Metropolitan Opera celebrated its Centenary by issuing the 1947 broadcast of

Roméo et Juliette

.

Over the course of her brilliant career, she appeared with most of the legendary singers and conductors. She learned from those who went before, and now tries to pass along what she can to those who are eager to learn. Several months ago, it was my very great fortune to have her respond to my request for an interview. She permitted me to call her on the telephone, and she was gracious, interesting, and animated throughout the hour.

Here is what was said . . . . . . . . .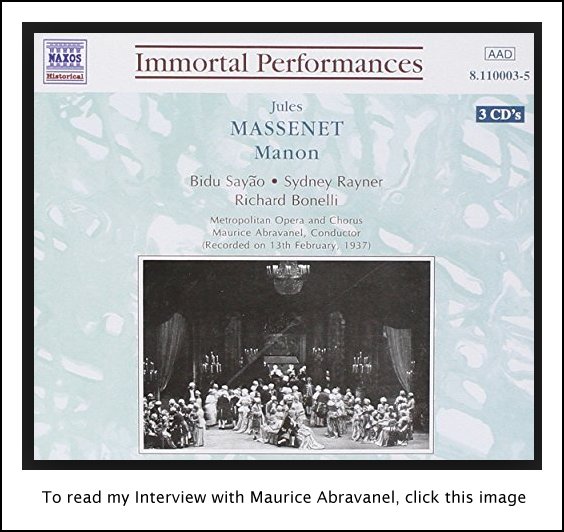 Bruce Duffie: Let's start out with one of your most famous roles. Tell me about Manon.

Bidú Sayão: I studied the role in Paris, and was very fortunate to meet the granddaughter of Massenet. She was a wonderful old lady, and helped me a lot with the tradition of the opera. She put me in the hands of the man who created the role of Lescaut. He knew all the traditions of the opera, and it was terrific for me to learn the

mise-en-scène

, and the way we should behave on the stage in that role. I learned all the details that were wonderful for a young singer like I was at that time. After that, I started singing that opera all over.



BD

: When you sang it in different theaters, did you keep the same traditions?



Mme. Sayão

: The productions were sometimes different — especially in the big theaters — but the interpretation was the same. For instance, the version which I learned was in the Opéra Comique, a tiny theater with beautiful and intimate sets.



BD

: How does that role compare with others you sang?



Mme. Sayão

: That is one role that I love, but I also like Mimì in

Bohème

, Juliette in

Roméo et Juliette

, and Violetta in

Traviata

. I like more than just soubrette roles. My repertoire as a lyric was very small because my voice was very light. When I started, my voice had a tendency to go up, so I became a coloratura for many years. Then, with a strong will, I could reach a little bit of the lyric repertoire. But because I never forced my voice, I could go on for thirty years of career. I would have liked to sing all the Puccini operas, but they were too heavy for me, so the only one I could touch was

Bohème

.



BD

: You were very smart to do only roles which suited your voice.



Mme. Sayão

: That is it. That is what I preach to the new singers of today. "Never start with the heavy repertoire, even if your voice is big. Go slowly and begin with the lyric roles, and after you get to a certain age, you can touch the dramatic roles." But they are anxious and want to do everything fast.



BD

: How can we get the young singers to slow down and conserve their voices?



Mme. Sayão

: We live in another era than I did. Today we have TV, and everything must be televised. In my day, an opera or recital was given to just a few people, but on the TV, millions and millions of people can hear and see, and you can become a star with one performance. With us, it took years to reach the heights of popularity.



BD

: It took fifteen years to become an overnight sensation!



Mme. Sayão

: [Laughs] That is it. The only thing we had was radio. Late in my career, I did a little bit of TV with

Firestone

and the

Telephone Hour

.



BD

: Is it a good thing that operas are now being televised?



Mme. Sayão

: I think so. People get more familiar, and they become curious and come to the theater to see it live.



* * * * *





BD

: Tell me about singing for Jean de Reszke.



Mme. Sayão

: After leaving my teacher in Romania, Mme. Theodorini, I went to Paris to have what we called a master-class. Today, people who know they want to sing go to a teacher and say they have a master-class. But a master-class is when you are ready and you need to be polished. So I went and auditioned for Jean de Reszke. He did not accept pupils without hearing them. He accepted me, and I went to Nice and studied with him the last two years of his life. I learned all the chamber music because I thought I would be a recitalist. But he felt that I should be on the stage rather than do recitals, so he taught me Juliette, and Ophelia in

Hamlet

. I never did sing Ophelia on the stage — just the aria. But I protested that I would never get the opportunity to sing Juliette because my voice was too small. But he told me to learn all I could about it because one day I would sing it in France. Years later I did with Georges Thill, and for the centennial of the Met, they chose the broadcast of this opera (with Jussi Bjoerling) to release on records.



BD

: Are you pleased that this performance is now available to the public?



Mme. Sayão

: I think so. Of all the broadcasts, they chose that one. So, I guess they liked it, also.



BD

: Let's come back to Manon. What kind of character is she?



Mme. Sayão

: I liked to sing Manon very much. It was perhaps not my very favorite role, but it was one I liked to sing very much because I had studied it so carefully. It is a difficult role. In other roles, the leading character is more or less the same from the first to the last. But Manon changes in every act. She is a different person [

as seen in the pair of photos below

]. She starts out just like a little girl who should go to the convent, and after she finds this boy, she went with him to Paris. In the second act she has already lived with him as his mistress, but she wants the luxuries. Even in the first act she sees ladies with their jewels. She was a very ambitious woman. She would give everything for luxury and a beautiful life.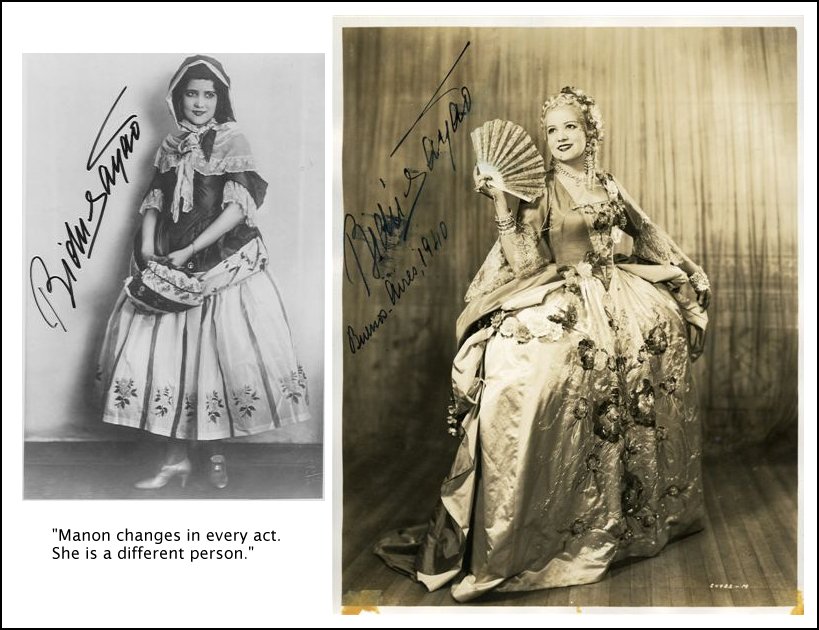 BD

: Is her problem that she doesn't know whether she wants love or luxury?



Mme. Sayão

: That is it. In the beginning, she didn't love Des Grieux enough. She gets the other proposition to be a big lady, and have a palace and jewelry and everything she wants, so she leaves him. In the third act, she comes out for the Cours-la-Reine. In many productions they cut that scene, but it is very important. In the promenade, she dresses like a queen and sings and dances a minuet. That is her life, and her lover has a beautiful ballet in her honor. But she still loves Des Grieux and leaves all the luxury to rush to St. Sulpice to seduce him again. That is a beautiful duet. But you see she is changed. Every scene she is a different woman. Finally, after all the asking and touching and kissing, he gives up. But he hasn't enough money to sustain her luxury, and his father doesn't want to give him money for her. So they go to gamble, and she's yet another woman who now wants money and more money. Then, through complications with her ex-lover, she winds up being accused and going to prison. All this is in the Massenet version. Puccini doesn't have all these scenes, so the Massenet is more complete for me. Then, in the last act, when she is about to die, she becomes really human. She dies in his arms and tells him she understands what she did. She was frivolous, so superficial, so ambitious, and she finally realizes that he was really her love, but it's too late. These are important moments in Manon but she changes every minute. Mimì or Violetta are always what they are, but with Manon, the feeling changes a lot, and the interpretation changes a lot.



BD

: Is that a French tradition, to show the character development?



Mme. Sayão

: Yes. The Italian tradition is much more dramatic and much more mature. I don't know why, but Puccini just couldn't write something like champagne.

Madame Butterfly

is dramatic, and the orchestration is so heavy, but she was only fifteen years old. There are many roles I would have loved to have sung, but God gave me a small voice which I couldn't change. I didn't care so much for

Elixir of Love

, or

Don Pasquale

, but I studied them very hard and they said that I was OK. I was a soubrette and did things like that. I tried them, but I didn't like so much to be a soubrette. They called Susanna in

Marriage of Figaro

a soubrette, but I never played her that way. I played Susanna just like a woman in love with her husband-to-be. She did the little tricks to please her boss, the Countess. It was funny since I played Rosina before she was married (in

Barber

), and then played her maid in the Mozart opera. I liked very much Zerlina, and that one is called a soubrette, but I call her bright and full of life, and very much in love. So I don't call that a real soubrette. It is a small role, but it has very nice arias and duets and was very pleasant. Susanna is a difficult role because you must make that role. If you don't act it well and sing it well, it's a very ungrateful role because she is on the stage constantly from the beginning to the end. Only in the last act does she get her beautiful aria,

Deh vieni non tardar

. Before that, all the other characters have beautiful arias. Susanna has little duets and things, but not any big aria like the others. So sometimes the audience is tired, and the critics have gone because it's late, and then she has her beautiful aria.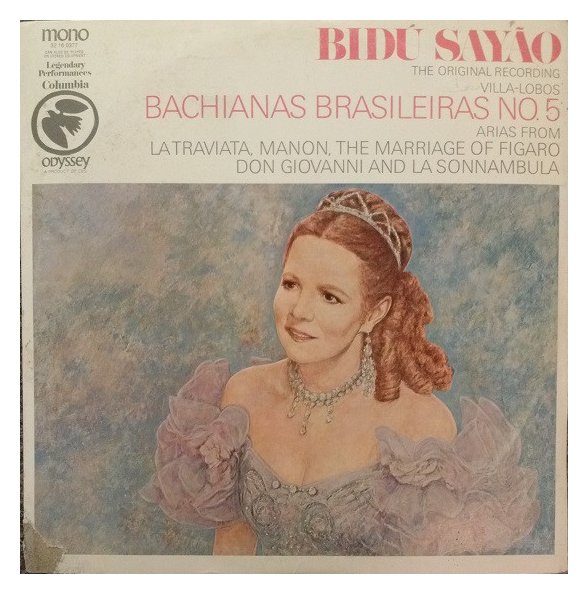 BD: Is Susanna in

The Marriage of Figaro

a little like Rosina was in

The Barber of Seville

?



Mme. Sayão

: Yes, that's correct — a little Spanish girl full of life. I also loved very much recitals.



BD

: More than opera?



Mme. Sayão

: [Hesitating] Almost. I loved recitals because I was alone and could sing in different languages. I could express with my face all the beautiful words. I sang some operatic arias sometimes because the audience asked so much for them, but I was very well-prepared, especially in the French repertoire. I also sang lots of Spanish things, and I did lots of Villa-Lobos. [

A typical program is shown later on this webpage

.] The recording I made of

Bachianas Brasileiras #5

won an award. They gave me a beautiful scroll. I am happy that now all the sopranos perform and record this work.



BD

: Your recording with the composer is one we often play on WNIB.



Mme. Sayão

: He created that for me! I heard it in Brazil in the original version for eight 'celli and solo violin. It was not for voice at all, but I fell in love with the melody and wanted to sing it. Villa-Lobos said no, but I said yes, and here in America he made the arrangement. He wrote some words himself for the middle part, and said I could hum the other sections, with the mouth closed and the sound coming from the nose. He wanted to make a recording to see how that would sound, so he could decide if I could take it around on my concerts. That is the record that we made, and after that, everyone started to sing it because it is so beautiful.



* * * * *





BD

: What is your opinion of the current group of singers?



Mme. Sayão

: Thank God we have many beautiful singers today. After this generation, what will happen I don't know, but we still have beautiful voices today. We don't have as many as in my time, but there are still some good voices.



BD

: Do you feel that we are losing a tradition?



Mme. Sayão

: Well, 'tradition' is a word that doesn't exist anymore. I heard the tradition because the generation before mine was all celebrities. I learned with them to listen, and went to them for advice, but today we don't find this any more. The new singers don't go to the old singers and ask advice. Sometimes I go to the opera and I don't enjoy the new productions which are so different from my time. Today the star is the director. We see Zeffirelli and Ponnelle, and after that comes the conductor, and then come the singers. People today go for the production and they don't care if it's a good singer or a star singer or a mediocre singer. For them it's the same. In my time, during the war, the Metropolitan was so poor that the sets were in pieces. The only new production during the regime of Edward Johnson was

Marriage of Figaro

. He had the production built and gave us the costumes. This was the only one where we did not wear our own costumes. Normally we never used any costumes from an opera house. We had our own — from the wigs to the shoes. Today the singers are so fortunate because they don't put one penny in any costumes, and they are gorgeous. They cost fortunes and the singers get them for nothing.



BD

: But isn't the production more unified if one person has designed the sets and the costumes?



Mme. Sayão

: Today, the costumes go with the production, and the artists lose their personality. The stage directors teach you every movement, every step, everything you do. If you have to take a glass of water, you have to do it the way that want you to do it. I never could have worked with them because I was an instinctive actress. I had my personality, and my colleagues were the same. Certainly, when we would rehearse we'd know which door to come from and which door to go out, and where we'd find our colleagues, but the interpretation, the movements, were ours.



BD

: So you would learn the role and the interpretation, and not expect the opera house to give you much direction?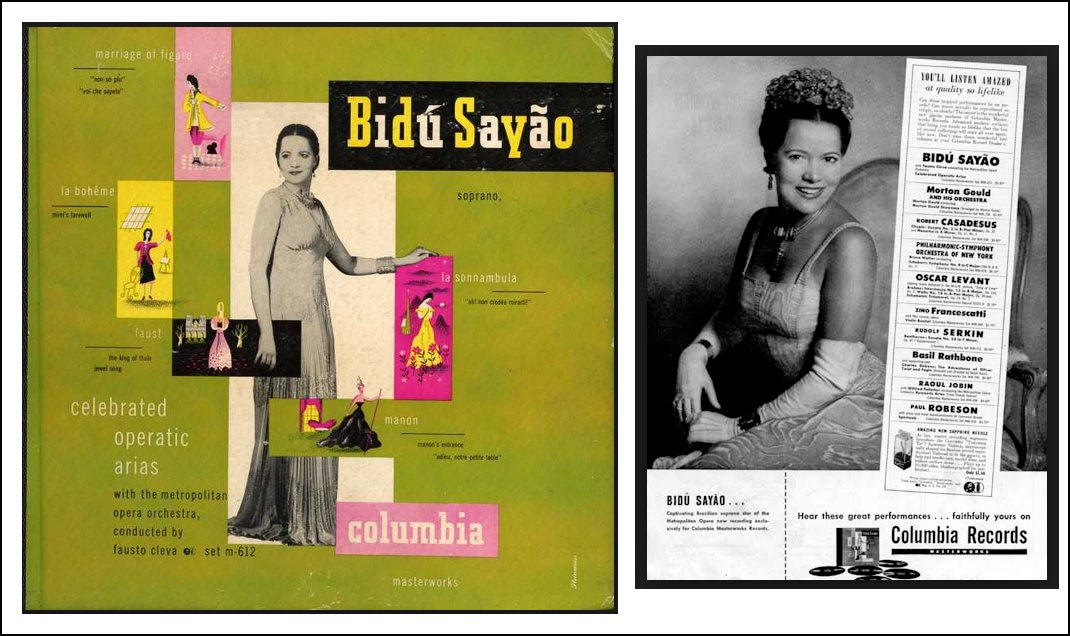 Mme. Sayão

: Yes. Today, the directors are the stars, and they want the artists to move in a certain way. Sometimes the artists don't feel it that way, and when you don't feel it that way, how can you be spontaneous and real? I don't think it's possible. I'm very happy I'm retired because I couldn't work in this way at all.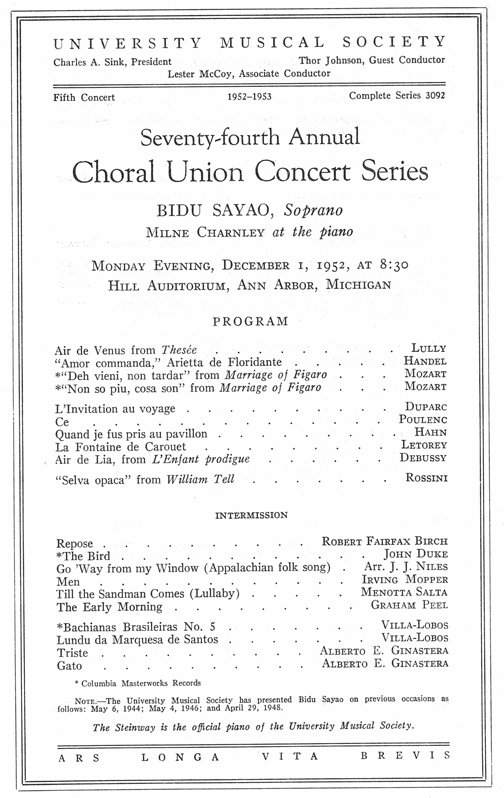 BD

: Did you ever think of directing an opera yourself?



Mme. Sayão

: [Laughing] No, never, never! I have no ambitions of that. I was spoiled because in my time I heard the greatest Toscas, the greatest Aïdas, the greatest Traviatas, and everything was so wonderful. We would go for the artists, not for the scenery or the stage. We would go for the music — for the conductors and for the composers and for the singers.



BD

: Is there any way to strike a balance with great scenery and great singing?



Mme. Sayão

: Perhaps. We still have great singers today — not too many, but some are first-class. There are not too many tenors, but we do have Domingo, Pavarotti, and Alfredo Kraus whom I admire immensely. We also have mezzos and sopranos who are first-class, very beautiful, but I don't want to mention names because I might leave one out!



BD

: So we don't have a lot of great singers these days?



Mme. Sayão

: No, not a lot.



BD

: But we have a lot of singers!



Mme. Sayão

: Oh yes. Everybody sings! I serve as a judge for auditions and there are hundreds and hundreds of singers. It's a kind of an epidemic.



BD

: Then why are we not finding so many great ones?



Mme. Sayão

: I don't know. Many times I hear a beautiful voice, but they don't sing well. They don't feel, they don't interpret. Perhaps we don't have enough good teachers. I don't understand it. I don't want to hurt the feelings of the new generation because they are so intelligent, extremely intelligent people. They sing in many languages with much facility. They are so musical and they have beautiful voices, but they will never become big stars like Joan Sutherland, or Marilyn Horne, or Leontyne Price. They are singers, but not artists. I make a distinction there. To be an artist is very difficult — much more difficult than just to sing.



BD

: What is it that makes an artist?



Mme. Sayão

: It's something you cannot learn. You must be born with it. You must sing with your heart and your soul more than with your brains and vocal cords. It must all come together, but from the heart. You express everything you say. Often there is a lack of diction. They don't pay attention to the words they say. When it comes from your heart, the words make the interpretation. Opera is drama or comedy, but it is theater. I always used to say that opera for me is just like magic, illusion, poetry, passion, humanity, and fantasy. If you have all of these, then you make opera and it is delightful. Otherwise it can be very boring.



* * * * *





BD

: Does opera work in translation?



Mme. Sayão

: Some — the ones with lots of recitatives. Now they have those titles they put on top of the stage. I've not seen them, but they use them at the New York City Opera and in San Francisco. Terry McEwen [

then the Manager of the San Francisco Opera

] says they are a terrific success because people can read it in English while they sing in Italian or in French or in German.



BD

: This coming fall we will get our first look at them here in Chicago.



Mme. Sayão

: I've never seen them, but I have the impression that if I start to read, I will lose what goes on onstage. Just like when I see a movie in a language I don't understand, I read the translation and I lose so much of the acting because my eyes are with the words. This is just my own impression, and I may be completely wrong, so I am very curious to see a performance with those subtitles. But operas with lots of recitatives could use it, and also the Wagner operas with so much talking. I don't speak or understand German, and I want to know what Wotan says to Fricka and all those big, big conversations. If I understood it, I would enjoy it much more. So I guess that for people who don't understand Italian or French, having it in English helps a lot. But for Verdi or Puccini or even Massenet, people go to see those operas and they read the libretto ahead of time, so they know the story. It's so funny to hear those in English. At the Opéra in Paris, I sang

Rigoletto

in French, and it was the most horrible thing you could imagine! I also sang

Bohème

in French at the Opéra Comique, and it was very bad. The translations are terrible.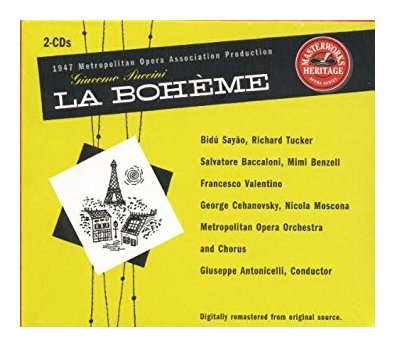 BD

: As an artist, how much preparation do you expect from the audience?



Mme. Sayão

: I imagine that the audience should be prepared when they go to an opera. They may not be musically literate, but they should at least know the story, to know what goes on. Then if you like the music, you will come back and become a fan. I have the impression that the new audience today doesn't have the tradition from the past, so they go to see the spectacle. The Metropolitan can take a risk with these lavish productions. In their new production of

Tosca

, they change the set in front of your eyes just like magic! It is really marvelous. Other operas are just as good, but other theaters will not be as good because they don't have this kind of machinery.



BD

: You saw this

Tosca

live in the theater?



Mme. Sayão

: Yes, I went to the premiere.



BD

: Did you also see it on television?



Mme. Sayão

: Yes, and it lost a lot. We have a small screen, so everything is reduced. You see just a little part, but in the theater you see everything. The singing and the acting were OK, but the scenery was not the same as it was live in the theater.



BD

: Are you optimistic about the future of opera?



Mme. Sayão

: I think so, but we need new composers. Right now opera is living on the old composers. When they give Verdi or Puccini or Massenet or Wagner, it is sold out. But when a new work is given, the theater is not sold out. So we need composers who write beautiful things — not just recitatives and things we don't understand, but things with melody for everybody. They are writing operas these days, but, for instance, I saw

Lulu

. I like the play, but the music I didn't understand. It's very atonal. There were no arias or duets, just recitative and talking with the notes [

sprechstimme

]. But I am old-fashioned... [Both laugh]



BD

: There's nothing wrong with being old-fashioned! Let me go the other way. Is there a place on the stage today for Handel operas?



Mme. Sayão

: Oh yes. Now is the tri-centennial, but in the time of Handel and Gluck and Mozart, and all those great, great geniuses, the opera houses were small. There were only a few in the orchestra and the singers were specialists in that technique. The important thing was the technique. Handel is full of agility and cadenzas, more than even big lines of melody. The singers were trained just like a violinist or cellist or flutist. They were human instruments. Today we don't have those little tiny opera houses. They showed the opera house of that time in the film

Amadeus

. How can we get voices today like Malibran and Pasta and Grisi? We don't know just what they sounded like, and they only sang in small theaters with small orchestras, and did not risk their voices in big places with big orchestras. So perhaps those voices were not as big as we think they were.



BD

: Then does opera only belong in a small house?



Mme. Sayão

: They only began to build big houses at the end of the nineteenth century. Before that, the opera houses mostly belonged to the kings and emperors. They had their own opera houses, and the composers wrote for those spaces. When you play

The Secret Marriage

by Cimarosa, it needs a smaller theater. I sang that work very often in Italy. It is a jewel just like Mozart, but it needs a smaller theater. When you put those kinds of operas on in the Metropolitan or the State Opera of Vienna or La Scala, they lose so much. Even if the acoustic is good, the intimacy is lost. The movements and expressions of your face are lost in the big opera houses. In Italy, they have the Piccola Scala which is a small opera house, and they used to give those works there.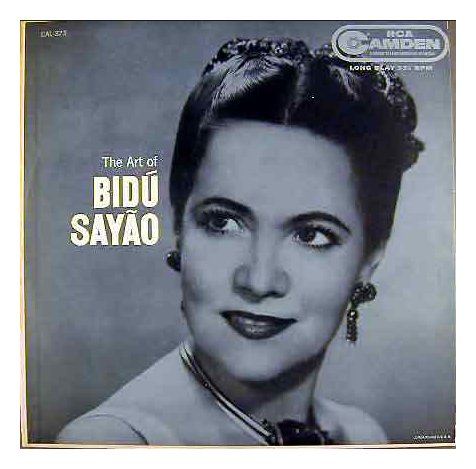 BD

: We have a small theater, the Civic Theater, which is right next door to the big house, and everybody wishes they would do more in that house. The Opera School of Chicago has done some works there, including

The Secret Marriage

! [

The Opera School of Chicago was established in 1973, and among its earliest productions were some newer works such as

The Rakes Progress

(Stravinsky),

The Turn of the Screw

, and

The Rape of Lucretia

(Britten), as well as

Il Ciarlatano

[The Charlatan] by Domenico Puccini (1772-1815), the grandfather of the well-known verismo composer

.]



Mme. Sayão

: Handel and all those things would be perfect in that kind of small house.



BD

: Did you change your technique at all when you sang in different sized houses around the world?



Mme. Sayão

: Oh, no, no! I always sang with what I had. It is the acoustic that counts the most. Even though my voice was not big, everybody could hear me in all the opera houses I sang, thank God. But this was because I had good schooling, and I studied very hard, and I succeeded. The new Metropolitan seems very good, but in the old Met, there were spots which were very good and you could hear very well. Chicago has very good acoustics, and I loved singing there very much. I think it is very good, and everybody said so.



BD

: What about the two houses in Paris?



Mme. Sayão

: Oh they had beautiful acoustics. The Opéra Comique was small, just the size I told you for those older works. The big Opéra had so much rococo design. There were too many draperies and too much crystal. It was too heavy, but even so, the acoustic was good. In Italy, every opera house was beautiful, and in South America, too, especially the Colón in Buenos Aires. There you could whisper. You can hear the most delicate sound. In my country of Brazil, we have a small theater, but the acoustic is beautiful. It is a very pretty opera house, all marble and bronze. Everything is very pretty.



BD

: Tell me more about singing here in Chicago.



Mme. Sayão

: I used to sing in Chicago [Barber

in 1941;

Pelléas

(the first performance in Chicago since Garden in 1931) and

Traviata

(wearing a gown in the first act studded with what were reputed to be diamonds from her family's diamond mines in Brazil, according to

Opera in Chicago

by Ronald Davis) in 1944;

Manon

and

Traviata

in 1945

], and when the Lyric Opera of Chicago re-opened in 1954, I was almost retired from the Met, just doing recitals, but Carol Fox convinced me to be in the cast of

Don Giovanni

with Rossi-Lemeni. Carol had been my friend for many years in New York, so I could not say no to her. I sang Zerlina for the opening night, and it was a beautiful evening. [

A photo of the full cast is on the webpage with the Interview of Rossi-Lemeni (linked above).

] I will never forget that. I love Chicago and I love the audience. They are so wonderful.



BD

: Was it special for you knowing that you were opening a new company?



Mme. Sayão

: Yes, I thought it was very important. I then came back to celebrate her 25th anniversary with the opera. It was a gala with a beautiful dinner, and I was introduced on the stage. I never saw such a gala in my life! I met many old friends of mine.



BD

: Thank you so much for speaking with me today. You have been most gracious.



Mme. Sayão

: Thank you for calling me.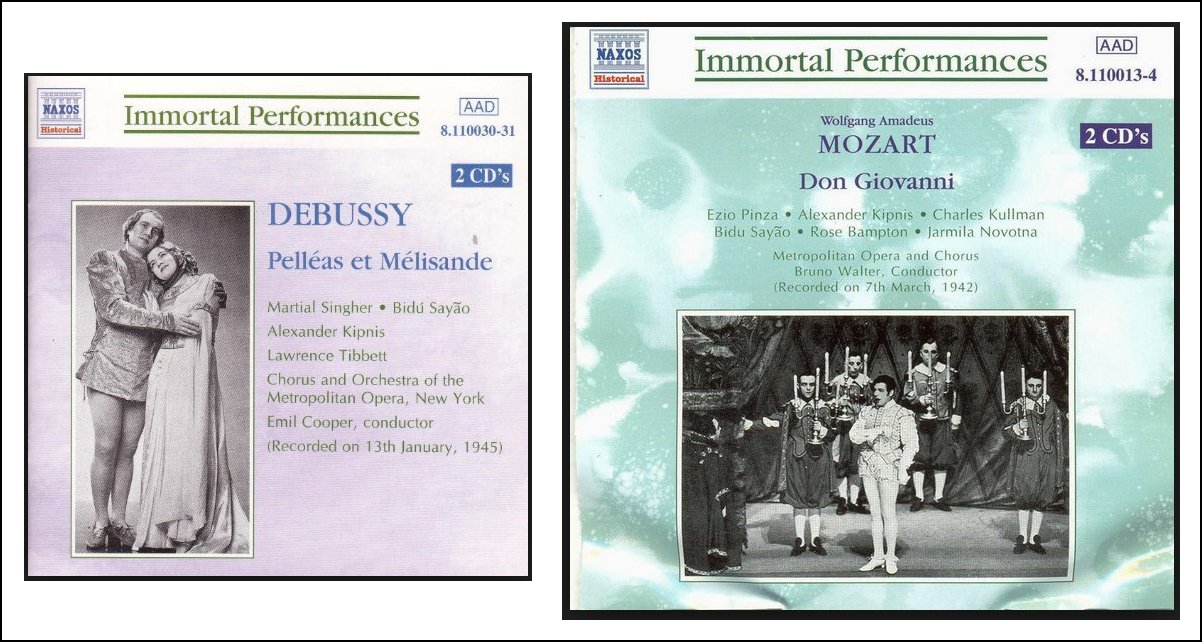 See my Interviews with
Martial Singher
,
Margaret Harshaw
(who sings Geneviève);
Rose Bampton
, and
Jarmila Novotna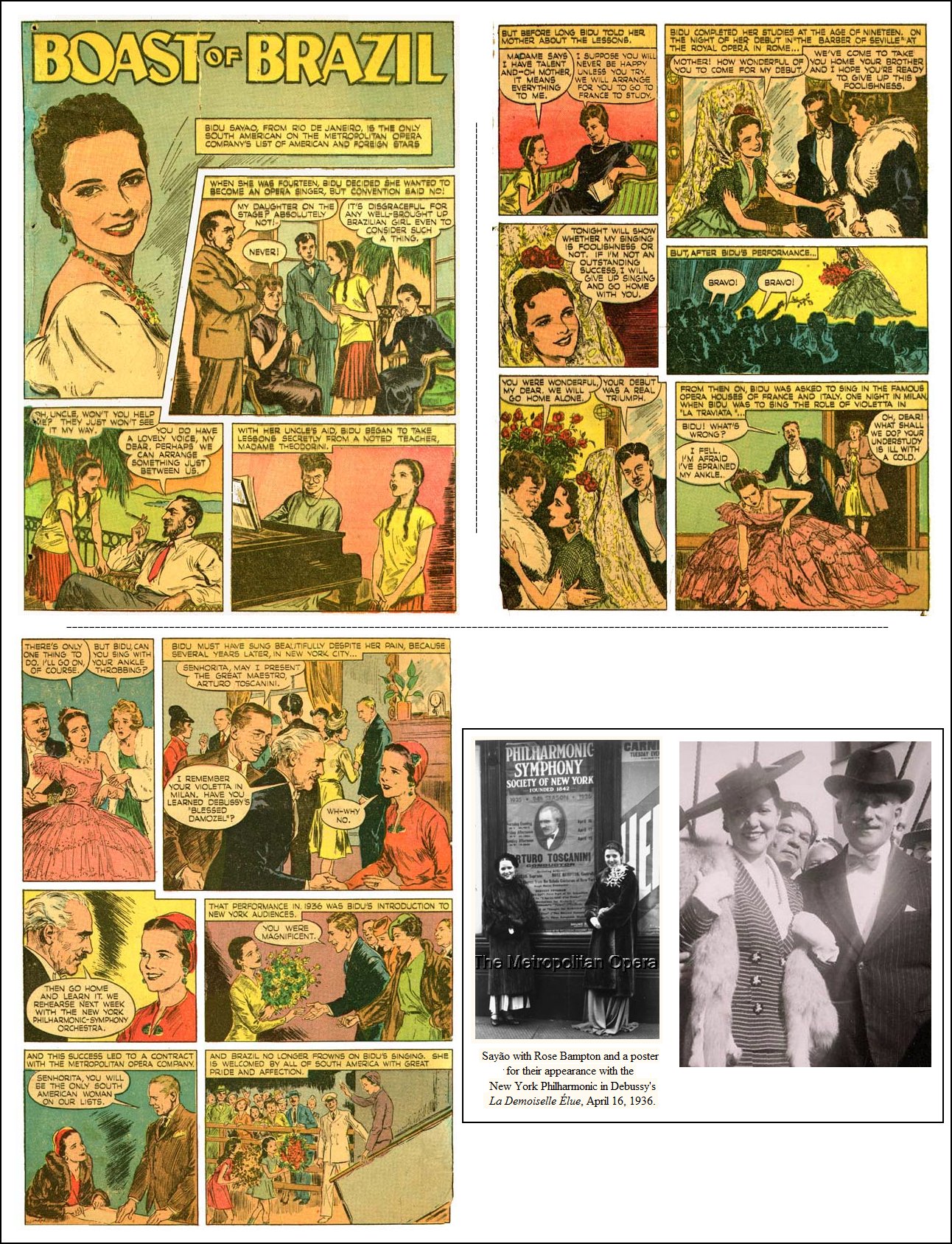 © 1985 Bruce Duffie

This conversation was recorded on the telephone on April 1, 1985. A portion was published in the Massenet Newsletter in January, 1986. Portions were broadcast on WNIB in 1987 and 1997. The transcription was completed and slightly re-edited in 2017, and posted on this website at that time.


To see a full list (with links) of interviews which have been transcribed and posted on this website, click here.

Award - winning broadcaster Bruce Duffie was with WNIB, Classical 97 in Chicago from 1975 until its final moment as a classical station in February of 2001. His interviews have also appeared in various magazines and journals since 1980, and he now continues his broadcast series on WNUR-FM, as well as on Contemporary Classical Internet Radio.


You are invited to visit his website for more information about his work, including selected transcripts of other interviews, plus a full list of his guests. He would also like to call your attention to the photos and information about his grandfather, who was a pioneer in the automotive field more than a century ago. You may also send him E-Mail with comments, questions and suggestions.