Composer Burrill Phillips
A Conversation with Bruce Duffie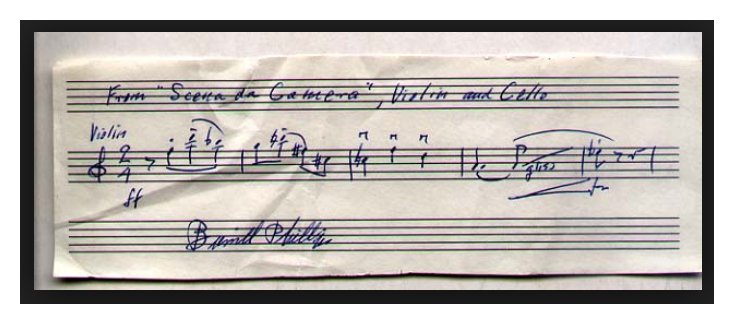 Burrill Phillips (November 9, 1907, Omaha, Nebraska – June 22, 1988, Berkeley, California) was an American composer, teacher, and pianist. Phillips studied at the Denver College of Music with Edwin Stringham and at the Eastman School of Music in Rochester, NY, with Howard Hanson and Bernard Rogers. In 1929 he married Alberta Phillips (who wrote many of his librettos); they had a daughter, Ann Phillips Basart (b. 1931) and a son (Stephen Phillips, 1938–86). Because of privations due to the Great Depression, Ann was adopted and raised by her maternal grandparents; she was not reunited with her parents until 1959.

Phillips's first important work was

Selections from McGuffey's Reader

, for orchestra, based on poems by Henry Wadsworth Longfellow and Oliver Wendell Holmes, Sr. The early style of this work, stressing melody, self-consciously American references, and jazzy rhythms, has tended to overshadow his later compositions. By the 1940s he had turned to a more astringent and expressive idiom. In 1960 his

String Quartet Number Two

was premiered at the Library of Congress in Washington, D.C. by the Paganini Quartet, with the composer present, and broadcast on live FM radio. In the early 1960s he turned to free serial techniques, less sharply accented rhythms, and increasing fantasy.

Phillips taught composition and theory at Eastman (1933–49), the University of Illinois (1949-64), the Juilliard School of Music (1968–69), and Cornell University (1972-73). His students include Jack Beeson, Kenneth Gaburo, Steven Stucky, David Ward-Steinman, and Ben Johnston. He was a Fulbright Lecturer in Barcelona, Spain, in 1960-61, and received Guggenheim fellowships in 1942-43 and 1961–62, when the entire Phillips family reunited in Paris. His scores and sketches are housed in the Burrill Phillips archive, Special Collections, Sibley Library, Eastman School of Music, in Rochester, NY.






In October of 1986 I wrote to Phillips, and he was most gracious to allow me to phone him for an interview. On the appointed date and time I called and we spoke for about an hour.

I mentioned that the previous evening I had played

McGuffey's Reader

on WNIB, and he seemed both surprised and pleased to hear that . . . . . . . .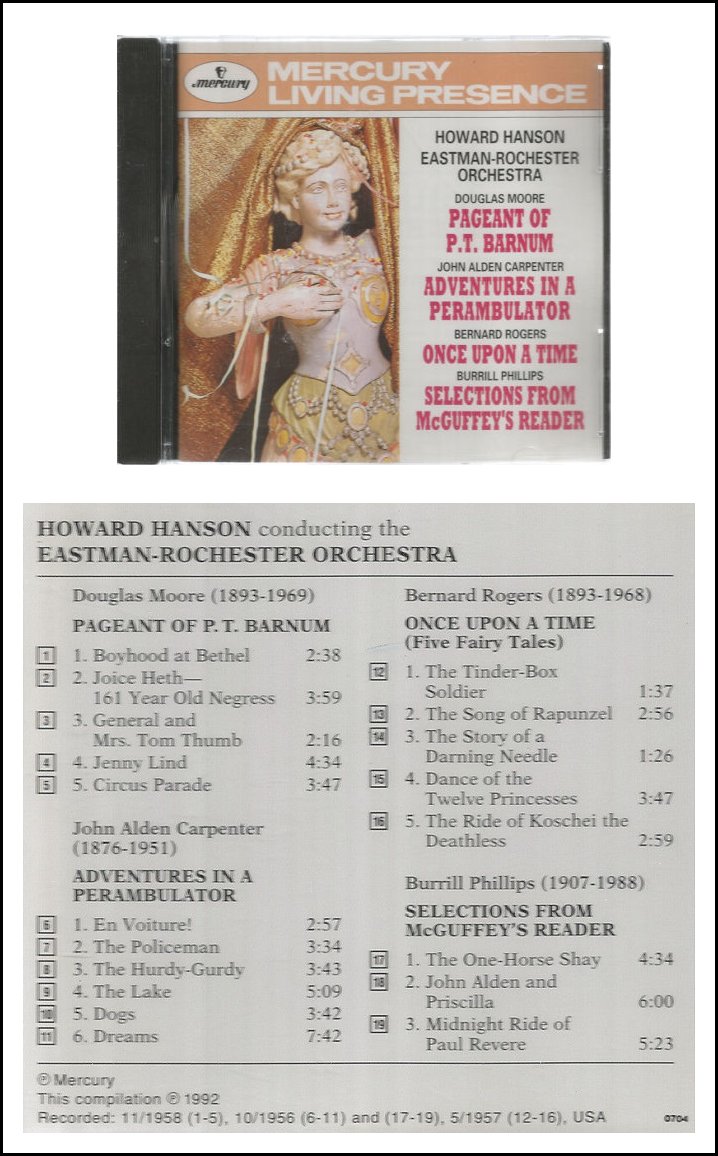 Burrill Phillips: Oh! They're fifty years old, as a matter of fact, and were one of the first group of pieces that I could hear played by an orchestra. They were written for that, and they were first performed at Eastman. Is the history on the cover of the album?



Bruce Duffie

: Yes, and it was mentioned that Howard Hanson conducted the first performance.



BP

: Yes, that's right.



BD

: Are you still pleased with that work, now, fifty years later?



BP

: To tell you the truth I haven't listened to it for years, and I really don't remember what my feelings were at the beginning. But I don't seem to have any feelings at all about it because I've been so busy writing different kinds of music. Of course my style has changed a great deal from that point.



BD

: Has it changed for the better, or for the worse, or just changed?



BP

: [Chuckles] Oh, I think it's changed for the better! It's deeper, and it's a little bit more adventurous. That was safe music, and believe it or not, it sells as far as the public is concerned. It was at the top of everything, even this late. The first movement,

The One-Horse Shay

is a poem of the elder Holmes [Oliver Wendell Holmes, Sr. (1809-1894)], and it's a rather peculiar and humorous thing.



BD

: When you say it was 'safe', it seems as though you are disdaining that style of music now.



BP

: Well, so much time has passed, and I've written so many different kinds of music. It was orchestral because of the fact that the Eastman School always played their composers' works in the orchestra. Howard Hanson was an orchestral composer himself, and of course he was more interested in that kind of music than any other. That's one of the reasons why my music for a long time after that was predominantly orchestral. The first piece that came after that which wasn't orchestral was a trumpet trio, just three unaccompanied trumpets. I'd already changed my mind about the kind of sound I wanted, and it was from that time that I began thinking entirely of tone colors that I get from individual instruments. I wrote quite a lot of chamber music after that, while also keeping up the orchestral work as well.



BD

: When you decide what kind of sound you want, does that influence the orchestration you're going to use, or what group of instruments you're going to write for?



BP

: Sometimes that's dictated by the circumstance, by the people who commission the works. During the last half of my lifetime, I've written very few works that were not commissioned. Almost all of them were, and I had to follow the requirements that the commission carried. Sometimes I had no choice because that was what they were looking for, and that's what they wanted to have written. As a matter of fact an illustration of that is a piece that I've just completed, which was a commission for string orchestra. I probably wouldn't have been interested in doing that until I got the commission, and it had to be a string orchestra piece. That's the way it's happened more or less all the time, although very often the commission coincided with my interest in whatever combination they asked for.



BD

: How do you decide which commissions to accept and which you will turn down?



BP

: Reluctantly I turned one down for concert band. I have never written a piece for concert band, and there was something coming up that was more interesting. So I did turn that one down, but only because of the fact that I had been recently commissioned for another piece, and I wanted to put all my effort in that and not get sidetracked.



BD

: So it was the time involved?



BP

: It was partly time, and partly the fact that it would take me quite a while to prepare myself for writing a piece for concert band because I had never written one. And I was not particularly in favor of it, because the concert band in those days was a group that played an awful lot of [says the word disapprovingly] 'arrangements' from orchestral music. I'm not in favor of that at all because it distorts everything. The idea of wind instruments taken from the orchestra and forming a group of their own had not been gone into. It's much more common now than it ever was then, and that's something that I would like to do though I've never done one. I should think it a little more exciting than the woodwind quintet or a brass quartet, or something like that. I've written a sextet for trombones, but that was rather early [

Piece for Six Trombones

(1941)]. That was followed by the

Trio for Trumpets

. I've also written at least two woodwind quintets, the regular standard woodwind instruments of the orchestra, with the addition of a horn. I've explored that quite thoroughly. As a matter of fact, I heard the first performance of the latest one I've written about two weeks ago. It was the standard quintet, but I handled it differently than usual. I wanted to pair off instruments of related kind, in other words, the double-reed instruments, the oboe and the bassoon, and the smoother-sounding instruments, the clarinet and the flute. That made two duos, and then I wanted to see what kind of a sound I could get out of a trio by taking one of those duos and adding another instrument. Then I wanted to see what I could do with a quartet, and added one to the trios that had already been done with a different kind of sound from another grouping of three instruments. So that added a fourth and finally the full woodwind quintet. This is intended not as a suite or something that should be disjointed, but it had five movements. It became a piece that had related motifs and things that that went all through the whole piece, from the first movement to the second, where both of those were duos, and from the second to the third movement. Then I arranged for a new sound, so that gives it the outer appearance of a suite, but that's not the actual effect that it had.



BD

: It sounds like you were experimenting with this to see where the music would go and what it would sound like.



BP

: The performance was by a professional group. It wasn't an ad hoc group that you often find in ensembles these days. It was a very good performance, one of the best I've ever had as far as first performances go. They studied it, they understood it, and they were all professionals. One of them was chief oboist in the Rochester Philharmonic. They've been together for quite a while. But this was not the first woodwind quintet that was conceived in that manner. Years ago, I think it was in about 1954, I wrote a very extended set of pieces that were considered to be detached from each other, except that they were all for members of the woodwind quintet. What I wanted to do was to find out how much difference in color I could get by combining all the possible combinations of those five instruments in various groups — the duos and trios and quartets. There were more duos... as a matter of fact I think there were possibly 35 or 36 different combinations. I've forgotten now the mathematical way to discover that. So I wrote a piece for each one of those combinations, and sometimes I wrote two pieces because I liked the sound of it so well. But because there are so many short pieces only about six of them were published. The publisher didn't want all of them because it was going to be a little bit too much. The score ran a good many pages. I had heard in my inner ear, so to speak, the kind of quality that each one of these combinations would give, and from the ones that I did hear that were published I got an idea of what the other ones would be. So I was not disappointed.



BD

: When you hear a piece actually performed, does it ever surprise you how it sounds?



BP

: [Chuckles] It depends on where the rehearsal is because that's the first time you hear it. My most recent experience was with a quintet, and the rehearsal I went to was in a sense a dress rehearsal because the performance was the next day, and the rehearsal was in a completely different place than the performance. As you probably know, most colleges have their own auditorium, or a church, or something like that in the town in which the college is located. Their own facilities for performances are limited because they're always being used, and that was the case with this one. So I heard the first notes of that quintet in a building that was originally a big classroom. You can imagine there were no hangings, nothing but the hard walls. It was horrible. I didn't know what to expect because I never had quite had that experience before. I'm used to hearing the rehearsal in the same place in which they're going to play the program. The thing that I discovered that was most irritating was the fact that they followed the marks of the dynamics as well as they could, but actually nothing was softer than mezzo forte at the very best, even if it was marked with three 'p'. So although the movement was what I expected, and all the rhythms were in place and the notes were fine, it was simply a completely different experience. I wasn't too happy about it, but when it came time for the performance, it was at a church that had marvelous acoustics, and exactly what I wanted they brought out. That's one of the things that is likely to turn up. I didn't expect that kind of thing to happen, but I'm very pleased with the piece and the way that they did it. It couldn't be improved upon, as a matter of fact.


BD: By and large, are you basically pleased with the performances you've heard of your music?



BP

: [Pauses a moment] Now that's a very hard question to answer, because my generation was of a different kind of idea about music. I'm not a conductor myself, and I've only conducted a very few pieces of my own. That makes a difference because you're filtering it through a completely different person who must understand your own style and what you're after. I was fortunate at the Eastman School that Howard Hanson understood my style from the very beginning, though sometimes exaggerations were characteristics of his conducting of anybody's piece. But those were kinds of exaggerations that didn't ruin anything, so generally speaking I was very pleased with what he did with my music. He was one of the few people who really understood it. When I got a little better known and pieces began to appear in New York and other places, I remember particularly a performance of a piece that I wrote for the Koussevitzky Foundation. It was done at Columbia at one of their festivals. [

This work was the Tom Paine Overture (1944) published in 1946 which was commissioned by the Koussevitzky Foundation. The premiere took place at Columbia University's Festival of American Music in 1946, performed by the NBC Symphony led by Alfred Wallenstein.

] You probably know the conductor, Mr. Wallenstein. He was one of the conductors in New York who did a good deal of new music. I'd never met him until the rehearsals at Columbia. Most of the conductors that I've had experience with understood the music right away, and he had no trouble. It sounded like I wanted it to sound, and I was very pleased with that. But I have had experiences with other conductors who didn't understand the music, and for some reason it didn't sound as if I had written it. It sounded as if somebody else had written it. Thomas Schippers did a piece of mine, a very short bassoon piece that also has had a rather successful life [

Concert Piece for Bassoon and String Orchestra (1942)

]. I heard a performance of this that he did for children's concert and it was perfectly fine. I'd never met him before, and as a matter of fact I'd never heard him conduct anything before, but it was the kind of piece that he couldn't have gone wrong on. So I was pleased with that. The other thing concerns works that are smaller in size than an orchestra, say, certain kinds of ensembles that are not standardized. That's the kind of thing that people do more frequently than before. The present generation is not particularly in love with the string quartet, or with many of the string quartets written at the present time. But there are so many different things that can be done that don't use the standard number of instruments, or the standard grouping of instruments. In those cases, I've found that if you know one of the performers — particularly the one that is the leader of the group, though it doesn't have to be the first chair person — you're likely to get a very good performance because they would not play it unless they were interested in the music. As a consequence, that's much to be preferred to the kind of thing that went on when I was a good deal younger. I've had a couple of experiences of that which were very satisfactory because somebody in the group knew me and had heard other music of mine. Another thing to think about in that connection is that for so long orchestras and smaller combinations of instruments only seem interested in doing first performances of new music. They'll go from one of your pieces to another program which will include the first performance of somebody else's piece. You seldom hear a second performance soon after the first. It'll take time for that to happen, and you have to start digging and working for its advancement. Perhaps something could be done about an orchestra or a group of people that specialize in second and third performances, and not first performances because you almost always get that, but getting the second one is really a job! Other composers have suffered from that, too, although it doesn't make any difference who the composer is. There's something about a first performance that performers usually fall for. It's not that the thing is unsatisfactory because I've had experiences with first performances that both the audience and the performers really liked, but it took a long time to hear it again. I think a composer should hear various kinds of performances because, like in many other kinds of music such as Classical music or Romantic music, there isn't any one way of doing it.



BD

: With the business of always doing first performances, does that foster a competition amongst composers?



BP

: You mean that kind of first performance mania? I don't think so, no. As a general thing, composers will be successful with first performances no matter who the composer is. That's one good thing because I've seen more composers at performances of new music in the last twenty years. Increasingly more of them go to concerts of their composer-acquaintances more than they used to do. I don't know what the reason is, but I don't believe that competition plays much of a part... at least it hasn't with the experiences I've had.



BD

: Do you feel that there are perhaps too many young composers coming along?



BP

: No, I don't think so. [Chuckles] The more the merrier, as a matter of fact. That doesn't mean the kind of music that comes out is going to be something that I particularly care for, but I'm glad to see that they're doing it, anyway. One thing bothers me more than anything else at the present time is that so many young composers feel that whatever they write must be completely new, and usually that search for the completely new results in a lot of gadgetry.



BD

: Are they constantly trying to reinvent the wheel?



BP

: Yes! That's exactly it! And a better wheel, too... a better-looking one, or maybe a square one or something. [Both laugh]



BD

: And this is a mistake?



BP

: Yes. That's what it is, this desire to be the first of its kind, and it doesn't turn out to be the first of its kind anyway.



* * * * *





BD

: When you are writing a piece of music, for whom do you write?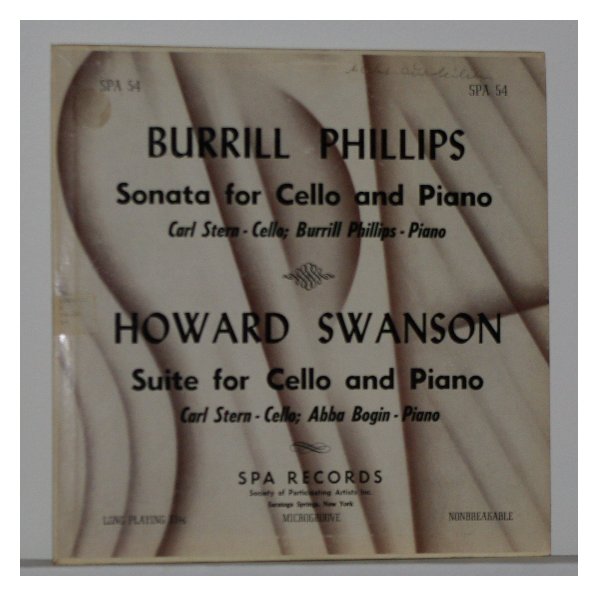 BP: There are so many kinds of audiences that it's hard to say. That was one of the things I learned from Roy Harris. He believed that, and he usually wrote music for the audience with a general background that he expected to hear it for the first time. That kind of thing could lead, of course, to some bad results, but I don't think it did in his case. In any audience there are people who are well educated in classical music, but they have heard very little contemporary music. That's one thing you have to take into consideration. You might not do anything about it, but it has a kind of formative influence on your career, and on what you ultimately feel will give you success. Occasionally I've written educational pieces that were written specially for teaching purposes. This is ensemble music, not necessarily something that one person plays. For instance, there was a piece that I've never heard called Three Easy Pieces for String Orchestra [

published by the Interlochen Press in 1959

]. It's done a lot at that summer music camp up in Michigan. I can tell from the royalties that I get that they still do it, and I've never heard a note of that piece. [Laughs]



BD

: No one has ever sent you a tape or anything?



BP

: No, they've never bothered to do that. They must think that I've written for the money that it generated and that's all. I'm curious, now. I was talking to a conductor the other day that had experience with it, and he said, "For heaven's sakes, I'll send you a tape!" But that wouldn't interest me particularly because it was a kind of thing where there were so many limitations on it that I couldn't make the piece interesting to myself, particularly. The publisher said he wanted the piece for a certain grade of performers up there at Interlochen. He said, "The string players, as a general thing, will be violinists, and there be more cellists, and a few basses, but a couple of the bass players are generally not given anything to do except just to plunk once in a while..."



BD

: [Chuckles]



BP

: He also said, "There are not many violists around, so don't write below the G string" That was 25 years ago, and I understand that's not the case anymore. They are more expert at the same grade level than they were in those days, and there are more violists that can handle the C string, and I can now write for the basses without making their parts uninteresting because they've got better control and they're better educated musically.



BD

: You've been teaching for fifty years. Do you find that the students have gotten better over that time?



BP

: Well, I suppose so. The last teaching I did was at Cornell, and that was about twelve years ago. I really have been retired and writing my own music. A large amount of that time I was teaching at Cornell was devoted to the writing of opera, so I was busy with other things. But I can remember the graduate teaching was really a lot more like private instruction. I could do what I wanted to with a smaller group. I don't think there were more than about eight composers, and I saw them every week. But they were superbly equipped for anything that was going on at the present time, and good many of them of have recently, or within the last few years, gotten very good jobs as advanced teachers of graduate students in other institutions around. They know more, for one thing. I don't know about the performers, but I'm told that a good many of them are like the one that I experienced in that woodwind quintet. They really are professionals before they get to be sophomores in an institution like that.



BD

: They're of professional caliber by then?



BP

: Professional caliber, yes, and some of them probably have the potential to hold down professional jobs! I taught for one year at Juilliard, but that's an exaggeration because the freshmen that you get there are equal to the seniors in many other place. But that's a different matter because performance is something different than composing. As far as the composers are concerned, I can't tell. I wouldn't have any way of knowing about the numbers of good composers that you might turn out if you started with a class, which you have to do in most cases. My experience with teaching undergraduates has been such a long time ago I can't remember, except that I do remember that the people who went on and stuck with music and became composers that have made a name for themselves was very a small percentage of the total that I had. Most of the people considered it an elective. These were people that wanted to know more about music than they would otherwise if they didn't get to the inside through instruction in composition. There were a good many people like that. They may not be musicians at all, but turn out to be lawyers or whatever, and this enriches their lives.



BD

: Is musical composition something that really can be taught, or must it just really be learned on one's own?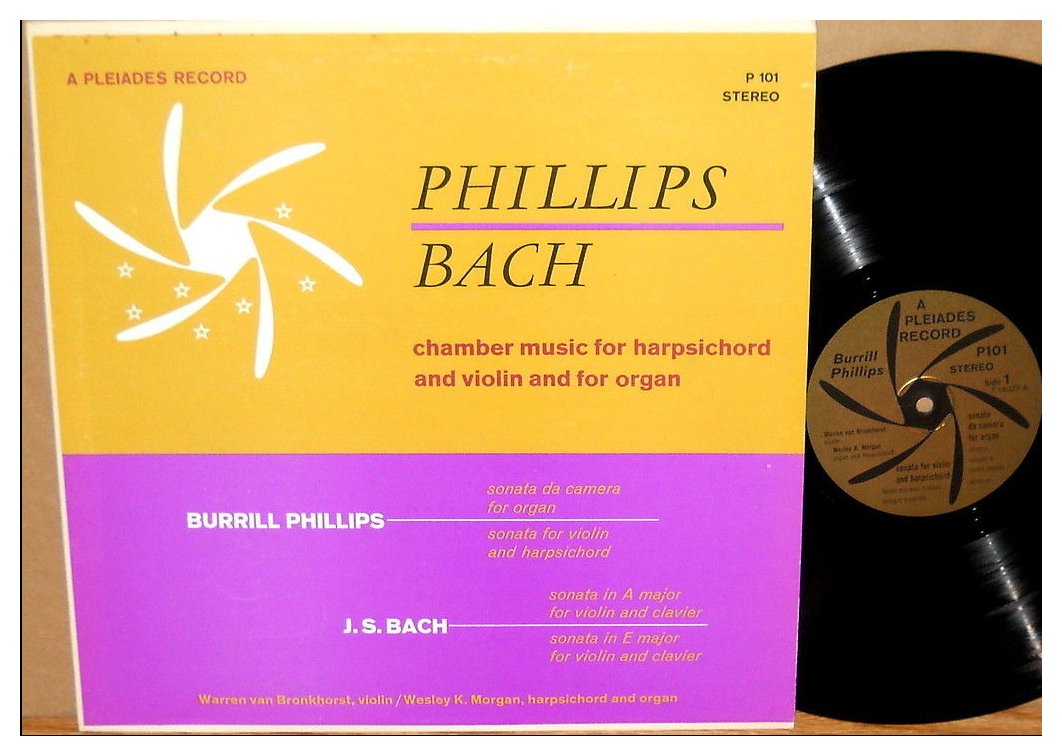 BP

: It's my opinion that a little teaching of composition is about enough. They'll experiment on their own. The teaching of composition is not a science. It's not even an art. It's some kind of an activity that has a lot more to do more with other things than music. The techniques can be learned easily from people who are not even composition teachers. I can imagine that you can get a good deal out of knowing a lot about the musicology end of things through reading and through listening to stages of musical progress from the Middle Ages on down to the present if you're capable of absorbing it. People who do that have a kind of discipline of mind that the older generations had. When I was a young student you had to study counterpoint in a certain way, and take a certain textbook and follow that. It turned out to be completely useless. It never gave me anything, I can tell you.



BD

: Well, in composition where is the balance between inspiration and technique?



BP

: I don't know. People get their inspiration from so many different ways. It doesn't really make any difference how you get it, and I don't know how you can explain it, either. It's something like a language that comes naturally or it doesn't come naturally. Some people stammer a lot and they ultimately get it out, but the quality of it might not be what you expect. It might be very advanced or it might be just very commonplace. I can't tell about that. Other people think that there are techniques for getting started and that inspirational ideas sometimes demand that you have a piano and improvise things for yourself that way. I've never used a piano in that way, but I know people in my own generation who did and they seem to get along perfectly all right. I can't tell you what the solution to that is. Another thing nowadays is with the business of electronic music being as widespread as it is, it demands some knowledge that we never even thought about when I was a student. It's a technical knowledge that encompasses a lot of things including mathematics and everything that has to do with electronic sound. I know people that have spent an awful lot of time before the synthesizer was quite so widespread as it is now. People used to use tape and cut it up into various lengths, put it together, reverse it, manipulate it and all that kind of thing. That was one of the most tiring jobs that ever had anything to do with music. I know one person who started out that way, and he almost gave himself a nervous breakdown because it had to be so precise and so exact. He found that he simply had to get into something else if he was going to stay a professional composer... which he did. That meant he had to exercise his imagination in a different direction than before, and it was good for him. Another thing about that is those things cost so much money that you have to be allied with a university or something like that in order to get along, because those good synthesizers are so expensive.



* * * * *





BD

: In your opinion, what is the ultimate purpose of music?



BP

: [Thinks for a moment] It's like any other art. It's certainly the expression through tone of the same kind of ideas that prevail among people whose medium is different, such as an expression of color. You arrive at a certain kind of understanding of the human condition, and try to do your best as to the quality that you can produce. That's a partial explanation and probably not very satisfactory, but as far as I can see that's about all I can tell you! In that regard, things come out and are ultimately much greater if the composer is gifted and has luck and is devoted to what he's doing. The only way that I can explain it is how obsessed you are with it, and then you don't think about what its purpose is. It's just your obsession and you simply follow it through to the best of your ability. Sometimes that doesn't please anybody, or doesn't please many people, but that doesn't make any difference.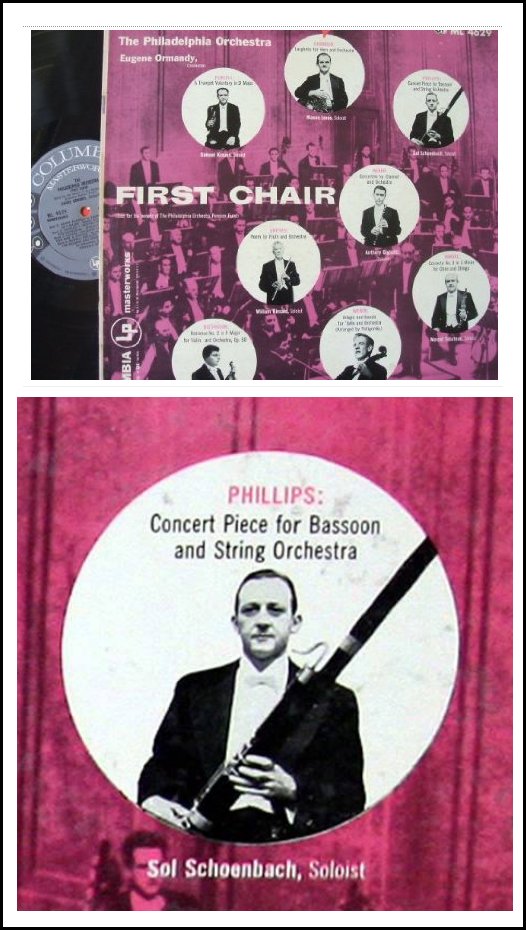 BD: Is music art, or is music entertainment?



BP

: [Thinks for a moment] There's entertainment music and art music, and they're both something that serves a certain purpose. Some people, like Bernstein, can do either one of them and is handy at both, but those people are not very numerous. Other people can't do anything more than just one thing, and they stick with it. So I guess it depends on the person, to a great extent. Bernstein is one of the very few that could do that kind of thing and do it well. There have been other people of his generation and even earlier that have done it, but I don't think they've succeeded quite as well as he has. When you stop to think about all of the things like

West Side Story

and that kind of music, and then the serious stuff that he also produces, that really is an astounding thing to do!



BD

: I want to be sure and ask you about your opera. Tell me a bit about the circumstances involved in this work.



BP

: First of all it's the second opera I've written. The first opera [

Don't We All

] was a one-act, and the libretto for both of them were written by my wife, who was a writer and also a musician. She was a violinist, and she knew what to do with the stage and the gala part of the opera. It was a commission from the National Endowment for the Arts, and we worked together on it. I think that's the reason we got the got the award because it was kind of a cottage industry. [Both laugh] We had had some requests for examples for somebody in New York that was thinking about commissioning an opera. So we did a very short scene and submitted it, but nothing ever happened. I guess word got around somehow or other that there were two people that would form a team of librettist and composer, and that, I think, had something to do with the fact that we got the award. Then came the business of choice of story, or choice of treatment I suppose would be the best thing to say. It's draped over a story that has a historical background — Henry Ward Beecher's trial. It was a scandal in the '70s of the last century.



BD

: Now was this the first opera or the second opera?



BP

: This was the big one,

The Unforgiven

, the one that we got the commission for. It's a regular three-act thing with some different kinds of ideas that operas generally don't have. There's a specialized group of voices for various purposes. One is a boys chorus, and there is a woman's chorus, and there's a general chorus made of all the adult voices. Some of them are specialized, and then there's the jury that has to have twelve men singers. It follows a kind of a plan, and the opera ends with a trial. There are a good many operas that have a trial. It's a thing that people would consider to be proper for the stage because there's a certain amount of suspense involved. At the end nothing is solved, because that was one of the things that historically didn't actually happen. The jury couldn't agree. So it's left unresolved and the music has to express that. It had other problems that we had to change from any historical truth, which is perfectly all right for an opera anyway. You don't want to stick too close to make a news report out of it. [Both laugh] So in general, that is a kind of skeleton arrangement we followed. It took us from 1976 when we got the commission until 1979. My wife finished the libretto about a month before she died, and there was still some improvement to be made on it. I couldn't get around to it at that time. For about a year, I couldn't get busy on any music, but I finally took it up and I did change some of the words toward the end because it needed enlargement. But otherwise, the opera basically was finished in three years. It doesn't last more than about an hour and a half, but it's got a great deal of detail. It's an orchestra that has a peculiar arrangement in that I used no double reeds.



BD

: [Surprised] Why not?



BP

: I wanted to have the kind of music that they preferred. I had read an account of some of the music in that part of the century in the United States that was written by composers familiar to their audience, not necessarily art music like was being written in Europe. They preferred smooth sounds, and the nasal quality of the double reeds I thought was inappropriate. Also there are no violas in the score either, but the brass is full and the strings — aside from the violas — are full.



BD

: Has the work been performed?



BP

: No. That's the thing. As soon as I had finished it and had the full score copied, I looked around for somebody who could make a vocal reduction for rehearsals. I asked one of my acquaintances who is a composer and a very experienced conductor. He was not doing anything in the middle of the summer and said he could take it on and get it done before too long. There were several possibilities of doing it but they had to have that material. The trouble was that he got a full-time job just at the time when he would be able to take it on, so it was impossible, and it's been put off since 1980. I have to find somebody that could do it. I couldn't do it myself because it's just too much of a labor that I didn't want to undertake. I finally have found a great possibility, and probably it will be done in the fall by another composer. That doesn't mean it'll be performed, but at least it's the first step, which I didn't take, and which was not required as far as the endowment was concerned. But of course if you're going to be practical about it you have to have that kind of a reduction. The next step will be to find someone who will do the parts, and that won't be so hard because parts can be done easily enough.



BD

: Let me ask you about the older opera,

Don't We All

.



BP

: [Chuckles] It had over a hundred performances the first three years of its existence, which is not too bad for a small piece like that. Then, like everything that is a novelty, it has fallen out. It was a one-act opera that was based on a story probably of Scotch origin. It was a comedy, and it gave us a great deal of pleasure to work on it. It takes about a half an hour or 35 minutes, and it did have a reduction and could be done with piano alone, though it was written for small orchestra, and was done that way most of the time. It was published by Schirmer's, but at the time that it was done, there was another opera,

Down in the Valley

by Kurt Weill, and they spent much more time publicizing that than they did mine. So as usual, the publishers didn't really do their job.



BD

: Does a tape of it exist?



BP

: No. It was before the time that any tape was available.



BD

: That's too bad because I'd like to hear it.



BP

: I would, too, but I can't. It's just gone with the wind. I don't know how many copies of the vocal score were made by Schirmer. Some people that wanted to do it would buy the scores, but they also allowed people to rent the whole business, and they had to reproduce so many more scores because all of them underwent an awful lot of hard usage. They sent me all of them back when they decided not to handle it anymore, and I think that I probably had as many as ten. I don't know how many they published. That's one of the things about publishing an opera in that fashion is that in rehearsal people just tear the pages and they mark them all up, and they can't be used after one performance. The only way is to publish it and print it in regular form and sell the whole thing outright. Then they'll take care of it. At least that's my experience... But it was a very happy occasion. I saw two performances of it at Eastman when it was first done, and I saw two other performances that were done with piano. One of them was by an organization in New York that was doing small operas, and I had to do the piano part for that one. So I couldn't really appreciate it because they had somebody else prepare the singers. I rehearsed them once and it was put on, and the crowd liked it pretty well. The quality of these small operas has improved a great deal since that was making rounds. According to the write-ups that you get, they do small operas at Santa Fe quite frequently, and the according to what the reviews say, they certainly are of a superior quality to the kind of small operas that were going around when I was writing my own.






BD

: Are you optimistic about the future of music?



BP

: Well, it depends on what kind of music you are speaking about. If you say orchestral music I'd say no, I'm not at all optimistic that it will ever come back to where it was at one time. But if you mean music in general and the kind that ultimately ends up as being a standard form, I'd say yes. Orchestras developed symphony, for instance, and thousands of people wrote symphonies. But that's no longer the desire of people to do it anymore. Young composers write big forms, but they're very seldom symphonic instrumentation. Whatever they pick out is usually different in every case. They will have several pieces, and some of them will have chorus, some of them will be entirely instrumental, some of them will be three hours long and some of them will be operas or stage works or anything else. Some of them will even be a group of very, very small pieces. It's impossible to say what kind of shape they're likely to take, but they won't take any of the older forms, I'm pretty sure. Some of these well-known pieces have stuck to the kind of music that pleases if he's got a public for it. But that's about only thing that resembles the old kind of music which was something from a composer whose style is known and he formed a public for it. The nearest thing to that, nowadays, is multimedia. That seems to me to be one of the strongest kind of thing because multimedia can include, and sometimes it does, original works for dance, and choral parts to the same piece, and a certain kind of accompaniment. Sometimes it's Asian instruments or instruments that are unusual, with computer music or whatever it might be. So it's a real tangled-up kind of affair. It's not as standardized as it used to be, and I don't think it ever will be again, because things like that always go in cycles, from simple to complex, and then back to simple again. [Chuckles] That might be the course it will take, but music of some kind will always exist. Some of my composer friends don't believe it. They think that there's no future at all unless it follows some of the principles that they believe in. I have a friend who's an expert about intonation, that is how to divide the octaves into various numbers of pitches. They're organized either according to a kind of theory of their own, or they go back to the pure way of treating it that the Greeks had or the Medieval monks had. I have been on a panel not too long ago in which one of the composers said that we've been living a lie in music ever since the Middle Ages. What he meant was that they did not use the right tuning for instruments that were used at the time and that developed into these that we have now. Well, that was pretty extreme, and I don't know whether he follows it himself, but at least that's what he thinks. And of course that's mild compared to various other kinds of assaults, too. There's all kinds of ways you can get interesting music, interesting sounds, and there's a lot of people who are ingenious at doing that and prefer to do it. They always have an audience in mind and they're very successful at it, and I think that kind of music should be encouraged because it's going to happen no matter what, whether we like it or not!



BD

: I appreciate your taking the time with me today. I've learned a great deal and have gotten insights into the mind of Burrill Phillips.



BP

: I enjoyed it very much, and I hope it does say something. Responding to questions is something I'm not used to doing very much.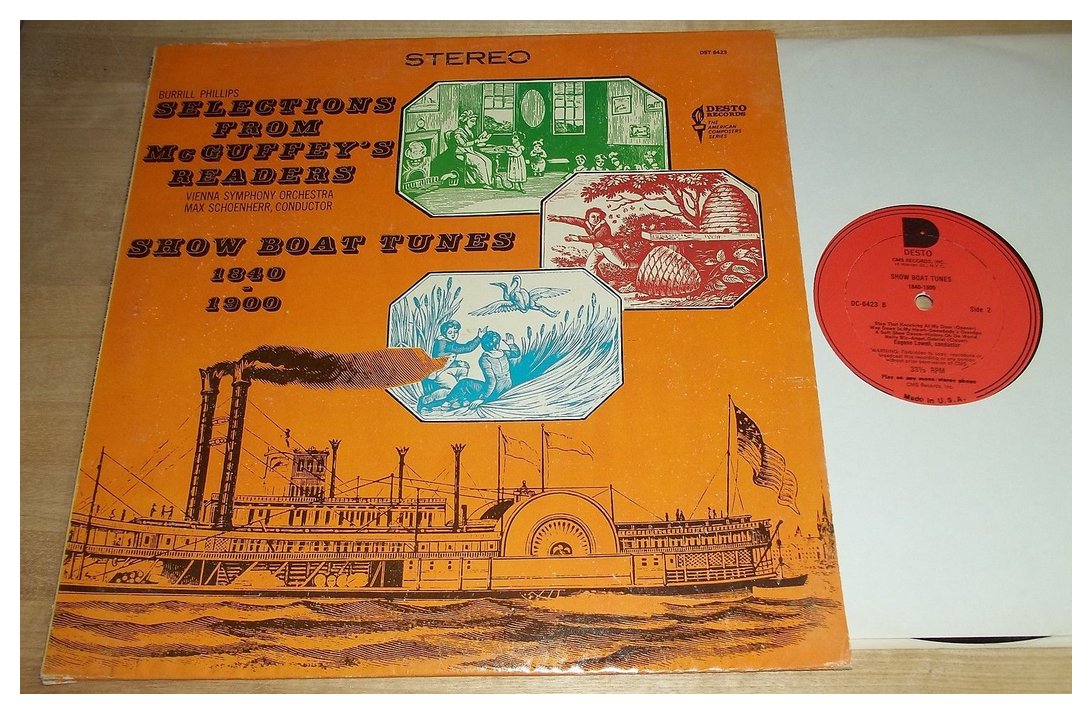 © 1986 Bruce Duffie

This conversation was recorded on the telephone on October 19, 1986. Portions were broadcast on WNIB the following year, and again in 1992 and 1997. This transcription was made in 2015, and posted on this website at that time.


To see a full list (with links) of interviews which have been transcribed and posted on this website, click here.

Award - winning broadcaster Bruce Duffie was with WNIB, Classical 97 in Chicago from 1975 until its final moment as a classical station in February of 2001. His interviews have also appeared in various magazines and journals since 1980, and he now continues his broadcast series on WNUR-FM, as well as on Contemporary Classical Internet Radio.

You are invited to visit his website for more information about his work, including selected transcripts of other interviews, plus a full list of his guests. He would also like to call your attention to the photos and information about his grandfather, who was a pioneer in the automotive field more than a century ago. You may also send him E-Mail with comments, questions and suggestions.