Soprano Phyllis Curtin
A Conversation with Bruce Duffie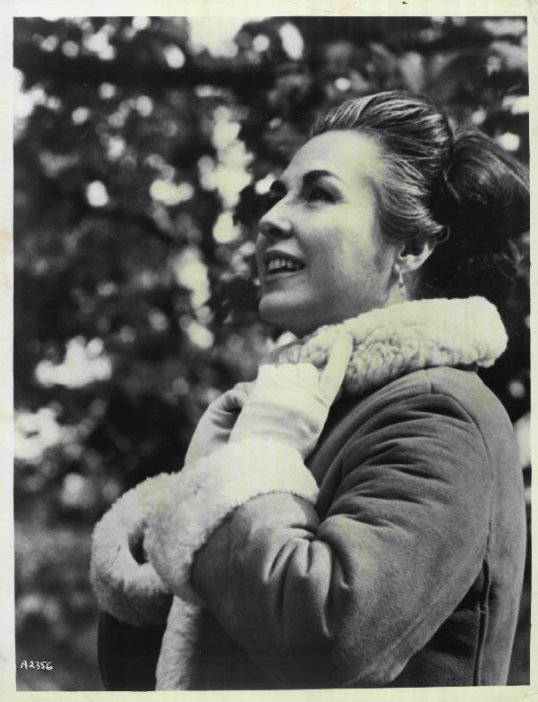 Soprano Phyllis Curtin was born in Clarksburg, WV, on December 3, 1921, graduated from Wellesley College, and in 1946 appeared at famed Tanglewood Music Center under Leonard Bernstein and with the New England Opera under Boris Goldovsky. She made her debut with the New York City Opera in 1953, where she sang both classical and modern repertoire, including all major Mozart heroines and many new works. Life magazine devoted three pages of photos to her seductive ''dance of the seven veils'' in Richard Strauss's Salome in 1954. The following year she premiered the title role in Carlisle Floyd's Susannah, which she later sang at the Brussels World's Fair in 1958, followed by leading roles in premieres of Floyd's Wuthering Heights and The Passion of Jonathan Wade. More than 50 new works were written expressly for her, including operas by Darius Milhaud and Alberto Ginastera and a song cycle by Ned Rorem. She also sang with the NBC Opera Company on television and on tour. Curtin made her Metropolitan Opera debut in 1961 and developed an international reputation with performances at the Teatro Colón in Buenos Aires, La Scala in Milan, and the Vienna Staatsoper.

Ms. Curtin became an artist-in-residence at the Tanglewood Music Center in 1964 and continues to teach there. At Yale University she taught voice, headed the opera program, and served as Master of Branford College. She became Dean of Boston University's College of Fine Arts in 1983 and Dean Emerita in 1992, continuing to teach singers and serving as Artistic Director of the Opera Institute, which she initiated in 1985. Master classes have taken her to many institutions in the United States and Canada, as well as to the Beijing Conservatory, the Tchaikovsky Conservatory in Moscow, the Tiblisi Conservatory, and the Britten-Pears School in Aldeburgh, England.

In 1976, President Gerald Ford invited her to sing for a White House dinner honoring West German Chancellor Helmut Schmidt. Ms. Curtin served on the National Council for the Arts and in 1994 was designated a U.S. Ambassador for the Arts, a new honor given former council members. She has received Wellesley College's Alumnae Achievement Award and BU's College of Fine Arts Distinguished Faculty Award, and holds a number of honorary degrees in music and the humanities.





What you are about to read is an interview with the distinguished American soprano Phyllis Curtin. I say that because the next few lines of this introduction will seem a bit off-topic, but please bear with me. There is a reason for the detour...

In the earliest days of automobile manufacturing, many men experimented with vehicles of various sizes and types. Though unremembered today, one of the most significant companies was that which produced the Columbia cars in Hartford, CT, from 1895-1913. My grandfather, Lawrence Duffie, was head of the department that tested the Columbia gasoline cars. They also produced electric vehicles — including most of the cabs that serviced New York, Boston, Washington, D.C., and other urban areas — but that is another story.

In late September of 1903, Duffie, along with Bert Holcomb and a couple of others established the record for a non-stop trip in an automobile from Chicago to New York City — 76 hours! To read about this event, click here. For more photos of the cars and drivers, as well as articles and other items, see my History of the Columbia Car. These days, according to the driving directions on the internet, the 800 mile direct route can be covered in about twelve and a half hours, to say nothing of the mere two hour plane ride!

One month shy of a century later, in late August of 2003, my girlfriend and I were taking a road trip of our own, and the first leg was a "re-creation" of that original run. I put the word re-creation in quotation marks because we did not follow the exact route the whole way — although we were told by locals in OH, PA and NY that some of the roads we were on were, indeed, at least 100 years old — and we certainly took our time and stopped conveniently along the way. But we did follow the city-to-city path (which is noted in the newspaper reports) and felt the presence of the ancestors on several occasions.

The point of all this is to show why we were in the Berkshires at that time! In planning for the trip, I also had arranged to connect with a few musicians along the way, including the legendary Phyllis Curtin! She invited us to meet her at her home, and we had a lovely time just chatting and laughing. Even her small dog seemed to enjoy the get-together!

As we sat down and turned on the tape recorder, I was admiring the truly lovely vista, and noted it was right near Tanglewood . . . . .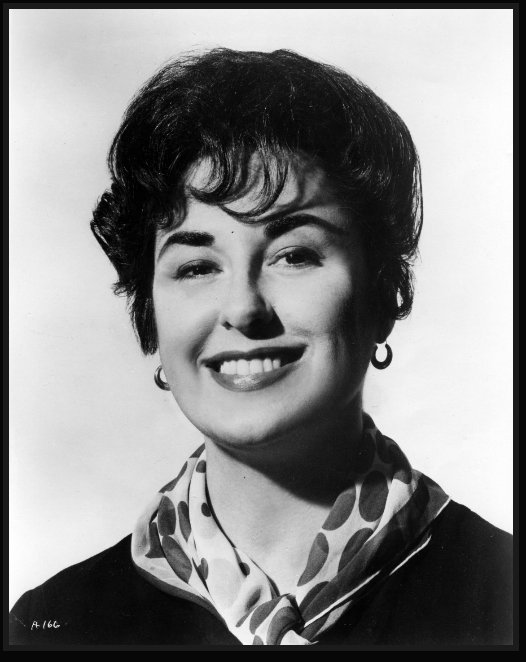 Phyllis Curtin: This was my fortieth year teaching at the Tanglewood Festival. As a matter of fact, Tanglewood is the closest thing to a music school that I have. I was a student here in 1946 when Boris Goldovsky had an opera program here. [See my Interview with Boris Goldovsky.] I came to that program in 1946, '48, and '51, and since I had gone to Wellesley and majored in political science, this was my music school.



Bruce Duffie

: Was it a complete introduction to music, or a finishing of your studies?



PC

: I had been a violinist from age seven until eighteen, and then stopped playing at Wellesley. That was during the war, and I was being a very serious student, feeling that I really had to know something about the world with all of that going on, so I majored in Political Science. I was missing making music, and I thought if I get my violin I would be carrying an extra course. So I went to the dean and asked if I could take singing lessons. I had always sung. My mother had a gorgeous voice and was the organist, the choir director, the everything at a small Lutheran church in the little town where I grew up in West Virginia. She even managed to get her whole congregation to do a sung liturgy for years.



BD

: Having majored in political science, has that helped you at all to relate your music to political scientists elsewhere?



PC

: I shouldn't think so, but it's kept me an avid follower of politics everywhere, and it still is a big preoccupation.



BD

: Can you not, then, influence presidents and senators to do things more for the arts?



PC

: [Laughs] Well, there are a lot of funny things like that. As a matter of fact, at one point during the Reagan administration I was proposed to be a member of the National Council for the Arts. I was told by a member of the administration, "Phyllis, can't you find some Republican friends?" [Both laugh] It was only when he was going out that I finally made it to the Council. I had all kinds of black marks against me. I was on the board of the World Peace Foundation, or whatever it used to be called, but in any event, politics stays a big preoccupation. But I don't know that it did anything particularly about music, except that for me, singing is a total life study, so it's in there.



BD

: You sang professionally for many years, and now you are teaching. Are you finding wonderful voices coming along?



PC

: Oh, my goodness! I wish you could have heard the singers who were here this summer in the program. There are a few finishing a masters degree and one or two that were working on doctorates, but they're all young professionals of the very highest order.



BD

: So these are ones who will take the places of those who are retiring?



PC

: There's no doubt about it; they're simply marvelous singers. But this all happened quite by accident. I always knew I would teach some day because when I was about nine I took dancing lessons, and my very best friend did not. So I would come home from my dancing lesson and we would go up to the attic of my house and I would teach it all to her. I discovered that if you try to teach somebody something, you learn an awful lot yourself! I just loved it.



BD

: When did you begin teaching singing?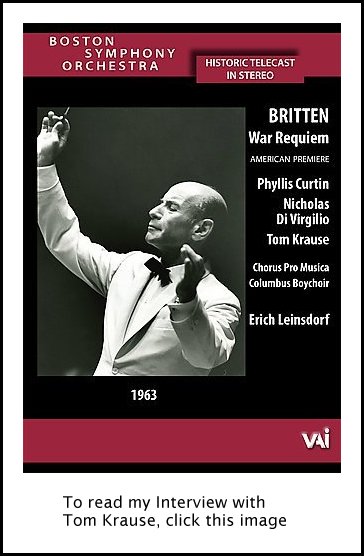 PC: It was by accident forty years ago. I was here to sing the American premiere of the

War Requiem

with the BSO. We did the first performances at Tanglewood, then three or four in Boston and then in New York. It was a longer rehearsal period than usual for things at the BSO in the summer. Erich Leinsdorf was the conductor. [See my Interviews with Erich Leinsdorf.] The opera program, which had been here for a very long time, had been discontinued, and there were lots of rumors around. I have no idea why, really, but there was no opera program. They had a group of singers that had been brought up for the summer, and I think it was Harry Kraut came to me and said, "Phyllis, we have all these really unhappy singers. Can you think of something to do?" I said, "I don't really think so, but I suppose we can sit around and talk about singing." That's how the classes began, and they've been going on ever since. [Both laugh] We audition hundreds of people and we take twenty-four.



BD

: What do you look for when you audition people? How do you select this one and not that one?



PC

: Frankly I don't audition. I've only gone on the audition tour once or twice, largely because when it all started I was too busy myself to go. Then much later I was teaching and doing some other things; I taught at Yale and then I went to B.U. There are people in the program who are marvelous pianists, who are collaborative pianists. Vocal literature is their big thing, and they're the ones who do the auditioning.



BD

: Then what do they look for, and what do you suggest they look for?



PC

: I don't suggest anything. They do beautifully all by themselves, but we all are in contact with each other. First of all, you look for somebody who is intensely musical. Already with the kind of people who want to come here, we're dealing with good voices. You wouldn't take somebody who was wildly wrong, technically, or in big, big trouble. We do take some who need instruction, and one of the things I do is to make things easier for singers.



BD

: To straighten out the technique?



PC

: Yes, but my class is about both the art and the craft of singing. So we look for musicality; we look for individuality; we look for good language skills.



BD

: Understanding or pronunciation, or both?



PC

: Both. We also take about six pianists every year into the program. They have to audition and they have to read and translate in Italian, French, German, or Spanish — at least two languages besides English. It's really a very sophisticated program. So I would say that we look for people who are potential professional singers. It's very interesting and I have nothing but sheer exhilaration all summer long with them. I've learned so much more about singing! It's really wonderful for me.



BD

: You began this when you were still a professional?



PC

: At the height of my career, yes, and that was very interesting. My management, Columbia, was beside themselves. In the first year or two, somebody did a story that was in

Time

magazine, and the management was on the phone the very next day. He said to me, "Phyllis, you've got to stop this! Managers of symphony orchestras are calling and asking, 'If she's doing that is she still singing? Is she going to retire?'" It's funny... A cellist, a violinist, a pianist can teach and nobody thinks their career is over, but how often they think that about singers! It's really very interesting. One would suggest that maybe some of those singers are teaching because they couldn't sing anymore, which is a wrong recommendation.



BD

: Then let me ask perhaps a very dangerous question. How does a singer know when the career is on the decline or should be ended?



PC

: We'll get to that in a second, but I was teaching the classes on Monday, Tuesday, Wednesday and Thursday. That was so I could leave Thursday afternoon and get to somebody's festival on the weekend to perform and get back in time for Monday morning class. I did that for years. I think it's why I had a career until I was past sixty and never had a vocal crisis in my life. But it's also because it's so exciting to work with somebody else. I pay attention to anything with them. The same thing might happen to me if I thought, "Oh, well it's just today. Never mind." But it's a great thing for staying in wonderful condition, so I loved that.



BD

: So part of your lesson was for yourself?



PC

: I wouldn't say that, but just by thinking of it and diagnosing things, you can't help but learn. It comes out of your own understanding, and you learn a lot. But as for knowing when to stop, that's very interesting. I only had two teachers in my life. One gave me an idea about what the art ought to be, and the other gave me the means to do it. I remember when I was about thirty I was changing techniques altogether, and he said, "You know, my dear, every singer has to learn to die twice." That's a very interesting thought when you're thirty; quite a wise statement. When you're sixty it says something interesting, but all along, if you're canny you begin to notice things. I gave up Costanza about the time I took on Tosca. Voices change; all kinds of things do. But then all of a sudden, when I was getting close to sixty, there were some things that I could still do, but it cost a lot, and it wasn't just because that was an off day.



BD

: It took too much out of the reserve?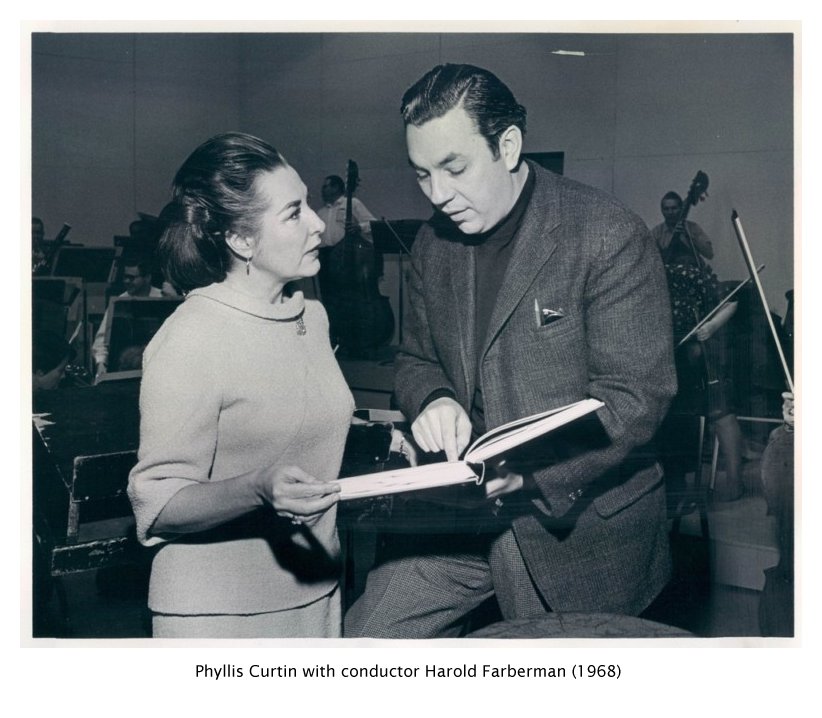 PC

: Not even that. Like everything else, your body isn't as responsive as it was. It's as simple as that. Your techniques are the same, but all of a sudden the body doesn't respond as easily. Baseball players and tennis players have the same problem.



BD

: Was there ever a time when you wished you could take the voice out of the throat and send it to the repair shop, like a violinist does, to be restrung and put it back in?



PC

: No. [Laughs] Never. I never thought of 'the voice' as being separate from me. Not ever.



BD

: And yet everything that you do and all that you are affects the voice much more than it would affect a violin.



PC

: Of course, everything — your state of mind, your emotional state, not to mention your physical state, your fatigue, your anxieties — all of those things do. But if you have a really good, sound technique, it's amazing how when the moment comes to perform, you perform. You worry afterwards, as far as that's concerned.



* * * * *





BD

: When you were singing, how did you divide your career between opera and concert?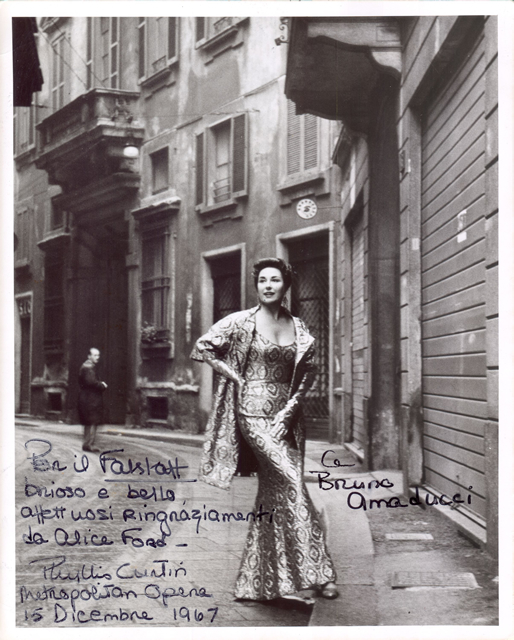 PC: Oh well, that was easy. All the vocal arts interested me, and I'd had a nice background. Singing really caught on that junior year in college. My dean had told me, no, I could not take lessons because I would be carrying an extra subject and that was too much. If I took practical music I would have to take a theoretical subject. I explained that I'd had theory and I'd had harmony and all of that, but it didn't cut any ice. Years later when I was a dean I remembered this very well. So I went to the lady whose picture is on the piano, a Russian lady, Olga Averino, who was teaching at Wellesley for a few years. [Note: Averino's mother was the God-daughter of Tchaikovsky, and Olga was the God-daughter of Tchaikovsky's brother, Modest.] I explained all of this and I said, "So, I thought maybe I'd take singing lessons in Boston." She said, "Have you something to sing?" and I said, "No, ma'am." "Can you read?" "Yes," so she arranged it that I could take lessons. [Laughs] I found that in song literature there was everything in the world that I loved. I had danced for years; I did theater; I love poetry, and it was all in there along with the music. So I adjusted my life to keep studying more, and one thing led to another. But the business about stopping is very interesting. As I said, things which had always been easy began to be not so easy. I would listen to friends of mine who were around my age and I'd hear in them things that were happening to me. It was a hard decision, but one day I simply called Columbia Artists and said, "I'm not going to sing anymore."



BD

: Just like that?



PC

: Yes, and I never did. Well, that's not quite true. I sang some nice Cole Porter evenings with my pals, Willie Ruff and Dwight Mitchell, and I sang a few things in Boston that people asked me to do, but I didn't any more sing under contract, and I was glad. As a matter of fact, I was on a panel for that wonderful big arts prize that SMU gives at The Meadows School to well-established artists. There was a group of us who were figuring out whom to choose, and I remember one day at lunch there was Harold Schoenberg and Villella, the dancer. Mr. Schoenberg said, "Phyllis, I hear that you've decided not to sing anymore," and I said, "That's right." "Well, why on earth would you do that when you're singing just as well as you ever did?" There's no answer to that until Villella popped up. I did not know him at the time, and he had recently retired from the ballet. He said, "I know why she did. There are things I can do better than I ever did, and I can do them for about a minute and a half." [Both laugh] I thought, "Bless your darling heart." He's been a hero of mine ever since. He said it for us all.



BD

: Did you pace your career specifically, or did it just happen?



PC

: To answer your first question about dividing my performances, once I was pretty well established I only did opera for a certain number of months a year. This was because the song literature was fundamental, basic, and passionate for me, and I didn't want to give up song recitals for anything in the world, nor the symphonic literature — those wonderful things for soprano and orchestra. I was lucky. Somehow my management understood that, and my career was in all those things. Some years, when that old Community Concert circuit was still a big thing, I sang up to fifty or sixty recitals a year, plus the opera, plus the other things. So it was a very busy and happy life with no complaints.



BD

: Did you get around to singing all of the roles that you wanted to sing?



PC

: Oh dear, no! [Laughs] People have to ask you to do them. That's the worst part. [Laughs] Every now and again people ask, "Why didn't you ever sing such and such?" I'd say, "Because nobody ever asked me to." [Laughs] I don't have my own company. I would say the only one I really still miss is the Marschallin. I sort of circled around that thing for a long time. At the Met, I covered the role. Mr. Bing and I had a fascinating relationship. He always told me, "Well, my dear, you're not Italian," or German or Austrian or whatever. Forever I was hearing this, and it was a little the same with the Marschallin. Finally, two things happened. Once they were doing it on the road, but I was not going on the tour because I had a summer in Europe. I got a call, "Oh, Phyllis, we very much need you to sing the Marschallin in hm-hm-hm." I said, "Well I'm sorry, I'm not going to be around at all." That was the closest. The next time it was one of those times when the house had been closed. They called it strike, but usually it was a lock-out. They said, "Mr. Böhm has asked for you to do the Marschallin," but it was at the same time that, of all things, I was singing

Erwartung

in Washington. So the one time I was asked, I really couldn't do it, which was too bad.



BD

: Of the roles that you sang, were there some that were more difficult to sing because of the characterization?



PC

: No, but there were a couple that I didn't like because of that. I never enjoyed the Countess very much, only because she's Rosina. There's never any moment in

The Marriage of Figaro

where Rosina shows much, except in the argument with the Count. I had sung the mezzo Rosina in

The Barber of Seville

years ago, and finally I got to do Rosina in Milhaud's opera

La Mère coupable

.



BD

: That's the third drama?



PC

: Yes, the third one, which had its premiere in Geneva. So I got to do all the Rosinas, which is really kind of lovely. They're all quite different, which is wonderful.



BD

: I wonder if that's unique in the annals of the opera.



PC

: I don't know. I don't know how many people have sung

La Mère coupable

. As far as I know, it's never been done in America. I just know about it in Geneva where I sang in the premiere.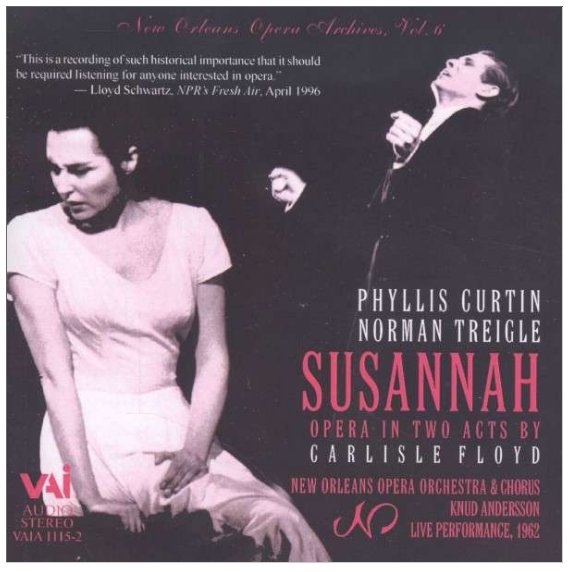 BD: Let me turn the question around. Was there any role that was perhaps a little too close to the real you?



PC

: Probably Carlisle Floyd's Susannah. [See my Interview with Carlisle Floyd.] I grew up in the hill country. It's funny though, Mack Harrell and I were in the premiere at Florida State University, and we both had a pretty good grasp on that kind of fundamentalism. Later with Norman Treigle and Richard Cassilly, the first bunch of us were all southerners. I just understood Susannah right to the ground, but she's not hard to understand, nor is there anything arcane about that opera. It's absolutely direct. There aren't any sub-plots and things running underneath. It's as direct as it can be.



BD

: You created that role?



PC

: Yes.



BD

: So it was written for you?



PC

: No, it really wasn't written for me. That gets around a lot, but I was just the first one to sing it, and Carlisle did bring it to me. I was at Aspen, so was Mack Harrell, and Carlisle had been there the year before. He's a wonderful pianist, and he had been there the season before studying with Rudolph Firkušný. [See my Interview with Rudolph Firkušný.] Somebody suggested this theme to him and he had written it, and there was somebody that he knew who was sort of interested, but it didn't work out at all. So he brought it out there because he'd heard that I did new music a lot, which was true. That particular summer, Darius Milhaud had insomnia. [Laughs] I love Milhaud. There's a cartoon he made of himself on my wall over there. He would write at night, and then ask me to sing it the next day! My great gift is that I could read fast. So Carlisle called me and said that he had this opera, and he would love it if I would look at it. I said, "Well, I am pretty exhausted with everybody's new music right now, but would you come and play it for me?" So he came and I knew that opera right away. So I called Mack Harrell and said, "Mack, can we come and let you listen to this?" Mack loved it as much as I, so Carlisle was excited and he called the dean at Florida State where he was teaching. The dean said, "If you can get those two people to sing it, we'll give you a performance." It just happened that Mack and I had the same two weeks free in February. So the premiere was at Florida State in Tallahassee. While I was there, I got an invitation from Boosey and Hawkes to come to a party for somebody or another on their list. I called back and said I couldn't come, but I thought somebody ought to come down and hear this opera. So Robert Holton, their arts and composers guy, came and that's how Floyd got Boosey and Hawkes. So it all just worked out beautifully! Mack and I went up to New York, and happened to be there at about the same time, and we decided to sing it for a bunch of people. One rather illustrious producer said, "But Phyllis, there is no boy-meets-girl in this piece." [Both laugh]



BD

: So it doesn't fit the usual formula!



PC

: No. But in Larchmont, near where Mack lived was the home of Erich Leinsdorf. So we went and sang it for him. Mack and I sang everything — we sang the chorus parts, we sang everybody else's parts, we really knew that opera! I don't know if he liked it as much as his wife did, but in any event, there was that one year when he ran City Opera, and that's how it got there.



BD

: Does it please you now to know that it has become pretty much of a standard staple?



PC

: Oh, my dear, standard? It's had well over a thousand performances. It's too bad that it took it forty years to get to the Met, but I didn't like their production much. Nonetheless, there it was and it was nice to see. People say it's too small for the Met, but then they do

Così Fan Tutte

there...



* * * * *





BD

: You're created a number of other things. Is it special to bring something to life that hasn't existed before?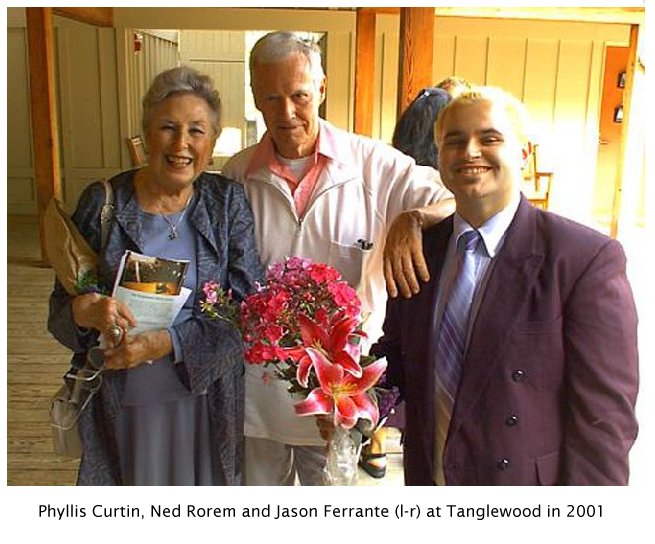 PC: Oh, it's wonderful! I think that's almost more fun than anything. There's nobody saying, "Well, you know, madam so-and-so always sings it this way." With all of Carlisle's things that I did first —

Wuthering Heights

,

Flower and Hawk

,

The Passion of Jonathan Wade

— it was really wonderful fun. I remember with

The Passion of Jonathan Wade

, Celia, the heroine, is such a lovely, full-blown, normal lady, and so much of it was written so high. I said, "You know, it doesn't seem to me to be the right voice for her." It was fun. Carlisle listened and listened and he said, "Isn't that funny? It didn't sound that way in my head." He brought some of that down, but that's about the only time. When I've worked with other composers, it's also been just wonderful. I have had this long relationship with Ned Rorem. [See my Interview with Ned Rorem, which includes another (much earlier) photo of Curtin.] Copland and I did his

Dickinson Songs

many times together, and that was always fun. It's special, very Copland-esque when he plays it.



BD

: You seem to be drawn to composers who can write a melody!



PC

: I hadn't thought about that at all. There are plenty of others that I did — Ligeti I've sung with great pleasure and I've done a lot of other things as well. Those just happen to be the ones the people pick up and do. I knew a lot of composers when I was just out of college, and while it was the war, there were a number still around in Boston — Irving Fine, a man named Paul DesMarais who was later largely in the west coast, Robert Middleton — a lot of people. They wrote and I read, and we performed. It was wonderful for me. When I've taught at Yale and B.U., I insist that all my students do contemporary music. If you do that and if you happen to have a live composer there, when you go back to Bach and Mozart you can suddenly look at them as if they were alive. It makes an enormous difference. I had a girl this summer, a young woman named Deborah Selig, a wonderful soprano. How many wonderful young sopranos — or old sopranos — can sing

Ach, ich fühl's

from

Magic Flute

beautifully? All you need's a beautiful voice and that piece sells itself right away. This young woman had a beautiful voice, but I swear she is the first person that I have heard who made it a living, dramatic piece. When she said

tode

at the end, we all got chills. It was as if it just happened to her; she was thinking about that for the first time. When she said

Es ist verschwunden

it broke your heart. She was a real Pamina, living and breathing, not just a beautiful singer singing beautiful Mozart. This was evident from the first brand new piece she sang this summer on the Contemporary Festival of Music. She took part in excerpts from Ligeti's

Le Grand Macabre

. It's a wild piece and she'd had such a wonderful time doing that. What a difference all this made! Much exposure to doing music of our own time will do that to you.



BD

: Do you have any advice for composers who would write for the human voice?



PC

: I've talked with composers a lot at the schools where I've been. One of the most amusing and baffling occasions happened with composers at Boston University about ten or twelve years ago. We'd have a very interesting discussion. I was both with composers there and at Tanglewood who were writing for the voice. I have often asked, "Why do so many of you write

senza vibrato

? What does that mean to you? Why do you want that white sound?" You'd be surprised how many don't know. One fine young composer said, "Well, you know, most of the music I listen to is

senza vibrato

." Then I realized he didn't listen to much classical music, he listened to a lot of pop music, and that's how he liked it. Another one said, "Oh well, singers have such big vibratos," and I thought, well how many real singers have you listened to? A lot of the time the music had no relationship to text at all, and that's my whole thing with people. The reason people write operas and songs is because of text. So that was it. After this one time at B.U., I finally said, "Does anybody think about," (and I went about choosing this word carefully), "beauty?" Well, the strangest silence fell over this small group, as if I had undressed in front of them or something. They almost held their breath and one of them came out with the most amazing statement I have ever heard about his. He said, "I don't think that's the kind of thing you talk about in public." [Both laugh heartilly] In this day and age when there's nothing you can't talk about in public, they weren't able to speak of beauty??? [Gasps] Isn't that strange?



BD

: [Pondering the idea] When did "beauty" become a dirty word, and why?



PC

: Oh, I have no idea. I think it's going away. I think this was the end of the big experimental stuff, and things are changing a lot in composition.



BD

: [With hope] For the better?



PC

: Well, yes, I guess for the better. But I just think it's wonderful to sing music of your own time because it is your time. You ought to bring something to it that is special.



BD

: You were handed a lot of new music. How did you select yes I will sing this or no I won't sing that?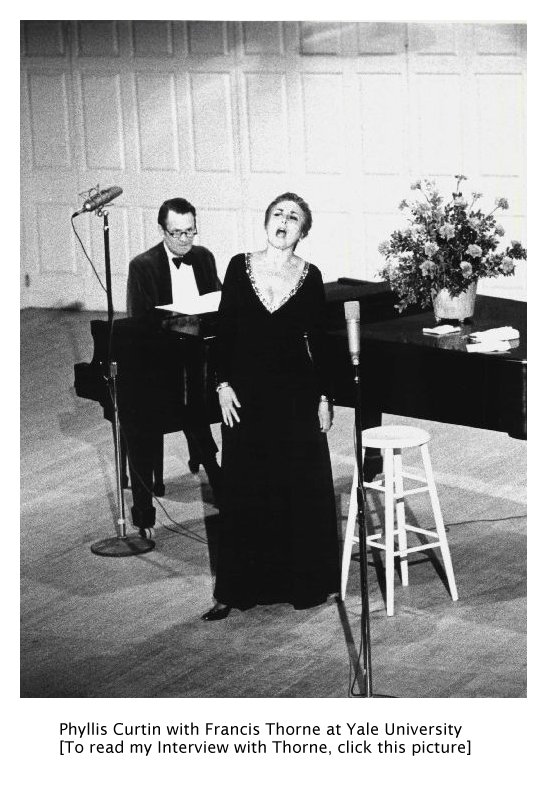 PC: Interesting question. Huh... what do I start with? I was going to say I start with text, but that's not really true at all. I don't know. I look at the music, I look at the text, I look at vocal line. I try to find out how what's going on in the score is related to what's being said, and why is that, and if it's convincing to me or even challenging. One of the funniest pieces I ever did was at Yale. It was calligraphy. It didn't have any notes at all. The composer was sitting in front of some discs that were playing, and there was my part. I don't even remember anything about the text anymore, but he was very interesting as a calligrapher. Some of it was very small, and some of it looked like a big L. I simply made up sounds to go with whatever that was. It was fascinating.



BD

: But that's just

Augenmusik

.



PC

: Well, yes, but that's interesting too. There's something really primitive about that. When you take the primitive desire to make a sound, whatever that is, and then you get more sophisticated about it, pretty soon you have Schubert. It's endlessly fascinating to me.



BD

: In that line of making a sound that eventually becomes Schubert, where does beauty come into that?



PC

: I don't know. Like we say, 'art is in the eye of the beholder,' it's in the ear of the composer, of the people who get the music off the page and how they get it off the page. That's pretty important, too. If you get somebody who's being dutiful and not very interesting, you haven't served the composer well at all. As I tell kids, "If you are going to make a living this way, you're going to have to sing things you don't like. But you cannot let anybody know that. It has to be the most wonderful thing you ever sang when you do it." I had a big problem with the Mahler

4

. That kitschy last movement just drove me nuts, and I got asked to sing it a lot. So it was part of the family income. But I finally said to my management, "I really hate this piece. I don't want to sing it anymore."



BD

: So then they could push for something else, perhaps?



PC

: Or if somebody asked for it they said would say I was busy or something. [Laughs] But then my manager called, and I don't remember who it was, but it was a conductor he knew I especially liked, and said, "He has asked you for Mahler

4

. Are you going to do it?" I said yes. I thought I'm really so foolish. If I can become Salome on the stage, and I can be the Countess, and I can be this or that character, I'll simply make up somebody who adores this piece. So Phyllis Curtin would listen to the first three movements very happily, and then some other character, as far as I was concerned, got up and sang the last movement and she likes it a lot.



BD

: We're kind of dancing around this in a strange sort of way, so let me ask the real easy question. What's the purpose of music?



PC

: [Pauses for a moment] Music, to me, allows us to explore very deeply one's non-verbal intelligence and sensibilities. Things you can never find a way to express verbally can come out pure and simple and essential in music. That's very interesting. A composer may say he has no particular emotion that he's going after, but the fact is that we respond that way and it hits us all differently, perhaps, but it speaks to something that we have no other way to feel. It heightens feelings that say something to us. There is that beautiful song cycle

La Chanson d'Eve

of Fauré. I have never sung it a lot because you have to sing it to an audience that is really used to listening to songs. But it's next to the last piece he ever wrote, and they're poems of the Charles van Lerberghe, a Belgian poet. It's the creation of the world seen through the eyes of Eve, like nothing you've ever read about or nothing that's biblical or anything else. The last poem is

O mort, poussière d'étoiles

, (

Death, dust of the stars

). That piece simply takes me to some place that I never get any other way. I told my daughter, "If I'm dying at home and still alert, would you just play that piece for me?" There is so much in the song literature which allows me to understand the human condition far more deeply than I could on my own, even through literature. There's something through the writing of poets thoughts and the composers' realization of it which takes me places I would never have gone otherwise.



BD

: And this is where you want to take the audience with you?



PC

: I never think about taking the audience. It's funny. I have an e-mail from Martin Bernheimer, who sent me a copy of something that he had read someplace by a critic whose name I didn't know, but whom I sat next to at a dinner party here in Great Barrington around Christmas. He asked me something, a question like, "To whom do you sing when you're singing a concert?" I said, "I don't sing to anybody. I sing to the universe." There was a little discussion and then dinner party went on, but what Martin sent me was interesting. It was a review a concert of Bartoli and Renée Fleming and José van Dam. At the end of his article he included a conversation with van Dam, and he asked him the same question. Van Dam said, "Oh, I sing to the universe." Now I know that sounds silly, but if there's an audience out there — it could be the Hollywood Bowl where there are twenty thousand people or it could be a small hall with fifty — but once I start, I'm just going down the vault of heaven. As time went on, I realized how many people would say, "Oh, I felt you were singing just to me." When that's happening, and there is that longing, absolutely living in the material, every person in the audience can tune into it. But if I'm singing

to

people, then these people wonder why is she singing to them. It's very interesting, and I was just thrilled that it was van Dam who said that because he's one of my favorites. So I think that if you really do your job, if you're living with the material, not yourself, then it's available to everybody out there. If you're concentrating on how well you're doing it, and this is really such-and-such, and ooh, I must make this effect, that is already minimizing where your music is going.



* * * * *





BD

: You sang for many years in opera houses and concerts. You also made a number of recordings. Did you sing the same for the microphone as you did for a live audience?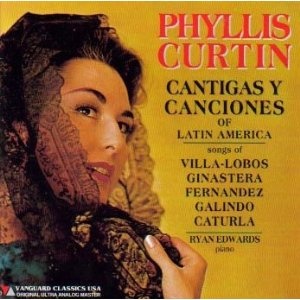 PC: Of the few recordings that are around of mine, most of them are from tapes that were made live. There is

Luonnotar

with the New York Philharmonic and Bernstein, and also some Sibelius songs which were recorded with the orchestra and there are microphones all over the place. I never thought of it at all, so no, I didn't change. I did very little studio work, almost none. I remember for the French stuff,

Chanson d'Eve

and six poems of Paul Verlaine set by Fauré then Debussy back and forth. I did that at a second town hall recital because I'd had a nice success at my first one. Then by carefully reading the newspaper, I noticed that very often at a second recital, if your first one had been reviewed very well, people were out to pick on you. So I thought I'd try to make a program that will be so interesting to the critic that he'll forget about me. [Laughs] So the second half was the six poems of Paul Verlaine, and everybody argued about who they liked best, Fauré or Debussy. I got by nicely. [Both laugh] But I recorded that on the stage in the Boston University Concert Hall about a hundred years ago, and I don't even remember about microphone. I remember recording the Brahms

Requiem

with the Philadelphia Orchestra and the Mormon Tabernacle Choir out there. I would listen to the playback I sounded a million miles away. McClure was the chief engineer there for a long time and he said, "Phyllis, you'll get used to it." For the recording

Der Wein

of Alban Berg, and

Wozzeck

excerpts with the BSO, they put me on the stage but the orchestra was in the house. Again there were microphones in all kinds of places. When we listened to playback after one go-through of the

Wozzeck

, it was fascinating because it was really marvelous until we got to that last pianissimo B Flat. Suddenly came out forte, and Dick Mohr of RCA said, "Oh, Phyllis, I'm so sorry. I looked away from the score and I just turned it up when I heard that. But I'll just turn it down." I said, "But I want my piano, not yours." [Both laugh] Perhaps if I had been recorded a lot I would have been OK with that, but I never let it be the engineer's problem instead of mine.



BD

: Were you pleased with most of the performances you gave?



PC

: No, not always.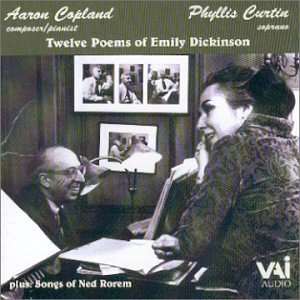 BD: I hope you were pleased with some...



PC

: Oh yes, sure. I had wonderful times with some. I remember those that were sort of transcendent, when I felt as if I didn't do it at all. I remember singing the Copland Dickinson songs at Marlboro with my pianist. I never liked Emily Dickinson; I used to get so annoyed with Emily Dickinson. It was just me reacting to her, but boy, once Aaron set her, I think he really knew her a lot better than I ever did, and then I was just delighted. In this concert I remember I took a breath and it was all out here. I thought, "Emily's sending her letter to the world." That's a pretty nifty feeling. Those are special nights.



BD

: Are you optimistic about the future of music?



PC

: Spend a summer at Tanglewood and listen to the Tanglewood Music Center Orchestra do the contemporary music things, which are all done by the Tanglewood Music Center people. As to my singers, you just hope there'll be enough places for them. There's nothing the matter with these people. As a matter of fact, when I came as a student here, people looked on us as the cream of the crop, yet I think we were nothing compared to the young singers that I get now! I had a couple this summer who are just as fine instrumentalists as they are singers. They are marvelous musicians who are gorgeously rounded about all kinds of things. We did two brand new one-act operas this summer that were commissioned by the BSO. One was by Rob Zuidam from the Netherlands, and the other was by Osvaldo Golijov, who's sort of the composer of the hour. Golijov wanted Dawn Upshaw to do his central role because she's been singing so much of his music, and Zuidam wanted Lucy Shelton for his major role, but his is such an ensemble opera it really didn't matter. Our students sang everything else, and both Dawn and Lucy were covered by people who also sang performances, and who were just as good in every way. Those people can do anything! The Golijov opera started with a dancer as a horse. It is a wonderful masque. I looked in the program to see who was the dancer. It didn't list the name of the dancer at all, and this is a major part. This dancer is on the stage for at least five minutes alone at the beginning of this opera, and then during the opera she turns up from time to time since it's a figure for death. Well, it was one of my singers! I saw these operas three times, and when the curtain calls came the first time and she took off the mask, I thought, "That's Anne-Carolyn Bird; I'm sure it is." She'd been dancing since she was a little girl with first-rate ballet training, and she'd been in the corps of a company at age fifteen. So here she is, one of our most accomplished singers, but also this remarkable dancer! These people are all doing new works. The Golijov will be played in New York at BAM and also in Los Angeles with these singers. But reading about failing symphony orchestras is not very heartening. There was a big article in the

Times

about the ones that were doing well in reduced circumstances. They all seem to be caught on that terrible dilemma. To get young people in the audience, you've really got to keep doing new things. On the other hand, your big supporters are the white-haired ones, and that's hard. What

does

concern me is public schools. When I was growing up in a little town in West Virginia, I was playing violin in a real orchestra in the seventh grade. There hasn't been anything like that in years there. There isn't that kind of music teaching going on.

At that point, her dog began seriously barking at something outside, and I mentioned that WNIB, the radio station where I had worked for 25 years, always had various dogs and cats that lived there and kept us all company — especially during the evening and overnight hours, which was my usual shift. [Several photos of the animals appear elsewhere on this website.] It had been a delightful hour, and before we left, Curtin proudly showed off many of her photos and souvenirs which were displayed everywhere in her wonderful home.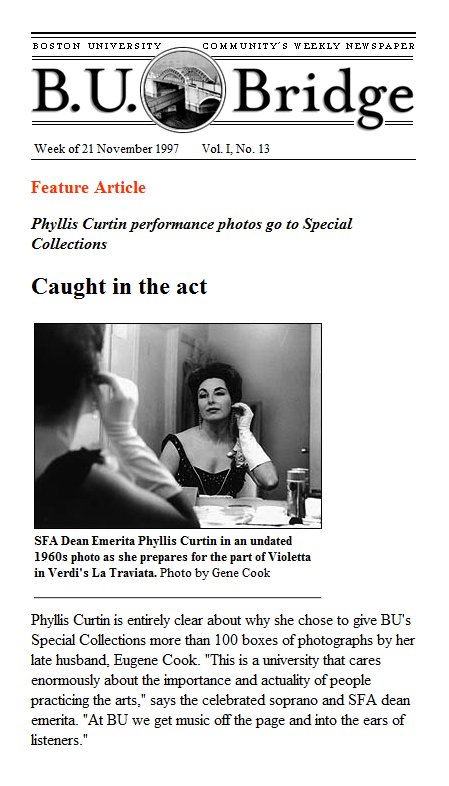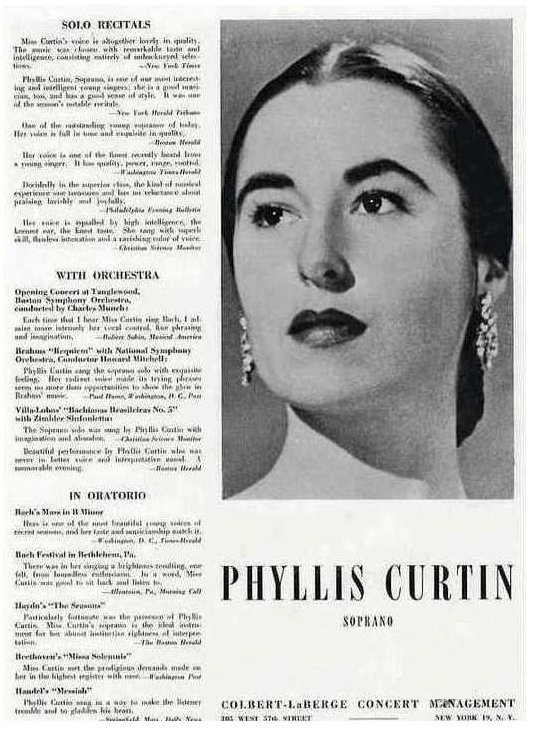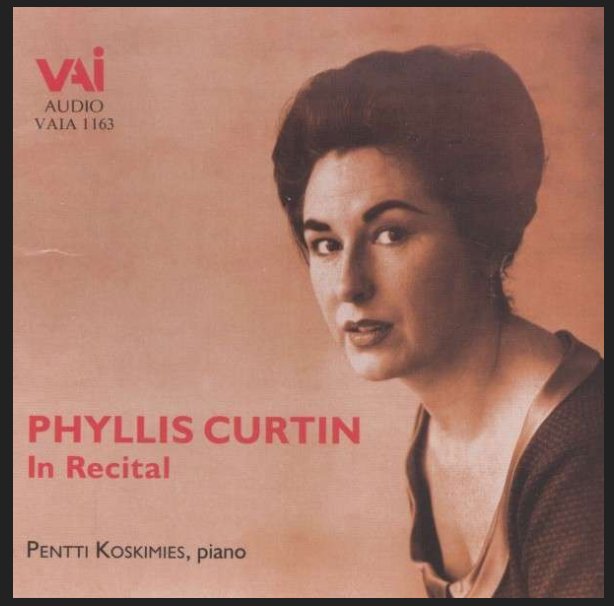 © 2003 Bruce Duffie


This interview was recorded in her home in Great Barrington, MA on August 24, 2003. Portions were used (with recordings) on WNUR in 2004 and 2012. This transcription was made and posted on this website in 2013.


To see a full list (with links) of interviews which have been transcribed and posted on this website, click here.

Award - winning broadcaster Bruce Duffie was with WNIB, Classical 97 in Chicago from 1975 until its final moment as a classical station in February of 2001. His interviews have also appeared in various magazines and journals since 1980, and he now continues his broadcast series on WNUR-FM, as well as on Contemporary Classical Internet Radio.

You are invited to visit his website for more information about his work, including selected transcripts of other interviews, plus a full list of his guests. He would also like to call your attention to the photos and information about his grandfather, who was a pioneer in the automotive field more than a century ago. You may also send him E-Mail with comments, questions and suggestions.