Jerry Fuller


Performer and Scholar of the
Double Bass and Violone
A conversation with Bruce Duffie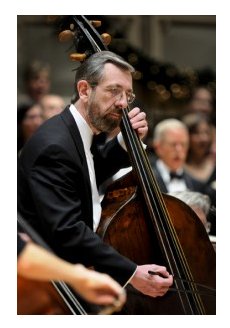 Jerry Fuller began studying the double bass at age 16 and was invited to join the Lyric Opera of Chicago orchestra three years later. Within two years he was promoted to first desk of the double bass section in addition to performing with the Santa Fe Opera. Mr Fuller has also served as solo double bass of The Musikkollegium Winterthur Switzerland. While in Europe, Mr. Fuller became interested in historically-informed performance practice and has achieved international recognition for his work with period instruments. A Chicago Artists Abroad grant recipient, Mr.Fuller's performances in London, Rome, Geneva and Edinburgh have been broadcast worldwide. In addition, Mr. Fuller has performed at the Ravinia and the Aspen Music Festivals and both the Boston and Berkeley Early Music Festivals.

His recordings on the Musical Arts Society, Cedille and Centaur labels have been hailed by both critics and colleagues. Mr. Fuller also writes on period instruments and performance practice for

The Strad

,

Double Bassist

, and

Bass World

magazines, serves on the editorial board of the

Online Journal of Bass Research

and is webmaster for the

Double Bass and Violone Internet Archive

.

Mr. Fuller served as an officer of the Board of Directors of the International Society of Bassists 1990-1996 and has appeared as a guest artist with the American Bach Soloists of San Francisco, the Handel and Haydn Society of Boston and the Newberry Consort of Chicago.

He is principal double bassist of the Haymarket Opera, Callipygian Players and The Bach Institute at Valparaiso University. In addition he is Director of both ArsAntiguaPresents.com and the Midwest Young Artists Early Music Program for which he was awarded the Early Music America Outreach Award for Excellence in Early Music Education.

Jerry also has received a Special Recognition Award for Historically Informed Performance from the International Society of Bassists. This award is given once every two years to a bassist who has demonstrated and achieved the highest level of excellence in historically informed performance.



-- From the Ars Antigua Website.
Ars Antigua is an affiliate of Early Music America and member of Early Music Chicago.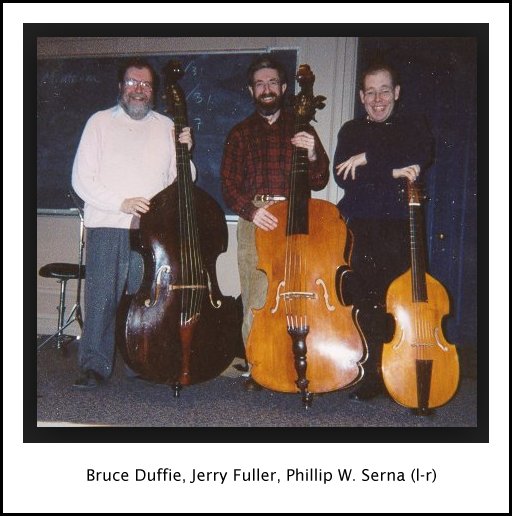 In the name of full disclosure, I am happy to report that Jerry Fuller is a long-standing friend of mine... and it was not until I just typed that sentence that I realized the phrase 'long-standing' also applies to his position with his chosen instruments! Indeed, we talk about that later in the interview.

We have stayed in touch over the years, and have many friends in common. We also have a mutual interest in Northwestern University, and while I was teaching there (2002-11), I asked Jerry to come and do an instrumental demonstration for my

Music 101

class. He brought another friend with him, the gambist Phillip W. Serna, as well as a third instrument, as can be seen in the photo of all of us at right. [Serna also appears in the final photo at the bottom of this webpage.]

No stranger, himself, to teaching, the next photo below shows Fuller giving a demonstration and workshop for the Midwest Young Artists in Lake Forest, IL, in 2006. The other photos on this page show Fuller in performances at various venues with Ars Antiqua, the Baroque Band, and the Callipygian Players.

In the spring of 1997, I wanted to present a special program featuring his recordings and comments on WNIB, Classical 97, where I was announcer/producer from 1975-2001. He liked the idea, so we got together at his home that June for this conversation.

I began with what seemed to be an obvious question . . . . . . . . .




Bruce Duffie

: Why the double bass?



Jerry Fuller

: I remember when I was sixteen years old, going to a concert in my little hometown in Beaver Dam, Wisconsin, where the Milwaukee Symphony was playing a concert at Wayland Academy. My parents saw them there regularly. My father had played the violin in his youth, though I had never witnessed either of them performing on a musical instrument. I was intrigued, and still remember the concert very well. The big work was Tchaikovsky's

Fourth Symphony

. It was totally random, but for some reason I was placed in front of the double bass section, and as I observed all of this, the bass clearly seemed to be having the best time of any group in the orchestra. And the sound was just phenomenal to my ears! At intermission I went up and talked to Roger Ruggeri, the principal bass then and who is still principal bass there. He is a very fine player.



BD

: You had not played violin or trumpet before this?



JF

: No, no. A little bit of piano, but really nothing. It was like a thunder bolt that struck me, so I asked him at intermission, "I'd love to take lessons on the double bass. Who could I do this with? He said, "In this little town I'm not sure what you're going to do." But in Madison, Wisconsin, there was a very fine teacher, Vera Olson, and he suggested that I contact her. So I did that and then I made the trip to Madison, which was a bus ride away, every Saturday, and started taking lessons.



BD

: Being sixteen, though, you were tall enough so you could handle the instrument?



JF

: Exactly, right. The world has evolved and progressed, in one sense, in the intervening time. It was typical back in the late 1960s and early 1970s that one would wait until they were in high school, or large enough to get their hands around this instrument. Now there are programs all around the world for young students, seven, eight, nine years old, to play on half-size and smaller double basses. There are makers out there today that are making those instruments, and there are wonderfully dedicated teachers that are teaching very young students, and getting them started much earlier on the bass.



BD

: Is it better to start on the double bass, or to start on the violin and transfer to the double bass? Or maybe start on the cello and transfer to the double bass?



JF

: I'm biased. I think going right to the double bass is a wonderful thing to do, especially with the instruments that are available now and the fine teachers that are available now. Go right to the instrument and learn that literature and the techniques and the unique sounds, and everything that's special about the double bass right from the beginning.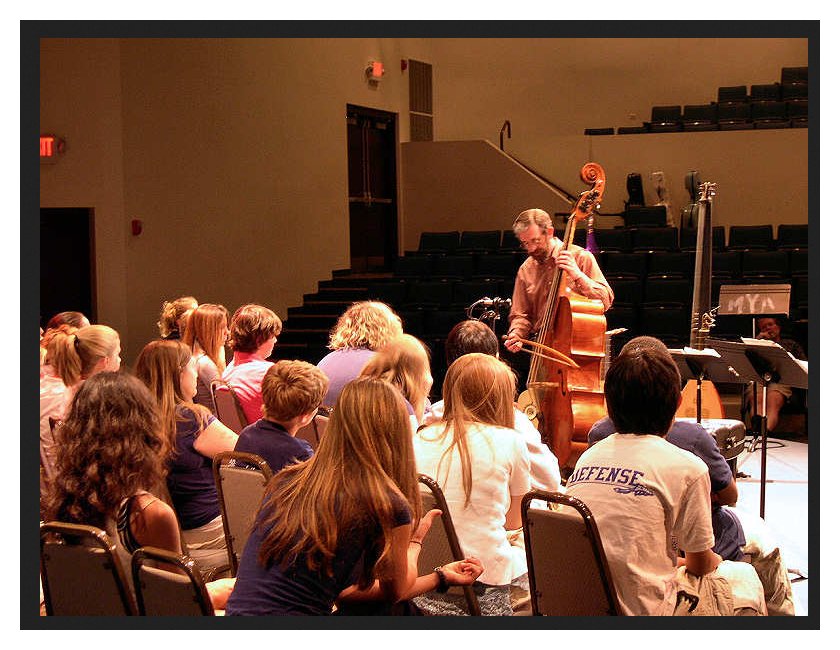 BD

: Does it still surprise people that it can be a solo instrument?



JF

: Yes, but less so. It's interesting. The year I started, Gary Karr put out his very first recording, a wonderful recording, but prior to that there were maybe one or two recordings available that featured the double bass at all. I remember after my second or third lesson in Madison, going into the local record store and finding a recording by Georg Hörtnagel, from Germany, doing Dittersdorf's

Concerto

and

Sinfonia Concertante

with viola. That was all there was! It was a marvelous sound, a marvelous recording, and then the famous Gary Karr recording came out, which everybody knows. Now there are pages and pages and pages of CDs and recordings in the catalogue, so that has contributed enormously to the visibility of the double bass, and to people's awareness.



BD

: [With a gentle nudge] I hardly think the double bass is something that can be invisible. [Both laugh]



JF

: That's true.



BD

: Are there times when you wish you'd taken up the piccolo?



JF

: Only on long plane rides. I'll never forget... I was traveling to Rome with William Ferris, the Chicago composer who had written a marvelous piece for tenor, harp, and double bass, which we were going to perform at the Vatican. [This, along with another Ferris piece, were recorded, and the CD is shown near the bottom-right on this webpage. The tenor soloist is John Vorrasi.] I got on the plane with the double bass, and sat it in the seat next to me.



BD

: Did you have to buy a ticket for it?



JF

: Oh absolutely! There was an older Italian lady who did not speak English at all, but certainly got her point across about what she thought of having a double bass sitting next to her. [Both laugh again]



BD

: Not very happy, was she?



JF

: No. It can be a little bit tense times, but there are benefits. You always get an extra meal on the flight...



* * * * *





BD

: You not only play the standard double bass, but you also play a baroque instrument of that size?



JF

: Yes. As the years went along, I've acquired an interest in musical genealogy, if you will. One of the ancestors, or the ancestor, to the double bass is an instrument called the violone. It's a fascinating world to me, and the terminology is a little bit complex, in the sense that this one term 'violone' really refers to at least three slightly different instruments. The earliest known reference to the violone was in the mid-1500s, the mid-16th century, and in fact I have a reproduction of an instrument that's now in the Nuremberg museum. It's a contrabbasso violone in the sixteen foot register, the same register as a double bass, but it is a six-stringed fretted instrument that's tuned an octave below the viola da gamba, the bass viola da gamba. So it's a D to D tuning. That instrument was widely used in that era between 1550 and, say, 1700. By 1680 it was starting to fall out of use.



BD

: Are the strings tuned in fourths like in the double bass?



JF

: Fourths and thirds like a viola da gamba, which is interesting. If you look at the modern orchestra today, the violin family is violin, viola, cello, and their ancestors were always of the violin family. There's this myth that circulates every now and then that their ancestors were really the gambas, but they're really a separate family. The gamba family is a separate family, but the modern double bass grew out of the gamba family, whereas the modern other stringed instruments really grew out of the violin family, and evolved from there. [For a further discussion of the gamba, see my interview with gambist Mary Springfels.]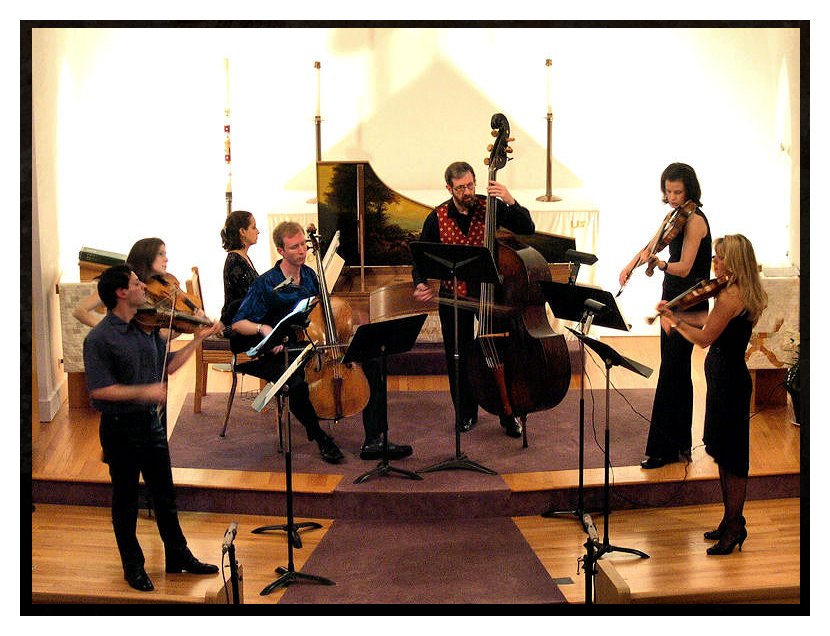 BD

: When you're playing the double bass, though, you have the strings tuned in fourths?



JF

: In fourths.



BD

: And it has no frets?



JF

: That's correct.



BD

: So it's a completely different fingering of the left hand?



JF

: Yes, they are different tunings. The D-tuned violone contrabbasso is a different tuning, and it's a wonderful tuning for low consort music of the German and Italian repertoire.



BD

: So you have to go back and forth between those two, the old and the new?



JF

: Yes, yes, yes.



BD

: Does that make you schizophrenic at all?



JF

: [Laughs] Well... there's some question whether I was that way before these two instruments or not... but it takes a little bit of you getting used to. The more one does it, the more facile one comes to do this. But there is a little bit of that. So that's one member of the violone family. There's another instrument that was in use at the time that's also known as the violone, and it's a G violone. It's a violone da gamba and it's tuned a fourth lower than the bass viola da gamba.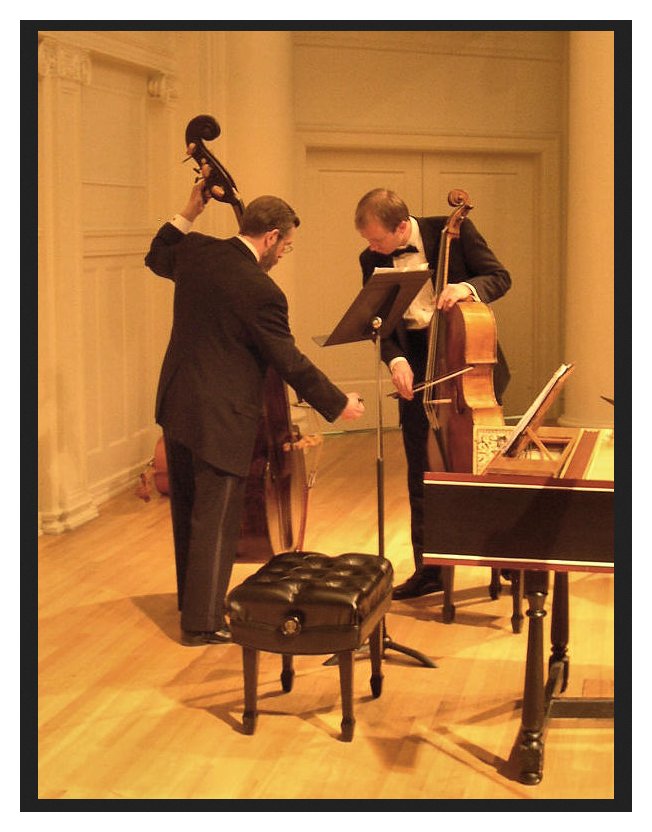 BD

: Is it written at pitch or is it a transposing instrument?



JF

: It's written at pitch. It's not a transposing instrument, as the double bass is, one octave down, and as is the violone contrabbasso is, one octave down as well. When you read it on a G violone, it is at pitch. So the top four strings are tuned G, D, A, F or E, depending on which source you look at, but very similar to a double bass, only an octave higher. Then there are two more strings, a C and a G, so it starts getting you into that sixteen foot register as well. This is a marvelous chamber music instrument, and was most widely used before the steel strings or the wound string for the cello, which were invented around 1680. This violone da gamba was really used as the main bass or continuo instrument prior to that time. Then there's more. In terms of violone in the late 1700s and early 1800s, there's something called the Viennese violone, which was a five stringed instrument. From top to bottom it would go A, F-sharp, D, A, F-natural, in the sixteen foot register. In this very short period in terms of history, only twenty-five years or so, a huge golden age of solo repertoire for the Viennese violone grew up with those people. In fact, Mozart wrote a concert aria

Per Questa Bella Mano

for baritone and violone.



BD

: Where does Dragonetti fit into all of this?



JF

: He was slightly later, and he was playing on an instrument that was tuned one of two ways — the way a modern double bass is, G to A, or he was known, at times, to perform on a three stringed instrument, G, D, G. So you can see the history of this instrument is one of great creativity and experimentation.



BD

: Has it settled down now to where there is a standard double bass?



JF

: Relatively, compared to the terms we've been talking in, yes. It tends to be a four stringed instrument, G, D, A, E from top to bottom, and tuned in fourths. However, compared to the violin, it's interesting. When you talk to orchestral musicians about auditions, if they hear a violinist play and then they hear a bass audition, they are always amazed at the different approaches, styles, ways of tuning, that the double basses still have relative to a violin. If someone's playing a Tchaikovsky violin concerto, it's a big deal whether they move over one string or not. It's a very standardized repertoire pedagogically, and in the approach to the instrument. This certainly is not true today for the double bass. I just returned from a trip to Paris, where I was just amazed. We heard a marvelous performance of

Carmen

at the Opera Bastille, and the bass section played exactly alike. Their instruments were all of similar shape and similar make. They all played with a French bow and they all had a similar sound. When you come to a symphony orchestra or opera orchestra here in the United States, one person's playing a German bow, another's using a French bow, and their basses are of all different sizes. Some have five strings on them. Most have four with low C extensions, and they all studied with different people and they have very different influences.



BD

: Does it make a huge difference if each player's using exactly the same instrument, or if they're all playing different ones to get the same result?



JF

: There's a lot to be said for either approach. I find it interesting to still be able to go to a country like France and hear one stylistic approach to the music. There is a certain blend. Even if I may personally disagree, or feel that it's not my favorite approach, still, there's a lot to be said for the uniformity of approach to the instrument. It makes a very strong statement, stylistically.



BD

: If an American orchestra has an opening or two in the bass section, should they try to make everyone conform to one standard, or try to remake the section over years?



JF

: I don't think it's possible anymore in this country. I truly think one of the things that drew me to the instrument was the possibilities that do exist, and the availability to be creative with the instruments, to try new things and to look for different approaches. It is the state of the art in America today, and we could not go back to any other possibility at this point.



BD

: Tell me about your own instruments.



JF

: I have a 1752 Joseph Stadlmann Viennese violone, and I have a G violone which is a reproduction of an instrument by Ernst Busch, a German maker, in 1604. The reproduction was made by a very, very talented maker now living in the United States, an Englishman named John Pringle who works extensively in the instruments of the gamba family. I also have the reproduction of the Nuremberg instrument I mentioned before, and that was made by a gentleman named Dominic Zuchowicz, a Canadian luthier.



BD

: Is it the repertoire, then, that makes the decision as to which instrument you play?



JF

: Yes, absolutely. It is the repertoire, the place and time that the repertoire was written, which drives the choice of instrument.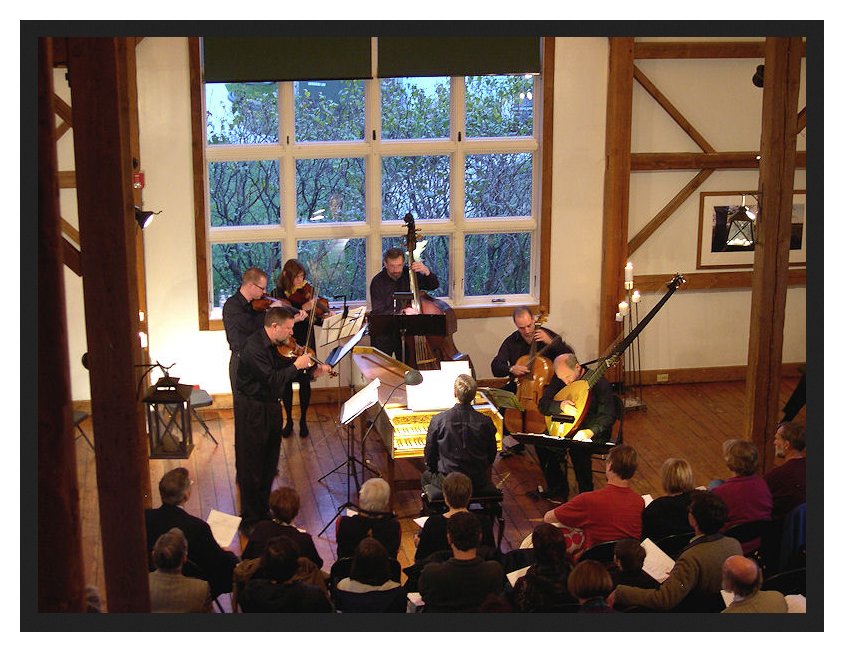 BD

: Are there times that you need two different instruments in a single concert?



JF

: Yes, that's come up fairly often. As you know, I'm particularly interested in early music, and when music on the first half is programmed from the Baroque period and the second half is of the Classical era, one goes back and forth a little bit.



BD

: That must be a terrible burden on you to bring both instruments.



JF

: [Laughs] Well, it just demands a larger automobile.



BD

: It's a lot different than bringing an A and a B-flat clarinet.



JF

: Right. But it's all worth it. It's great fun.



* * * * *





BD

: What advice do you have for younger bass players coming along?



JF

: The world of possibilities continues to expand for the double bass. It's just phenomenal! I was actually in attendance at the first International Double Bass Society Convention in 1968, and there was a gathering of a total of about forty people in Madison, Wisconsin. It was headed up by Gary Karr, and there were some very notable bassists — Fred Batchelder from the Philadelphia Orchestra, Warren Benfield from the Chicago Symphony, Richard Davis who was a very famous jazz bass player and now professor at the University of Wisconsin, Knut Guettler from Norway... Sort of the grandfathers, now, of the modern bass movement were all there. It was really an ear- and eye-opening experience.



BD

: Was there an immediate camaraderie amongst all the bassists?



JF

: Oh, absolutely. It was people who had been pursuing the same goals for many years coming together and finding that they had friends, unbeknownst to them, who had been pursuing similar things for years.



BD

: [With mock horror] "My god! I'm not alone!"



JF

: [Laughs] Exactly. But I bring that up because here it is 1997, and very talented player and teacher, Paul Ellison, who teaches at Rice University, recently held the umpteenth bi-annual convention, and there were, I guess, a couple of thousand double bassists all in Houston for that convention, pursuing everything from avant-garde jazz to early music, orchestral music, solo literature, everything.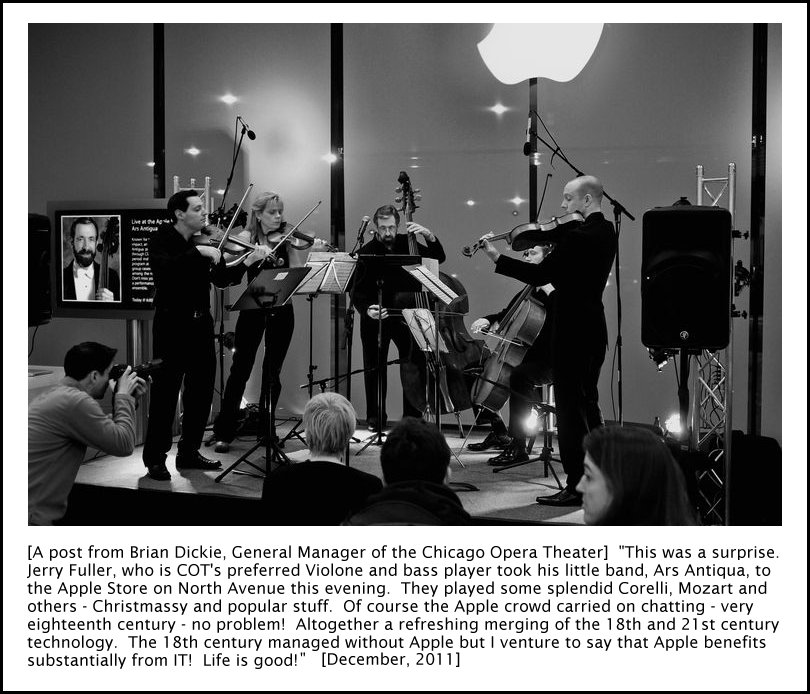 BD

: Is it good for someone to play both the old music and the new music, rather than specializing?



JF

: There's a lot to be learned from both. I'm a strong advocate of doing both. Having a historical perspective on performance techniques and styles gives you greater flexibility, and you are more conscious of different possibilities of articulation and approach no matter what style you are playing. Similarly, a focus on some of the modern techniques and technical standards is at a fairly high level. To bring that technical standard and excellence to the early music is very beneficial, as well. So cross-pollination is very helpful there.



BD

: Do you do any world premieres?



JF

: I have.



BD

: Is that satisfying?



JF

: Oh, extremely. As I mentioned, I was doing some work in Rome with William Ferris, and we have had a very strong and good collaboration over the years. He has written a number of chamber works and solo pieces for me, and I find working with a composer like Bill opens another window into the creation of music. Being part of actually birthing a piece is a very, very exciting thing to do, and I would recommend that all musicians, all performers, seek out soul mates who are composers and work with them because it really energizes both the composer and the performer to work collaboratively and give birth to something new.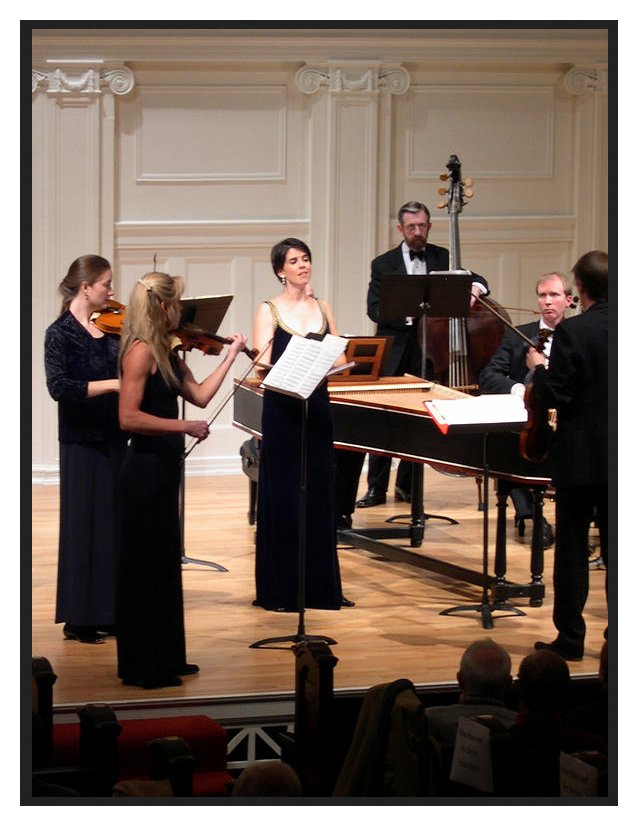 BD: What should a composer know about the double bass that is generally not known, before he writes the piece? It can be assumed that the composer would know a great deal about the violin or the piano, probably having played it or studied it, but not the double bass.



JF

It's interesting, because I've worked with a number of composers where the balance and volume levels of the instrument surprised them. It's a huge instrument, as you noted, to lug around or look at, and sometimes composers think that because it's physically big it has a huge penetrating sound, which is not the case. It is a physically big instrument, but it has a very warm, sensuous, luscious, mellow sound, rather than a penetrating, piercing sound. So the issue of balance with an orchestral accompaniment, in terms of concerto, or even with the piano in a sonata setting can be a surprise to composers.



BD

: Do you put the piano lid down rather than have the lid up?



JF

: Oh, that's very interesting, because merely closing the lid on the piano does not solve the problem. It changes the whole overtone series of the piano sound, so it merely dampens and acts as a mute, rather than really addressing the underlying issue of the relative volumes of both instruments. The real answer is where the composer places the accompanying figures in terms of register on the piano or other instruments, and what tone colors are used in an orchestra. Then it's a matter of simply staying out of the way of the solo line of the double bass.



BD

: Should the accompaniment stay at middle C and above most of the time?



JF

: Right, which plays tricks on the listener's ear, because we're all conditioned to listen to the top of the register for the melody. So when the melody appears in the bottom of the range, of the pitch register, and the accompaniment is above, it can be disconcerting for an audience's ears that aren't prepared for that experience. But this links it all back into the 16th and 17th century, because as you well know, one of the most popular forms of music in that era was the madrigal. In those, there was rarely just one melody on top and everything else was the accompaniment. Each part was its own separate melody that fit together with the harmonic structure. That's one of the reasons why I'm so drawn to early music, because each voice has its own melody, and that's certainly true of the bass part as well.



BD

: Having sung many madrigals earlier in my life, they are wonderful!



JF

: There you go. Unfortunately, what occurred in the 19th century was that much beautiful, wonderful repertoire was written for the orchestra in that era, but it tended to relegate the double bass into an instrument of what I call punctuation, rhythmic or harmonic punctuation, as opposed to true melody. It was an era that did not exploit all the possibilities, as the earlier era did, or many compositions today do.



BD

: Are you pleased that the repertoire for the bass is expanding again these days?



JF

: Oh, absolutely! There are so many composers doing so many fine compositions.



BD

: When you get a composition handed to you, how do you decide yes, you will spend the time learning it, or no, you will set it aside or send it to some other bass player?



JF

: That's a tough one. If at all possible, I try and tackle it myself, and I think I have done that with every piece. Oftentimes there is a very personal component to the relationship that I want to honor, as well. For example, after the birth of our first son, Ken, there came a knock on the door, and an envelope was dropped off. I opened it up, and there was a beautiful lullaby for double bass and piano written by William Ferris. How could I not work on that? How could I not play that? It was an absolutely beautiful piece that, again, birthed another piece of art here.



BD

: Let me turn the question on its head a little bit. Is there any reason that someone should write today for the older instruments?



JF

: My answer is absolutely, and the reason I say that is the older instruments represent a whole spectrum of sound possibilities that simply can't be exploited by the instruments of today.



BD

: More colors?



JF

: Different colors. One of my favorite authors is Stephen J. Gould, the anthropologist at Harvard. One of his main theories is that the world is not necessarily always progressive, and I feel that's certainly true in the world of music. It is different. What is being composed today is wonderful in its way. What was happening in 1835 was wonderful in its way, and all the way back. But I certainly do not ascribe to the belief that some hold, which is that what was happening in the 18th century was a progression over what happened in the 17th, and everything just marches in one forward direction.



BD

: Yet the antithesis of progression is not necessarily regression.



JF

: Exactly! That's exactly correct. Each age has its own beauty, and the instruments of the earlier times have a very special beauty which deserves to be explored by people living now, both performers and composers.



* * * * *





BD

: You've played in the bass section of a couple of orchestras. Is that also satisfying?



JF

: Yes, in its own way. It proved not to be ultimately satisfying for me, only because I like to be very self-determined and creative, and develop my own visions with the music. That's why I love chamber music, particularly. I can have a true strong voice, an impact on what the result is. Orchestras that I've played with, both here and in Europe, have been marvelous experiences, but I wanted more than that as well. I find the chamber music collaborations probably the most satisfying.



BD

: Let me ask a real easy question. What's the purpose of music?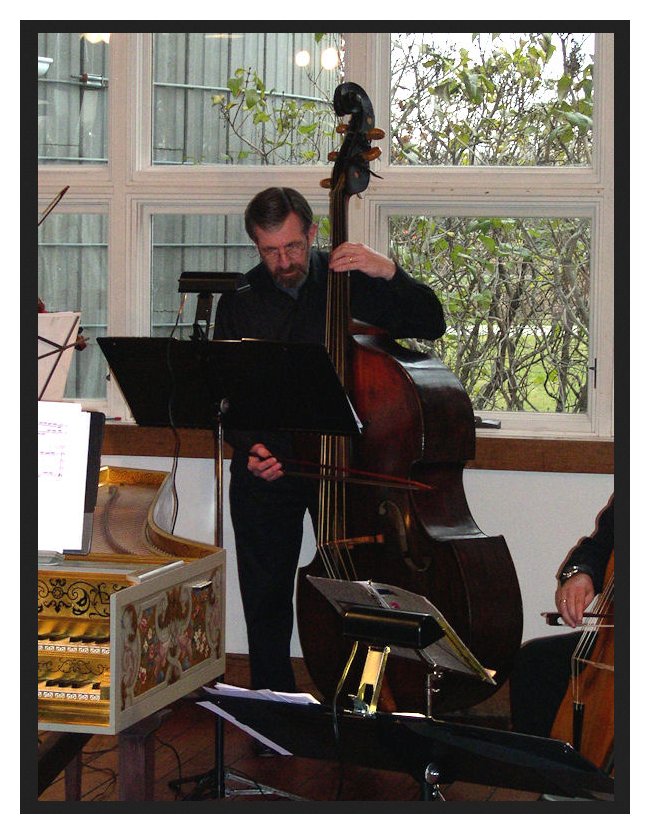 JF

: [Thinks for a moment] For me it's multilayered, certainly. At the top it's physical, it's sensuous, it's in all of our senses, and it's aural. In fact one of the reasons I was really attracted to early music is the feel of the gut strings under the hand, the mellowness and the sound of it. So it's satisfying in all of those dimensions, yet it connects on another level, a deeper level. It connects me with other human beings — not only those of us around today, but that humanity that has always been there, that transcendent humanity of composers composing in another place and another time.



BD

: Do you feel connected to the old performers, too?



JF

: I think so, yes, especially because another part of early music that I find so attractive and important is to work with the music, with the editions that were printed in the time of the composers and the players of this early music, and to see how they wrote down that music. Again, it's another connection to our humanness. Then, at its deepest level, it's a very spiritual activity for me. It has its religious aspects.



BD

: We worship at the altar of music?



JF

: Yes.



BD

: When you're playing the instrument, are you simply playing this piece of wood, or does it actually become part of you so that it's more your extension?



JF

: I think of it as an extension. Actually it's like dancing with a wonderful woman who's a great dancer. It's part of you. It is something different, but it is part of you at the same time. There's a lot of choreography and dance-like aspects to playing the bass, so that's another connection to the maker of the bass who may have come from a different era, or the maker today who's making reproduction.



BD

: Does your wife ever get jealous of the instrument?



JF

: [With a big smile] Oh, I don't think so. She started out as a musician herself, a wonderful violist, so I think she understands.



BD

: Do you ever get to play together?



JF

: Not anymore. She has not played a viola for a long time, having given that up for three marvelous children and a lot of computers. [Laughs]



BD

: Now you can have your own in-house quintet!



JF

: Right. There you go.



BD

: Are you pleased with where you are at this point in your career?



JF

: Oh, there's always more that one wishes one could do and could have done. That's probably always going to be true. At the same time, I do have a certain amount of satisfaction of having had the privilege to explore the music of many different periods and many different places with very wonderful people and great musicians. I feel very privileged for that, and in that sense, it's very satisfying.



BD

: Does it take a very special person to play the double bass?



JF

: It's not for everyone. You can imagine someone drawn to the trumpet may not be drawn to the double bass. In an orchestral setting, it's an instrument where you're most noticed if you're doing something wrong. [Both laugh]



BD

:

Piano subito

is the time when the obscure orchestral player becomes soloist.



JF

: Yes, exactly, and that's one of the main reasons, ultimately, that orchestral playing wasn't for me, full-time. But that's part of what a double bass does. It is that blend and fitting into the whole, but still being extremely important, although maybe not blatantly so. We're a little bit behind the scenes because the bass, so often, at least in an orchestral setting, will set the harmony. It's the harmonic anchor of everything else that's going on, and many times it's the rhythmic pulse of the entire ensemble as well.



BD

: Most music has the melody on top and the harmony on the bottom, and everything else is fill.



JF

: Yes. [Laughs] So without the bass, everything would be truly lost. But that point may not be always obvious.


BD: Do you play standing or sitting?



JF

: I play standing. I find that gives me the most freedom, physically, to move with the instrument. But every bass player approaches that a little differently, and as we talked about there are many approaches, many right approaches. There are some marvelous bass players who sit, but my preference happens to be to stand.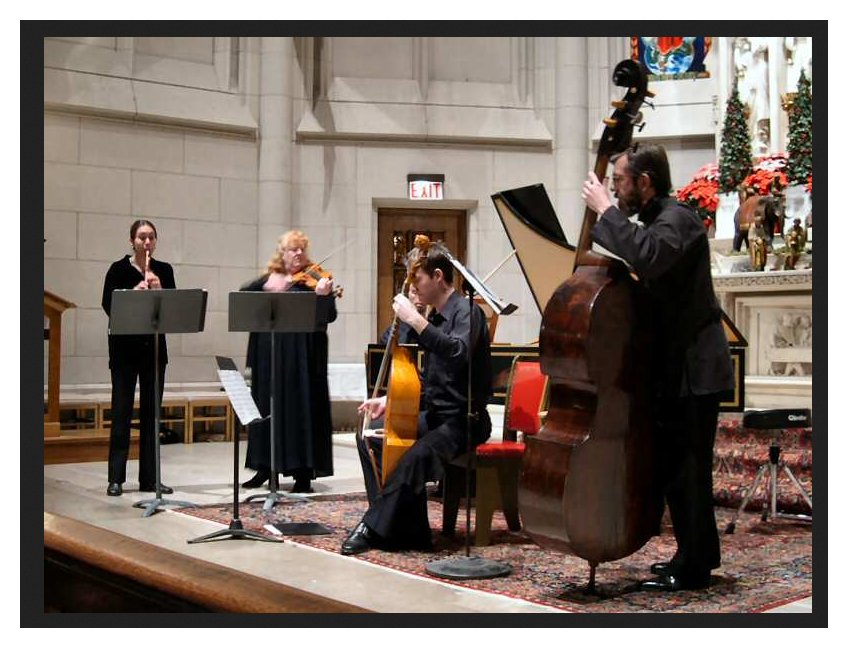 BD

: When you come to a new concert venue, do you look for a good place to stick that end pin?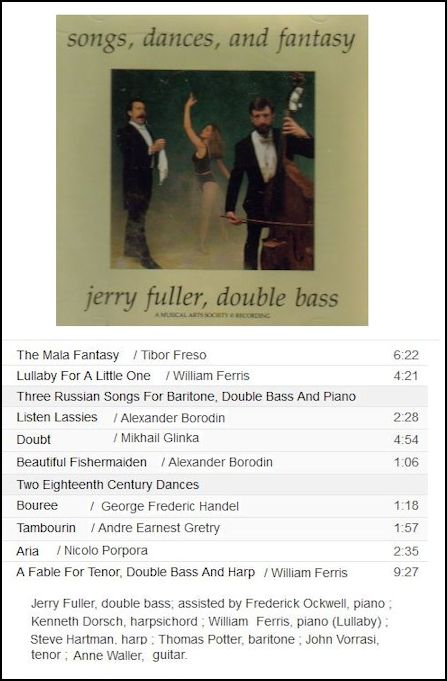 JF

: [Laughs] Oh, yes! Just finding a place sometimes can be a challenge, and it's always interesting. Some people are a little more fastidious than the bass players about where they'll allow this to happen.



BD

: You don't want to put it in the middle of an expensive Oriental rug.



JF

: Exactly, so we need to be sensitive to our surroundings in many ways.



BD

: Do you carry a little coaster?



JF

: Yes, and also I have been known to remove my belt to put it around the end pin and fasten it to my foot, so it won't slip away from me in a slippery situation.



BD

: I've seen bass players moving their instrument on a little wheel.



JF

: I've got a little wheel for long walking trips between a concert hall and rehearsal place. Sometimes that comes in really handy... another marvel of modern technology! [Both laugh]



JF

: You've made three solo recordings. Do you play the same for the microphone as you do for the audience?



JF

: It is different. I do find in a recording situation that it's more difficult because there's not a real live audience there to react with. So for me, that's a little more difficult. I thrive on that interaction with audience, but both, I think, are very important ways of performing. The discipline of recording is extremely helpful for technique, and trying to get it on tape the way you really want it. That's always a challenge. The whole world of recording a double bass is a very interesting study in science in itself.



BD

: Have you ever thought of maybe putting a little screen or solid wood behind you, just to focus the sound out?



JF

: Actually that works very well. What we found is that a lot of the sound of a double bass actually emanates from the back of the instrument, that large, vibrating back. So I really like to have a closer microphone near the F hole of the instrument up and away in front of the instrument, and others three or four or five feet in back of the instrument. This is another reason why I like to stand rather than sit, so that the back can be completely free to vibrate. I think it's an interesting acoustical property of the instrument.



BD

: Are you pleased with the records that have come out so far?



JF

: Oh, you always wish you could do things differently. So it's the same idea as the answer that I had before in terms of overall career. Certainly there are things that I would like to do differently — better — but I've come to say it chronicles me at that point in time and space.



BD

: I haven't met one musician yet that hasn't said, "Oh, but it could be better!" [Laughs]



JF

: Better, yes, yes. It always can be better.



BD

: Is there such a thing as a perfect performance?



JF

: I have never achieved it.



BD

: Does it exist?



JF

: Boy, I've heard some performances by others where it so moved me that I felt that came pretty darn close, if not being there. But then it's interesting... you go backstage and talk to the performer, and they're saying, "Oh, it could have been so much better! I really wanted to do this..." [Both laugh] So I guess it's in the ear of the beholder whether that phenomenon truly exists or not.



BD

: But in the end it's all worth it.



JF

: It's all worth it. No question.



BD

: Thank you for all the music that you've given us so far.



JF

: Thank you very much for keeping it all going. I appreciate that.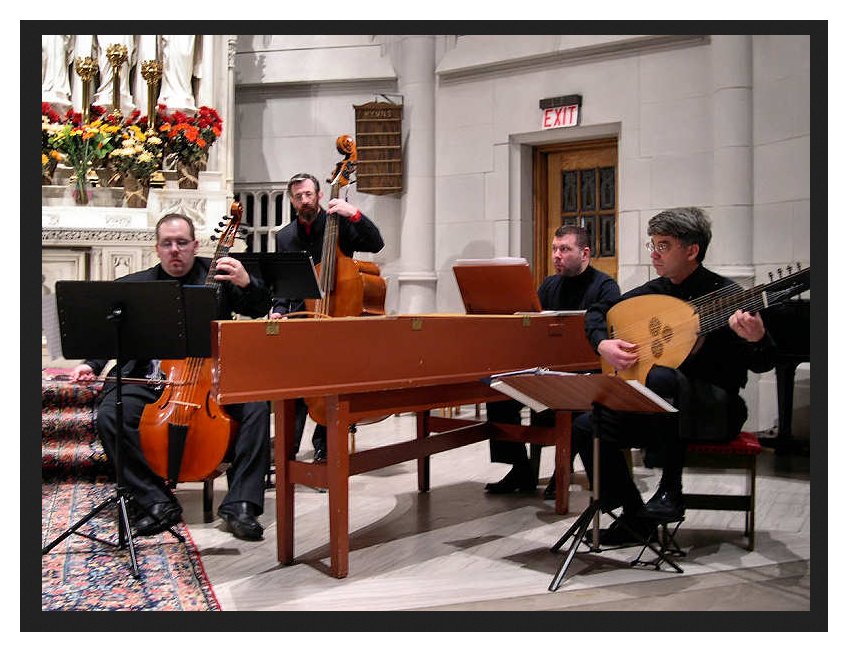 © 1997 Bruce Duffie

This conversation was recorded in Evanston, Illinois, on June 30, 1997. Portions were broadcast on WNIB six weeks later. This transcription was made in 2016, and posted on this website at that time.


To see a full list (with links) of interviews which have been transcribed and posted on this website, click here. To read my thoughts on editing these interviews for print, as well as a few other interesting observations, click here.

Award - winning broadcaster Bruce Duffie was with WNIB, Classical 97 in Chicago from 1975 until its final moment as a classical station in February of 2001. His interviews have also appeared in various magazines and journals since 1980, and he now continues his broadcast series on WNUR-FM, as well as on Contemporary Classical Internet Radio.

You are invited to visit his website for more information about his work, including selected transcripts of other interviews, plus a full list of his guests. He would also like to call your attention to the photos and information about his grandfather, who was a pioneer in the automotive field more than a century ago. You may also send him E-Mail with comments, questions and suggestions.