Gary (Michael) Karr. Bassist, teacher, writer, born Los Angeles 20 Nov 1941, naturalized Canadian 1997; honorary D MUS (Victoria) 2005.

Karr came from a family of seven generations of bass players, and despite their general lack of encouragement in pursuing the profession, he became the world's first double bassist to have a full-time solo performing career on the instrument. He began his studies with the Russian bassist Uda Demenstein, and subsequently studied with Herman Reinshagen (University of Southern California), Warren Benfield (Northwestern University), and Stuart Sankey (The Juilliard School). Other teachers and mentors included cellists Gabor Rejto, Zara Nelsova, and Leonard Rose, pianist Leonard Shure, conductor Alfredo Antonini, and mezzo-soprano Jennie Tourel. Karr adopted a very vocal approach to the bass. As a student at The Juilliard School he subbed in the Metropolitan Opera Orchestra and had a first-hand opportunity to observe world-class singers.

Karr began his solo career with the Chicago Little Symphony under Thor Johnson in 1961, and appeared with the New York Philharmonic Orchestra in Leonard Bernstein's

Young People's Concerts

at Carnegie Hall in 1962. Karr enjoyed a 40-year virtuoso career (1961-2001), appearing as a soloist with major orchestras all over the world including the Chicago Symphony, the London Philharmonic (England), the Orchestre Symphonique de Montréal, the Hong Kong Philharmonic and the Jerusalem Symphony (Israel). He has been featured in videos on the British Broadcasting Corporation (BBC), CBS, and the CBC in a 12-week TV series called

Gary Karr and His Friends

(1973). Karr has had a long-time collaboration with pianist-organist-harpsichordist Harmon Lewis. The Karr-Lewis Duo has performed internationally in recitals and at music festivals such as the Menuhin Festival in Gstaad (Switzerland), the Edinburgh Festival, the Bergen Festival (Norway) and the Victoria International Festival in British Columbia.

Karr received a prized Bronze Medal from the Rosa Ponselle Foundation (c 1992), recognizing him as an outstanding lyrical musician. He was awarded the Artist-Teacher of the Year Award from the American String Teachers Association (ASTA) in 1997. In 1967, he founded the International Society of Double Bassists (ISB), and this organization awarded him its Distinguished Achievement Award (1995), and Distinguished Teacher Award (2001). In 2001 Karr played his farewell concert at the ISB Convention in Indianapolis.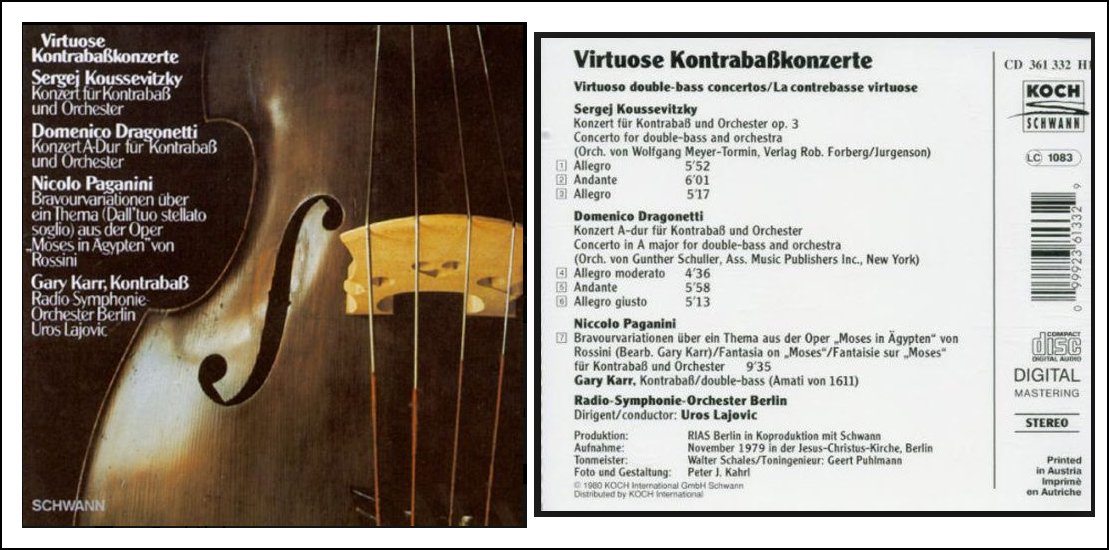 Not long after his New York debut recital (1962), Karr was given a treasured 1611 Amati double bass by Olga Koussevitsky, which had belonged to her late husband Serge (bass virtuoso and conductor 1874-1951). Karr subsequently (1983) established the non-profit Karr Doublebass Foundation to loan instruments to deserving young musicians selected by competition. In 1995, Karr commissioned a new bass from the Victoria luthier James Ham, an instrument made entirely of wood from BC. In 2004, Karr gifted the Amati, which on investigation turned out to be of French origin (c. 1800) and since has been known as the Karr-Koussevitsky bass, to the ISB.

An alumnus of The Juilliard School, Gary soon accepted a teaching position at North Carolina School of the Arts headed by Vittorio Giannini. He has since held US faculty appointments at The Juilliard School, Yale University, Indiana University, the New England Conservatory of Music, and the University of Wisconsin. In the 1970s he served on the Canada Council's Artist Advisory Panel for three years, while teaching at Dalhousie University (1972-1977) and at public schools in Halifax.

From 1972 to 1994, Karr was on faculty at the Johannesen International School of the Arts, and in 1996 he started KarrKamp, an intensive month-long summer course for bassists held at the University of Victoria which has attracted bass players of all ages and levels from throughout the world. Karr has produced numerous educational method books and videos on the technical aspects of playing the bass, and has written articles for musical journals.

Composers who have written works for Karr include Vittorio Giannini, and Gunther Schuller (

Concerto for Double Bass and Orchestra

, 1968) and he has commissioned works by American composers Lalo Shifrin and John Downey, and Canadians Alexander Brott and Dennis Farrell (

Suite Catholique

, 1973), among others. Although mainly a classical performer, Karr has played all sorts of music on the bass, including many of his own arrangements and transcriptions. He has played with most great jazz bassists, and appeared with Oscar Peterson and his bassist, Niels-Henning Orsted Pedersen, on a BBC TV special.

In 2000, at an event for Music of Remembrance (MOR, a Seattle-based chamber music organization dedicated to preserving the musical legacy of Holocaust musicians), Karr performed the world premiere of Lori Laitman's

Holocaust 1944

for baritone and double bass written especially for him. Karr joined the MOR Advisory Board in 2000.

Karr officially retired to Victoria, BC in 2001, where he has continued to teach at the Victoria Summer Music Festival, write for musical journals, perform chamber music, and fundraise for musical events. He has another unusual bass, from the Interlochen Center for the Arts in Michigan -- one made of aluminum that he has used as a decoration in his rose garden in Victoria.



-- From the Canadian Encyclopedia (text only - photo added for this website presentation)
-- Note: Names which are links on this webpage refer to my Interviews elsewhere on my website. BD