Augusta Read Thomas, born in 1964 in Glen Cove, New York, was the Mead Composer-in-Residence for Pierre Boulez and Daniel Barenboim at the Chicago Symphony Orchestra from 1997 through 2006. In 2007, her Astral Canticle was one of the two finalists for the Pulitzer Prize in Music. The "Colors of Love" CD by Chanticleer [shown below], which features two of Thomas' compositions, won a Grammy award.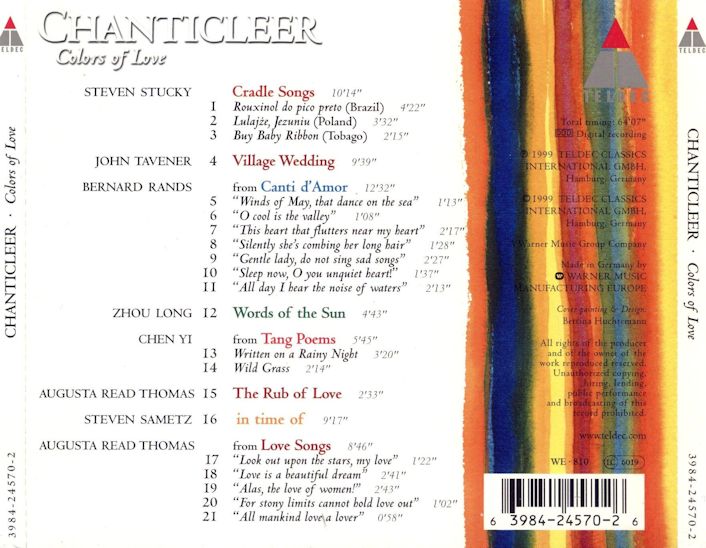 See my interviews with
Steven Stucky
,
Bernard Rands
, and
Chen Yi

Thomas is a member of: the American Academy of Arts and Letters; the American Academy of Arts and Sciences; the Advisory Committee of the Alice M. Ditson Fund at Columbia University; the Board of Trustees of the American Society for the Royal Academy of Music; the Eastman School of Music's National Council; as well as boards and advisory boards of several chamber music groups including the Ice Ensemble. She has been on the Board of Directors of the American Music Center since 2000. She was elected Chair of the Board of the American Music Center, a volunteer position that ran from 2005 to 2008. For the 2014-2015 academic year, Augusta was a Phi Beta Kappa Visiting Scholar.
G. Schirmer, Inc. is the exclusive publisher of her music worldwide for all works composed until December 31, 2015. Nimbus Music Publishing is the exclusive publisher of her music worldwide for all works composed after January 1, 2016. Her discography includes 80 commercially recorded CDs.
The Sovereign Prince of Monaco awarded Augusta CHEVALIER of the Order of Cultural Merit. The insignia of this distinction was given by S.A.R. Princess of Hanover at the Prince's Palace on 18 November 2015. Augusta Read Thomas also won the Lancaster Symphony Orchestra's Composer Award for 2015-16. This is the oldest award of its kind in the nation, intended "to recognize and honor living composers who reside in the US who are making a particularly significant contribution in the field of symphonic music, not only through their own creative efforts, but also as effective personal advocates of new approaches to the broadening of critical and appreciative standards."
Thomas played piano as a young child, starting private lessons at age four. In third grade, she took up the trumpet and played for 14 years, attending Northwestern University as a trumpet performance major. She played trumpet in brass quintet, chamber orchestra, orchestra, band, and Jazz band and she sang in choirs for many years.
Thomas was awarded fellowships from the Bunting Institute of Radcliffe College, and was a fellow for three years in the Harvard University Society of Fellows.
Her music, which is regularly performed worldwide, has been conducted by: Christoph Eschenbach, Esa-Pekka Salonen, Daniel Barenboim, Pierre Boulez, Mstislav Rostropovich, Seiji Ozawa, Leonard Slatkin, Oliver Knussen, David Robertson, Lorin Maazel, Sir Andrew Davis, Jiří Bĕlohlávek, Hans Graf, Marin Alsop, Cliff Colnot, Xian Zhang, Andrey Boreyko, William Boughton, Gil Rose, Gerard Schwarz, John Nelson, Joana Carneiro, Hans Vonk, Markus Stenz, Dennis Russell Davies, George Benjamin, Ludovic Morlot, Robert Trevino, Hannu Lintu, Josephine Lee, Michael Lewanski, Bradley Lubman and George Manahan among others.
Thomas received awards from the Siemens Foundation in Munich; ASCAP; BMI; National Endowment for the Arts (1994, 1992, 1988); American Academy and Institute of Arts and Letters; Guggenheim Memorial Foundation; Koussevitzky Foundation; New York Foundation for the Arts; John W. Hechinger Foundation; Kate Neal Kinley Foundation; Columbia University (Bearns Prize); Naumburg Foundation; Fromm Foundation; Barlow Endowment; French International Competition of Henri Dutilleux; Rudolph Nissim Award from ASCAP; and the Office of Copyrights and Patents in Washington, D.C. awarded her its Third Century Prize.
Seven years after graduating from the Royal Academy of Music in London, Thomas was elected as Associate (ARAM, honorary degree), and in 2004 was elected a Fellow (the highest honor they bestow) of the Royal Academy of Music (FRAM, honorary degree). In 1998, she received the Distinguished Alumni Association Award from St. Paul's School in Concord, New Hampshire. In 1999, she won the Award of Merit from the President of Northwestern University, and a year later received The Alumnae Award from Northwestern University. Sigma Alpha Iota Music Fraternity initiated her as an Honorary Member in 1996.
Thomas also had the distinction of having her work performed more frequently in 2013-2014 than any other living composer, according to statistics from performing rights organization ASCAP.