Ross Finney, 90, Composer Of the Modern and Lyrical



By ALLAN KOZINN
Published:

The New York Times

, February 07, 1997 [Text only, with additions and corrections. Photos from other sources.]


Ross Lee Finney, a composer and teacher who was fascinated with the role of memory in both the composition and the understanding of music, died on Tuesday at his home in Carmel, Calif. He was 90.

Mr. Finney was a prolific composer whose style evolved considerably in a career lasting nearly seven decades. After studies with Nadia Boulanger in Paris in the late 1920's and Edward Burlingame Hill at Harvard in 1929, and private studies with Alban Berg and Roger Sessions in the 1930's, Mr. Finney composed works in which hints of American folk music rounded off the edges of an abstract international style.

He received the 1937 Pulitzer Award for his "First String Quartet." Other awards followed, including two Guggenheim fellowships, the Boston Symphony Award, the Brandeis Medal, and election to both the National Institute of Arts and Letters and the American Academy of Arts and Sciences.

In the early 1940's, the folk influence was ascendant as Mr. Finney, along with Copland, Barber, Siegmeister and other American composers, created a style that evoked everything from the Midwestern prairies to New England hymns. That style gave way to chromaticism in the late 40's and to a more rigorous 12-tone period that began about 1950.

In his 12-tone works, though, he usually maintained connections to both tonality and the structural forms common to tonal music, a combination of influences he called his ''method of complementarity.'' Often, his 12-tone works had a lyricism that made them seem almost neo-Romantic.

His interest in the tensions between competing compositional systems used in the same pieces was related to his interest in the relationship between music and memory. In some works -- ''Landscapes Remembered'' (1971), for example -- he toyed with listeners' memories by allowing themes based on folk songs and hymns to fade in and out of perspective.

Mr. Finney was born on December 23, 1906, in Wells, Minn., and grew up in North Dakota and later in Minneapolis. He studied piano, cello and guitar and performed in a local orchestra, a trio and a jazz band during his teen-age years.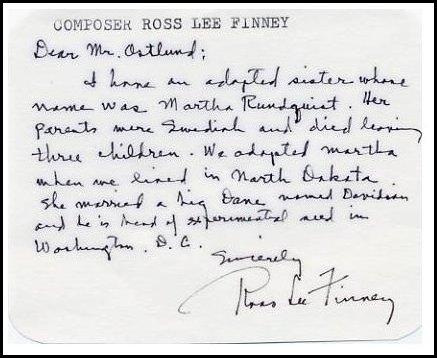 He began his composition studies when he was 12 and continued them at the University of Minnesota and Carleton College in Northfield, Minn. He also taught cello and music history at Carleton.

After his return from Paris in 1928, he joined the faculty of Smith College in Northampton, Mass., where he started a series of scholarly publications of Baroque works. He also started the Valley Press, which published works by American composers.

In the early 1940's, Mr. Finney taught at Mount Holyoke College in South Hadley, Mass., and at the Hartt School of Music in Hartford. During World War II, he served with the Office of Strategic Services and was awarded a Purple Heart.

In 1949 he joined the faculty of the University of Michigan and remained there as a professor and composer in residence until 1974. His students included several prominent composers, among them Robert Ashley, William Albright, Leslie Bassett, George Crumb and Roger Reynolds.

During the 1982-83 academic year, Finney was the Distinguished Visiting Professor of Music at the University of Alabama. [

See the news item reproduced at the bottom of this webpage

.]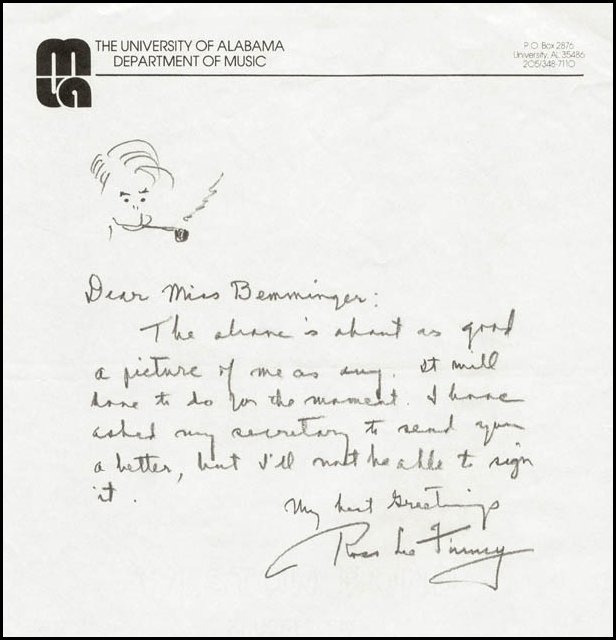 Mr. Finney's works include eight string quartets; four symphonies; numerous chamber works and song cycles; two ballets, ''Heyoka'' (1981) and ''The Joshua Tree'' (1984), and two stage works, ''The Nun's Priest's Tale'' (1965), based on Chaucer, and ''Weep Torn Land'' (1984). There was also an unfinished opera, ''A Computer Marriage.''

A book of his essays, ''Thinking About Music: The Collected Writings of Ross Lee Finney,'' and an autobiography, ''Profile of a Lifetime,'' were both published in 1992.

He is survived by two sons, Henry and Ross Jr.