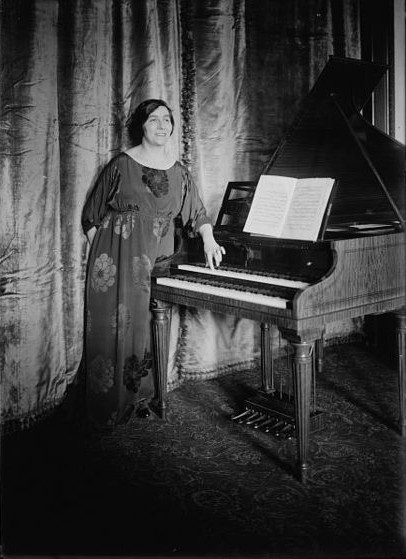 Wanda Aleksandra Landowska (5 July 1879 – 16 August 1959) was a Polish harpsichordist and pianist whose performances, teaching, writings and especially her many recordings played a large role in reviving the popularity of the harpsichord in the early 20th century. She was the first person to record Johann Sebastian Bach's Goldberg Variations on the harpsichord in 1933. She became a naturalized French citizen in 1938.

Landowska was born in Warsaw to Jewish parents. Her father was a lawyer, and her mother a linguist who translated Mark Twain into Polish. She began playing piano at the age of four, and studied at the Warsaw Conservatory with the senior Jan Kleczyński and Aleksander Michałowski. She was considered a child prodigy. She studied composition and counterpoint under Heinrich Urban in Berlin, and had lessons in Paris with Moritz Moszkowski. She began her performing career in Paris, where her recitals in that city and other European cities garnered praise from critics. She was interested in the music of J. S. Bach, whose works for harpsichord were included in her recitals by 1903, earning praise from Albert Schweitzer.

She decided to devote her career to the harpsichord rather than the piano, against the wishes of her friends, who thought she had a promising future as a pianist. In 1908–09, she toured Russia with a Pleyel harpsichord, similar to the 1889 model that the firm displayed at the Paris Exposition. After eloping with and marrying Polish folklorist and ethnomusicologist Henry Lew in 1900 in Paris, she taught piano at the Schola Cantorum there (1900–1912).

She later taught harpsichord at the Berlin Hochschule für Musik (1912–1919). When World War I started in 1914, she was interned on the grounds that she was a foreign national. She had her American debut in 1923, touring major cities with four Pleyel Grand Modele de Concert harpsichords, which were huge seven-and-a-half foot long instruments with foot pedal-controlled registers. These were large, heavily built harpsichords with a 16-foot stop (a set of strings an octave below normal pitch) and owed much to piano construction.

Deeply interested in musicology, and particularly in the works of Bach, Couperin and Rameau, she toured the museums of Europe looking at original keyboard instruments; she acquired old instruments and had new ones made at her request by Pleyel and Company. Responding to criticism by fellow Bach specialist Pablo Casals, she once said: "You play Bach your way, and I'll play him 'his' way."

A number of important new works were written for her: Manuel de Falla's El retablo de maese Pedro (Master Peter's Puppet Show) marked the return of the harpsichord to the modern orchestra. Falla later wrote a harpsichord concerto for her, and Francis Poulenc composed his Concert champêtre for her. She taught at the Curtis Institute of Music from 1925 until 1928. She established the École de Musique Ancienne at Paris in 1925: from 1927, her home in Saint-Leu-la-Forêt became a center for the performance and study of old music.


After World War II, she settled in Lakeville, Connecticut in 1949, and re-established herself as a performer and teacher in the United States, touring extensively. Her last public performance was in 1954.

Landowska recorded extensively for the Victor Talking Machine Company/RCA Victor and The Gramophone Company/EMI.