After early violin studies at the Oberlin Conservatory, David Zinman (born July 9, 1936 in New York City) studied theory and composition at the University of Minnesota, earning his M.A. in 1963. He took up conducting at Tanglewood, and then worked in Maine with Pierre Monteux from 1958 to 1962, serving as his assistant from 1961 to 1964.
Zinman held the post of tweede dirigent (second conductor) of the Netherlands Chamber Orchestra from 1965 to 1977. He was the principal conductor of the Rotterdam Philharmonic Orchestra from 1979 to 1982.
In the US, Zinman was music director of the Rochester Philharmonic Orchestra from 1974 to 1985. With the Baltimore Symphony Orchestra, he was principal guest conductor for two years before becoming the orchestra's music director in 1985. During his Baltimore tenure, he began to implement ideas from the historically informed performance movement in his interpretations of the Beethoven symphonies. At the end of his Baltimore tenure in 1998, Zinman was named the orchestra's conductor laureate. However, in protest at what he saw as the Baltimore orchestra's overly conservative programming in the years since his departure, he renounced that title in 2001. In 1998, Zinman was the Music Director of the Ojai Music Festival alongside pianist Mitsuko Uchida. In 1998, he was appointed music director of the Aspen Music Festival and School, where he founded and directed its American Academy of Conducting until his sudden resignation in April 2010.
Zinman became music director of the Tonhalle-Orchester Zürich in 1995. His innovative programming with that orchestra includes a series of late-night concerts, "Tonhalle Late", which combine classical music and a nightclub setting. His recordings for Arte Nova of the complete Beethoven symphonies [shown below] were based on the new Jonathan Del Mar critical edition and was acclaimed by critics.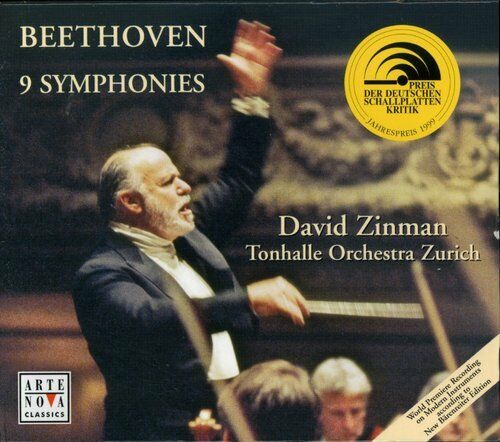 He has subsequently recorded Beethoven overtures and concertos with the Tonhalle. He conducted the Tonhalle Orchestra in its first-ever appearance at The Proms in 2003. In 2009, he conducted the Tonhalle in the soundtrack for the feature film 180° - If your world is suddenly upside down. He concluded his Tonhalle music directorship on July 21, 2014 with a concert at The Proms.

Zinman also conducted for the soundtrack of the 1993 film version of the New York City Ballet production of Tchaikovsky's Nutcracker. His 1992 recording of Henryk Górecki's Symphony no.3 with Dawn Upshaw and the London Sinfonietta was an international bestseller. In January 2006, he received the Theodore Thomas Award presented by the Conductors' Guild.



Note: Links in this box and below refer to my interviews elsewhere on my website. BD