Michael Torke was born September 22, 1961, in Milwaukee, Wisconsin, where he attended Wilson Elementary School, graduated from Wauwatosa East High School, and studied at the Eastman School of Music with Joseph Schwantner and Christopher Rouse, and at Yale University. (Names which are links in this box and throughout this webpage refer to my interviews elsewhere on my website. BD)

Beginning his career with exclusive contracts with Boosey and Hawkes, and Decca Records, he now controls his own copyrights and masters through his publishing company, Adjustable Music, and record company, Ecstatic Records. Many of his earlier recordings which appeared on the Argo label have been re-issued on Ecstatic.
His music has been called "some of the most optimistic, joyful and thoroughly uplifting music to appear in recent years" (Gramophone). Hailed as a "vitally inventive composer" (Financial Times) and "a master orchestrator whose shimmering timbral palette makes him the Ravel of his generation" (New York Times), Torke has created a substantial body of works in virtually every genre.

One of Torke's most frequently performed orchestral pieces is Javelin (1994), a "sonic olympiad" commissioned by the Atlanta Committee for the Olympics in celebration of the Atlanta Symphony Orchestra's 50th anniversary season. In the spring of 1996, two different recordings of Javelin were simultaneously released (a rare occurrence for a contemporary composition). The first recording, featuring the Atlanta Symphony Orchestra under Yoel Levi, was the fourth all-Torke CD to be released by Decca's Argo label. The second recording is on Sony Classical's Summon the Heroes, the official centenary Olympics album featuring the Boston Pops conducted by John Williams, which reached the Number One position on Billboard's Classical Crossover chart.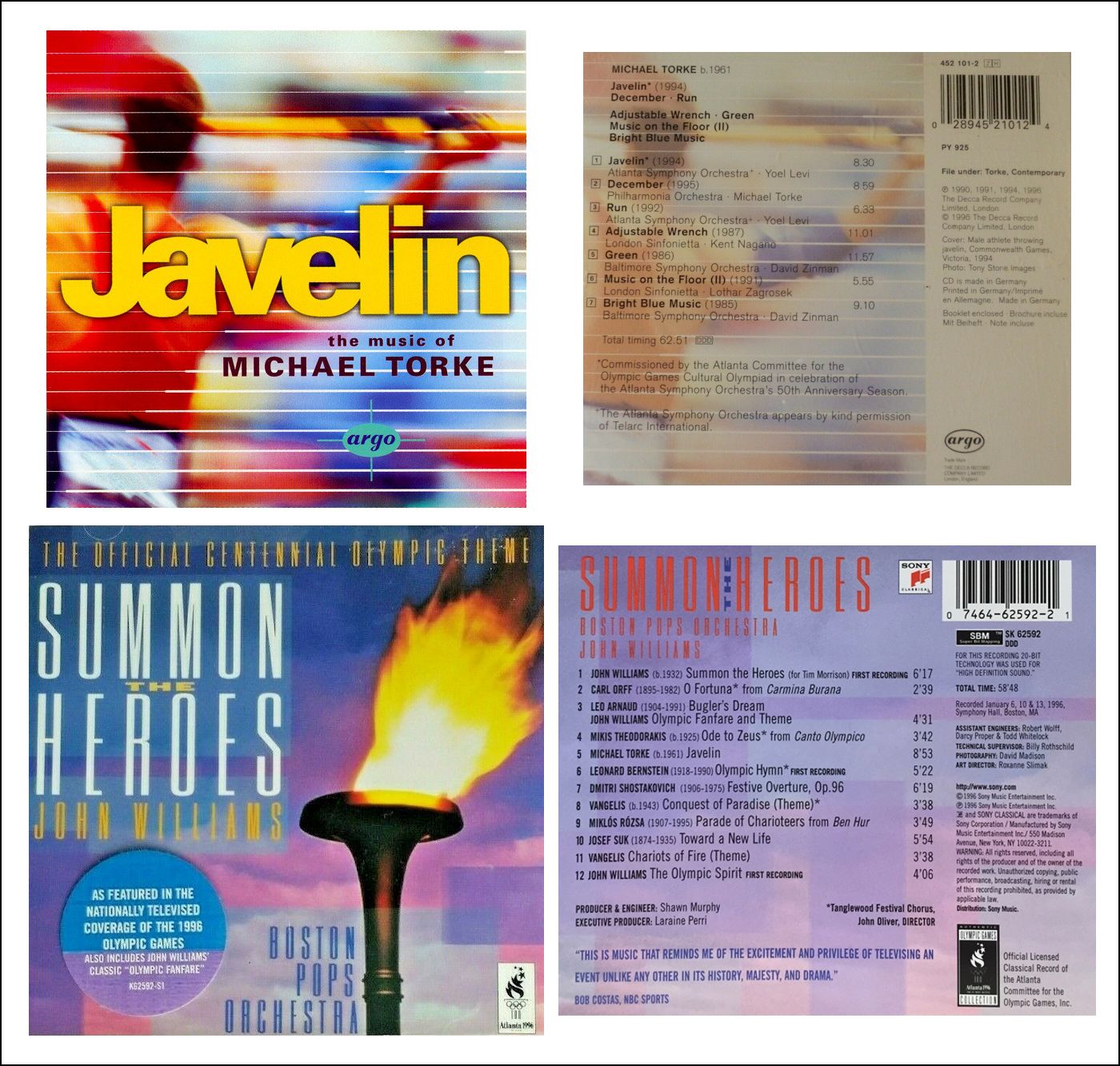 See my interviews with
David Zinman
,
Mikis Theororakis
, and
Miklós Rózsa
Strawberry Fields, a one-act opera jointly commissioned by Glimmerglass Opera, New York City Opera, and WNET's "Great Performances" television program (PBS) made its debut at Glimmerglass to widespread critical acclaim. Four Seasons, a 62-minute symphonic oratorio for vocal soloists, two choruses, and large orchestra was commissioned by The Disney Company in celebration of the new millennium. Kurt Masur conducted the New York Philharmonic in the work's premiere.

In 1997 Torke was appointed the first Associate Composer of the Royal Scottish National Orchestra. One of the first highlights of his residency came in March 1999 with the U.K. premiere of Book of Proverbs. The orchestra also commissioned two new works: Rapture, a percussion concerto for the young Scottish percussionist Colin Currie, and An American Abroad, a tone-poem that made its debut in February 2002 under the baton of Marin Alsop.