The eminent Russian conductor, Yevgeny [Evgeny] Aleksandrovich Mravinsky (Russian: Евге́ний Алекса́ндрович Мрави́нский), was born in Saint Petersburg on June 4, 1903. The soprano Yevgeniya Mravina was his aunt. His father, Alexandr Konstantinovich Mravinsky, died in 1918, and in that same year, Yevgeny began to work backstage at the Mariinsky Theatre. He first studied biology at the university in Leningrad, before going to the Leningrad Conservatory in 1924 to study music (conducting with Aleksandr Gauk and Nikolai Malko), graduating in 1931. He also had courses in composition with Scherbachev.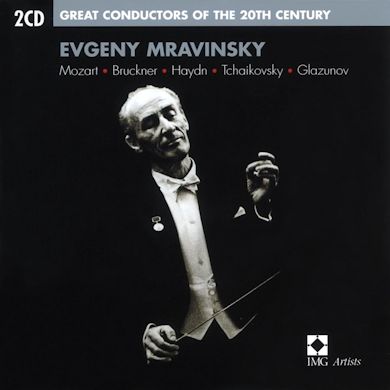 Mravinsky served as a pantomimist and rehearsal pianist (repetiteur) at the Imperial Ballet from 1923 to 1931. His first public conducting appearance was in 1929. He was conductor of of the Leningrad Theater of Opera and Ballet from 1932 to 1938 (Kirov Ballet and Bolshoi Opera). In September 1938, he won the All-Union Conductors Competition in Moscow.
In October 1938, Mravinsky took up the post that he was to hold for 50 years, until 1988: Principal Conductor of the Leningrad Philharmonic Orchestra, with whom he had made his debut as a conductor in 1931. Under Mravinsky, the Leningrad Philharmonic Orchestra gained a legendary reputation, particularly in Russian music such as Tchaikovsky and Dmitri Shostakovich. During World War II, Mravinsky and the orchestra were evacuated to Siberia. He gave world premieres of six symphonies by Shostakovich: Nos. 5, 6, 8 (which is dedicated to Mravinsky), 9, 10 and finally 12 in 1961. His refusal to conduct the premiere of
Symphony No. 13
in 1962 caused a permanent rupture in their friendship. He premiered Sergei Prokofiev's
Symphony No. 6
in Leningrad the year of its composition (1947). He also conducted works by Béla Bartók and Igor Stravinsky.
Mravinsky made commercial studio recordings from 1938 to 1961. His issued recordings from after 1961 were taken from live concerts. He first went on tour abroad in 1946, including performances in Finland and in Czechoslovakia (at the Prague Spring Festival). Later tours with orchestra included a June 1956 itinerary to West Germany, East Germany, Austria and Switzerland. Their only tour to Great Britain was in September 1960 to the Edinburgh Festival and the Royal Festival Hall, London. Their first tour to Japan was in May 1973. Their last foreign tour was in 1984, to West Germany. His last concert was on March 6, 1987. In 1973, he was awarded the Order of Hero of Socialist Labor.
Mravinsky died in Leningrad on January 19, 1988, aged 84.
He represented the best of the Soviet school of conducting, in which technical precision and fidelity to the music were combined with individual and even Romantic interpretations. He was especially noted for his fine performances of Tchaikovsky's operas, ballets, and symphonies. Recordings reveal Mravinsky to have an extraordinary technical control over the orchestra, especially over dynamics. He was also a very exciting conductor, frequently changing tempo in order to heighten the musical effect for which he was striving, often making prominent use of brass instrumentation. Surviving videos show that Mravinsky had a sober appearance at the podium, making simple but very clear gestures, often without a baton.