Composer Paul Pisk
A Conversation with Bruce Duffie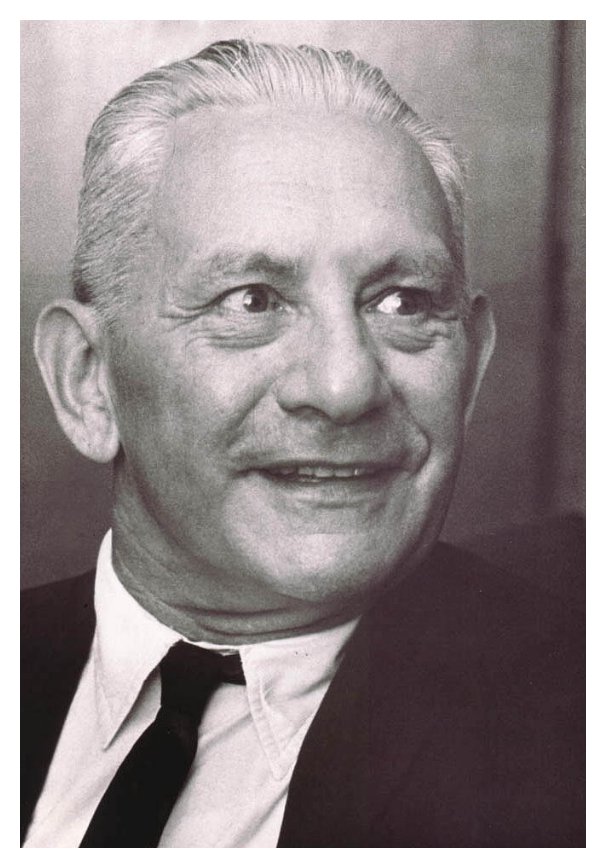 Paul Amadeus Pisk

was born on May 16, 1893, in Vienna, Austria, and died on January 12, 1990 in Los Angeles. He earned his doctorate in musicology from Vienna University in 1916, studying under Guido Adler. Afterwards he studied conducting at the Imperial Academy of Music and the Performing Arts graduating in 1919. His teachers there included Franz Schreker (counterpoint). Pisk also studied privately with Arnold Schoenberg from 1917 to 1919. He then taught at the Vienna Academy and gave adult education lectures, especially at the Volkshochschule Volksheim Ottakring, where from 1922 to 1934 he was director of the music department. He also taught at the New Vienna Conservatory from 1925 to 1926 and the Austro-American Conservatory near Salzburg from 1931 to 1933.

He was also a board member, secretary, and pianist in Schoenberg's Society for Private Musical Performances. He was among the founding members of the International Society for Contemporary Music and from 1920 to 1928 was coeditor of

Musikblätter des Anbruch

and music editor of the

Arbeiter-Zeitung

.

Dr. Pisk immigrated to the United States in 1936. He taught at the University of Redlands, where he served four years as director of the music school. He joined the faculty of The University of Texas at Austin in 1951, teaching until his retirement in 1963. After that he was a visiting professor at Washington University in St. Louis until 1972.

An internationally renowned composer, he completed thirty-six opuses between 1920 and 1936. The

String Quartet, Op. 8

, was awarded the Composition Prize of the City of Vienna in 1925. Twenty-four critically acclaimed works were premiered in Europe. He also published operatic, orchestral, ballet, folk dances, ballads, and works for piano and chorus.

In addition to his work as a composer, Pisk was a music critic. He co-authored

A History of Music and Musical Style

, a music theory book.



Paul A. Pisk: Essays in his Honor

, a collection of 26 pieces written by colleagues and noted musicologists, was published by the College of Fine Arts in 1966. He was awarded a golden doctoral diploma by the University of Vienna in 1967. A prize named in his honor is the highest award for a graduate student paper at the annual meeting of the American Musicological Society.







Without citing hard numbers, it can be assumed that there are quite a number of people whose middle name is Amadeus. It seems, however, that when one of them goes into the music profession, the idea of pre-destination always pops up. Such is the case with this composer and teacher, Paul Amadeus Pisk.

Having been born in 1893, he is one of the oldest of my interview guests. Only Dame Eva Turner (March 10, 1892) and John Donald Robb (June 12, 1892) preceed Pisk on my list. [See my Interview with Dame Eva Turner.] There are several others born in the late-nineteenth century, and the rest arrived in the twentieth. Perhaps in another few years I will interview someone born after January 1, 2001, in order to account for people born in three different centuries and two different millennia.

No matter, though. It was a distinct pleasure and honor for me to make contact with Pisk in October of 1986. He permitted me to call him, and we spent nearly an hour discussing quite a number of musical topics. In his 94th year, he was very alert, and considered his responses carefully.

Here is that very special encounter . . . . . . .




Bruce Duffie

: You were for quite a number of years a teacher of composition?



Paul Pisk

: Musicology and composition. In Vienna, I studied composition with Schoenberg, and musicology with Guido Adler, who is one of the founders of modern musicology.



BD

: What did you learn specifically from Arnold Schoenberg?



PP

: I learned the technique of composition. I already had my degree from the Academie in Vienna, where I had other teachers, and felt that I didn't know very much, so I went to Schoenberg, and he accepted me as a student. I'm one of the two or three surviving students from his Austrian time. There are others still alive who studied with him in Los Angeles, of course, but I went twice a week to Mödling, which is about thirteen miles from Vienna. I had to go up very early because he wanted to teach early, and I can say that everything I know in compositional technique I owe to Schoenberg.



BD

: That's quite a high tribute.



PP

: Yes. I consider myself in the same line as Berg and Webern, whom I knew very well, personally. As kind of an outsider, the personality of Schoenberg I accepted, but the twelve-tone system, not quite.



BD

: Did it surprise you at all how he continued to write the way he did?



PP

: No it didn't, because he very convincingly proved that his technique is a natural following of the Romanticists. In his early works he was partly Wagner and partly Brahms, whom he highly respected. He gave up the tonality long before he constructed, in his twenties, his twelve-tone system.



BD

: Do you think that the public has begun to accept these works much more now?



PP

: Well, this is a very interesting question. As a composer, I write to follow the line in the way that the form of the emotional content of the music is continuing. But through the development in modern times, everything is, if I can say, so mixed up. Presently we have not only the predominance of the popular music, the jazz, the rock, but we have also the prevalence of the Romanticists. The Classic and the Romantic composers all are performed, but the modern line doesn't follow the same work of the second classic school in Vienna. They don't follow it, but they experimented, partly with electronic music and partly with so-called Neoclassicism. That means a step back to the tonality of the nineteenth century, or even the minimalists, the new group of composers which take very little motifs and repeat them incessantly.



BD

: Are all of these new concepts good concepts, or do you think that some of them are wrong-headed?



PP

: If I may say, personally, I think they are wrong-headed, but you can never know the development of the general stream of the music. At the moment, when you consider the concert repertoire along with the records, ninety percent are Classical, Romantic, or Bach. So-called modern music has a small part in it. Not only that, but the small part is divided, too. You can't follow a certain line, a development which in Schoenberg was so clear. Schoenberg came from the Romantic. His early compositions are like Brahms, a little Wagnerian. Then gradually he gave up the tonality, which already was lessened by Wagner, through the chromaticists. Then the atonal period came, and Schoenberg, as a classicist, found there had to be a system in which the atonality is organized. This is the twelve-tone system — the row system. This is followed in a different way than Berg and another way by Webern and also other composers — for instance Dallpiccola, or Carter in America. [See my Interview with Elliott Carter.] But it seems that his line, which I follow, too, is losing, because the younger composers have either Neoclassic tendencies — for instance, going back to tonality even if you are modern — or they will go way above it by using the technical advantages of electronic synthesizers and so on. So in my opinion, the development of modern music is just uncertain.



BD

: Then are you optimistic about the future development of music?



PP

: It is very hard to feel optimistic if you belong to a group which really regularly loses momentum. For instance, Boulez has developed and formed tonality to his new style, which is, I can say, very, very hard to understand or to analyze. The musicologist in me likes to analyze and find out everything that is behind this music. When you get into a Stravinsky or a Schoenberg, you can do that very, very well, but in this new music, especially from the young people, it's kind of a lawlessness. At least we old people had a score to love, which dominated. [Laughs]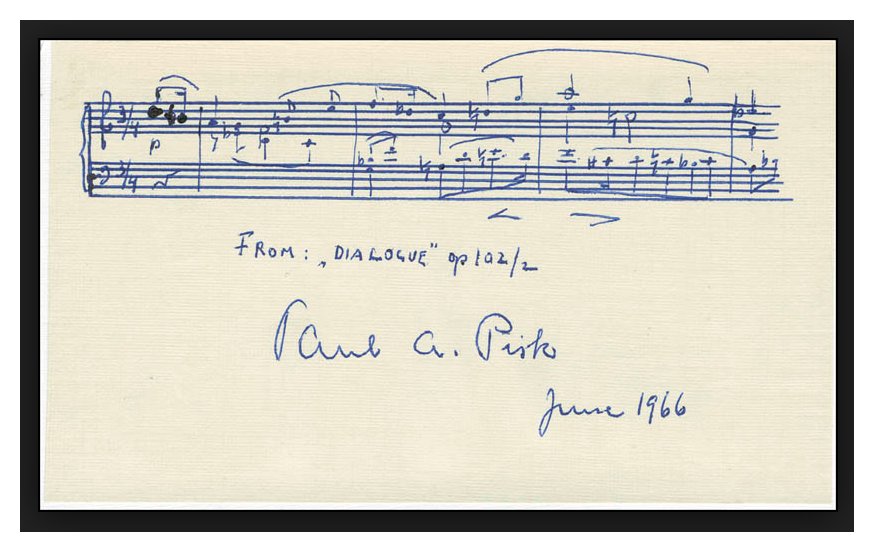 BD: Being both a musicologist and a composer, did understanding musicology help you be a better composer?



PP

: Not to be a better composer, but to be a more discerning composer. When we analyze Beethoven and see the wonderful technique — not only the emotional and spiritual, but the technical content — we can apply this in our music in a different style, even if this is chromatic or twelve-tonal. For instance, let's say the sonata form. If you analyze Schoenberg, you can find in some movements exact elements of the classic sonata form. It doesn't sound like it, but you see it if when you analyze it. But in this so-called electronic music there are other rules, and it is described but it is not analyzed so far. So I would prefer not to predict anything, because I think the whole development is in flux.



BD

: Let me ask this — in musical composition, where should be the balance between inspiration and technique?



PP

: No music is worth anything if there is not inspiration and emotional content. Even Schoenberg said it. He called it the Great Master. That means he considered inspiration as a kind of a religion. People don't understand his music, and therefore it is not quite accepted. In the music of Berg, for instance, there are parts in the

Violin Concerto

where you feel the system. You feel the same emotional and spiritual qualities which you felt in the music of Mozart or Beethoven.



BD

: When Berg and Schoenberg and Webern were writing, did they have audiences in mind? Who were they writing for?



PP

: They wrote for the public, which was not up to it. There was always the thinking that the modern music is not great because nobody understands it. If you go back to music history, you know that when they lived, all the Haydn symphonies were performed and all the Mozart operas were performed. That was, for that time, contemporary music. In our time, Mozart is still the greatest composer, but he belongs to the eighteenth century.



BD

: Were Schoenberg and Berg writing for their century?



PP

: They wrote for our century. Schoenberg was always fond of new music. By the way, when we talk about myself, I was among the founders of the International Society for Contemporary Music. It was founded in the early twenties in Salzburg, and went to international music festivals all over the place. It is still existing today. I was the Secretary of the Society. In my day, every new piece of new music which seemed to be valuable was performed, not considering the style. For instance, we performed first works from Weill, first works from Bartók, first works that are classic modernist today. Today, the same society prefers only the last development — call it electronic music or call it technical music or computer music. It is all, for me, strange... not that I am not trying to understand it, but I have not the gifts. I don't think that many average students know exactly the content of this music. The books that I read about it describe the sound and the instruments and the new possibilities of things — for instance the double tone in the woodwinds or clapping on the string bodies. That can be described, but the emotional impact is, for me, fragmentary.



BD

: When you were writing, for whom did you specifically write?



PP

: I have two types of music. The name

Gebrauchsmusik

means music for general use. It is a term which was represented in Hindemith, who was a friend of mine. Hindemith wrote pieces which are modern and difficult, but he also wrote quite a few pieces for the general understanding. I came to this country fifty years ago. In this country, right in the midst of the modern society is the Composers Alliance, and new music is to be consumed by more than an elite. Therefore, I also wrote pieces which have been published or performed which are not radical or experimental. In my youth, being a student of Schoenberg and writing atonal, I was in the

avant-garde

. But now I am in the

derriere-garde

because I don't insist that my composition use modern technical devices.



* * * * *





BD

: You've been teaching composition for awhile.



PP

: Yes.



BD

: Is musical composition something that can be taught, or must it really be learned by each individual on his own?



PP

: You never can teach the real inspiration. You can teach what to do with it. For instance, when you have a theme, you have to develop it, and there are many ways to develop it. By analysis of works by Mozart or Beethoven or Bach or Mahler, then you see what can be done with these ideas. This you can teach a student. I was teaching composition for twenty years in universities, and had students who are now in the dictionaries as composers. They have real ideas or originality of thought, which you can't teach.



BD

: Who are, perhaps, your most famous pupils?



PP

: Erich Leinsdorf. He was seven years my student in Vienna. [See my Interviews with Erich Leinsdorf.] Also Guglielmo Ratzer who is in South America now, and Gerhard Krapf, who is in Canada, teaching at the University of Alberta. I have influenced some of my students, so I know that my work was not for nothing.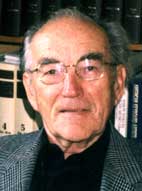 Gerhard Krapf was born on December 12, 1924 in the small German town of Meissenheim. After many years of piano and organ instruction, Gerhard was drafted into the German army in 1942. He was wounded four times during his course of military service and was unaware that the war had ended when he was captured by the Russians on May 10, 1945. Years of hard labor followed. During this period of mental and physical agony, Gerhard began composing. Paper was in short supply, so he wrote his scores on old cement bags! Although he believed that his life would end in central Russia, he was freed on July 3, 1948. By 1950k Gerhard had completed his music education and received the Staatsexamen-Diplom in organ and music theory from the Hochschufe fur Musik, Karlsruhe.

Gerhard then came to the United States to study at the University of Redlands where he received his Master of Music degree in 1951. His limited visa forced him to return to Germany, but he was able to immigrate to the United States in 1953, attaining citizenship in 1959. He taught in Michigan, Missouri, and Wyoming prior to his appointment in 1961 as professor and head of the organ department at the University of Iowa. Following and invitation by the University of Alberta, Canada, he taught at this institution from 1977 to the year of his retirement, 1987. He was renowned for his significant contribution to church music with prolific compositions of organ, choral, and vocal works; for the designing and supervision of the 1978 Casavant organ in Convocation Hall at the University of Alberta; scholarly works on the organ; and a decade of teaching at the University of Alberta (1977-87), for which he was named professor emeritus. He contributed significantly to the development of the graduate programs in keyboard and library resources at the University of Alberta. He died July 2, 2008.






BD

: It must give you a good feeling to know that your legacy will be carried on.



PP

: Yes, especially in the way of combining the musicology with the historical aspect. Schoenberg believed that his music is a natural development of Brahms. He wrote articles concerning this. That means not formal organization, but it means the spirit and the technique of orchestration, the technique of combining the things which is the same in Schoenberg as it is in Richard Strauss or Wagner.



BD

: Was he correct in his own assessment of his music?



PP

: It's very interesting. Schoenberg was convinced that he was a genius or a great composer. But Webern developed the twelve-tone system that is now much more famous. He never believed in himself. He said, "Oh, well, it's experimental. God knows how it will come out."



BD

: You've taught a great number of people. Are there, perhaps, too many young composers coming along today?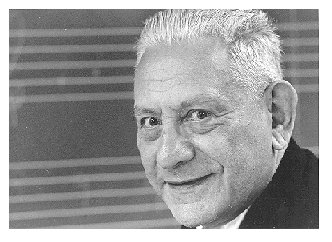 PP: Not really. Not real composers. Many people compose but shouldn't. [Both laugh] But the young people are the leading composers. In my time, for instance, Ives was a great composer, and in my opinion Carter is a fine composer, along with several others. But there are young people coming up who, I think, have not enough direction. Somebody composes like the minimalist Philip Glass, and somebody composes like Milton Babbitt with electronic instruments. [See my Interviews with Philip Glass, and my Interview with Milton Babbitt.] So we cannot — at least I cannot — find a line of continuation historically because there are too many different paths which are like the strings of a piano when they are loosened.



BD

: Have you basically been pleased with the performances you have heard of your music?



PP

: In the old country I was played much more than the new country because I was a newcomer. But I had several performances by Symphony Orchestras, for instance in St. Louis, in Austin, in Oklahoma with different orchestras. And chamber music was widely played mostly in evenings of new music in Los Angeles or in New York with the New Music Group. So it is slow. If you think that among the music which is played on recordings, ninety percent is Classical, Romantic, or Baroque, and maybe ten percent is contemporary. Of this ten percent you can't say one composer has great success and has many performances, and another is a more valuable composer. You don't know.



BD

: There are some recordings of your music. Are you pleased with those recordings?



PP

: Yes, very. The composer's alliance, the ACA recordings, are not made in this country. The

Passacaglia

was done in Zurich because the orchestra there is cheaper than an American orchestra. Another piece of mine which is also recorded is

Three Ceremonial Dances

, and that was done in Warsaw by the Philharmonic of Warsaw. They used the orchestras which were not so expensive. Of course, it's only for modern music, because all American and European companies record Beethoven, Beethoven, Beethoven and Bach, which is wonderful because this is greatest music. But it doesn't help the contemporary composers.



BD

: What do you look for in a piece of music before you can call it great?



PP

: That is very interesting. It is the unique confluence of the inspiration, the technique and the sound. If there is a great inspiration, then it is joined with a wonderful technique, which means the working out of the musical thought. If this is perfect, the piece is great, whether it is Palestrina or Bach or Mozart or Schoenberg. Any time when you find the confluence of these elements in one work, it is a great work.



BD

: Is there any competition amongst composers today?



PP

: Oh, yes. There is very, very fierce competition! Everybody wants performances. Everybody wants commissions, and that means for a foundation or for an orchestra to write a piece. I had small commissions. I was too outside the mainstream so I had no great sponsors, but smaller commissions. William Kraft, who is a Californian composer, has so many commissions for all kinds of orchestras that he says he is not to do anything else except compose those for a few years before he runs out of money. [Both laugh] [See my Interview with William Kraft.]



BD

: Are you are still composing?



PP

: Yeah, a little bit. In my age, the inspiration is still there sometimes, but I had a suite for solo cello performed. Have you ever heard of the Moldenhauer Archive?



BD

: Hans Moldenhauer, yes.



PP

: Moldenhauer is a friend of mine, and arranged to have performed this new piece, which I just wrote, in a concert setting. I have a tape of it. So once in a while I get a notice from the Composer's Alliance if my piece is played there or there or there. You have to take what you get.



BD

: When you were composing more regularly, did you work on more than one piece at a time, or did you concentrate on one piece?



PP

: It was really a concentrated on one piece, but very, very fruitful were my summers in the MacDowell Colony where you have occasion in quiet and peace. I was usually called a summer composer because in the winter semester I had to teach, and when you teach you can't compose. You have too much other activity. So on Christmas vacation I would compose, and summer vacations, always.



BD

: Which brought you more pleasure, the teaching or the composing?



PP

: Composing is my gift, and I love to teach. My students like my teaching. I introduced a Ph.D. in Music at the University of Texas, and all my students, who were my doctoral candidates, have outstanding positions. One is a dean in Ohio and one is a president of a section of the University of Texas. So I have known that my teaching was not in vain.



BD

: Did your teaching change over the years?



PP

: Basically not, because I taught not my ideas, but the ideas which I found in the composer's work. My last teaching assignment was one semester at the University of Southern California, but I taught the same way as I taught in Saint Louis at Washington University, or in Texas. I had the good fortune that I had so much time in each university.



BD

: Was your teaching the same in the United States as it was in Vienna?



PP

: In Vienna, the development of modern music was very limited. It was a very conservative city. Through the foundation of the Society of Contemporary Music and also the Society for Private Performances, which Schoenberg founded to make audience familiar with contemporary music, some of this contributed very much to the dissemination of the contemporary music.



* * * * *





BD

: Tell me a bit about your works with texts.



PP

: I wrote very many songs and choral pieces. One cantata was at the Music Festival in Vienna. In Prague they played an orchestra piece of mine, and in Amsterdam they did a piece of mine. In Europe I had very, very many connections, but when you come to a new country you have to start from scratch.



BD

: Did you write any operas?



PP

: Yes, a one-act opera, but it wasn't performed for political reasons. The opera was written at the time where in Germany the Nazis started, and all modern music was not performed any more. It is only a one-act opera, so it is in the archives now.



BD

: Do you wish that it would get performed, or no?



PP

: No, because this type of libretto is passé. I concentrated in the last years more on chamber music for wind instruments, for strings, and for chamber orchestra quite a bit. Smaller groups make it easier to get performed. If there's an occasion to have a big orchestra piece performed, it's very minimal. If you want to have it be performed, the publishers expect much better results from smaller works. I have about thirty-eight or forty things at different publishing houses — piano pieces, sonatas, suites, string quartets.



BD

: When people perform your music, do they ever find things in your music that you did not know were there?



PP

: No, I don't think the people who play this kind of music find things. You have to tell them.



BD

: You also worked as a critic. Tell me about that.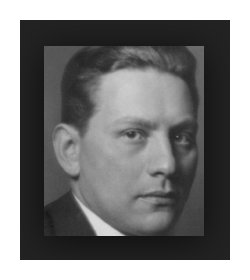 PP: In Vienna was a big daily called the

Arbeiter-Zeitung

(

Workers Newspaper

). It was an organ of the Social Democratic Party, and in Vienna I was the representative for public music from the Social Democratic Party, and was music critic for this time with the consent of Schoenberg. Schoenberg was very autocratic, and I had to ask him if I can accept this. He said, "This paper doesn't accept the advertising of concerts and concert agents, so you can go there and be objective." He knew that I was for new music, and this journal was very widely read because in Vienna it is a plurality. Still, the city of Vienna is Social Democratic. So I wrote reviews, sometimes for Schoenberg — which was kind of audacious — and several others.



BD

: What is — or should be — the role of the critic?



PP

: Objectivity is the role. No favoritism, but no emphasis of things which don't belong to the essence of the work. Of course, if you write about the soloists, you write about the voice or the piano. But if you write about new compositions, you should write about the content of the new composition, whether it is an opera or a symphony or a chamber work. You should not be prejudiced. Many critics were — and are — prejudiced against modern music. I read some articles in the American dailies — not in New York or Los Angeles, but in smaller towns — and you would be amazed how much conservative prejudice there is against modern music.



BD

: Is there any way of fighting this?



PP

: [Laughs] A critic is independent. You can't find him. In that way, the critic is powerful. If somebody writes something in

The New York Times

, you should try to write a letter to him and say you don't agree with his notion.



BD

: Is there any way, though, of fighting the prejudice against modern music amongst the public?



PP

: Oh, yes. That is done in musical journals quite a bit, especially the young people to try to get publicity not only for music, but also in writing. They write good articles, or progressive articles, in the musical journals, so it is in general quite aggressive.



BD

: What do you feel are the basic obligations of a composer?



PP

: To be true to himself. It's very simple, very simple. If a composer writes what is given to him, he's fine, but if he tries to make something up, construct it from that which is not really inspired, it is not good. So, if he's true to his real self, then it will be good music, in my opinion.



BD

: I can assume, then, that you have been truthful to yourself in your compositions?



PP

: Yes. When I wrote something, I believed in it. When I hear modern music — even when the composer's conservative or modern or ultra-modern — if I feel that there is a fidelity, then it is good music.



BD

: I want to thank you for spending the time with me this evening.



PP

: Well, I've been delighted, and thank you for this. I hope it is what you wanted. I am very grateful you've given me the occasion to let off some steam.






===== ===== ===== ===== =====

-- -- -- -- -- -- --

===== ===== ===== ===== =====




© 1986 Bruce Duffie


This interview was recorded on the telephone on October 22, 1986. Segments were used (with recordings) on WNIB in 1988, 1993 and 1998. A copy of the unedited audio was placed in the Archive of Contemporary Music at Northwestern University. The transcription was made and posted on this website in 2013.


To see a full list (with links) of interviews which have been transcribed and posted on this website, click here.

Award - winning broadcaster Bruce Duffie was with WNIB, Classical 97 in Chicago from 1975 until its final moment as a classical station in February of 2001. His interviews have also appeared in various magazines and journals since 1980, and he now continues his broadcast series on WNUR-FM.

You are invited to visit his website for more information about his work, including selected transcripts of other interviews, plus a full list of his guests. He would also like to call your attention to the photos and information about his grandfather, who was a pioneer in the automotive field more than a century ago. You may also send him E-Mail with comments, questions and suggestions.