Conductor Wolfgang Sawallisch
A Conversation with Bruce Duffie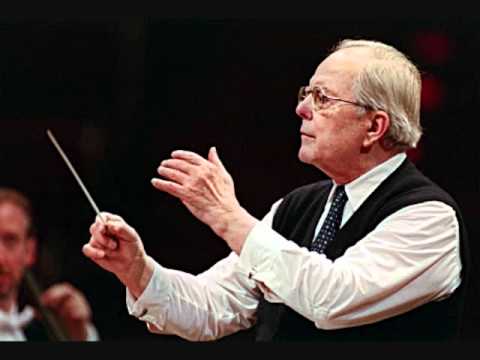 Wolfgang Sawallisch began to learn the piano at the age of five, studying theory and composition while still at school and subsequently becoming a pupil of Ruoff, Haas, and Sache in Munich, prior to joining the German army in 1942. Following the end of World War II he completed his musical studies at the Munich High School for Music. He then joined the Augsburg Opera in 1947 as a répétiteur, and with the violinist Gerhard Seitz won the first prize for duo performances at the Geneva International Music Competition in 1949. Having made his début as a conductor with Humperdinck's

Hänsel und Gretel

in 1950 at Augsburg, he shortly afterwards became first conductor there. He was Germany's youngest general music director on his appointment to head the Aachen Opera in 1953, and was later recruited to the same post at Wiesbaden in 1958 and at Cologne in 1960. He also taught conducting at the Cologne Conservatory. Sawallisch conducted annually at the Bayreuth Festival from 1957 to 1961, opening the 1957 Festival with

Tristan und Isolde

. In the same year he made his English débuts as both an accompanist, with the soprano Elisabeth Schwarzkopf, and as a conductor, with her husband Walter Legge's Philharmonia Orchestra. Legge also engaged him to make several important recordings, notably the first commercial release of Richard Strauss's final opera,

Capriccio

.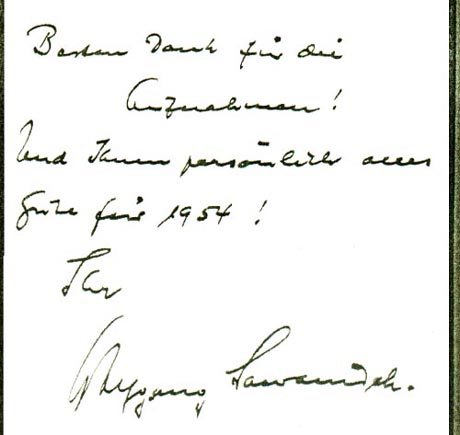 In 1960, in addition to his appointment at Cologne, Sawallisch became chief conductor of the Vienna Symphony Orchestra, and in 1961 of the Hamburg State Philharmonic Orchestra, retaining both positions until 1970 and touring America successfully with the Vienna Symphony in 1964. He succeeded Paul Kletzki as chief conductor of the Suisse Romande Orchestra in 1972, having been appointed the previous year as chief conductor of the Bavarian State Opera. He led this company on another successful tour, to London in 1972, and remained at its head until 1992, making numerous recordings, notably of lesser-known works by Wagner and Richard Strauss. Sawallisch is also a gifted pianist and has given recitals with many of the leading instrumentalists and singers of our time, including Dietrich Fischer-Dieskau and Elisabeth Schwarzkopf.

In 1990, Sawallisch was named as the chief conductor of the Philadelphia Orchestra in succession to Riccardo Muti, taking up this appointment in 1993. He relinquished the position in 2003 following the death of his wife, but continued to appear with the orchestra as a most-welcome guest. In addition to his permanent posts, Sawallisch has had an active career as a guest conductor with the world's leading orchestras, including the Amsterdam Concertgebouw, London Philharmonic, Vienna Philharmonic, and the Orchestre National de Radio France in Paris, and has conducted regularly at La Scala, Milan. He is especially popular in Japan, where he has appeared regularly with the NHK Symphony Orchestra. Sawallisch is a conservative, 'no-nonsense' conductor whose platform style is economical and clear. His interpretations are grounded firmly on a complete understanding of the Austro-German school of composers, of which he is a pre-eminent interpreter.

His discography is large and distinguished, and includes recordings of Mozart, Beethoven, Schubert, Schumann, Mendelssohn, Brahms, Wagner, Bruckner, Dvořák, Richard Strauss and Hindemith in both studio and live incarnations.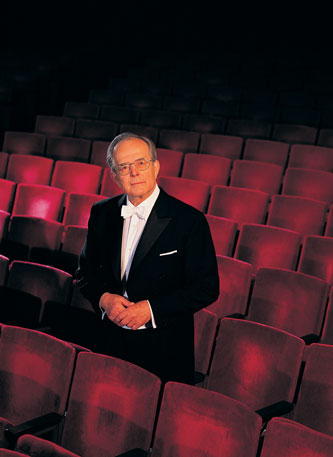 Most of the interviews that I have done in the course of my radio career were of my own selection. I would seek out various composers and performers that interested me and present their words along with their music. Sometimes, however, the desire for publicity on the part of venues or organizations would cause them to ask for my time and effort. Usually I would jump at the chance to meet another world-class musician, and this is one of those happy occasions.

In the spring of 1994, the Philadelphia Orchestra was making a tour, and they requested a bit of promotion for their appearance in Chicago. To this end, I was permitted to call their Music Director, conductor Wolfgang Sawallisch for a conversation. Naturally we spoke of his immediate plans, but I also was able to inquire about other things from his long and distinguished career.

His grammar and syntax were quite good, though occasionally the German-style word order would creep into his responses. Those bits have been mostly smoothed out. Once or twice he even invented (or derived) a new word, but since it clearly reflects his idea those have been left in the text.




Bruce Duffie

: As Music Director of a major orchestra, how much are you able to concentrate on musical details, and how much do you get involved — or have to get involved — in other mundane matters?



Wolfgang Sawallisch

: I'm involved one hundred percent in musical matters. This means orchestra members, programs, educational concerts, the programs for this tour, "Come and Meet" music concerts and so on. It's complete engagement for all musical questions of the orchestra. Plus I'm looking for a new concert hall. We are fighting for a new one, and because of the American way to subsidize and sponsor, I have to speak with these people and do some important engagements to help bring money for the orchestra. This is a wonderful collaboration with my staff, and it is really a complete engagement for the orchestra.



BD

: It sounds like in order to accomplish your task you have to be a human dynamo!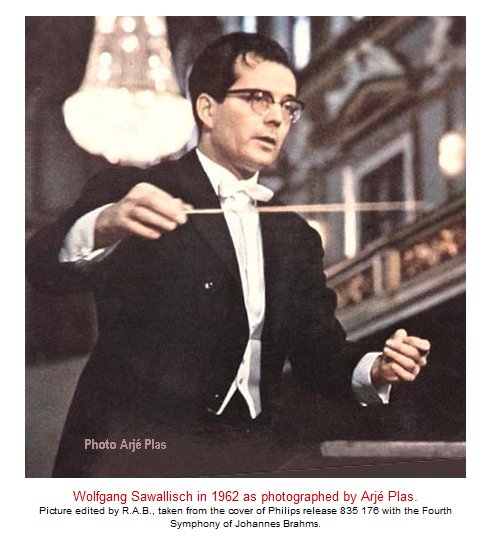 WS:

Ja

. [Both laugh] I do it, but with greatest pleasure because it is such a great orchestra. I love this orchestra and all the members. They are so involved in music and they like to play music, and it makes every hour together with this orchestra really a great, great satisfaction.



BD

: You've been involved in both opera companies and symphony orchestras, and also with your keyboard artistry all of your life. How are you able to divide your time amongst those activities?



WS

: After December of 1992, when I finished my activity as the director of the Munich Opera House, I left the opera completely except for a new production of

Entführung aus dem Serail

at La Scala in Milan this coming June. This will be the last opera performance I do for years because I will concentrate exclusively on the symphonic repertoire, and my work with the Philadelphia Orchestra or with other orchestras in Europe and in Japan. Once a year I will continue a tradition of Riccardo Muti of doing opera performances as concerts. He started this a few years ago here in Philadelphia with this new experiment, and they were so big and great and the audience and the orchestra like to do an opera once a year, and I will continue. But will not be doing any more staged performances.



BD

: Are you glad to give them up, or is it with great reluctance?



WS

: No, I'm very glad about it, because during the last twenty-two years as Music Director and the last ten years as Director of the Munich Opera House, I was so engaged in discussions with producers, stage designers, singers and so on about the imponderability of these works. I'm really very, very glad not to be involved any more in the actual situation concerning operas and the new style of productions and so on. I'm really very happy to concentrate on the symphonic repertoire.



BD

: With the huge amount of symphonic literature, how do you decide which pieces you will program each season?



WS

: I'm very happy about the fact that during my life I have a very, very big repertoire in all classical and romantic and the most very well-known modern composers until the middle of this century — about forty or fifty. I am engaged now very much, and it is a great challenge for me to learn here in America the new American composers' style, and we have a very good composer-in-residence here in Philadelphia. It is Bernard Rands, and he gives me wonderful advice about all new pieces, contemporary pieces, or even important, more or less traditional pieces in America. In Europe we don't know a lot of American music, and sometimes I feel that here in America we must — or I must — introduce important pieces of contemporary composers in America from Europe, works by Hans Werner Henze, Karl Amadeus Hartmann, and so on. These pieces are more or less unknown here, and I have a lot to do to bring them to the American people, the American audiences. On the other hand, I am willing to study American scores and bring this music to European concert centers. I hope it will work for both sides.



BD

: Whether it's an old score or a new score, you must make a decision whether or not you are going to spend the time to rehearse and perform this piece. What goes into making that decision?



WS

: Last week we did a new work by Jacob Druckman commissioned by the Philadelphia Orchestra. It was four songs written for soprano solo and orchestra, and it was a great success. When Druckman gave me his score, I knew immediately that this was a piece I would like to do because I saw very clear writing and a piece written by heart. This is important for me. I need to feel that a contemporary piece of music is written by heart and by brain and by intellectual feelings. I am not interested, for instance, to do music with computer. Frankly, this kind of music I don't like.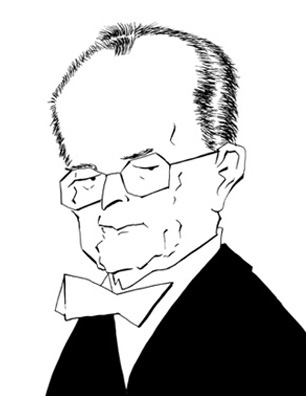 BD: You don't want it to be too mathematical?



WS

: That is correct.



BD

: Are you optimistic about where music is going these days?



WS

: Oh, yes. I am optimistic because one big fact is important for me. For thirty years I have conducted every year in Japan, in Tokyo, its great symphony orchestra. It's quite normal that I had connections with contemporary composers like Takemitsu and others. I feel that perhaps the combination between the traditional old Japanese or Asian music — with their instruments that have quite different problems — and our Western style music — and I include America and Europe as one big Western style music — could be a very good start, a very good beginning for new ideas between both countries or both cultures. I'm very confident of that, especially on the concert field; not so in the opera field. There I'm much more pessimistic, but I think there could be some progress and some new ideas for the music generally.



BD

: Is the music that you conduct — either the old music or the new music — for everyone?



WS

: You mean in Philadelphia?



BD

: All around the world. Is it for everyone, for the whole public, for the whole world?



WS

: Oh, yes! Music is the only art to combine all races, all generations, all nations, all people. It's really the greatest possibility for the best communication between all people on the world.



BD

: Is there any way that we can get more people to come into the concert halls — perhaps people from sports events or rock concerts?



WS

: I'm not quite sure that people who love sports events or even rock music are interested to come to so-called serious music. In Philadelphia we have quite a lot of young people who love both possibilities of music — for light music and for serious music — and I am sure that even in the future we will have good successes with our concert performances.



* * * * *





BD

: When you're a guest conductor of another orchestra, how much can you do to make that sound your own sound, as opposed to Philadelphia where you are the director and are molding that orchestra year by year?



WS

: I have in my ears a special kind of personal feeling, sound feeling, and I try in Japan as well as with an Italian orchestra or French orchestra to bring during my rehearsals the sound as close as possible to my internal ears, to my internal feeling. Sometimes it happens and it works, and sometimes I am not quite one hundred percent satisfied. But I always have a good success with my own feeling about the special sound for Mozart or for Beethoven or for Bruckner or something else.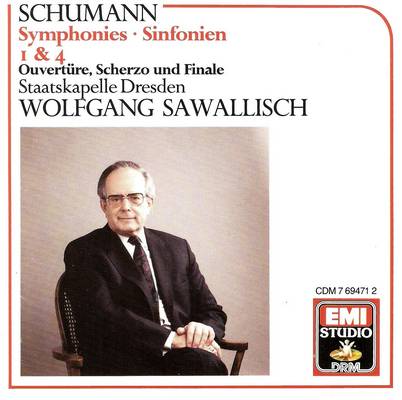 BD: Is it right to assume that even a virtuoso orchestra should be capable of Mozart and Debussy and Bruckner and contemporary works?



WS

: Absolutely! Absolutely, if a conductor is able to explain what Debussy's style is, what French music style is, and if he is able to tell the orchestra how to bring that sound, what the strings must do for a French sound or

portamenti

, the smoothness of sound of Debussy and impressionistic music. The conductor must be able to show the delicacy of a Haydn symphony, for instance, and what the heavier sound of Shostakovitch or Prokofiev should be like. If this is possible for the conductor to explain to the orchestra, I think that a great orchestra, like the Philadelphia Orchestra, is absolutely capable to fulfill all this different styles.



BD

: On the other side of the coin, is it right to expect the Music Director to be a specialist in all of these various styles?



WS

: No, certainly not! Everybody knows that we have all kinds of conductors — specialists around the world in all different styles — and during a long season it is our feeling to invite the different kinds of orchestra leaders to bring the right style for the chosen music. Certainly the music director is not able to be the king of all styles. [Both laugh]



BD

: When you're rehearsing the orchestra, do you do all of the work in rehearsal or do you leave something for that night of performance, a special spark that will happen only when there's a public?



WS

: We rehearse all pieces, each bar of the music has to be performed in a concert. Each bar is performed or played before in rehearsal, but I know more or less exactly with this orchestra here in Philadelphia, the possibilities of less rehearsing because I am sure that in performance the orchestra will give everything I need. I know exactly where are the measures I have to work during the rehearsals. This is the question of experience. This is my first year of directorship here, and certainly during the next months and years when I work with the orchestra, this collaboration and this feeling of what the orchestra is able to do without rehearsal will grow.



BD

: Do you find that you are able to do more with a virtuoso orchestra than with, perhaps, an orchestra that is of a little less technical quality?



WS

: Of course it helps. The technical quality of this orchestra helps immensely for programming, allowing us to do even with a shorter rehearsal time more interesting and important works. Sometimes it is necessary to work more on a Haydn symphony or a Mozart symphony than for a Shostakovitch or Brahms symphony.



BD

: Why is that?



WS

: The Mozart style and the Haydn style is certainly much more difficult and more delicate than a broad, horizontal line. Vertical play, like in a Haydn or Mozart symphony, is sometimes a little more difficult.



BD

: So you have to bring out this delicacy?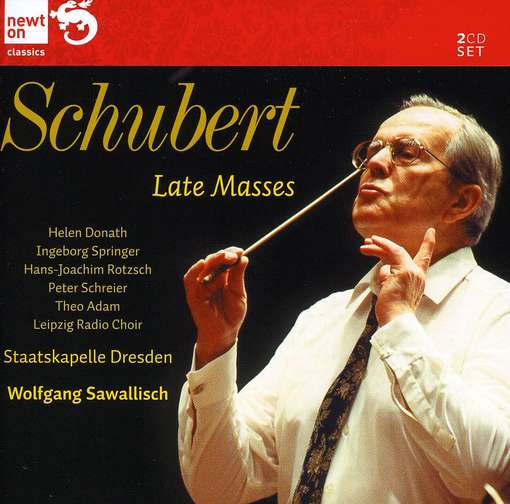 WS: Yes! Next season, the '94-'95 season, I asked all my guest conductors to include Haydn symphonies in their programs, and they did it with great pleasure! We will have between twelve and fifteen different Haydn symphonies, from the very first one until the last one. In the opening week I will conduct

The Seasons

, the great oratorio by Haydn, for the first time in the history of the Philadelphia Orchestra! It's never been performed here. It also makes me very happy to have a cello concerto, a piano concerto, and small symphonies, bigger symphonies and so on. It gives a great advantage for the orchestra to work with different conductors. Each conductor is certainly willing to bring a special sound, and a special feeling and playing for the music of Haydn.



BD

: And yet the orchestra has to be flexible enough to work with you and all of the other conductors that come through!



WS

: Exactly. Exactly. [Vis-à-vis the recording shown at right, see my interviews with Helen Donath, and Peter Schreier.]



BD

: What advice do you have for youngsters — or not quite so youngsters — who want to be orchestral players?



WS

: Fortunately, we don't have any problems. I am very happy that the Curtis Institute is in the same city here, and we have a lot of young musicians coming from the Curtis Institute. Our principal musicians in the orchestra are teachers in the Curtis Institute, which means we have, more or less, the traditional education for young people. They learn from the teachers in the institute, and come into the orchestra. This is a very good circulation. With the Curtis Youth Orchestra, every year I do rehearsals with them and it makes a great joy to work with the young people. For instance, for the open viola position we had more than 200 applicants. We had really very, very good musicians play for us, and it makes no problem, really, to have young, new, interested musicians. I am looking forward without any fear, and I believe we will have good results.



BD

: You've been working with instrumentalists and singers for many, many years. Has the technical quality of their performance increased during that time?



WS

: I am very impressed by the young people coming from Asia — Japan, Korea, the Chinese people. Even at the Curtis Institute here in Philadelphia there are a lot of male and female young musicians from these countries, and the technical standard is really incredible high! It makes a great impression to listen to what these people perform. Sometimes, I confess, their technical abilities are bigger than their musical education.



BD

: This was what I was going to get at. With the technical ability going up all the time, has the musical ability been commensurate with that technical improvement?



WS

: Sometimes not, but it's only a question of a few words and of explanations how music should be performed, how a style is of the great classic and romantic musicians all over the world. Then the technical abilities help very, very much to understand very soon and very fast what the real musical problems are. I have really good results with young people in the very first moment. They may be a little bit out of real musical feeling or they might ask what would we think the music should be, but after a short time they understand completely what is necessary to do with the music. They have a great responsibility and a great admiration for really great music, and I like very much to see how these youngsters with technical capabilities are able to make music when they are inspired.



BD

: I assume that as you are solving the musical problems, there are more than several correct solutions — many ways of playing each particular musical phrase or musical piece?



WS

: Certainly, and of course if they are in the young orchestra of the Curtis Institute, or if they came to a great orchestra like the Philadelphia Orchestra, they learn in different ways the different styles, and it works very well.



BD

: We're kind of dancing around it, so let me ask you the big philosophical question — what is the purpose of music in society?



WS

: I have more or less great experience during the last four and a half decades. I think music is one of the most important parts in our life. It makes no difference if the music is light music or rock and roll music or a symphony by Gustav Mahler or Anton Bruckner or Ludwig von Beethoven. It makes no difference. What is important — and I'm absolutely convinced about this — is that everybody has a special feeling for music. He likes to dance, he likes to walk, he likes to sing, he likes to make rhythmical things. Music is more or less in every one of us, and it is only necessary to bring all these people on the right way. I feel that music generally makes the most important influence for all of us, and we have to work for that so people understand generally what music is. This is not an economical problem or a political problem; it is a social problem, a social question. I would like to say that with the music people come together. The people do understand each other without races, without differences, and I am absolutely sure that music is the only one of all the arts to do so. Painting and sculpture and poems and so on are lovely, but music is the only art to bring people together. I repeat this phrase, and I'm sure that music is really a very, very important part of our life.



* * * * *





BD

: When you do some of the great big masterworks — the symphonies of Schubert and Beethoven and Mahler, for example — do you ever feel that you are in competition with the shades of Toscanini and Furtwängler and Karajan, or some of the other conductors who are still working today?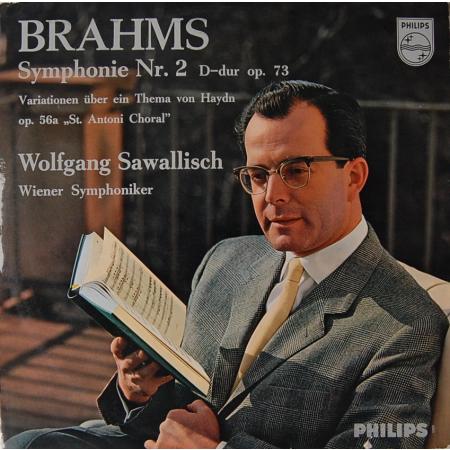 WS: Of course each of these conductors has his own feeling about interpretation and styles. After a long experience, I have some connections to great late conductors. I was always a great admirer of Bruno Walter, of Klemperer, and for both opera and concert performances of Wilhelm Furtwängler. I adored Hans Knappertsbusch in Munich when I was a young boy, and I listened to all the performances Hans Knappertsbusch conducted in Munich. I was a great admirer of Clemens Krauss, and I learned a lot of Strauss interpretation from him and from Karl Böhm. All these great examples of the past have influenced my own feeling about music and interpretations, especially the direction of operas by Wagner, Mozart, and Strauss, and even in the interpretation of the great symphonic music by Schubert, Schumann, Beethoven and Brahms, and so on.



BD

: But then you take all of what you have learned and make it your own?



WS

: I hope so. [Both laugh]



BD

: Is it special to have put your individual stamp on so many of these masterworks?



WS

: I personally can't say because I am not the right man to say it about myself. Other people have to decide. For many years I have tried to realize what the composer has written in his score, and to find the sense behind the printed scores — just as an actor has to do to understand what is written behind the words. This is important for me. The music of Beethoven and Mozart and Bach and Schubert is always a miracle. Every time I study a very, very well-known, great composition, I discover new ideas of the composer, and with experience and with age I always find new ways. I am very happy that I can always discover new things.



BD

: Do you conduct the same in the concert hall as you do in the recording studio?



WS

: It depends. Every night, a really good concert hall — with different people and different circumstances like bad weather, good weather, humidity, personal feeling and so on — brings different interpretations. That's the reason I like live performances much more instead of studio recordings. In a studio recording, all the artificial possibilities to make a sound with a lot of microphones makes a difference, and I'm not always one hundred percent satisfied and happy with the work in a studio. That is why I prefer live performances, because that's my feeling. I can't interrupt; I cannot repeat. There is extreme concentration each evening with the people of the audience, and it makes interpretation much more life-like.



BD

: Is there such a thing as a perfect musical performance?



WS

: What is a perfect musical performance? This is not a direct a question to you. What it is, for me, remains the question. What is really a perfect performance?



BD

: So this is something you ruminate about?



WS

:

Ja

. I can't find an answer. If you ask me, I can't say what a perfect performance is. Maybe it's when the technical and musical parts come together, but I don't know.



BD

: Is it possible there are a lot of perfect performances?



WS

: Certainly you can try to bring the most important parts together to have a perfect performance, but you cannot say that this is really perfect. You can say it's a good technical performance, that everything is in the right place, the orchestra is tuned very well and there are no problems of intonation and rhythm. All these things may be a hundred percent okay, but you don't know if it is a hundred percent musical performance.



BD

: What advice do you have for young conductors coming along?



WS

: My first advice is that the young conductor should never listen to a record or a CD or a tape of a new piece he has to learn in the great repertoire of classic, romantic and modern music. I am not speaking about contemporary music. I am the first to accept that it's much easier to understand new contemporary if you have a possibility to look at the score and at the same time have a tape or a recording of the piece. It makes it much easier. It saves time and it gives a much more complete feeling about the new work. But for a Brahms symphony or a Beethoven or Schubert or Bruckner or Stravinsky or Richard Strauss or Gustav Mahler and so on, if a young conductor is learning a new score, please, he shouldn't use a record to make it easier. No. He has to look in the score for the first time to see what happens with all the printed notes, and never to be influenced by a record — even with the best record.



BD

: One last question. Is conducting fun?



WS

: I feel that conducting is, in my eyes, a very, very great responsibility, because of what I said about the power of music. It needs to be very concentrated, to be very serious, to think with each bar you conduct that it's not only music to be performed. Together with each musician you have a great responsibility. If you have an orchestra — like for instance the Philadelphia Orchestra or other world top orchestras — where you have musicians with the same intensity of responsibility toward the music, it works well and you can really come to a good result of what you have in your own mind musically. When everything works then conducting can be, or is, fun.



BD

: I hope it all continues to come together for you.



WS

: Thank you, Mr. Duffie.









© 1994 Bruce Duffie


This interview was recorded on the telephone on May 2, 1994. Sections were used (along with recordings) on WNIB five days later, and again in 1998. It was transcribed and posted on this website in 2012.


To see a full list (with links) of interviews which have been transcribed and posted on this website, click here.

Award - winning broadcaster Bruce Duffie was with WNIB, Classical 97 in Chicago from 1975 until its final moment as a classical station in February of 2001. His interviews have also appeared in various magazines and journals since 1980, and he now continues his broadcast series on WNUR-FM, as well as on Contemporary Classical Internet Radio.

You are invited to visit his website for more information about his work, including selected transcripts of other interviews, plus a full list of his guests. He would also like to call your attention to the photos and information about his grandfather, who was a pioneer in the automotive field more than a century ago. You may also send him E-Mail with comments, questions and suggestions.