Earle Brown, 75, Composer Known for Innovation, Dies




By ALLAN KOZINN
Published in

The New York Times,

July 8, 2002

Earle Brown, an innovative experimental composer who allowed performers considerable interpretive freedom, and whose vision of sound as an almost concrete object is often expressed in a form of graphic notation that conveys the importance of time and space in his music, died on Tuesday at his home in Rye, N.Y. He was 75.

Mr. Brown began his musical life as a jazz trumpeter, and in his student years he studied mathematics and engineering with the idea of a career in aeronautics. But he was also strongly drawn to contemporary painting, sculpture, poetry, dance and music, and after service in the Army Air Corps during World War II he devoted himself to more formal musical studies at the Schillinger School of Music in Boston.

He moved to Denver in 1950, where he began painting as well as composing and teaching music. An encounter there with the composer John Cage in 1951 proved decisive: Cage invited Mr. Brown to New York to contribute to his ''Project for Music for Magnetic Tape.'' Mr. Brown's contribution to Cage's project was ''Octet I'' for eight loudspeakers (1953), a tactile work in which isolated tones, fragments of speech and singing, snippets or orchestral recordings and bursts of noise swirl around a listener for nearly three and a half minutes.

Mr. Brown quickly became an influential member of the New York School, in which the other prominent composers were Cage, Morton Feldman, Christian Wolff and David Tudor. He adopted some of the philosophical hallmarks of Cage's approach, including the use of indeterminacy, a technique in which performers were given parameters within which they could choose what, when or how to play. One of Mr. Brown's best-known works in this style, ''December 1952,'' invites performers to interpret a visually elegant score [

shown below

] that consists of rectangles of different sizes and thicknesses, some horizontal, some vertical.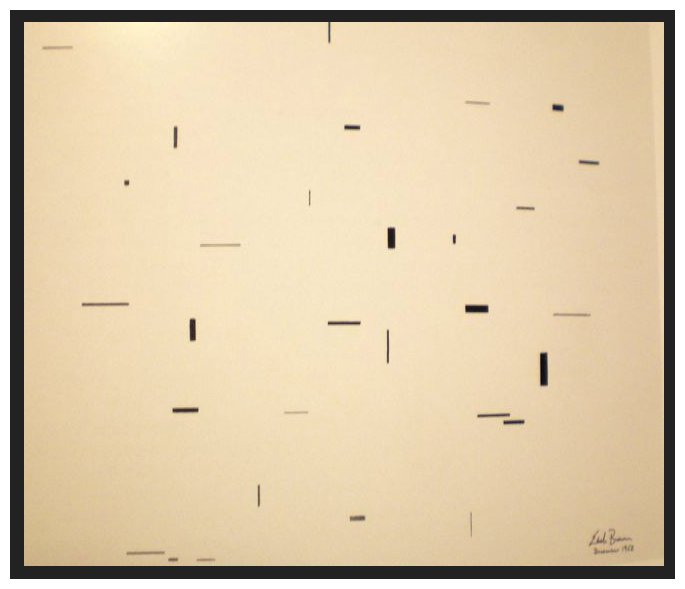 The score for ''December 1952'' has been likened to a painting by Mondrian, but Mr. Brown has said that his graphic scores were more directly inspired by the mobiles of Alexander Calder. The score for his ''Available Forms I'' (1961), also inspired by Calder, consists of six unbound pages, each of which includes four or five distinct musical events. The conductor begins the work with any event on any page and builds the work by selecting from the remaining events and manipulating tempo and dynamics at will. In the collaborative ''Calder Piece'' (1963-6), a percussion score by Mr. Brown was, in effect, performed by Calder's ''Chef d'Orchestre,'' a playable mobile.

Earle Appleton Brown was born in Lunenburg, Mass., on Dec. 26, 1926. During his years as a mathematics and engineering student at Northeastern University in the early 1940's, he played trumpet in a jazz band on weekends. He continued to play jazz during his military service, and in 1946 he enrolled at the Schillinger School, where he studied composition and early music. His works in these pre-Cage years were largely in the 12-tone style, as were some of his early New York works. When Mr. Brown moved to New York to join the Cage circle, his first wife, Carolyn Brown, a dancer, joined Merce Cunningham's company. Their marriage ended in divorce. In 1972, Mr. Brown married Susan Sollins, who survives him, as does a sister, Marilyn Krysil, of Lunenburg, Mass.

In New York, Mr. Brown quickly developed his own approach to Cage's chance aesthetic. But he was less enamored than Cage of pure chance composition. He later described ''December 1952'' as ''an activity rather than a piece by me, because of the content being supplied by the musicians.'' More typically, he found ways to combine ambiguous elements, in which musicians were free to make choices, with specifically notated passages, which he expected to be played with strict precision.

In ''time-notation'' works like ''Music for Cello and Piano'' (1954-5), pitches and dynamics are provided in traditional notation, but durations are left to the players. In his later works -- the best-known is ''Tracking Pierrot'' (1992) -- he continued to modify the balance between fixed notation and open forms. He also continued to compose for a variety of forces, calling for huge blocks of chordal sound in some works and graceful, pointillistic webs in others.

Mr. Brown music was extremely influential in Europe during the 1950's and 60's, when composers like Krzysztof Penderecki, Gyorgy Ligeti, Karlheinz Stockhausen and Franco Donatoni adopted elements of his style. (Donatoni also dedicated two orchestral works to Mr. Brown, ''To Earle I,'' in 1970, and ''To Earle II,'' in 1972.)

As a teacher, Mr. Brown held the W. Alton Jones chair of composition at the Peabody Conservatory in Baltimore from 1968 to 1973. He also taught at SUNY Buffalo, Yale University and the Tanglewood and Aspen Music Festivals.

As president of the Fromm Music Foundation from 1984 to 1989, he organized new music concerts at the Aspen Music Festival and commissioned works by many composers, among them Henry Brant, Ornette Coleman, Todd Machover, Steve Mackey, Steve Reich, James Tenney and Joan Tower. He was also the repertory director of an important series of new-music recordings on the Time-Mainstream label. Between 1960 and 1973, he oversaw the label's recordings of works by 49 composers from 16 countries, among them Ives, Cage, Nono, Maderna, Stockhausen, Luciano Berio and Iannis Xenakis.



-- Photo of score added for this website presentation.
-- Names which are links (in this box and below) refer to my interviews elsewhere on this website. BD