Harpist Sarah Bullen

A Conversation with Bruce Duffie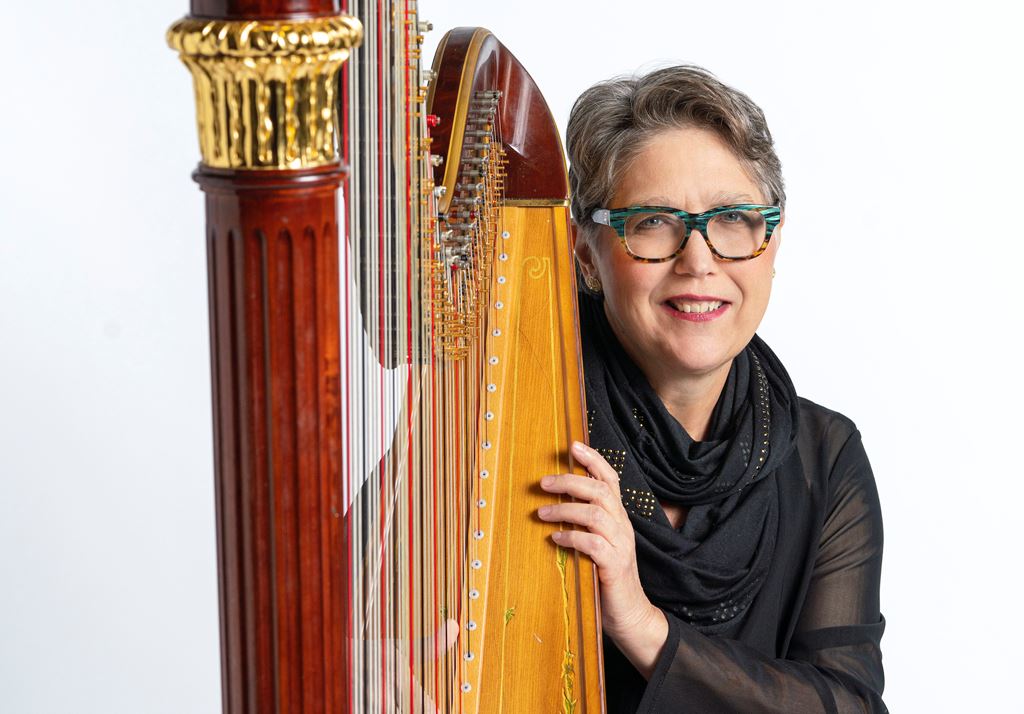 [Photo by Todd Rosenberg for the CSO]




PRINCIPAL HARP SARAH BULLEN TO RETIRE AFTER 24 YEARS OF SERVICE TO THE CHICAGO SYMPHONY ORCHESTRA




(...) In 1997, Bullen was appointed to the position of principal harp by then-Music Director Daniel Barenboim. Prior to the CSO, Bullen was principal harp of the New York Philharmonic from 1987 to 1997, having been appointed to the position by then-Music Director Zubin Mehta. She began her orchestral career 40 years ago in 1981 as principal harp of the Utah Symphony.

During her CSO tenure, Bullen has performed on more than 20 international tours with the Orchestra and appeared as a soloist with the CSO multiple times including appearances with Daniel Barenboim in Ginastera's Harp Concerto, and with Pierre Boulez in Debussy's Sacred and Profane Dances, a work she also performed with Riccardo Muti in her most recent solo appearance in 2018. Throughout her career, Bullen has won critical acclaim in more than 50 concerto appearances, including those with the New York Philharmonic under Zubin Mehta and Erich Leinsdorf and orchestras around the world. Bullen has also served as a soloist, chamber musician, lecturer and judge at numerous American Harp Society conferences and at the World Harp Congress and the USA International Harp Competition. For her achievements in the field, she was also recognized as one of the foremost harpists of the 20th century in Harp Column magazine.

As a leading educator, Bullen has taught master classes throughout the world. During her tenure in New York, she served as chairperson of the harp department of the Manhattan School of Music. In Chicago, she was a professor of harp at Roosevelt University's Chicago College of Performing Arts for several years through 2016 and continues to maintain a private studio. Several of Bullen's students have gone on to enjoy major professional careers.

She is the author of the best-selling book Principal Harp: A Guidebook for the Orchestral Harpist, in two volumes. Bullen is also the co-author of Anthology of Harp Duets, Volume One, published in 2016 by Lyon & Healy. Her solo and chamber music recordings include The Essential Harp and Lyon & Healy Hall's Inaugural Concert with the latter featuring performances by Bullen along with fellow CSO musicians Louise Dixon (flute) and Max Raimi (viola).

Originally from Long Island, New York, Bullen was a student of Marcel Grandjany, Mildred Dilling and Susann McDonald. As a Naumburg Award recipient, she graduated from the Juilliard School with bachelor's and master's degrees in music.



== From a CSO press release (with minor corrections) announcing Bullen's retirement from the orchestra effective in September, 2021
== Names which are links in this box and below refer to my interviews elsewheree on my website. BD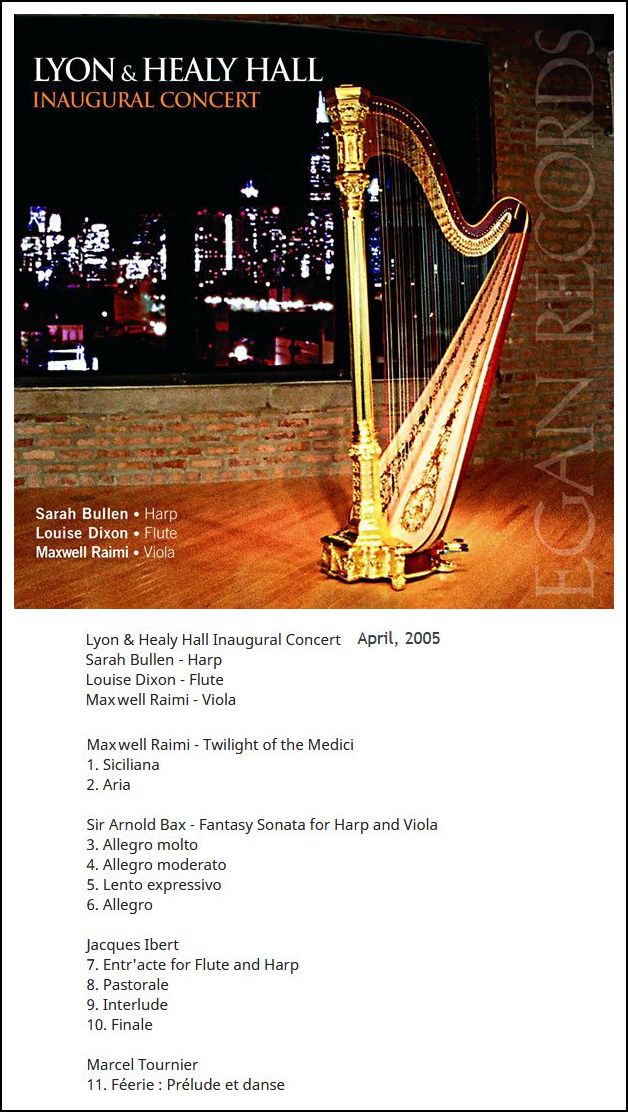 Though not unique, this was one of the very rare occasions when a missed connection had to be re-scheduled.

In actuality, we were only a few yards apart, but the rehearsal rooms and dressing rooms backstage and downstairs at Orchestra Hall have similar numbers, and we wound up in different spaces waiting for each other. Fortunately, it was easy to try again a couple days later, and then we managed to be in the same space at the same time.

It gave us a bit of a laugh, and the start to our conversation . . . . .


Bruce Duffie: Are there ever times when a music rehearsal, or a performance, winds up with you in the wrong place?

Sarah Bullen: No, that's never happened. [Laughs] Sometimes things like that have happened with the music, or if they have a time change for a rehearsal and there's confusion. Things like that have happened, but not about a location.

BD: Is it especially difficult for a harpist, because you have this huge instrument that has to go on a truck, rather than a small instrument in hand-held case?

Bullen: That's what we have stage-hands for. I'm not responsible for moving the harp. My responsibility is to show up, and tune, and play.

BD: Is there a responsibility just to play, or rather to play brilliantly?

Bullen: [Laughs] One would hope to play brilliantly. That's always our goal. Sometimes it's close, and sometimes not! I often tell my students that most of success is being in the right place at the right time, whether that means playing the proper notes, or showing up on time for a rehearsal or a concert. But for a harpist, the majority of what we do is make strategic entrances after we've been resting for sometimes hundreds of bars.

BD: You count two hundred bars, and then you have the critical moment?

Bullen: Exactly, right.

BD: Would you rather play more in symphonies?

Bullen: Sometimes. A Mahler symphony is a good example where the harp is very important. Mahler used the harp very uniquely. He almost uses it as he would the timpani, or a double bass, with key low notes that are just crucial to the fabric of the piece. But then we will sit for a whole movement doing absolutely nothing. It gets tiring to sit there doing nothing, but the harp is hardly alone in the orchestra with that sort of role. It's like being a pinch hitter in baseball, or a place kicker in football. People will ask if that is all you do, or if that is all you're playing, but try doing it without it. It adds an element of definition to the score, and without it you'd surely be lacking.

BD: And yet you have to be prepared as a musician to be a soloist. You're playing the Ginastera Concerto in a few days, and that features you completely. [The program, conducted by Barenboim, also featured Requies by Berio, and the Symphony #6 of Tchaikovsky.]

Bullen: Right. I am a Principal Player, and another word for a Principal Player is Solo Harp. So, when we're hired in this capacity, the responsibility is very clear that it is a player who essentially stands alone as a soloist, but also has the skills to blend with the ensemble. So, it's a two-fold responsibility.

BD: If you could, would you rather be a solo touring harpist so that all you played were concertos?

Bullen: No, I would rather have more of a balance of everything. I teach quite a bit at Chicago College of Performing Arts at Roosevelt University, and if I were to divide the plate of my professional life, I'd say seventy per cent is orchestra, twenty-five per cent is teaching, and five per cent is being a soloist. But yes, I would rather up the soloist part a little bit more.

BD: What about chamber music?

Bullen: Yes, and that too. I would put that in with the five per cent. I'm so busy with the Symphony that if I have a year with a lot of repertoire I have already played, it doesn't demand so much preparation time in just learning the parts. But if it seems to be a particularly demanding season that has a lot of new repertoire that I've never done before, I'll plan ahead, and either add or subtract other obligations.

BD: Do you find that the composers who are writing new works, are doing more and more for the harp?

Bullen: I would say so, yes. Of contemporary composers, it's rare that the harp isn't included. When you go back to the classical era, Beethoven tentatively introduced the harp in one of his works, and from there on composers, such as Brahms and Strauss started to champion the harp. Tchaikovsky, also. Every ballet he wrote, such at The Nutcracker or Swan Lake has wonderful harp parts. However, none of his symphonies have harp, although Manfred has harp. He wrote just beautifully for the instrument, and featured it quite stunningly.

BD: Is there a reason for this?

Bullen: I have no idea. I wish I knew. He wrote so beautifully, and really knew how to show the harp in all its brilliance by giving it cadenzas.

BD: Is it then your responsibility to do a little research on Tchaikovsky, to find out that maybe the ballet orchestra had a harp player, and the symphony orchestra didn't?

Bullen: I'm not an historian. My role and interest is in the performance. I know I have colleagues at the Symphony that are very much interested in the historical aspects of orchestral playing. I'm interested, but I'm not a scholar. In Tchaikovsky's time, certainly there were plenty of composers who were using the harp. So it wasn't such an anomaly, but maybe it was considered not a core member of a symphonic orchestra.

BD: Having one was an extra bonus?

Bullen: Yes, a French sort of instrument, and of course today it's very much an integral part of the whole of an orchestra.

BD: Understanding the way Tchaikovsky and Mahler used it in the orchestra, are the composers of today understanding it as well, and giving you the same or more?

Bullen: No.

BD: [Surprised] Why not?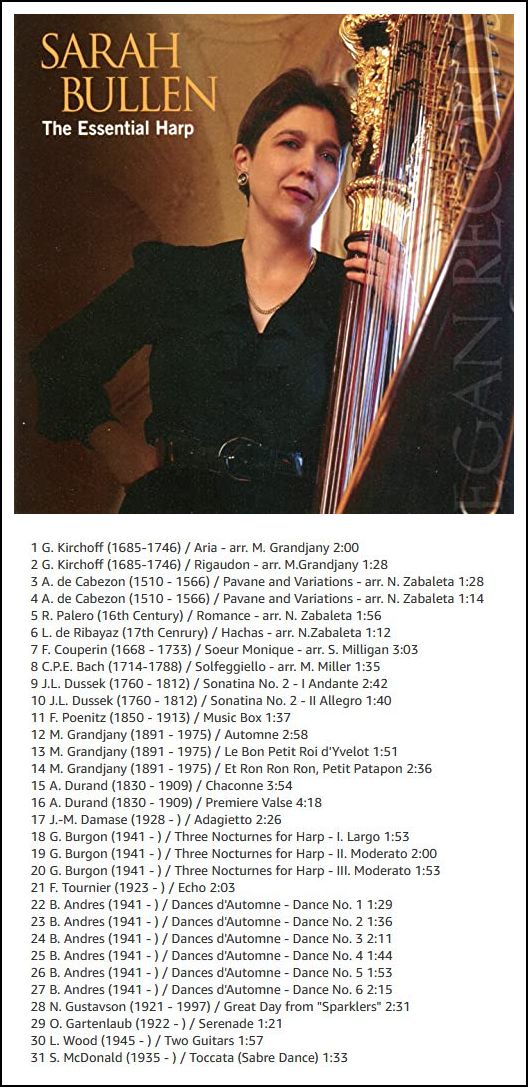 Bullen: [Laughs] What a lot of people don't understand about the harp is that we have seven pedals that are essentially the chromatics of the instrument. Those pedals are the black notes on a keyboard, and that can be very challenging for a composer to understand what the limitations are. Quite frankly, I think composers are very intimidated by that. It's not as simple as writing a piano part that a harp plays. It doesn't work exactly like that. We have many similarities, but it's not just an across-the-board trade between instruments.

BD: You have to change your set-up in order to get the different chromatics?

Bullen: Right.

BD: I often tell people if they want to watch a harpist, look at their feet.

Bullen: Exactly, and very often the public doesn't see that unless the harp is front and center.

BD: Should the public know about the difficulties of playing the harp?

Bullen: The harp is just like every instrument. It has its idiosyncrasies and its difficulties that hopefully become transparent to a listener because the musician has championed those difficulties. It's something that one must master in being a student of whatever instrument you're playing. The pedals present a certain hurdle that any young harpist has to deal with, but by the time your reach a professional level, hopefully that's something you just take in your stride. At the same time, I have to say, just speaking for myself, that if I ever have some glaring error in a concert, it's usually not with my fingers, but it's with my feet. [Laughs] Maybe I meant to move my E pedal, but instead I moved my G pedal, nd that can be terrible. Instead of having an E-flat, I have an E natural, and then I have a G-flat in a chord, and it just sounds horrible! [Both laugh] Those are moments where you just cringe, and there's nothing you can do about it because it's out there, and it's wrong.

BD: Hopefully those are few and far between.

Bullen: Yes. [Both laugh]



* * * * *



BD: Should composers who are going to write for the harp, take two or three harp lessons so they understand the mechanics?

Bullen: Yes, absolutely. Often, the stereo-typical usage for a harp would be ornamental. You stick a glissando in here and there, but some composers have utilized the harp brilliantly. Berlioz comes to mind, Mahler, and certainly Tchaikovsky. Bartók used the harp beautifully. Bruckner is another interesting example. Of all the Bruckner symphonies, there's only one symphony, the Eighth, with harp. He used it beautifully, but that was the only time he used it, and perhaps it's true that back when he was writing, there were few accomplished harpists around. It was more a salon sort of instrument that was played as a lady's parlor instrument.

BD: There's quite a bit of call for the harp to accompany the flute, or the violin.

Bullen: Right.

BD: Is that satisfying?

Bullen: Oh sure, absolutely, and that again presents its own challenges. It's like asking a conductor, "Do you enjoy conducting a concerto?" That presents its own unique musical challenges. To be a great accompanist is a very wonderful thing to be. We either step into the limelight as a soloist, or we know how to blend and be a sensitive enough collaborator with someone else. They both present great rewards.

BD: Is there enough solo music for the harp, or should we always ask for more?

Bullen: There's plenty of repertoire. Of course, most of it is not by the composers that we consider great. There are transcriptions of the great masters, like Bach and the Impressionists. Debussy comes to mind, and he certainly uses the harp in just about everything he wrote. We have one chamber piece, the Trio for Viola, Flute and Harp, that is probably one of the top five masterpieces for the harp, and he wrote the Sacred and Profane Dances, which is for string quartet and harp. That's the wonder of it. Ravel wrote a wonderful Introduction and Allegro, which is a chamber piece, but it can be done as a concerto.

BD: Do you try to suggest to a lot of groups to play this Trio and the other chamber works?

Bullen: Sure. I would say just about every chamber concert I play usually includes the Debussy Trio. It's a cornerstone of the repertoire, and then you build the program around it. But when you think of string quartet repertoire, the harp doesn't come close to the depths of that.

BD: What advice do you have for composers who want to write for the harp today?

Bullen: Study the scores. Short of having a harpist who's a friend, or being educated that way, study great scores, and don't just think of the harp as little celeste notes somewhere. A good contemporary example of a composer who uses the harp well is John Williams. He will highlight the harp often in a way that is supporting another instrument, but yet the harp is featured. He wrote a bassoon concerto [The Five Sacred Trees], and one of the movements is harp and bassoon. He writes very well for the harp. I performed that with him and the New York Philharmonic several years ago, and worked very closely with him. That was a real pleasure. Part of the problems for the harp is that composers will write for it, and then it's buried, because the orchestra is playing forte. In order to feature certain instruments, you need to clear away some of the other instruments, so something like the harp can be come through, and that takes a lot of experience. It's a finesse thing that composers learn.

BD: Should that lesson be part of every orchestration class?

Bullen: I think so, yes.

BD: There are so many complications now with presenting both old and new music. Are you optimistic about the future of music?

Bullen: I have the perspective in this business that there's always been a worry with classical music. There has always been a worry by any not-for-profit that were reliant on public support. I cannot imagine a world where the masterpieces of civilization wouldn't be sought after and revered, and I can't imagine culture being without these great masterpieces. Indeed, there wouldn't be a culture without these great masterpieces. I was heartened yesterday to see the response to the Day of Music that we had.

BD: There were thousands of people who came to partake of the myriad performances.

Bullen: There were packs, just packs. The Symphony can do a better job of reaching out to the audiences, and we're working on doing that, and making it a little more accessible — whether it's in the prices of tickets, or just the venue in which it's presented.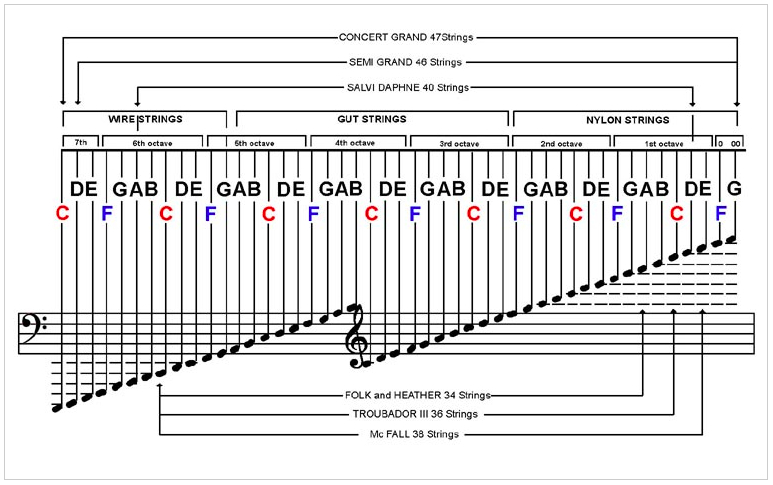 BD: Is the music that you play for everyone?

Bullen: I think it is.

BD: Six billion???

Bullen: While touring around the world, one thing I've noticed is that many people think classical music is an elite pursuit, and that it's aimed at the upper echelons of society. While touring South America, I have seen that it's not just the elite who are coming to our concerts. I remember playing a free outdoor concert in Buenos Aires with the New York Philharmonic and Zubin Mehta, where there were people literally climbing trees to hear the Symphony. When we loaded up the buses, there were people running down the street, following the buses filled with musicians. It was the only time in my life I felt like a rock musician. [Both laugh] These were the masses of people who were so in love with Beethoven, or Mahler. It's a good example of music that wasn't just for the upper classes. It was music that reached all parts of society.

BD: Then let me ask a real easy question. What's the purpose of music?

Bullen: To resonate within someone's soul, and to maybe spark the inspiration of what it is that makes being alive magical. I can't imagine living in world where people couldn't be touched by something greater than just their own nine-to-five life. There's something that has existed before our time, and that will exist after our time. It's a universal thread that we can have as part of our lives if we let it, or if we know enough to let it in. It's not just a matter of being educated. I read something about the executive director of the Detroit Symphony, who wasn't a lover of orchestral music. He was a runner, and would always listen to non-classical music during his run. One time when he was in Italy, he forgot his tapes, and when he went to buy some, the only thing they had was opera or classical. So, he was forced to listen to them. He fell in love, and realized this whole new world that was so enriching that he had to continue following it. I can't imagine many people saying, "Ugh, I hate classical music!" They might hate a specific composer, but classical music encompasses some of the greatest artists of all time.



* * * * *



BD: Tell me a little bit about the instrument itself. Has it become standardized, or are most of the instruments a little different from each other?

Bullen: It's pretty well standardized. We call it the 'pedal harp', or the 'chromatic harp'. The 1850s is when the harp went from a single action instrument, meaning it was just able to change pitch a half-step from natural to sharp. It then became double action, which was flat, natural, sharp. They also added pedals. Some people were experimenting with double rows of strings, and there are still some harpists that can play that. If you asked me to play one of the double-strung harps, I wouldn't be able to. It's just such a different animal.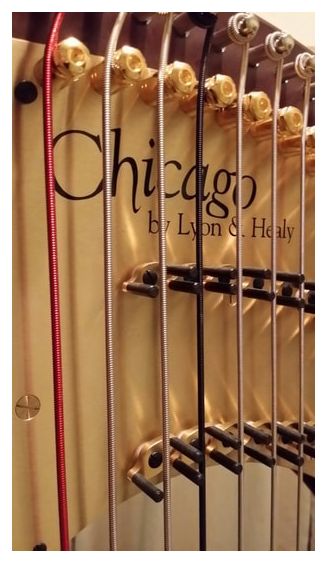 BD: Would you want to, or is it that you just don't have time, or you have no interest?

Bullen: I have no interest. [Laughs] It's bad enough keeping a harp in tune with one row of strings! Don't give me a whole second row of strings on top of that. I have no interest in doing that.

BD: That's something else... you have to be your own technician because you're always tuning and adjusting.

Bullen: Right, and that's something you just learn with experience. We tune each string, and you not only have to tune each string, but you have to tune it in each notch, whether it's flat, natural, and sharp. Say an A-flat is in tune, you also have to check A-natural and A-sharp, because the regulation (the mechanics) have to be properly aligned. So, when the disc that changes the tension on the string moves, it's moving a specific amount. If it's out of alignment, it needs to be adjusted, and that means being regulated. It's all nuts, and screws, and springs, and things that will move over time. Most harpists will get their harp regulated by a technician once at year at least, and that will re-align things. It's like a tune-up. There are some harpists that do it themselves, but I would say the majority of harpists, including professional harpists, will use a professional regulator, and that's someone who does nothing but regulate harps. We have one of the great harp manufacturers in the world here in Chicago, Lyon & Healy. That's something which is still a thrill for me, to know that they're right down the street. I was from New York before, and that meant I would ship my harp from New York to Chicago. Now I can just call them up and they come here to the center, which is great.

BD: When you're instructing students, do they start out on the full pedal harp, or do they start out like violinists on a half-size and three-quarter size instrument?

Bullen: They can start on, say, an Irish harp. We call it a 'troubadour harp', which is not a pedal harp. There are many variations of a smaller harp. Ideally, even a young child could start on a pedal harp, and they have almost half-sized pedal harps so a child is getting used to the pedals. But in the beginning there's enough to worry about just getting hand positions, without worrying about their feet. There's plenty of things that you can do in C major without employing your feet. They can add that later.

BD: Is it necessary or desirable to play the piano first?

Bullen: Yes, certainly. Because the piano is such a visual instrument with all the notes right in front of you, that it's very important for a young musician to think of the keyboard when they're thinking of the scale. I still do that. When you're thinking of half-steps, and other intervals — such as a perfect fourth or a perfect fifth — you actually are visualizing a keyboard. On a harp, the visualization is nothing but string upon string upon string, with no delineation between them. That's one reason that we have color coding on the strings of the harp. The way the keyboard is set up, you know where C is because of where the black notes are. On the harp, that reference is color.

BD: I assume there's some muscular memory, so you know about how far out to go with your arms.

Bullen: Oh sure. I know what an octave is, and I know what a fifth is. Just from closing my eyes in mid-air, I know where it would be.

BD: Does it stay constant from the low octaves to the upper octaves?

Bullen: No, it is wider on the bottom because the strings are bigger. They take up more space to vibrate, so they need to be a little further apart. On top they're smaller and closer together. It is very similar when you look inside a grand piano.

BD: Do you ever wish you had dampers rather than having to put your hands on the strings to silence them?

Bullen: Yes, it would be helpful.

BD: Could they add an eighth pedal for that?

Bullen: Actually, there was someone who did that, a famous harpist named Nicanor Zabaleta. He was very busy in the mid-twentieth century, and he did have a damper pedal. I am sure other people did also, but it's not in common use.

BD: Why not? I would think that would be handy.

Bullen: Sometimes it would work, but more often than not, your feet are busy just producing the proper notes. So, to add another pedal in order to muffle is just another extraneous device. It's dangerous enough to be playing with these different settings of pedals. They can slip up, and you don't know what pedal it was that just slipped. A lot of things can go wrong with your feet, and you're not looking at your feet because you have to look at your hands, and the music on your stand, and the conductor. Very often you know something just went wrong, but you're unable to see immediately what it was. Only an organist has an even more challenging job than a harpist. When something goes wrong, I usually have to look to the feet.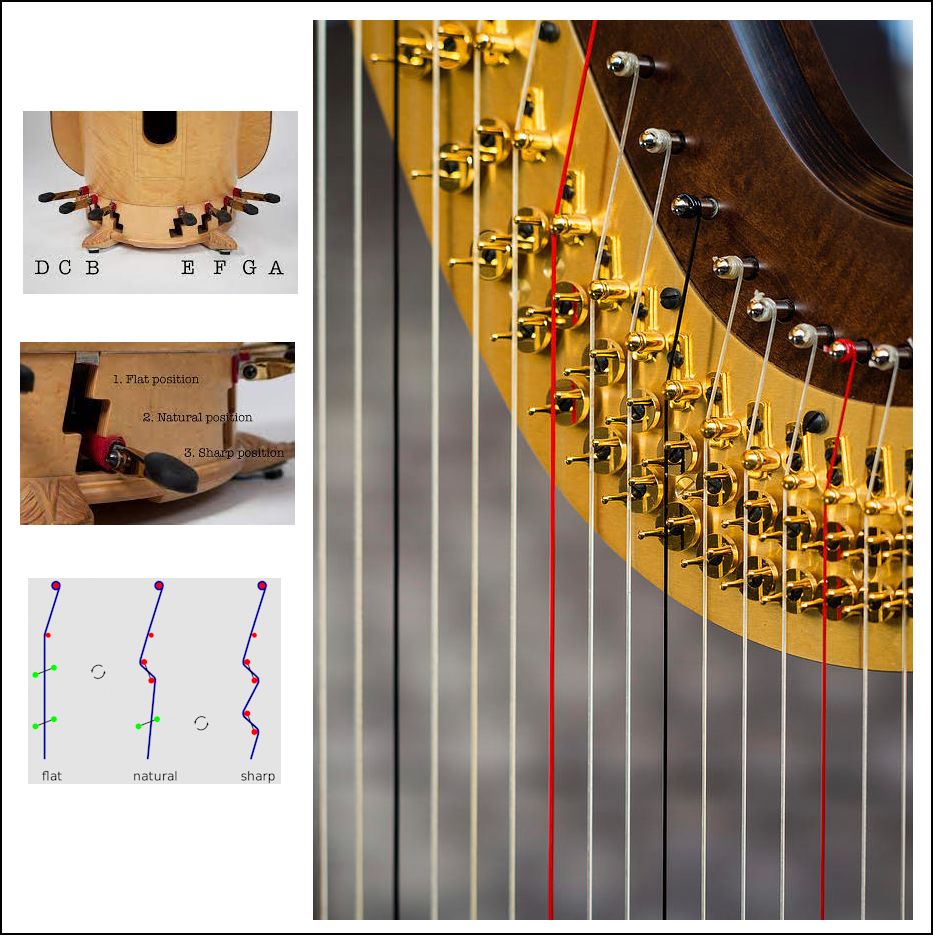 BD: Do you ever break a string?

Bullen: [Sighs] That's my greatest worry, and the only thing you can do to ensure that doesn't happen is just to check, to look at your strings visually, and listen for a false string. If it's a false string which is just not speaking properly, that means that it might pop. Then you would change it a week or so before the performance. But there's always something, particularly when you're a soloist, such as with the upcoming Ginastera. That's something I worry about, because when they pop it's like a gun shot going off right next to your face. It's shocking to the performer, and it's shocking to the audience. It can stop a performance, so we don't want that to happen.

BD: How long does it take to change a string? On a violin it takes a couple of minutes to get the broken one out and get the new one on.

Bullen: In an orchestra, if there's a violin soloist and he breaks a string [pauses] ...

BD: [With a smile] ...he hands it to the Concertmaster, who gives his instrument to the soloist. [Concerning this protocol, at the end of my interview with Victor Aitay, long time Concertmaster of the Chicago Symphony, I relate an experience I had seen on a subscription night...]

Bullen: Exactly, but I don't have that sort of luxury. If the harpist breaks a string, the concert stops, and I would have to walk off stage, bring out a string, and take at least three minutes to replace it. That has never happened to me. I probably have given well over a hundred concerto performances in my lifetime, and it's never happened. Not only concertos, but I've had recitals and chamber music, and it's never happened. However it's happened to me in regular orchestral concerts.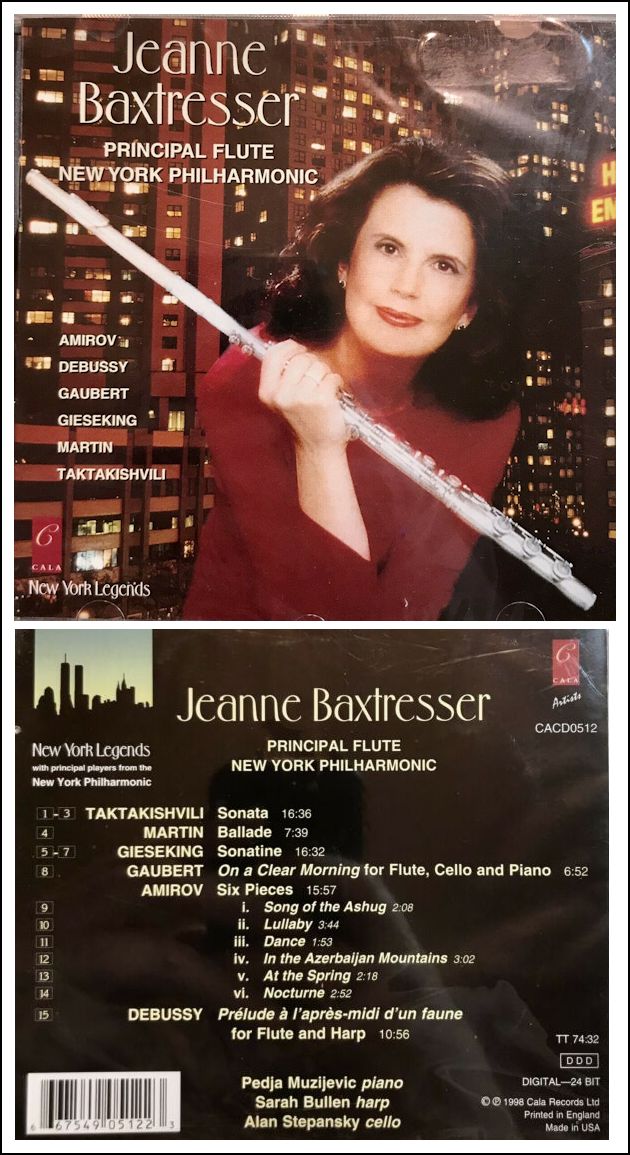 BD: You talk to harpists who perform all over the world. Is a broken string something that happens a lot, or is it maybe once a year some place?

Bullen: No, but it's something you always worry about, and you guard against.

BD: Are people trying to make better kinds of strings so that it happen even less?

Bullen: Yes. Actually, on the harp there are even more worries than strings popping. There's something called a pedal rod. We have the seven pedals, and they are connected to a rod that goes up the column of the harp, which is almost six feet tall. That sometimes can break, and it is catastrophic when that happens. If a string breaks, and it's not a crucial string, you might determine you don't need that string anyway, and just keep playing. But if the pedal rod were to break, you're in deep trouble, and that takes two hours to fix. At Symphony Center we have a little corral of harps back stage. We have actually five harps. Two of them are the harps we use with the Chicago Symphony, and the Civic Orchestra also has two harps, so if the worst were to happen, I would probably get the stage hands to bring out one of those other harps.

BD: How long does it take you to get used to playing a different harp?

Bullen: It's not that hard. I love the harp that I use at the Symphony, but in an emergency, I would do the best I can.

BD: I assume you have another harp at home?

Bullen: Yes.

BD: So, you're going back and forth between at least two harps?

Bullen: Yes. They are both from Lyon & Healy, and they're very similar.

BD: I'm sure each has its own idiosyncrasies...

Bullen: Yes, of course.



* * * * *



BD: You've made one solo recording?

Bullen: I've made one solo recording, and I'm on chamber recordings that I did in New York. Of course, I'm on many, many orchestral recordings.

BD: Tell me about the chamber recordings.

Bullen: One is with Jeanne Baxtresser, who was the principal flute in the New York Philharmonic. It's a Cala CD, part of their New York Legends series [shown at right]. She and I recorded Debussy's Afternoon of a Faun in an arrangement for harp and flute. That's originally an orchestral piece, so it was quite a complex harp part for me.

BD: In addition to the usual harp part, you were the whole orchestra!

Bullen: Right, exactly. I was also on another recording in that same series with Tom Stacey, the English Horn player [shown below].

BD: Are you at the point of your career that you want to be at this age?

Bullen: I'm enjoying being at this age, and I'm enjoying the benefit of having been doing this for so long. It's the accumulation of experience and ability, and there's a cushion now that I'm feeling that's very nice.

BD: Is the public warming to you now that you've been here for several years?

Bullen: I felt that from the beginning in Chicago. I love this orchestra. It's a very embracing group of people, and the public has been wonderful. So, I'm very much enjoying Chicago. It is really better than I was hoping for.

BD: How so?

Bullen: The orchestra is such a collegial group of people, and I love the hall itself. Just physically speaking, we have wonderful artistic support, such as dressing rooms, and about twenty of these quiet rooms, that if we're between rehearsal and evening concerts we can go take a nap. A nap is a great luxury, because often we have maybe four hours between a rehearsal and a concert, and it's nice to shut a door and lie down for an hour. So, it's a wonderful place to work, and I love the proximity of the hall, too. Whether it's a museum, or shopping, and Roosevelt is two blocks down, so it's not hard for me. Between a rehearsal and a concert, I'll just walk down Michigan Avenue and teach for four hours. Then I'll come back and play an evening concert. I live up in the Ravenswood section of Chicago, and I just hop on the brown line [CTA elevated train] and I'm home. I just appreciate all of the things that make up my life here.

BD: I hope it continues for a long time.

Bullen: I do too.

BD: I wish you continued success in your career.

Bullen: Thank you so much.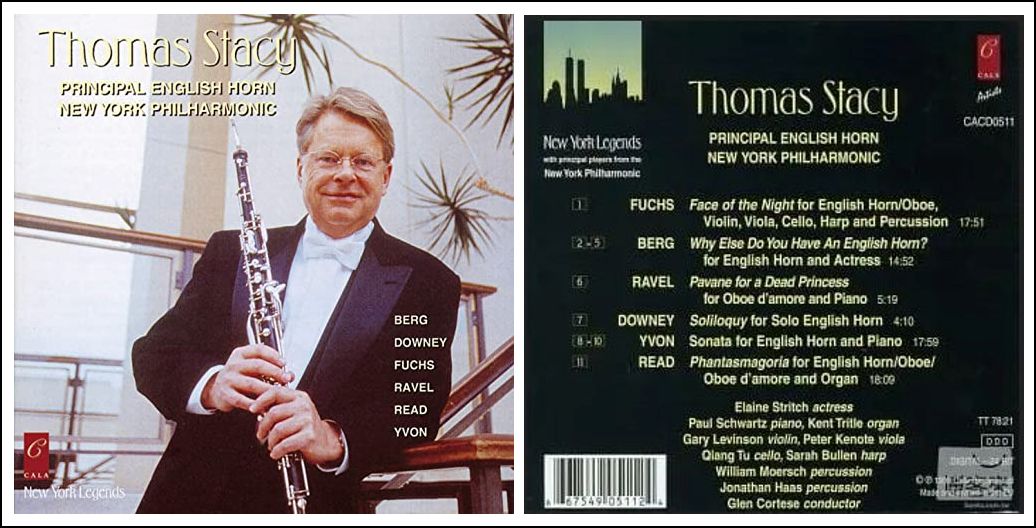 The composers are Kenneth Fuchs (1956 - ), Christopher Berg (1949 - ), Maurice Ravel (1875 - 1937),
John Downey
(1927-2004), Carlo Yvon (1798-1854), and
Gardner Read
(1913-2005)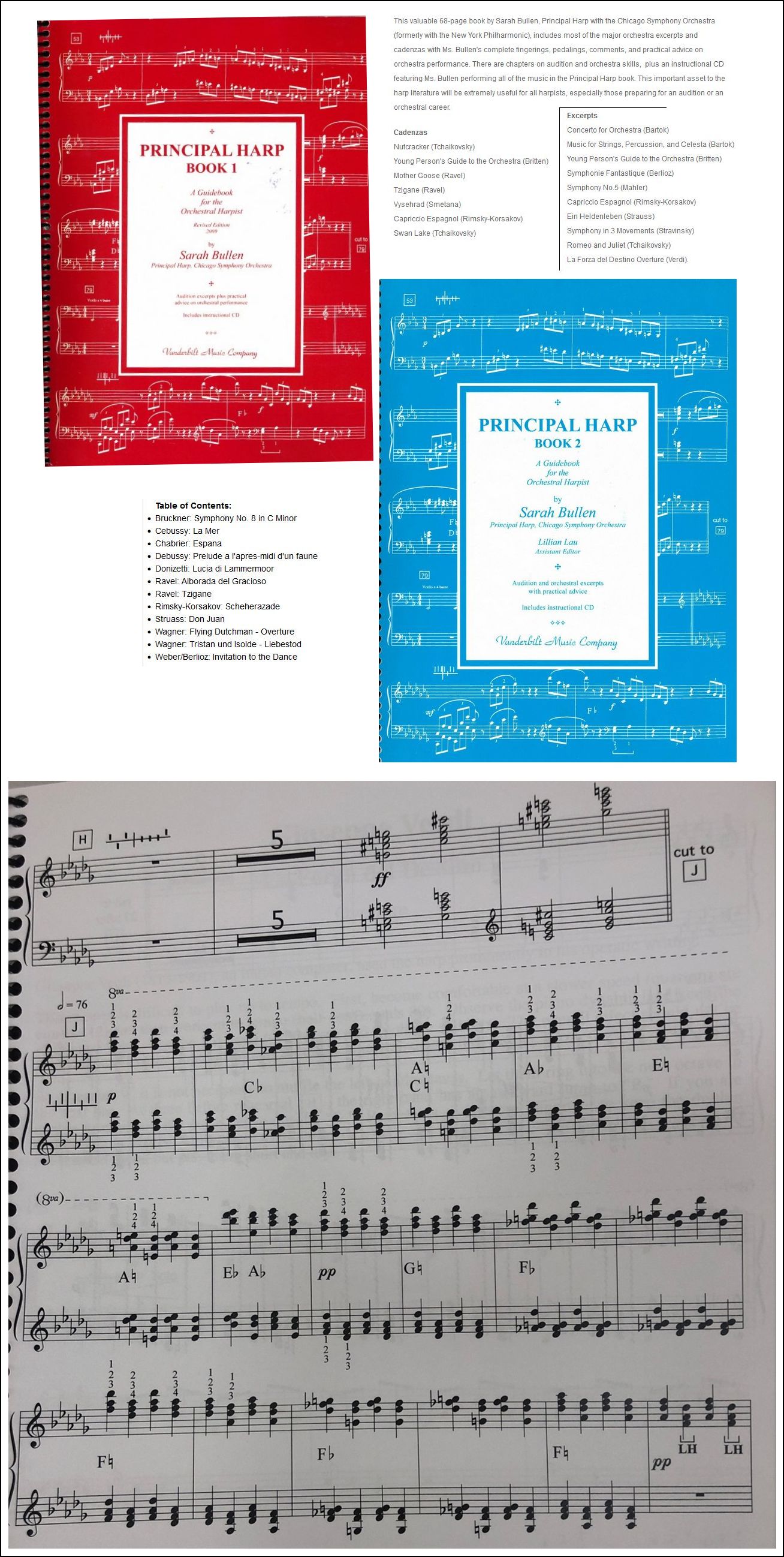 © 2003 Bruce Duffie

This conversation was recorded backstage at Orchestra Hall in Chicago on October 5, 2003. Portions were broadcast on WNUR the following week, and again in 2014. This transcription was made in 2022, and posted on this website at that time. My thanks to British soprano Una Barry for her help in preparing this website presentation.

To see a full list (with links) of interviews which have been transcribed and posted on this website, click here. To read my thoughts on editing these interviews for print, as well as a few other interesting observations, click here.

Award - winning broadcaster Bruce Duffie was with WNIB, Classical 97 in Chicago from 1975 until its final moment as a classical station in February of 2001. His interviews have also appeared in various magazines and journals since 1980, and he now continues his broadcast series on WNUR-FM, as well as on Contemporary Classical Internet Radio.

You are invited to visit his website for more information about his work, including selected transcripts of other interviews, plus a full list of his guests. He would also like to call your attention to the photos and information about his grandfather, who was a pioneer in the automotive field more than a century ago. You may also send him E-Mail with comments, questions and suggestions.