Born May 22, 1891 at Dampierre-sur-Moivre, in northern France, Lucien Cailliet studied at several French music conservatories before graduating from the Dijon Conservatory at age twenty-two. He also received a degree from the National Conservatory in Paris. He was a bandmaster in the French Army and, in 1915, he toured the United States with the French Army Band.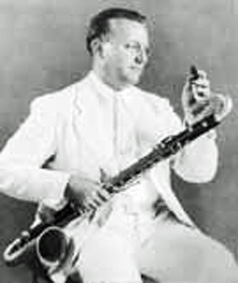 In 1919, he joined the Philadelphia Orchestra as a clarinetist, saxophonist, and arranger, where he worked closely with Leopold Stokowski. In 1923, Cailliet became an American citizen and continued to play with the Philadelphia Orchestra while attending graduate school at the Philadelphia Musical Academy. After receiving his Doctor of Music Degree in 1937, he moved to California to teach at the University of Southern California. After teaching there for seven years, he decided to devote his time to guest conducting and composing film scores.
In 1933, Cailliet performed Reynaldo Hahn's Sarabande et Theme on bass clarinet with Leopold Stokowski and the Philadelphia Orchestra. In 1937, he made a new arrangement of Modest Mussorgsky's piano suite Pictures at an Exhibition.

As Cailliet said in a radio interview quoted by Obert-Thorn, the method of Stokowski was to sketch his orchestration on sheet music of the original work. He would indicate which instruments should play each phrase, where he wanted a certain reed, or where he wanted a combination of reeds and brass, as well as dynamics. Stokowski passed this along to Cailliet, who wrote out a full score according to Stokowski's directions. Then Stokowski would rehearse the orchestra and make alterations after the rehearsal.
Evidence lies in manuscripts with Stokowski's handwriting, where he wrote in French (such as "bois" for "woodwinds") because the French-speaking Cailliet needed a guide to start his work. Cailliet said about the transcriptions, "It was his [Stokowski's] idea completely, and of course he was himself a very good orchestrator. He made a very good choice of instruments." That was a description of Stokowski's transcriptions, whereas Cailliet's — as heard on this CD — were entirely his own. He also made several arrangements for clarinet choir that have become staples of the repertoire. Many Cailliet orchestrations were recorded by a plethora of orchestras.
He contributed to nearly fifty films as either composer or arranger. Among the best known of these films are She Wore a Yellow Ribbon, The Ten Commandments (for which Elmer Bernstein wrote the score), and Gunfight at the O.K. Corral. His most famous orchestration is the virtuoso piece for piano and orchestra Midnight on the Cliffs by the pianist and composer Leonard Pennario, for the Andrew L. Stone film Julie (1956). He died on January 3, 1985.