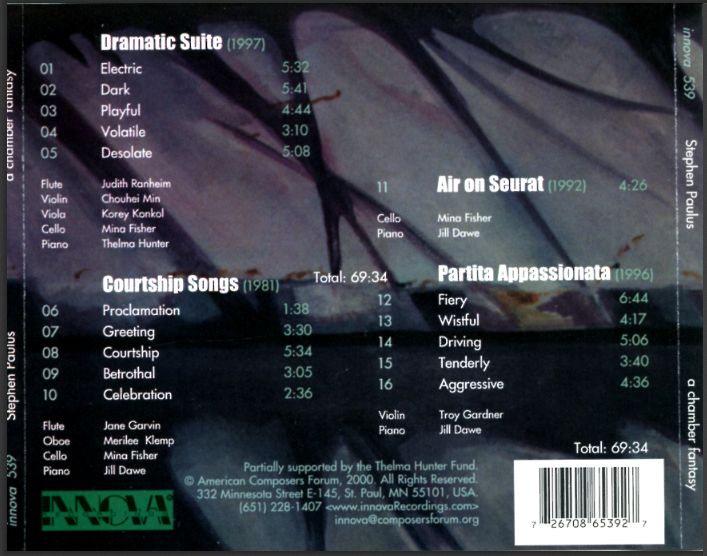 American Composers Forum, was organized in 1973 as a group of students at the University of Minnesota, led by co-founders Libby Larsen and Stephen Paulus, for the purpose of creating performance opportunities outside the academic setting. They incorporated in 1975 as the Minnesota Composers Forum and focused their early efforts on a series of concerts for the benefit of local members. One Master Class and concert in that first year included the participation of Ernst Krenek. In the early 1980s the organization expanded their services by launching the Jerome Composer Commissioning Program (1979), the McKnight Fellowships (1982) and innova® recordings (1983). One of the earliest public advocacy initiatives was the Composers Voice program with Minnesota Public Radio (1993), a series of 13 one-hour broadcasts featuring prominent national composers such as John Adams, Meredith Monk and Philip Glass among others.
In 1996 the Board of Directors adopted the current name of American Composers Forum (ACF) in recognition of its growing national reach. Eight chapters were established in major urban centers, and the 50-state commissioning program Continental Harmony was launched in 1998 as a millennium celebration in partnership with the National Endowment for the Arts. Among its more singular historical programming was the First Nations Composer Initiative from 2004-2010 to support the unique needs of Native American composers and performers.
ACF has a successful history of national education programming. BandQuest®, a series of music for middle school bands composed by prominent American composers, has reached an estimated 625,000 students since its inception in 1997. There are now twenty-two published works in the series ranging from Michael Colgrass, Libby Larsen, Michael Daugherty and klezmer revivalist, Hankus Netsky, to name a few. ChoralQuest® is the newest education program for middle school, with commissions from Stephen Paulus, Alice Parker, Jerod Tate, Jennifer Higdon, and Chen Yi among others. NextNotes®, the newest program, awards promising high school students with meaningful performance and mentorship opportunities.
Over the course of four decades, ACF has nurtured the work of thousands of composers. The innova recording label has released over 600 titles, and our BandQuest® and ChoralQuest® series for middle level students has reached over half million students. New programs like ACF CONNECT offer direct connections and commissions with leading national ensembles. The organization has a rich history of granting programs, readings, salons, conferences, and residencies that support the creation of new work and connect composers to communities.
Today, ACF has over 1,000 members in all 50 states, including composers, performers, colleges, and universities. Members come from both urban and rural areas; they work in virtually every musical genre, including orchestral and chamber music, world music, opera and music theater, jazz and improvisational music, electronic and electro-acoustic music, and sound art. In addition to the tangible benefits of membership (a profile page in our composer member directory, detailed opportunities listings, legal and professional development advice, professional development workshops, seminars, and networking events), members are part of a national community of artists who share common concerns, aspirations, and goals.
-- From the ACF website