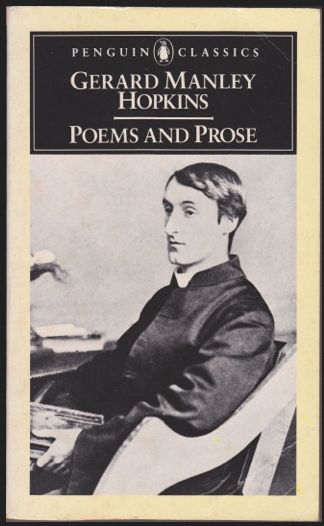 Gerard Manley Hopkins SJ (28 July 1844 – 8 June 1889) was an English poet and Jesuit priest, whose posthumous fame established him among the leading Victorian poets. His manipulation of prosody – particularly his concept of sprung rhythm – established him as an innovative writer of verse, as did his technique of praising God through vivid use of imagery and nature. Only after his death did Robert Bridges begin to publish a few of Hopkins's mature poems in anthologies, hoping to prepare the way for wider acceptance of his style. By 1930 his work was recognized as one of the most original literary accomplishments of his century. It had a marked influence on such leading 20th-century poets as T. S. Eliot, Dylan Thomas, W. H. Auden, Stephen Spender and Cecil Day-Lewis.

Hopkins studied classics at Balliol College, Oxford (1863–1867). He began his time in Oxford as a keen socialite and prolific poet, but he seems to have alarmed himself with the changes in his behavior that resulted. At Oxford he forged a lifelong friendship with Robert Bridges (eventual Poet Laureate of the United Kingdom), which would be of importance in his development as a poet, and in establishing his posthumous acclaim. Hopkins was deeply impressed with the work of Christina Rossetti, and she became one of his greatest contemporary influences, meeting him in 1864. During this time he studied with the eminent writer and critic Walter Pater, who tutored him in 1866 and remained a friend until Hopkins left Oxford in September 1879.


In the late 1880s Hopkins met Father Matthew Russell, the Jesuit founder and editor of the Irish Monthly magazine, who presented him to Katharine Tynan and W. B. Yeats.

In 1884 he became professor of Greek and Latin at University College Dublin. His English roots and his disagreement with the Irish politics of the time, as well as his own small stature (5 feet 2 inches), unprepossessing nature and personal oddities meant that he was not a particularly effective teacher. This, as well as his isolation in Ireland, deepened his gloom. His poems of the time, such as "I Wake and Feel the Fell of Dark, not Day", reflected this. They came to be known as the "terrible sonnets", not because of their quality but because according to Hopkins's friend Canon Richard Watson Dixon, they reached the "terrible crystal", meaning that they crystallised the melancholic dejection that plagued the later part of Hopkins's life.

Several issues brought about this melancholic state and restricted his poetic inspiration during the last five years of his life. His workload was extremely heavy. He disliked living in Dublin, away from England and friends. He was also disappointed at how far the city had fallen from its Georgian elegance of the previous century. His general health deteriorated as his eyesight began to fail. He felt confined and dejected. As a devout Jesuit, he found himself in an artistic dilemma. To subdue any egotism which would violate the humility required by his religious position, he decided never to publish his poems. But Hopkins realised that any true poet requires an audience for criticism and encouragement. This conflict between his religious obligations and his poetic talent caused him to feel that he had failed them both.

After suffering ill health for several years and bouts of diarrhoea, Hopkins died of typhoid fever in 1889 and was buried in Glasnevin Cemetery, following his funeral in Saint Francis Xavier Church on Gardiner Street, located in Georgian Dublin. He is thought to have suffered throughout his life from what today might be diagnosed as either bipolar disorder or chronic unipolar depression,

Christopher Ricks called Hopkins "the most original poet of the Victorian age." Hopkins is considered as influential as T. S. Eliot in initiating the modern movement in poetry. His experiments with elliptical phrasing and double meanings and quirky conversational rhythms turned out to be liberating to poets such as W. H. Auden and Dylan Thomas. and battled a deep sense of melancholic anguish. However, on his death bed, his last words were, "I am so happy, I am so happy. I loved my life." He was 44 years of age.