Lee Hoiby (February 17, 1926 – March 28, 2011) was born in Wisconsin of Scandinavian extraction. His maternal grandfather was a violinist and teacher who emigrated from Denmark. His aunts comprised a touring all-girl saxophone band, and like Brahms, he was forced by his father to entertain in alcoholic dives.

Important European musicians in flight from Hitler gathered at the war-time music department of the University of Wisconsin at Madison. Among them were performers like the Pro Arte Quartet, led by Arnold Schoenberg's son-in-law Rudolph Kolisch, from whom Hoiby learned the highest levels of European musicianship. They also introduced him to the dodecaphony of Schoenberg and Webern, which he rejected. Also on the scene at the Madison campus was the eccentric American composer Harry Partch. Hoiby had great fun as a kithara virtuoso in Partch's ensemble of garage-made instruments, but showed no inclination to include experimental scales and moanings in his personal vocabulary.

At Madison, Hoiby's prodigious pianistic gift was nurtured by Gunnar Johansen, the Danish virtuoso who recorded the complete keyboard works of Bach, Liszt and Busoni. Johansen passed Hoiby on to his own pianistic mentor, the Busoni acolyte Egon Petri, with whom he studied at Cornell and Mills College. On the verge of a career as a concert pianist Hoiby was offered, on the basis of a few works written for fun and submitted without his knowledge, a full scholarship to study composition with Gian Carlo Menotti at the Curtis Institute in Philadelphia.

Menotti subjected Hoiby to two years of strict Palestrina counterpoint, and then infected him with operatic ambitions. He worked closely with Menotti as assistant during the period of the

The Consul

,

The Saint of Bleecker Street

, and

The Medium

. The effectiveness of Hoiby's 1957 one-act opera

The Scarf

was noted at the first Italian Spoleto Festival, and it was produced at the New York City Opera the following season. Hoiby's next opera,

Natalia Petrovna

(NYCO, 1964; revised version,

A Month in the Country

, 1980) was praised by the distinguished Washington critic Paul Hume, particularly the closing octet ("of overwhelming beauty, a supreme moment in opera") that he classed with the

Rosenkavalier

trio and the

Meistersinger

quintet. Another important critical voice, Irving Lowens, Music Librarian of the Library of Congress, wrote of "the clean simplicity, the beautiful eloquence of the vocal lines. There is no question about this lyric gift; his melodies are more compelling by far than those of his teacher Menotti." Most telling was a later consideration by Frank Merkling, editor of

Opera News

. "Indulging in neither breast-beating nor serial cerebration" the opera was "curiously novel for its very lack of chic; it simply went about the business of fulfilling all the functions of an opera successfully."

Hoiby's 1971 setting of Tennessee Williams's

Summer and Smoke

(with libretto by Lanford Wilson) was declared "the finest American opera to date" by Harriet Johnson of the

New York Post

. Still, the mid-twentieth century prejudice against tonality and lyricism, combined with Hoiby's own professional and social independence, worked against widespread recognition. In 1981 Peter Davis wrote of a new production of

Summer and Smoke

in New York Magazine that "Perhaps ten years ago, music of this sort, unabashedly drenched in ardent melody, was considered something of an embarrassment. Today such an attitude seems childish and irrelevant."

Hoiby continued to pursue lyric opportunities with his 1986 setting of Shakespeare's final play,

The Tempest

, (for the Des Moines Metro Opera) of which

Opera

Magazine (London) wrote that it was "redolent of

Das Rheingold

and Richard Strauss, but even so was melodically, harmonically, and musically, pure Hoiby," while the

Christian Science Monitor

found it "superbly singable and downright beautiful". He also completed a lavish three-act setting of

Romeo and Juliet

. Other operatic works by Mr. Hoiby include the one-act comedy

Something New for the Zoo

(1979); the musical monologues

The Italian Lesson

(1981, text by Ruth Draper) and

Bon Appetit!

(1985, text by Julia Child) which together ran off-Broadway and toured nationally with Jean Stapleton in the late 1980s, and a one-act chamber opera,

This Is the Rill Speaking

(1992, on the play by Lanford Wilson). Later vocal chamber works include a music-theater piece on texts of Virginia Woolf,

What Is the Light?

written for Claire Bloom and the 92nd Street Y;

Rain Forest

for voice, wind quintet and piano, on prose poems of Elizabeth Bishop for the Santa Fe Chamber Music Festival; and

Sonnets and Soliloquies

, a group of Shakespeare settings for soprano Jennifer Foster and the Miro String Quartet. Also of note among his larger compositions for the voice is his 1991 setting of Martin Luther King, Jr.'s

I Have a Dream

for baritone and orchestra, which has had memorable performances by baritone William Stone and bass-baritone Simon Estes.

Hoiby's immense contribution to the song repertoire is recognized by American singers everywhere. His style is an elegant and unobvious bridging of the lyrical worlds of Verdi and Gershwin, which can be profoundly moving or smoothly good-humored, but skirts entirely the modernist obsession with "originality". He turns frequently to texts of great literary and civic value. His exemplary performer has been the great American soprano Leontyne Price, who, from 1964 until her retirement in 1996, introduced many of his best known poem settings and arias to the public, including "The Serpent" of Roethke, "Be Not Afeard" (from

The Tempest

), the Dickinson songs, the "Evening" of Wallace Stevens, "Lady of the Harbor" and "Where the Music Comes From."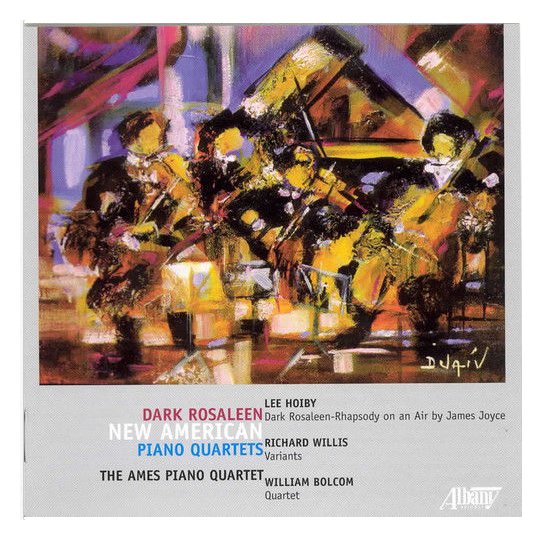 See my interviews with

William Bolcom


Hoiby has also made significant contributions to the piano repertory (in addition to his demanding song accompaniments), including two piano concertos and a volume of solo piano works published by G. Schirmer. His choral music is performed in churches throughout the USA and in Great Britain. Indeed, some of his most substantial works are for chorus, including the Christmas cantata

A Hymn of the Nativity

(text by Richard Crashaw), the oratorio

Galileo Galilei

(libretto by Barrie Stavis), and an accrual of works for voice, chorus and orchestra on texts of Walt Whitman which have been gathered into a full evening's program called

A Whitman Service

. He has written chamber music in numerous combinations, including sonatas for violin, 'cello, a concerto for flute and chamber orchestra ("Pastoral Dances"), and

Dark Rosaleen (Rhapsody on a theme by James Joyce)

recorded by the Ames Piano Quartet and released by Albany (

shown above

). Later works include

Trio for the Verdehrs

for violin, clarinet and piano, and

Last Letter Home

for the male vocal ensemble Cantus. His three-movement Summer Suite for Wind Ensemble was premiered on February 25, 2008 by the Austin Peay State University Wind Ensemble under the direction of Dr. Gregory Wolynec.