Born: April 22, 1932 - Chicago, Illinois, USA

The American-born Canadian musician, composer, and educator, Michael Colgrass, began his musical career in Chicago where his first professional experiences were as a jazz drummer (1944-1949). He graduated from the University of Illinois in 1954 with a degree in performance and composition and his studies included training with Darius Milhaud at the Aspen Festival and Lukas Foss at Tanglewood. He served 2 years as timpanist in the Seventh Army Symphony Orchestra in Stuttgart, Germany [

see photos below

], and then spent 11 years supporting his composing as a free-lance percussionist in New York City where his wide-ranging performance venues included the New York Philharmonic Orchestra, American Ballet Theater, Dizzy Gillespie, the Modern Jazz Quartet, the original West Side Story orchestra on Broadway, the Columbia Recording Orchestra's

Stavinsky Conducts Stavinsky

series, and numerous ballet, opera and jazz ensembles. He organized the percussion sections for Gunther Schuller's recordings and concerts, as well as for premieres of new works by John Cage, Elliott Carter, Edgard Varese, and many others. During this New York period he continued to study composition with Wallingford Riegger (1958) and Ben Weber (1958-1960).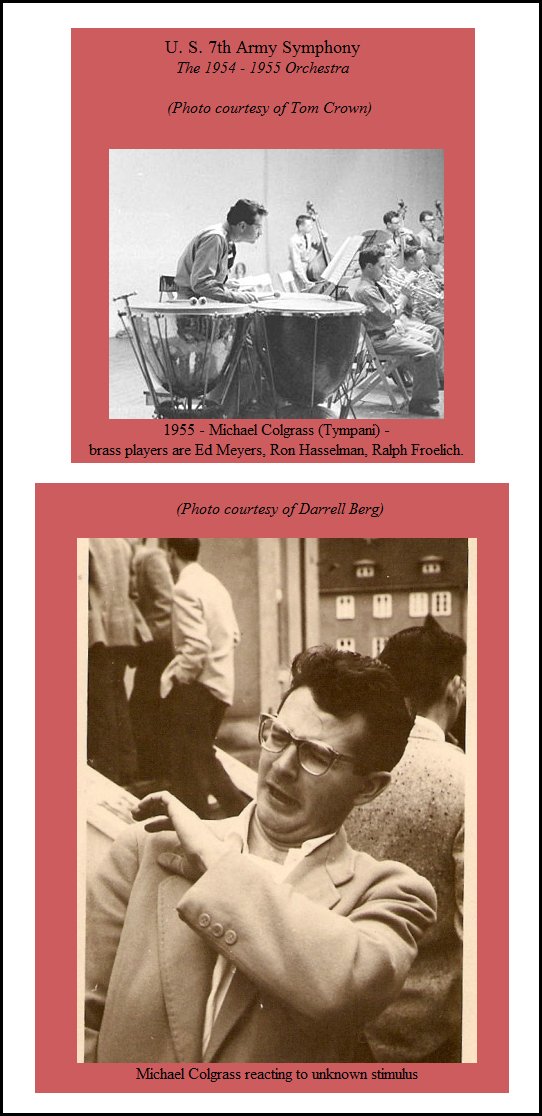 Michael Colgrass has received commissions from the New York Philharmonic Orchestra and the Chicago Symphony Orchestra (twice). Also the orchestras of Minnesota Orchestra, Detroit Symphony Orchestra, San Francisco Symphony Orchestra, Saint Louis Symphony Orchestra, Pittsburgh Symphony Orchestra, National Symphony Orchestra (Washington), Toronto Symphony Orchestra (twice), the National Arts Centre Orchestra (twice), The Canadian Broadcast Corporation, The Lincoln Center Chamber Music Society, the Manhattan and Muir String Quartets, The Brighton Festival in England, The Fromm and Ford Foundations, The Corporation for Public Broadcasting, and numerous other orchestras, chamber groups, choral groups and soloists.

Michael Colgrass won 1978 Pulitzer Prize for Music for

Déjà vu

, which was commissioned and premiered by the New York Philharmonic Orchestra. In addition, he received an Emmy Award in 1982 for a PBS documentary

Soundings: The Music of Michael Colgrass

. He has been awarded two Guggenheim Fellowships, A Rockefeller Grant, and first prizes from the Louis B. Sudler International Wind Band Competition and the National Band Association (both in the USA) for his wind ensemble composition

Winds of Nagual

(1985). His

Strangers: Irreconcilable Variations for Clarinet, Viola and Piano

won the 1988 Jules Léger Prize for New Chamber Music. His

Snow Walker

was premiered at the 1990 Calgary International Organ Festival.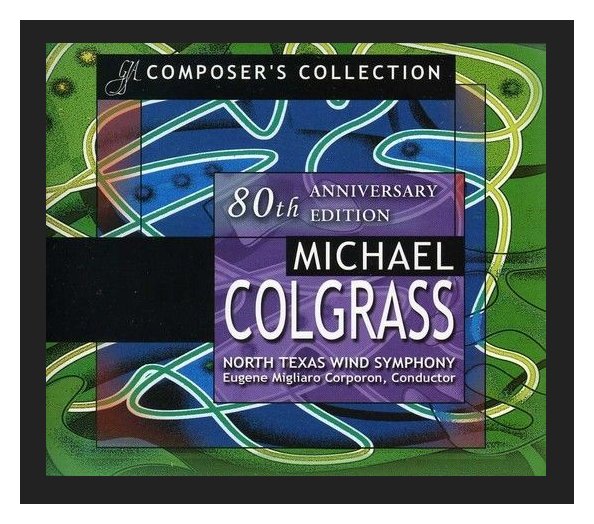 Michael Colgrass has created a method of teaching children - and teachers - how to write music using graphics. In April of 2009 he did a project with the Middleton Regional High School in Nova Scotia, where high school students wrote seven pieces for band in three days and conducted them in public concert on the fourth. As a result, his method was adopted by the Nova Scotia education system for inclusion in the junior high curriculum. Most recently he had students at Toronto's Rockcliffe Middle School write a group composition for the Esprit orchestra in three days, which was premiered on May 25, 2010 with Alex Pauk conducting.

Among his recent works are

Crossworlds

(2002) for flute piano and orchestra commissioned by the Boston Symphony Orchestra and premiered with soloists Marina Piccinini and Andreas Heafliger. In 2003 he conducted the premiere of his new chamber orchestra version of the J.S. Bach's

Goldberg Variations

(BWV 988) with members of the Toronto Symphony Orchestra.

Pan Trio

was commissioned by Soundstreams Canada in 2005 and premiered by them with Liam Teague, steel drums, Sanya Eng, harp and Ryan Scott, percussion.

Side by Side

(2007) for harpsichord and altered piano with Joanne Kong as soloist, was commissioned by the Esprit Orchestra, the Boston Modern Orchestra Project (BMOP) and the Richmond Symphony Orchestra.

Zululand

(2010) for wind ensemble, was commissioned and premiered by the University of Wisconsin at River Falls.

As an author, Michael Colgrass wrote

My Lessons With Kumi

, a narrative/exercise book, outlining his techniques for performance and creativity. He lectures on personal development and gives workshops throughout the world on the psychology and technique of performance, in which participants do exercises from this book. His newest book,

Adventures of an American Composer

, is published by Meredith Music and distributed by the Hal Leonard Corporation.

Michael Colgrass lives in Toronto and makes his living internationally as a composer. His wife, Ulla, is a journalist and editor who writes about music and the arts.



-- Note: Names which are links refer to my interviews elsewhere on this website. BD